British beer brands: Famous British beer brand logos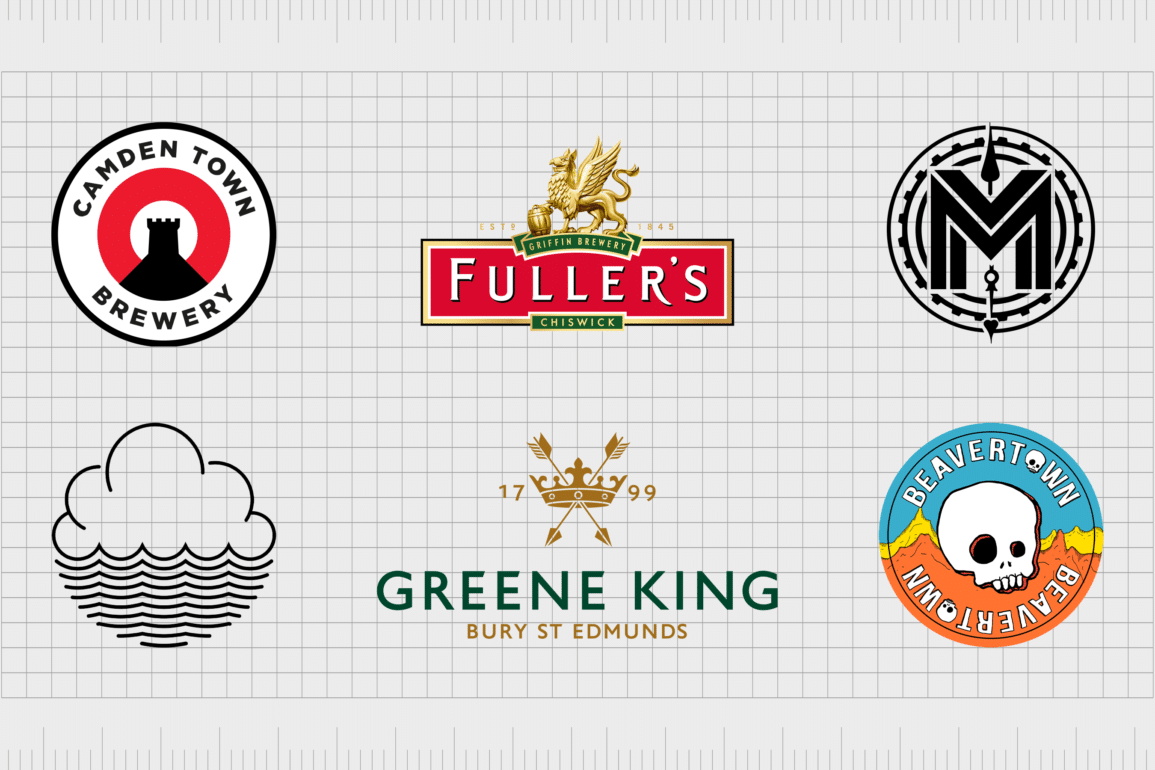 British beer brands are responsible for some of the most popular beers in the world. British beers include the leader of the craft beer revolution, Brewdog, alongside classic names like Buxton Brewery and Newcastle Brown Ale.
Much like any major brand, the famous British beer brands we know today have earned their place in the public eye, by investing in an identity to resonate with their target audience. Each iconic British beer business has its own distinct image and personality.
Today, we're going to be taking a closer look at some of the most memorable beers from the UK, and the logos they've used to capture the attention of their customers.
The top British beer brand logos
British beer brewing is a long-standing tradition throughout the country. Beer was already popular among the Celtics, long before the Romans showed up over 2,000 years ago. Plus, Ale was widely regarded one of the most common drinks in the Middle Ages.
Over the years, countless memorable beer brands have appeared throughout the UK, each with their own unique focus and appeal. Some beers seemed specially designed for the British "pub life", while others were intended for home drinking.
Let's explore a handful of some of the most popular beer brewing companies in the UK, and their logos…
Cloudwater
An independent craft brewery and beer company based in Manchester, England, Cloudwater Brew Co is a relatively new brand. Established in 2014, the company began producing beer the following year, and quickly developed a reputation for high-quality products.
In 2017 and 2018, the Cloudwater Company was ranked among the best breweries in the world.
Cloudwater produces both award-winning beers, and a range of non-alcoholic sodas. The company also has a selection of brewery tap rooms in London and Manchester, and an annual beer festival. The Cloudwater Company is one of the fastest-growing British beer brands.
Cloudwater keeps things simple and modern with its logo. The design features the outline of a cloud, with several wavy lines beneath (to represent water). The overall design is easy to remember, and fantastic for a range of different mediums.
Celebrating British beer companies
There are plenty of amazing British beer brands out there to explore if you're looking for inspiration for your own brewing company.
Many of the British beer companies mentioned above use several common components in their logo, such as the name of the business, and the date when it was originally founded, to symbolize heritage.
Of course, there are some variations among British beer brand logos. Some of the more modern organizations have experimented with a wider range of geometric shapes and unique designs to help set themselves apart from "older" beer companies.
Don't forget to check out our other Logofiles for more interesting insights into some of the most memorable brands in the world.
Fabrik: A branding agency for our times.