What are brand pillars? The complete guide to the pillars of a business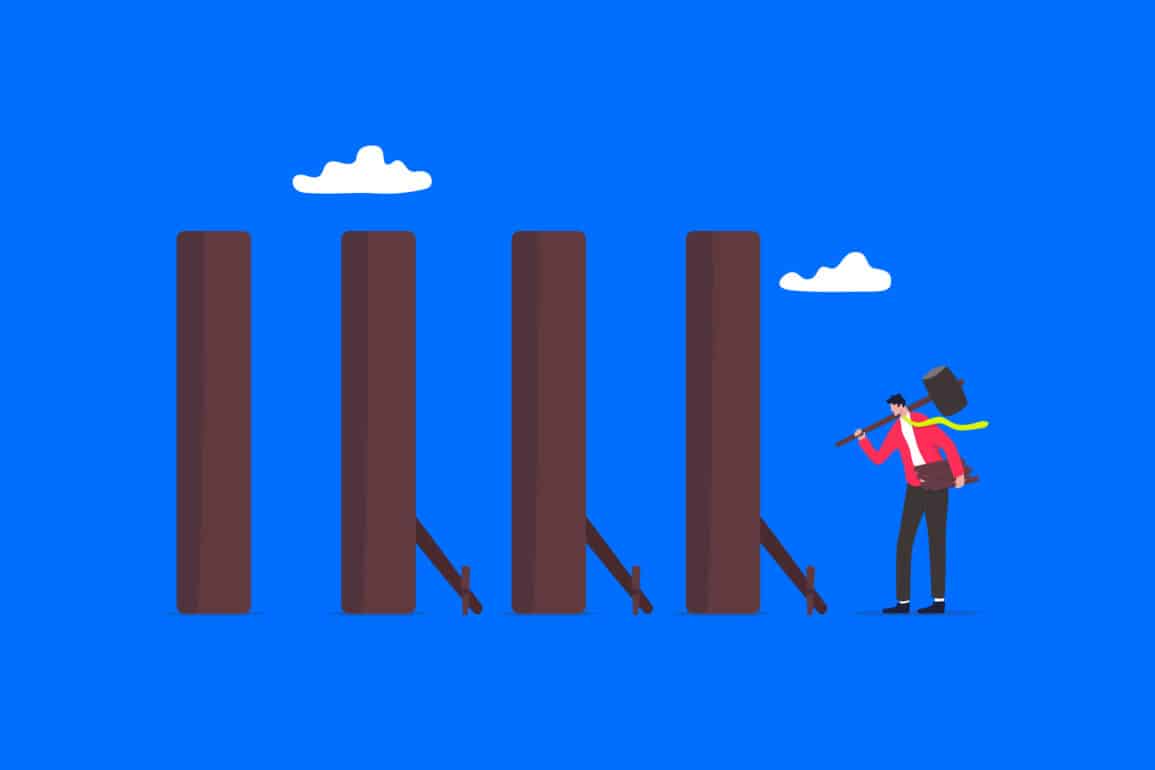 The question "what are brand pillars?" shows up a lot during the early stages of creating a company. When you're creating a new business, it's not enough to simply choose excellent products or services to sell. Today's customers want to form an emotional connection with vendors.
Brand pillars are a crucial part of how you connect with your customers on a deeper level. They define how you're going to make yourself stand out in the eyes of your audience, and how you're going to going to set yourself apart from the competition.
Crucial to the foundation of any brand, your company pillars essentially outline how you're going to position, market, and share your organization with the world. They highlight what you stand for on a number of crucial levels and form the foundation for brand growth.
Today, we're going to take a closer look at what brand pillars actually are, why they're important, and how you can design your own for the age of emotional brand/customer connections.
What are brand pillars? The pillars of a business
So, what are brand pillars?
Simply put, brand pillars are the values, characteristics, and key elements defining your brand. They go beyond the basic concepts of visual identity most people associate with branding, like logo design.
With brand pillars, you specifically position yourself to connect with your target audience.
Like the pillars of a home or building, your company pillars elevate your organization, and strengthen the core of your brand identity. They assist in showcasing the important points you want your customers to be aware of when choosing your business over the competition.
One good way to look at brand pillars, is as a straightforward way to answer one of the main questions your customers have: "Who are you?".
Brand pillars can focus on anything your customers may consider to be important to their purchasing decisions. For instance, if you're appealing to a tech-savvy group of customers, you might want to position yourself as innovative and modern.
You may focus your pillars on your reliability, fast delivery times, and exceptional service.
Ultimately, brand pillars are there to differentiate your brand, and they need to be crucial to your customers. When someone tries to define why they like your company or choose your products over anything offered by the competition, they'll usually list the elements of your brand pillars.
Why are brand messaging pillars important?
The saturated world of business means companies today need to do more than just offer great products to connect with their audience. Today's consumers don't connect emotionally with a product or a specific business.
Instead, they form their links to the "human" side of your company.
Brand pillars give your business a personality, a set of distinctive values, and a purpose. If you think of some of the world's most popular brand, they all have unique brand pillars which assist them in standing apart from the competition.
For instance, Wendy's, the fast-food restaurant, has become one of the best-known food companies in the world, with its phenomenal online persona and unique identity. Everything Wendy's does, from its Twitter posts, to its food promotions, focuses on highlighting clear brand pillars.
More than anything else, brand pillars help you to reach your target audience, create a sense of trust, and ensure you have the foundations in place for growth.
What are the 5 brand pillars?
Identifying company pillars
Different companies have their own distinct ideas about what their key brand pillars are. However, most of the time, we see these concepts broken down into a few key areas.
Notably, your brand pillars usually work alongside your brand guidelines to provide a complete view of what your business does. Because of this, the two concepts are often defined in tandem.
Let's look at some of the core "brand pillars" you'll need to know.
1. Brand purpose and values
While brand purpose, and brand values are sometimes identified separately by companies asking "what are brand pillars?", they typically go hand-in-hand. After all, your purpose, or the mission behind your company's creation, is based heavily on your values.
The first thing to keep in mind is your brand purpose should never be just to "make money". Rather than thinking about what the benefits of your own company having offer you, it's important to focus on what you're delivering to your target audience.
You'll need to look at your brand story, and the pain points or concerns which inspired you to produce the products or services you offer. For instance, Apple wanted to create a computer company which offered more accessible, streamlined technology to customers.
When defining your brand purpose, you'll need to ask, "why does this business exist?" What problems are you aiming to solve, and more importantly, how do you want to solve them?
Values will naturally appear in your definition of purpose. For instance, you might want to create clothes with a focus on sustainability, or design software for people without tech knowledge.
2. Brand personality
Your brand personality is one of the most important pillars you'll need to define when you start building your business. One of the reasons branding has grown so crucial in the modern age is today's customers want to connect with companies with a human essence.
It's difficult to humanize your company if you don't have any distinctive personality traits.
Think of any company, and you'll notice everything from its choice of color palette, to its marketing message will highlight a specific personality. The Innocent smoothies' brand, for example, is playful, sweet, and youthful, highlighting a company with a transparent, natural essence.
Brand personality can stem from the founders or leaders of your business, and the personal brand they've created over the years. Alternatively, you can simply match your brand personality to the kind of customer you're hoping to reach.
Your personality will show through in your business culture, how you use social media and email marketing tools, and even what kind of language you use.
3. Brand perception
Another key element in the pillars of a business, is how your company is perceived. In simple terms, this involves figuring out what you want your customers to think and feel when they interact with your organization.
Perception can be cultivated and manipulated in a host of different ways.
For instance, the perception your customers have of your company begins from the moment they hear your business name or spot your logo on a product. The color palettes you use and your choice of brand illustrations and photography matter too.
However, there's more to brand perception than just how your business looks. Brand perception is also based heavily on the emotional response your solution or service inspires. Your customers and advocates can help to shape brand perception.
The reviews you receive online, how people talk about you on social media, and other forms of word of mouth all assist in telling other customers what to expect when they work with you. As such, cultivating a good brand perception requires a degree of constant vigilance.
You'll need to work to ensure you're always sending the right message and interacting with your customers in the best possible way.
4. Brand positioning
Tied to your perception and other elements of your brand pillars, "positioning" looks at what kind of audience you're trying to reach, and how you compare to the competition. When you begin building a company, you need to determine how you're going to situate yourself in the market.
Are you going to be focusing your services on a specific niche group of people? For example, Patagonia is highly focused on younger customers with a desire to protect the planet. Your positioning is often based heavily on your knowledge of your audience, and your competition.
Even the way you price your products can influence your brand's position. Are you going to offer something more affordable than your customers can get from the competition? Do you want to charge a higher price and identify yourself as a "luxury" brand?
A good example of how effective brand positioning can be comes from Amazon. When the company first launched, it was competing with brick and mortar bookshops. By positioning itself as an alternative, more convenient way to purchase products, Amazon quickly transformed the industry.
As new online retailers appeared, Amazon continued to expand its portfolio to reach a wider audience.
5. Brand experience and promotion
Brand experience, or "brand promotion" refers to how you showcase your company to the world. It looks at how you connect with your audience, make sure you're seen by the right people, and encourage other customers to advocate for you.
Brand experience and promotion looks at your market reach. It thinks about your appearance on online and offline channels, and how you can reach customers where they're looking for you.
Once you've defined all of your other brand pillars, you can use the concept of promotion and experience to determine how you're going to convey the information you've collected to the right people.
Notably, it's also worth thinking about how your customers interact with your brand through every available touchpoint. What kind of experience do they get when they purchase a product, research your brand, or simply connect with customer service representatives?
As "experience" becomes more crucial to the purchasing journey, it's important for companies to ensure they're delivering the kind of meaningful interactions their clients need.
How to define brand pillars for your company
Your company pillars and brand messaging pillars are generally created during the initial stages of your branding journey. Think of them as the foundation on which you'll build the rest of your organization.
The brand pillars you create will influence everything you do as a business owner.
For the most part, defining your brand pillars usually means answering a series of questions about what, who, why, where, and when of your organization.
Let's take a closer look at the questions for each stage:
Purpose and value:
Why did you start your company, what do you want to achieve?
How do you want to serve your customers?
What value can you offer to your audience, and what pain points do you address?
What's important to your interactions with your audience?
What matters most to your target customer when they're buying something?
Perception:
What do you want your customers and community to think about you?
How will you create an emotional impact on your audience?
What do people perceive your biggest values to be?
What emotions does your brand identity convey?
How can you differentiate yourself from other companies?
Personality:
What's your point of view, and the overall mood of the brand?
What tone of voice will you use to communicate with customers?
What kind of keywords and phrases are essential to your brand?
What's your business culture, and how is this conveyed in your messaging?
What are the behaviors or actions defining your brand?
Positioning:
Who is your target audience, or what is your niche?
Which competitors are most significant to your business?
How do you compare and differ from the competition?
What promises are you making to your target audience?
Why would customers choose your company over the competition?
Experience and promotion:
Which touchpoints do customers use to interact with your brand?
What experience do you want your clients to have of your business?
How do you serve and support your target audience?
Where do you advertise and promote your services?
Do you have brand ambassadors, and what do they do for your company?
Examples of brand pillars to learn from
Sometimes, the best way to answer a question like "what are brand pillars?" is to look at some examples from leading companies. As mentioned above, most of the top companies in the world are defined by strong brand pillars.
Let's take a look at some great examples…
1. Hilton
Hilton is a hospitality company with some of the strongest examples of company pillars around. The company clearly showcases its values of integrity, teamwork, and compassion in everything it creates.
If you visit the brand website, you also get an insight into how Hilton wants customers to perceive its company. There's a clear insight into the history and heritage of the business, intended to create a sense of trust.
Users can also see information about members of the team, showcasing the company's commitment to a sense of community.
2. Nike
Nike is one the most memorable companies in the world for a reason. Far from just another athletics company, Nike builds its identity on the desire to bring the benefits of sport and activity to everyone.
Nike wants to make its customers feel like they can achieve anything, hence the "Just Do It" tagline.
Nike wants customers to perceive it as a motivator and a partner in achieving physical success. Even on the Nike website, we see constant messages of inspiration, combined with views into real people who have benefited from the brand.
3. Apple
It's hard to look at examples of brand pillars without drawing some attention to the innovators at Apple. While there are plenty of companies making phones and technology in the world, few have the same impact as Apple.
This company positioned itself as an innovator from day one, encouraging customers to "Think Different".
Taking an alternative approach to the complexity of the computer industry at the time when it launched, Apple keeps everything from its brand image to its messaging simple and clean.
4. Patagonia
Patagonia is an expert in showcasing its values in everything it does. In fact, you can read all about the company's mission and promises on the website. Committed not only to building the best product, but doing it without harming the earth, Patagonia connects directly with its target audience.
The company doesn't just talk the talk either. Using its brand pillars as a compass, Patagonia consistently invests in initiatives to protect the planet and make the world a better place.
5. Salesforce
Since the beginning, Salesforce has identified itself as an innovator, focusing on values like creativity, and promoting an inspirational personality. The company sets out to empower companies to change the way it connects with its target audience.
It even refers to its customers as "trailblazers".
Salesforce positions itself as a market leader in the CRM space, and constantly takes steps to preserve this identity. The company also builds a stronger relationship with its customers through events, learning experiences, and case studies.
Tips for creating your own brand pillars
Creating powerful brand pillars can be a complex process, particularly when you're just getting started with your new business. However, it's something every business should start doing as early as possible.
Since the rest of your organization will be directed and guided by your brand pillars, you need to ensure your entire team has a good understanding of what you stand for.
One of the easiest ways to improve your chances of creating powerful brand pillars is to work with a professional branding team.
However, you can do some of the initial work yourself, such as:
Conducting research
Brand pillars are built on an understanding not just of your business and its mission, but the world around your company too. You'll need a clear knowledge of who your target audience is, and what they value most if you're going to design an effective purpose and personality.
Exploring the benefits of your competitors will also help with positioning your business in the right segment or space.
Workshop as a team
The best company pillars are rarely created in a vacuum. To really stand out to your target audience, you'll need to combine various perceptions to determine what makes your business special.
With this in mind, it's a good idea to invest in workshop exercises and discussions with all of your major shareholders. Discuss your brand promise, purpose, and values with your team.
Create clear guidelines
Brand pillars need to be showcased consistently by everyone in your business for them to be perceived as strong and sturdy. With this in mind, it's helpful to take some time to create a set of clear guidelines.
Determine what your purpose, positioning, personality, experience, and perception are going to be in a way your entire team can understand. These crucial points will help to guide your marketing and sales teams.
Discover your brand pillars
The question "what are brand pillars?" might seem complex at first. However, the reality is your pillars are simply the core foundations of your brand.
The pillars you create for your company will determine how you connect with your audience, and how you ensure you're always one step ahead of the competition.
As customers become more discerning about the businesses they choose to work with, your brand pillars will help to ensure you can connect with your audience on the right level.
The best pillars should ensure you can outshine the competition at every stage.
Fabrik: A branding agency for our times.