If you're asking "what colors go with green" for your next design project, you're in luck.
Countless colors complement green, from bright golds to soft blues and vivacious purples. Verdant colors are phenomenally versatile and ideal for creating natural, organic, or creative and bold spaces. You can essentially create any atmosphere you like.
Of course, the answer to the question "what colors go good with green" will vary depending on several factors.
Specifically, the shade of green you choose for your core color palette will influence its complementary hues. Lime greens are energetic and vibrant but also overwhelming when placed with equally zesty hues.
Emerald greens can be luxurious and indulgent, but they may make a room seem too dark when combined with deeper hues. If you're looking for the best combination of colors that go with green for a branding strategy, art piece, or even your home décor, we're here to help.
Here's your complete guide to the colors that complement green and what kind of shades you should consider adding to your palette.
What color matches with green? An introduction
To answer the question "what colors go with green?" we first need to look at color theory and the color wheel. One thing that makes green such a versatile color is that it sits in the center of the color wheel.
It can be combined with both warm and cool hues, depending on the atmosphere you want to create. However, the impact of your green palette will vary depending on the undertones of the hues you pick. So, it's essential to be cautious.
Green can be a wonderfully fun and fresh color to experiment with. It's one of the world's most popular hues and has a strong connection to concepts like wealth and growth. Before you start designing, it's worth considering the kind of vibe you're looking for.
If you want a completely "natural" color palette, which evokes thoughts of the great outdoors, you might mix green with other greens to create a monochromatic spectrum. Alternatively, you could use neutral hues like creams and browns mixed with soft yellows.
If you're looking for something more enigmatic, you might try combining green with the rich colors of purple and red. However, it's crucial to ensure these hues don't overwhelm each other too much, as this can lead to visual strain.
Green complementary color options
According to color theory, complementary colors are the shades that sit opposite to each other on the color wheel. This means red and green are naturally complementary. However, greens can also work well when paired with warm hues like oranges and pinks.
Some complementary colors can clash when the supporting hues are both highly saturated. Let's take a look at some of the complementary options you can try: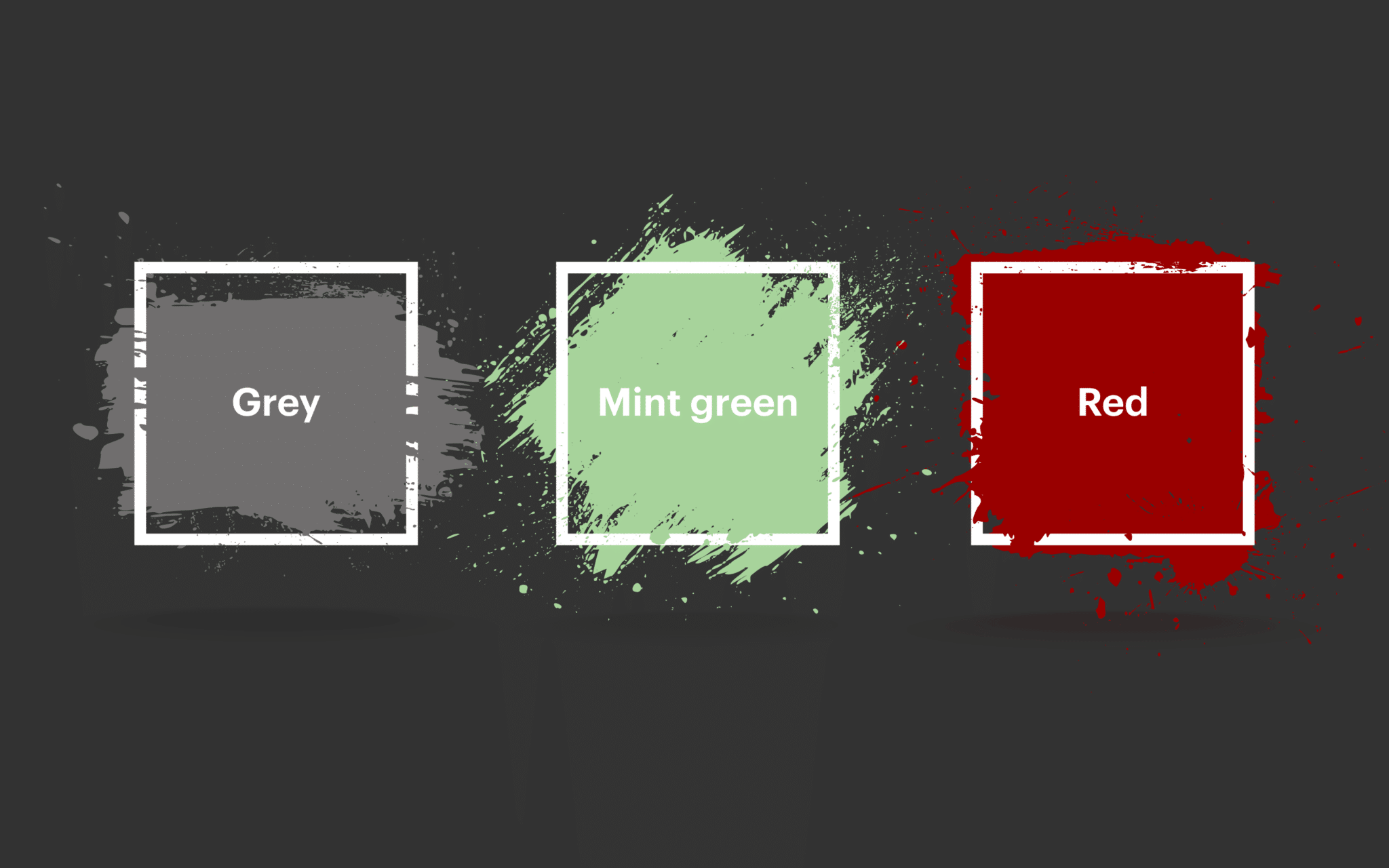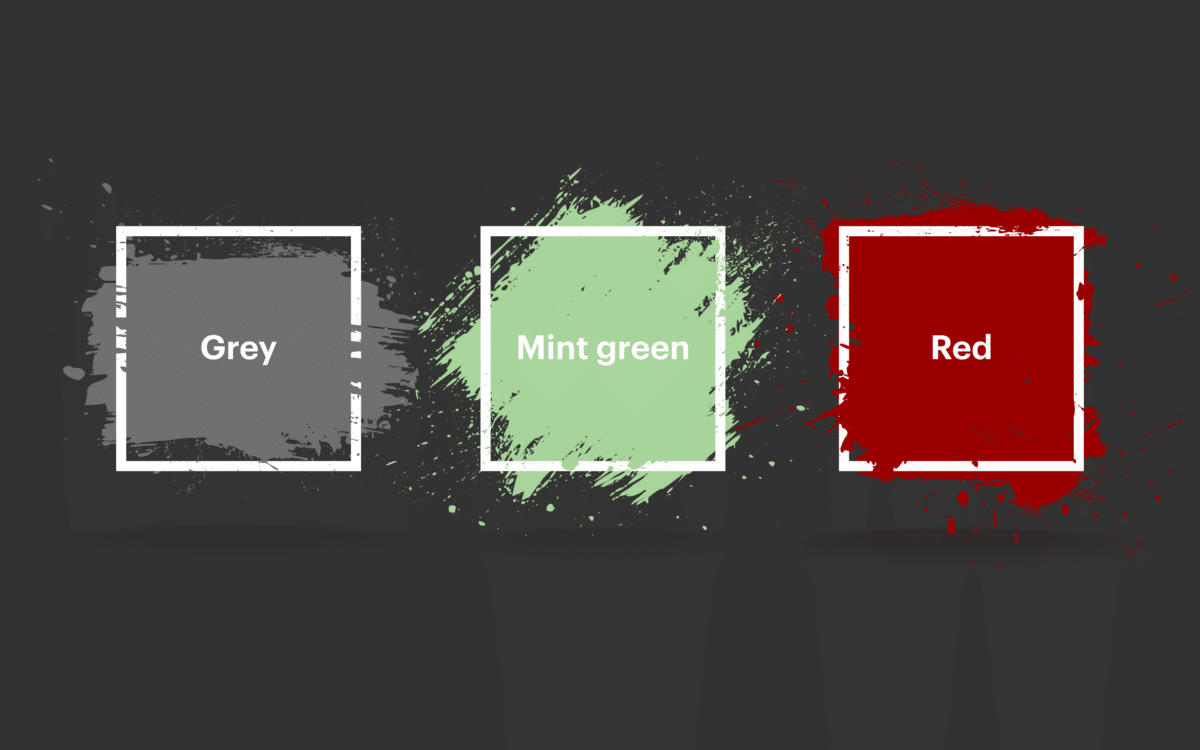 Grey, Mint Green, and red
If you're working with green and red in conjunction, it's important not to let your design seem too "Christmassy."
Bright reds like Crimson work best with softer greens, such as Mint Green, Apple Green, or even Sage Green. These colors work exceptionally well together when paired with a neutral shade, like slate grey.
Ideally, to create the perfect effect here, you'd use a mostly green palette with splashes of red and grey accents. Start with your mint base, then add in some Crimson decorative features. You can also throw in some white to tone down the color collection.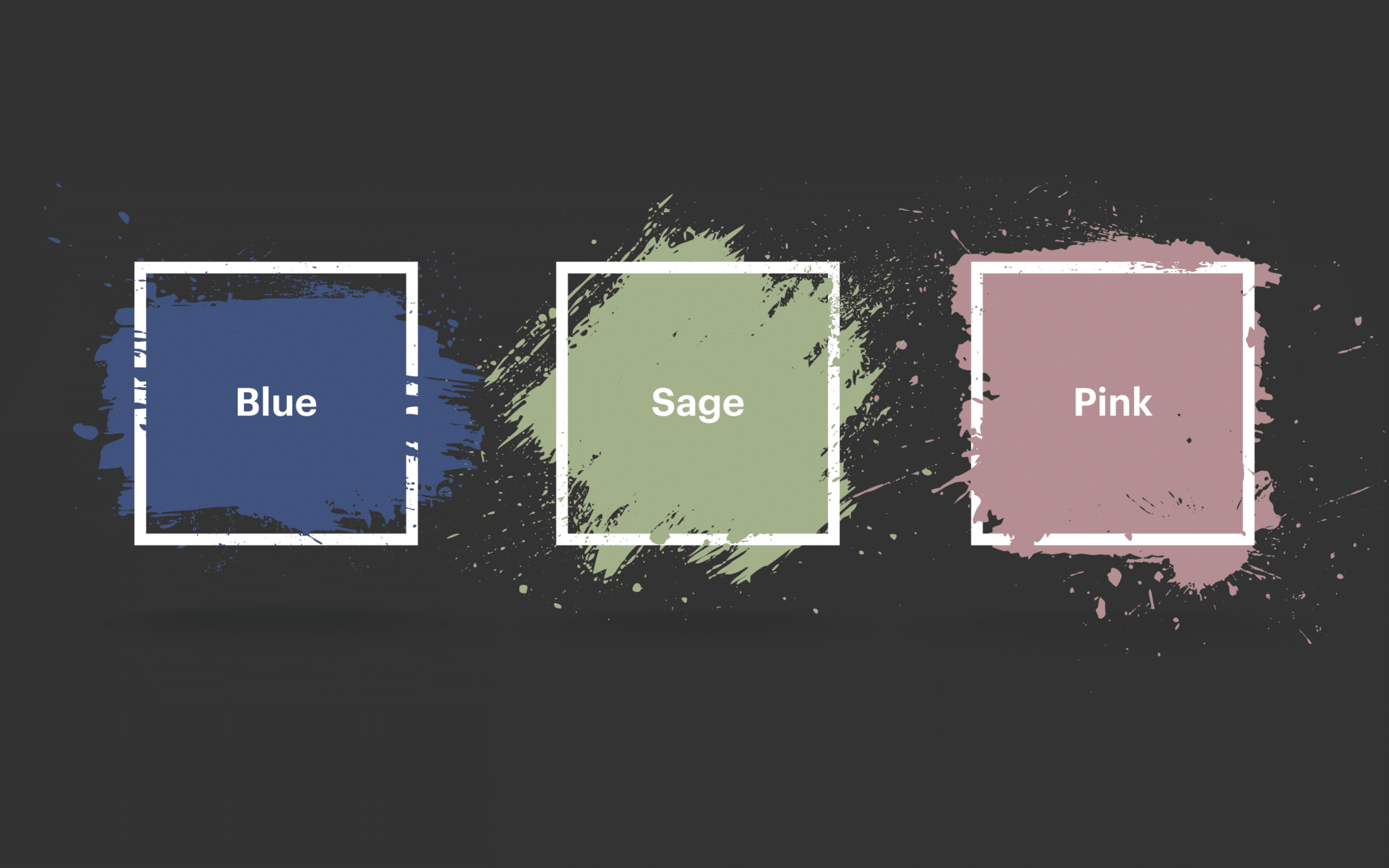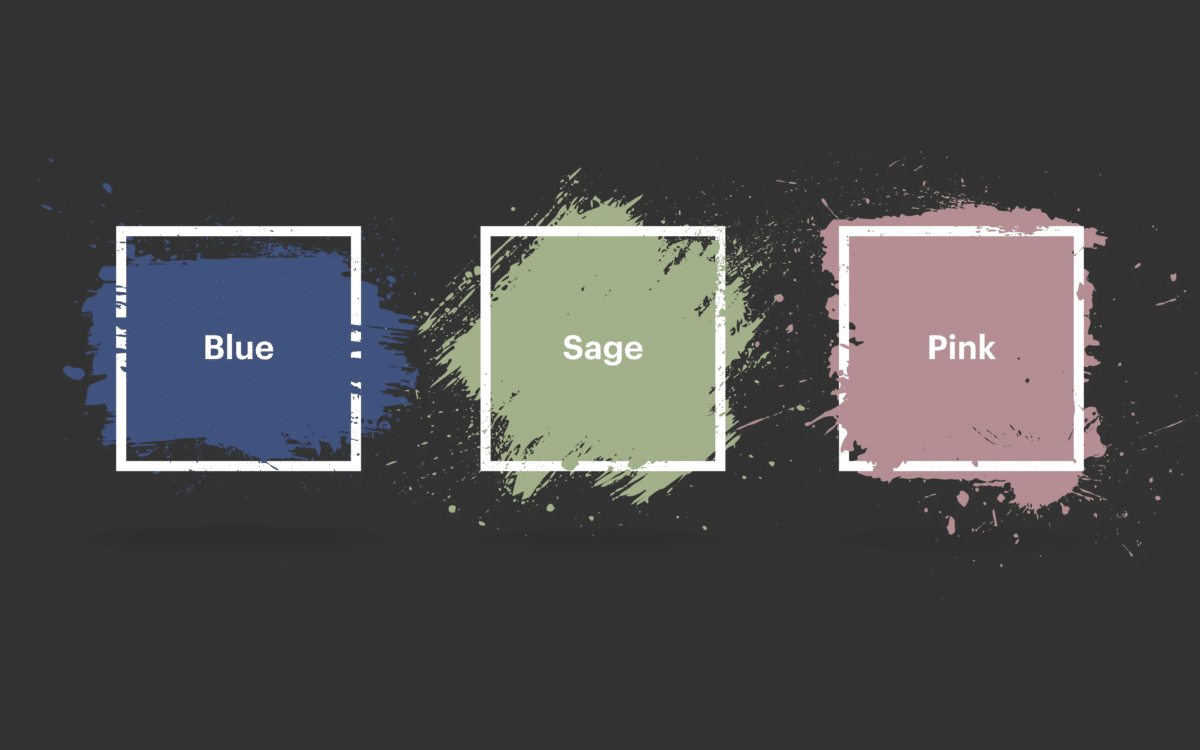 Blue, Sage Green, and pink
When choosing colors that go with green, pink might not be the first thing you'd think of, but these two shades can work beautifully together to create a vintage appeal. Dusty Rose Pink is a fantastic shade with a softer, greyish cast.
It's a good shade to mix with Sage Green because it evokes thoughts of springtime and florals.
Mix in a dark shade of navy blue to bring extra depth to your palette and make your two central shades stand out even more. If you want to go bold, consider swapping your Sage Green for shades of Hunter or Forest Green.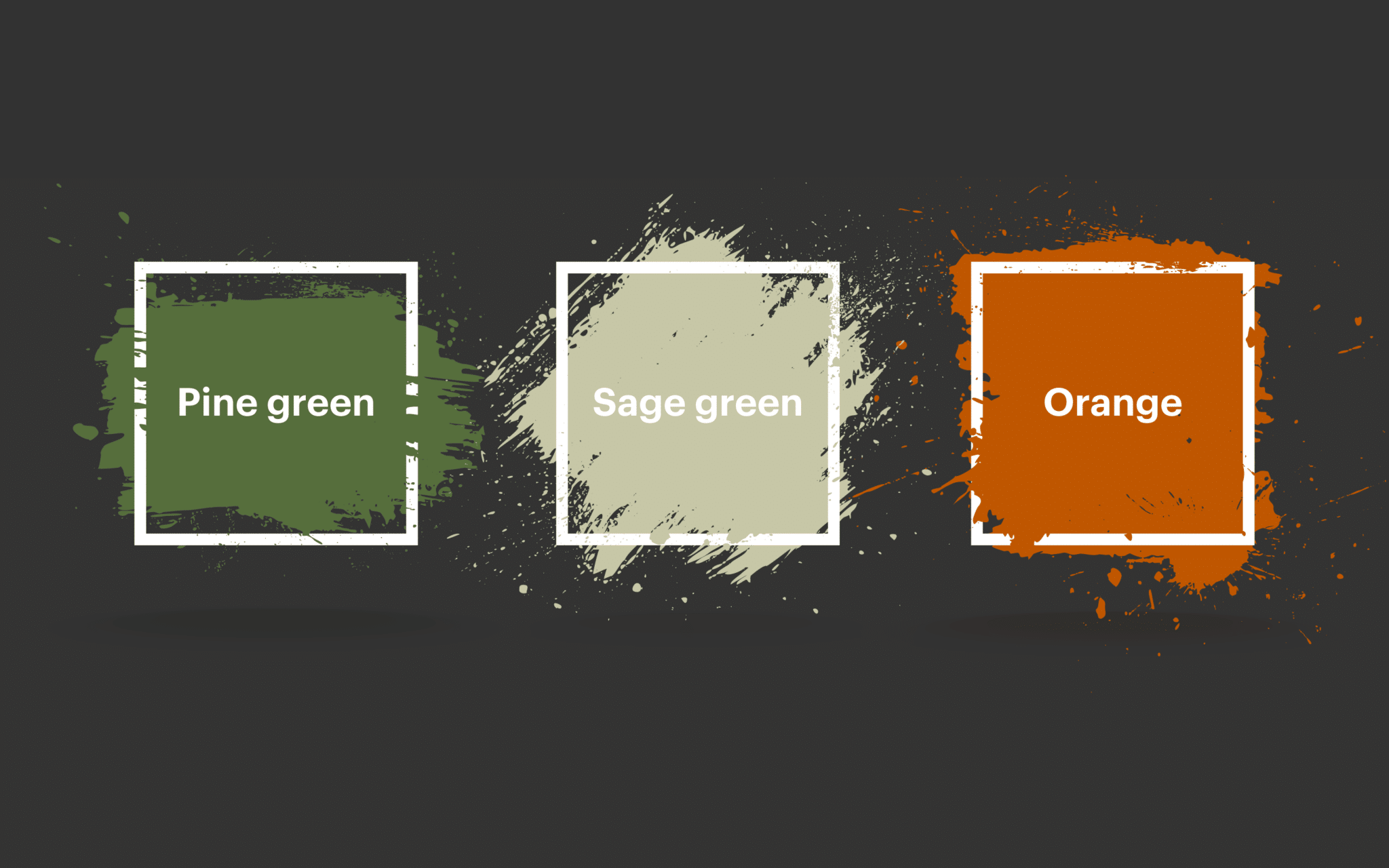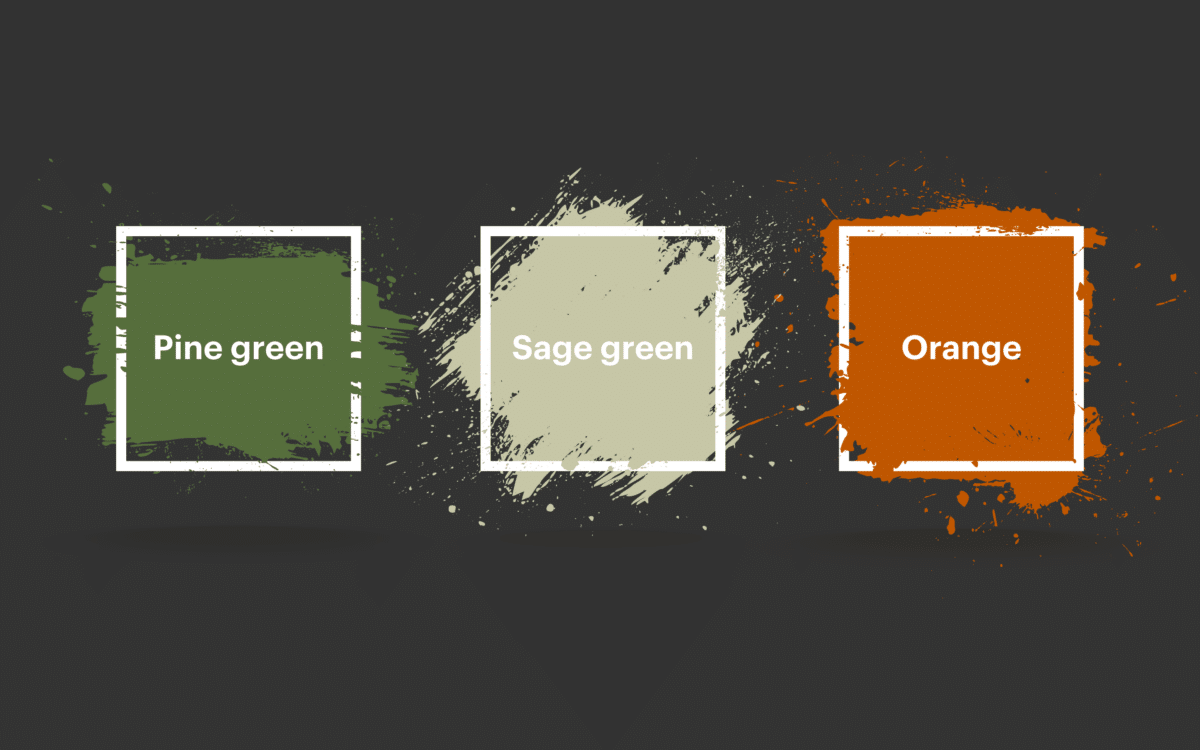 Sage Green, Pine Green, and orange
Mixing orange and green can be a fantastic choice if you're looking for a warm and mature color palette. Start with a natural shade of green like Pine Green, and mix it with a softer hue like Sage or Mint. Add in Burnt Orange for an autumnal effect.
This is an excellent color selection to mix with natural tones in a household, like wood. The deep orange shade will bring out some of the warmth in the green spectrum to make your property look more welcoming and inviting.
Pairing green with a Vivid Orange will add more energy to a space, but an equally vivacious green can be too overwhelming.
What colors go best with green?
When choosing what colors go with green for your palette, it's worth remembering you're not limited to contrasting or complementary colors. The versatility of green means countless combinations you can experiment with to create a unique result.
Here are some fantastic choices for colors that go with green.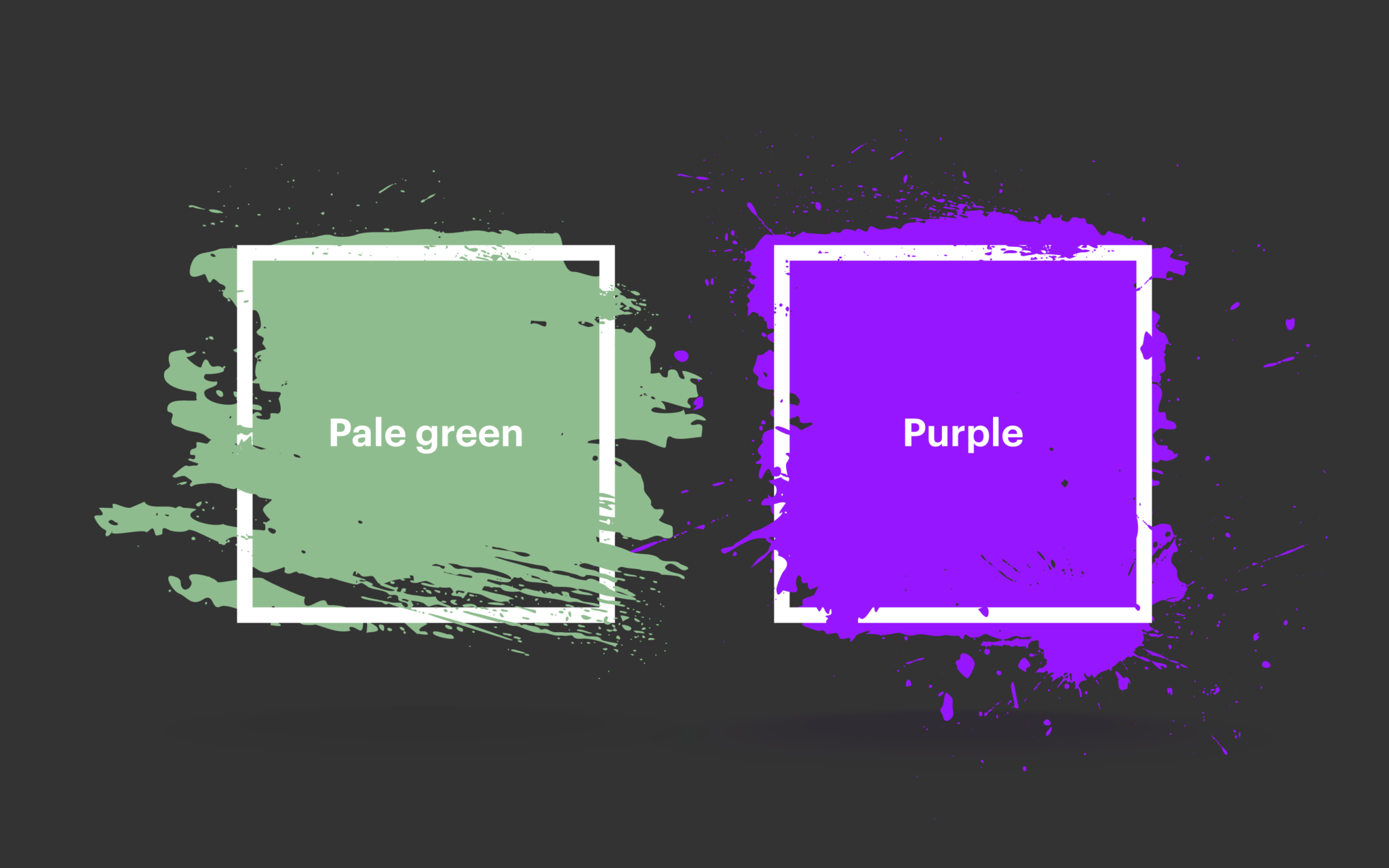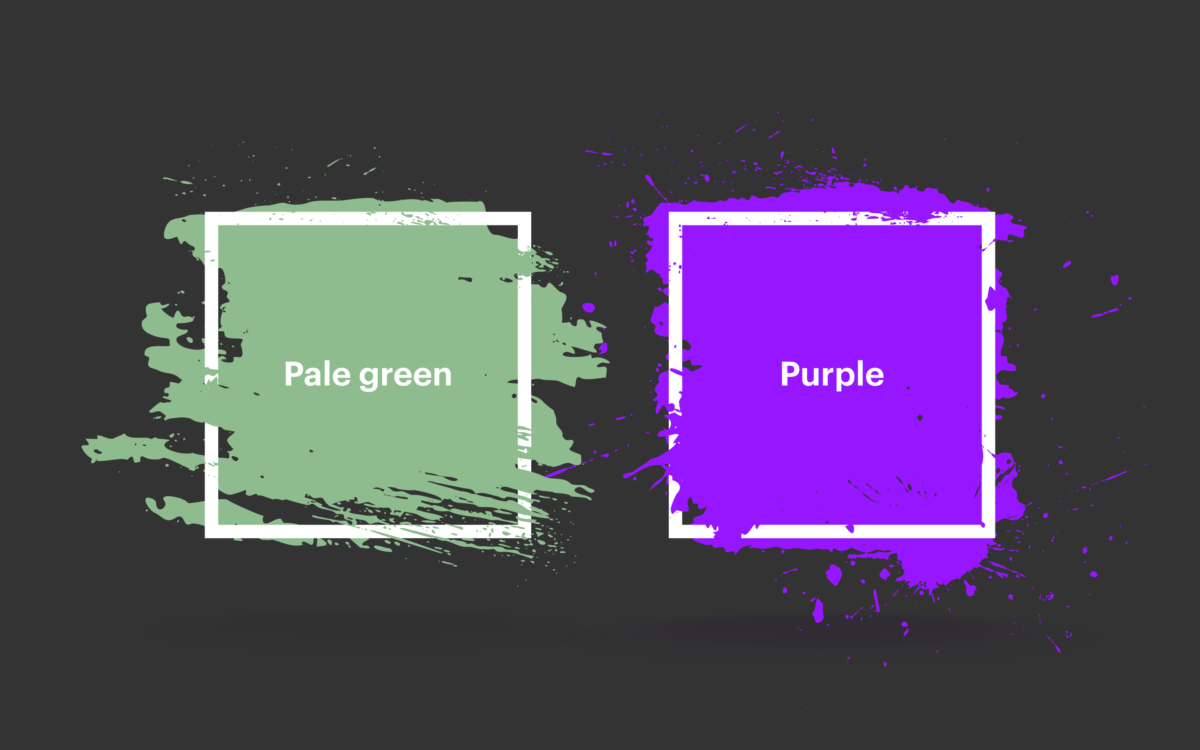 Pale Green and purple
Purple and green can either be a bold or calming combination, depending on the shades you choose. If you're looking for a soft and floral finish, try a Lavender Purple with a soft green in a shade like mint or sage.
If you want to turn up the energy in a room, combine your softer green with a more saturated, vibrant purple or a deeper shade of eggplant.
The key to success here is using more botanical shades to combine the natural beauty of green with the more unusual elements of purple. Add soft greys and whites to your mixture to really make your color choices pop.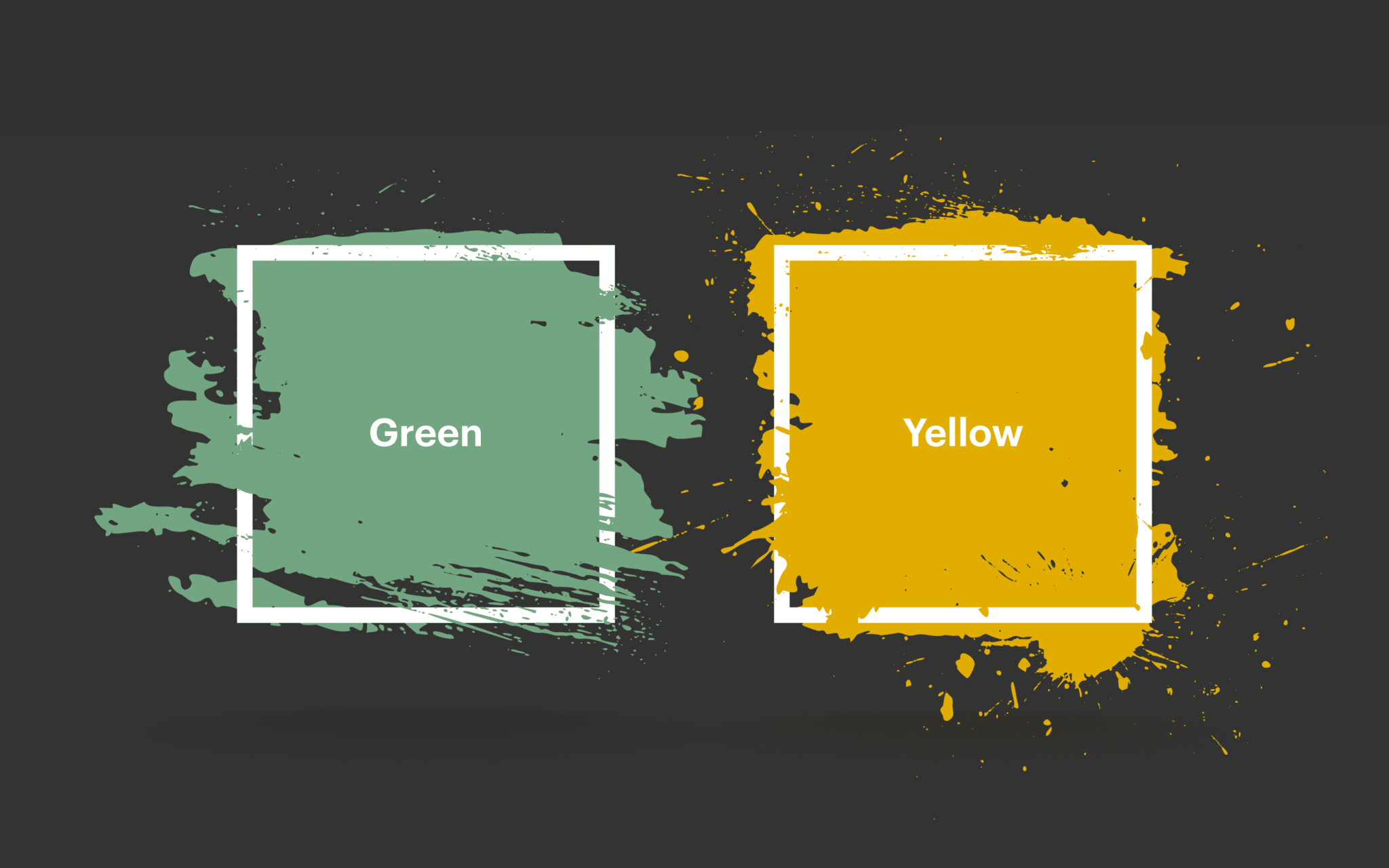 Green and yellow
Consider mixing green with yellow for a unique vintage feel in your room or branding palette. Mustard yellow is a beautiful warm shade that works well alongside various green hues. You can opt for a Chartreuse or Pea Green for a particularly harmonious color palette.
When pairing yellows and greens, the key to success is choosing a yellow undertone for your green shade. This will help the colors to blend naturally together. You can also opt for a softer shade of yellow with a bold green hue for a more significant contrast.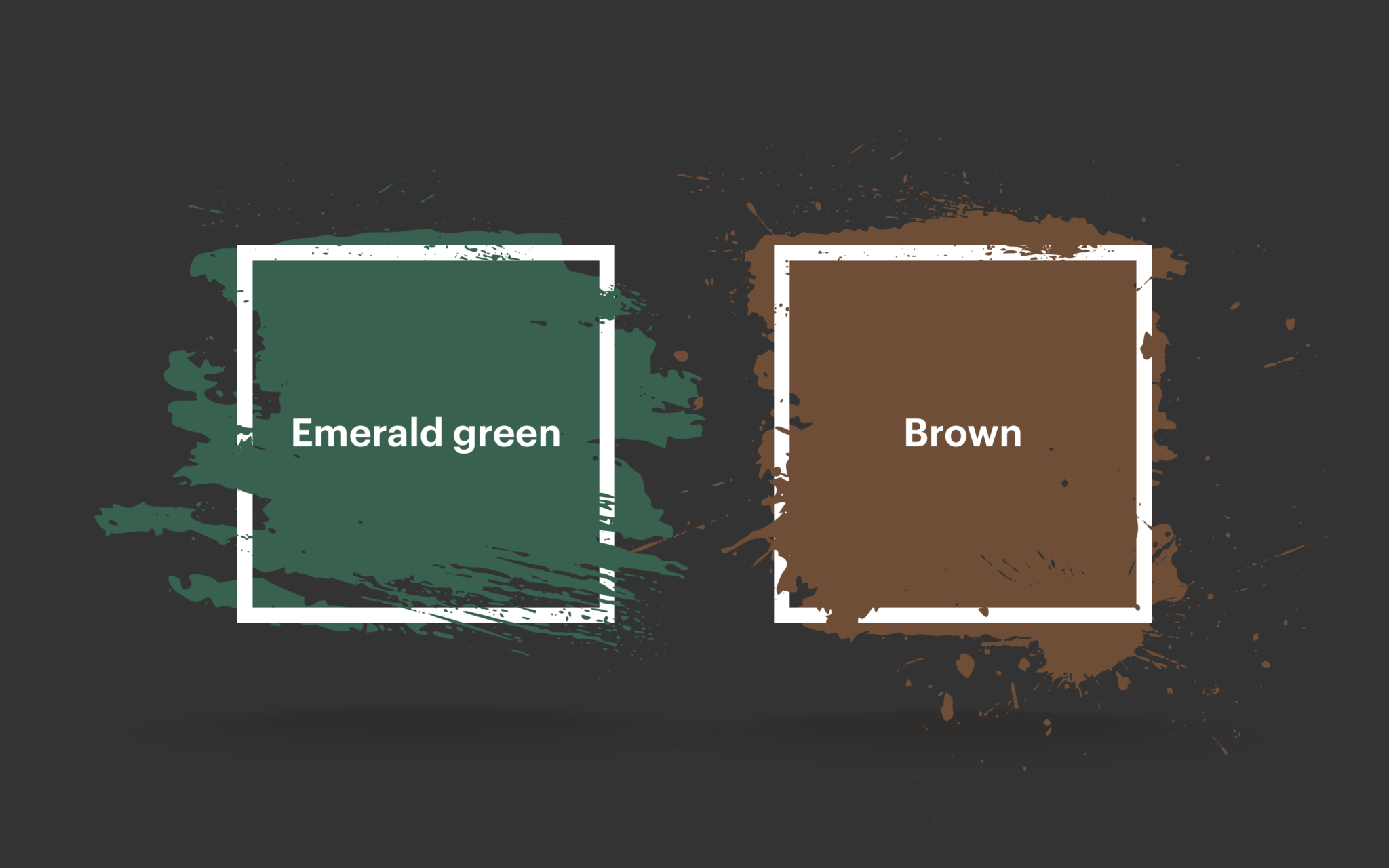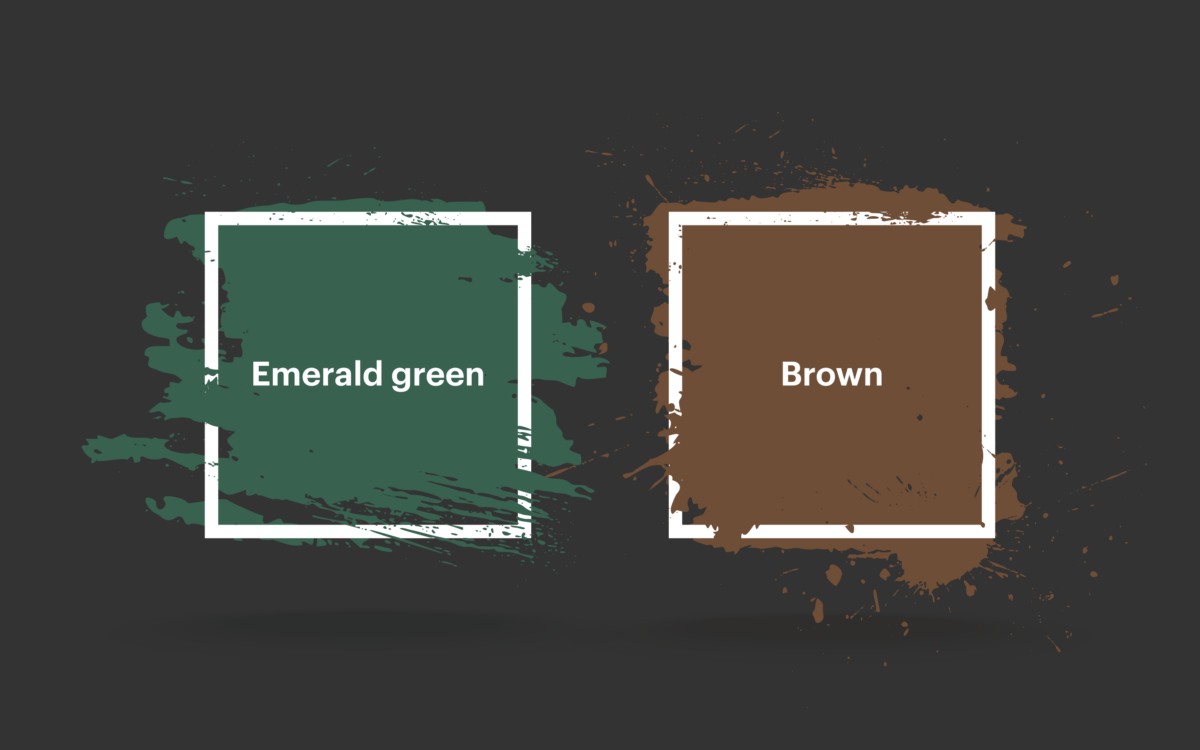 Emerald Green and brown
If you're looking for a bolder, darker color palette, choose a coffee shade of brown and mix it with bright and vibrant Emerald Greens.
Since too many dark shades in a room can make the space appear smaller, you might want to add complementary neutral shades into the mix, such as a pale shade of Mint Green or a soft creamy white.
An excellent way to use green and brown together in a color scheme is to match multiple greens in your walls and your décor with wooden furniture. This creates an organic, natural environment with a strong connection to the outdoors.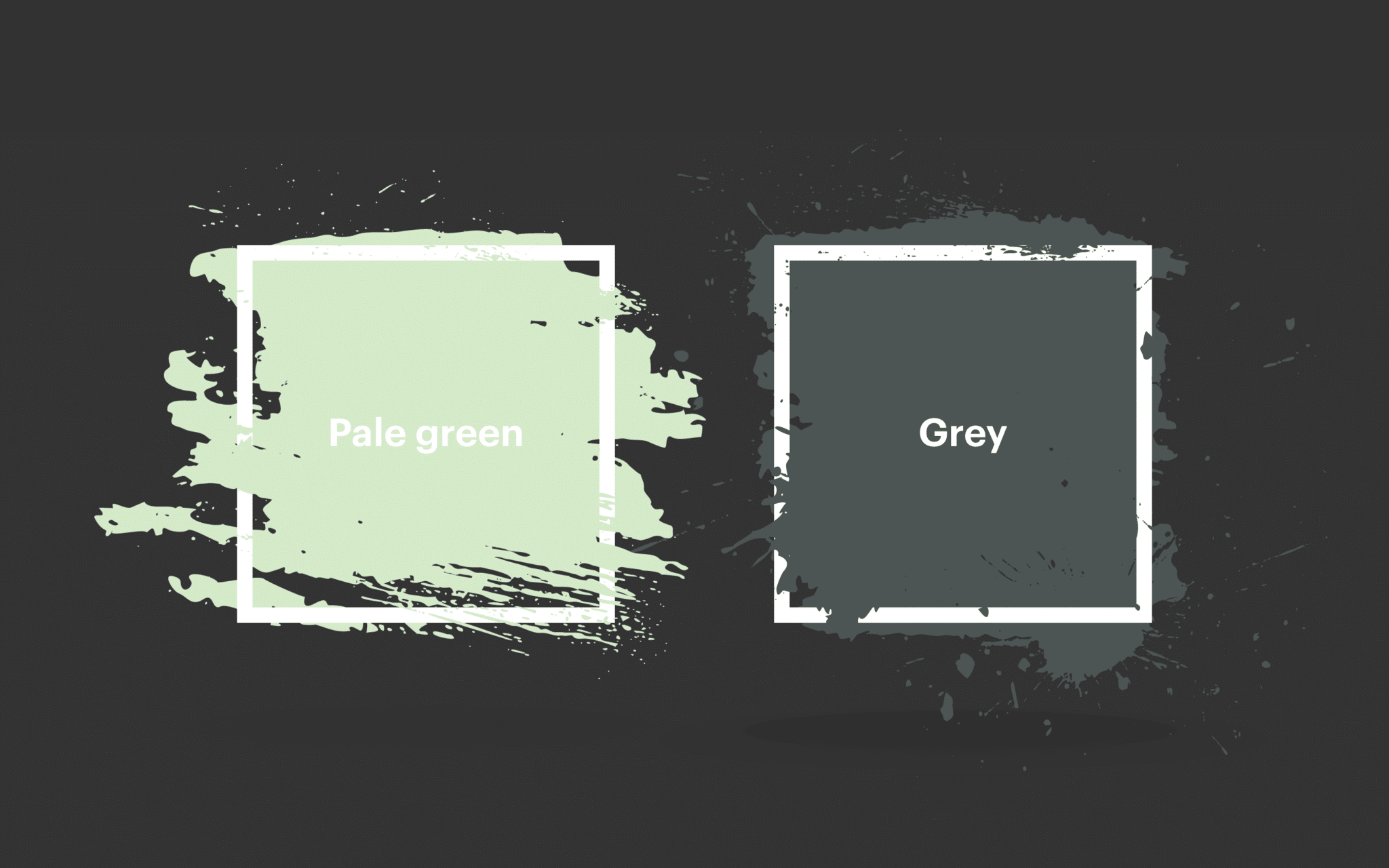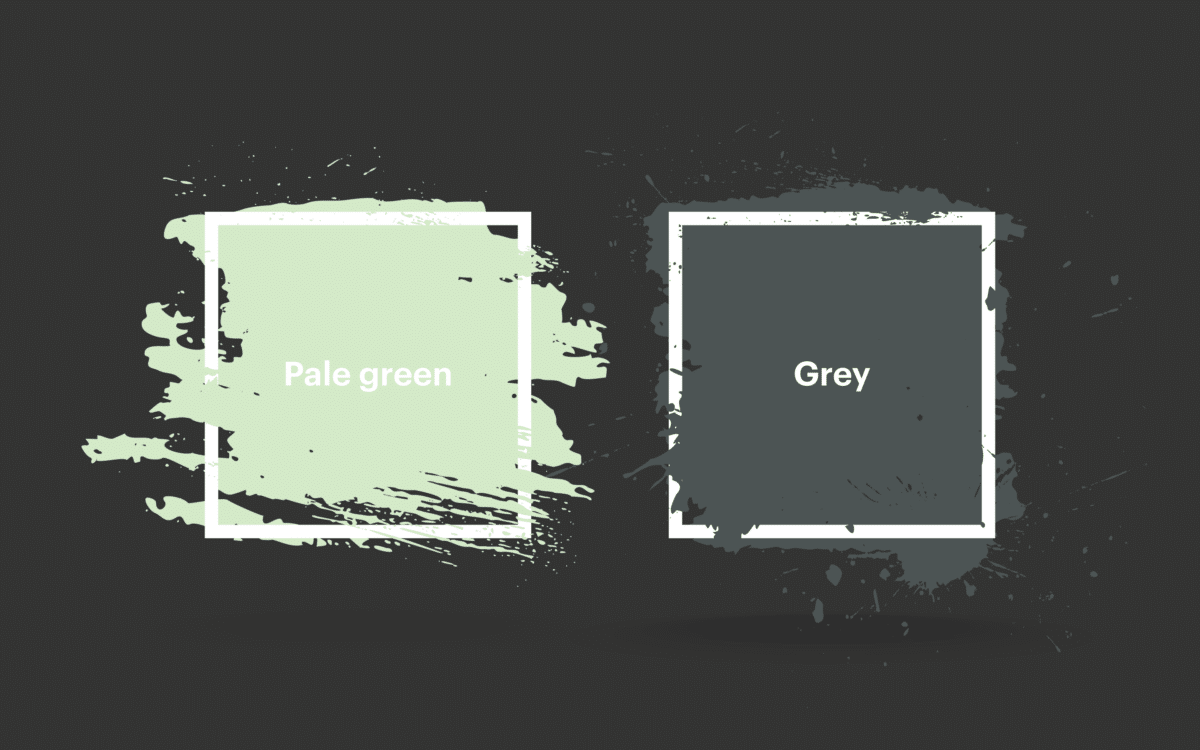 Pale Green and grey
Grey is a wonderfully neutral color that works well with various shades. Pale Greens and greys will create a modern, neutral look, ideal for kitchens and bathrooms. Alternatively, you could opt for a softer grey hue with a darker, more vibrant green.
If you're mixing paler shades of green and grey, it's worth adding a few spots of color into the mix too. A bright Crimson or Lemon Yellow will really make your color palette pop and draw attention to the accents in your space.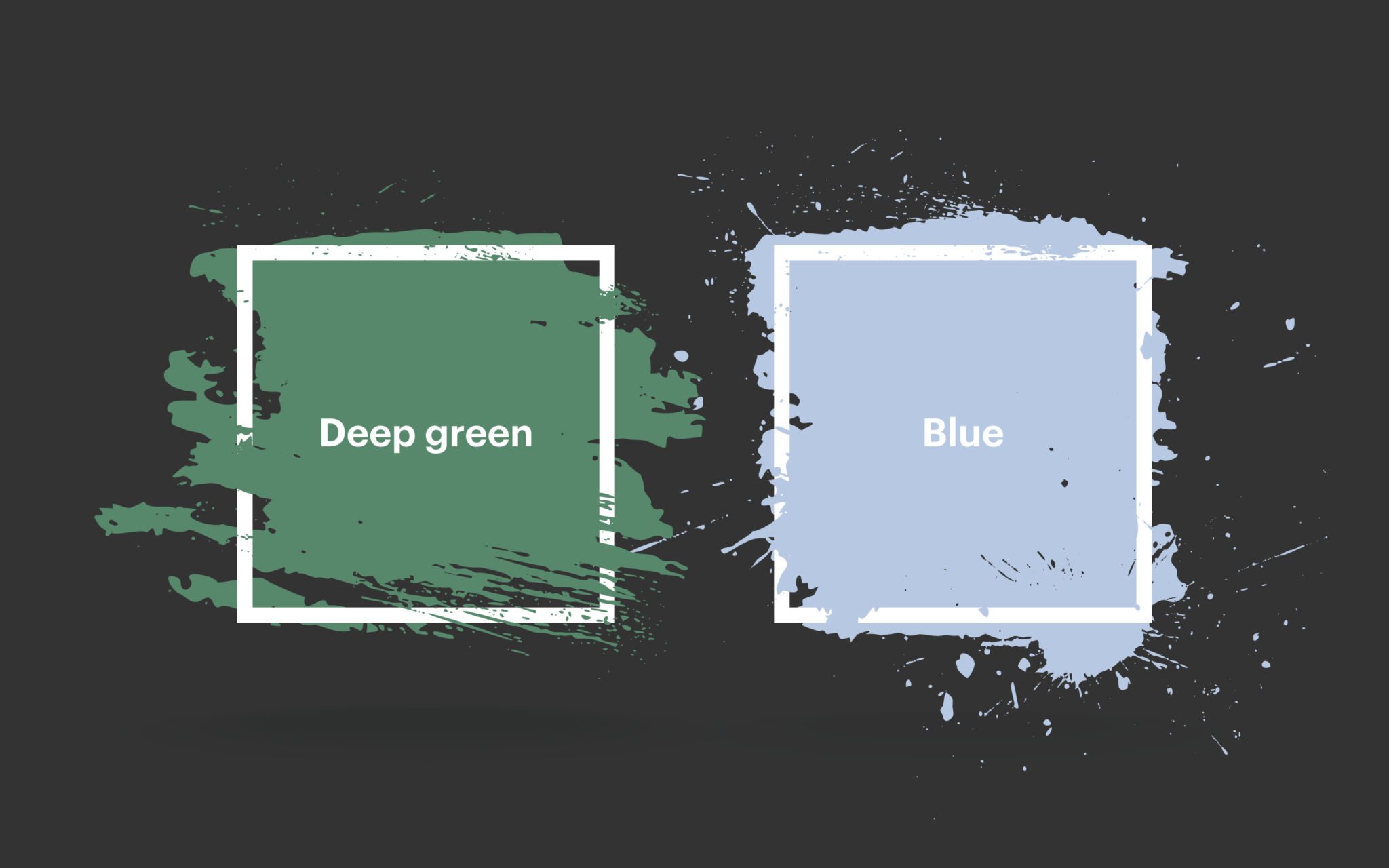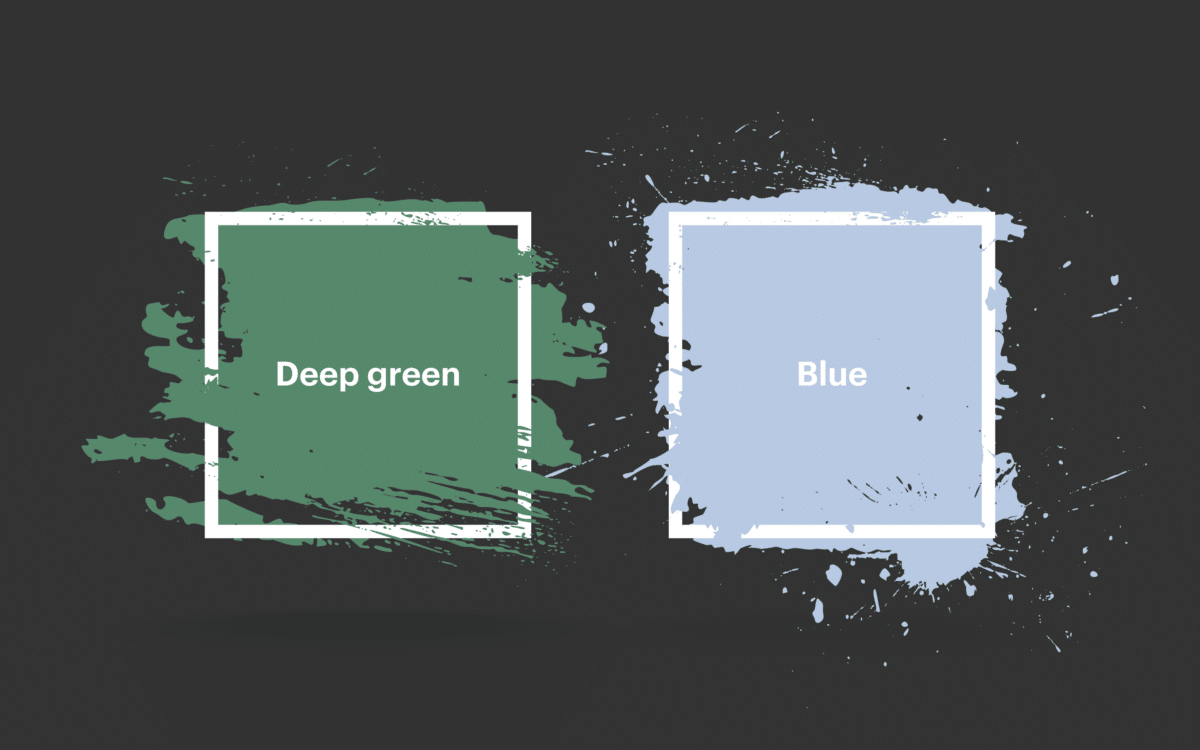 Deep Green and blue
Since blue is one of the underlying elements of any green tone, it's hard to go wrong with a grey and blue color combination. If you're looking for colors that complement green perfectly and want a cooler color palette, start with a pale slate blue and mix in some cooler green shades.
A great way to enhance this color combination is to add some extra complementary colors, like cool white for a bathroom or even black if you want to get dramatic. Rich jewel-like greens and vibrant blues work well together to make an impact.
Alternatively, you can choose pastel shades for a more laid-back and relaxing vibe.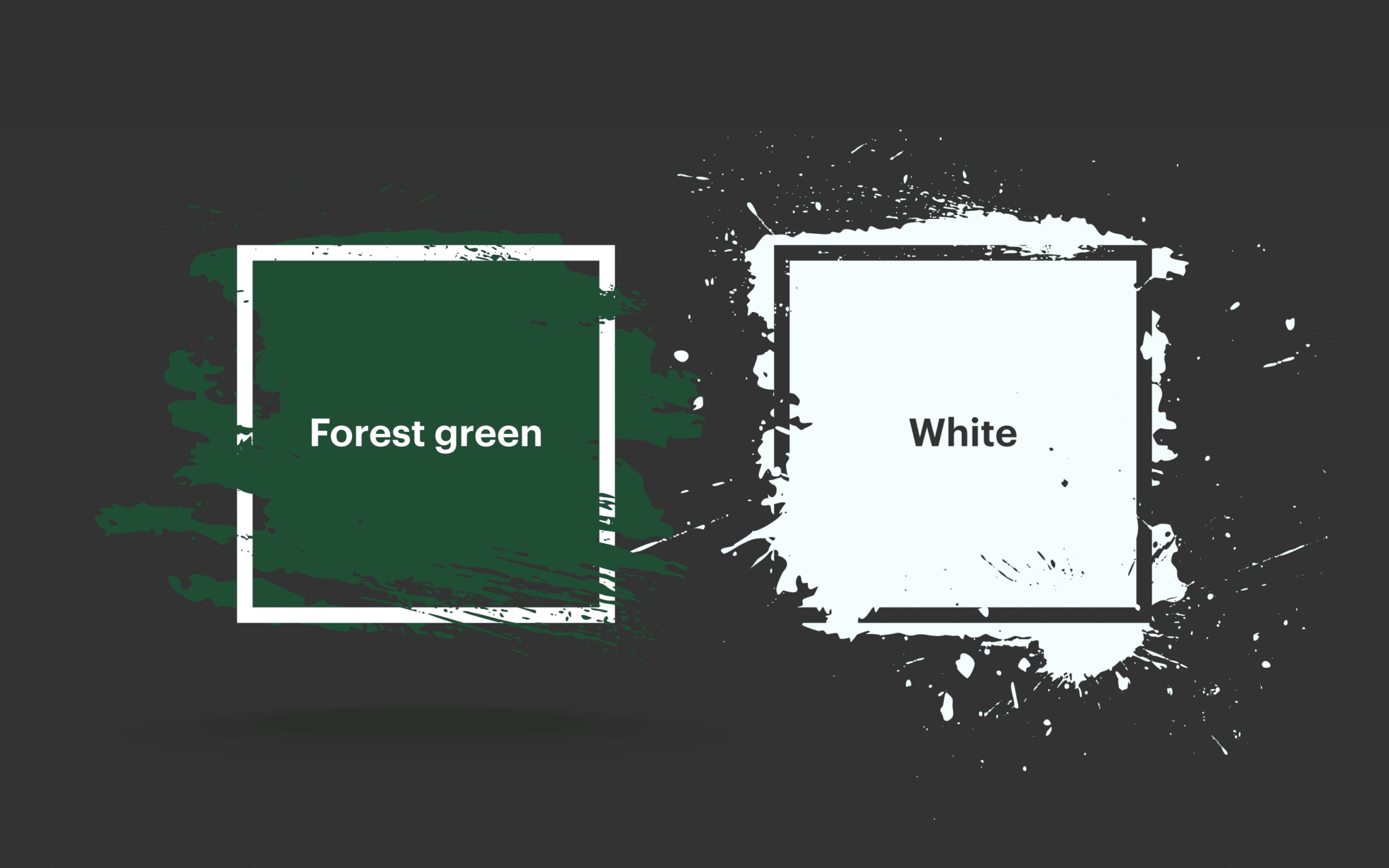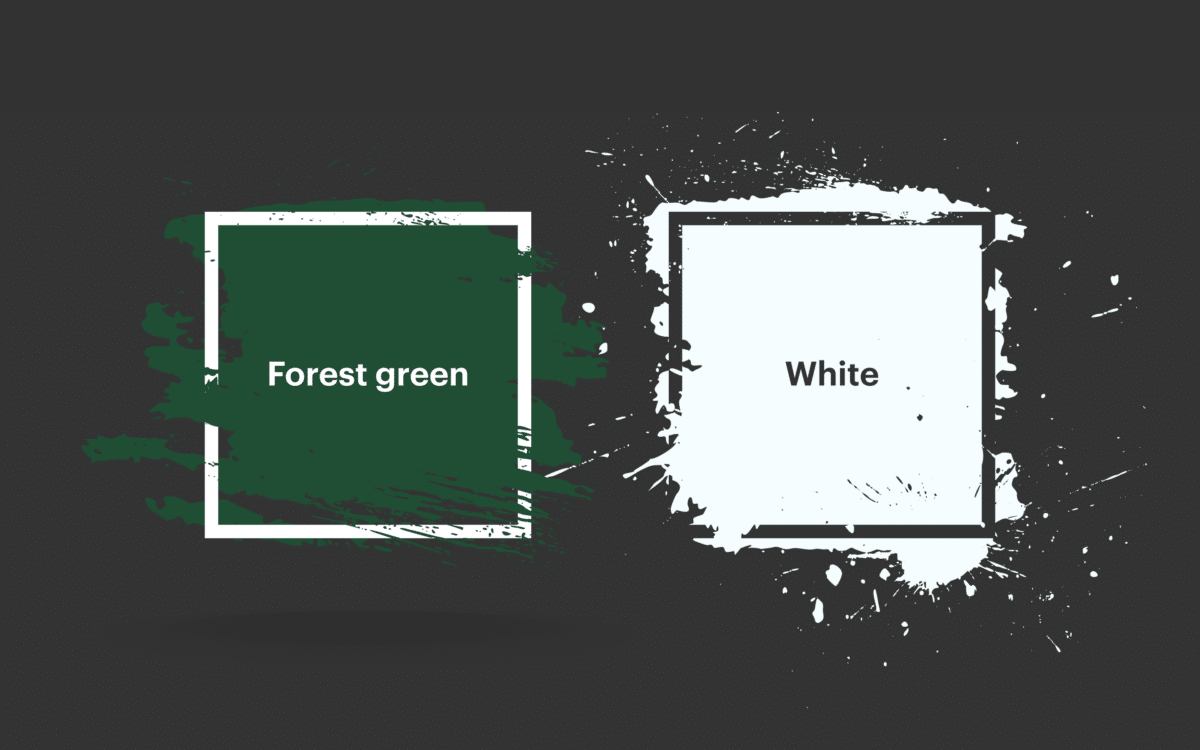 Forest Green and white
If you're struggling to find colors that match green perfectly, you can't go wrong with white. White can work with virtually any shade of green, but it's best paired with more vibrant hues so your palette doesn't seem too pale or drained.
Deep Forest Greens contrast perfectly with white when you want something dark without veering into black or grey territory.
Jade Green and Emerald Greens work perfectly with crisp true whites. Alternatively, if you're going for a more yellowish-white, like champagne, you can opt for a warmer, yellower shade of green, like Pistachio or Avocado Green.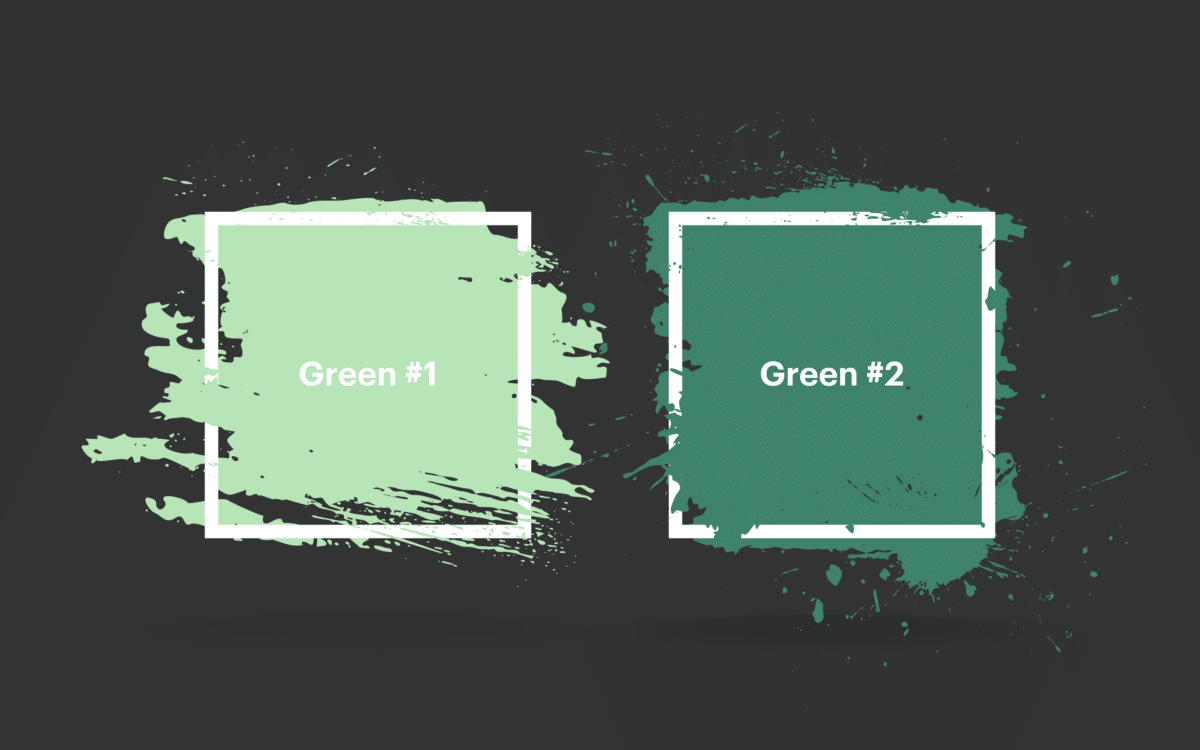 Green and other greens
You don't have to veer far across the spectrum to find combination colors with green. If you love green as a central hue, consider mixing different contrasting tones together to create a beautiful monochromatic effect.
The idea here is to create a unique impact by blending greens that match naturally together.
Mint Greens with Emeralds work fantastically together if you want to create contrast. Alternatively, you could use similar shades of green to create an almost gradient effect in your home or design palette. The options are practically endless.
Combination colors that go with green
Although you can create a remarkable effect by combining green with just one other color, it's also worth experimenting with a broader color palette. In most cases, if you're designing a brand or building out a new room, it's best to stick to a few central colors at most.
Here are some of the best triple combination colors that go with green.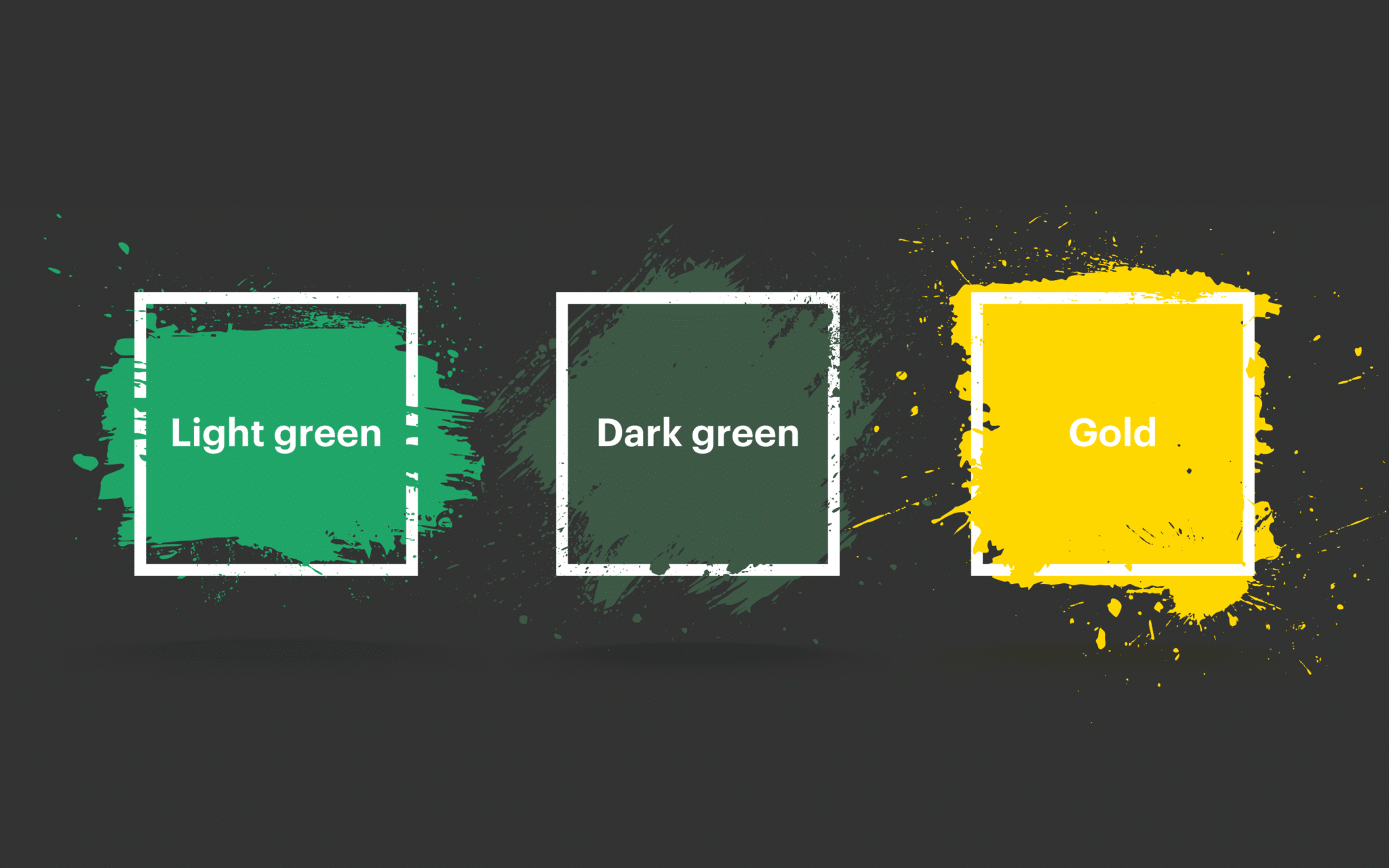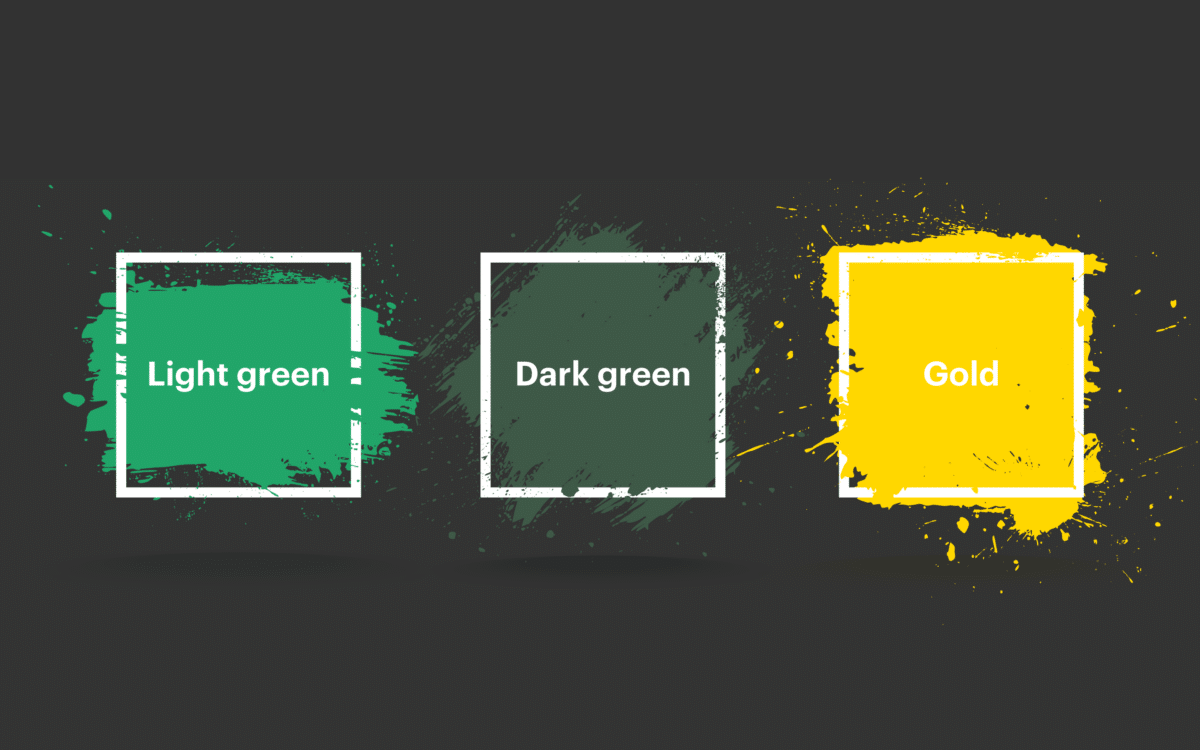 Light green, dark green, and gold
Yellow and green work wonderfully together, so it only makes sense that gold and green would look fantastic too. The best way to use gold in any color palette is as an accent.
Start with a monochromatic green spectrum, combining a soft Mint Green with a darker Forest Green, then add gold accessories to make the brightness of the shades pop.
You could consider swapping a green shade with black if you want a more dramatic finish. Gold, black and green can create a remarkable effect together when you want a modern and rich vibe. Stick to bright gold hues for the best outcome.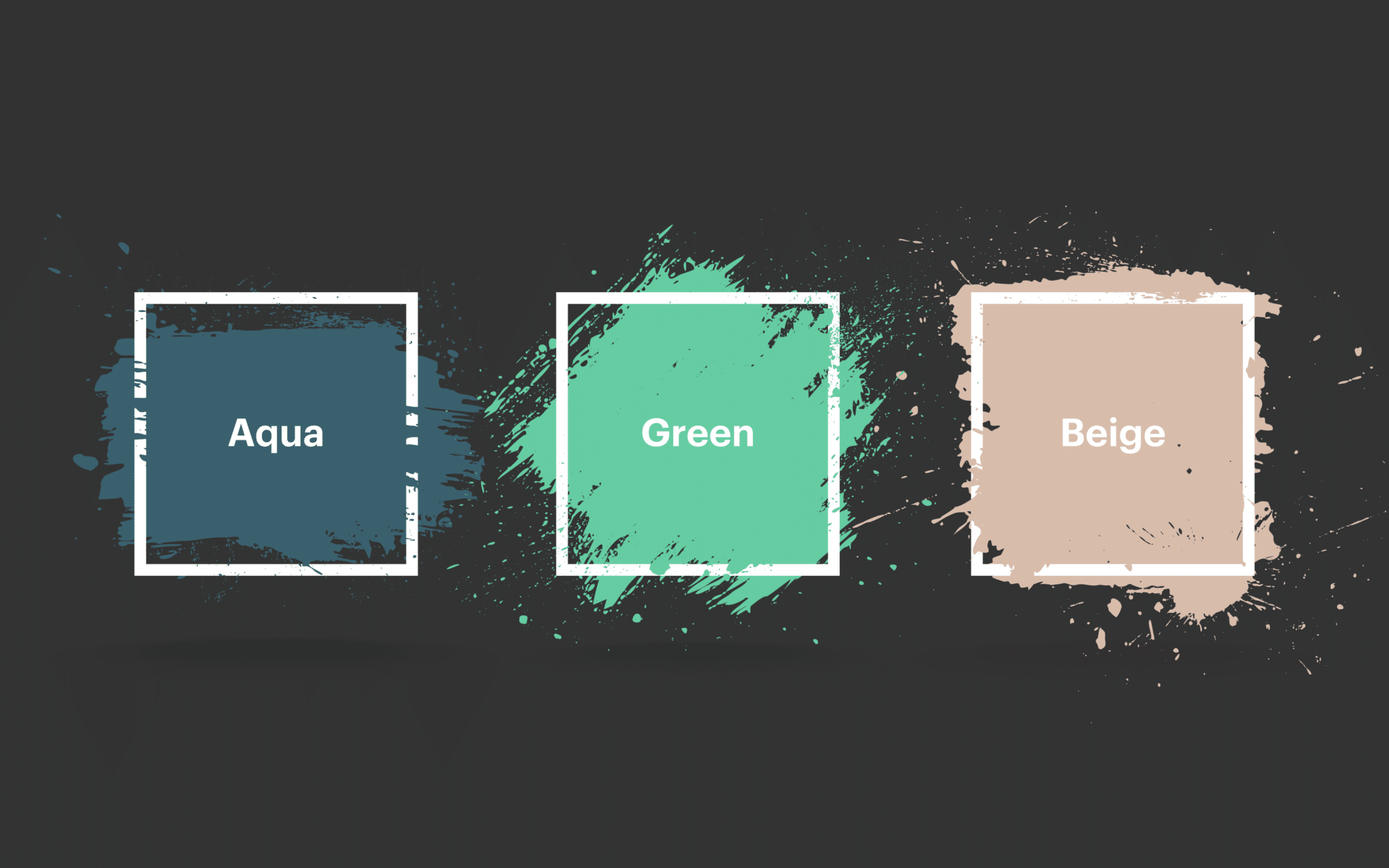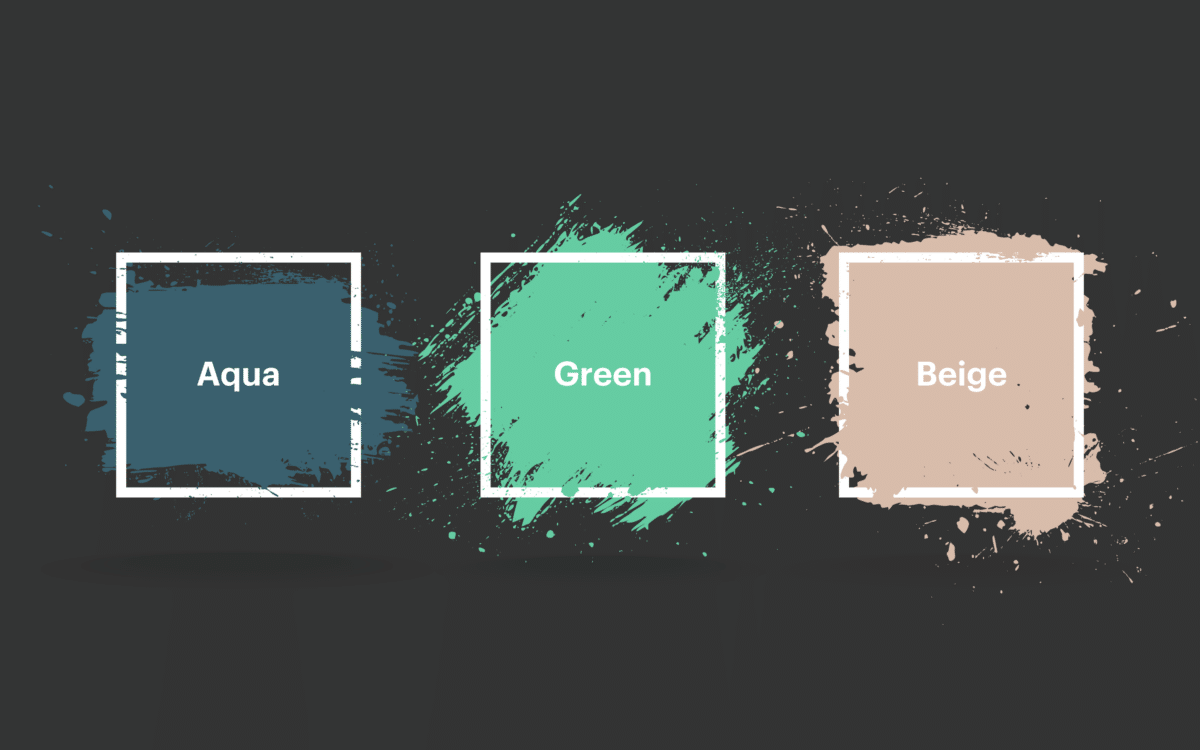 Aqua, green, and beige
This is a great color combination if you're looking to create an almost nautical effect. Begin by mixing some blue-green shades into your palette, such as aqua and dark teal green. Add your beige to give your room an almost sandy finish.
Seafoam and mint shades look fantastic with beige, particularly when you have a contrasting dark color to set everything else off. Remember, cool beige typically works best with cooler green colors, which have a bluer element. Yellowish beiges mix well with forest and botanical greens.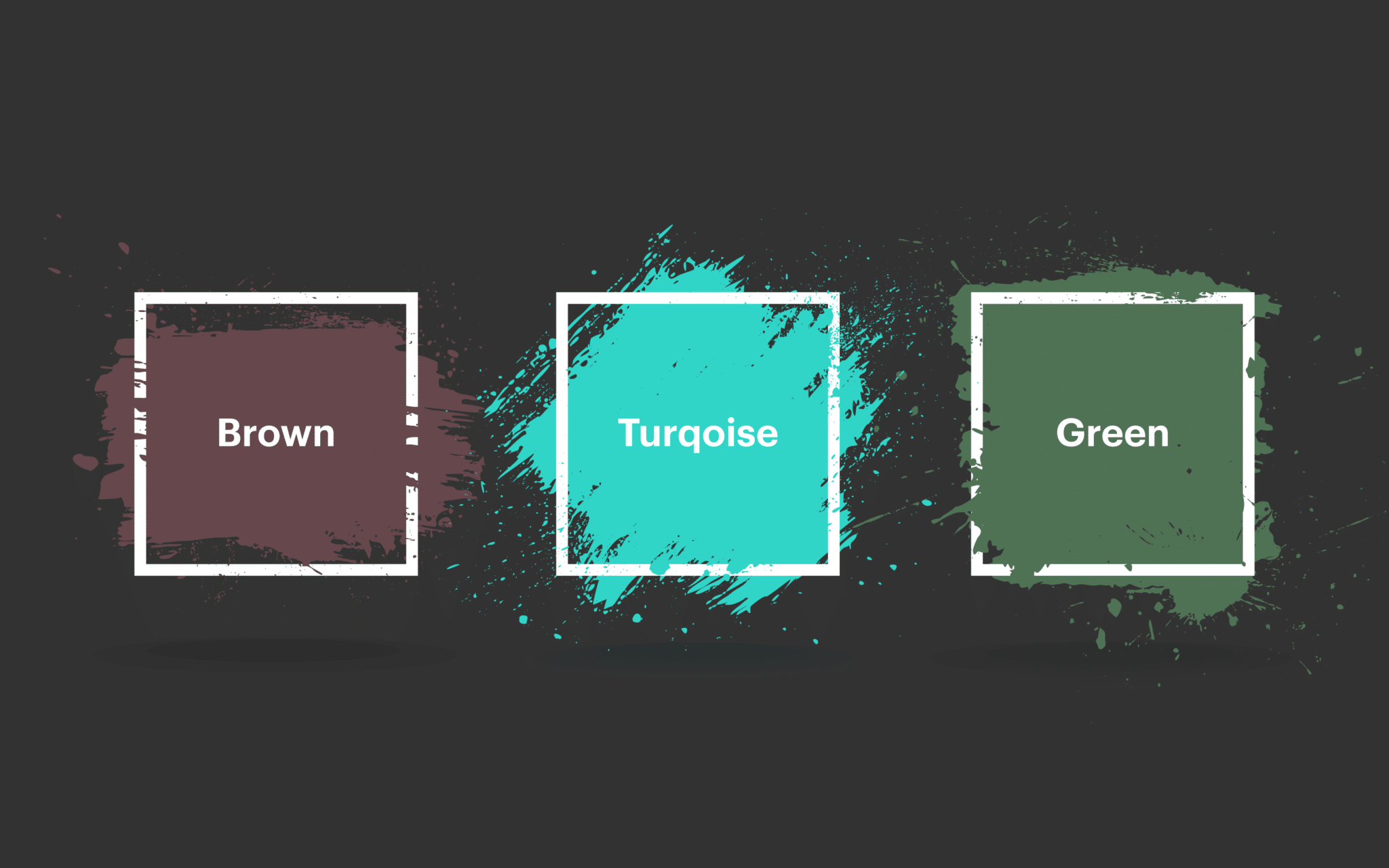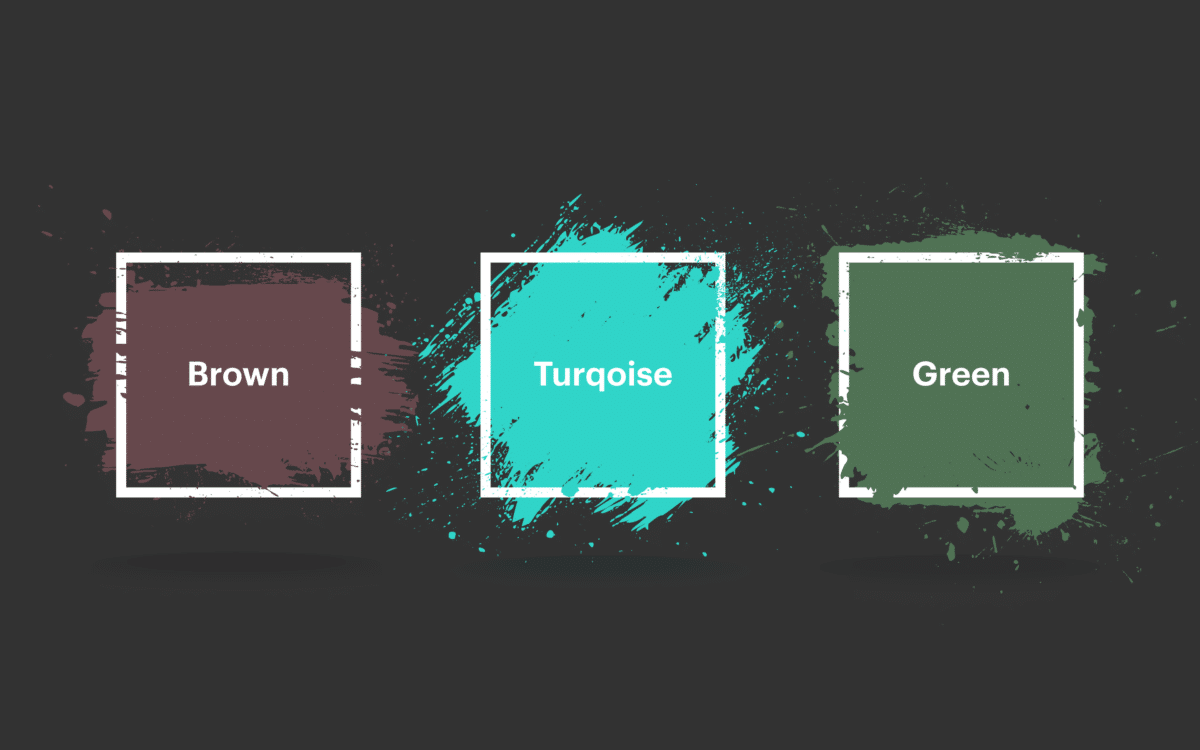 Brown, turquoise, and green
Turquoise comes in many different tones and shades, ranging from greener variations to those closer to the blue spectrum. If you're going for a bright turquoise hue, it's a good idea to balance the color with deeper, muddier green, like Forest Green.
Alternatively, if you need something lighter, you can opt for something like mint or seafoam green.
Choose a deep coffee brown or wooden shade to enhance your space and add warmth to the mix. This is a great way to create a bold color palette that draws the eye to some specific elements in your home or design.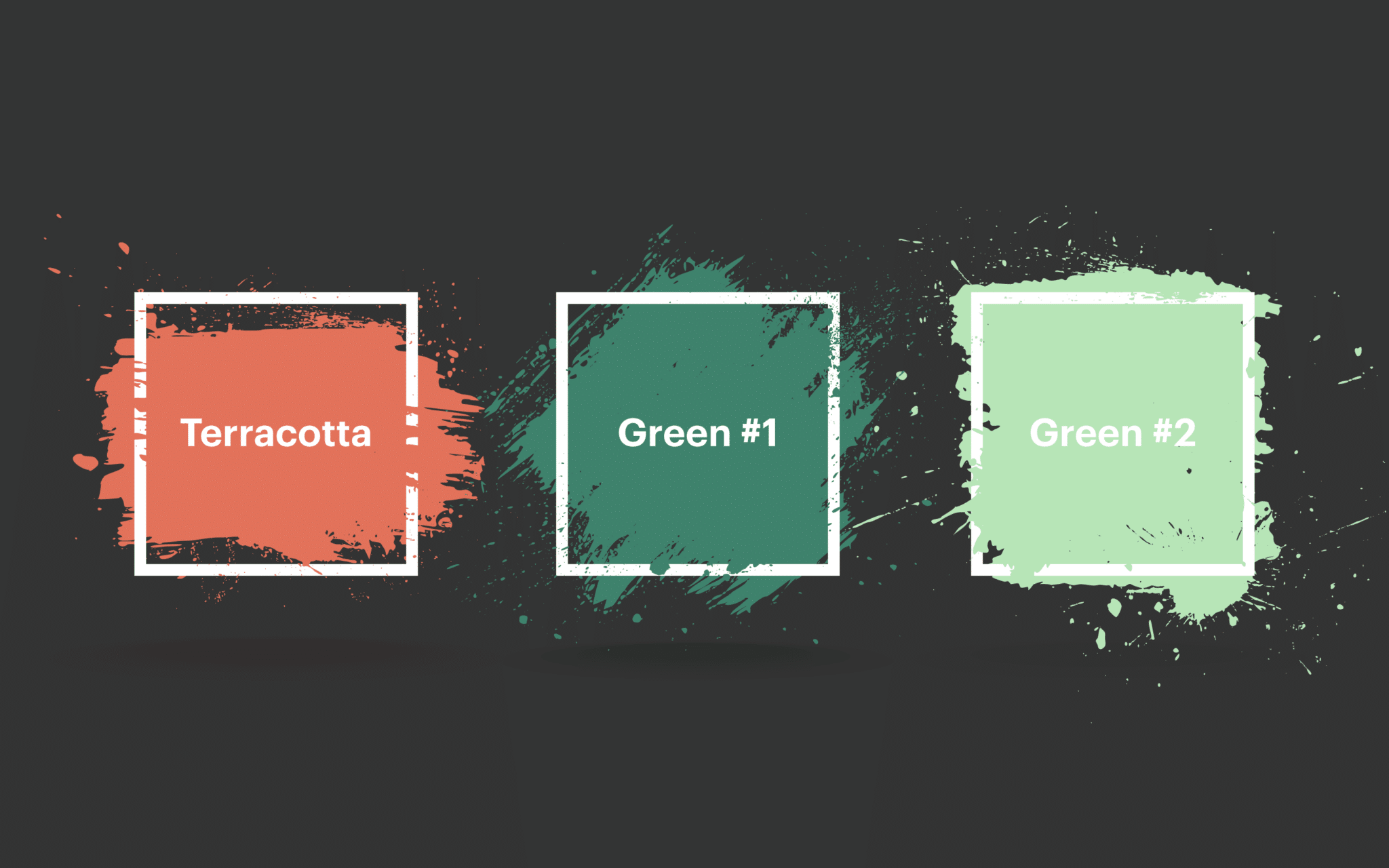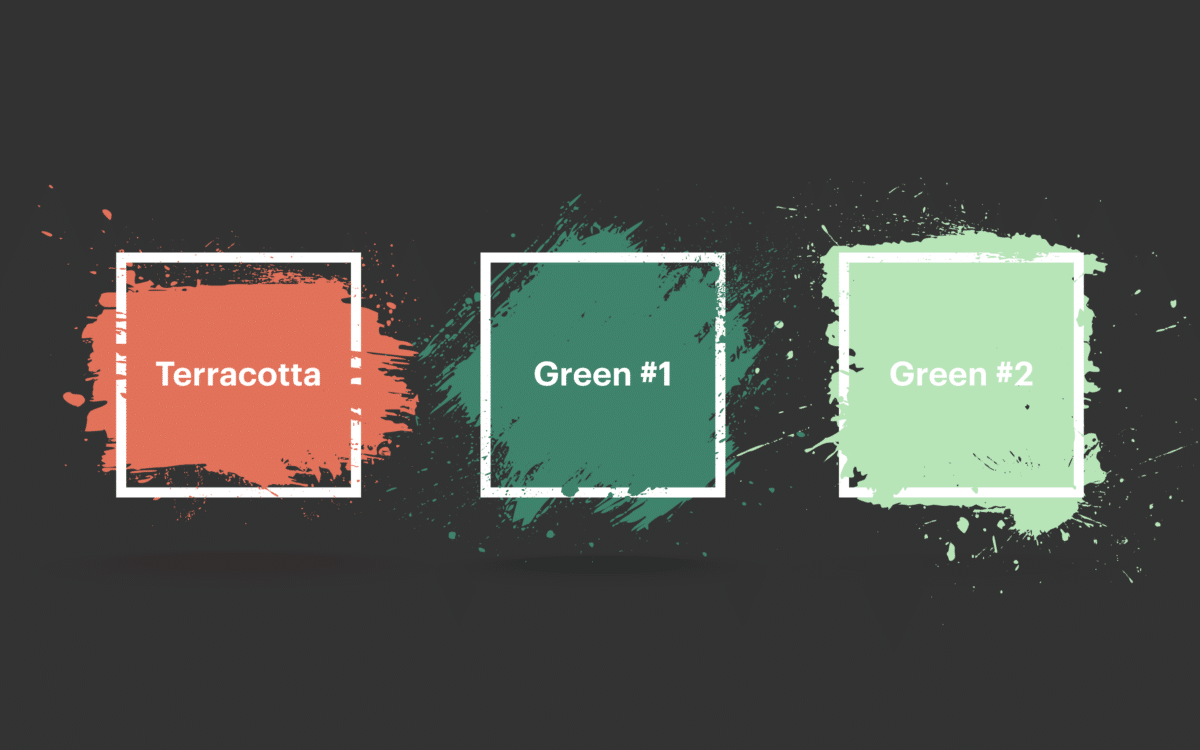 Terracotta, and multiple greens
If you love earthy tones and warmer elements in your designs, terracotta is a good color to start with. This shade takes advantage of the complementary balance between green and orange.
A Forest Green can work wonderfully to contrast the orange hues, while a softer shade of green amid your vibrant choices can help balance the space.
You could consider using terracotta tiles alongside pea-green walls to bring a sense of warmth to a space. If you're using particularly dark shades here, it's a good idea to bring in some neutral beige colors or whites.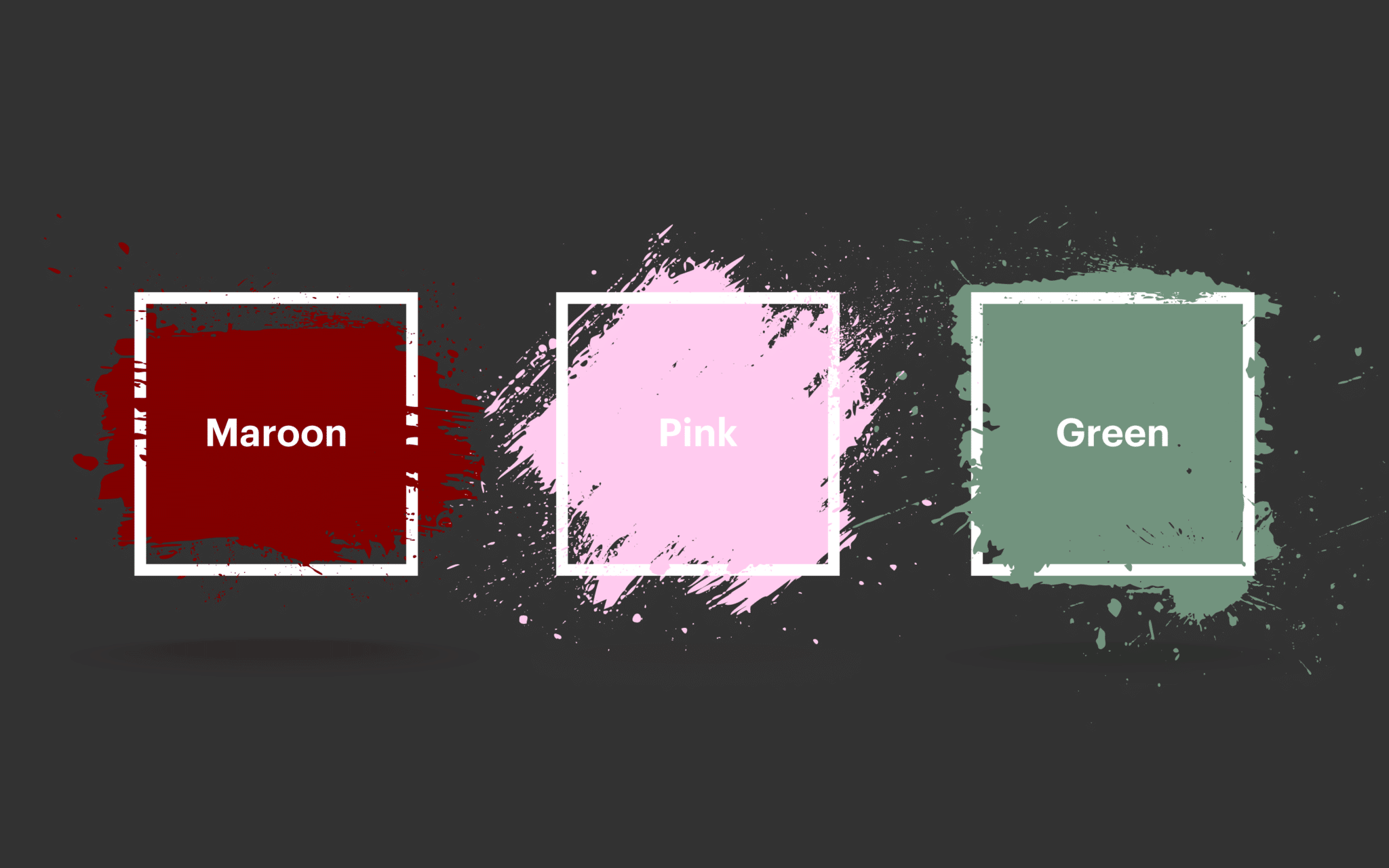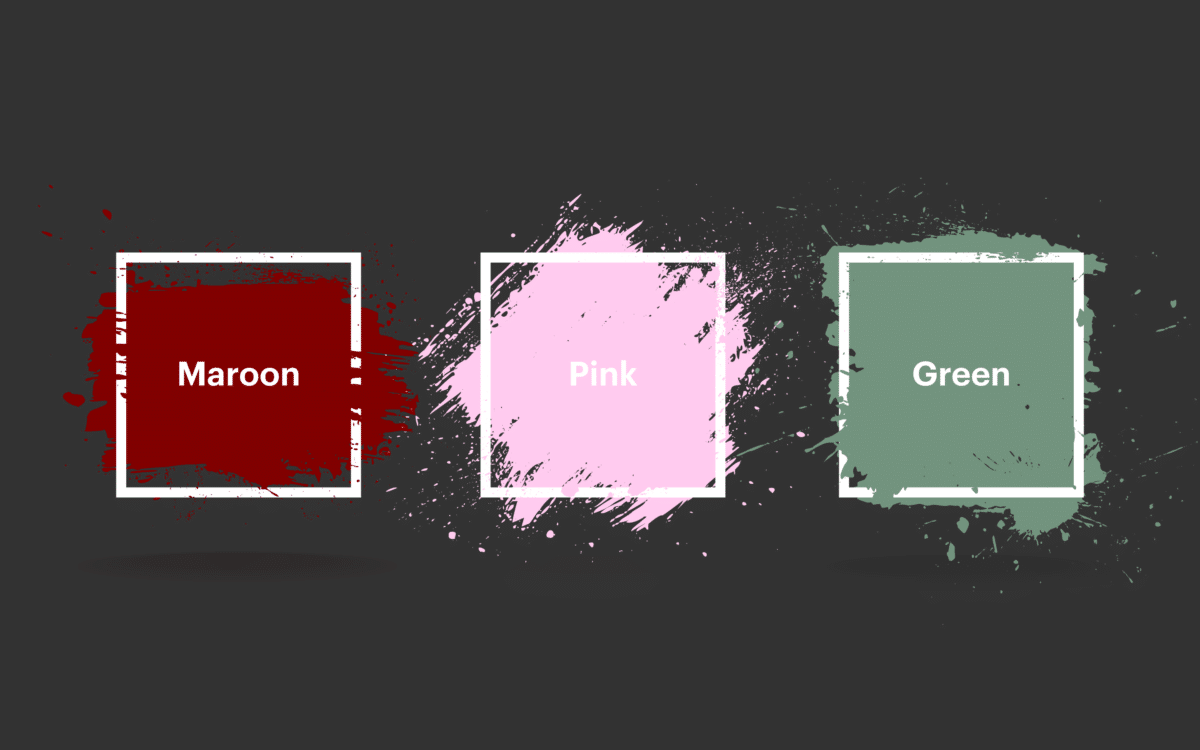 Maroon, pink and green
Maroon is a dark red with a brownish texture, making it an excellent choice for pairing with green when you don't want to make your space look too festive. To balance the darkness of the red, try adding a softer shade of Sage Green into the mix or light green.
A soft pinkish-grey color can be an excellent way to add some balance between the two shades.
If you're decorating with these colors, start with green or maroon as the statement colors for your walls, then add in your neutrals and accessories.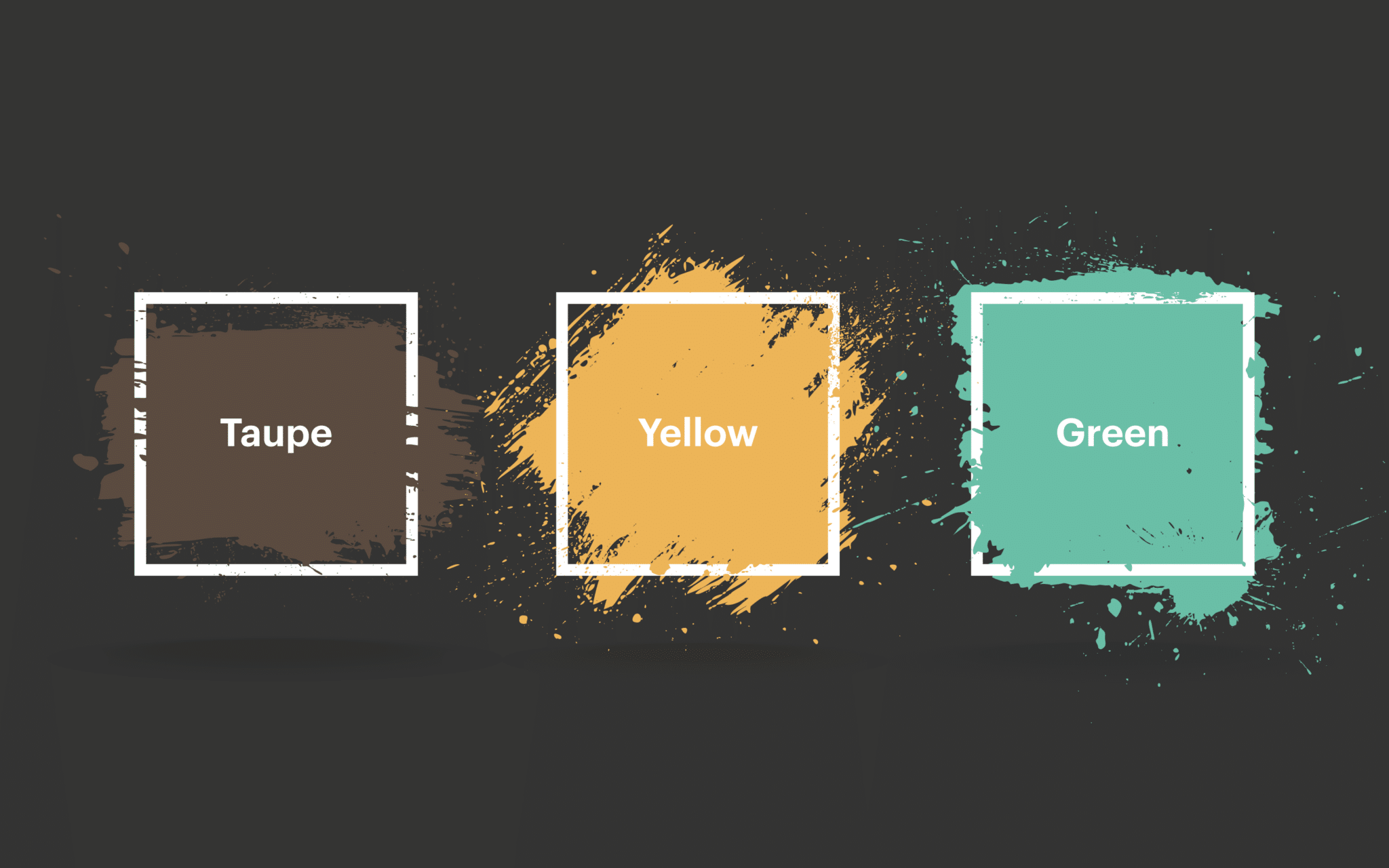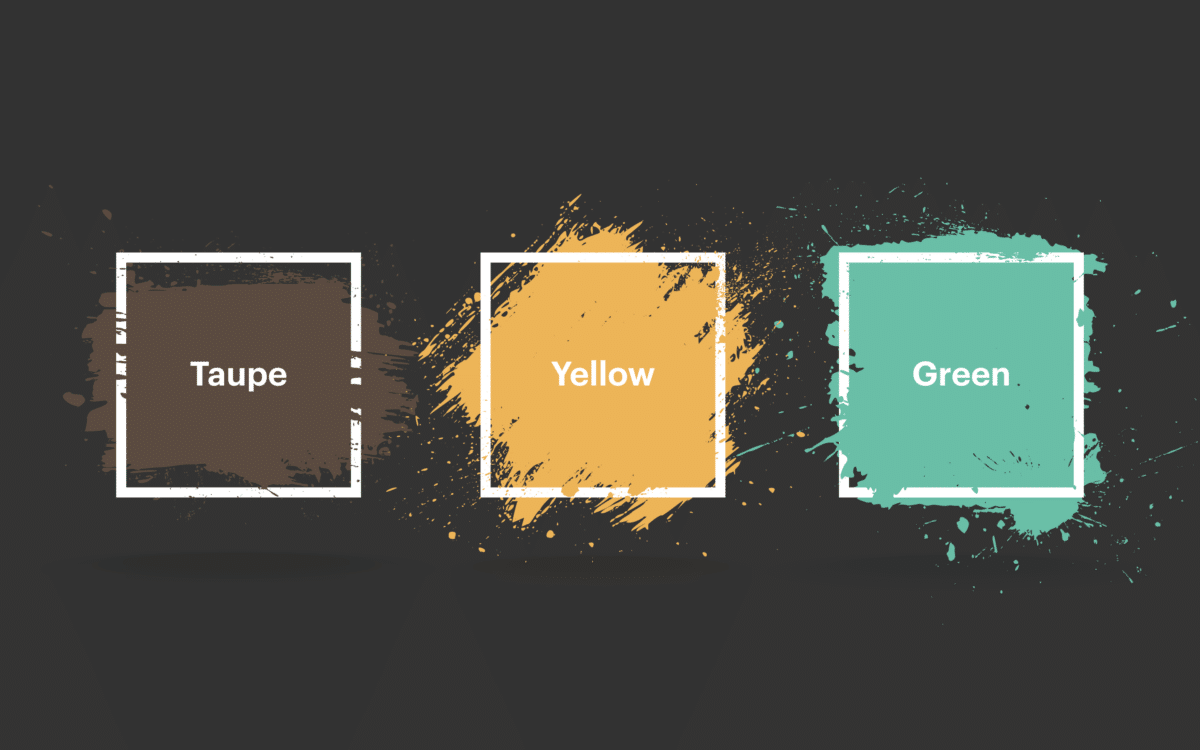 Taupe, yellow, and green
As you've seen already, green blends well with many neutral shades and browns. Taupe is a lovely color for adding an organic touch to your home. When blending this color into your palette, mix it with shades of green, a yellowish hue, and other yellow components.
Try to get a good mix of dark and light shades into your selection. Cool taupe creates a sleek aesthetic when paired with a blueish green. It looks terrific when you add a golden yellow for extra contrast.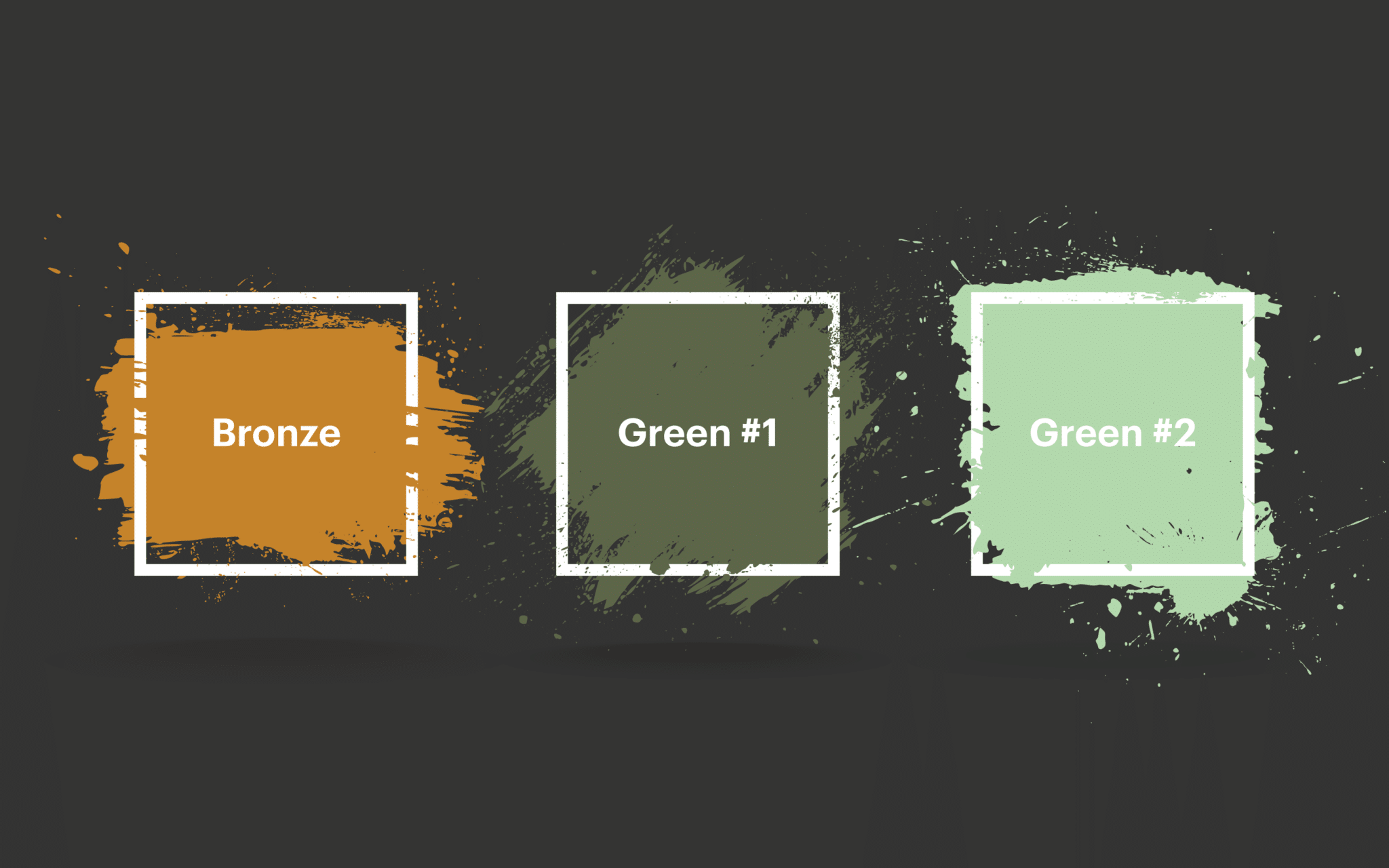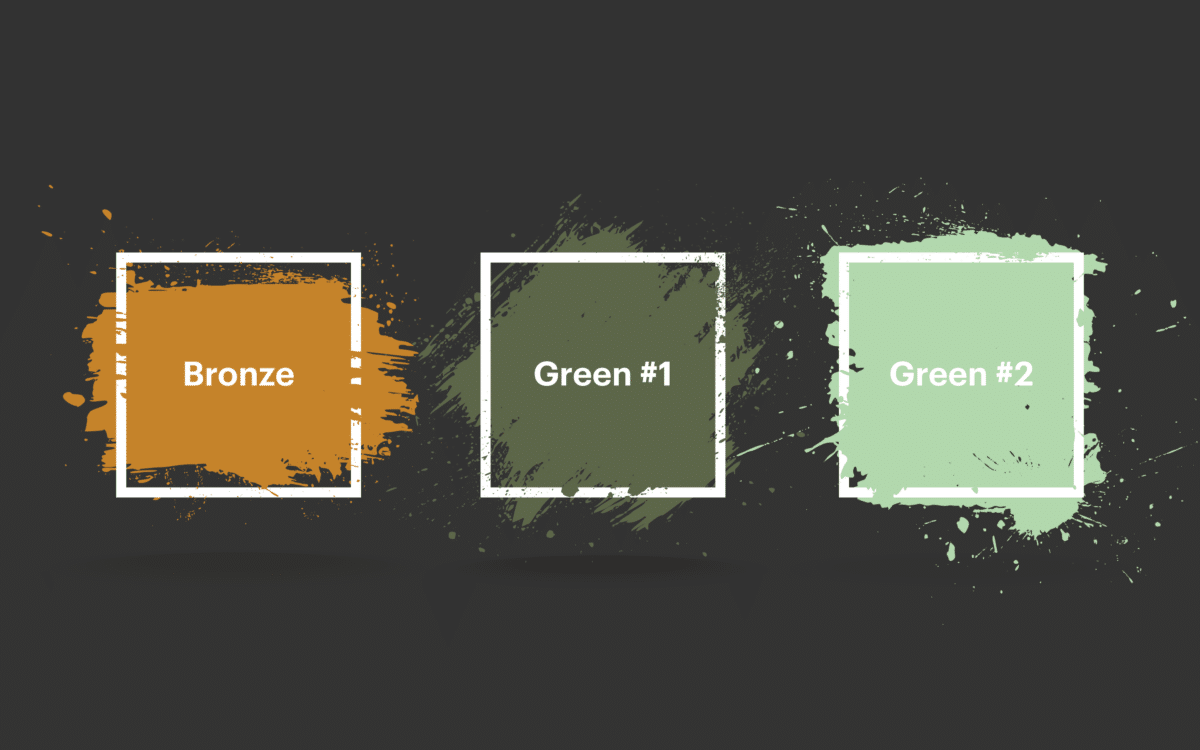 Bronze and multiple greens
If you like bringing metallic elements into your design but aren't a fan of gold, bronze can be a good alternative. In-home décor, dark military greens, and softer shades of pale mint or grass green can blend well with bronze accents and fixings.
Start with a deep shade of olive or sage for a fantastic effect, then add some bronze hardware, lamps, and décor. To balance the two bold shades, it's helpful to have another paler hue in the mix, such as a white-green for your walls.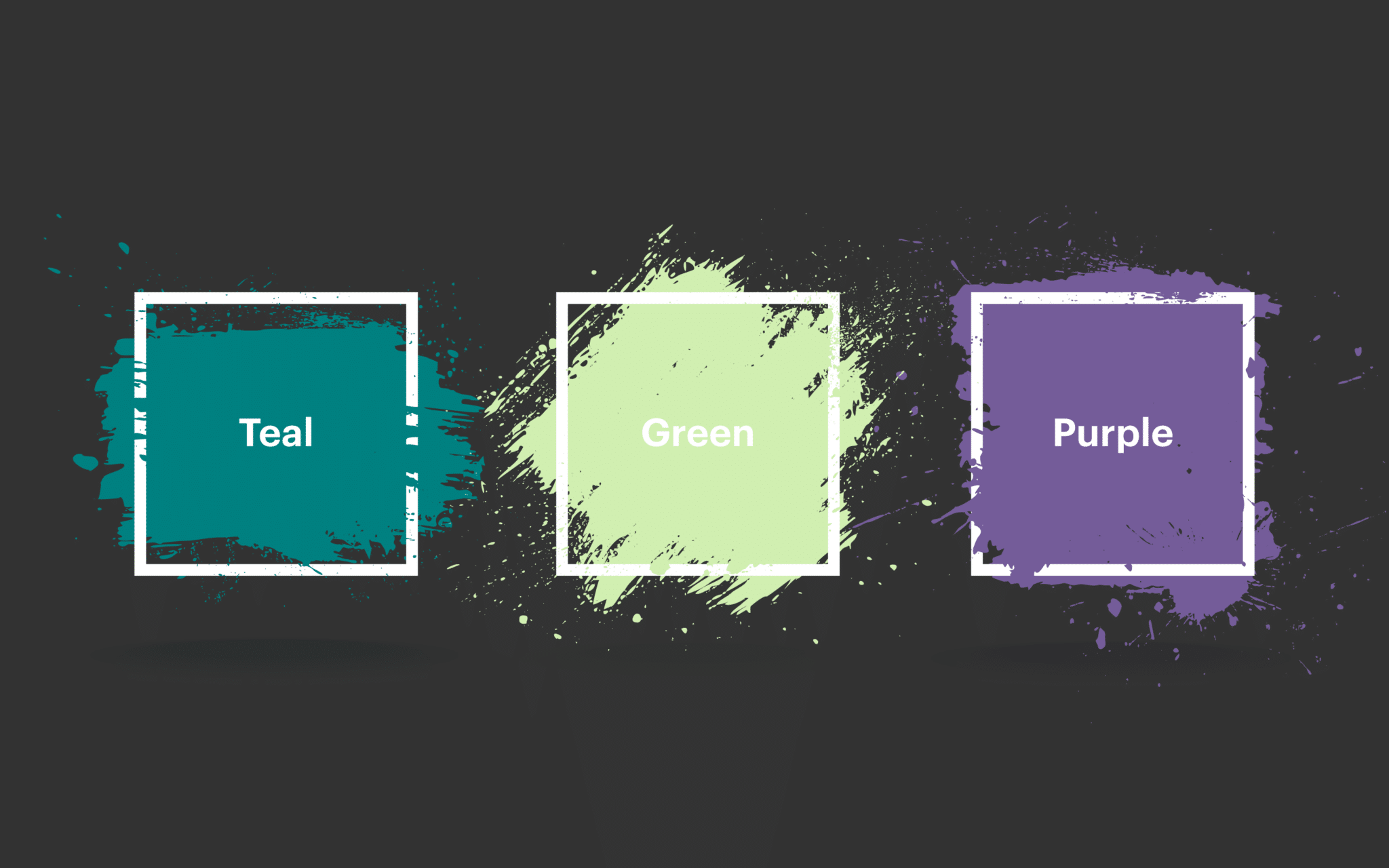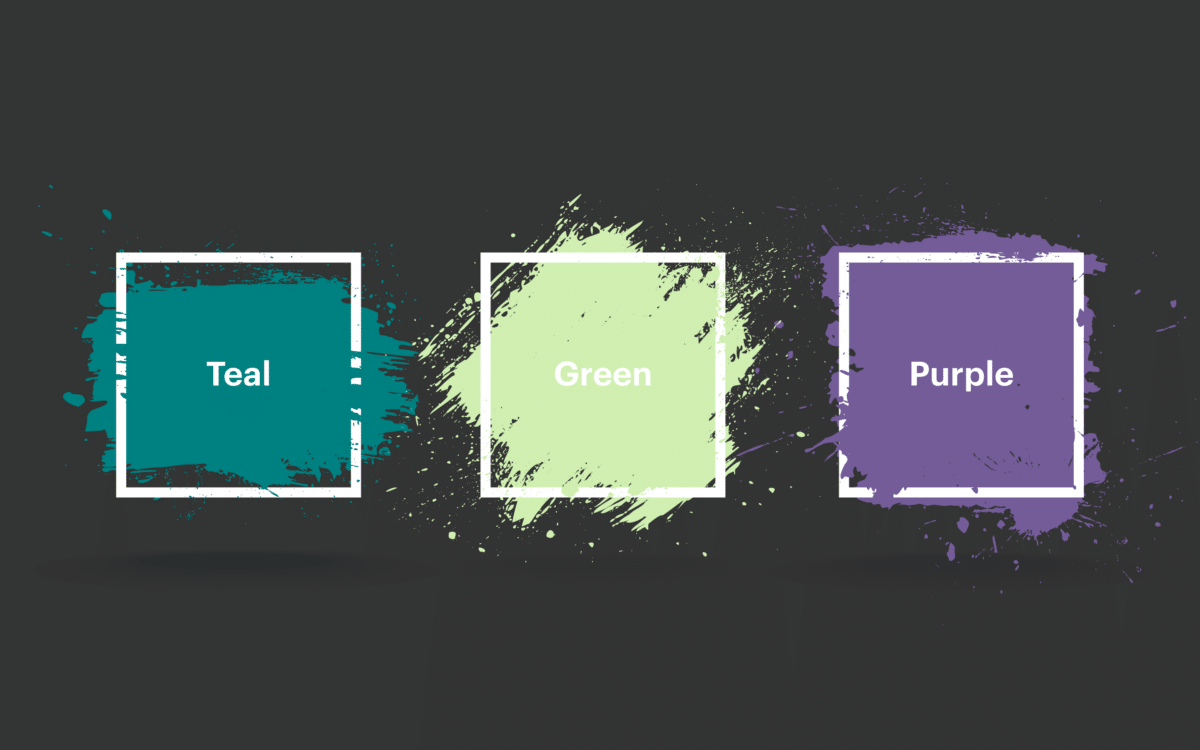 Teal, green, and purple
This is a wonderfully unique color combination that works surprisingly well in a range of environments. A dusty shade of purple can look fantastic paired with teal green, as both have a slightly cooler hue.
Mix in some minty green finishes, and you'll have a refreshing-looking space, or design, with a nice bold undertone.
If you're experimenting with teal green, you'll also have a range of other ways to create an interesting aesthetic. Saturated teal and greens look fantastic with seafoam shades and even coral elements if you're looking for a high-energy result.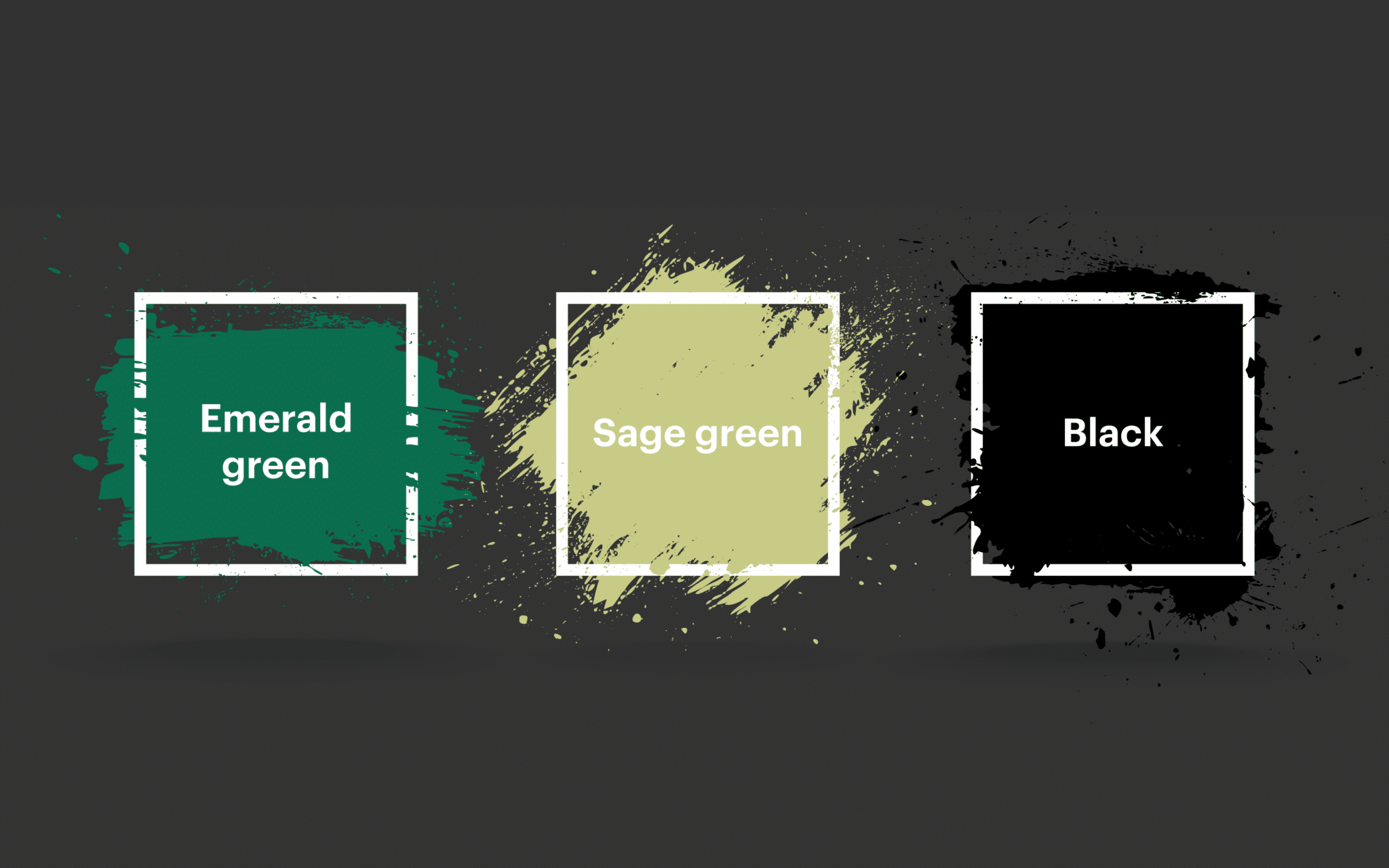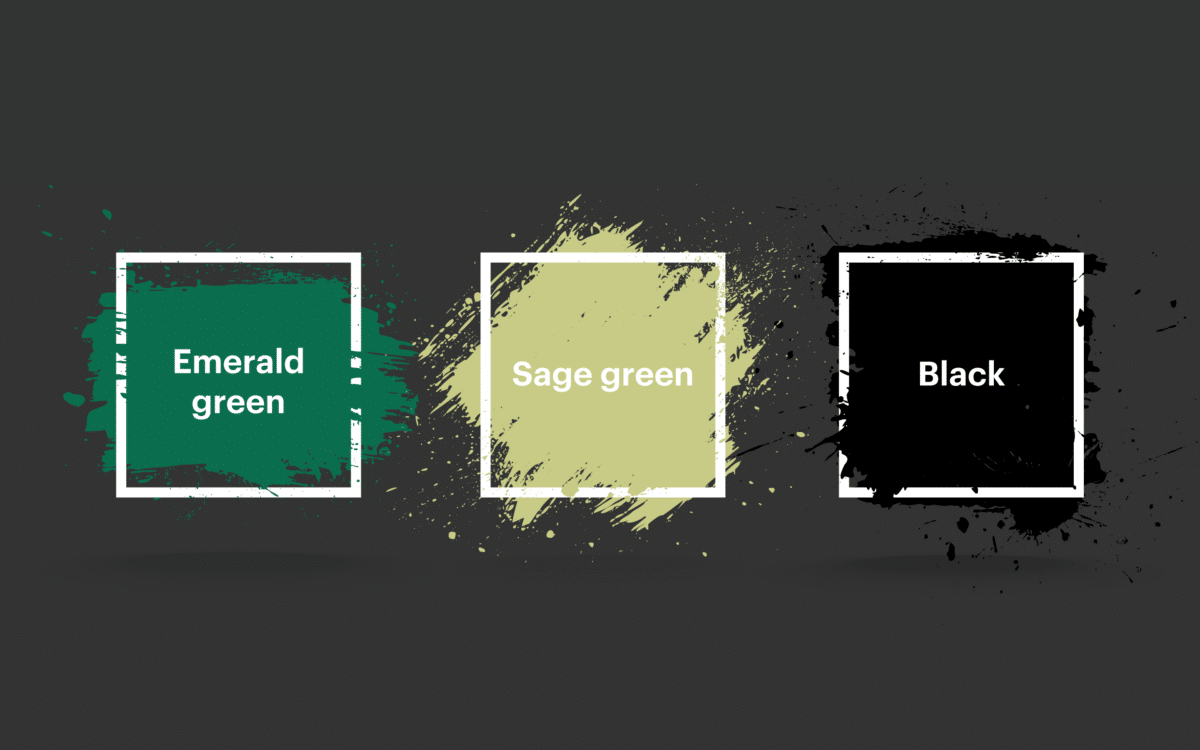 Emerald Green, Sage Green, and black
Mixing black and green can be a fantastic choice if you want to create a luxurious effect with a confident undertone. Ideally, it's best not to use too much black in the home décor design, as it can make a space seem smaller and effect the balance of light.
Instead, start with a combination of cool-hued greens like emeralds mixed with botanical greens like mint and sage. Add black in small doses, particularly around the lighter green shades.
What colors look good with green?
Hopefully, this insight into what colors go with green has demonstrated just how versatile this shade can be. There are endless colors that complement green, from vivid reds to soft dusty pinks, oranges, yellows, and blues.
The right hue for you will depend on the kind of atmosphere you hope to create with your project and the initial green you start with.
Which colors complement green?
Complementary colors are the shades opposite to each other on the color wheel. Because green and red oppose each other, they're naturally complementary. However, it's essential to be cautious when mixing these shades to avoid a Christmassy or festive palette.
What colors blend well with green?
If you're looking to create a blended color palette, it's best to focus on shades sitting alongside each other in the color wheel. Green works well when combined with yellow and blue – the two shades used to make the green in most instances.
What colors don't go with green?
Virtually every shade can complement green if you choose the right tones and temperatures. However, specific colors can be overwhelming when used in close proximity. Bright oranges and green can be visually exhausting.
Bright reds and greens can also appear overly "festive" when used in close proximity.
Fabrik: A branding agency for our times.
Now read these:
—Exploring the colors of the rainbow