There are endless shades of green to choose from in the world's varied color palette. Whether you're looking for the perfect shade for a living room, a unique hue for a logo, or something to help you produce your next painting masterpiece, there's no end to the available green shades.
A green color palette can be relaxing and soothing, composed of soft mossy shades and delightful natural hues. Or you can convey luxury and wealth using rich, darker shades of green.
In some cases, green can also be mysterious when mixed with higher quantities of blue or black. Plus, green blends well with browns and darker tones for an earthy effect.
Though arguably the most common color in the world, green is also a trendy hue thanks to its extensive presence in nature. According to studies, green is the favorite color of around 22% of the world's population.
It's also a common choice for branding, as it can help to convey ideas of generosity, growth, and safety.
Today, we will look at some of the most popular shades of green, and their unique names, to help you build the ultimate color palette.
The different shades of green: An introduction
It would be impossible to name all the different shades of green in one cohesive article.
The reality is there are countless options out there, from Olive Green to Emerald Green, Sage Green, and Mint Green. Each shade has its own unique properties. Some are considered relaxing and serene, which is why certain green shades are standard in bathroom and bedroom décor.
Other shades of green can be seen as luxurious and opulent, connected with concepts like money and wealth. Notably, green is a secondary color made by mixing blue and yellow pigments. This means you have limitless options for how you customize each shade.
Adding a different type of warm yellow to a deep blue will create a very different hue to a pastel yellow and royal blue mixture.
In the branding and marketing world, green also has a solid connection to the concept of color psychology.
We know every shade elicits different responses and emotions from people. Green usually conveys other concepts like growth and nature, generosity and safety, and wealth or extravagance. Some shades are also linked to ideas like creativity and innovation.
Green is a highly versatile color that mixes well with other shades. Green hues look fantastic when placed alongside contrasting shades like blue and yellow. It's also possible to create a significant contrast by pairing green with oranges and pinks on the opposite end of the color wheel.
Names of shades of green: Exploring your options
In the list of green shades we explore today, we will look at various well-known and lesser-known names for this fantastic hue. Some of the shades of green we mention might be familiar to you.
For example, most people already know the color Sage Green, Mint Green, Khaki Green, and even Forest Green.
The names given to each green shade generally intend to tell us either about the nature of the color or its history.
For instance, Spanish Green is a name given to the green commonly seen throughout Spanish plant life. Seaweed Green is named after the unique plant that grows in the sea. In today's list, we'll give you a little insight into some of the meanings behind the names of each green hue we cover.
Shades of dark green
To start our list, we will look at shades of dark green. Dark green shades are commonly used to convey concepts of luxury and wealth. They're deemed richer and more powerful than their light and pastel alternatives.
A dark green color could look fantastic in a living room on a feature wall or excellent in a brand logo design.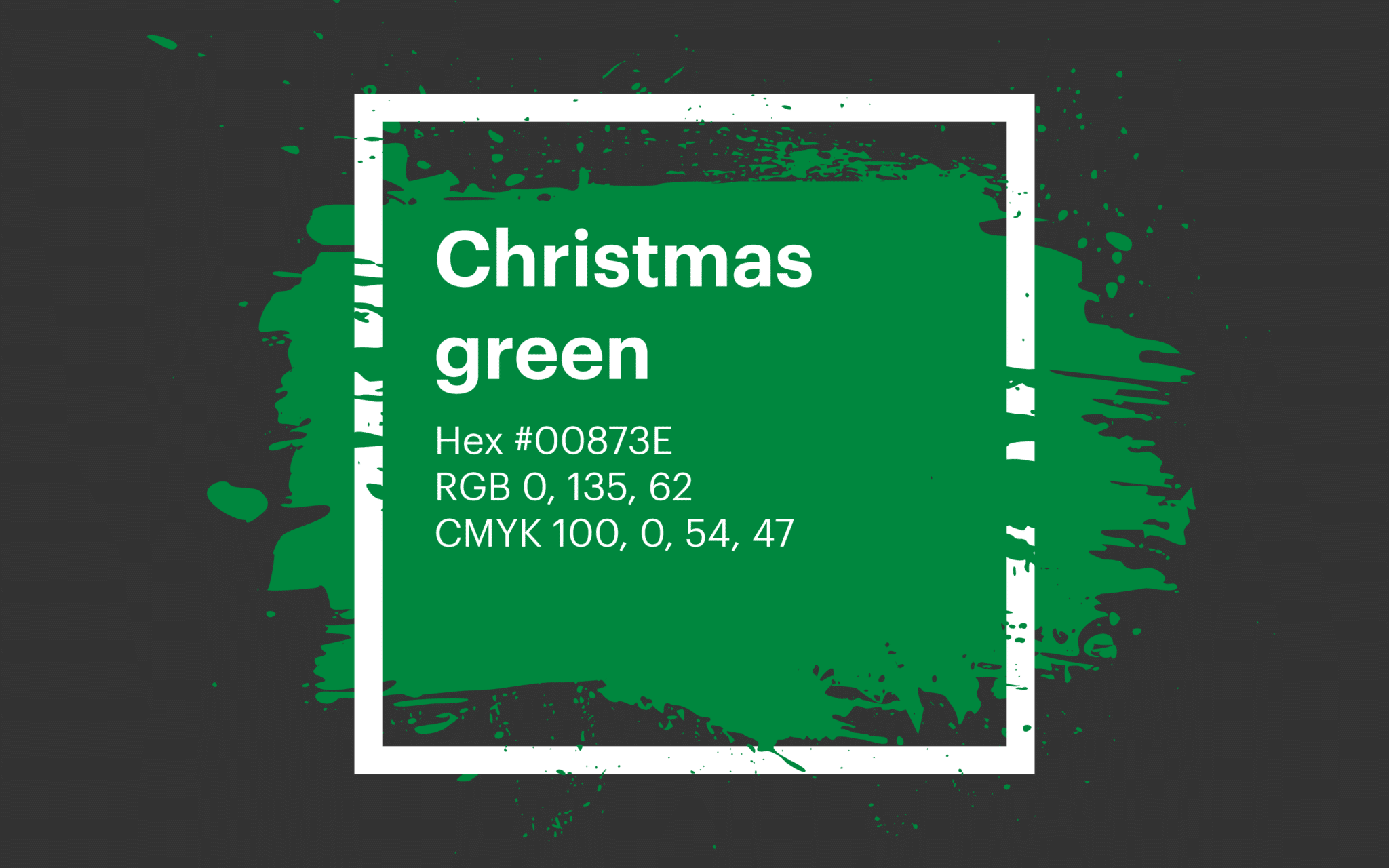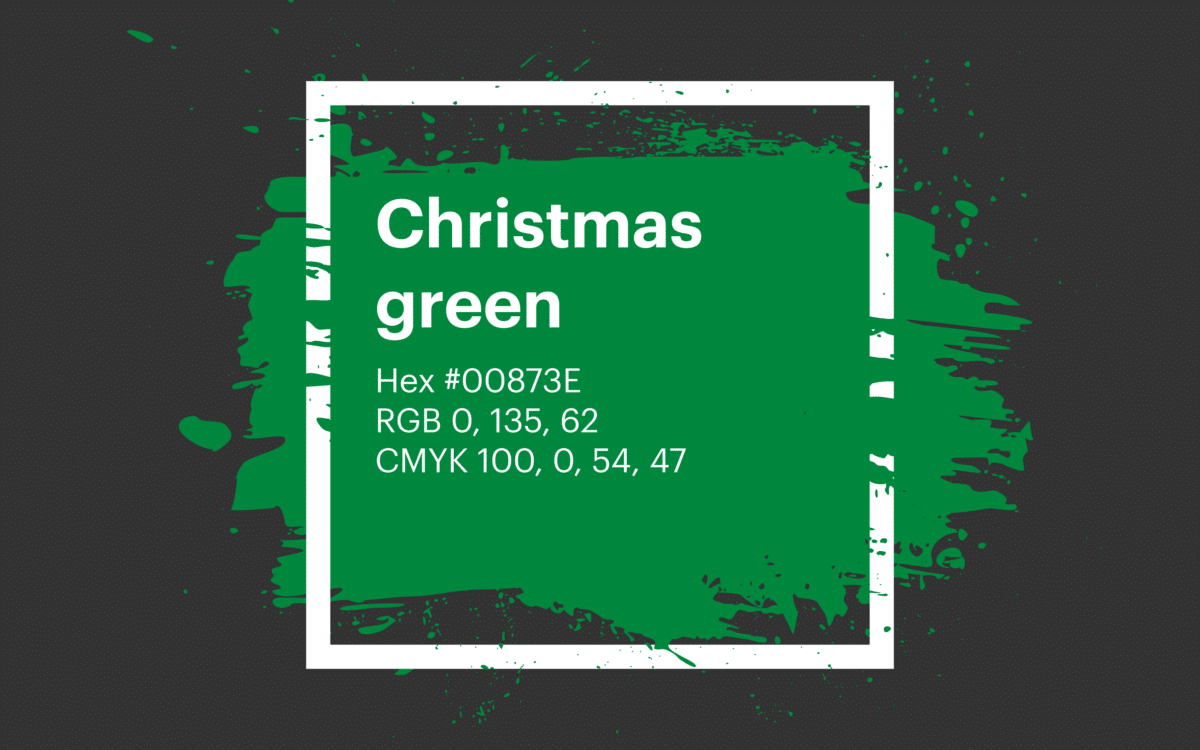 Christmas Green
One of the most commonly chosen colors for Christmas decorations, Christmas Green is a bright and vibrant color with a deep hue. The color looks similar to the shade you might see Christmas trees depicted in on drawings or cards.
However, the actual hue of most pine trees is a little darker.
Hex #00873E
RGB 0, 135, 62
CMYK 100, 0, 54, 47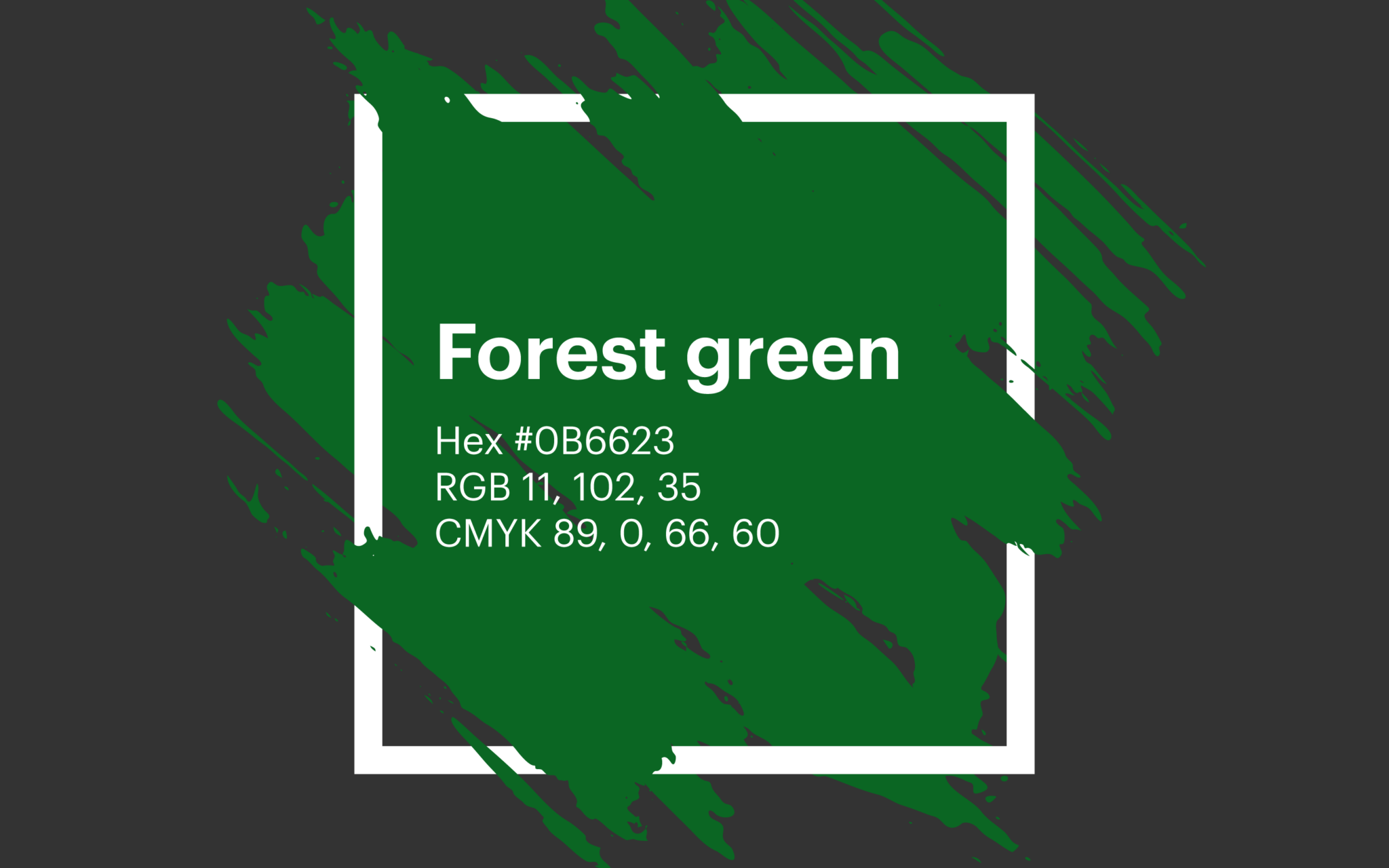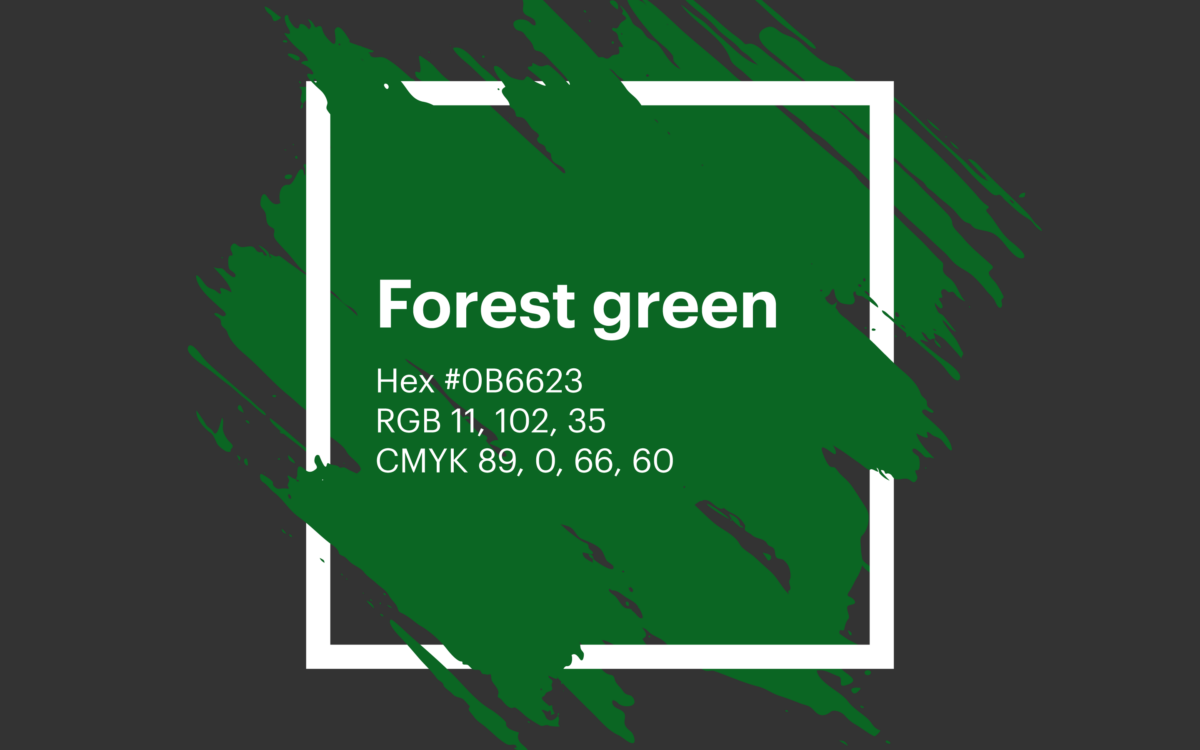 Forest Green
Forest Green is one of the better-known shades of green, intended to represent a thriving forest's dark and compelling color. This shade is ideal for decorating homes with a natural vibe because it closely connects to the color of evergreen trees.
Hex #0B6623
RGB 11, 102, 35
CMYK 89, 0, 66, 60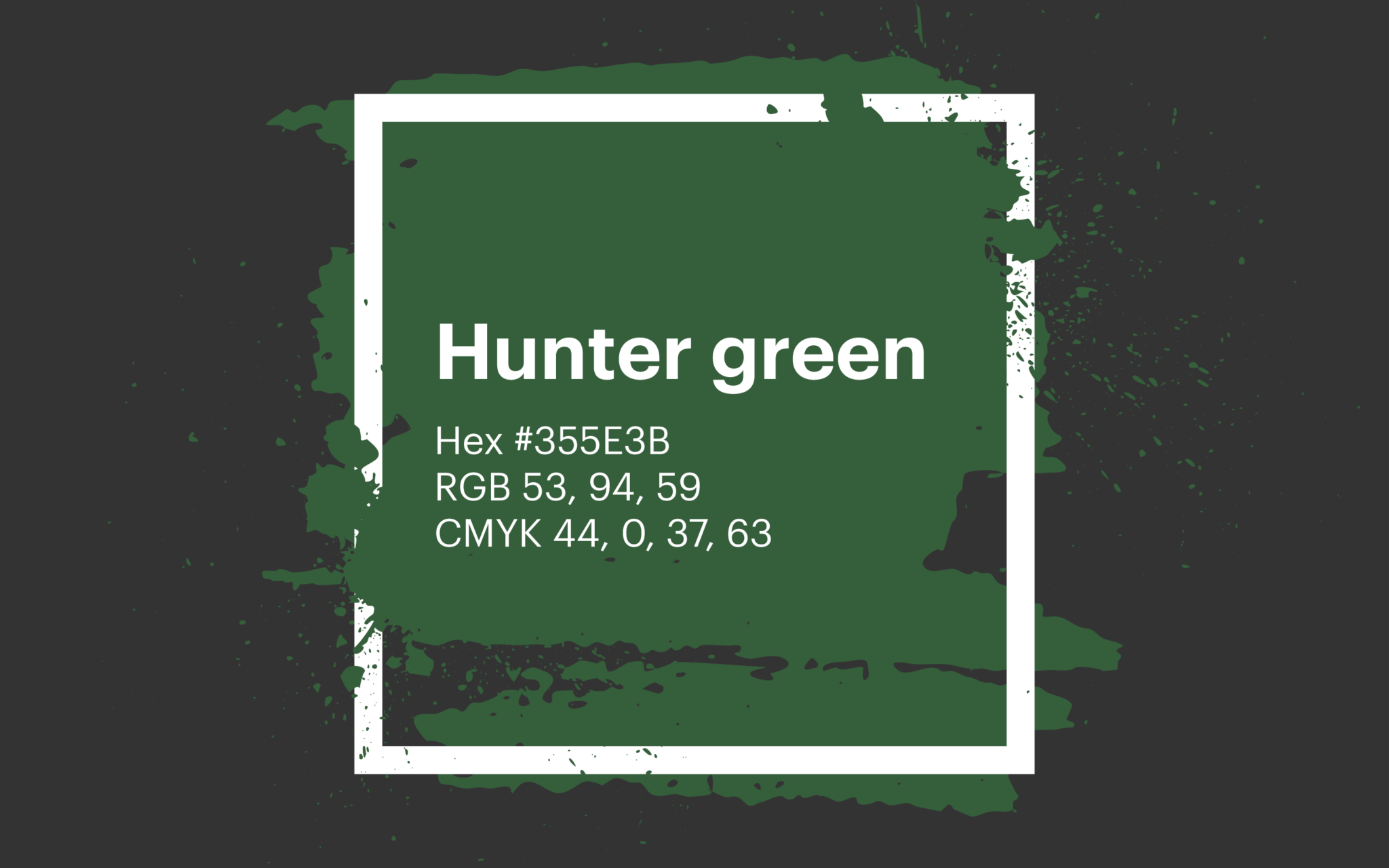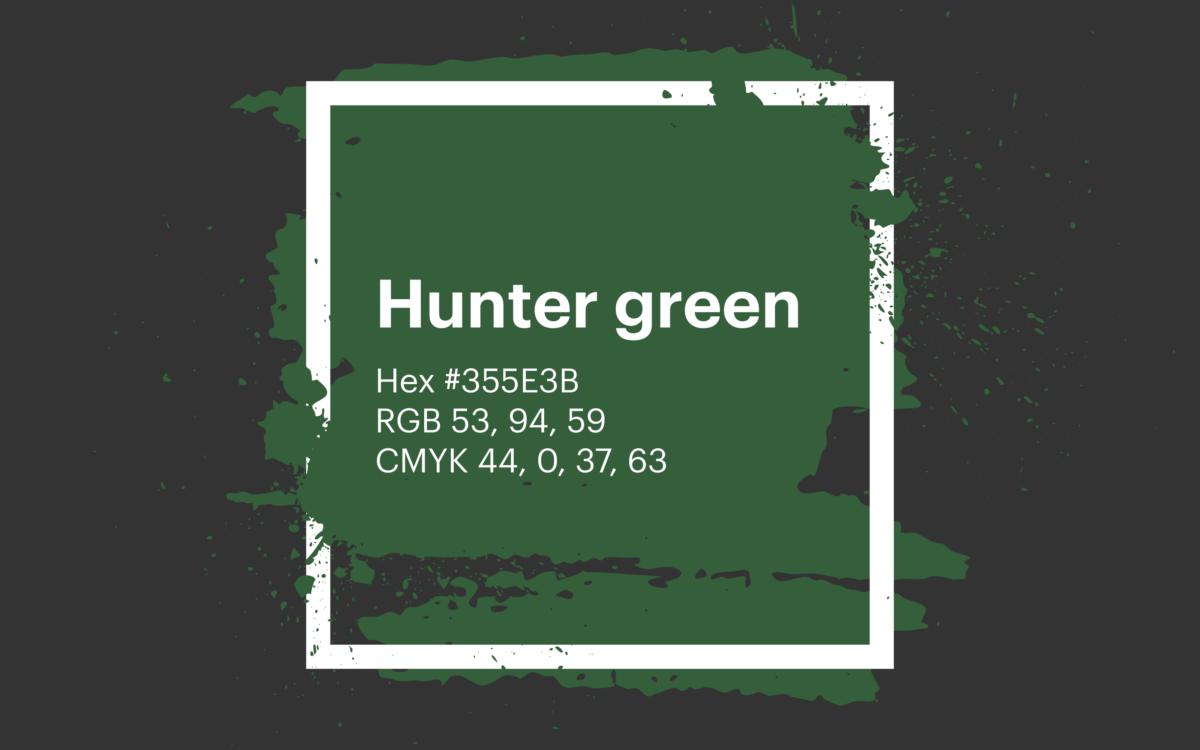 Hunter Green
Hunter Green is another beautifully deep shade of green. Although it does contain quite a lot of yellow and white, it's often quite a bit deeper than most other shades of light green. The color is similar to the hues you might see on a forest floor during the Autumn months.
Hex #355E3B
RGB 53, 94, 59
CMYK 44, 0, 37, 63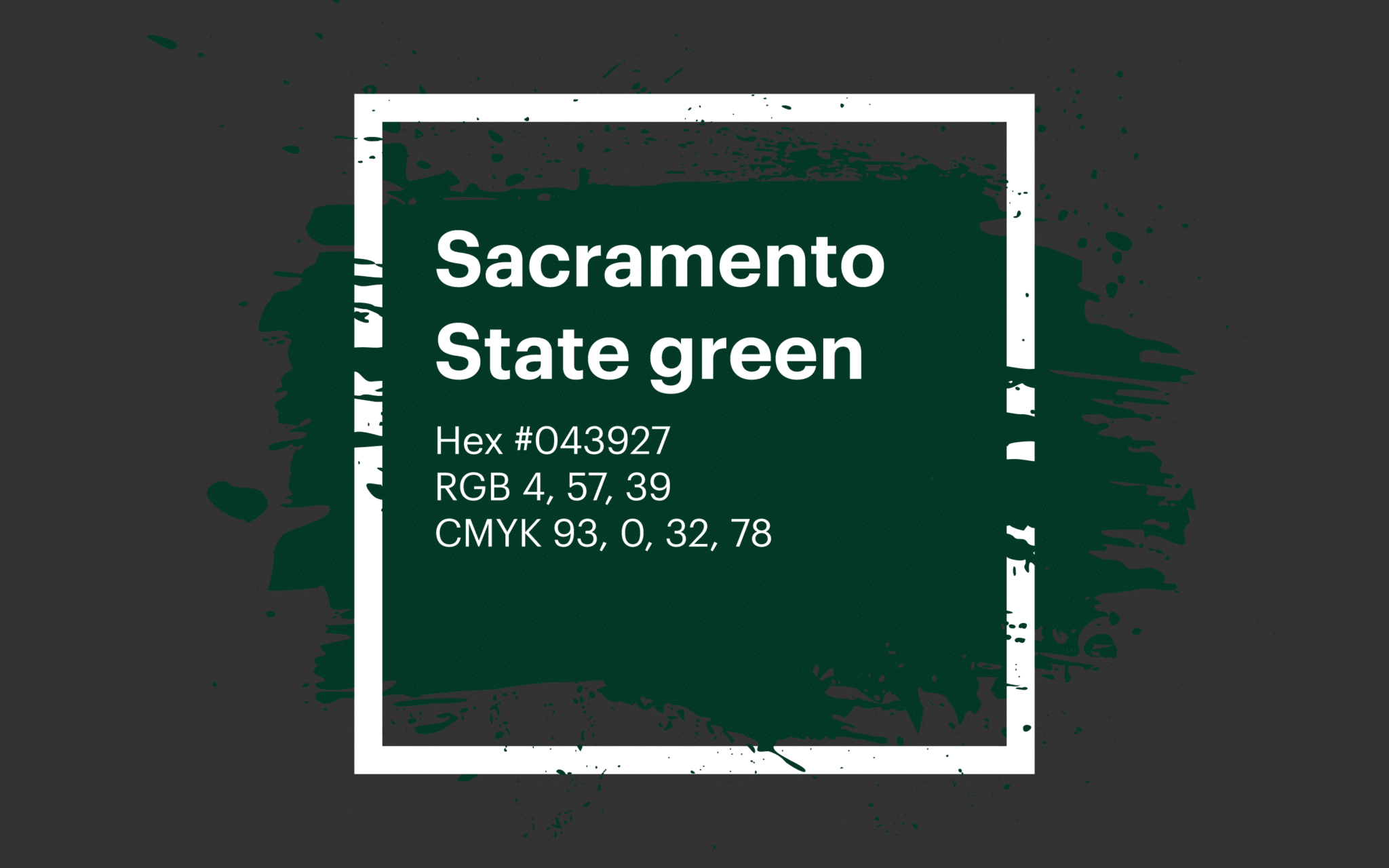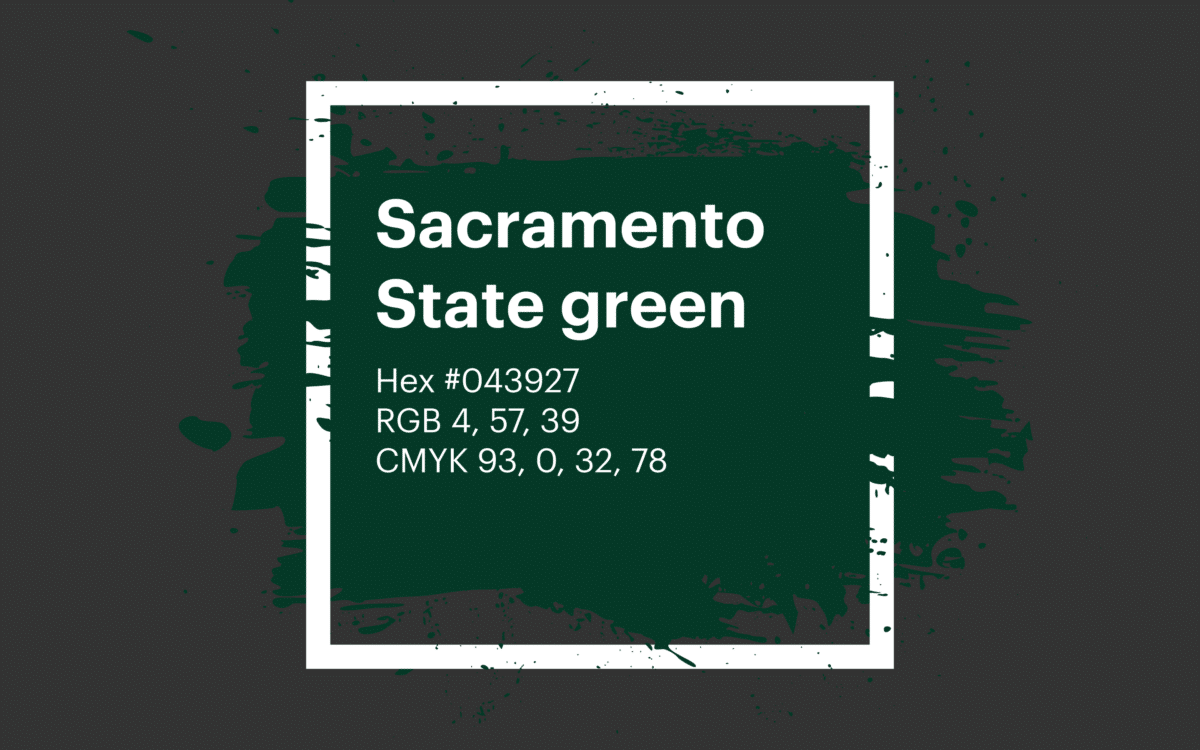 Sacramento State Green
Sacramento State Green is named after the official color used for California's Sacramento State University. The color is wonderfully deep and eye-catching, ideal for the branding of a prestigious school. It also makes for a fantastic feature wall color.
Hex #043927
RGB 4, 57, 39
CMYK 93, 0, 32, 78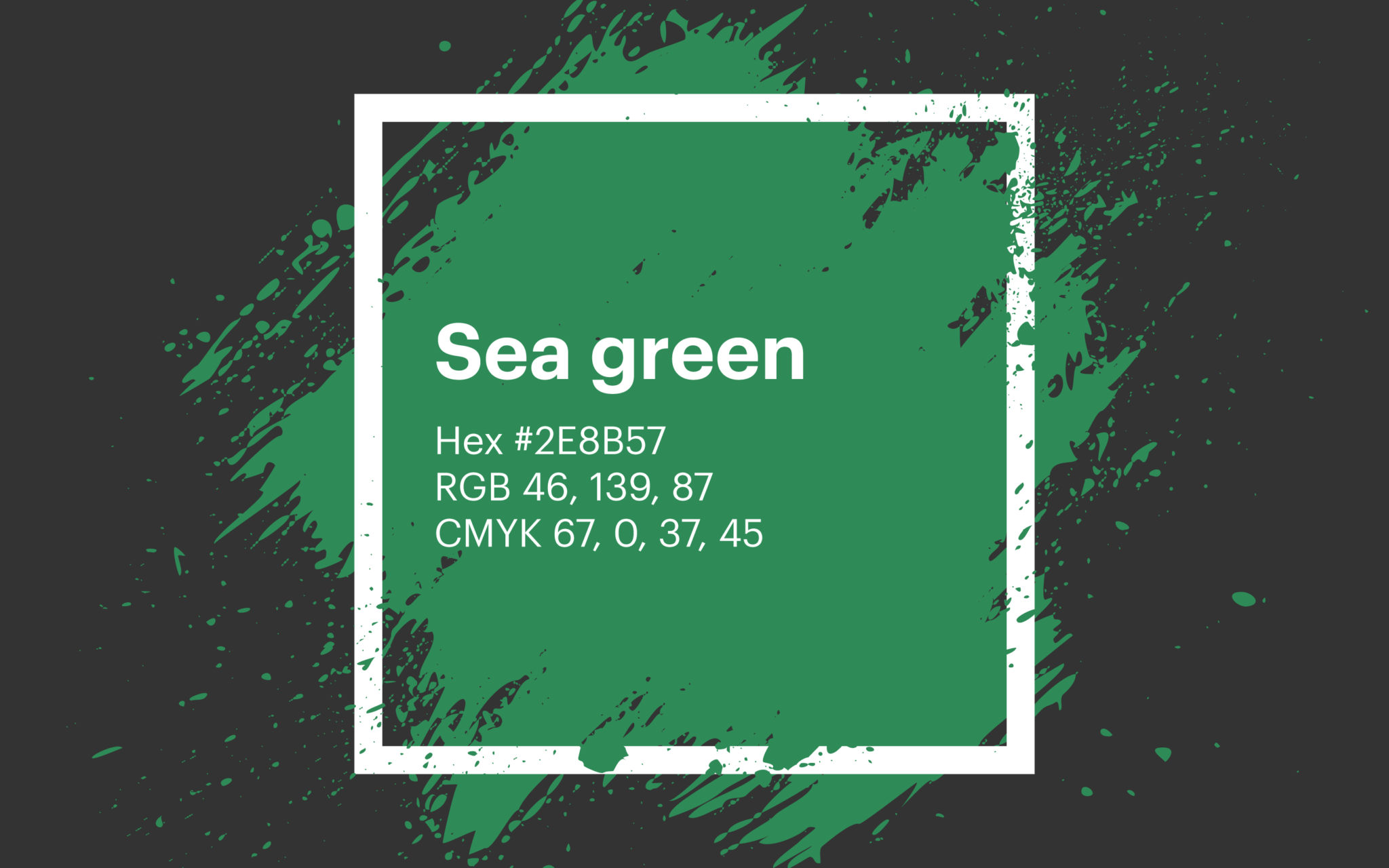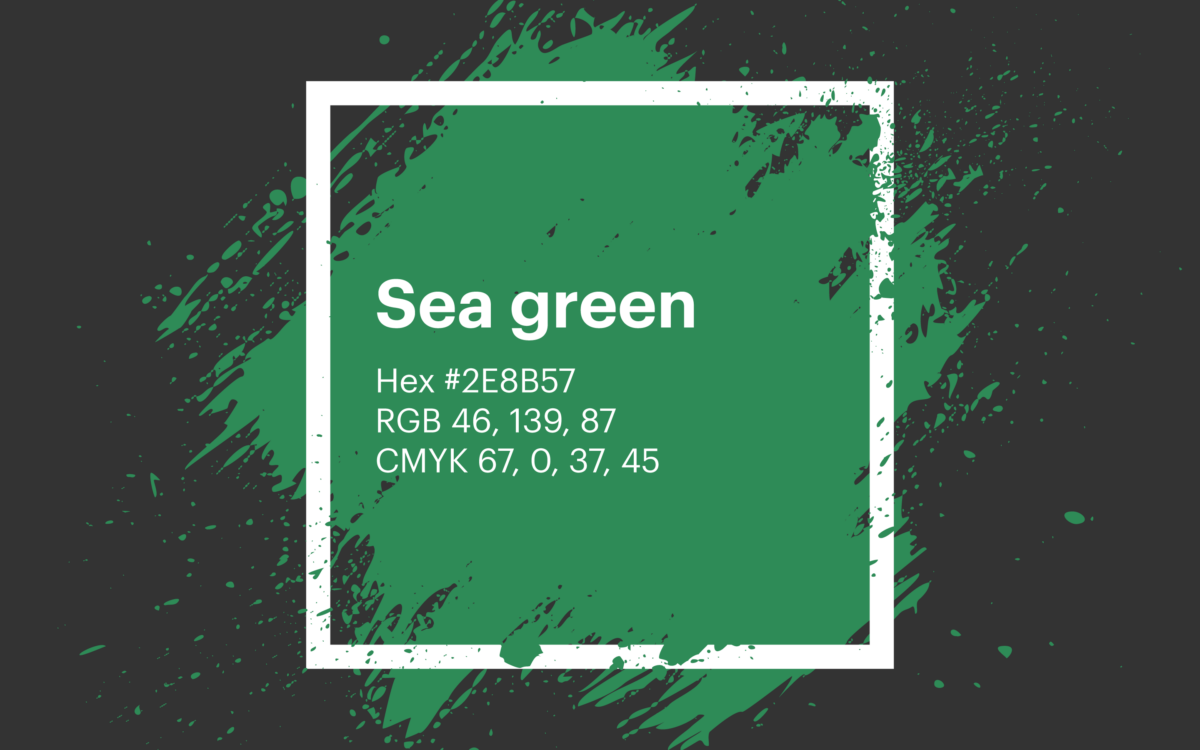 Sea Green
Though not as dark as some of the other colors on this list, Sea Green is still quite a bit deeper than many lighter green shades. It's intended to represent the color of the sea floor when looking through the water into the depths below.
As a result, this hue has quite a bit of extra blue.
Hex #2E8B57
RGB 46, 139, 87
CMYK 67, 0, 37, 45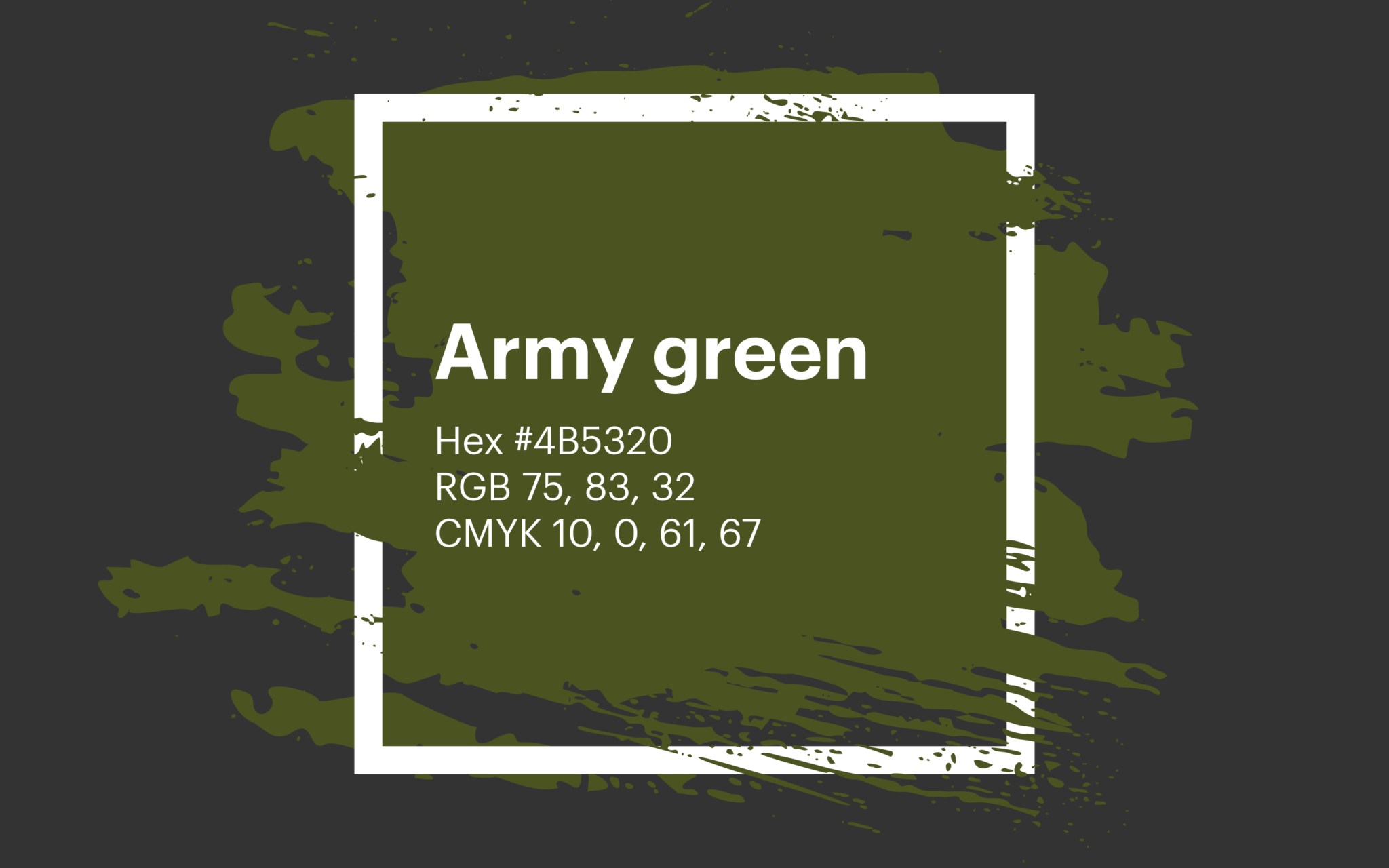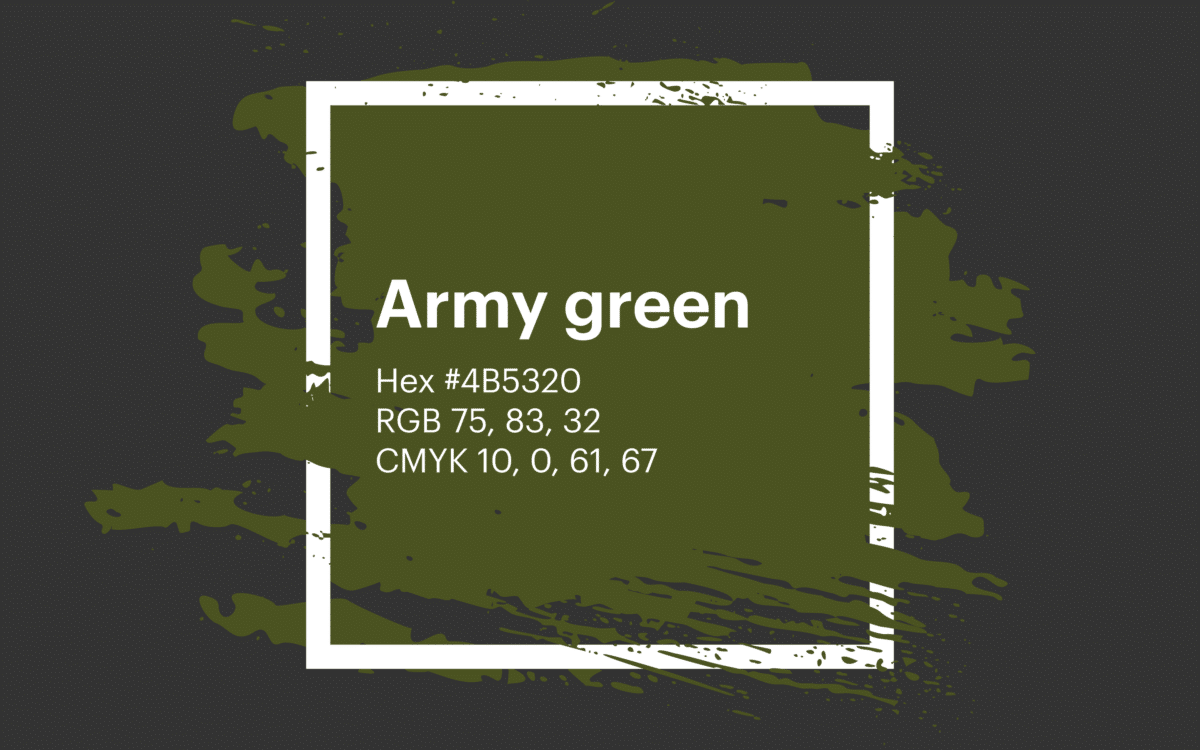 Army Green
A deep and earthy shade used mainly for camouflage, Army Green has been present throughout militaries since the beginning of World War 2. This is a standard uniform choice for people in the army, as it helps them to blend into their surroundings.
Hex #4B5320
RGB 75, 83, 32
CMYK 10, 0, 61, 67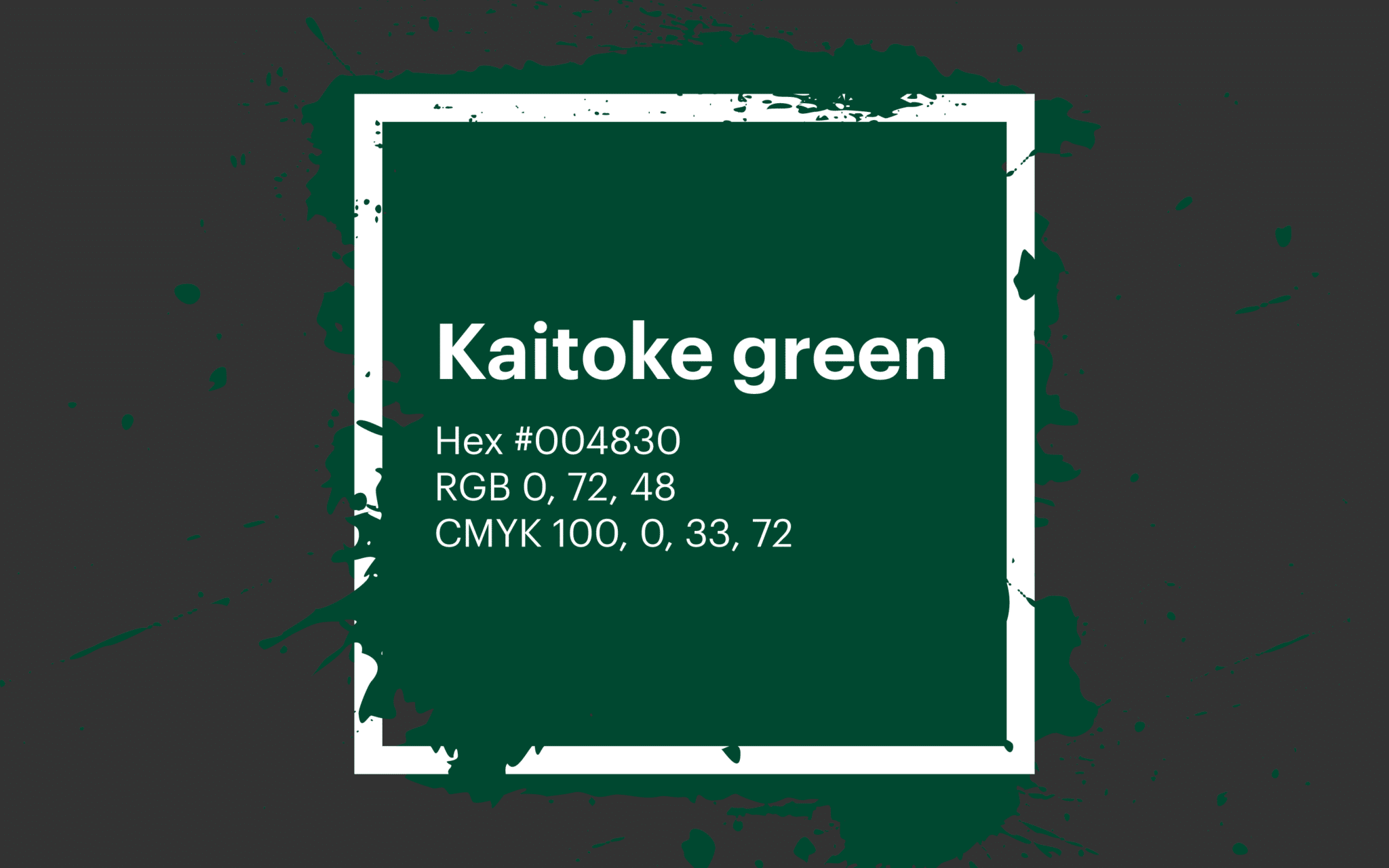 Kaitoke Green
Kaitoke Green is among the richest and deepest colors on our list. This beautiful color is named after the Kaitoke regional park in New Zealand, which is well known for its vast forests. The hue is ideal if you're looking for a deep shade with a significant amount of life and vibrancy.
Hex #004830
RGB 0, 72, 48
CMYK 100, 0, 33, 72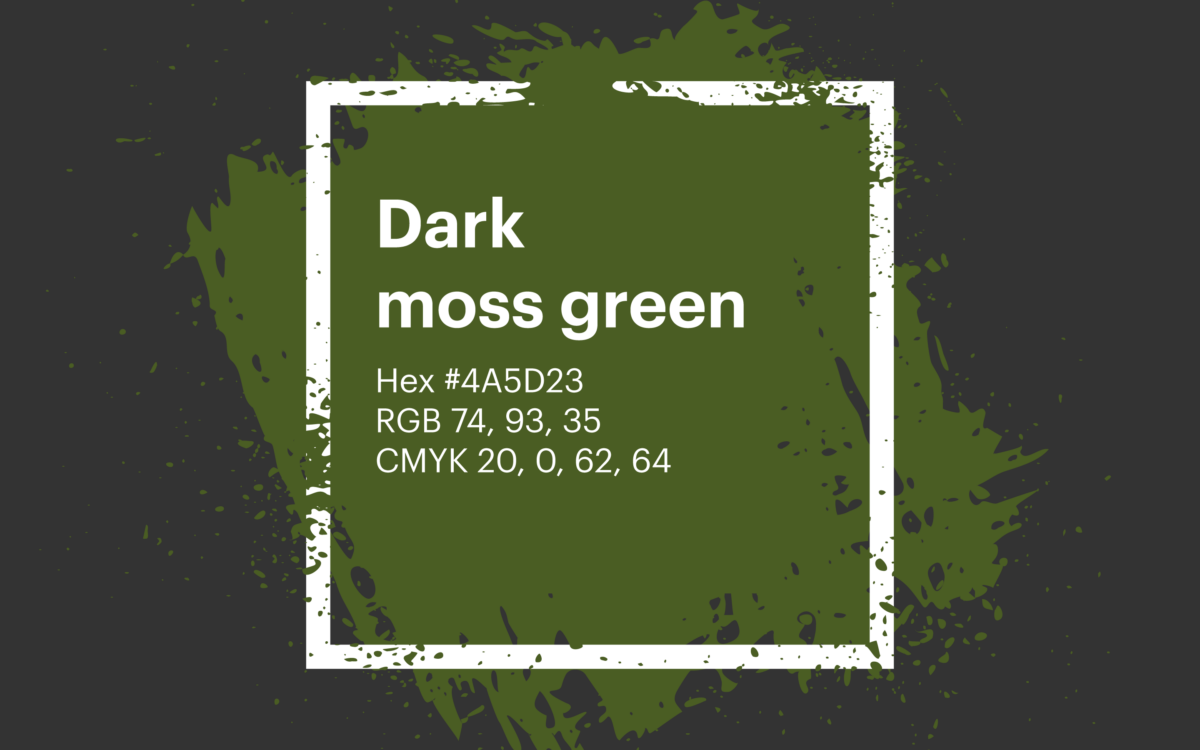 Dark Moss Green
Dark Moss Green is a beautifully neutral option if you're looking for a relatively earthy and natural green shade. This brownish green might seem simplistic initially, but it's excellent when mixed with other deeper or brighter shades.
Hex #4A5D23
RGB 74, 93, 35
CMYK 20, 0, 62, 64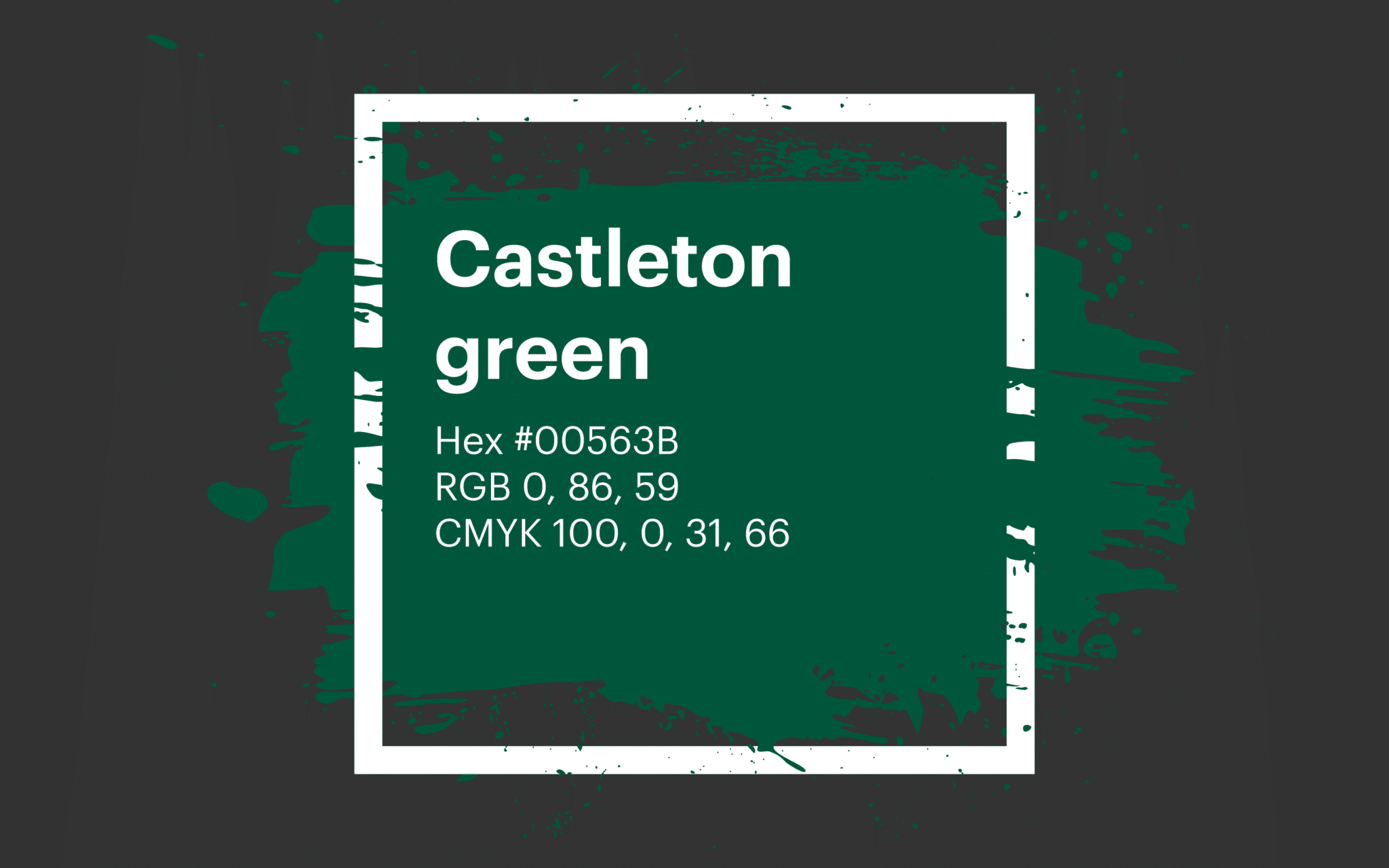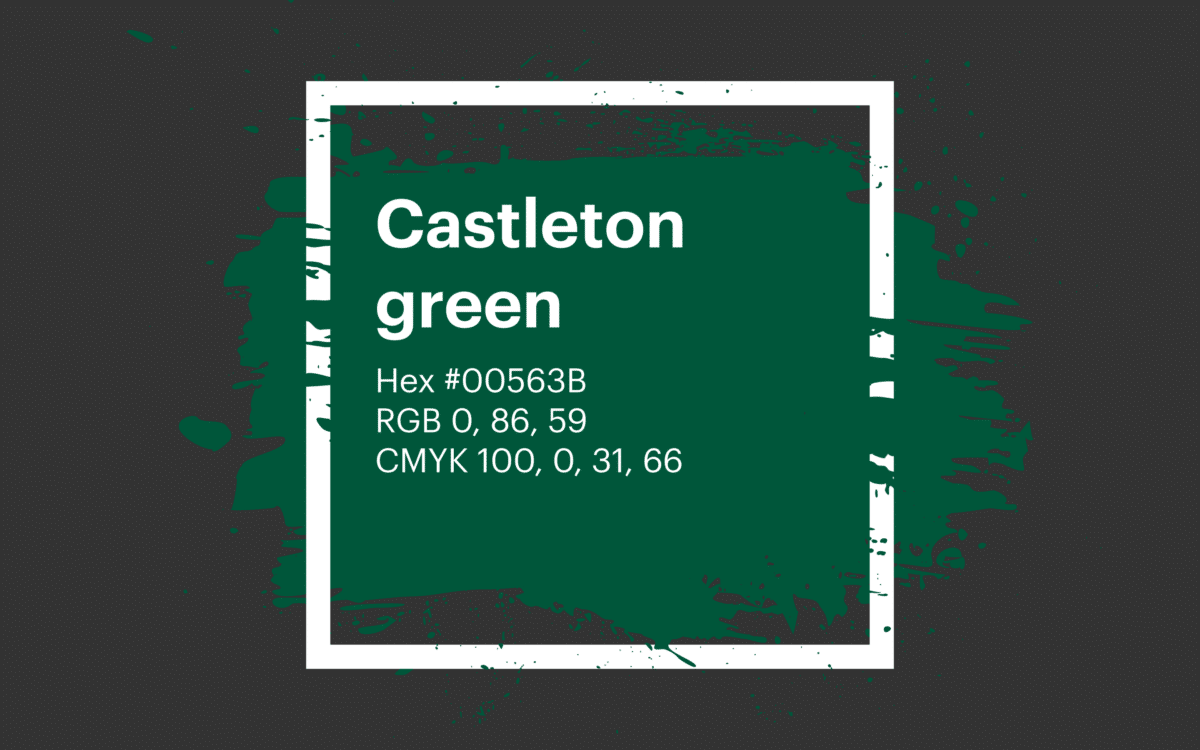 Castleton Green
Another official green for a state university, Castleton Green is the official name of the color used for Castleton University in Vermont. There are significant levels of blue in this color, which help to give it a sense of mystery and depth.
Hex #00563B
RGB 0, 86, 59
CMYK 100, 0, 31, 66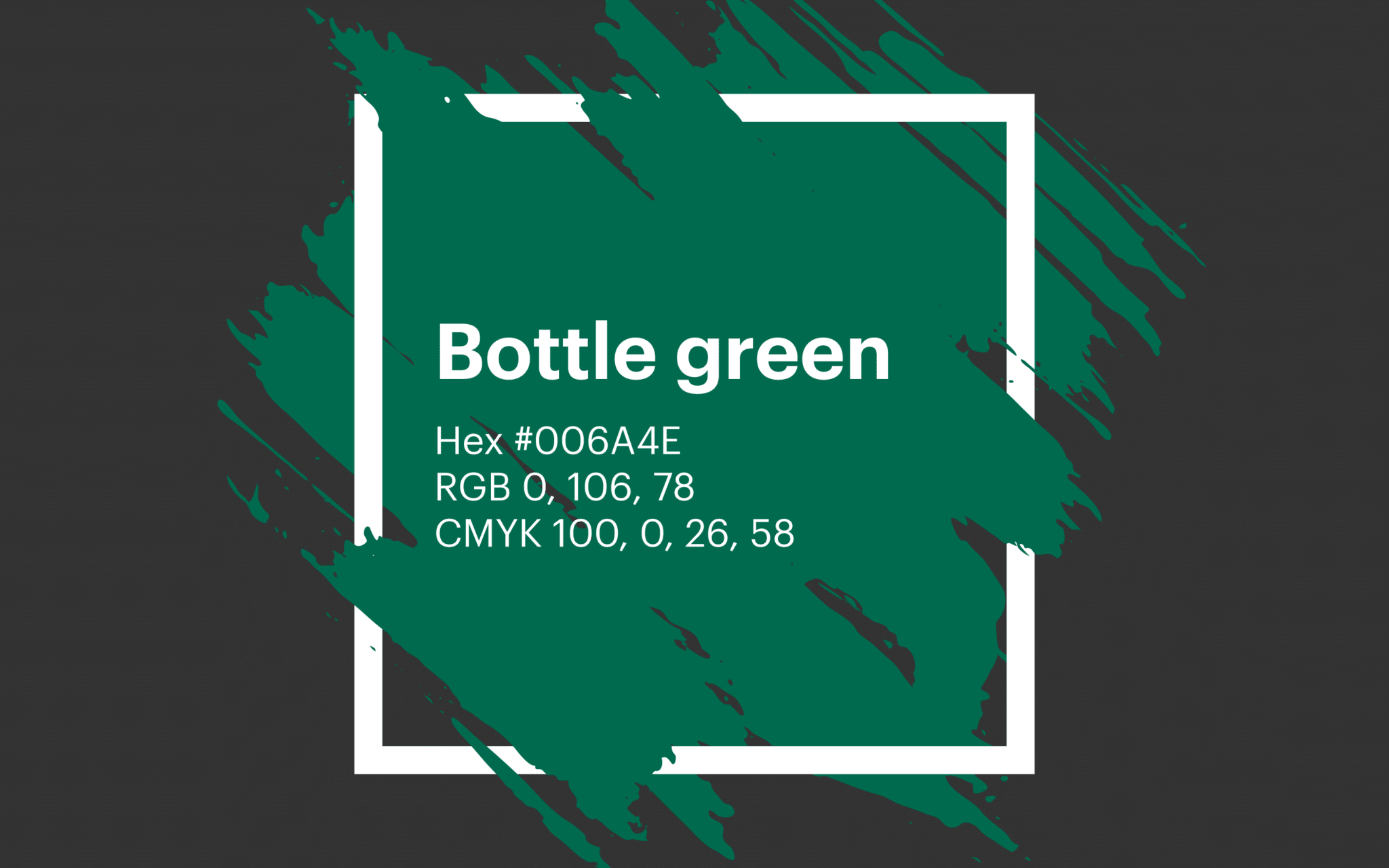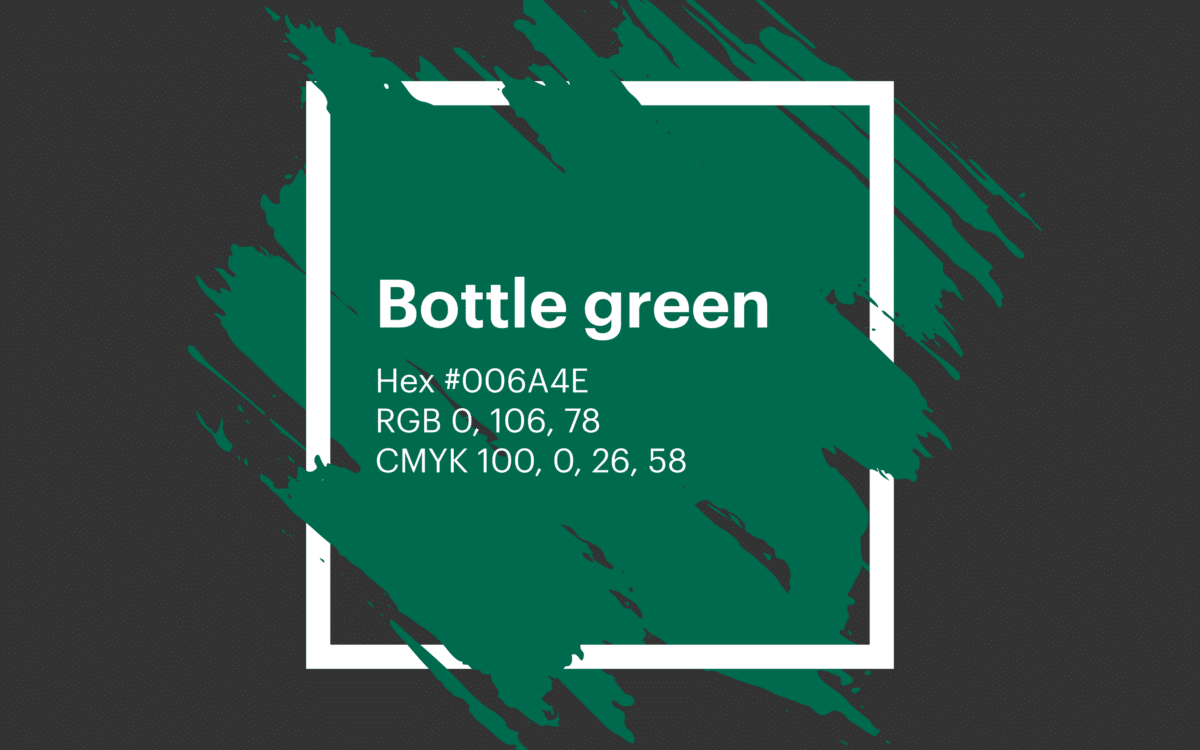 Bottle Green
Another well-known green shade for artists and designers alike, Bottle Green, is named after the dark green glass used in traditional bottles. This is another shade with a lot of blue mixed in, but it maintains its fantastic vibrance thanks to a bright shade of yellow.
Hex #006A4E
RGB 0, 106, 78
CMYK 100, 0, 26, 58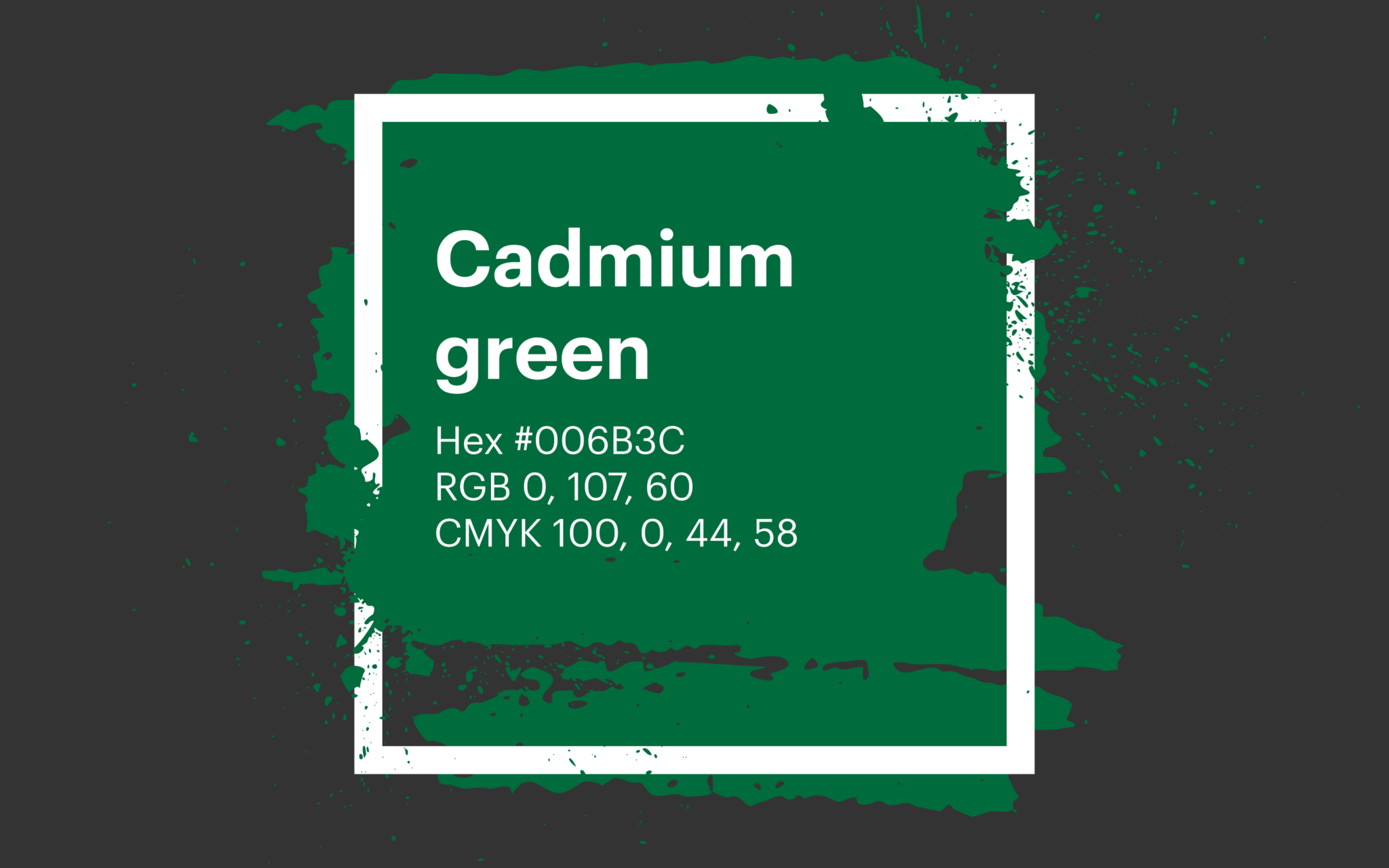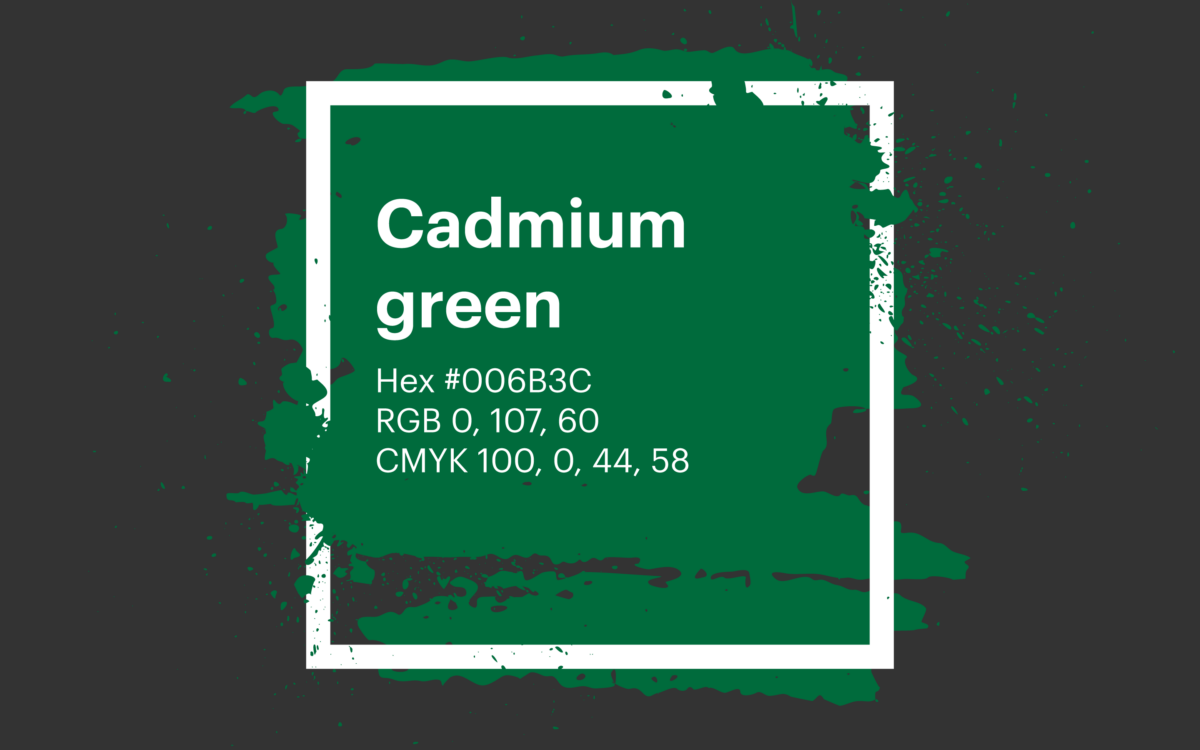 Cadmium Green
Frequently used in the art world, Cadmium Green is sometimes referred to as Empire Green. It's a little lighter than hunter green, with a vibrant undertone. The well-balanced color is excellent for background colors, and bold, statement pieces.
Hex #006B3C
RGB 0, 107, 60
CMYK 100, 0, 44, 58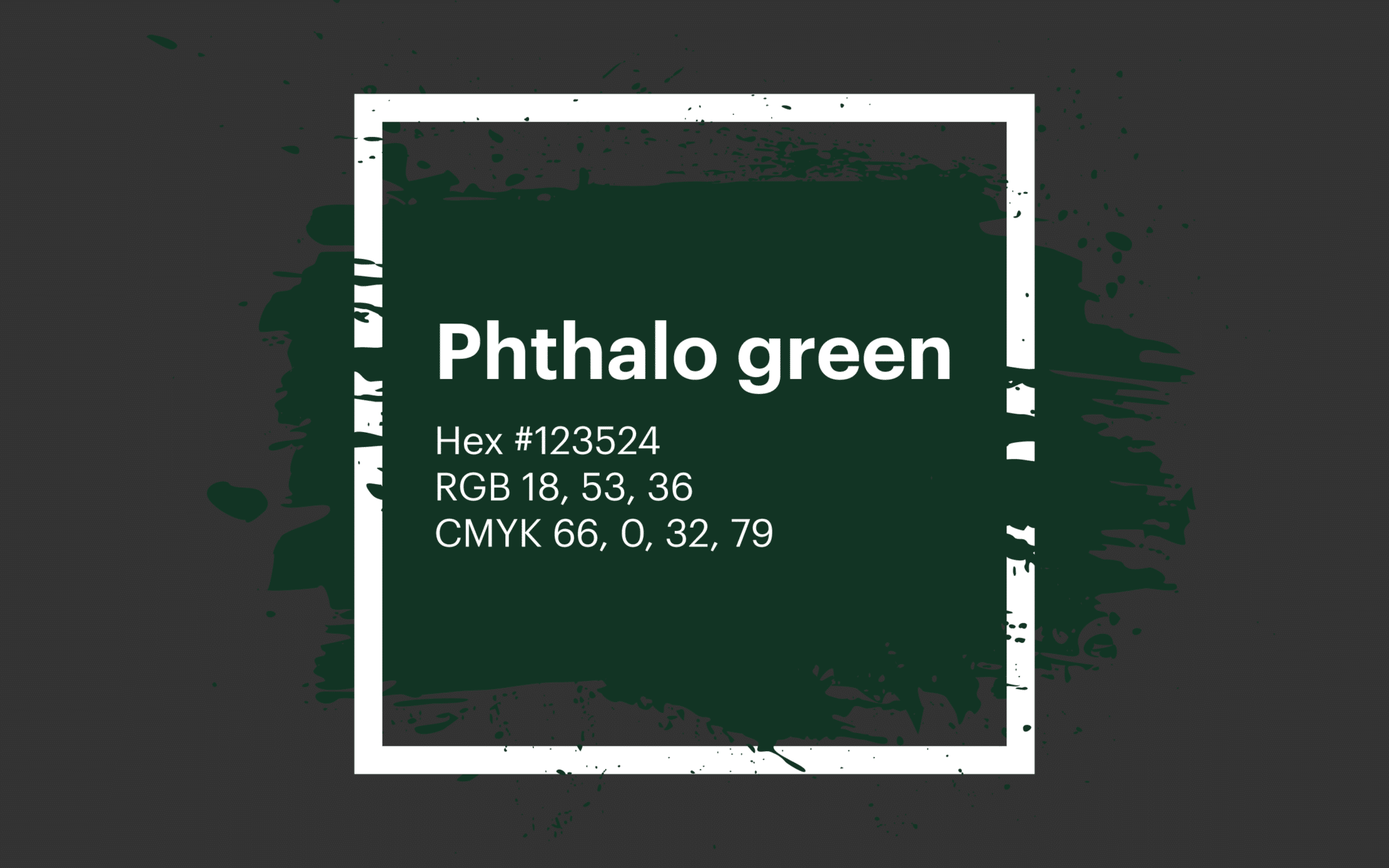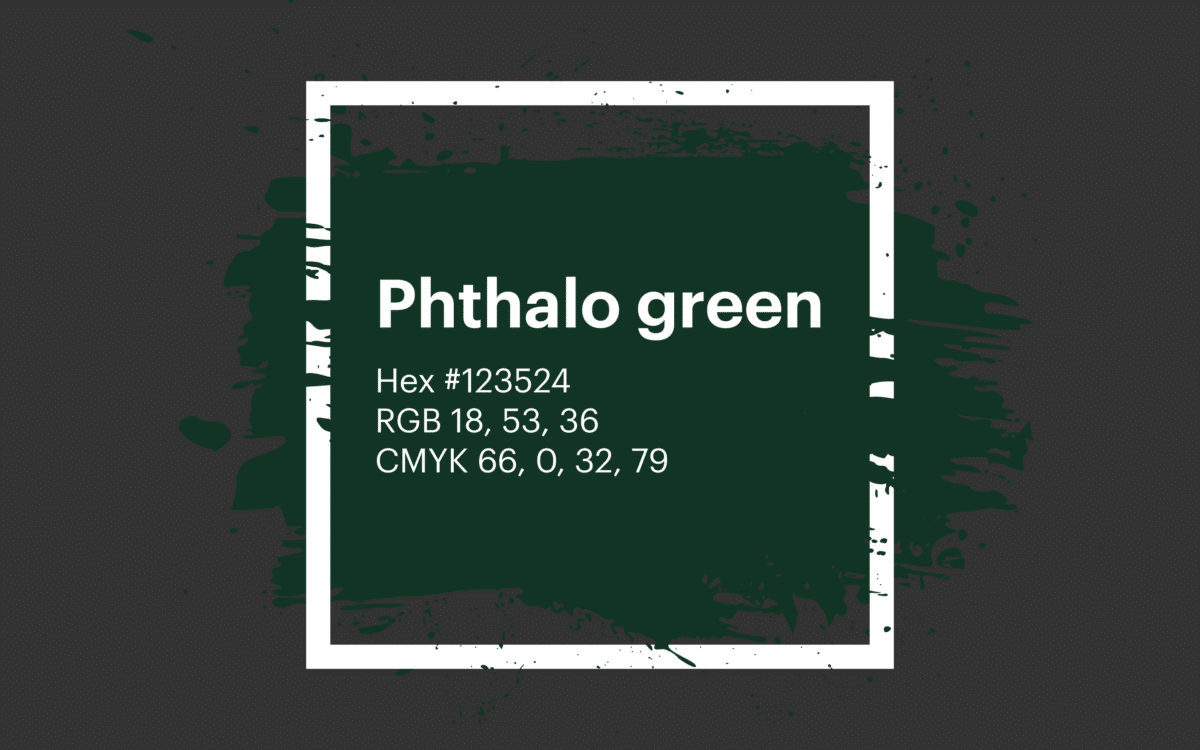 Phthalo Green
This is another shade of green you're likely to be familiar with in the art world. Phthalo Green is typically used in green color palettes for mixing when creating a forest-style design. This mixture has some unique ingredients, including copper and the chemical phthalocyanine.
Hex #123524
RGB 18, 53, 36
CMYK 66, 0, 32, 79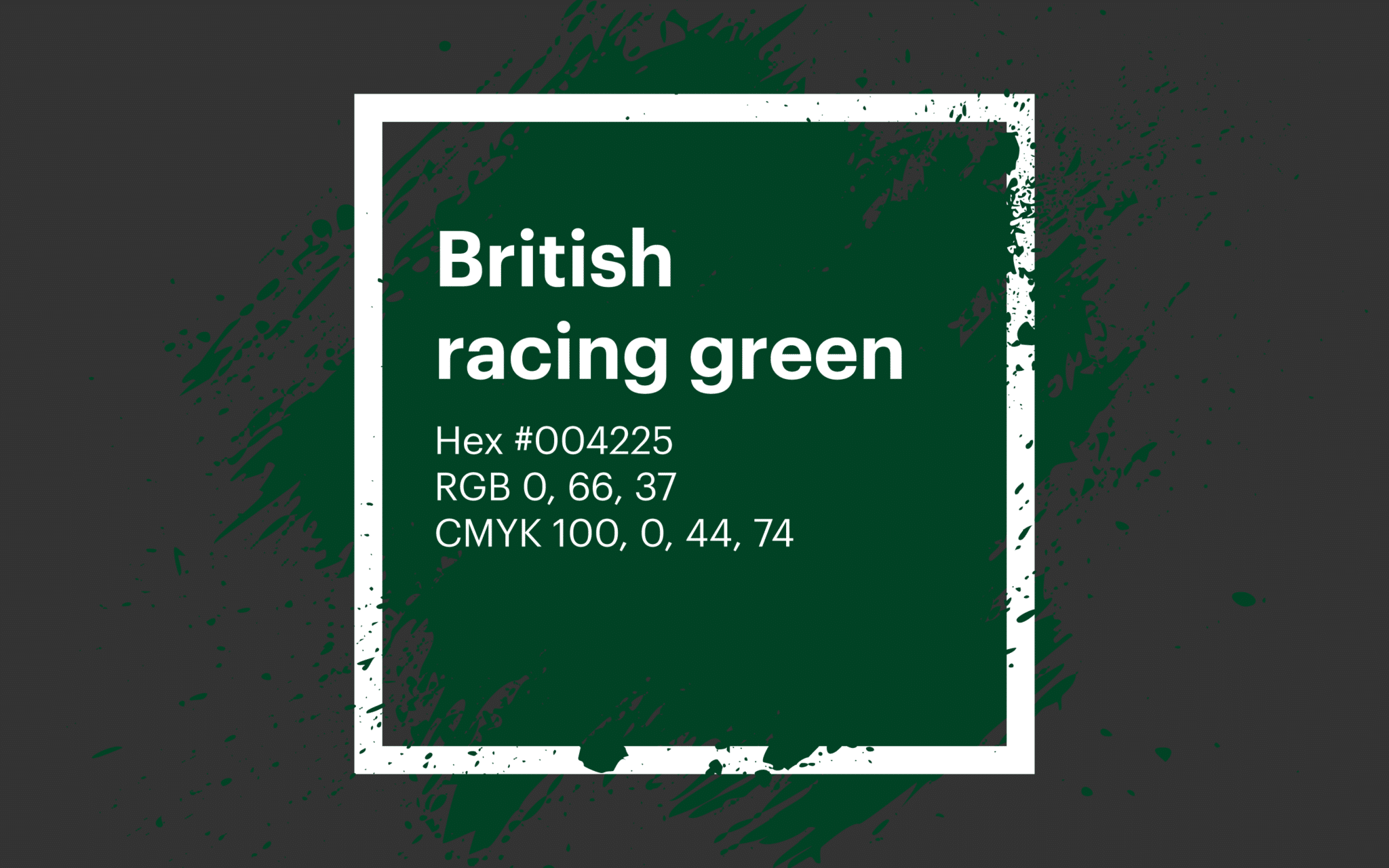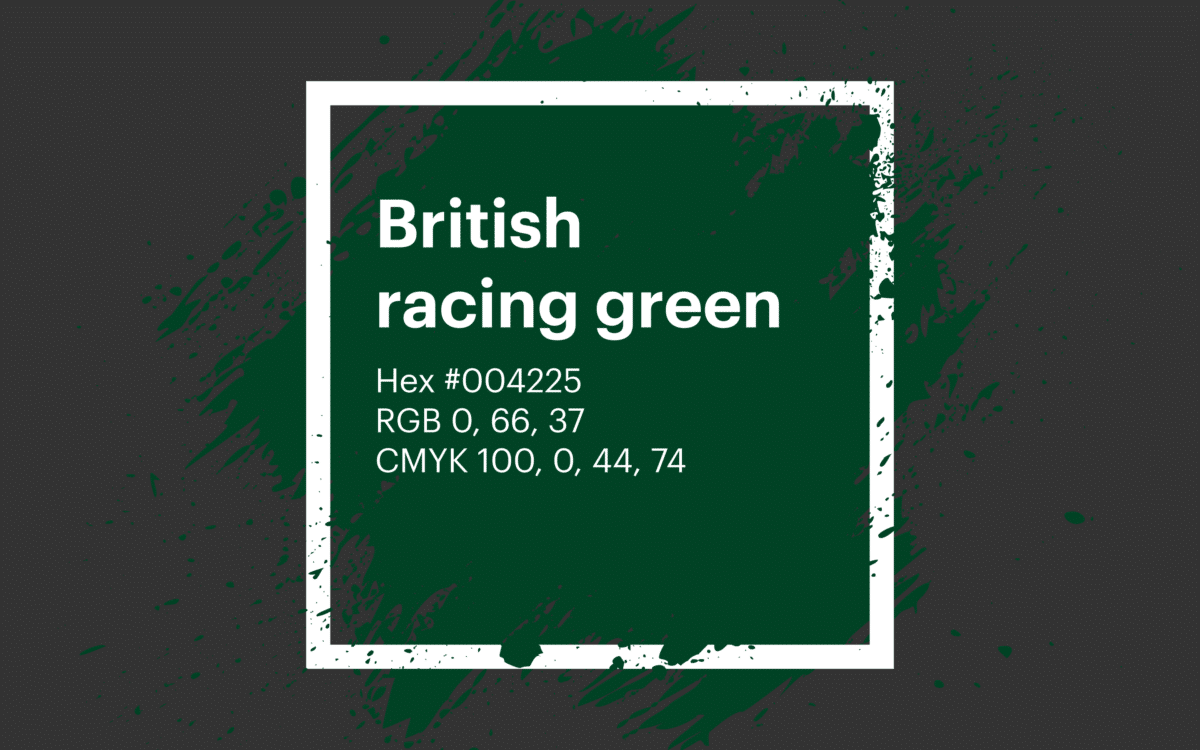 British Racing Green
British Racing Green is a fantastic dark green shade, ideal for conveying a sense of history and heritage. It's the official color of the motor racing community in the United Kingdom. The color contains a significant amount of blue, which helps to give it a unique, memorable effect.
Hex #004225
RGB 0, 66, 37
CMYK 100, 0, 44, 74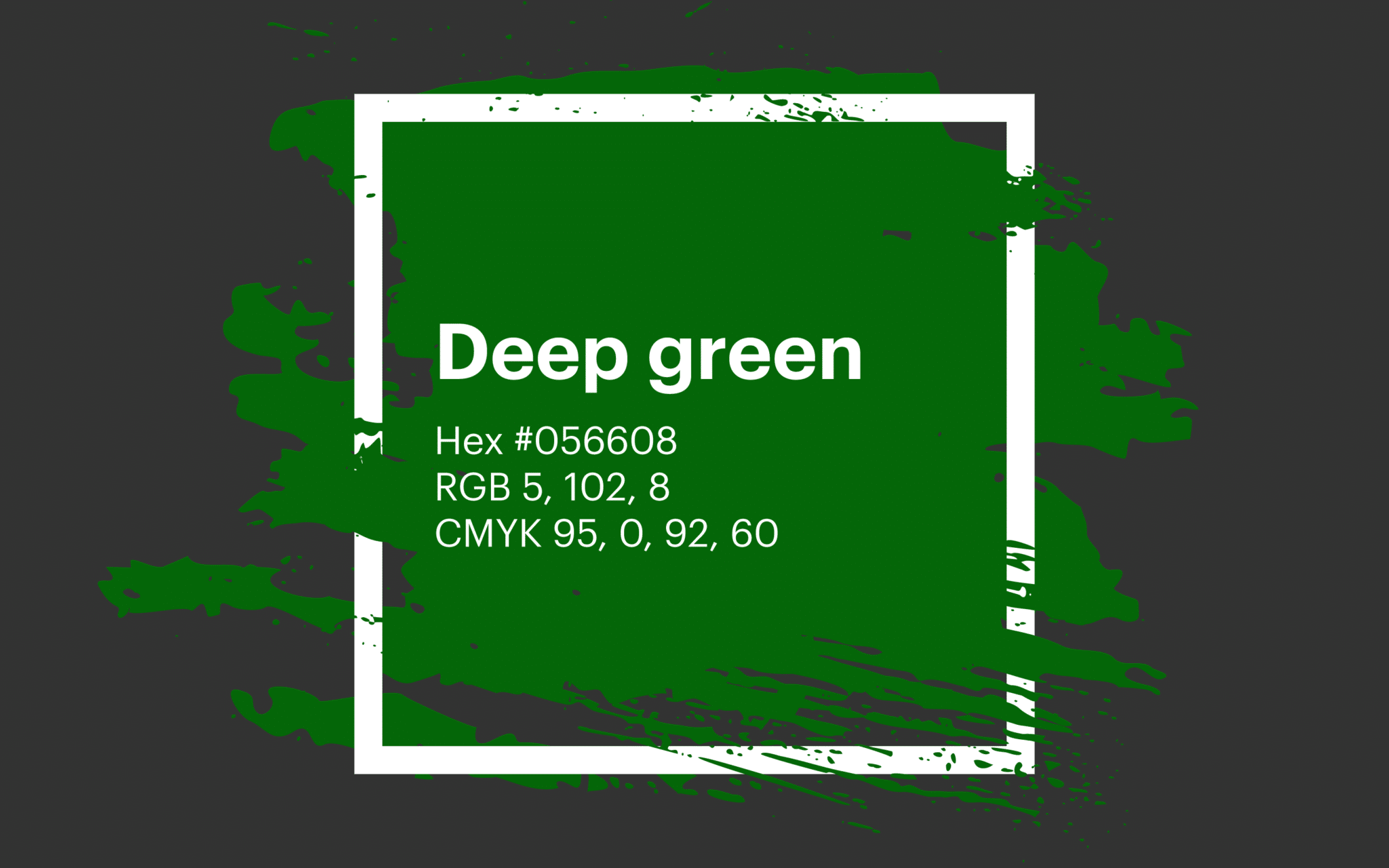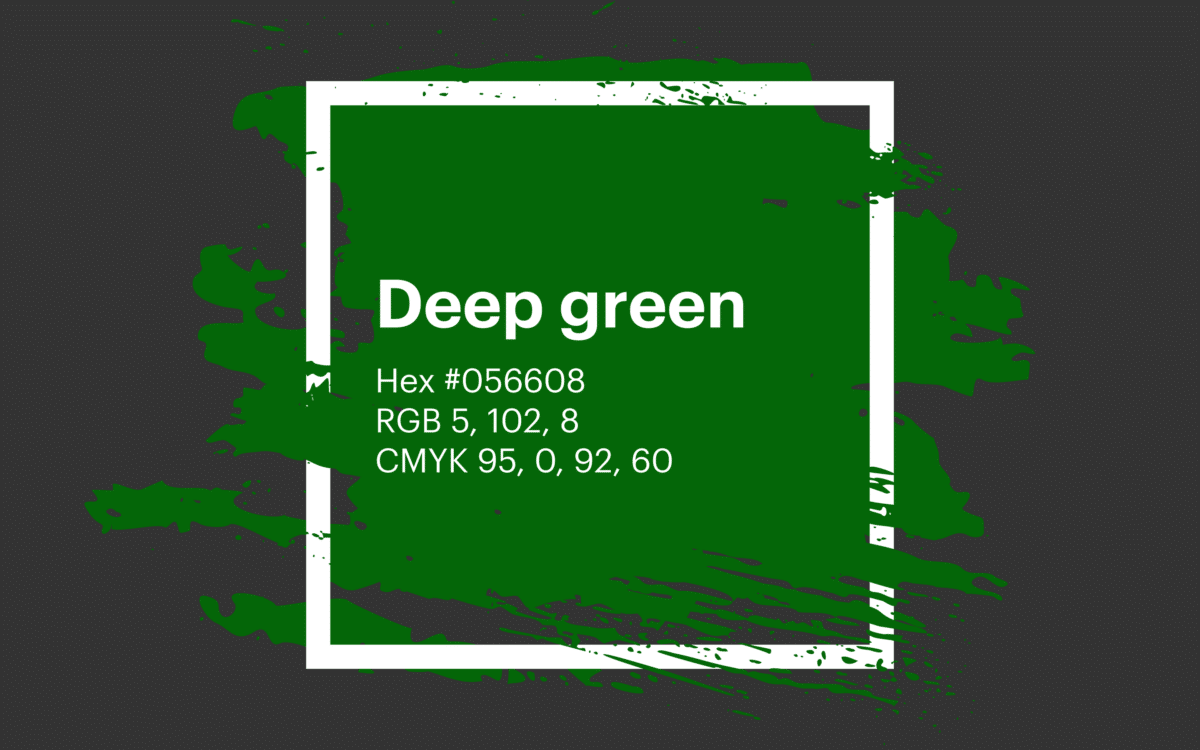 Deep Green
Deep Green is one of the more common colors chosen by artists and designers looking for a simple and balanced shade. It has a good yellow-to-blue ratio, which helps maintain its lively and vibrant appearance. It's deep without being overly dark.
Hex #056608
RGB 5, 102, 8
CMYK 95, 0, 92, 60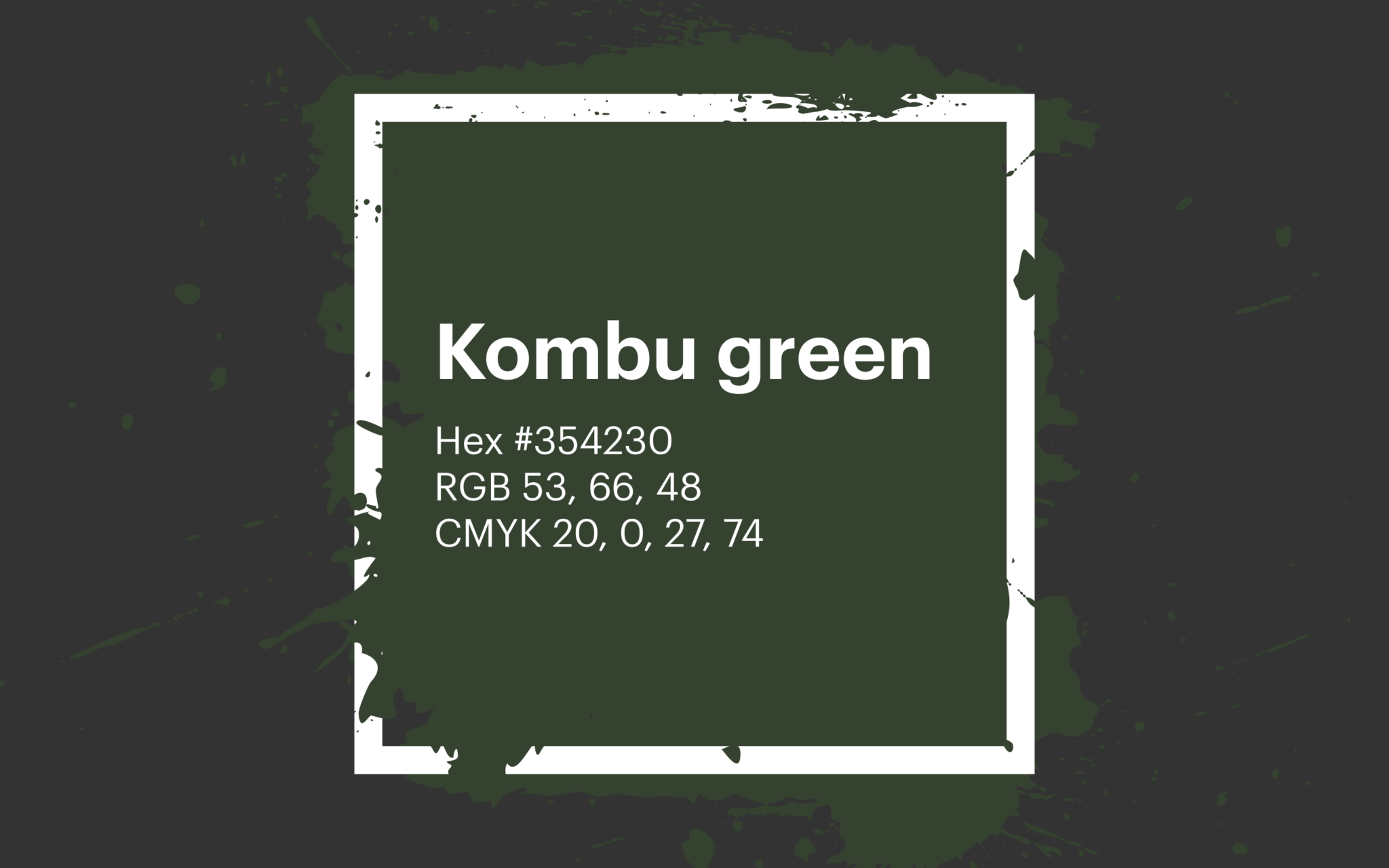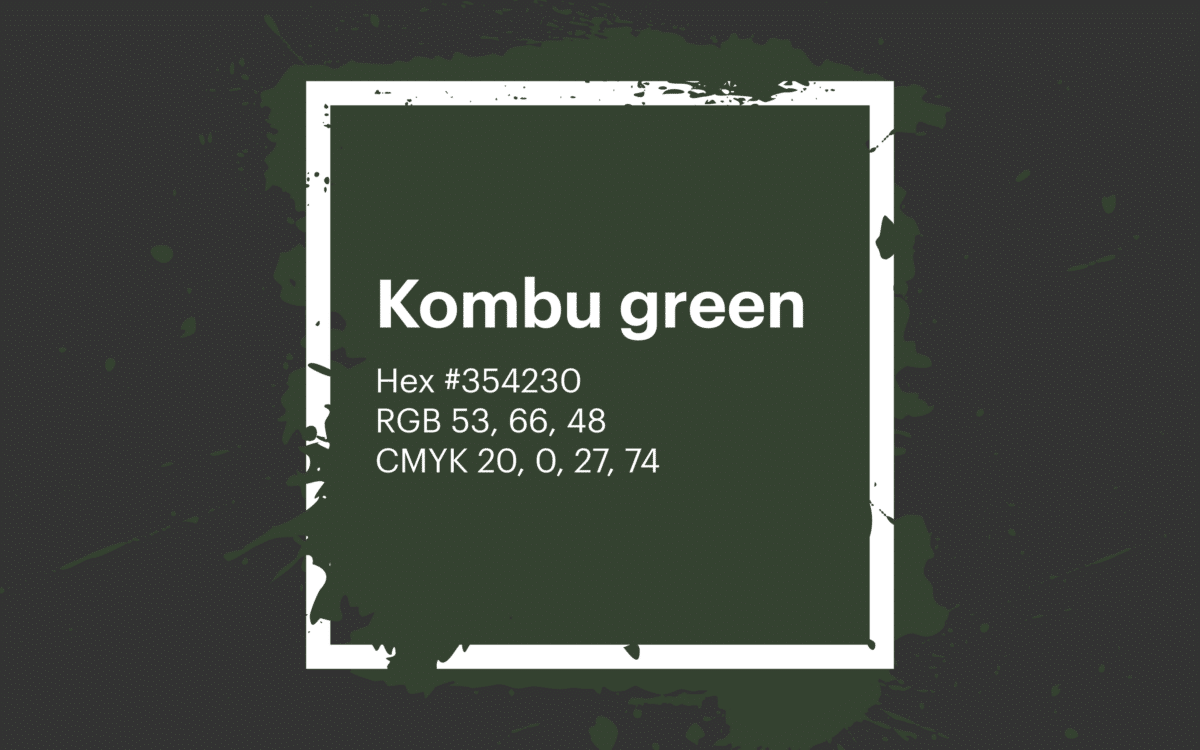 Kombu Green
Easily among the darkest greens available for creatives today, Kombu Green is named after a specific form of edible kelp. The Kombu Green shade has a high percentage of black mixed into it, so it may look more brown or grey from a distance.
Hex #354230
RGB 53, 66, 48
CMYK 20, 0, 27, 74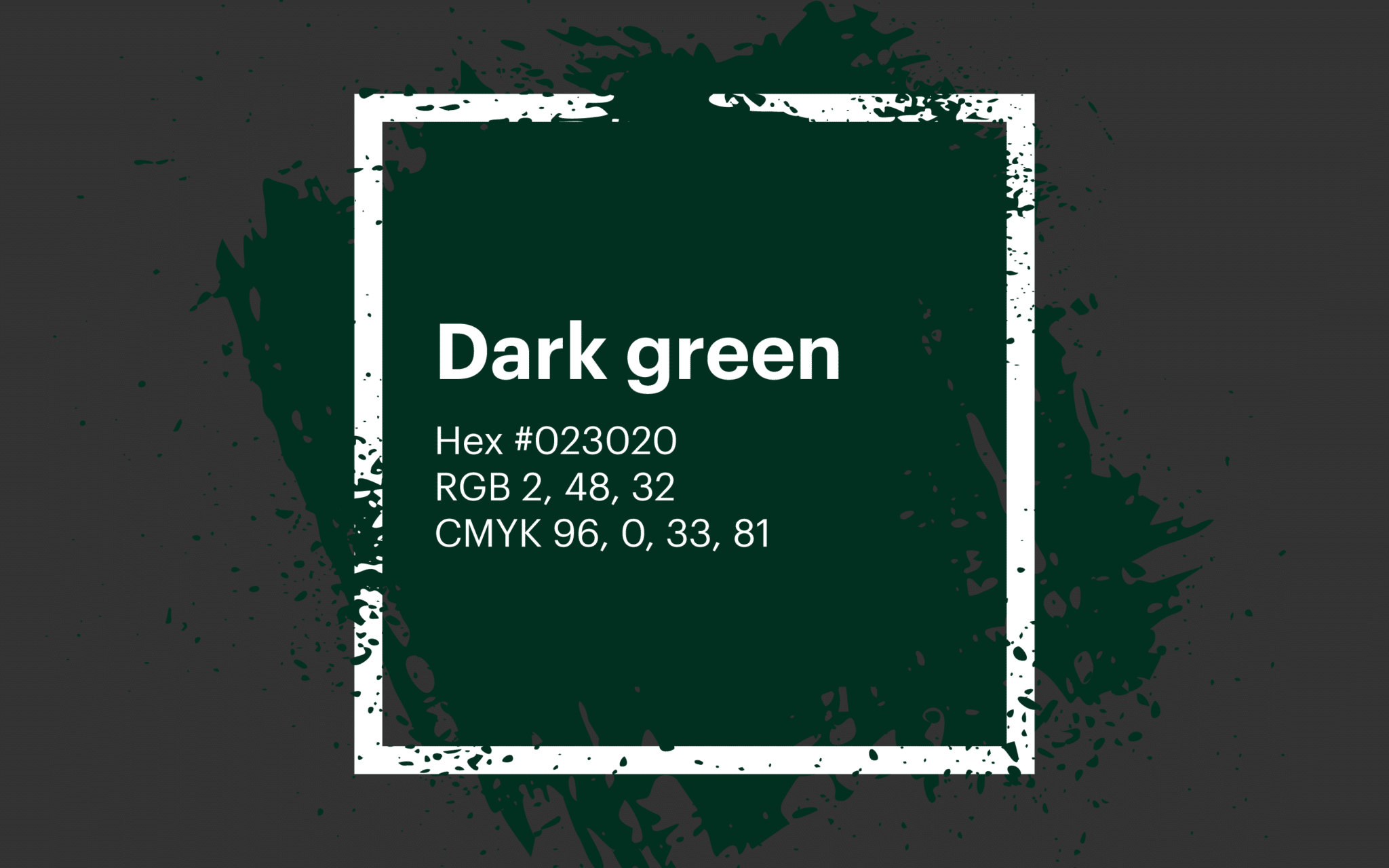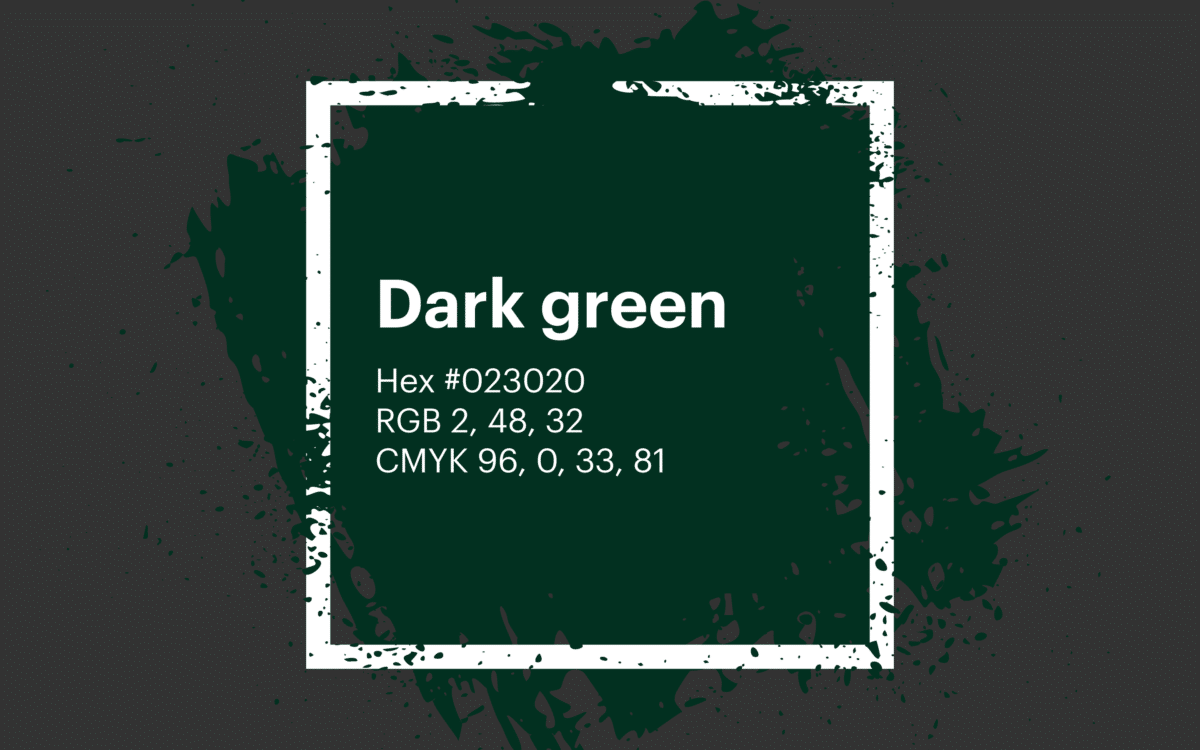 Dark Green
Dark Green is a very dark shade of green, with a significant amount of deep blue and black. The color is associated with some of the most expensive car brands in the world, including Porsche, Lamborghini, and Ferrari.
Hex #023020
RGB 2, 48, 32
CMYK 96, 0, 33, 81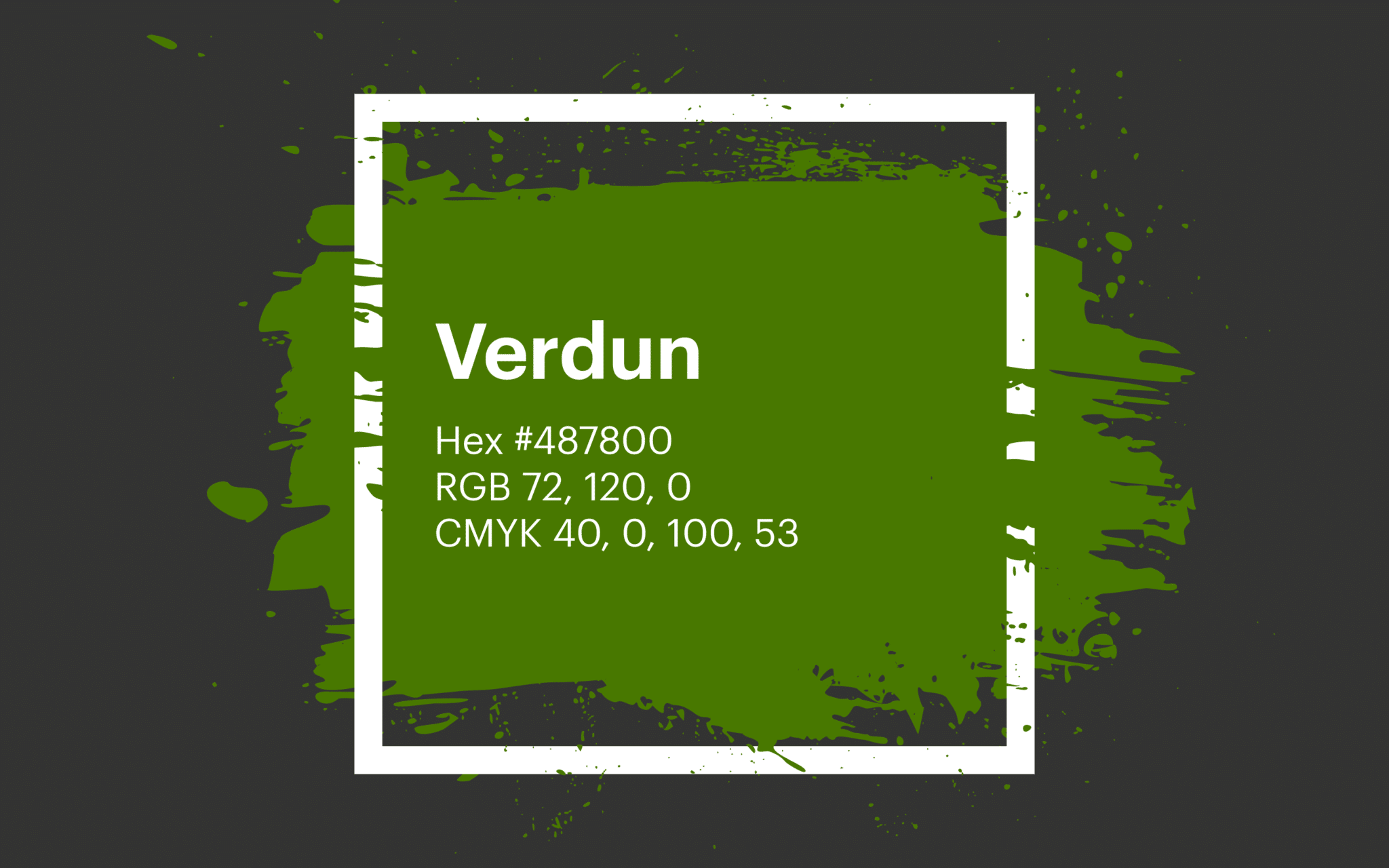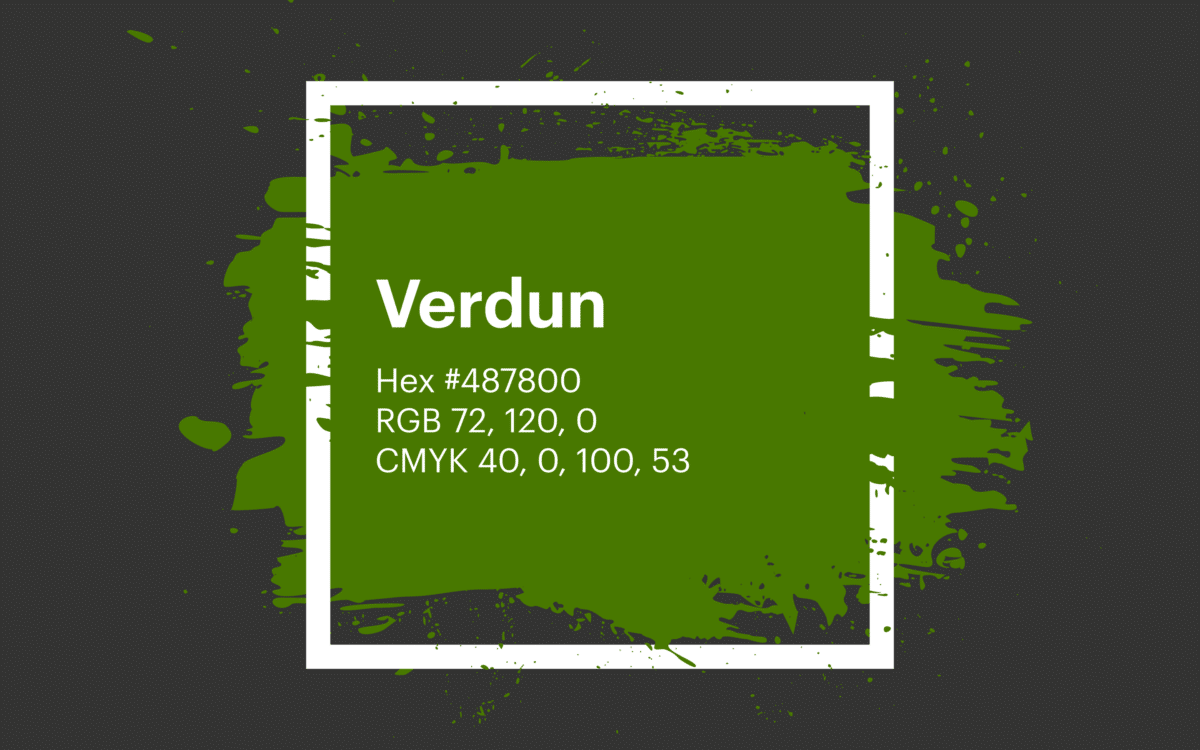 Verdun
An earthy green color with an almost brownish tinge, Verdun Green is named after a city in northern France. While this is quite a dark shade for most projects, it's also relatively vibrant, thanks to its high quantities of yellow.
Hex #487800
RGB 72, 120, 0
CMYK 40, 0, 100, 53
Shades of bright green
Shades of vibrant and bright green are excellent for making a lasting impact on any project. These colors seem more creative and engaging than most other green shades. They're great for branding purposes and ideal for adding accents to specific tasks, like pottery and art pieces.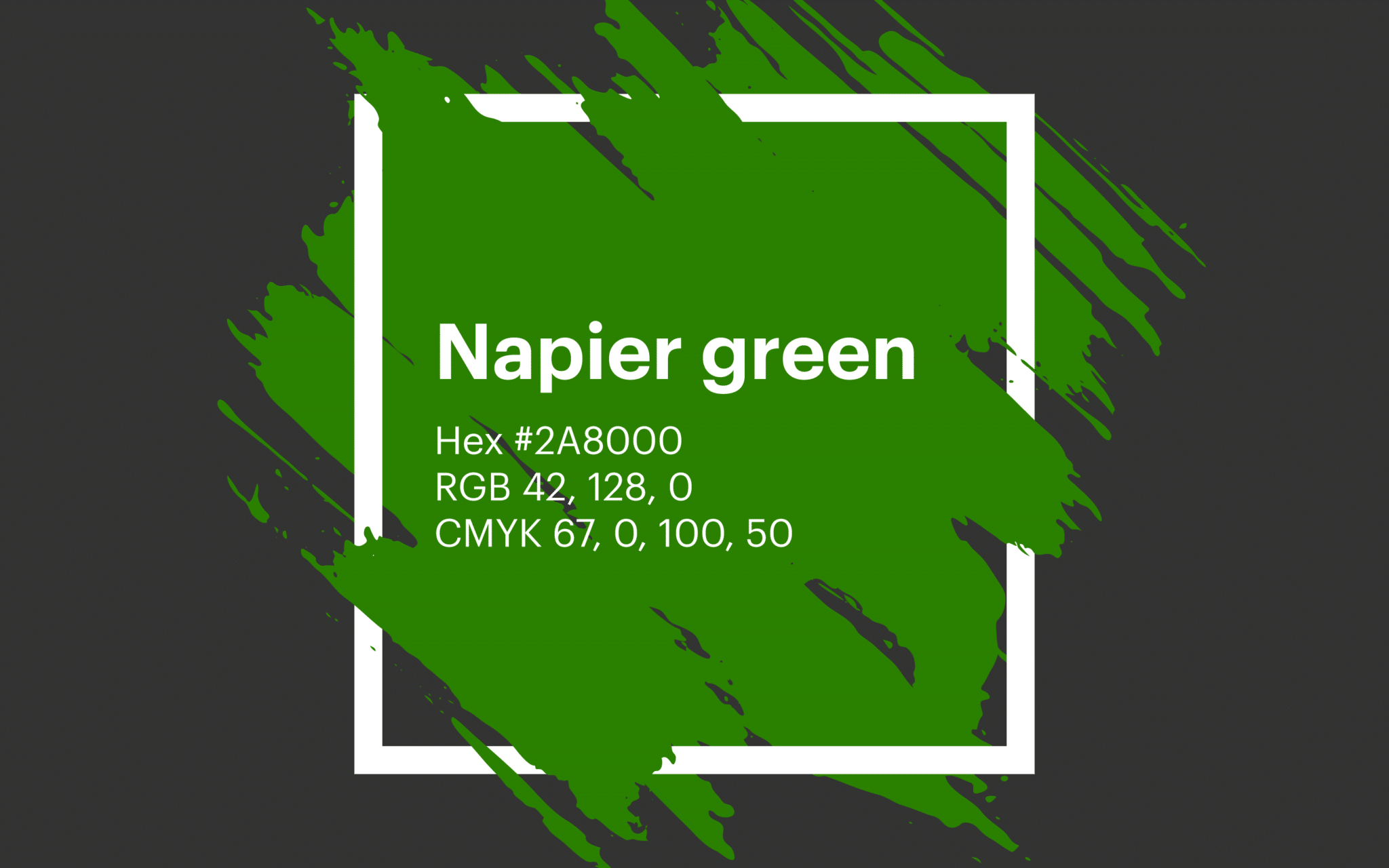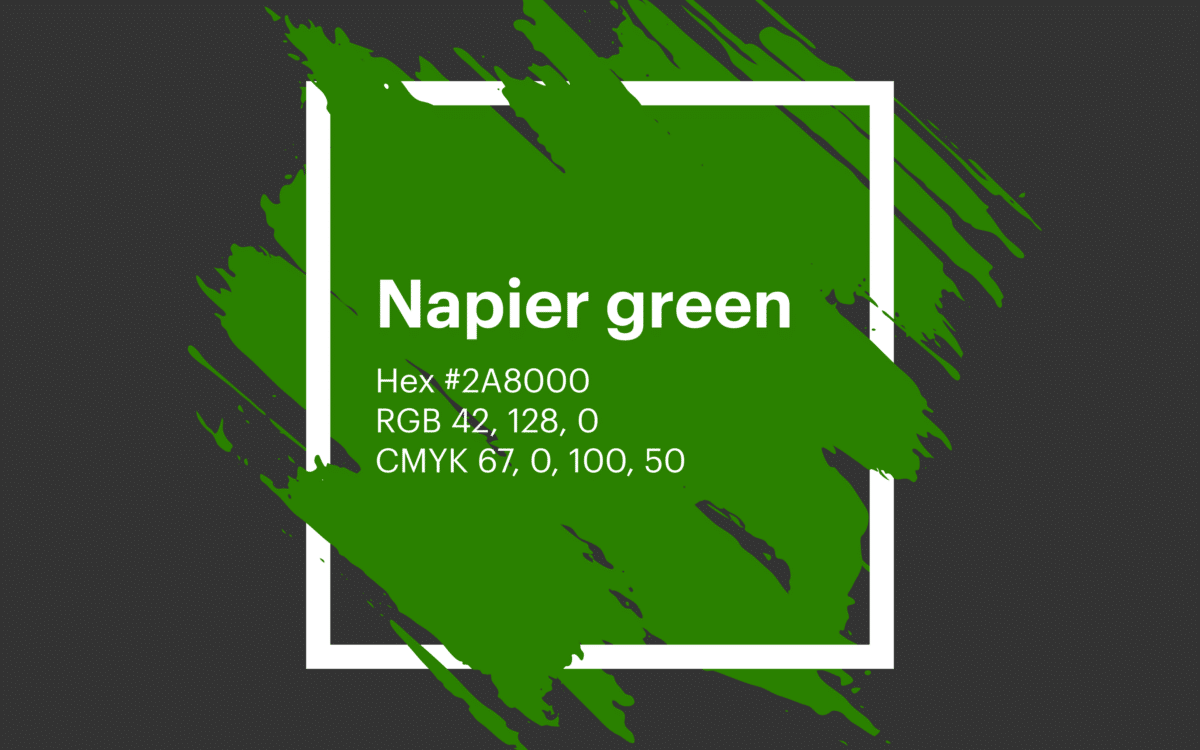 Napier Green
With a large portion of vivid yellow, this bright green color is great for grabbing attention. It's one of the colors commonly used in the motor racing world, specifically on McLaren cars. This is a tremendous high-energy color for virtually any project.
Hex #2A8000
RGB 42, 128, 0
CMYK 67, 0, 100, 50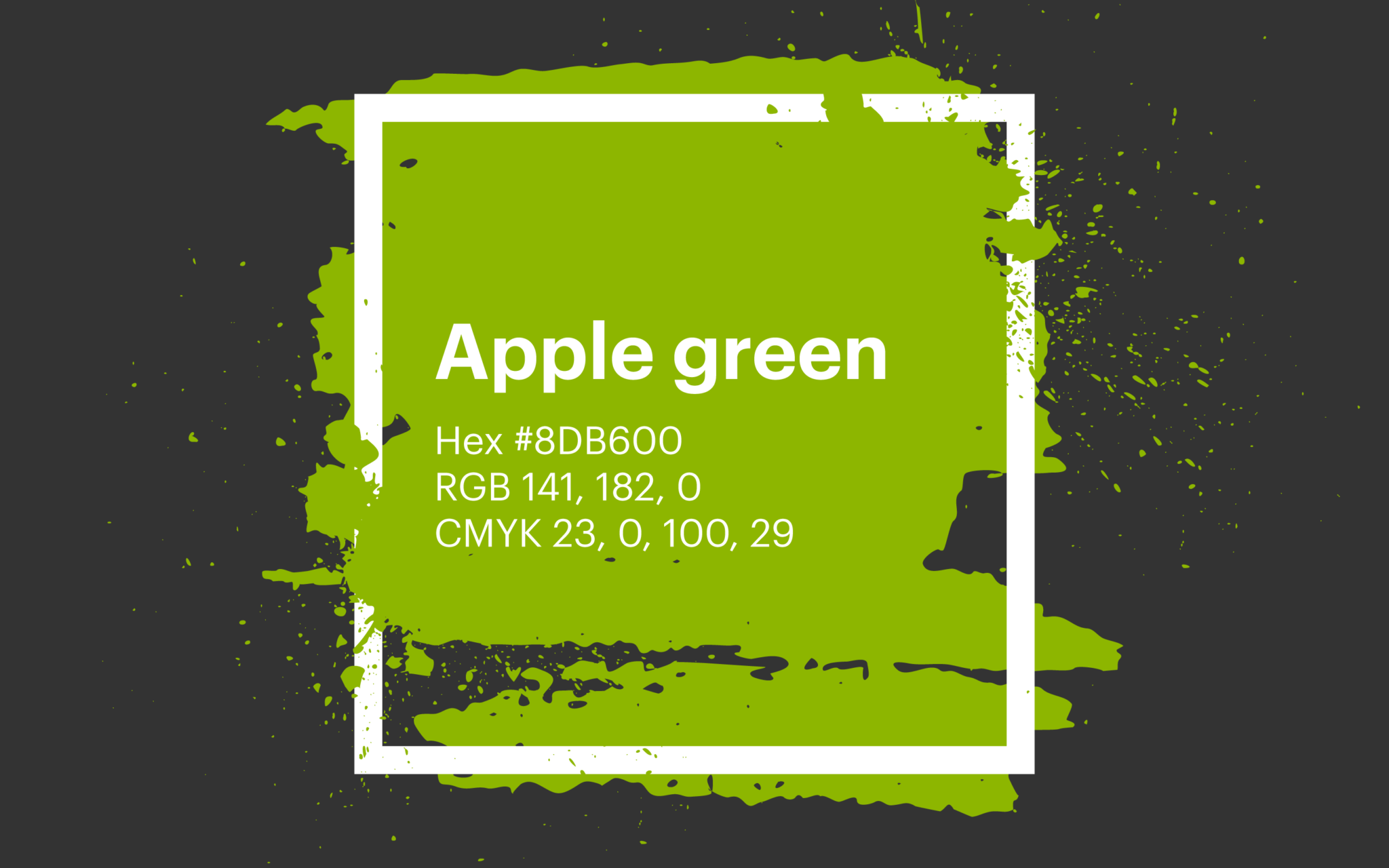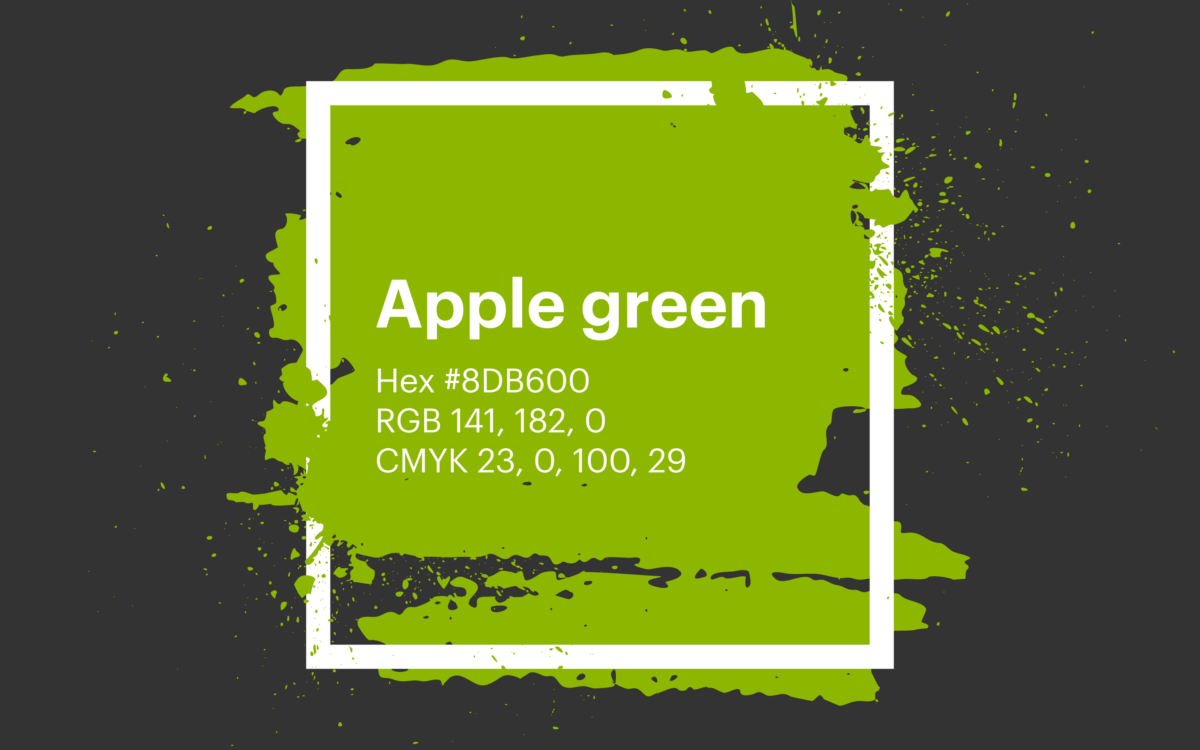 Apple Green
Intended to replicate the color of fresh green apples, this bright and lively hue is excellent for conveying a sense of freshness and growth. There's a high level of yellow in this color, with just the tiniest hint of blue, which may be why it's such a bright shade.
Hex #8db600 (also known as Apple green)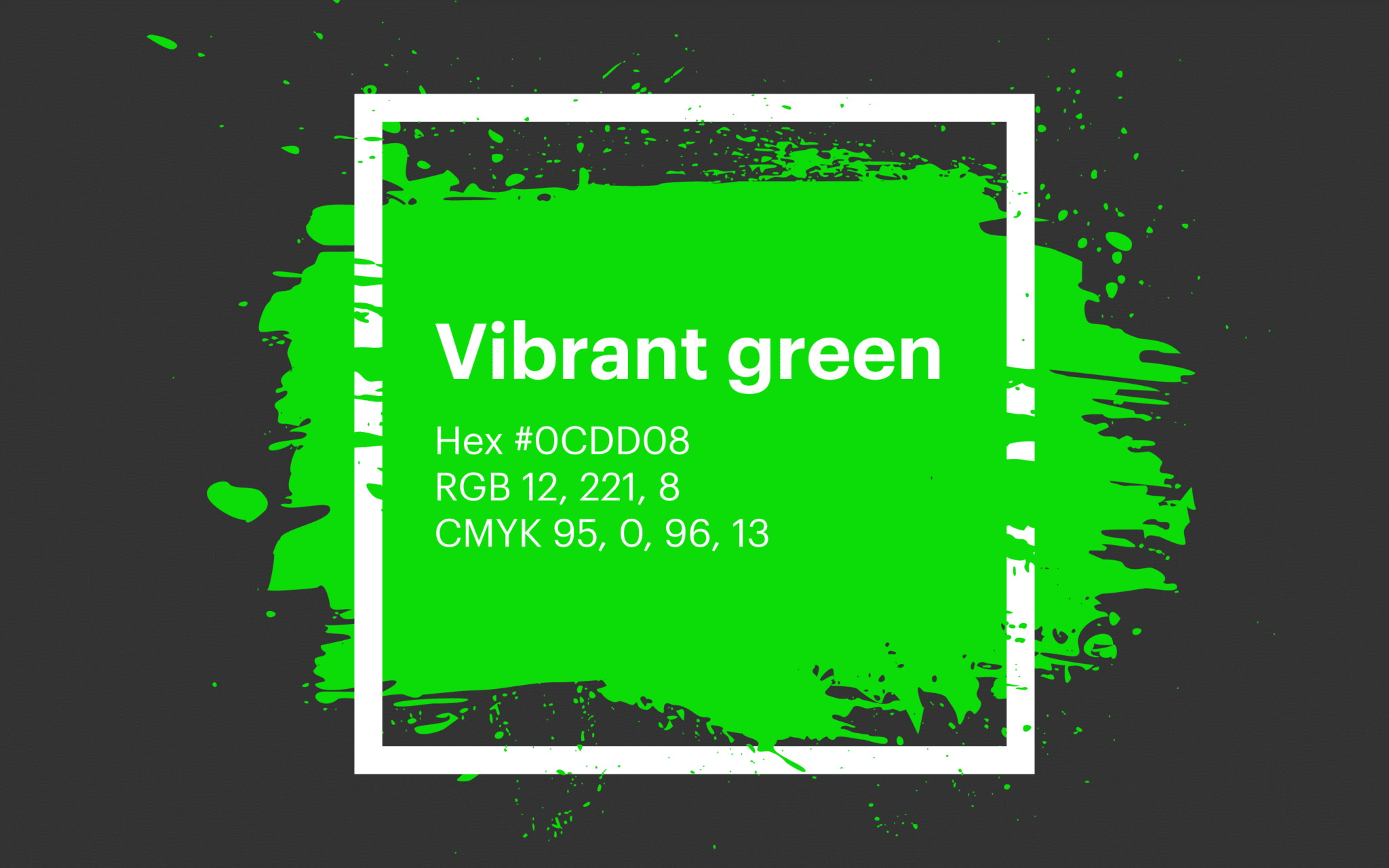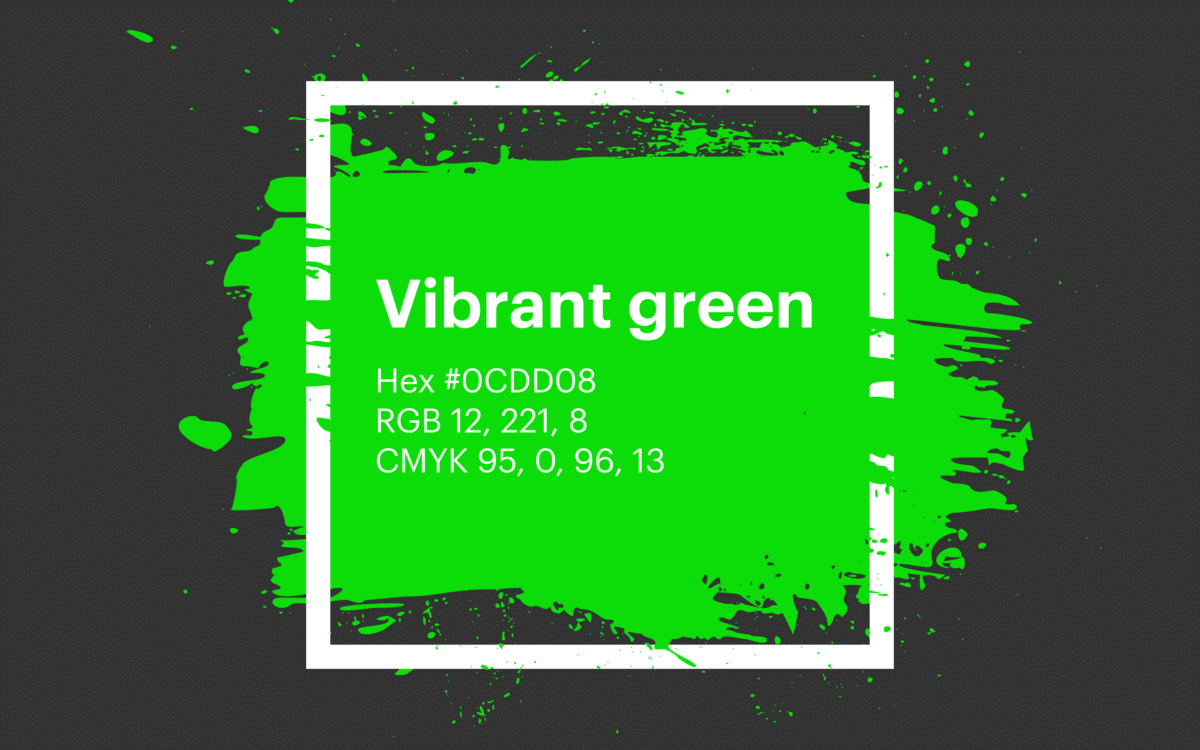 Vibrant Green
With a high portion of yellow mixed in with an almost equal level of cyan, this color is a well-balanced hue for a range of vibrant projects. It's excellent if you're looking for a shade with a lot of energy and impact but don't want your piece to be too garish.
#0CDD08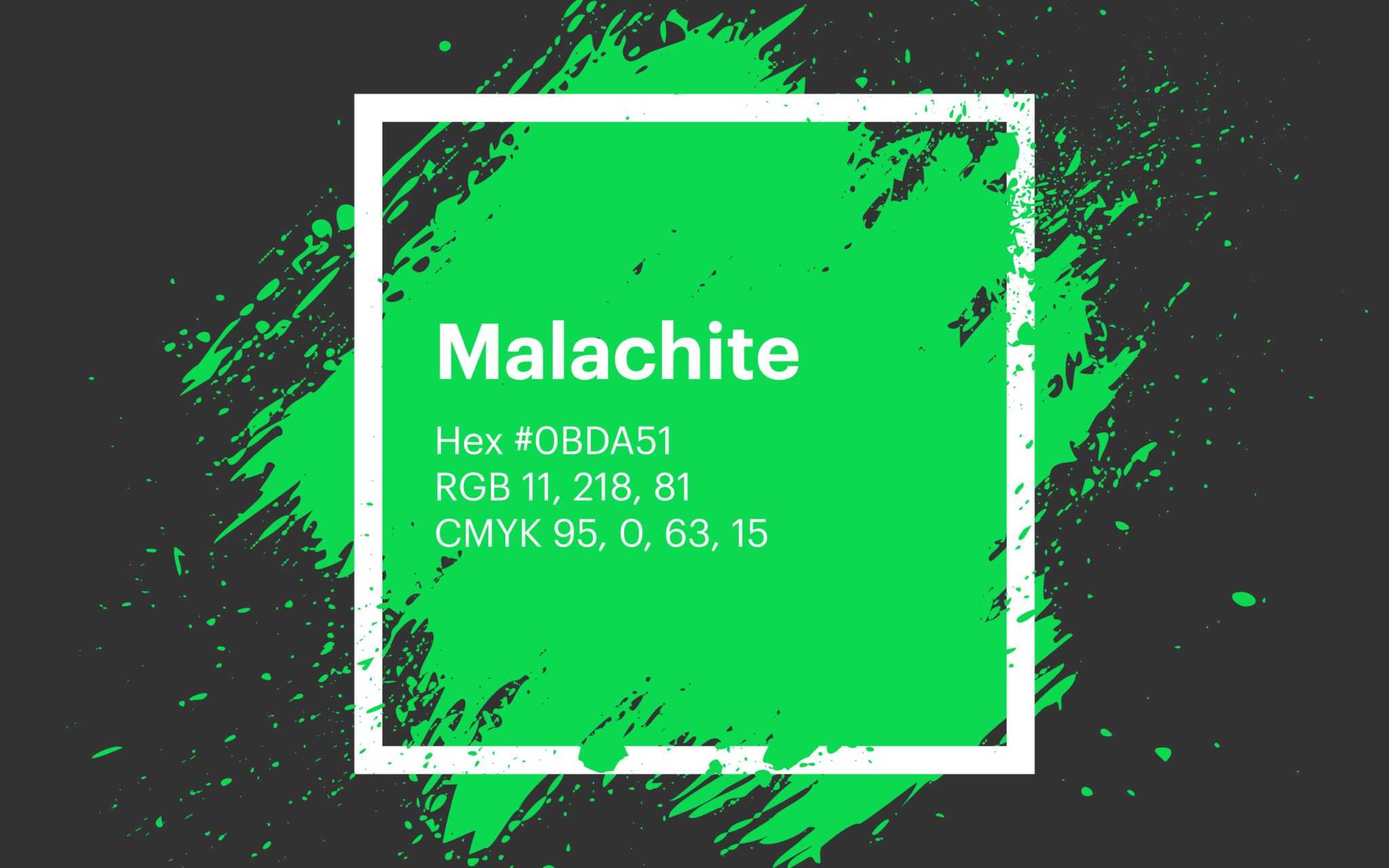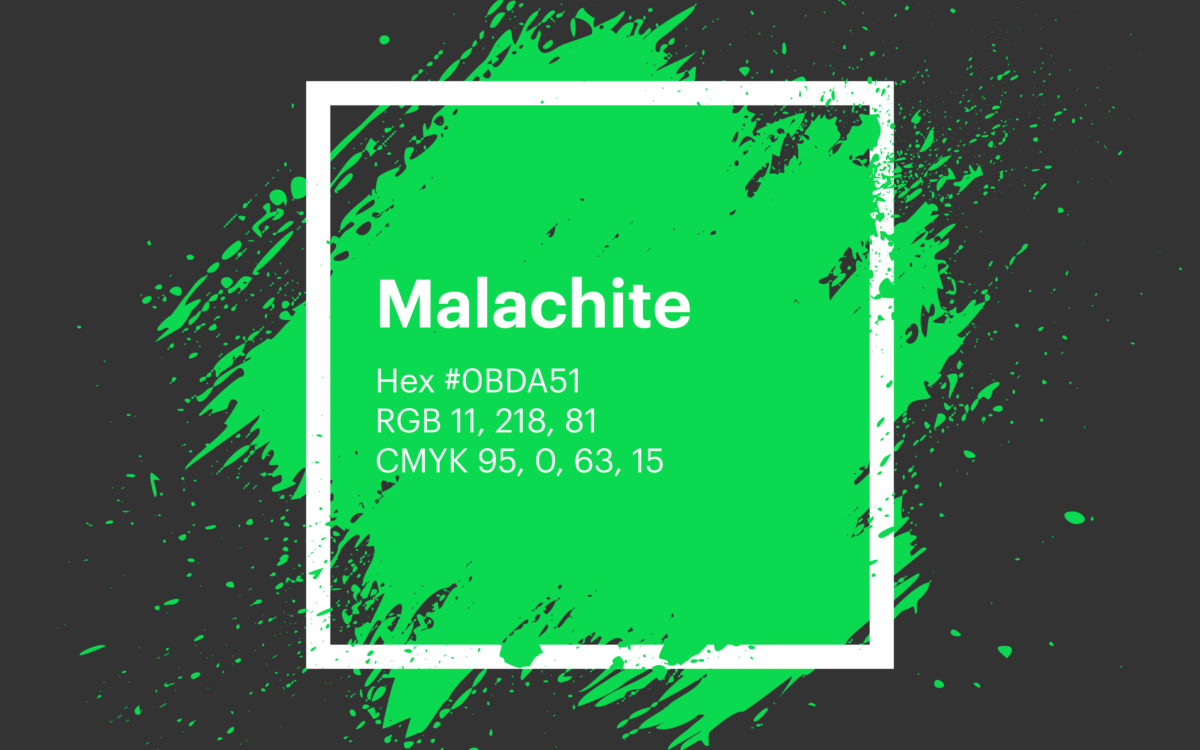 Malachite
If you're looking for a lighter shade of green with a vibrant edge, this beautifully balanced color could be the perfect choice. With a slightly higher degree of yellow to blue, the lively shade is fantastic for drawing attention. However, it may be overwhelming for home décor.
Hex #0BDA51
RGB 11, 218, 81
CMYK 95, 0, 63, 15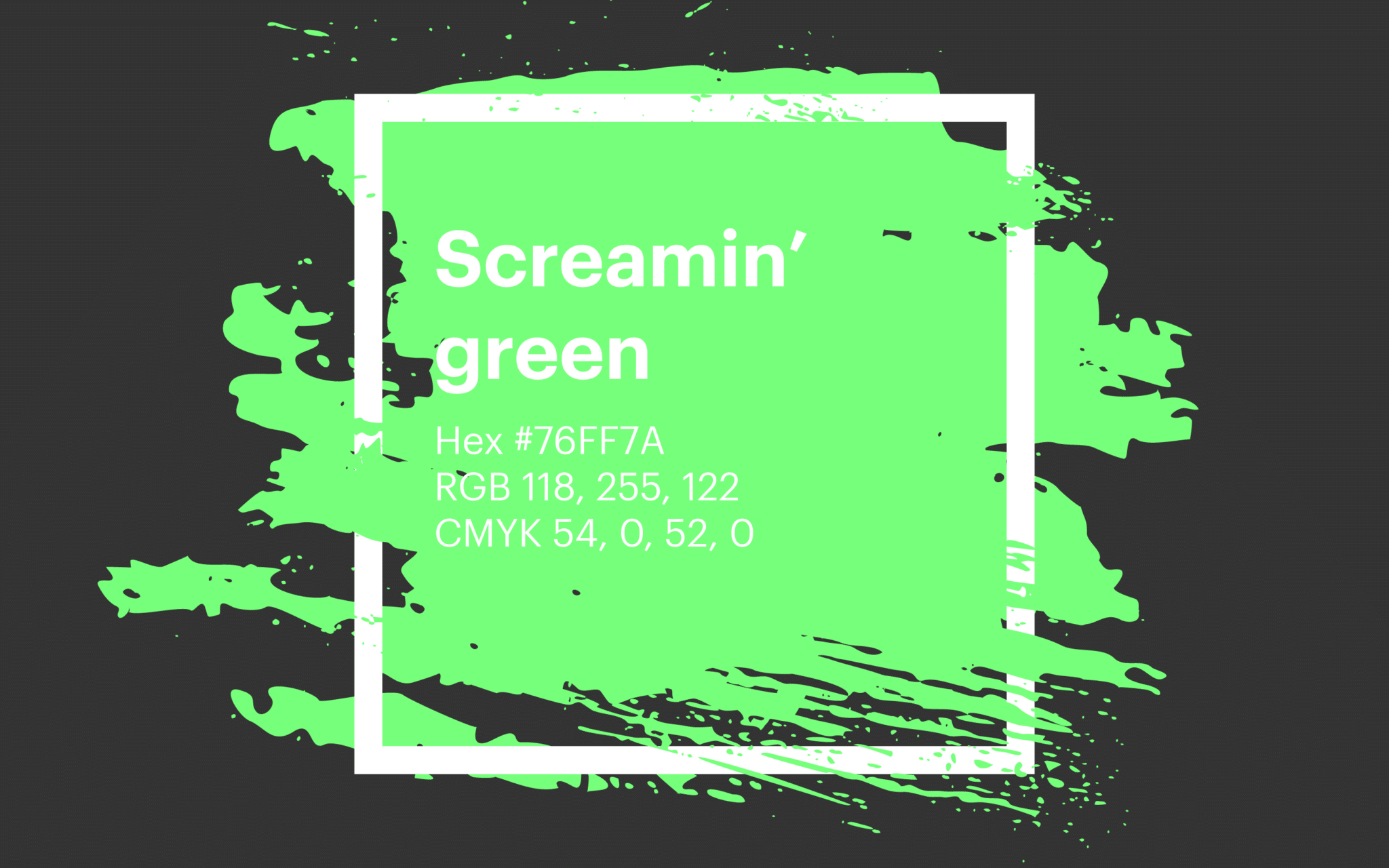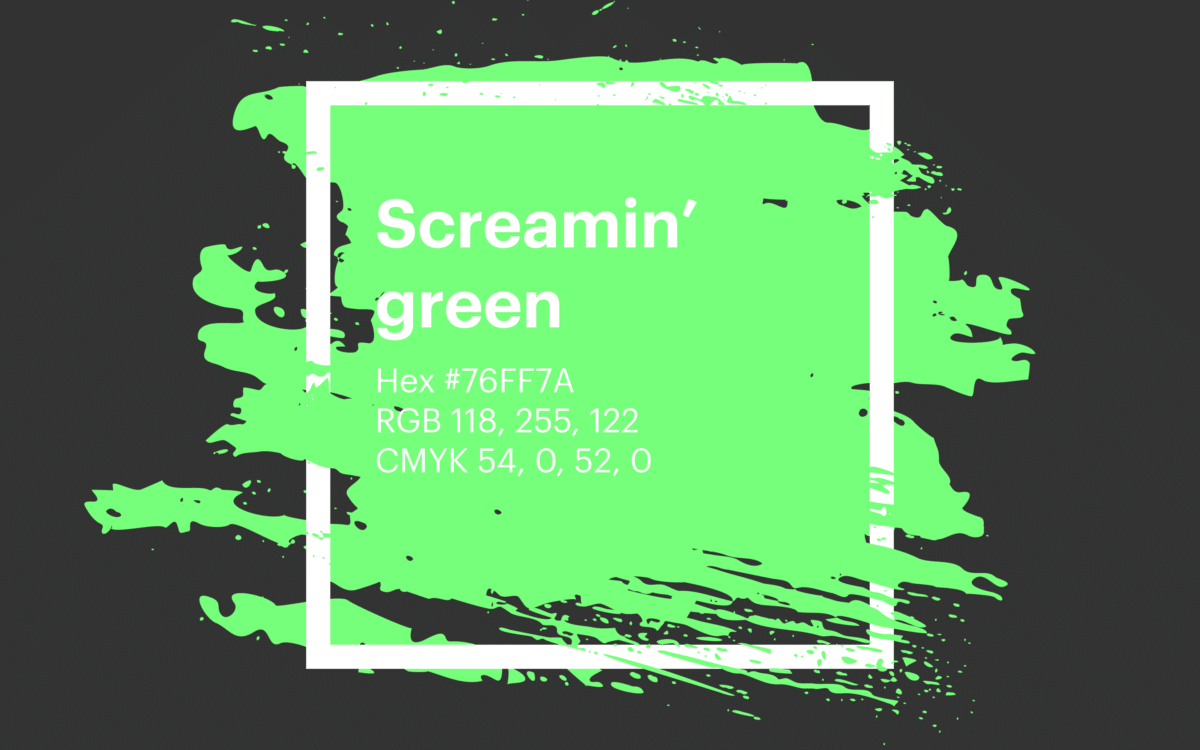 Screamin' Green
Don't let the unusual name of this green color put you off; Screamin' Green can be a fantastic choice for a range of projects. It's a fun and creative-looking shade, similar in many ways to a brighter seafoam green with slightly less blue.
Hex #76FF7A
RGB 118, 255, 122
CMYK 54, 0, 52, 0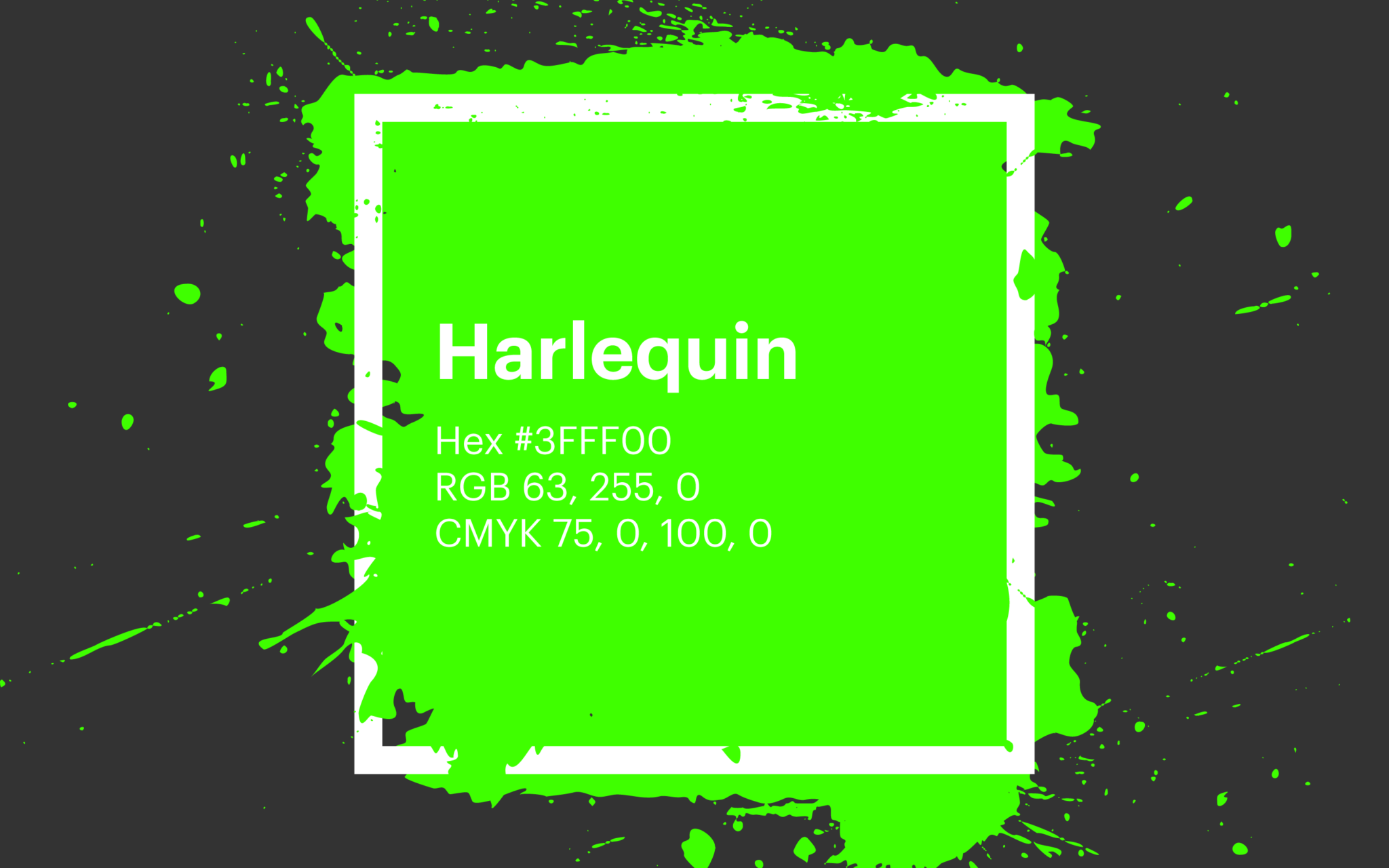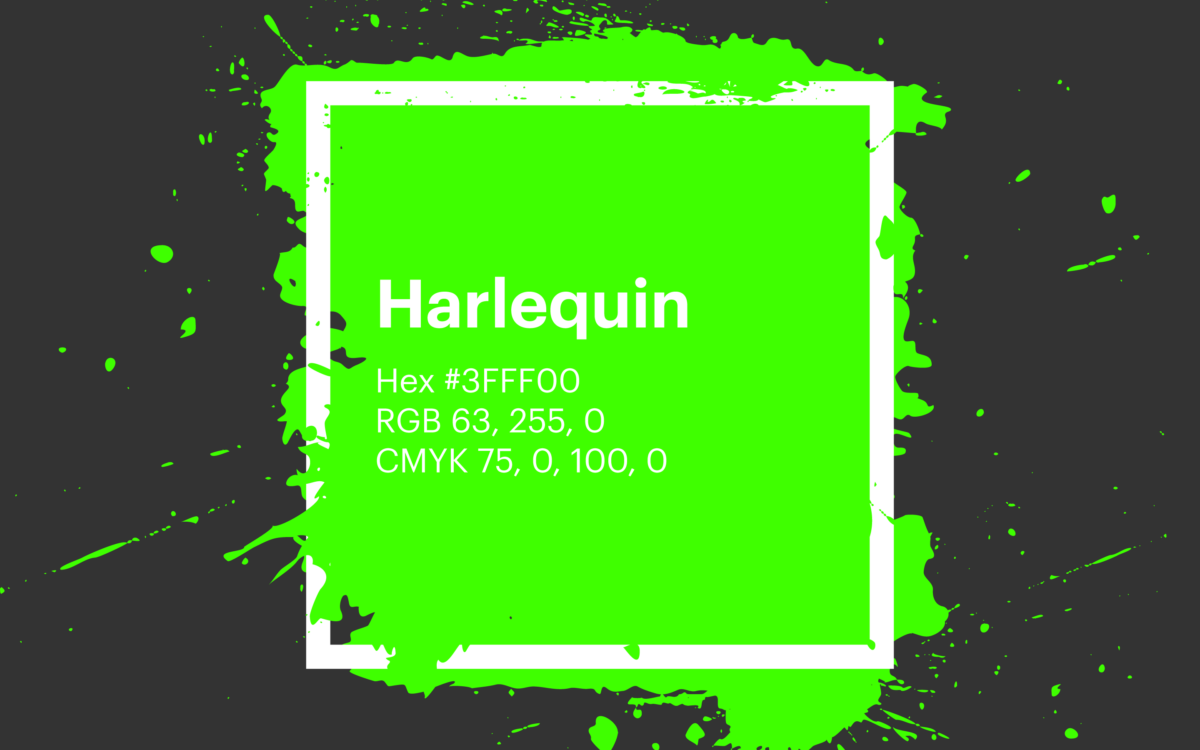 Harlequin
If you're looking for a really in-your-face green and you're not afraid to get loud with your green color palette, Harlequin is a good choice. This bold and exciting color almost looks like the shade you'd get from a green highlighter.
Hex #3FFF00
RGB 63, 255, 0
CMYK 75, 0, 100, 0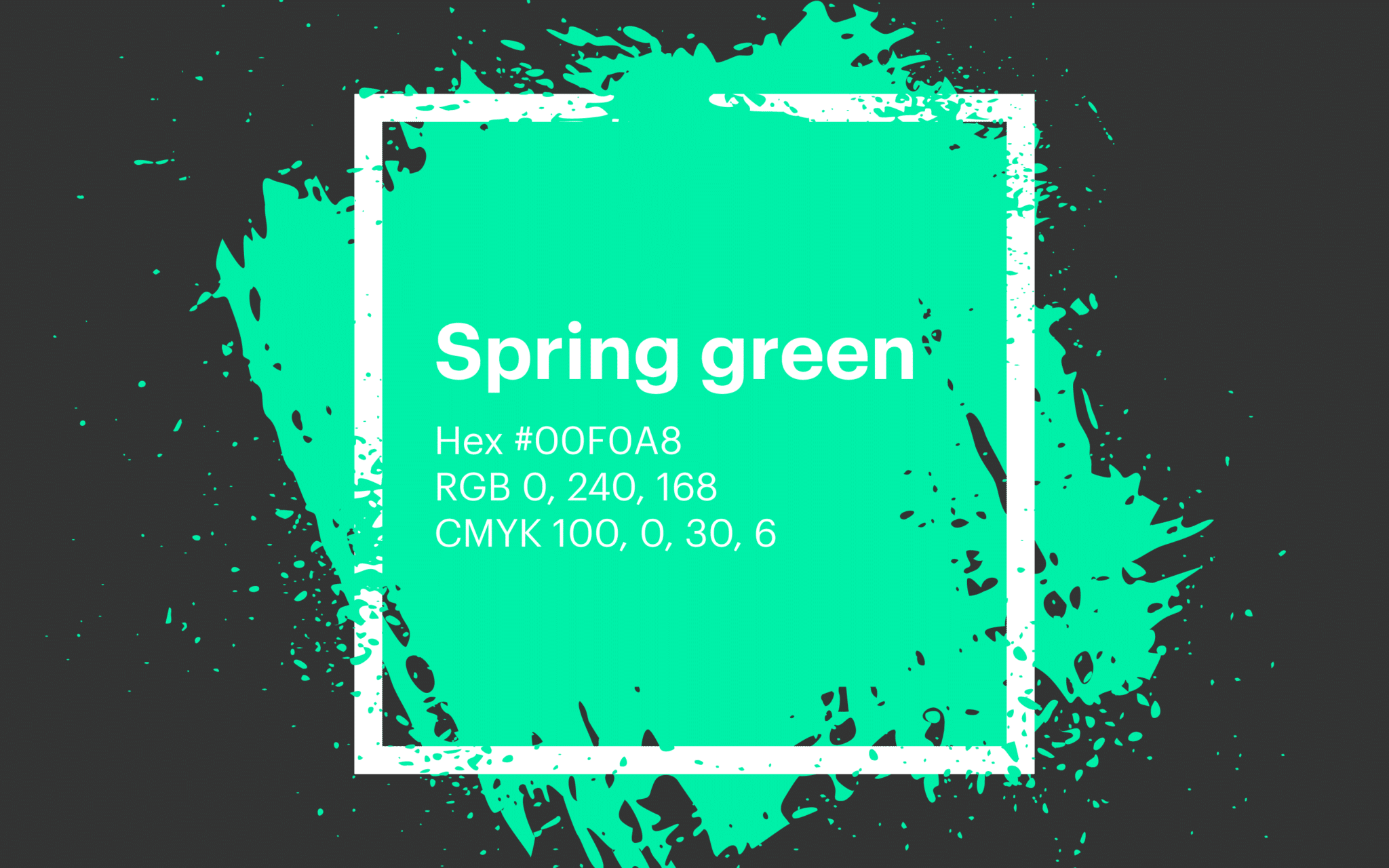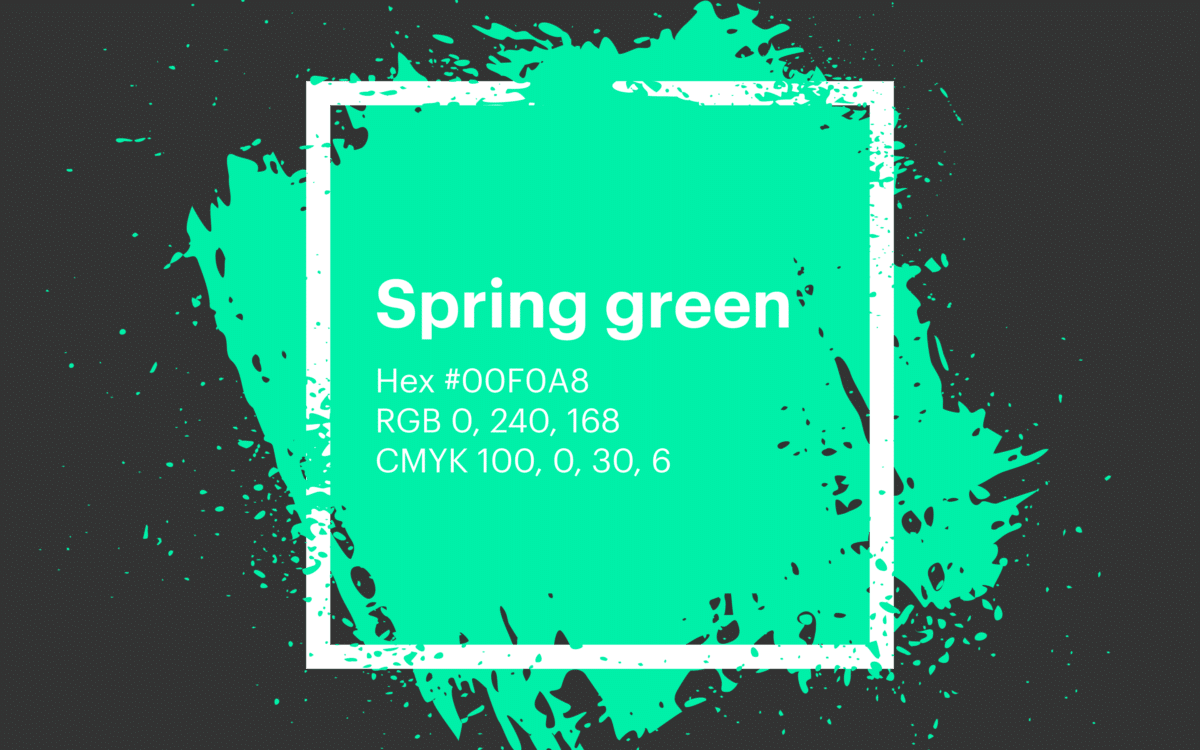 Spring Green
Spring Green is a bright but soft shade, a little easier on the eyes than some of the neon hues in this list. It's ideal if you're looking for a pastel hue that works well with a range of other deeper, light neutral shades.
Hex #00F0A8
RGB 0, 240, 168
CMYK 100, 0, 30, 6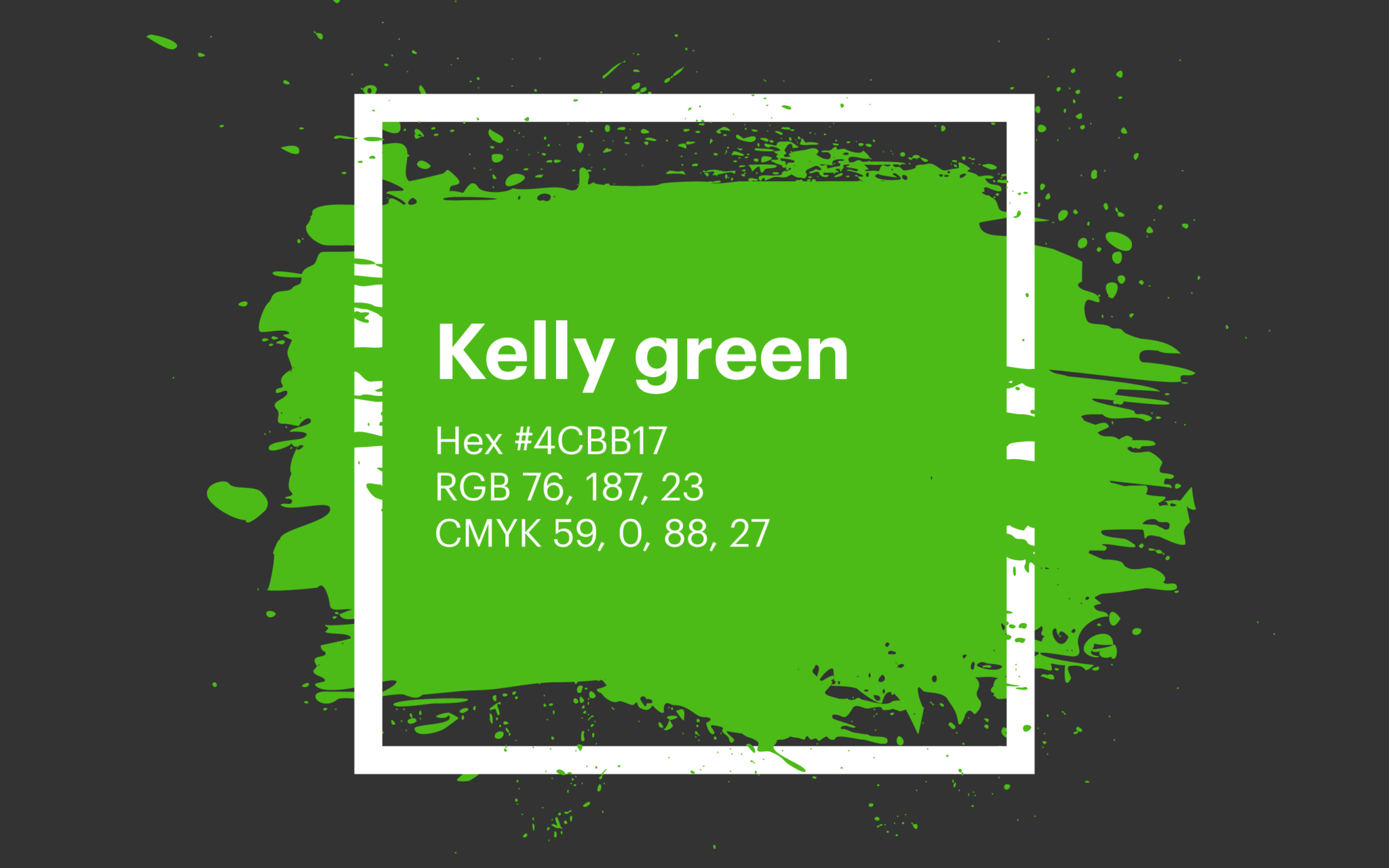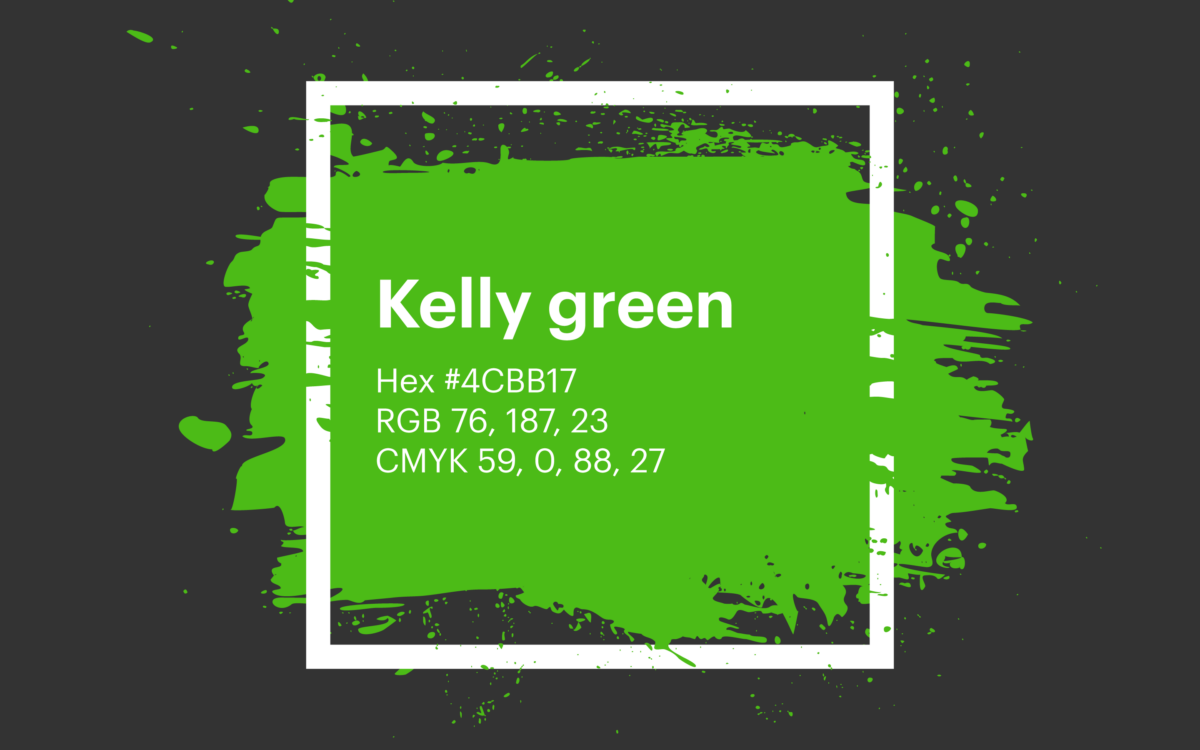 Kelly Green
While Kelly Green is relatively well-known in America, it's lesser known throughout the United Kingdom. The color was named after the famous Irish surname Kelly and has a fun, vibrant edge to it. The color is rich and lively with a high portion of yellow.
Hex #4CBB17
RGB 76, 187, 23
CMYK 59, 0, 88, 27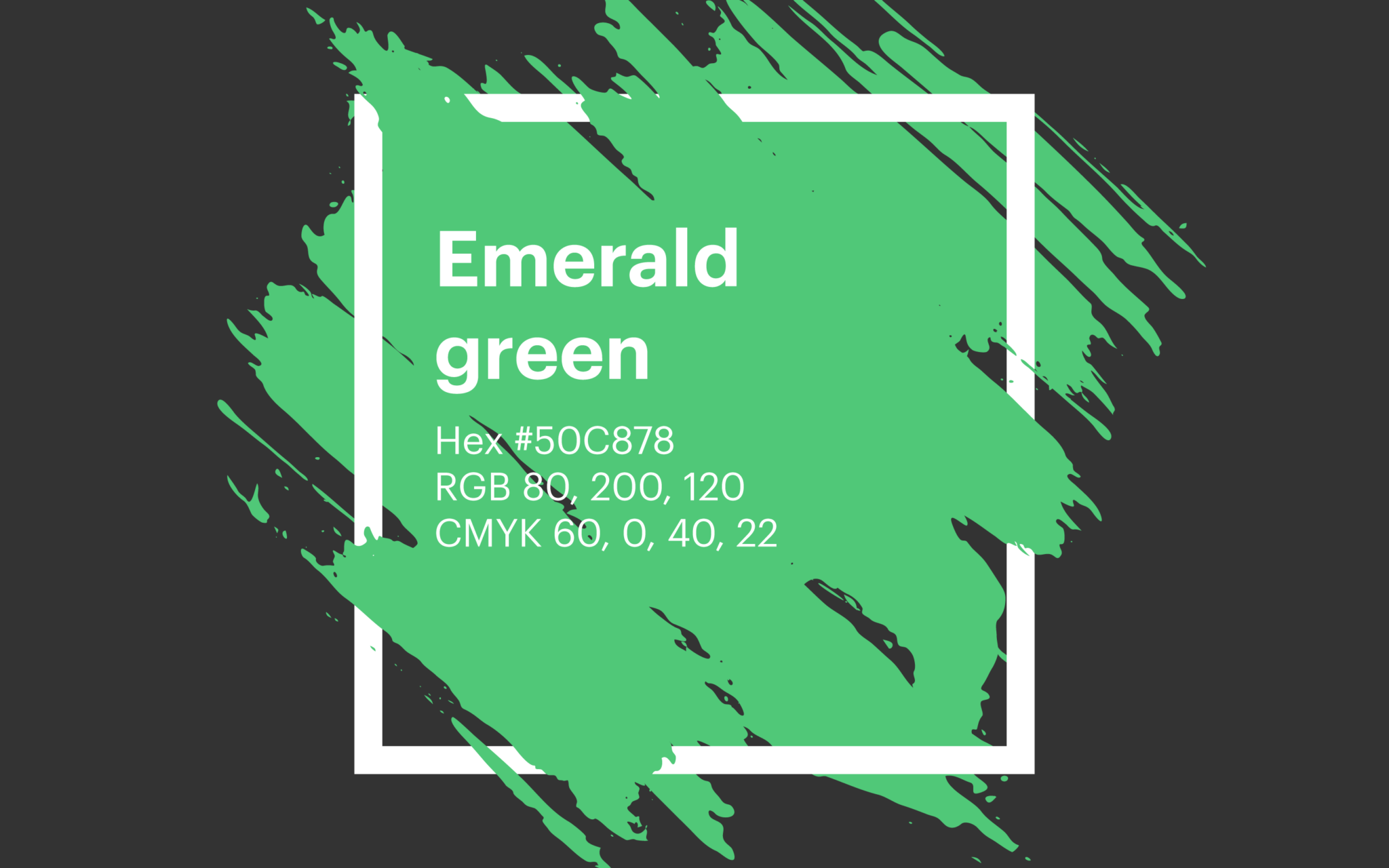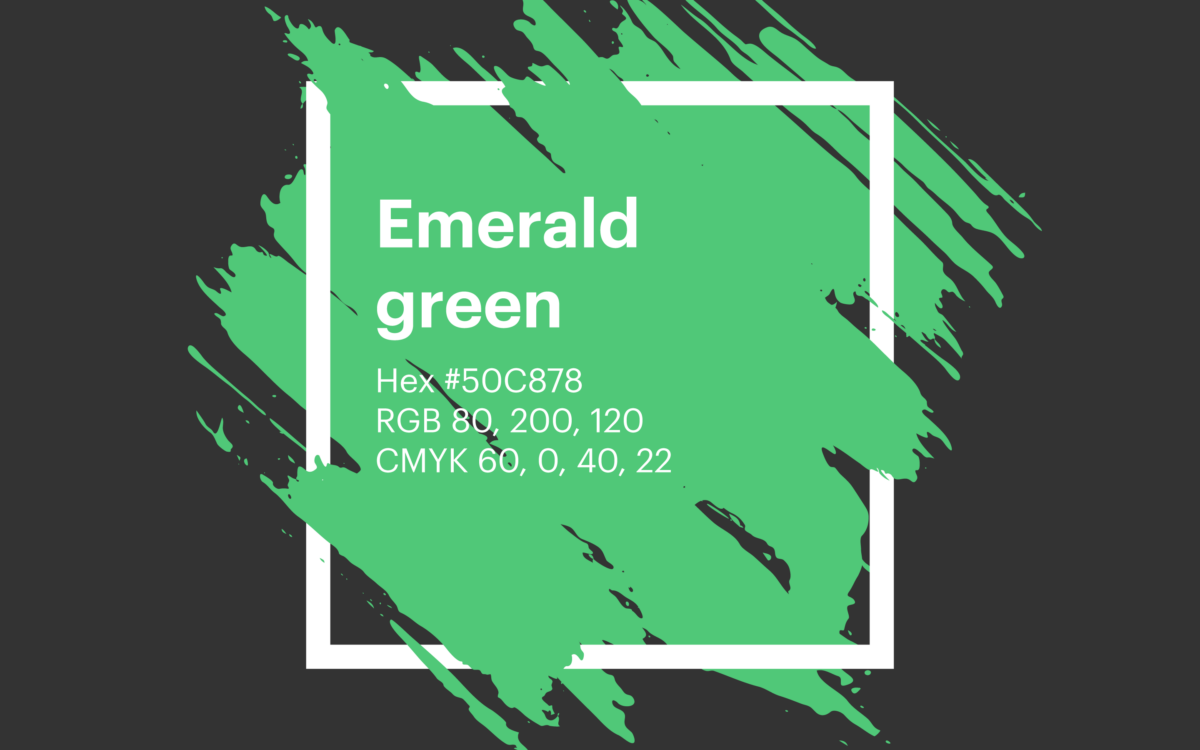 Emerald Green
Emerald Green is one of those unique colors that has been featured a lot in popular culture, from Ireland's nickname as the Emerald Isle due to the country's abundance of lush greenery.
It's also the primary shade used for the infamous city in The Wonderful Wizard of Oz, where Dorothy encounters that not only is the food Emerald Green, but so are the people.
Emerald Green is a shade of green that isn't exceptionally light or bright, as the color is similar to the appearance of an Emerald gemstone.
Hex #50C878
RGB 80, 200, 120
CMYK 60, 0, 40, 22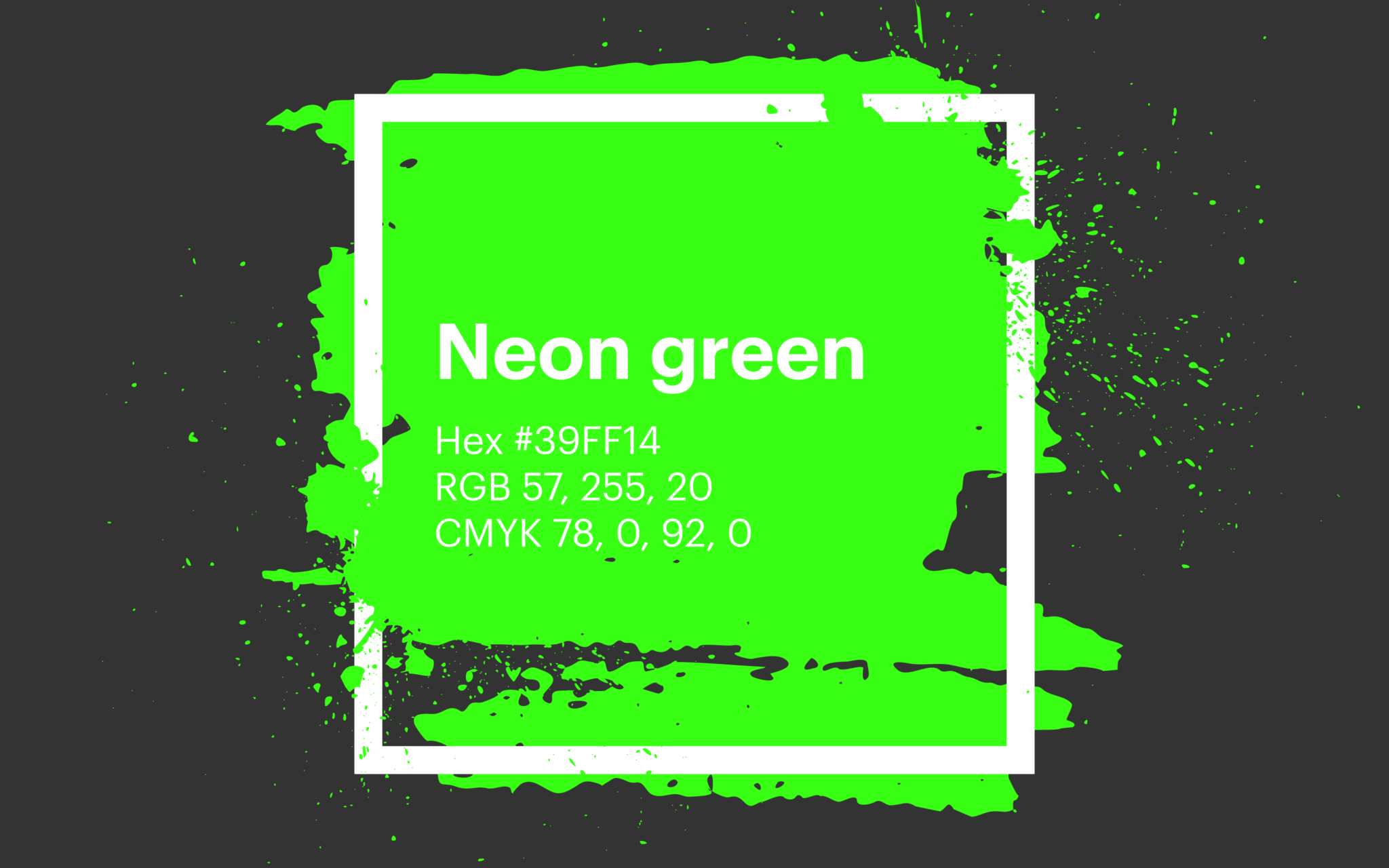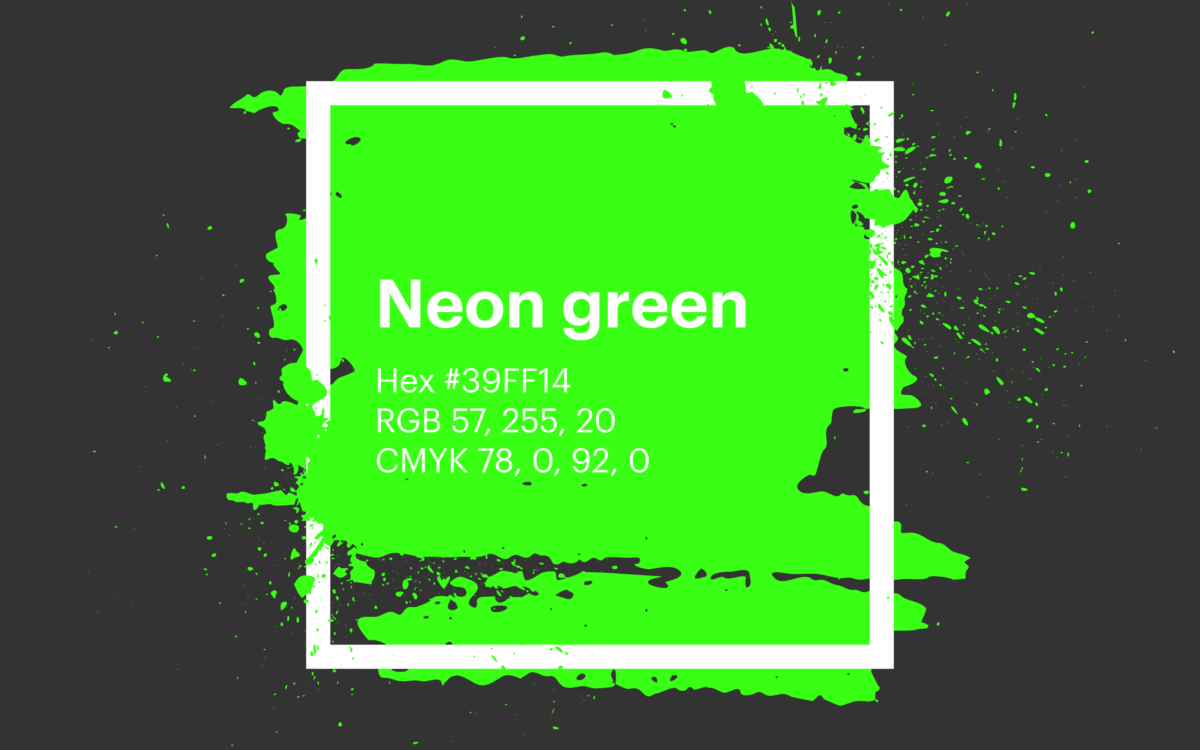 Neon Green
Neon Green is the brightest option available on our list and an ultra-vibrant shade frequently used in the fashion and art world. This color seems to be made mostly of light, with a bright yellow and white undertone.
Hex #39FF14
RGB 57, 255, 20
CMYK 78, 0, 92, 0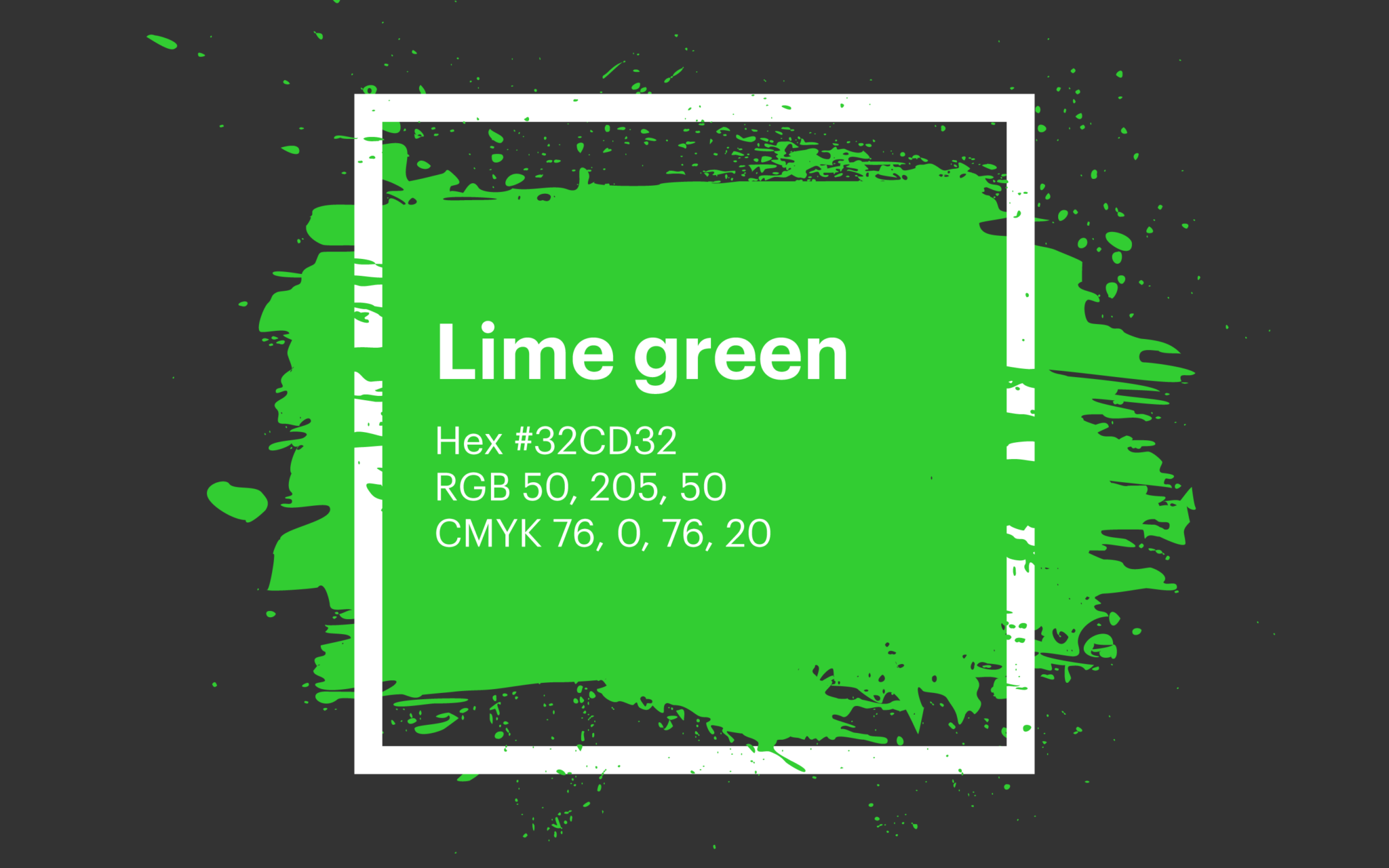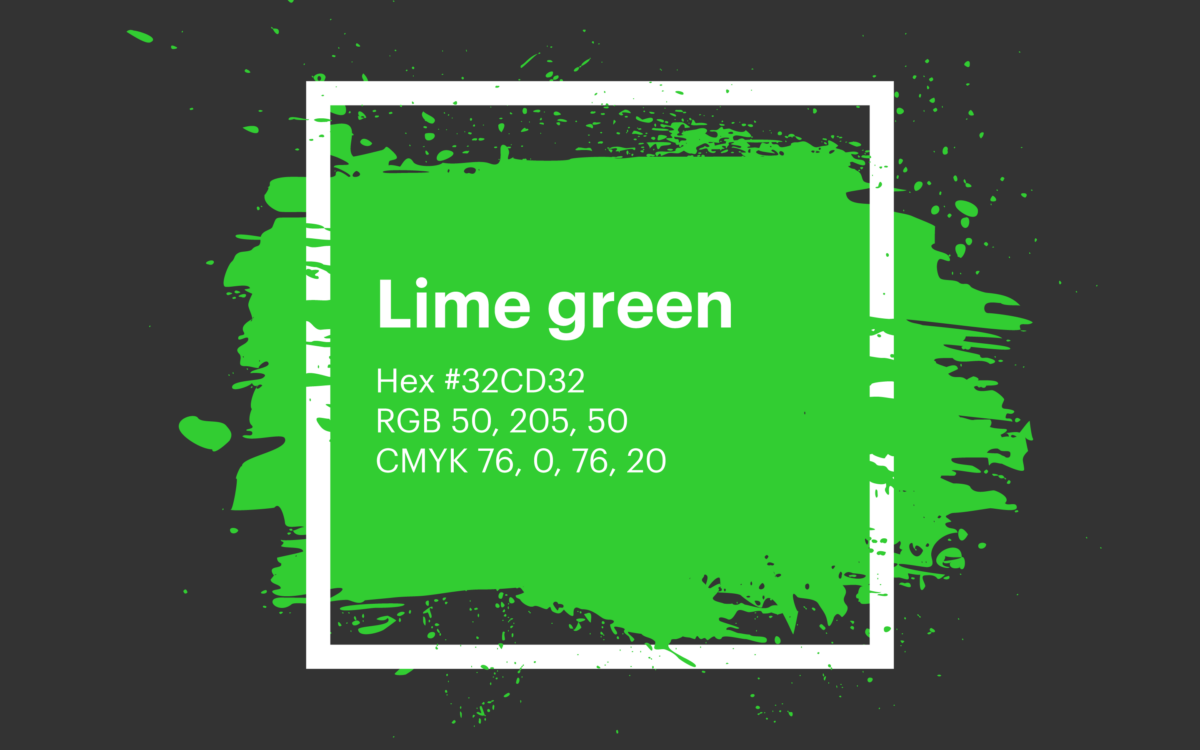 Lime Green
Lime Green is another excellent and vibrant shade, great for grabbing attention. It's a little less chaotic than neon green, but still uses a high amount of yellow and white. The color is frequently associated with feelings of liveliness, freshness, and creativity.
#32CD32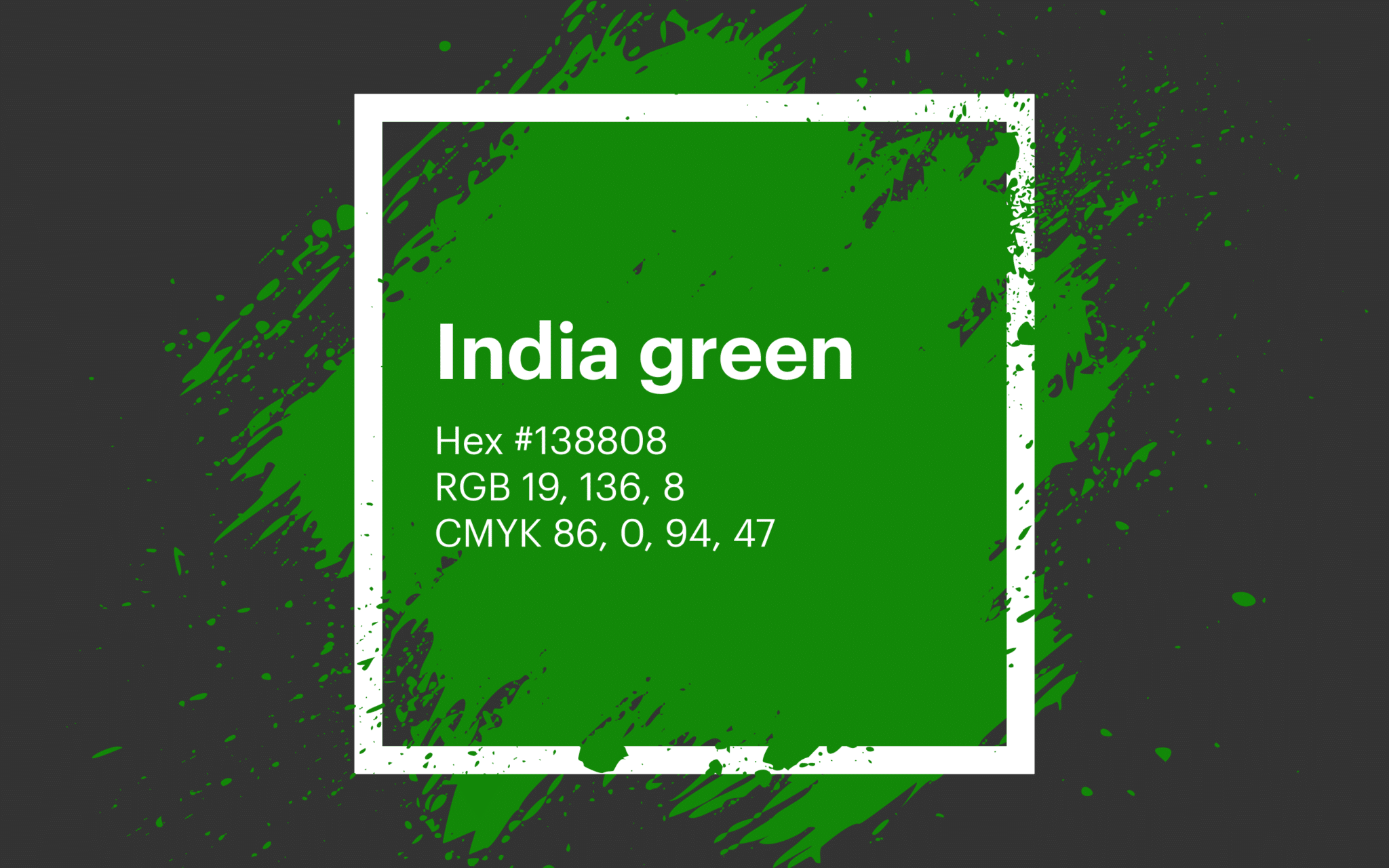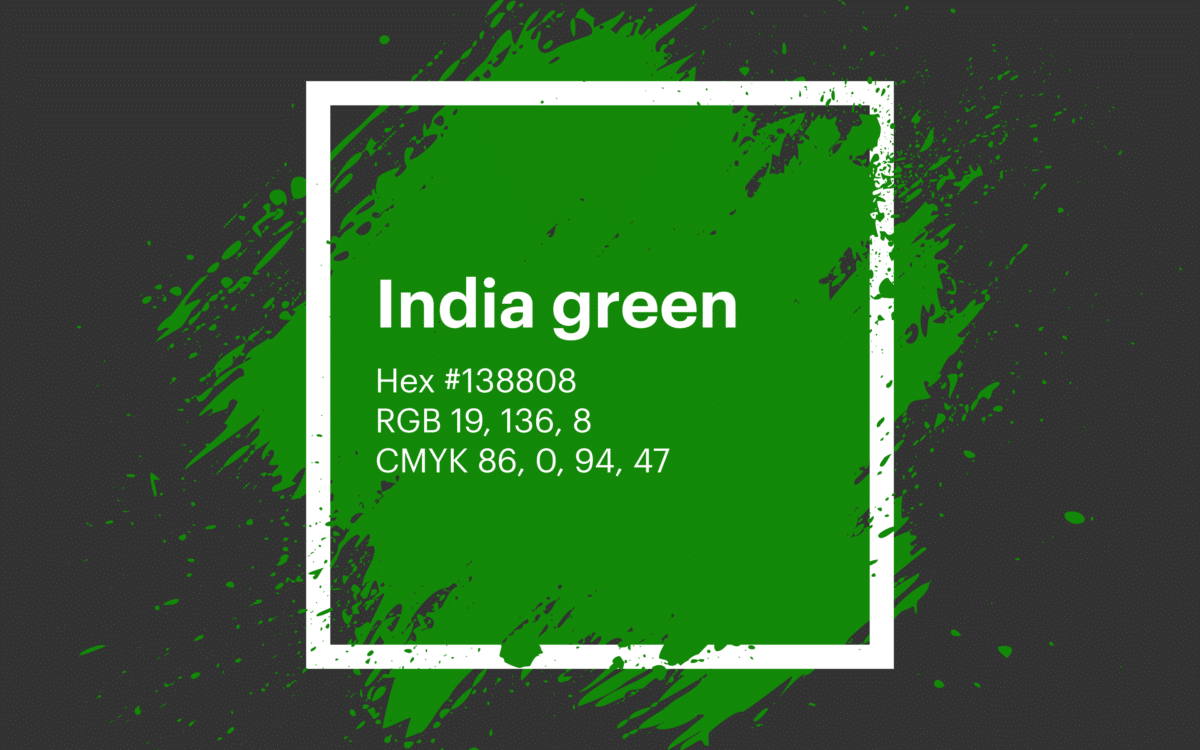 India Green
The color India Green appears on the lower band of the flag for India, and it's a wonderfully balanced shade, with an almost exotic nature. This color is intended to represent concepts like fertility and prosperity, making it an excellent choice for a flag.
Hex #138808
RGB 19, 136, 8
CMYK 86, 0, 94, 47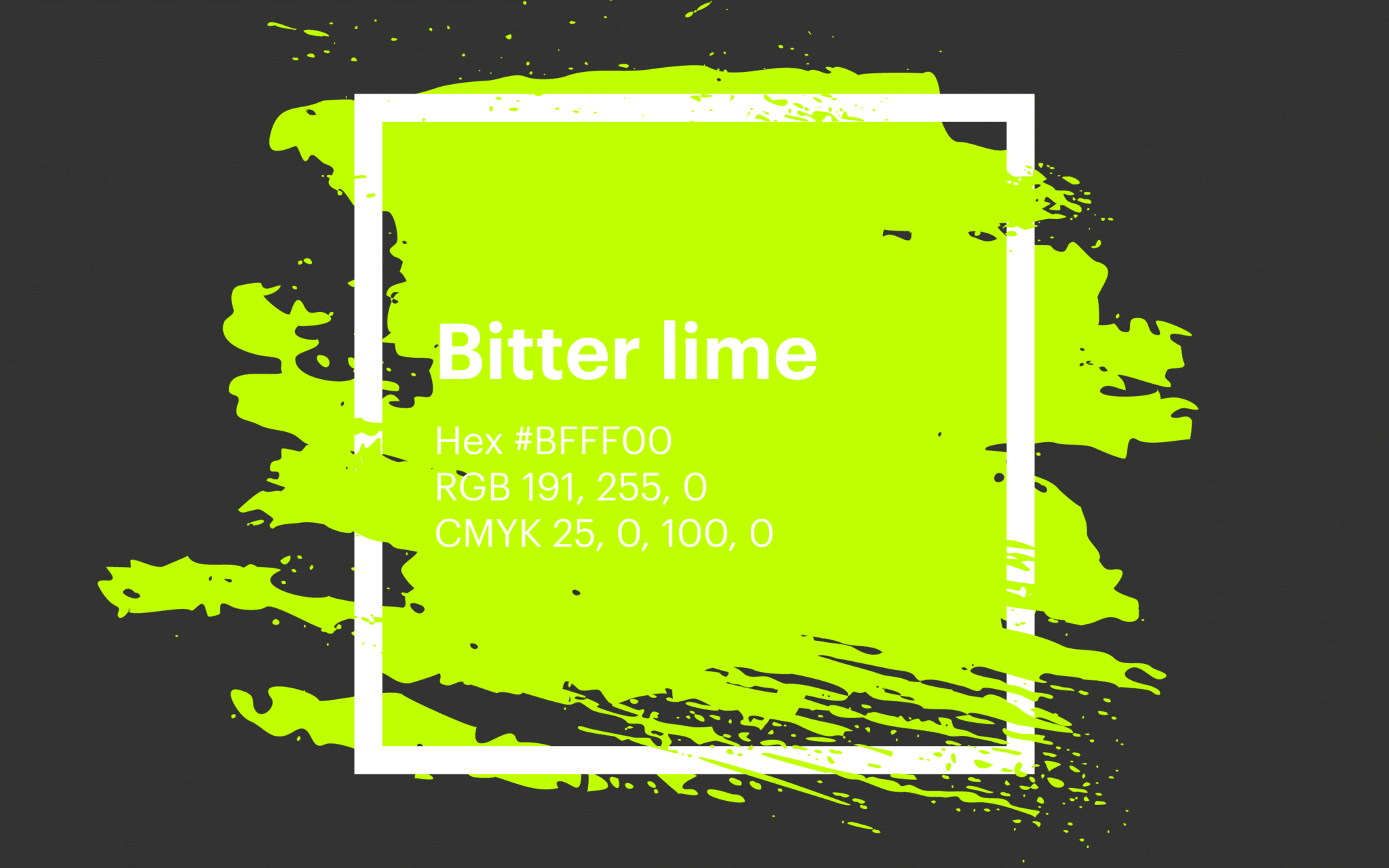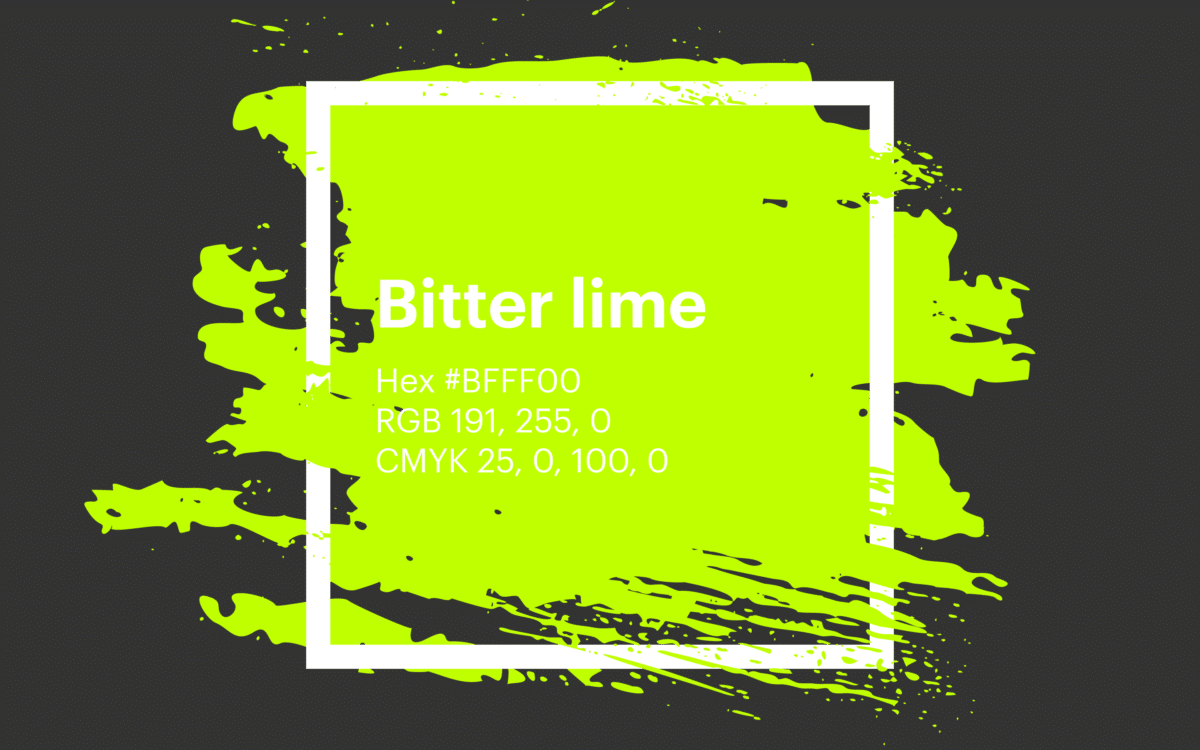 Bitter Lime
An interesting twist on the classic lime green shade, Bitter Lime adds slightly more yellow into the mix, to drown out some of the calming blues. The result is an almost neon color, ideal for people in search of a bright and engaging color palette.
Hex #BFFF00
RGB 191, 255, 0
CMYK 25, 0, 100, 0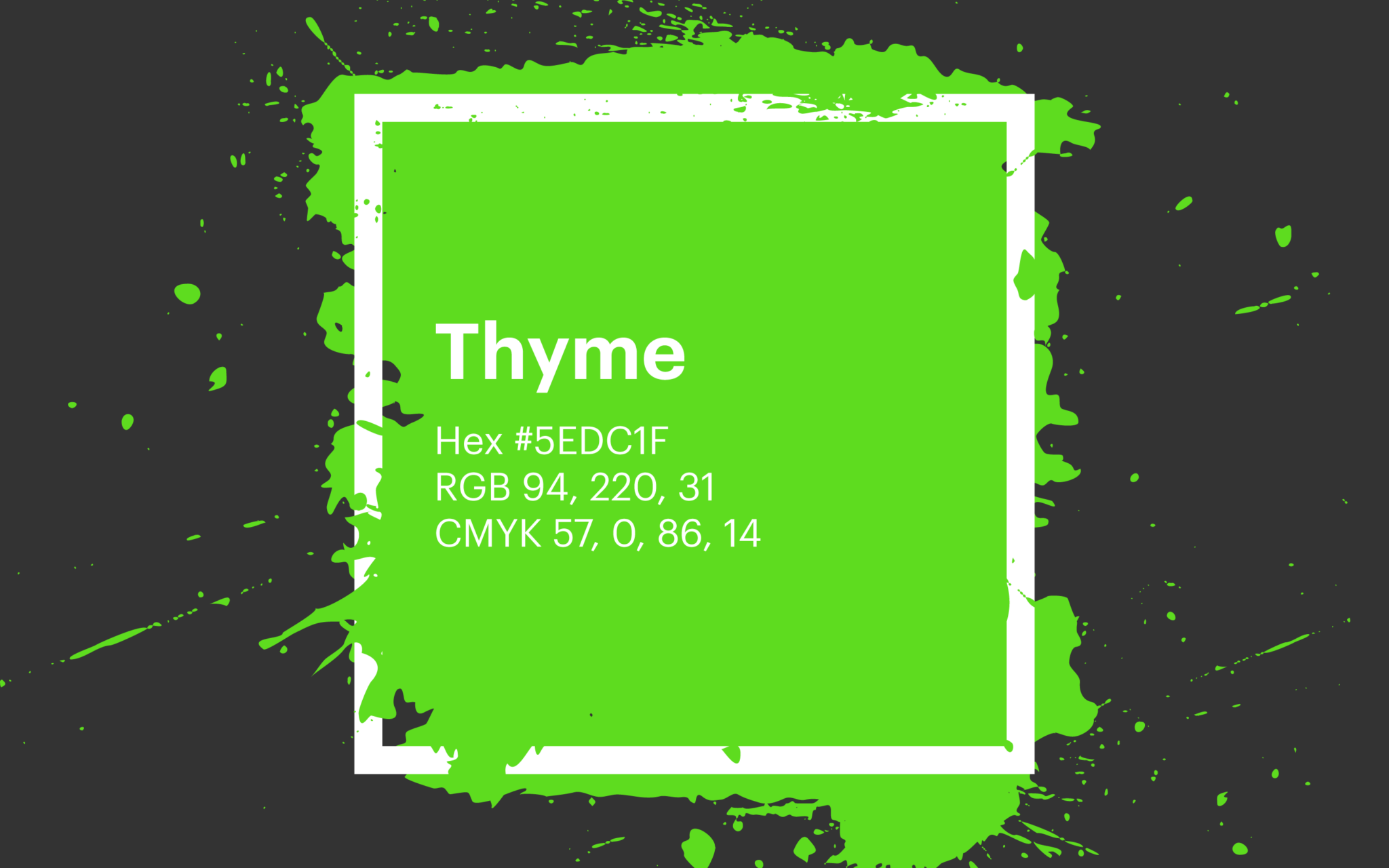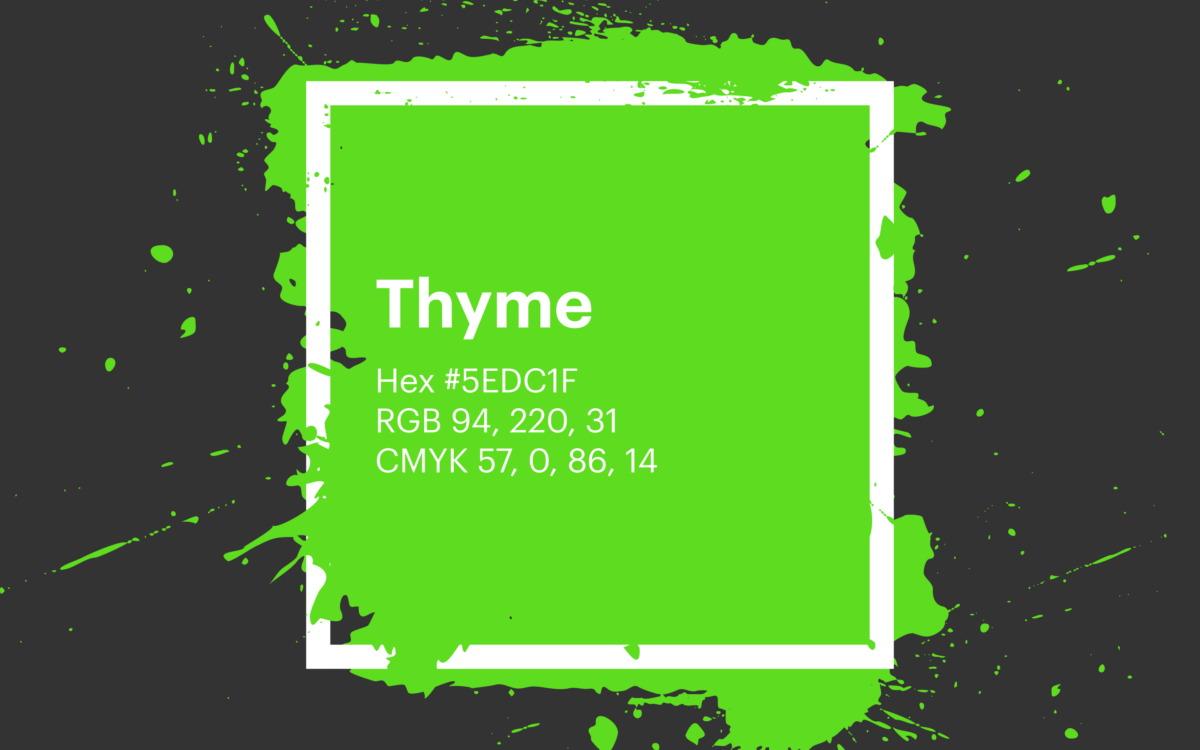 Thyme
You might expect thyme green to be a relatively organic and subdued color. However, it's actually quite a bright shade compared to most green hues. The color contains a high level of both cyan and yellow, creating a stimulating and versatile result.
Hex #5EDC1F
RGB 94, 220, 31
CMYK 57, 0, 86, 14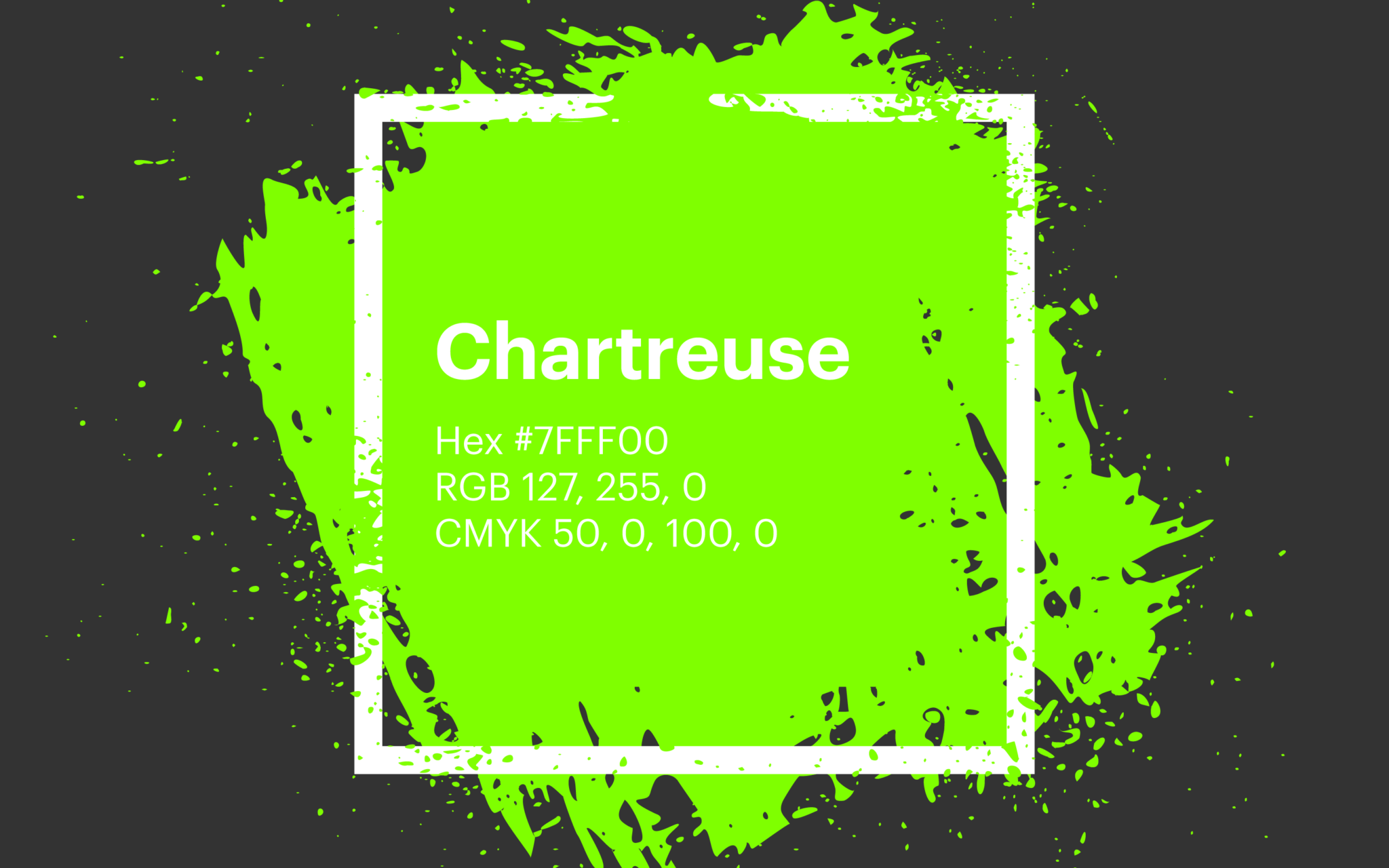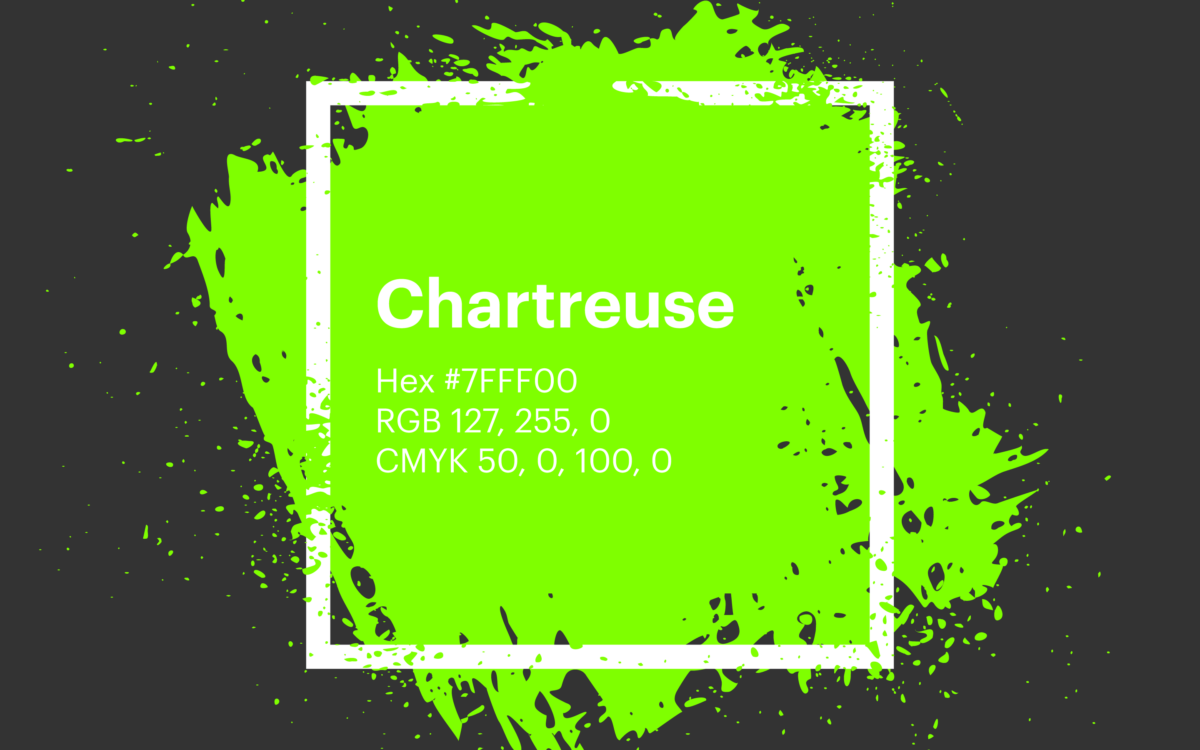 Chartreuse
One of the brightest green shades around, Chartreuse was named after a green and yellow French liquor that has been popular around the world since the 1700s. If you're looking for a neon-style green with a lot of yellow energy, this could be a good choice.
Hex #7FFF00
RGB 127, 255, 0
CMYK 50, 0, 100, 0
Shades of light green
Shades of light green are considered tranquil, relaxing, and versatile. They're excellent for a range of projects because they can help to highlight other colors. If you want something that seems fresh and organic for your project, a shade of light green could be the ideal choice.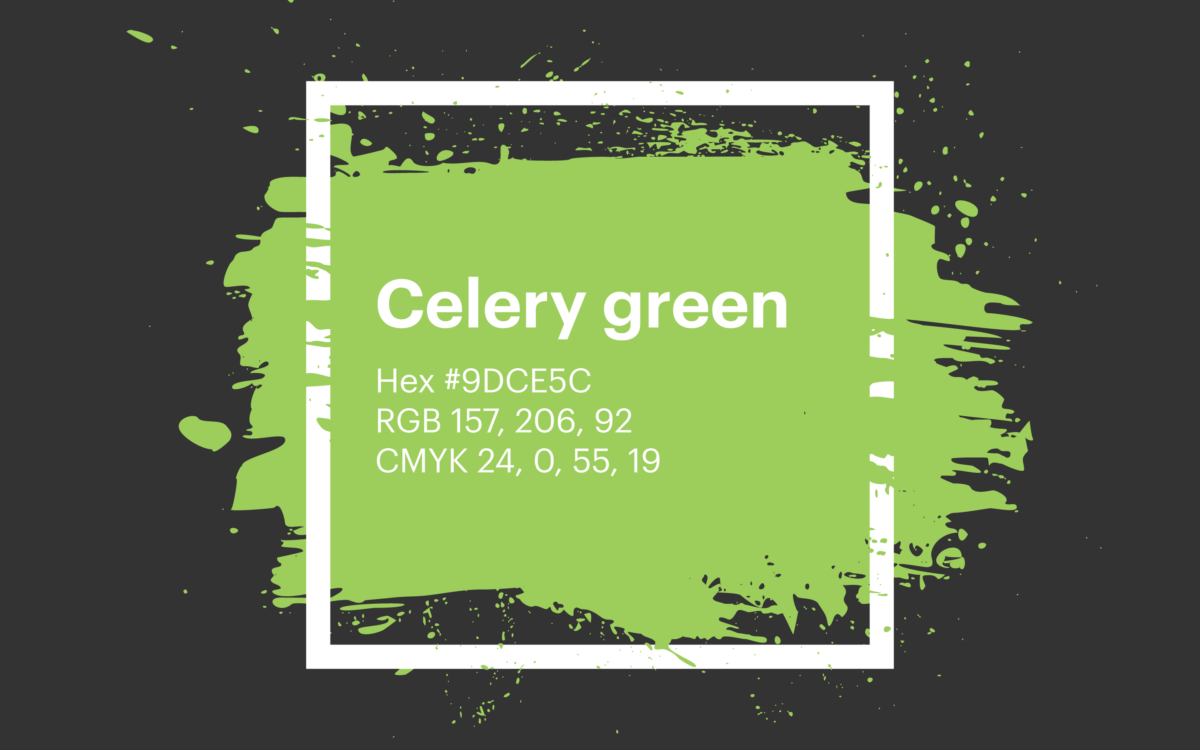 Celery Green
Fresh and invigorating, celery green is a robust color with a deep yellow base. This color is a little dimmer than some of the other bright greens mentioned above, but it has a wonderfully botanical edge to it, making it great for kitchen design.
#9DCE5C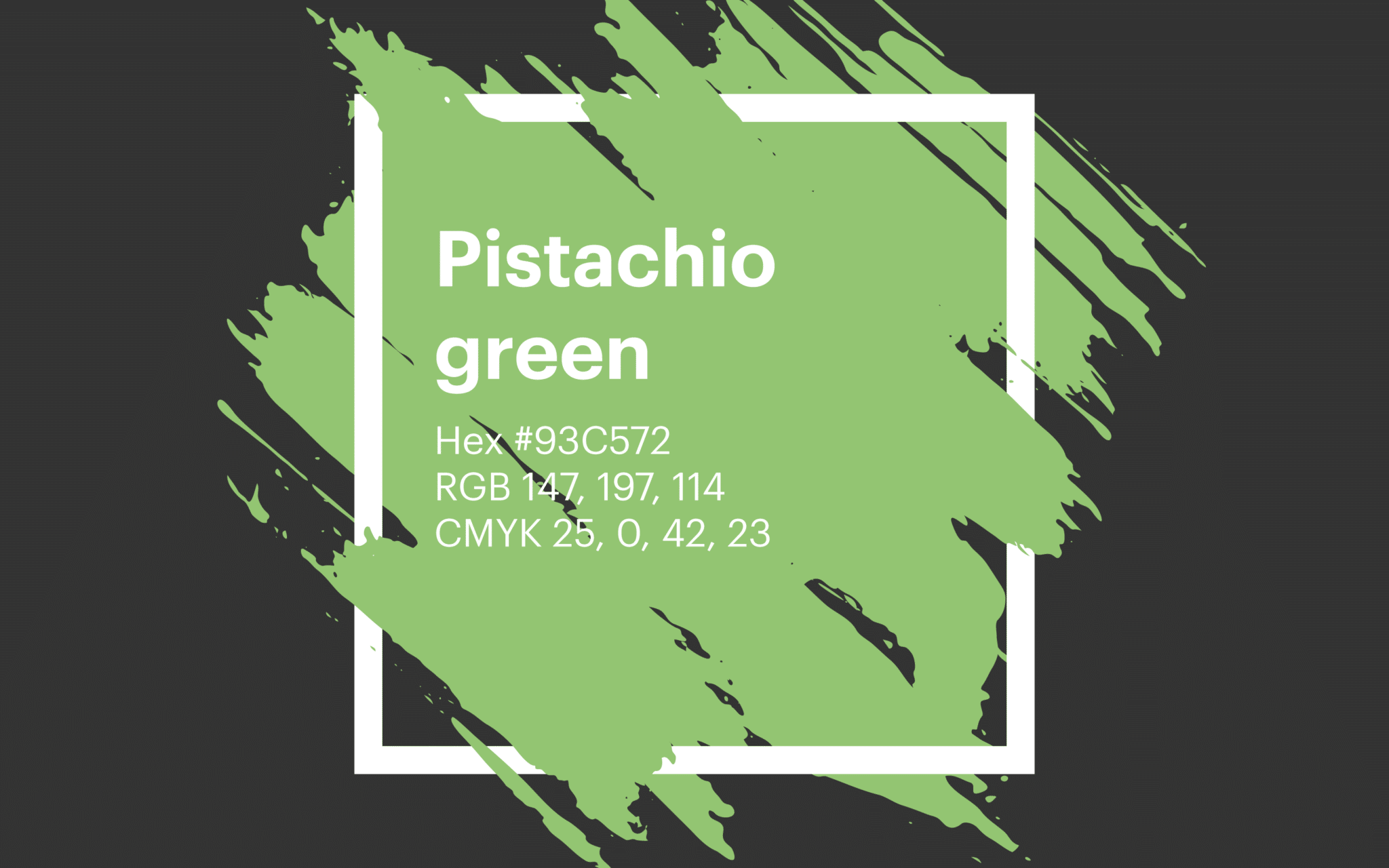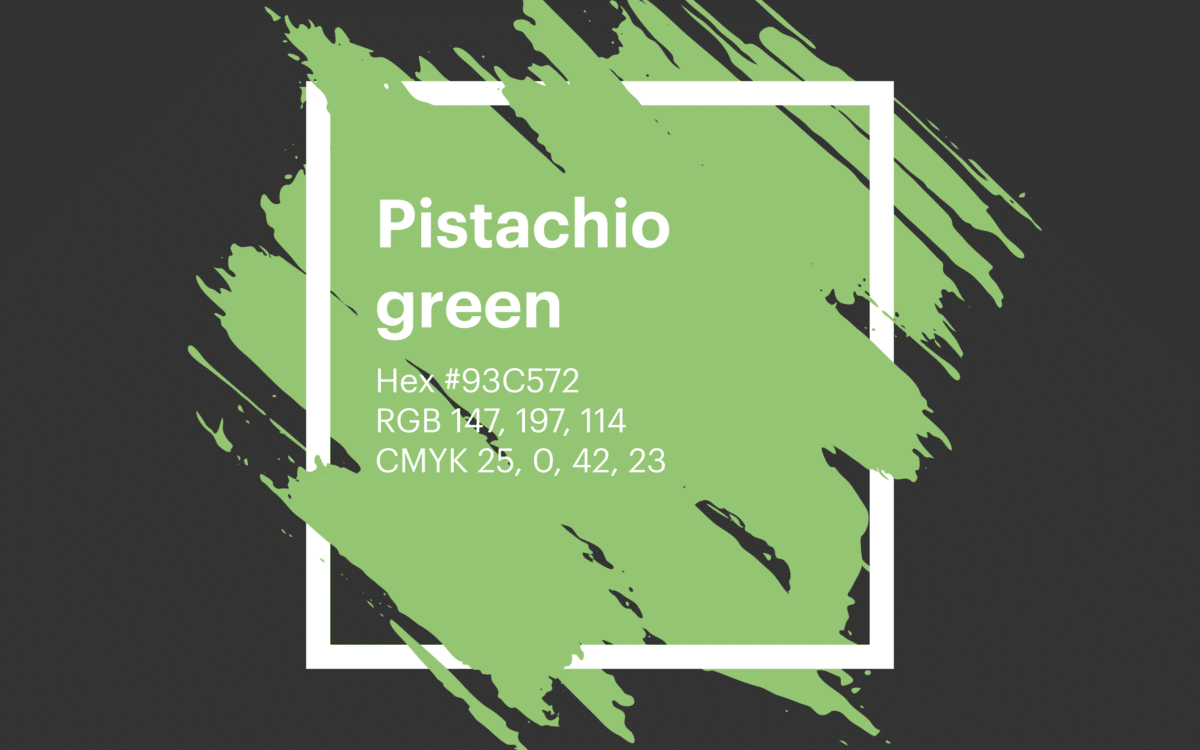 Pistachio Green
Mellow and appealing, Pistachio Green is a yellowish-green hue inspired by the popular pistachio nut. Green colors with reference to foods are relatively common in the art world due to the high number of edible plants around the globe.
#93C572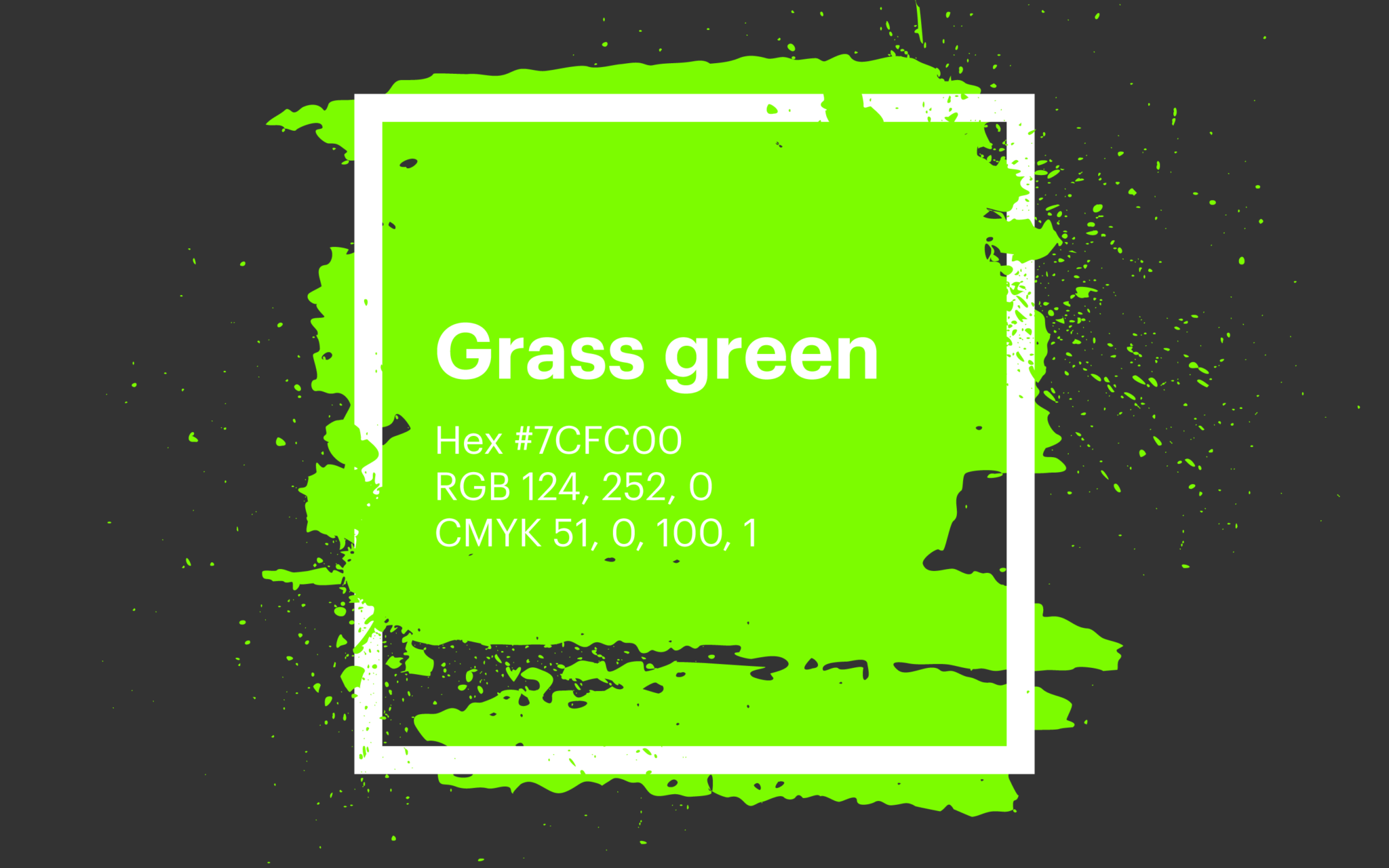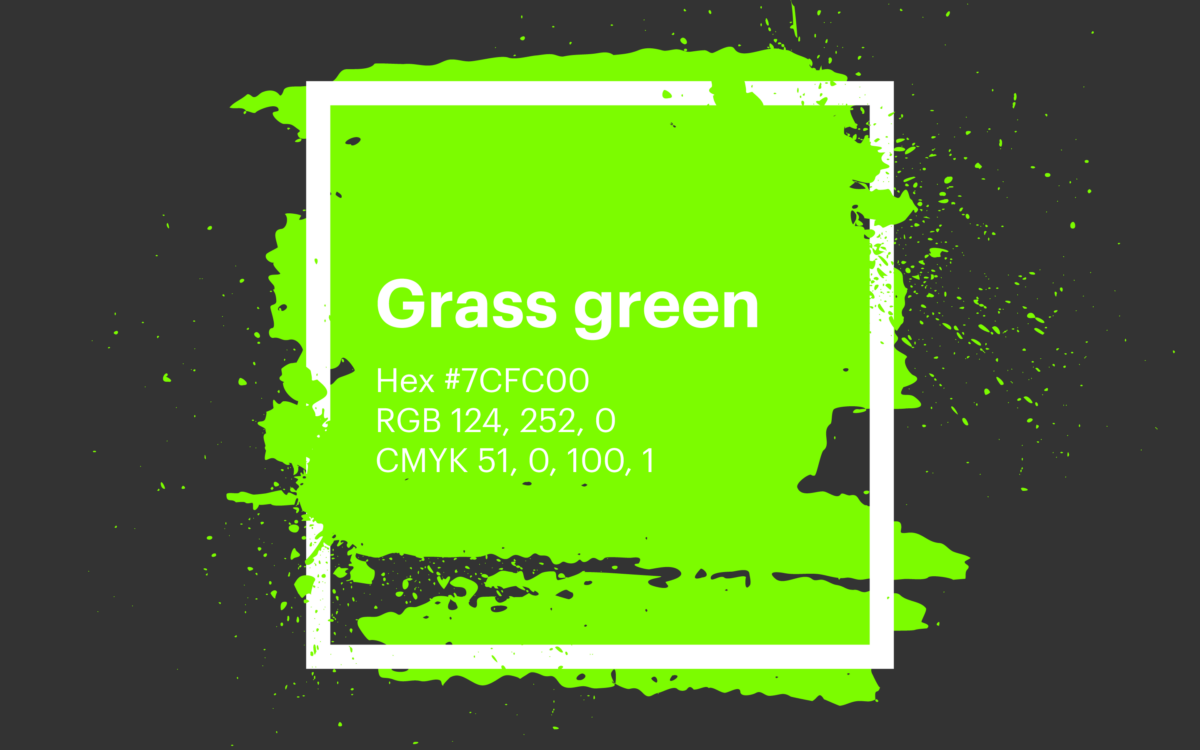 Grass Green
Grass Green could technically fall into our bright and light green categories. It's a bold and vibrant color with a lot of yellow components. The color is similar in many ways to other green hues, like Irish green and leaf green.
#7CFC00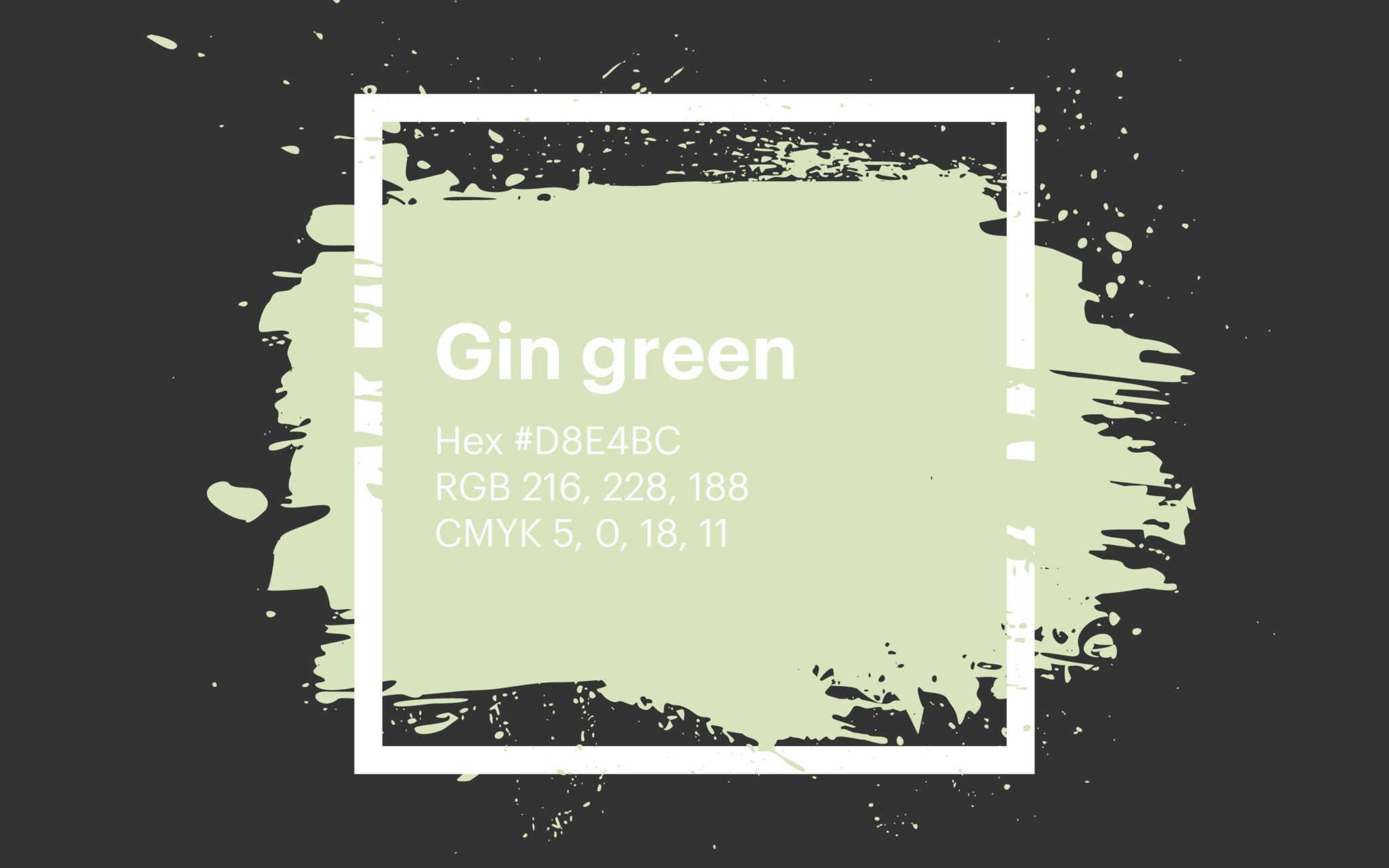 Gin Green
Gin Green is an interesting shade similar in hue to juniper, the plant commonly used to make gin. The almost grayish tint has a Khaki element to it, which makes it ideal if you're looking for a relatively neutral, organic hue.
Hex #D8E4BC
RGB 216, 228, 188
CMYK 5, 0, 18, 11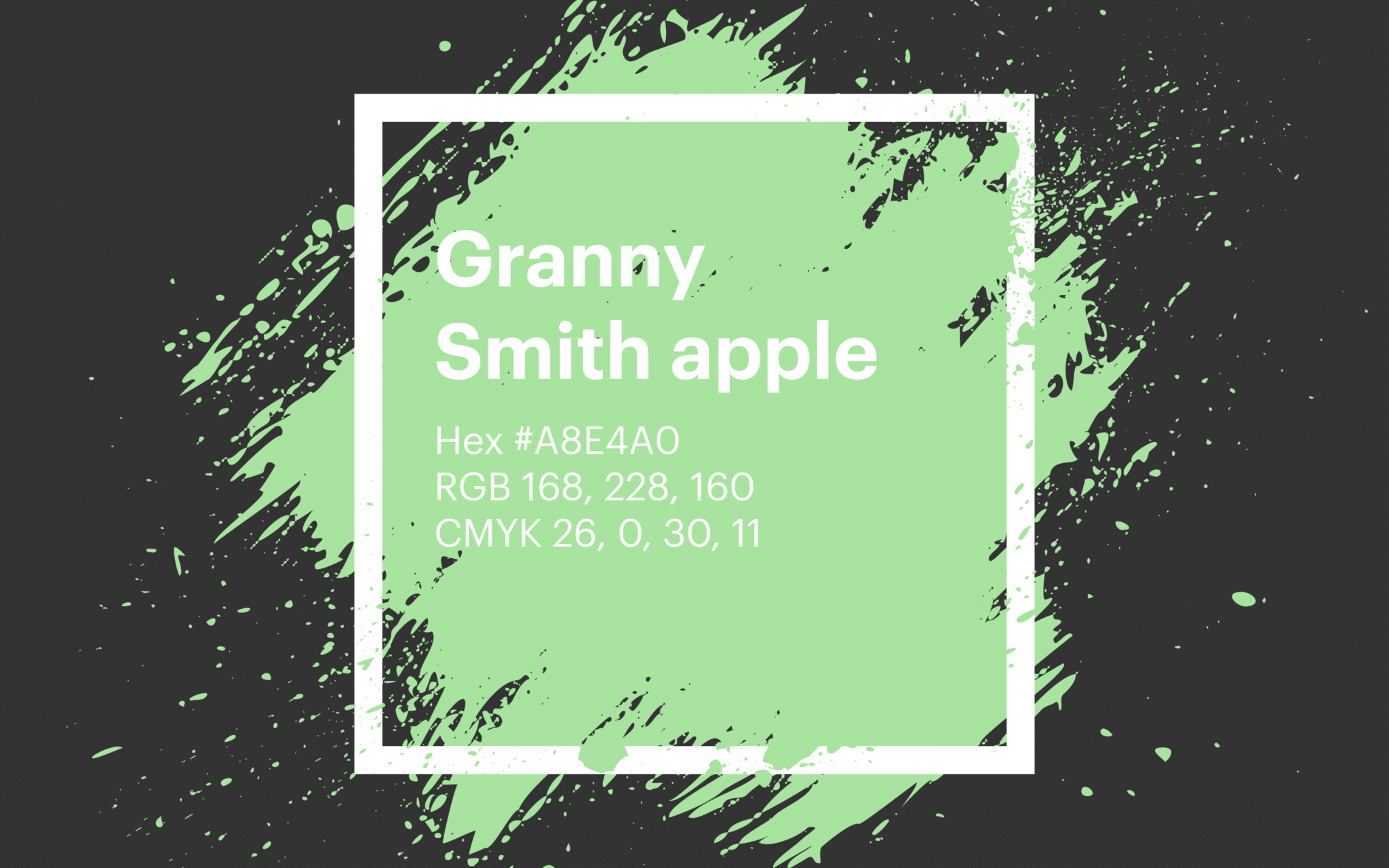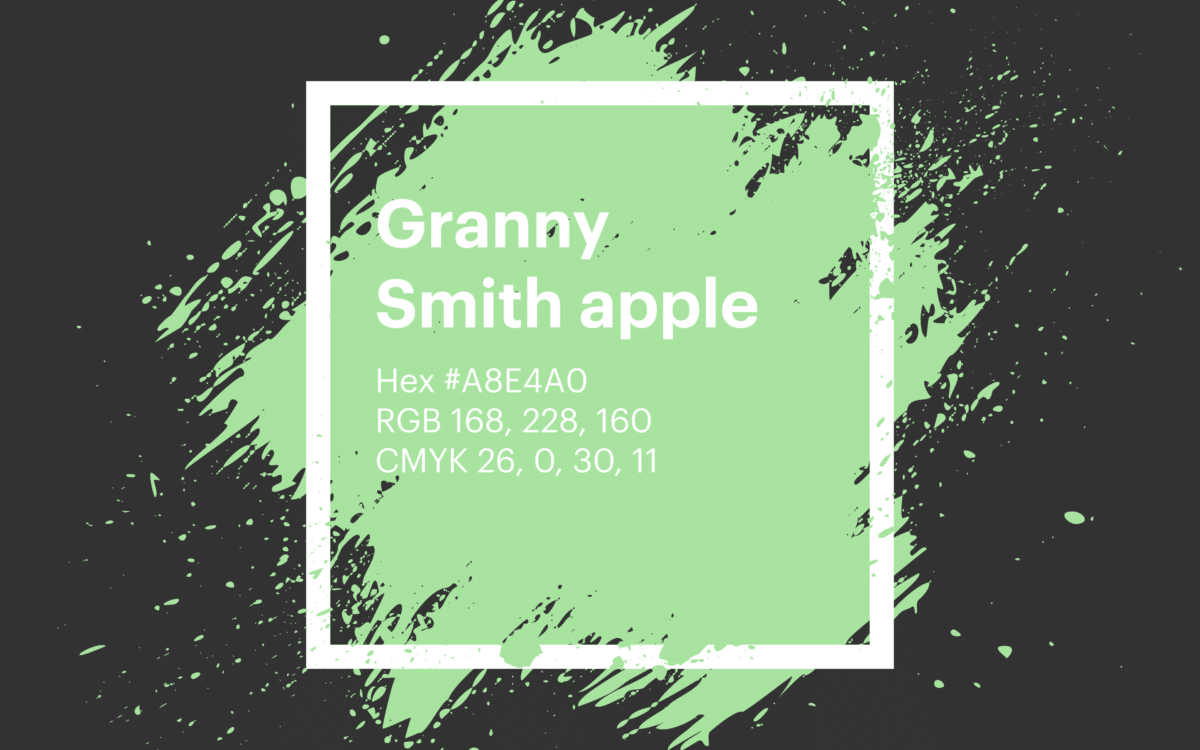 Granny Smith Apple
There are different kinds of "Apple Green" in the world today, including some which are brighter or lighter than others. This fresh and crisp color is specifically designed to represent the color of Granny Smith Apples and has a wonderfully demure effect.
Hex #A8E4A0
RGB 168, 228, 160
CMYK 26, 0, 30, 11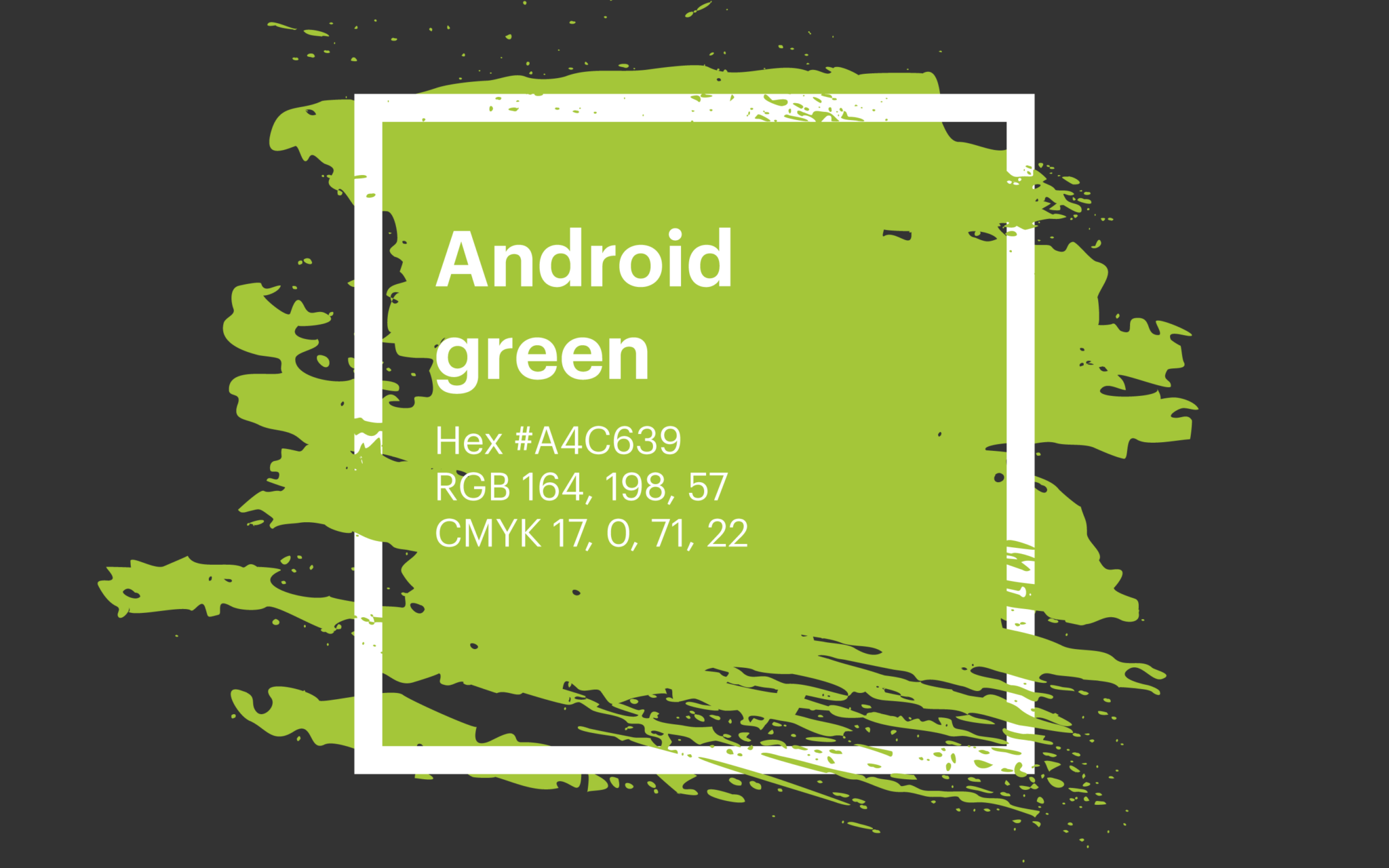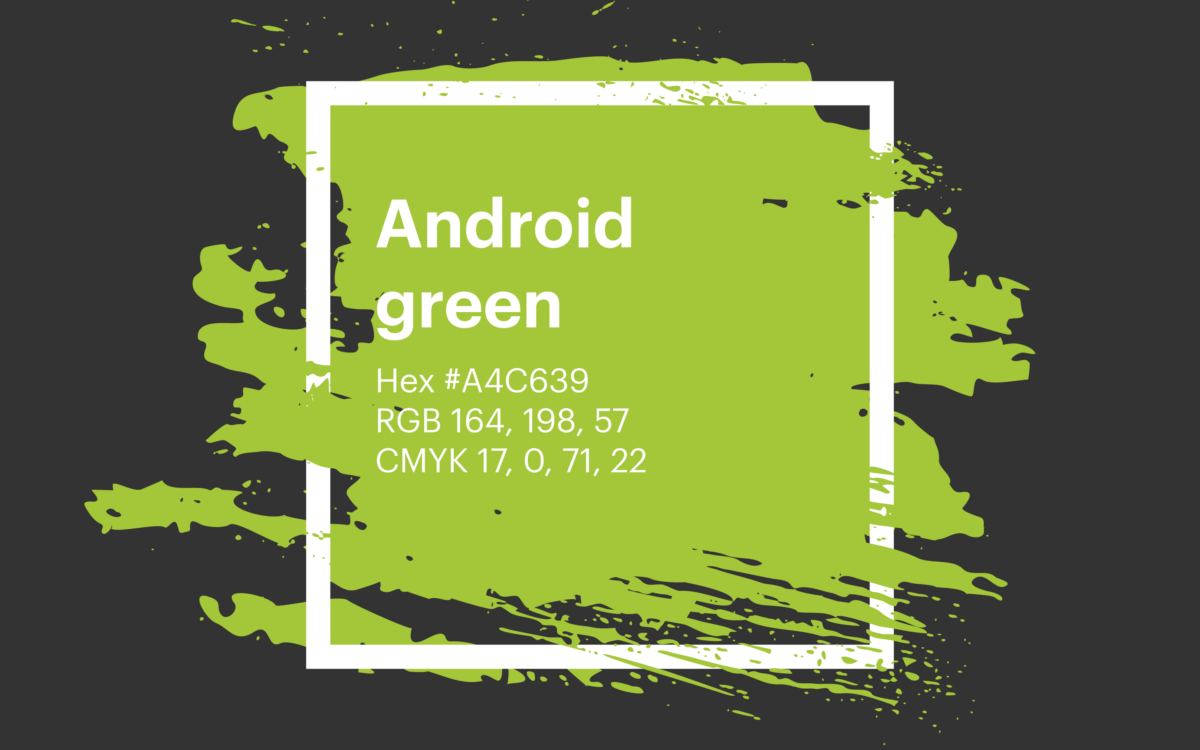 Android Green
Though slightly darker than some light green alternatives, Android Green still contains a lot of yellow, which helps it stand out on a light green color palette. This is one of the best shades of green for technology companies, as it's considered creative and innovative.
Hex #A4C639
RGB 164, 198, 57
CMYK 17, 0, 71, 22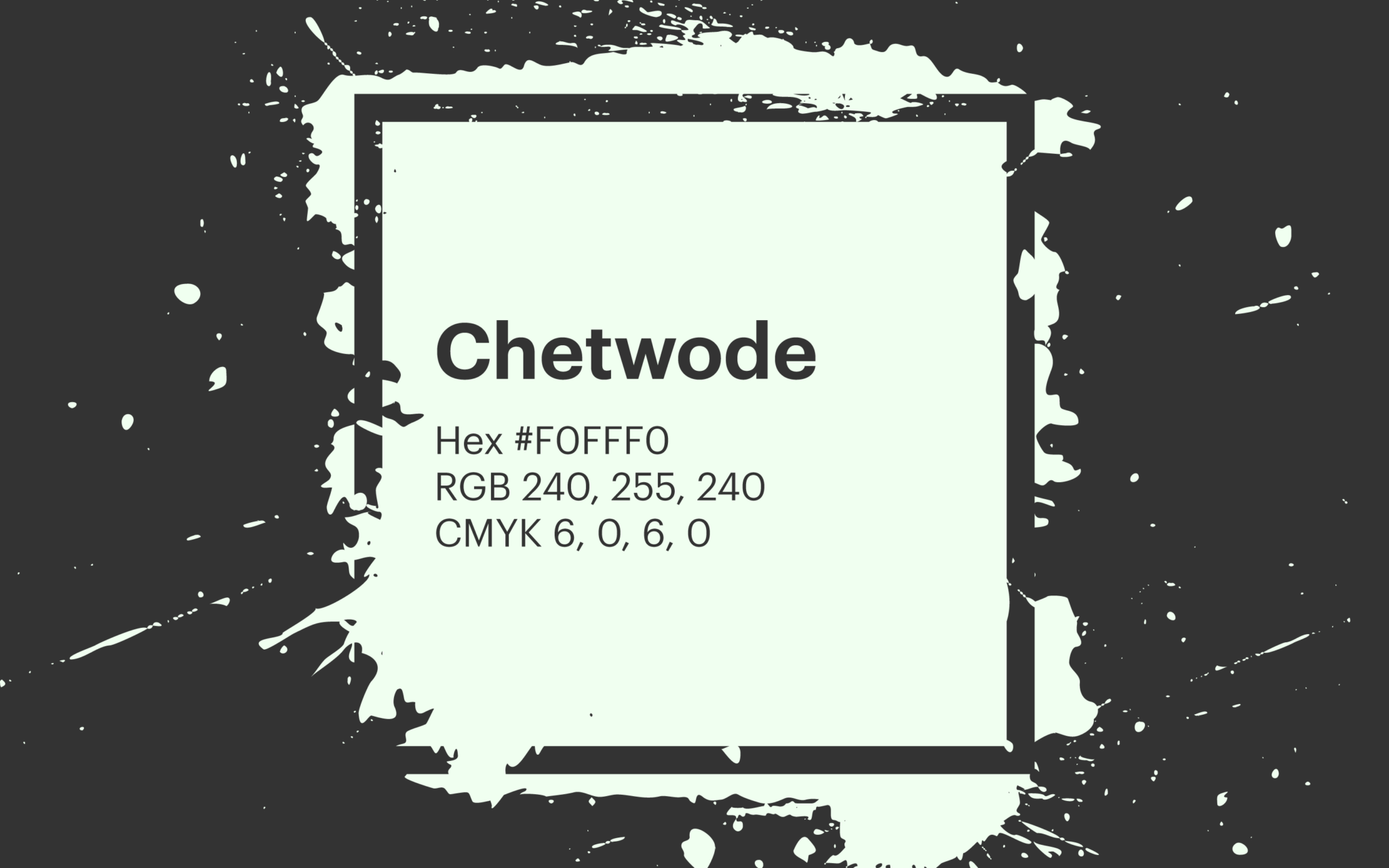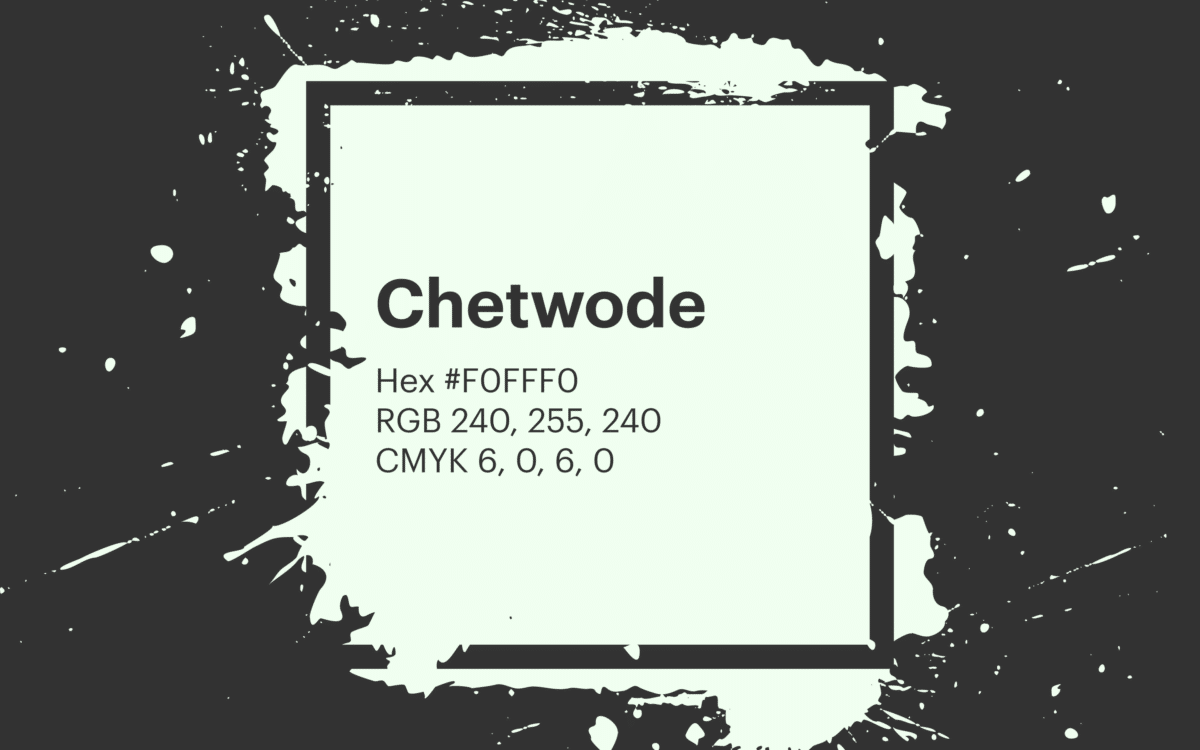 Chetwode
If you're looking for a light shade of barely-there green, then Chetwode is an excellent choice. This color's red, blue, and green elements are almost completely balanced. The name comes from the title given to a small village in England.
Hex #F0FFF0
RGB 240, 255, 240
CMYK 6, 0, 6, 0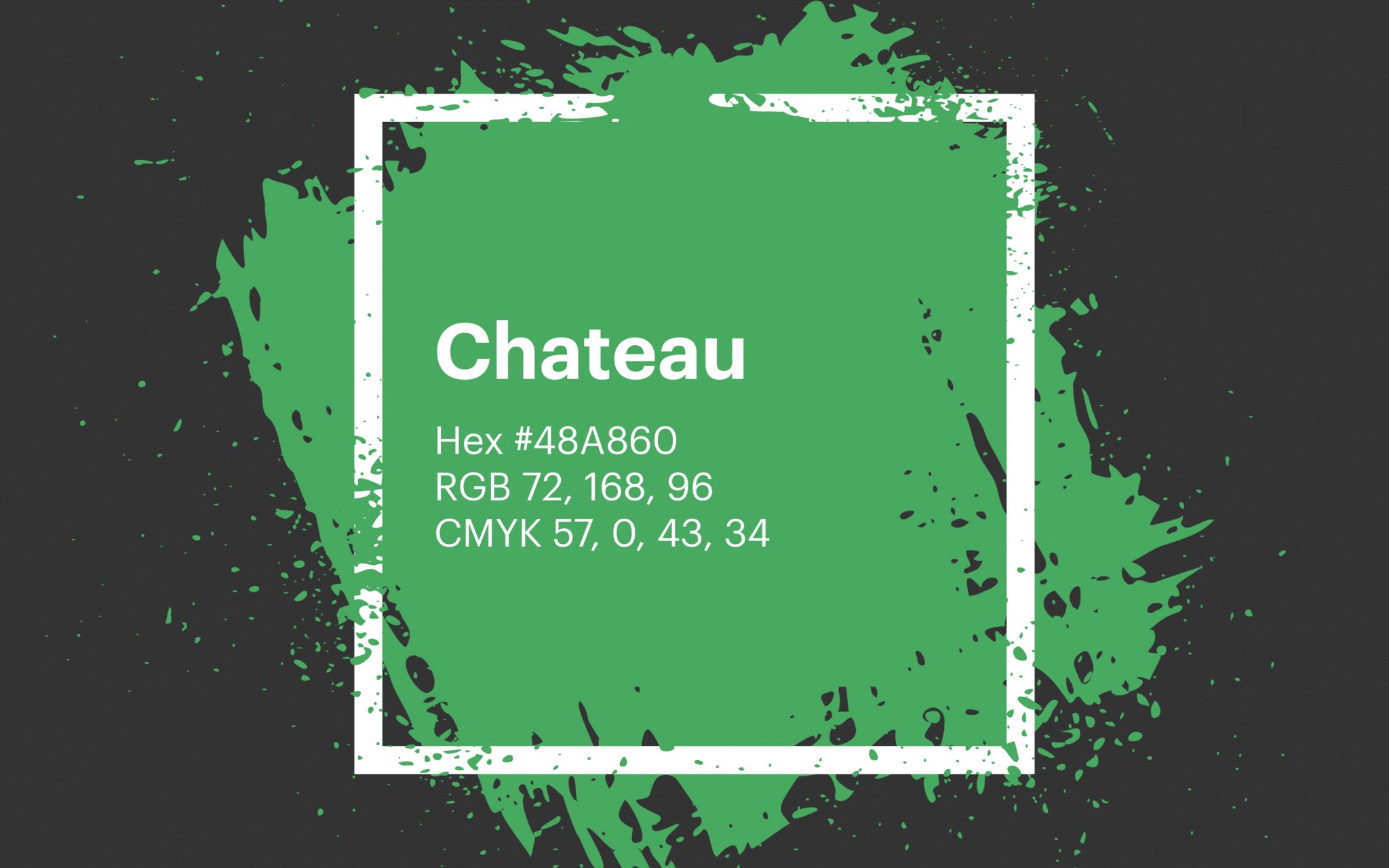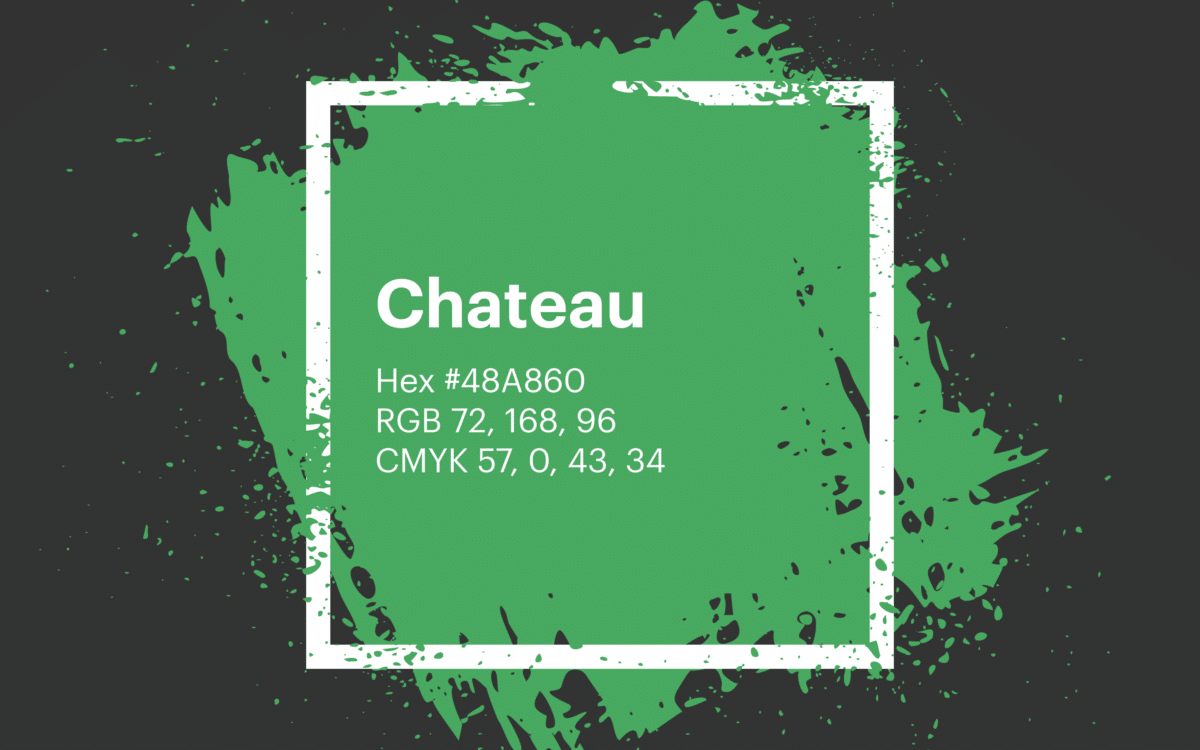 Chateau
Chateau is a dignified and deep shade of green which could be an excellent choice for the walls in your luxurious home. This shade is a little paler than some other deep shades, so it's less likely to make a room look smaller than it is.
Hex #48A860
RGB 72, 168, 96
CMYK 57, 0, 43, 34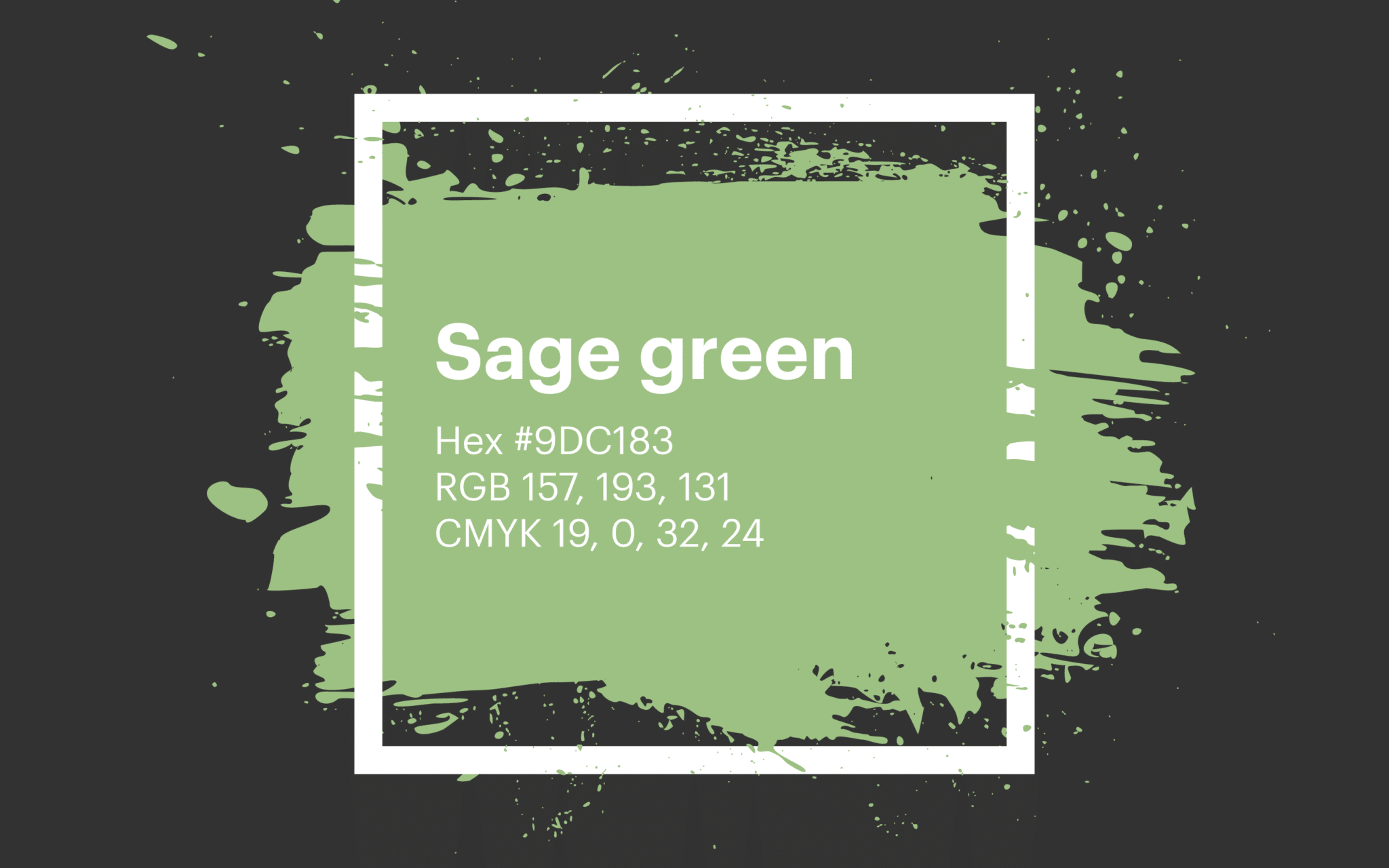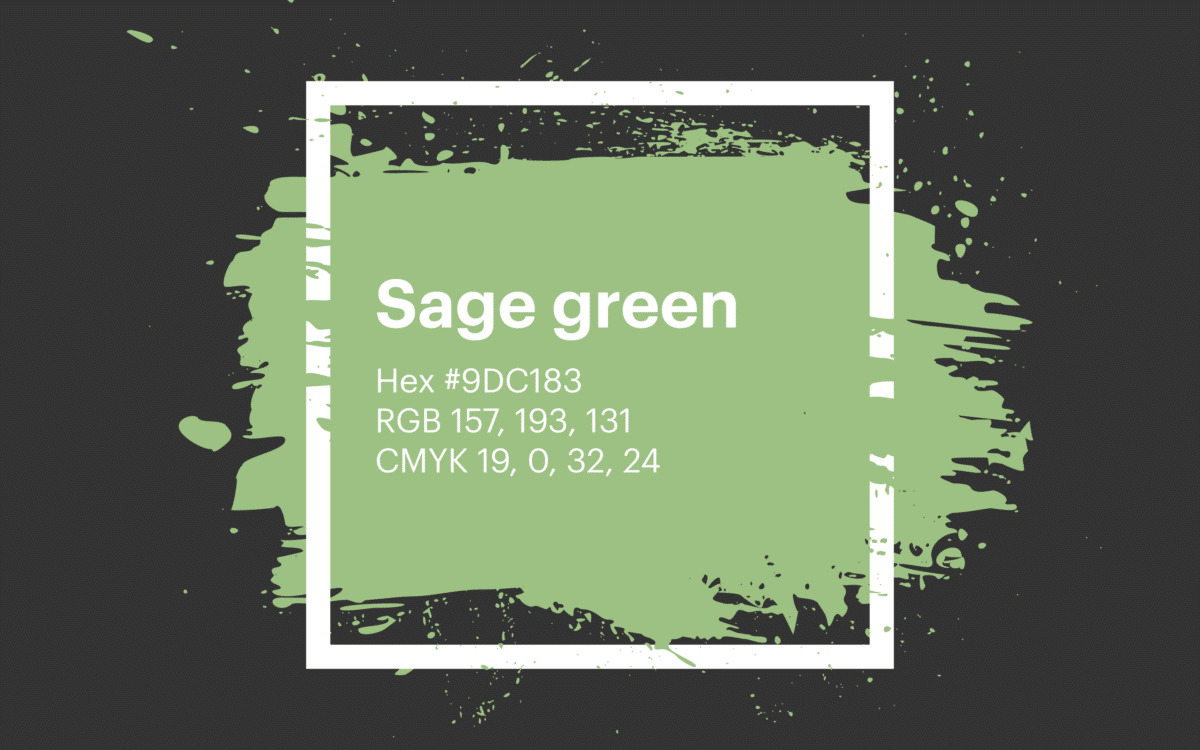 Sage Green
A highly botanical shade with a strong connection to nature, this color could be the perfect choice for weddings with an outdoor theme or rustic homes. The greenish-grey color mimics the shade of dried sage leaves and has a lovely crisp finish.
Hex #9DC183
RGB 157, 193, 131
CMYK 19, 0, 32, 24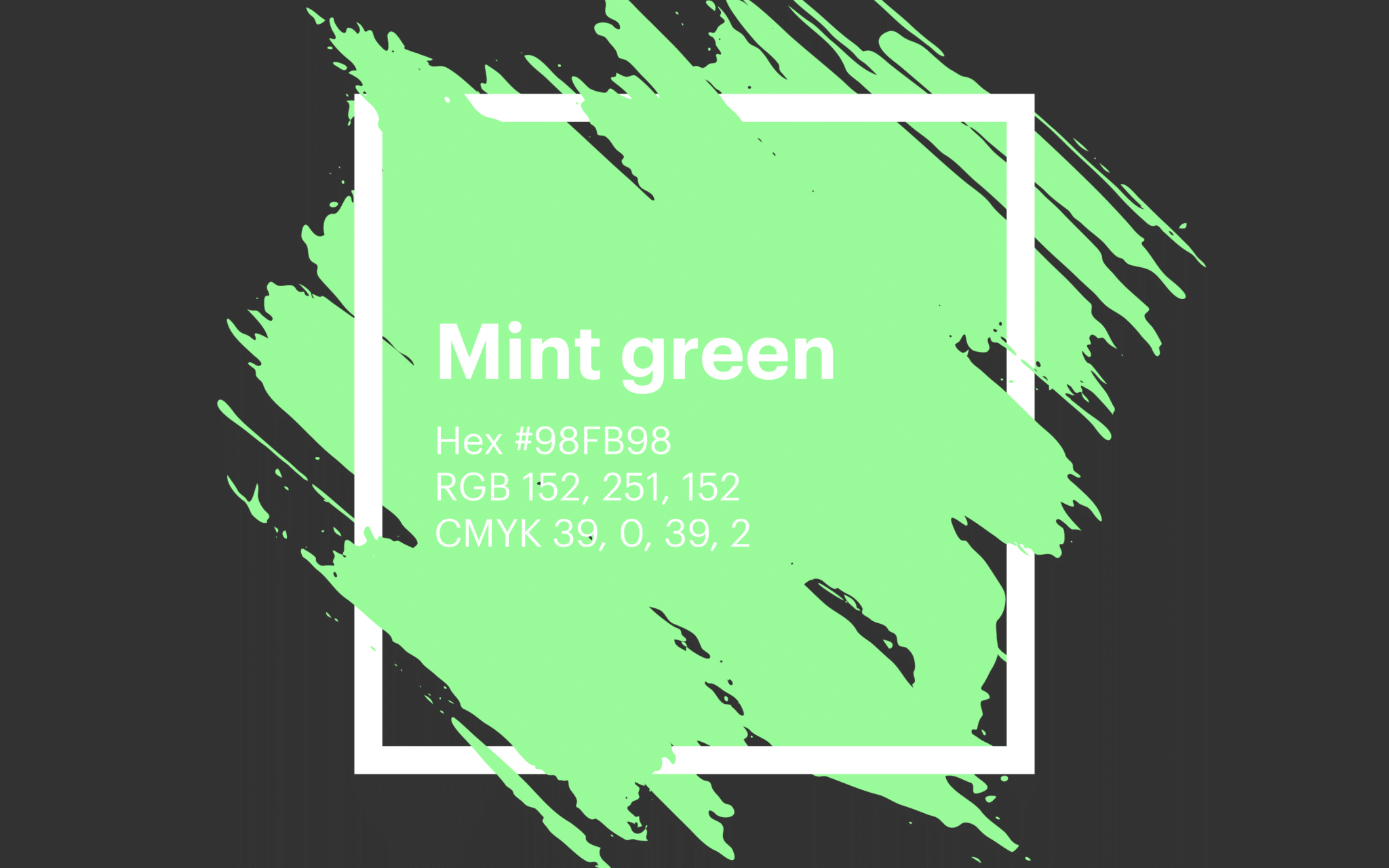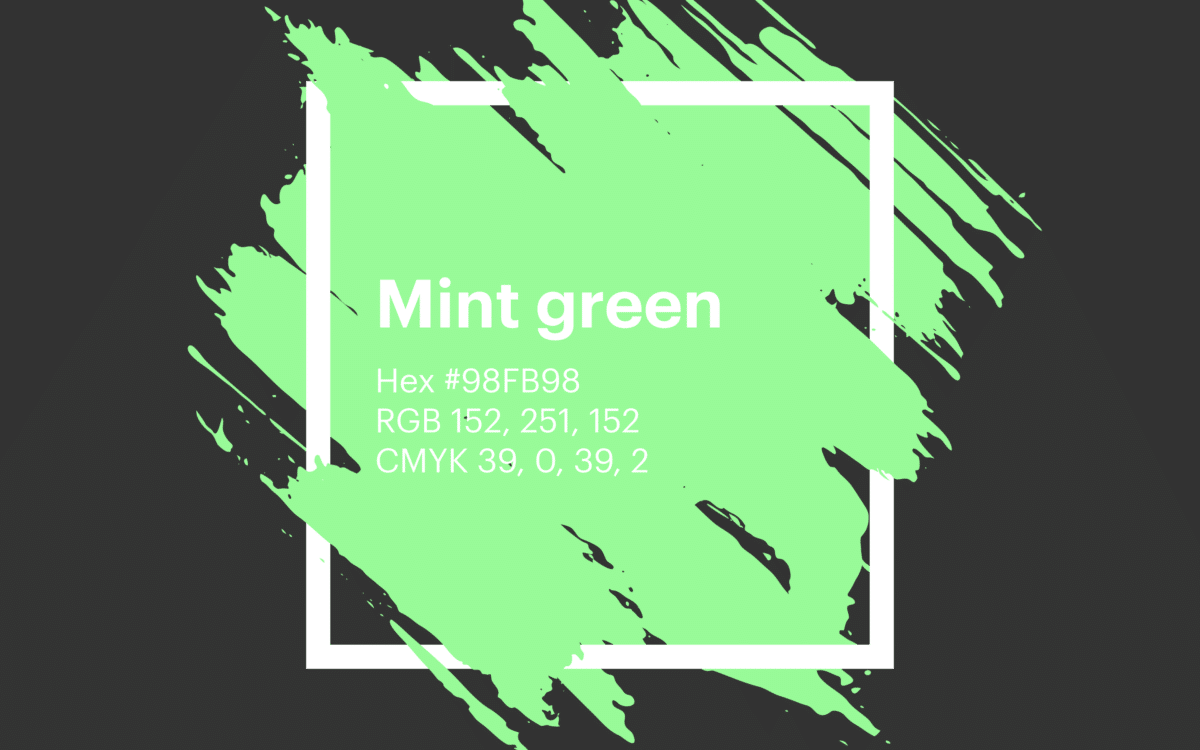 Mint Green
One of the best shades of green if you're looking for a lighter palette, Mint Green is a color that conveys a deep sense of freshness and revitalization. The bright and vibrant color includes a lot of white to ensure it's not too overwhelming.
Hex #98FB98
RGB 152, 251, 152
CMYK 39, 0, 39, 2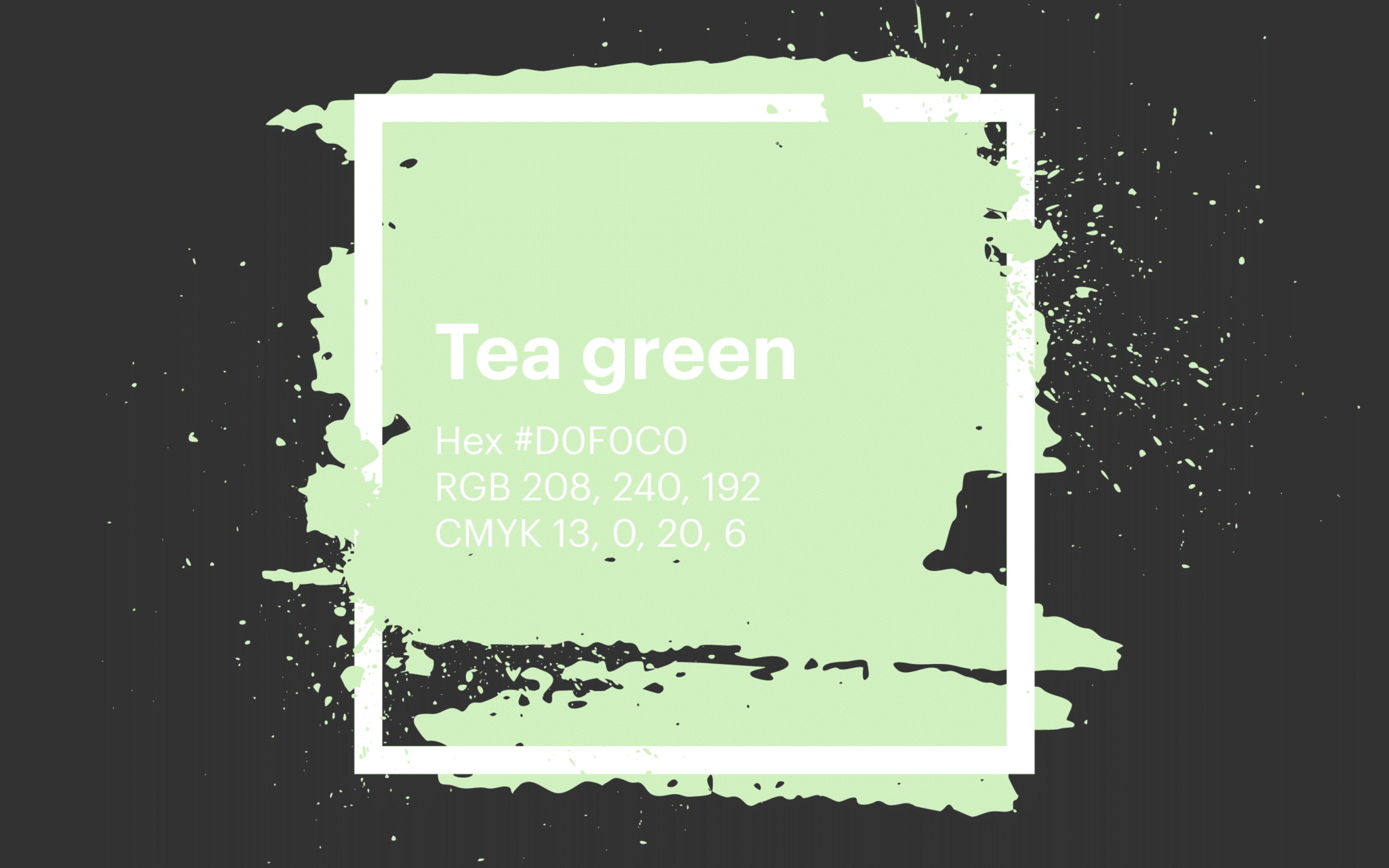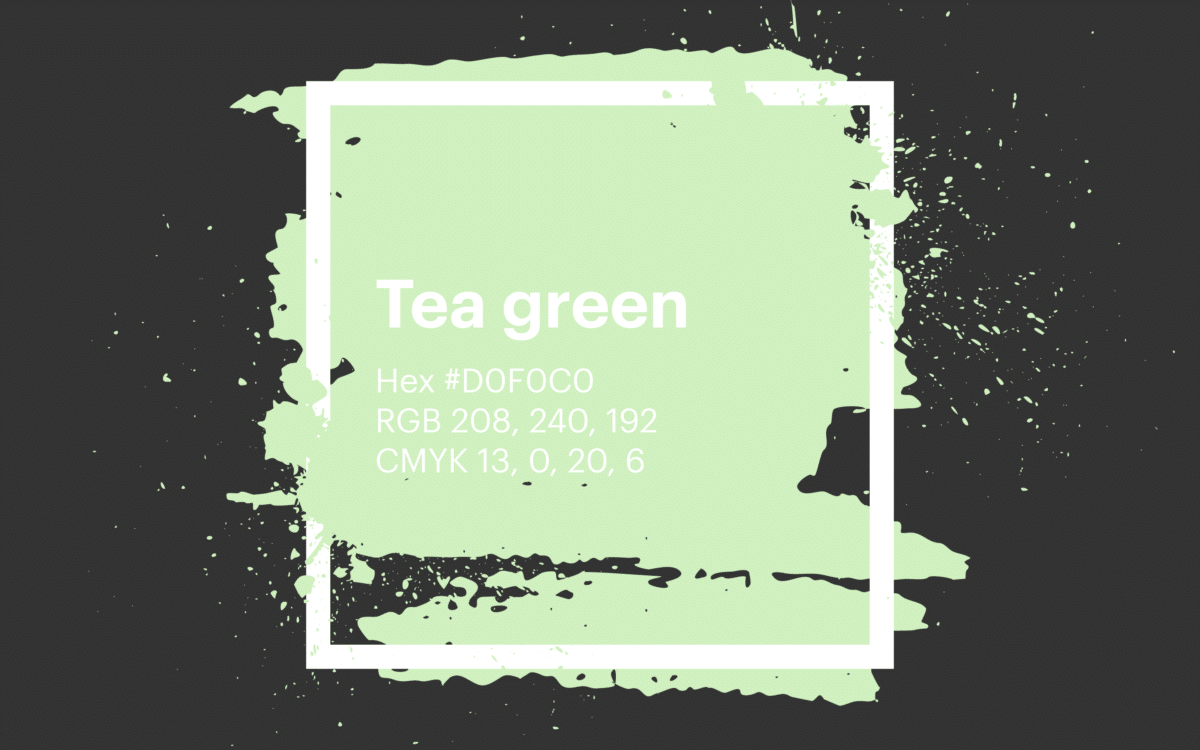 Tea Green
Another great botanical shade for those searching for a more natural color of light green, Tea Green mimics the shade of a fresh cup of green tea. It has an almost brownish tinge, making it a good choice for rustic themes.
Hex #D0F0C0
RGB 208, 240, 192
CMYK 13, 0, 20, 6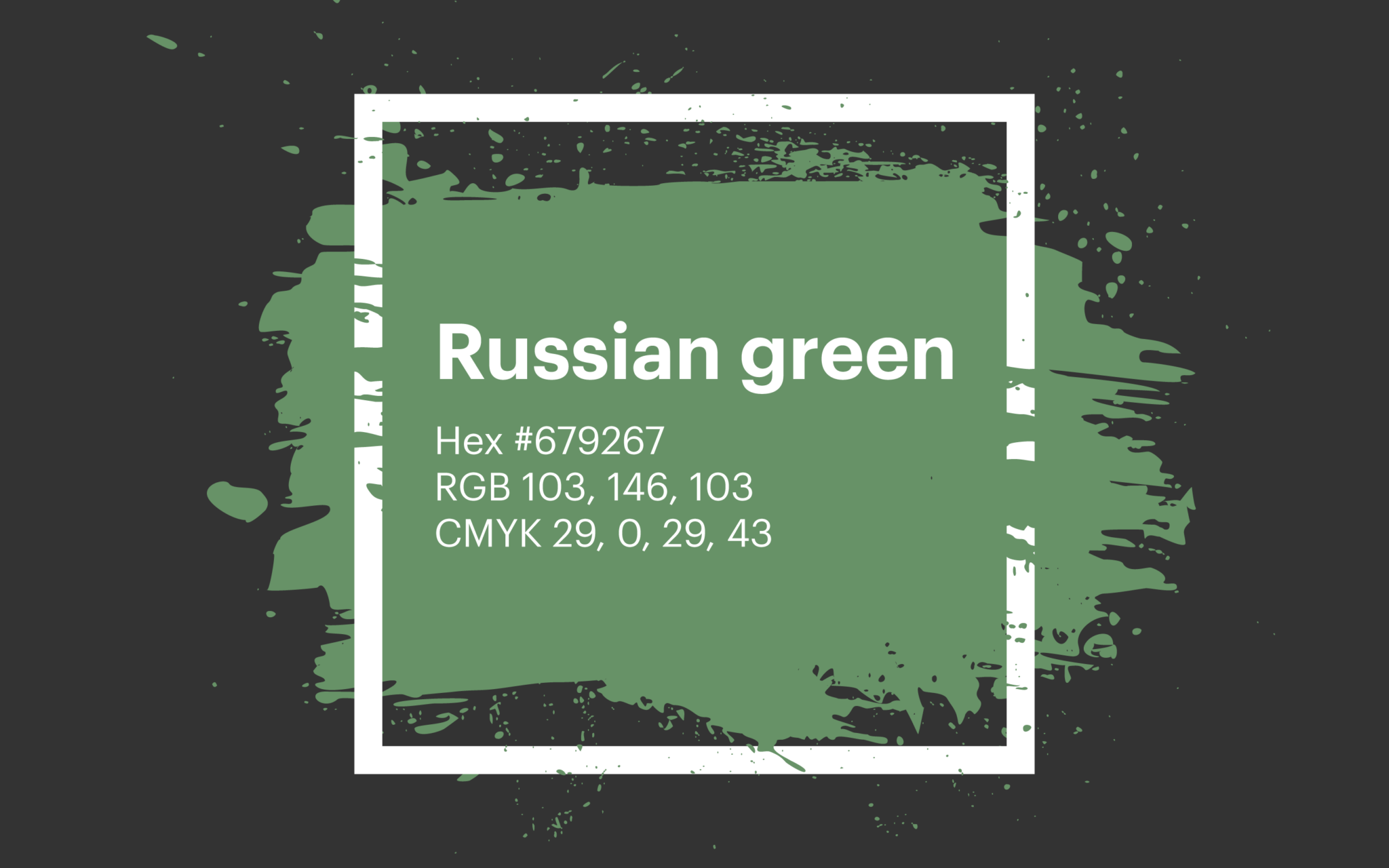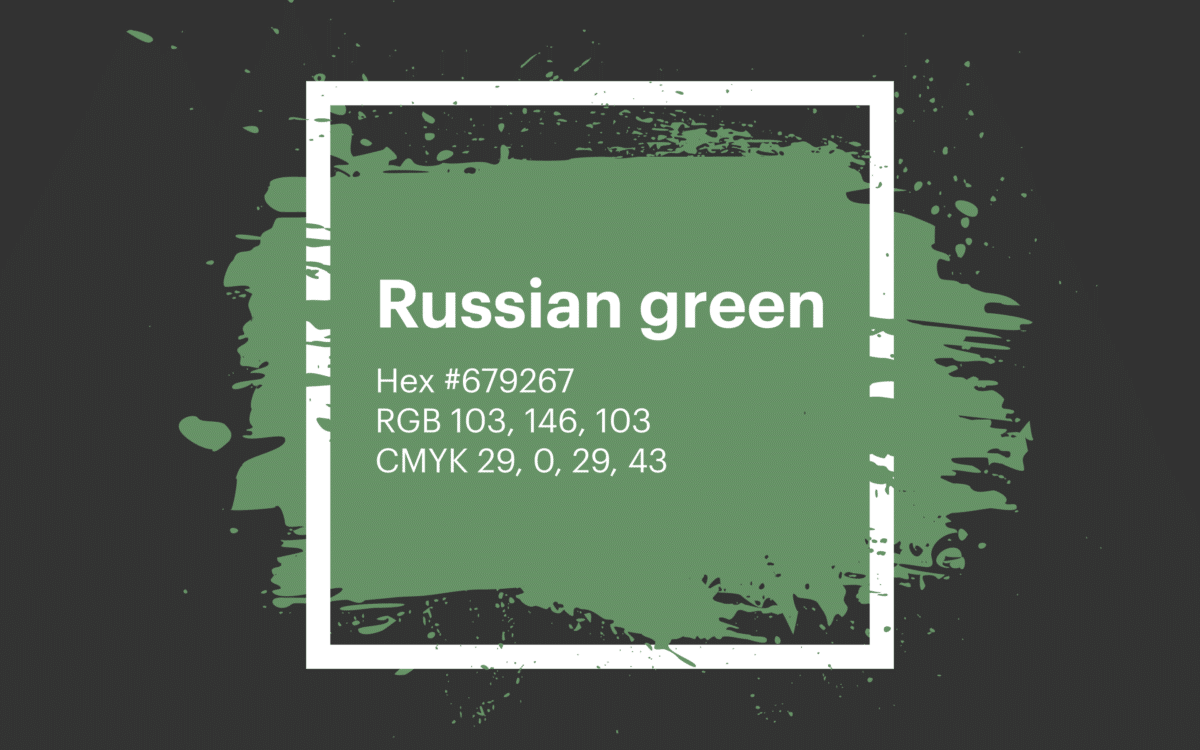 Russian Green
Russian Green takes its name from the colors used for the many regiments of the Russian army, starting in the 1700s. It's an organic, earthy shade designed to help troops blend in with their surroundings in forests.
Hex #679267
RGB 103, 146, 103
CMYK 29, 0, 29, 43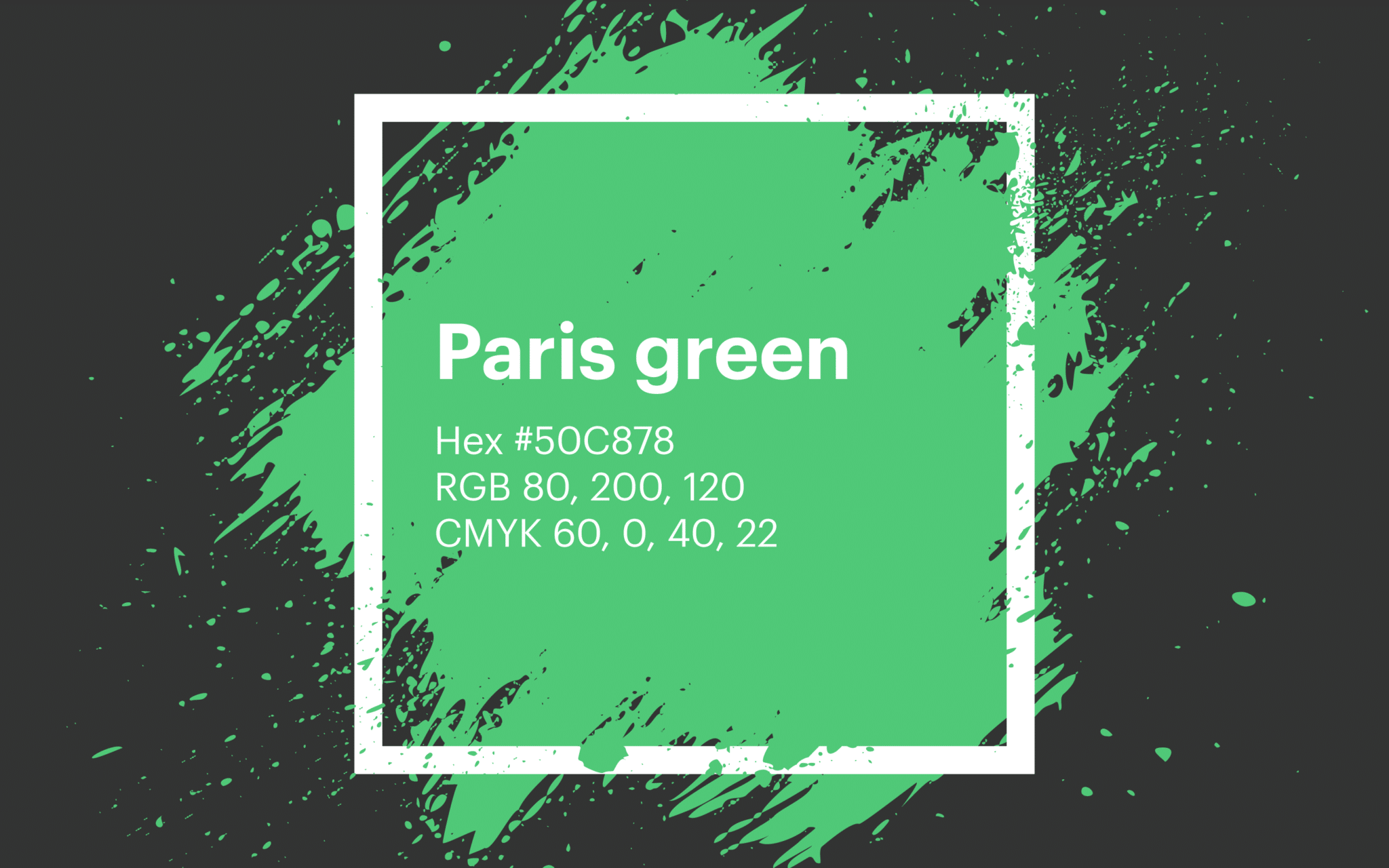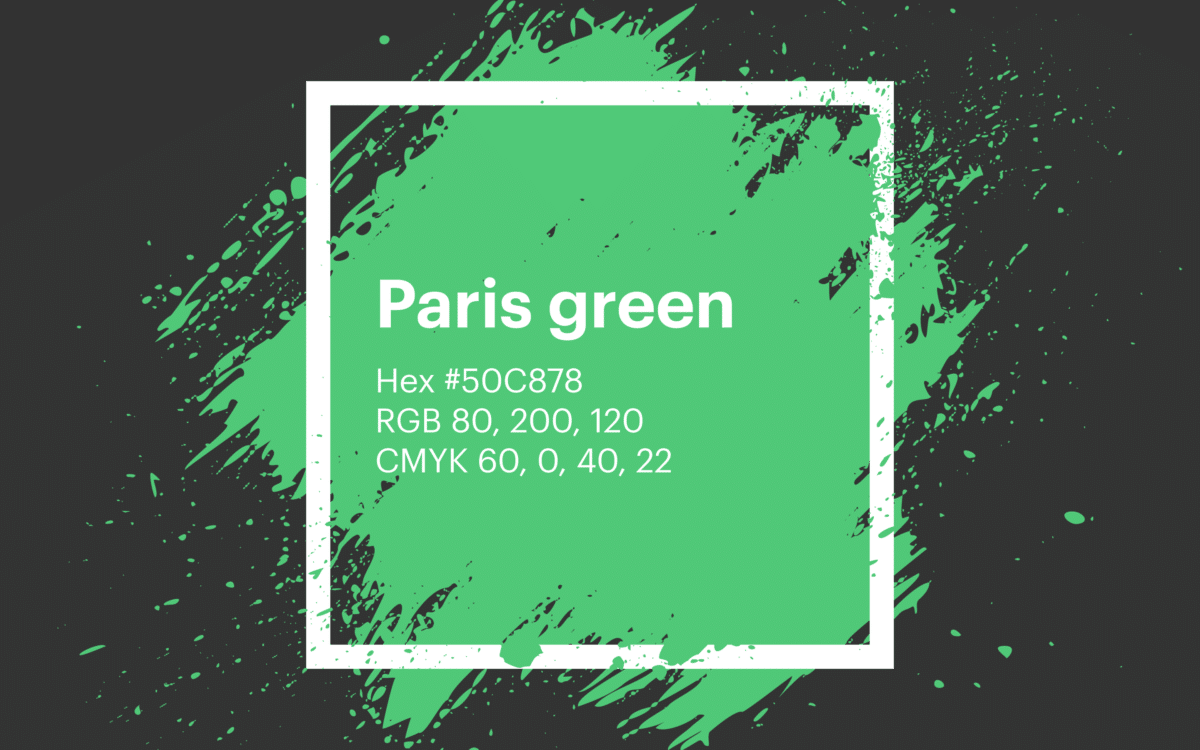 Paris Green
Paris Green is a highly versatile color with a lot of blue mixed into the yellow. This deep and attractive green is excellent for bedrooms and living rooms because it's relaxing, without being too dull. The color comes from a popular pigment used by Parisian painters.
Hex #50C878
RGB 80, 200, 120
CMYK 60, 0, 40, 22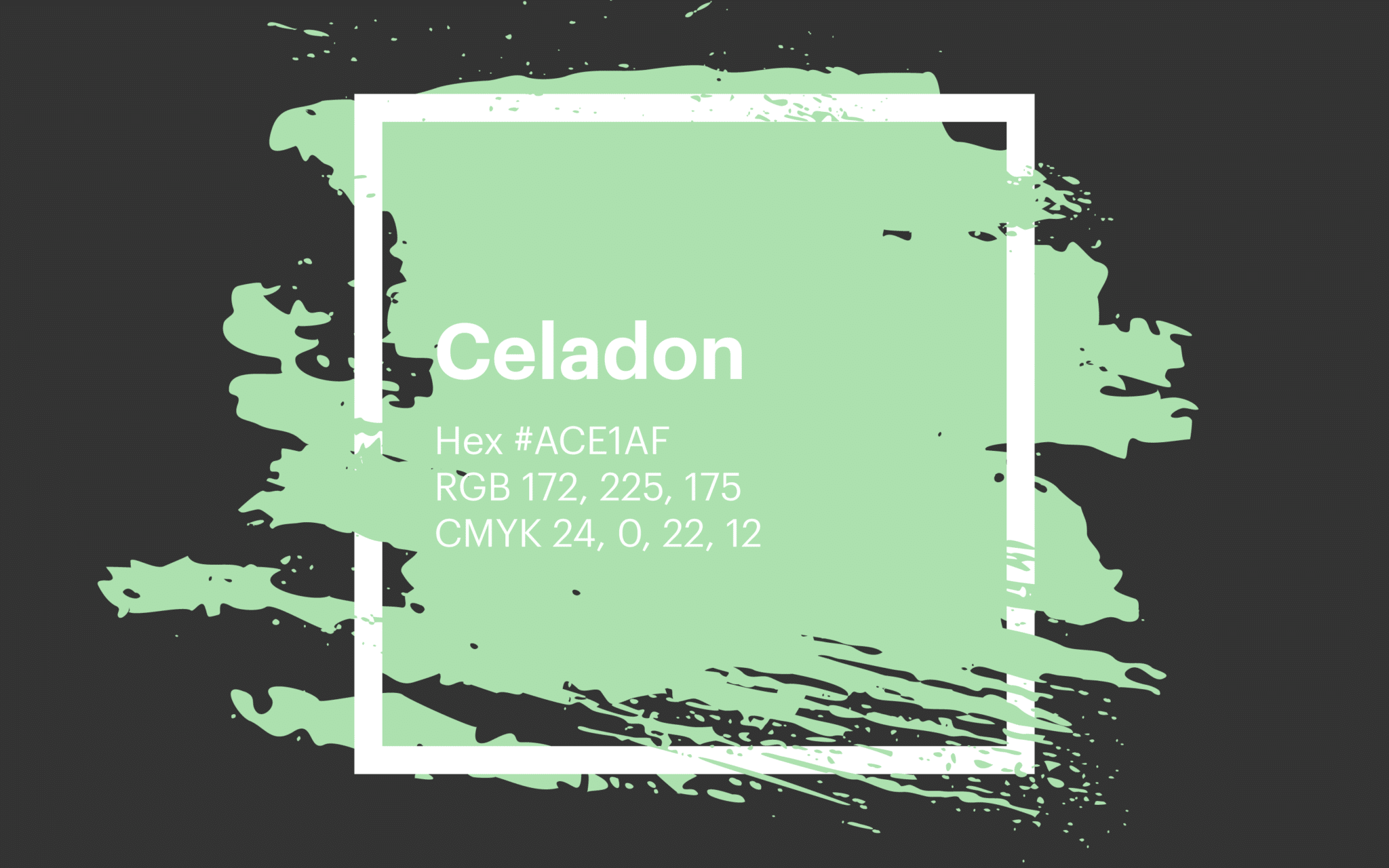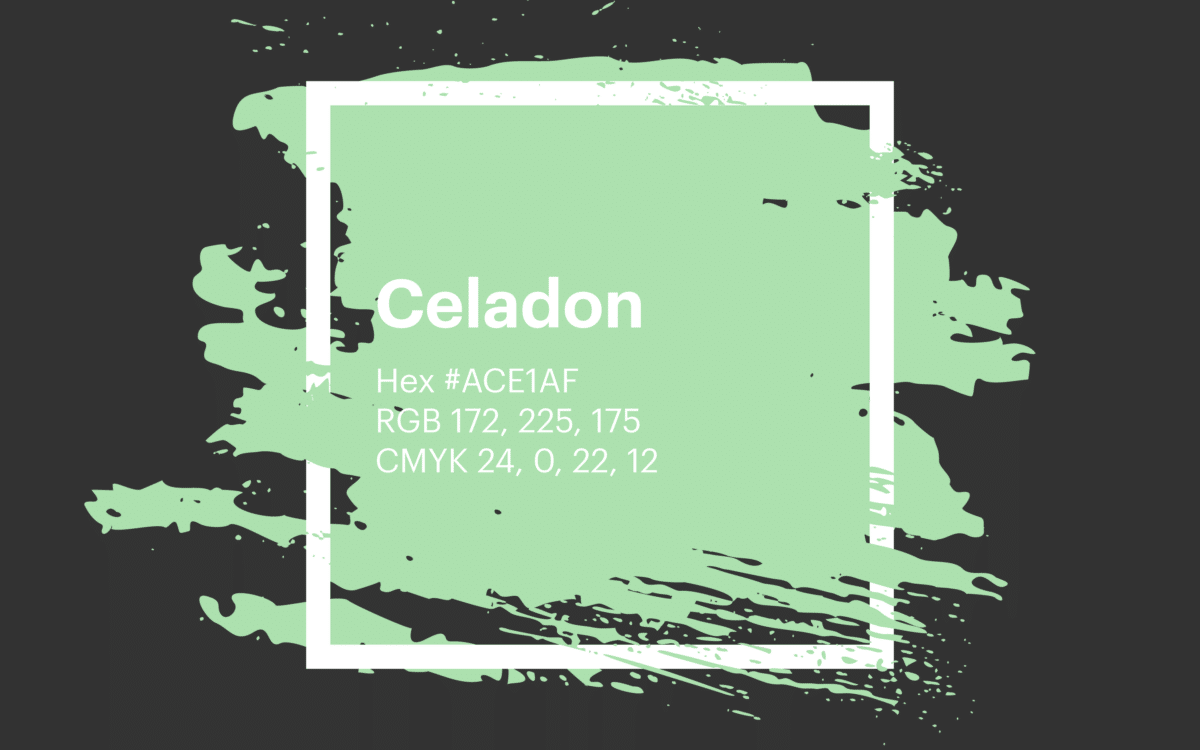 Celadon
If you're familiar with the art world, you might also know a thing or two about Celadon Green. This color is named after a specific class of Chinese ceramics well known throughout Korea and Japan. Celadon has also been heavily used as a glaze in pottery and is similar to jade.
Hex #ACE1AF
RGB 172, 225, 175
CMYK 24, 0, 22, 12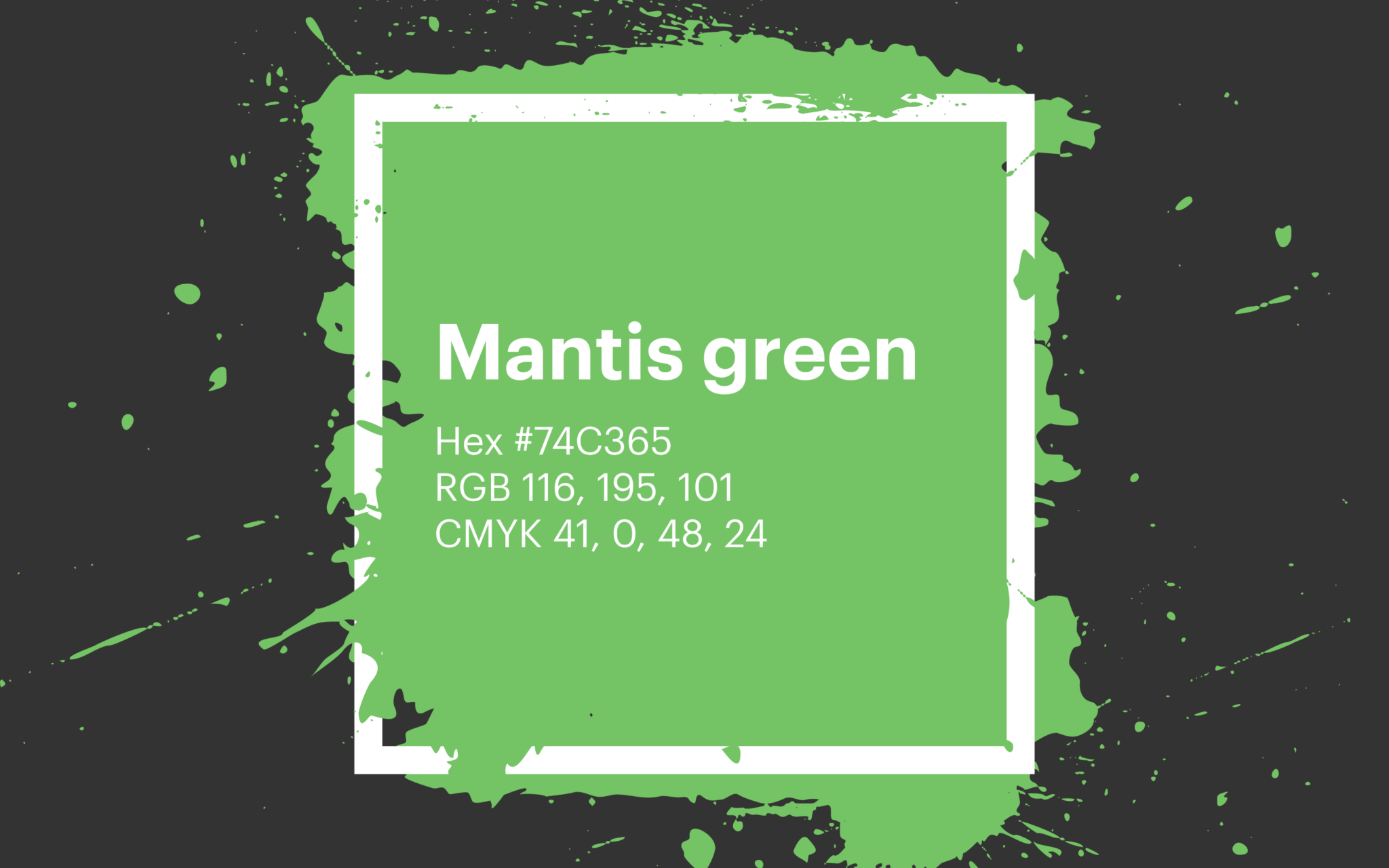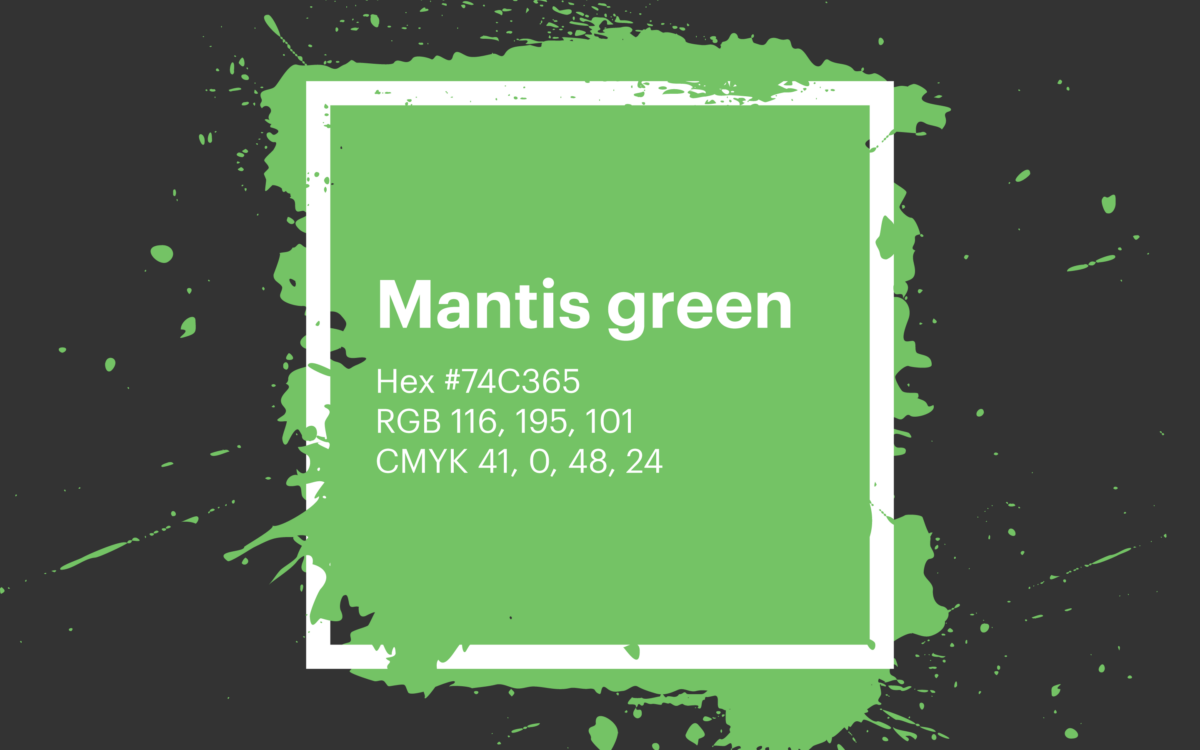 Mantis Green
The preying mantis might be a creepy thing to imagine for some people who aren't particularly enthusiastic about bugs. However, the color of these unique creatures is something worth celebrating. The Mantis Green shade is neither too light nor too dark, making it a versatile choice.
Hex #74C365
RGB 116, 195, 101
CMYK 41, 0, 48, 24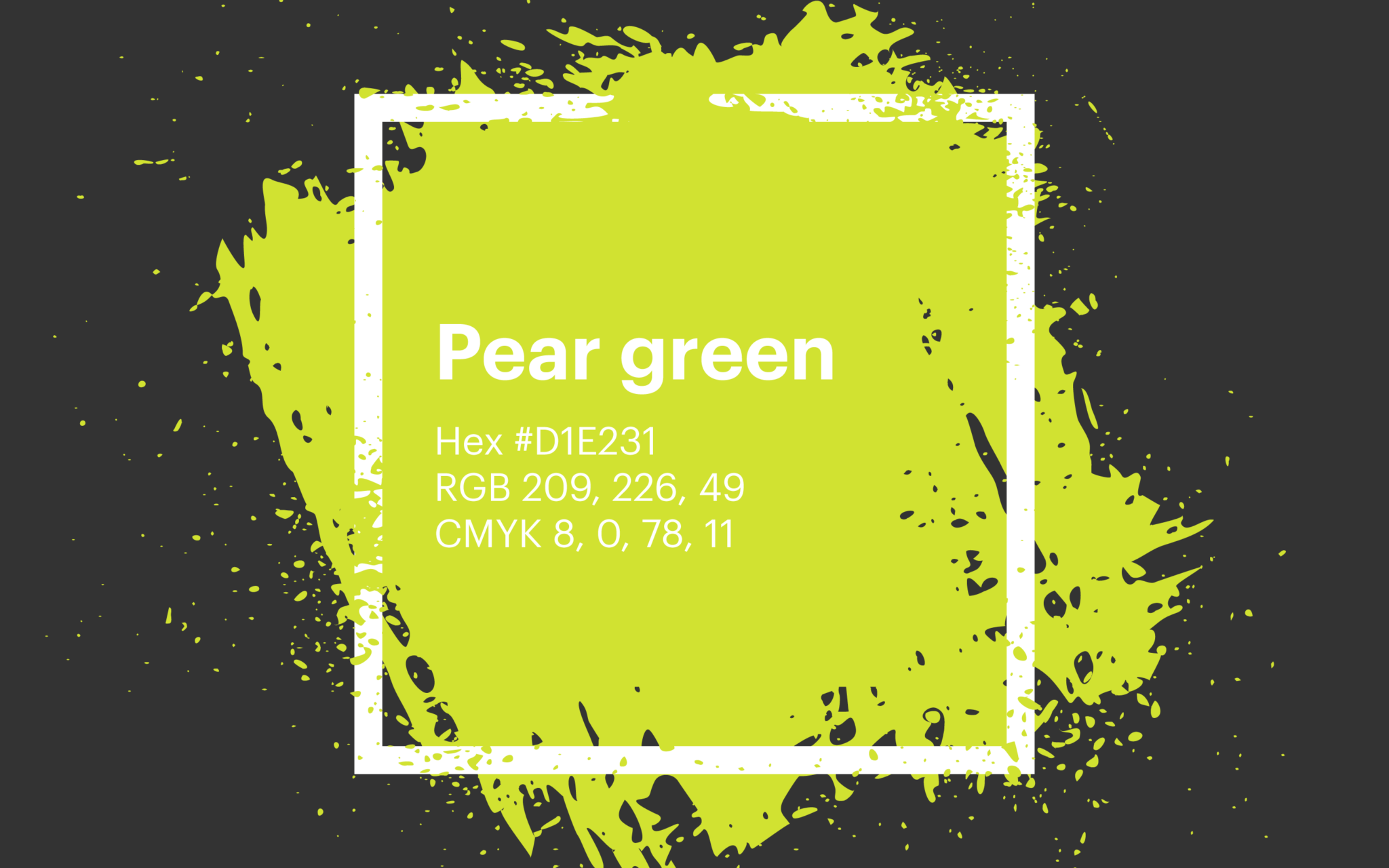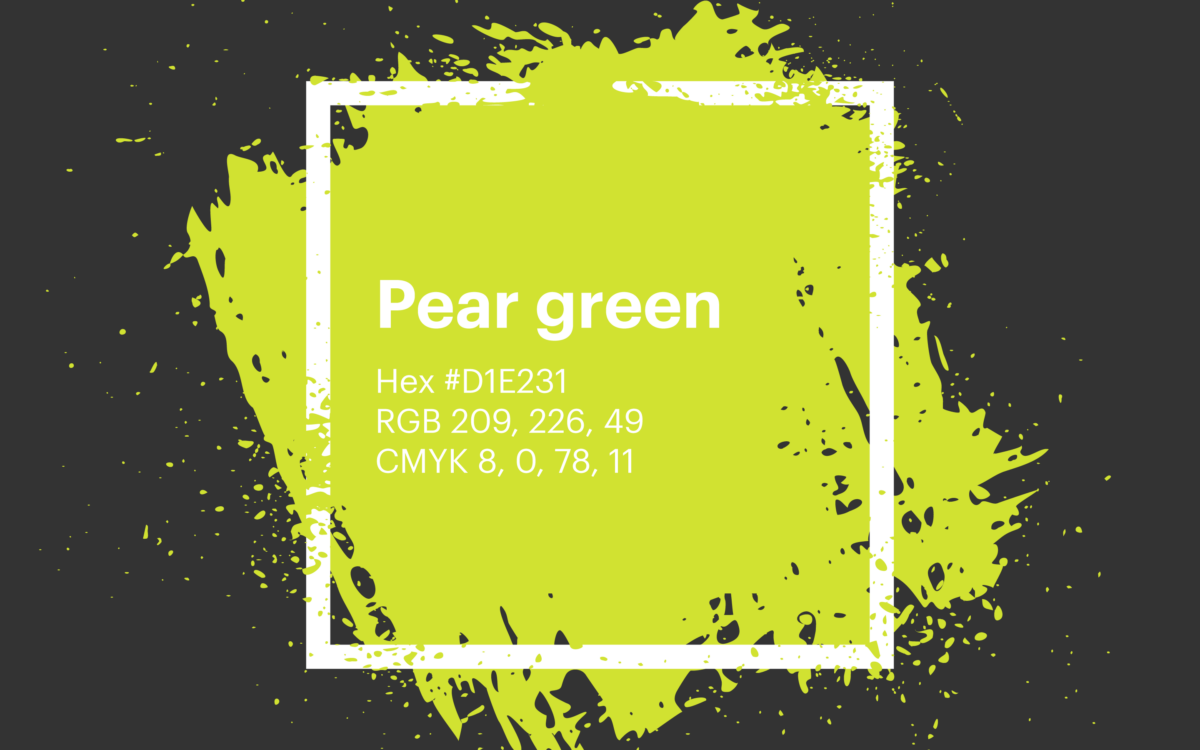 Pear Green
If you're looking for a green color that veers heavily toward the yellow side, the Pear Green hue could be perfect for you. Though this shade contains a lot of yellow, it also has a small amount of black, which assists in maintaining its mellow nature.
Hex #D1E231
RGB 209, 226, 49
CMYK 8, 0, 78, 11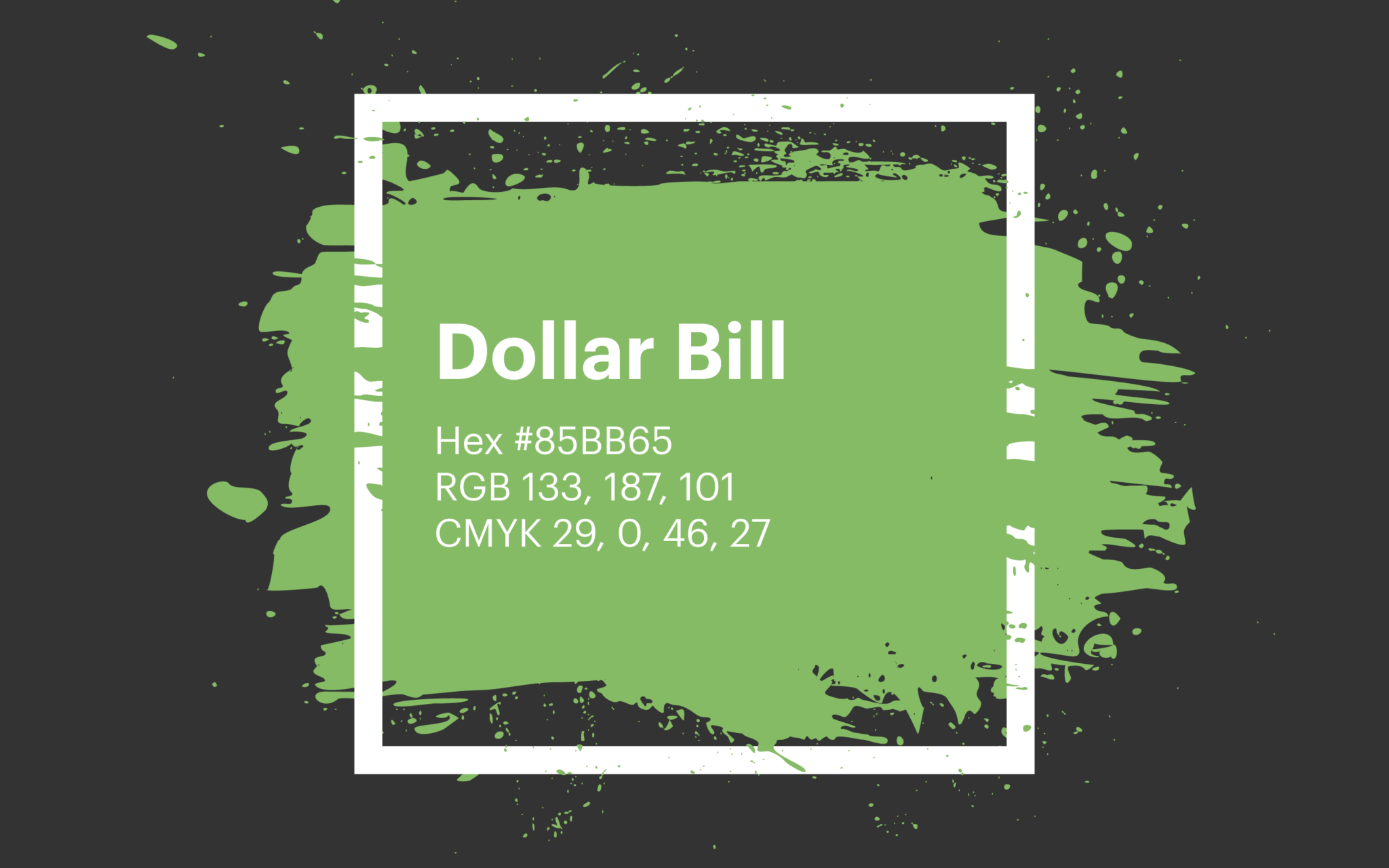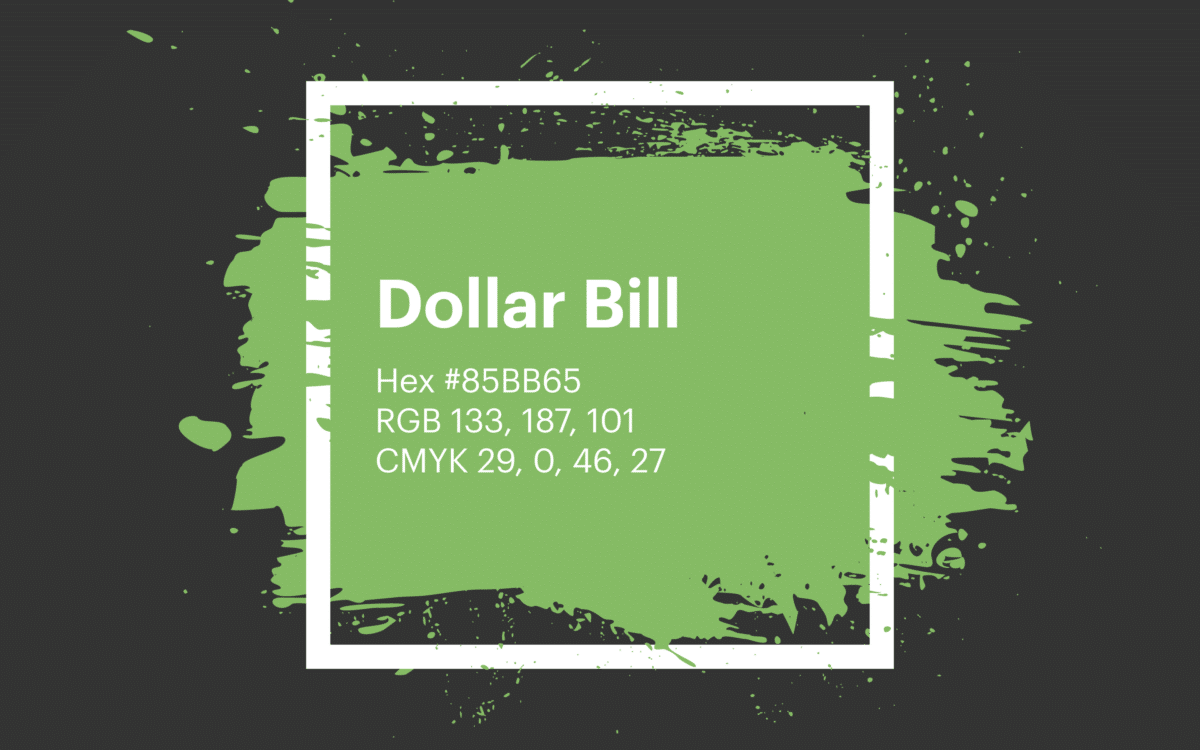 Dollar Bill
Associated mostly with money and wealth, Dollar Bill is a popular color for conveying ideas of extravagance and excellence. The slight sage color makes it an understated and eye-catching shade that looks fantastic in a range of tints.
Hex #85BB65
RGB 133, 187, 101
CMYK 29, 0, 46, 27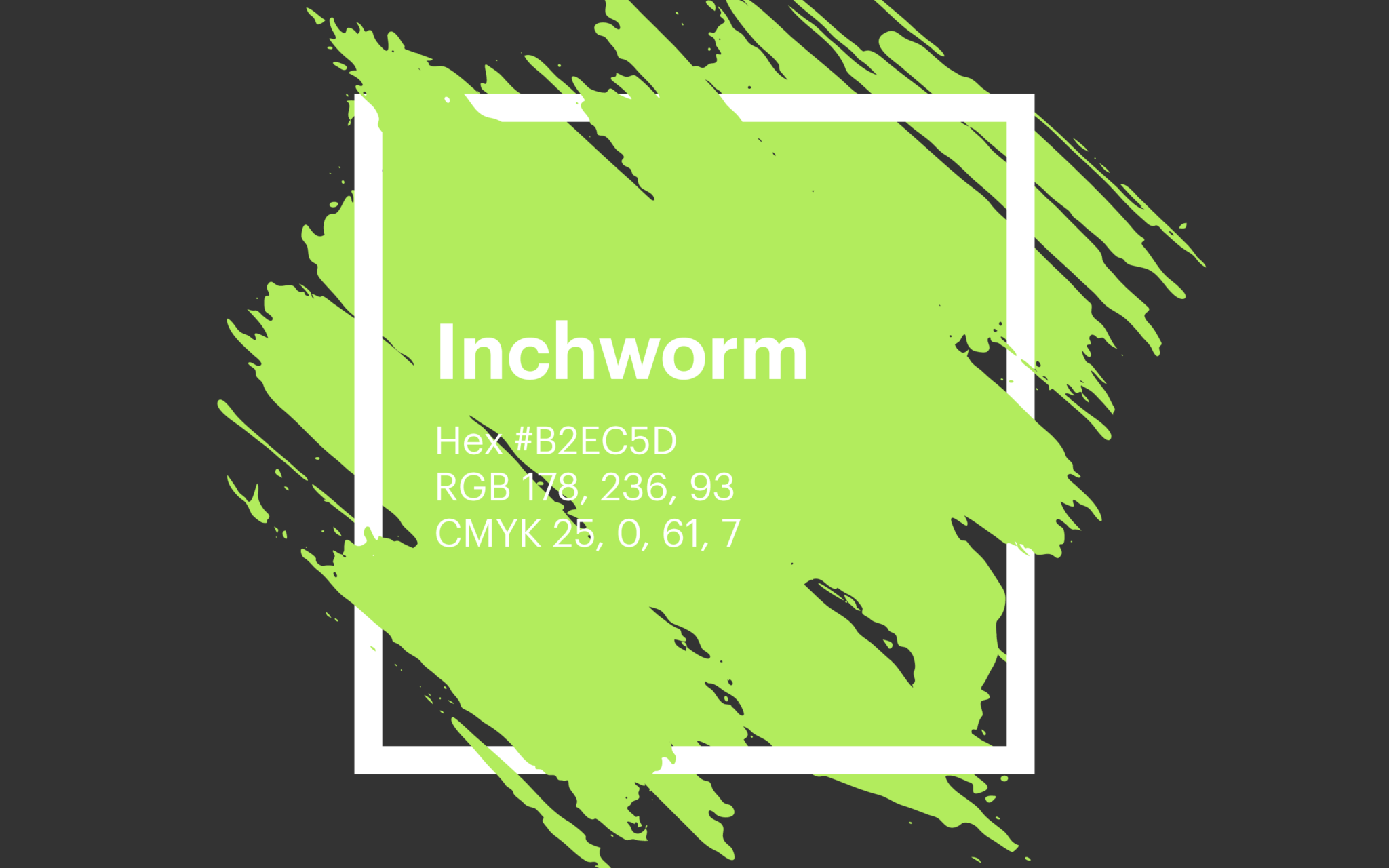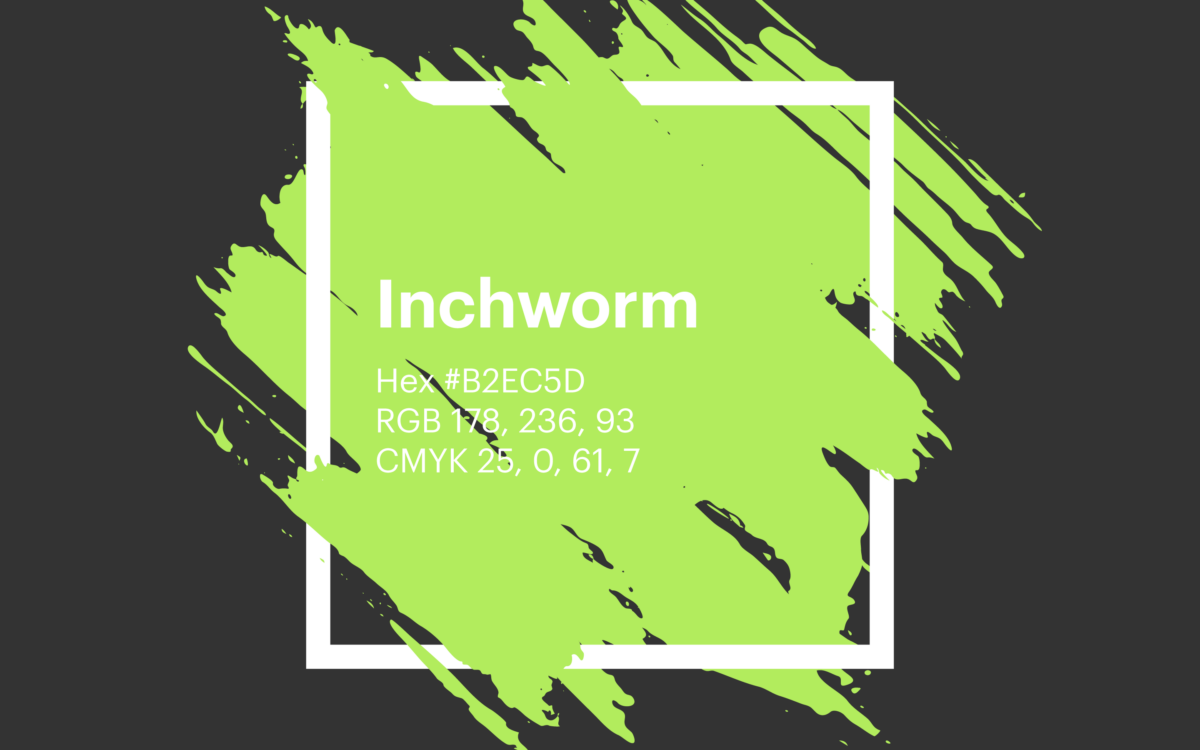 Inchworm
Named after the bug with the same title, Inchworm is a bright and vibrant shade of light green with a spring-like nature. This cheerful green is just soft enough that it won't be overwhelming in large doses when used for interior décor.
Hex #B2EC5D
RGB 178, 236, 93
CMYK 25, 0, 61, 7
Shades of green blue
Shades of green-blue inspire a sense of calm and tranquility. You've probably experimented with these hues already in your green color swatches if you've ever wanted to create an ocean scene or find the perfect color for a bathroom.
Some of these shades of green have a reliable and trustworthy air to them too, thanks to the extra blue content, making them great for branding.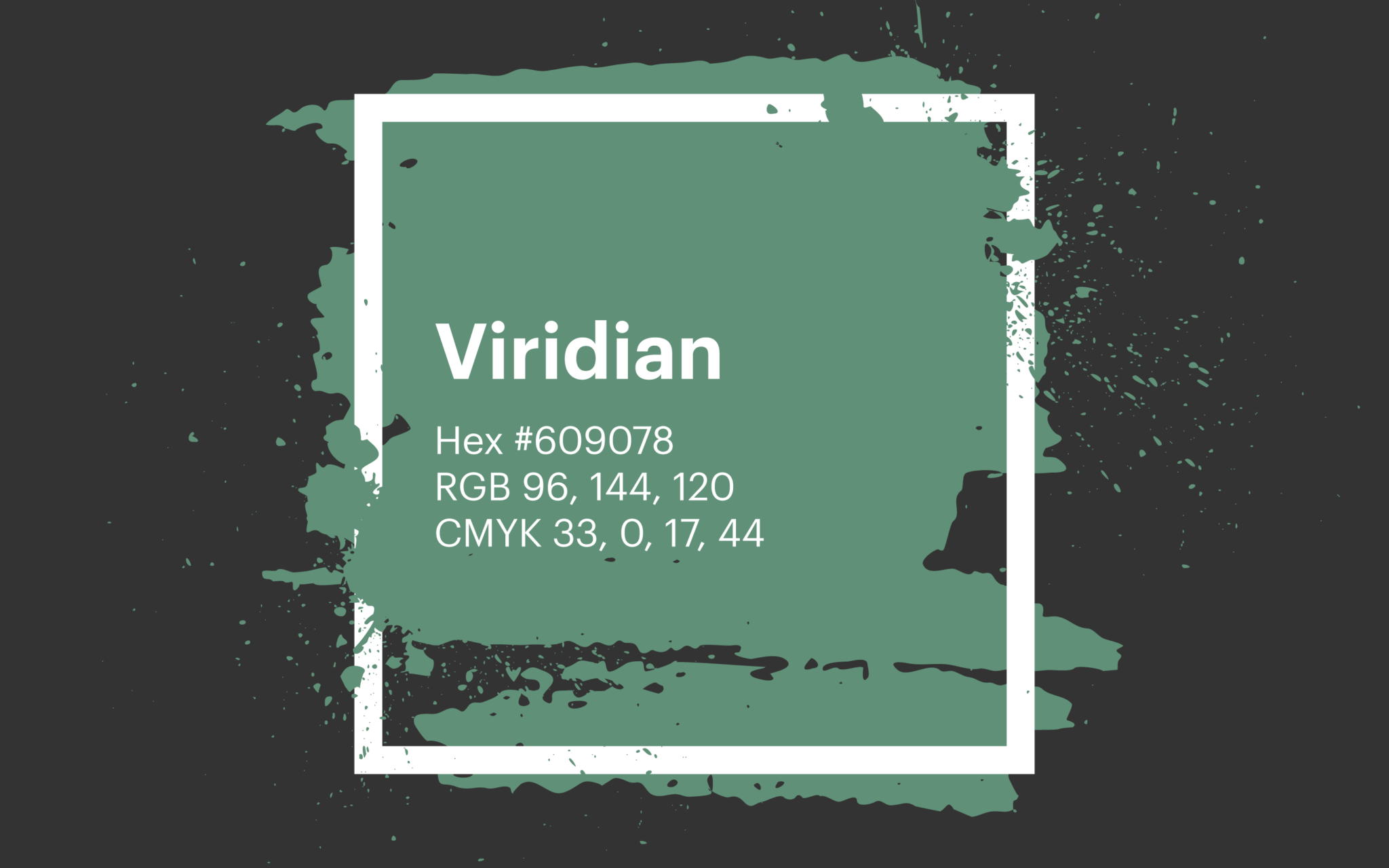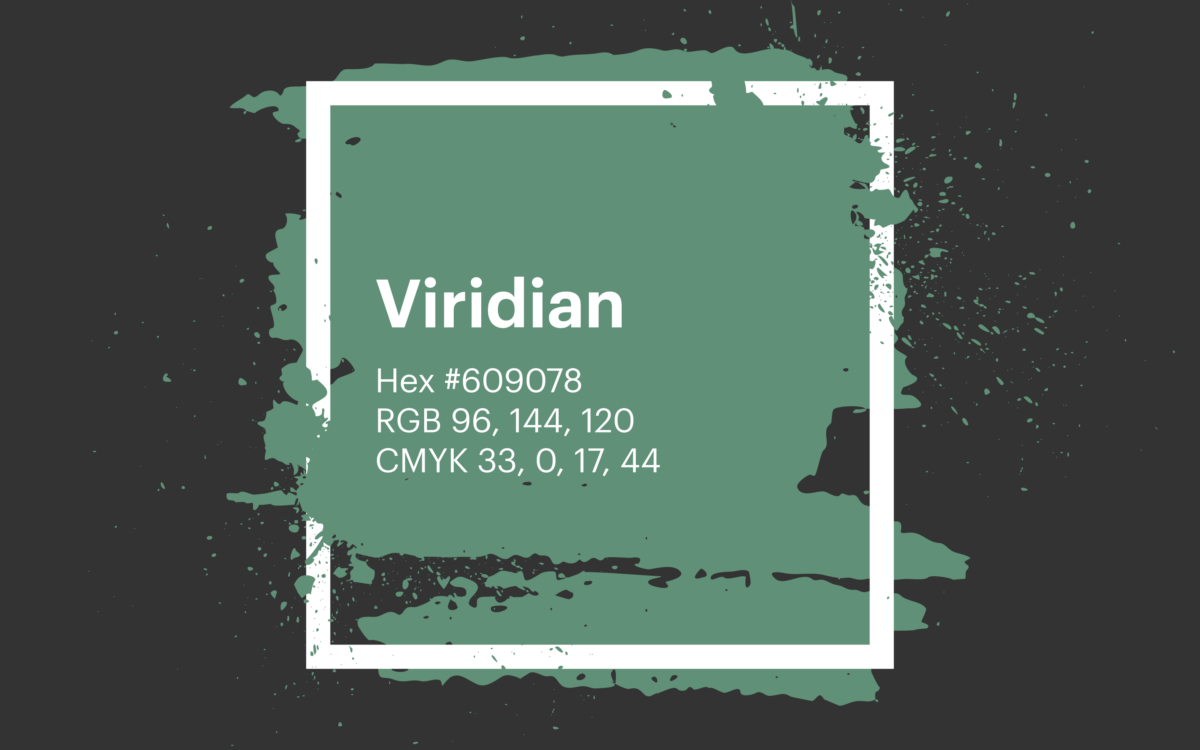 Viridian
One of the most attractive green colors for those searching for a calm and tranquil palette, Viridian is a deep, peaceful shade that reminds us of the ocean. It's not as bright and vibrant as some of the other green colors in this list due to an extra dose of white and black.
Hex #609078
RGB 96, 144, 120
CMYK 33, 0, 17, 44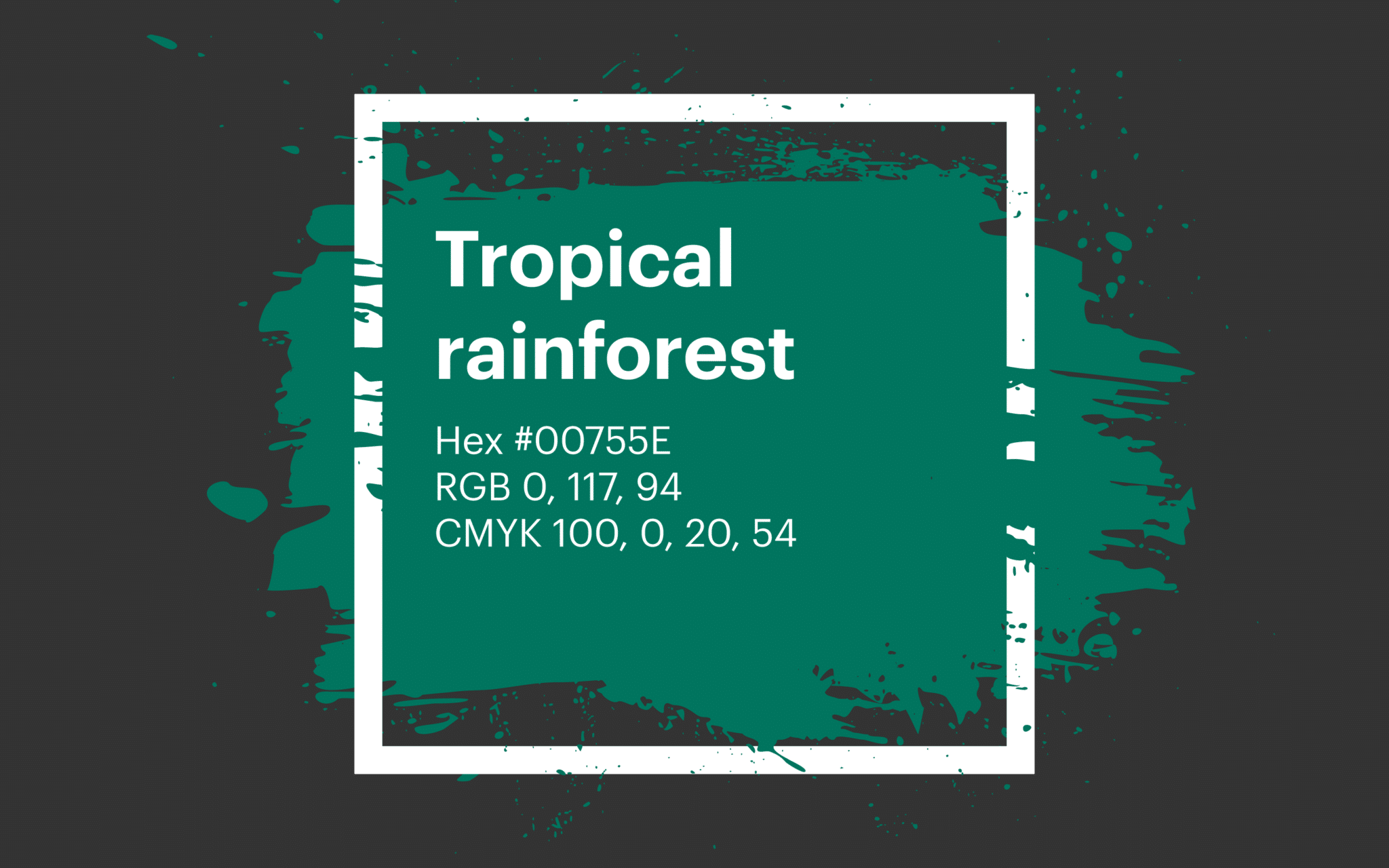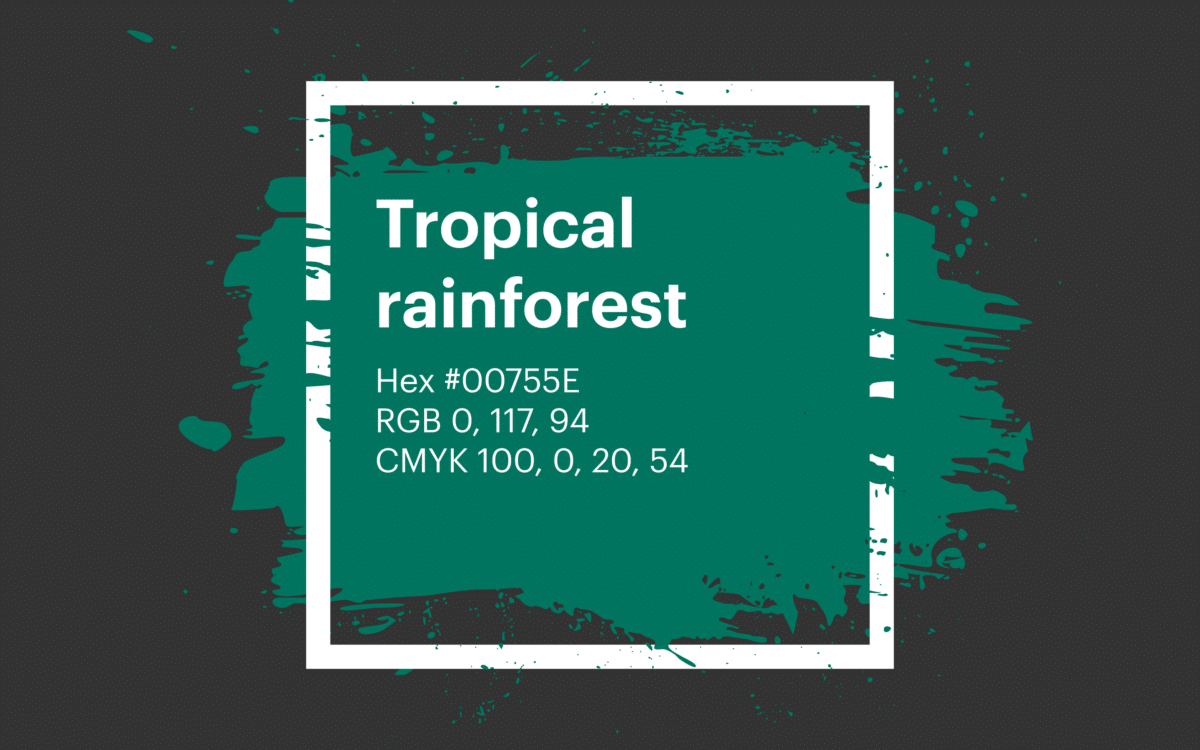 Tropical Rainforest Green
Tropical Rainforest Green is a shade of jungle green with a high portion of blue, evidenced by the heavy Cyan quantity. This beautiful shade is rich and compelling, great for backgrounds where you want something a little darker without compromising on a lively shade.
Hex #00755E
RGB 0, 117, 94
CMYK 100, 0, 20, 54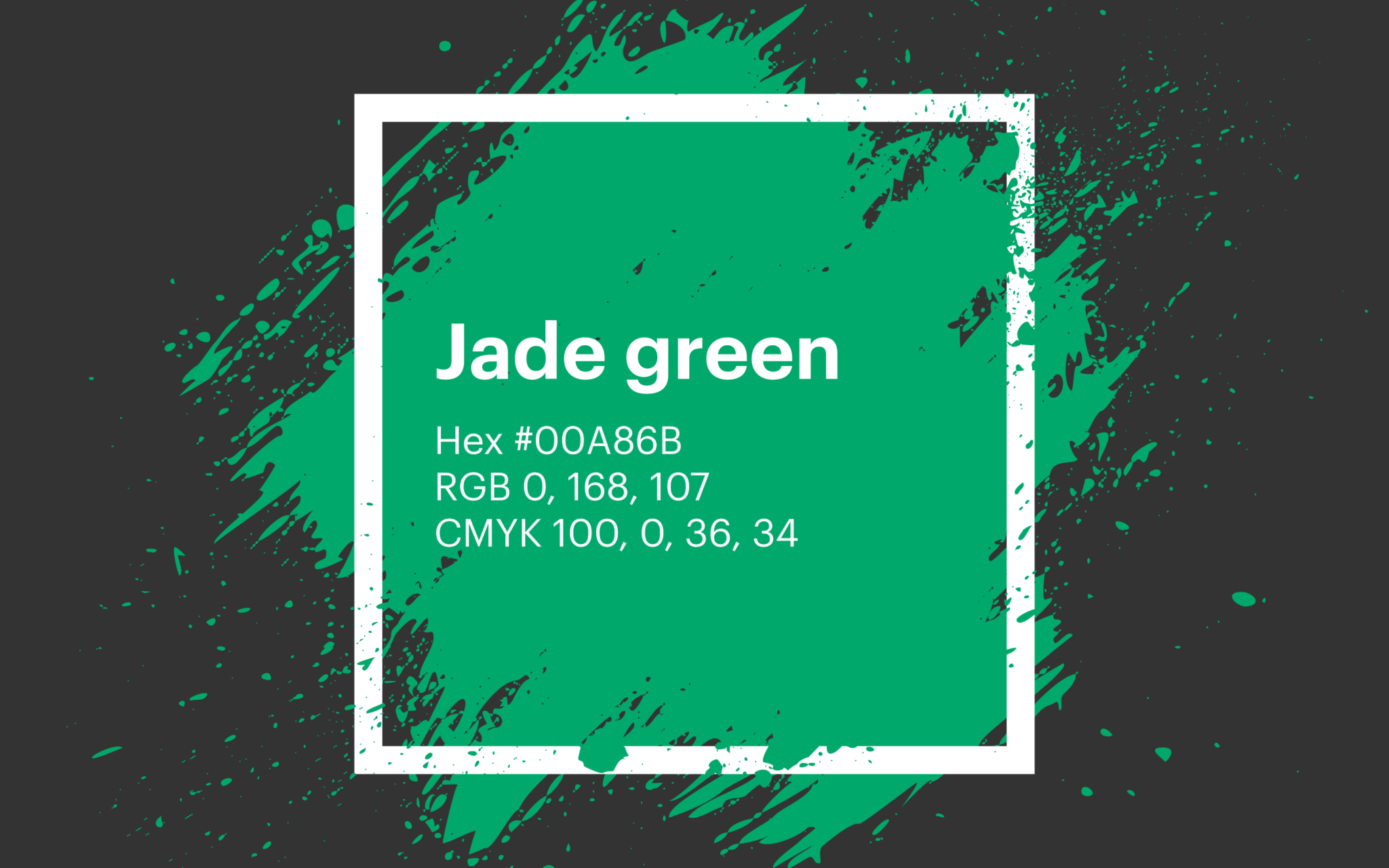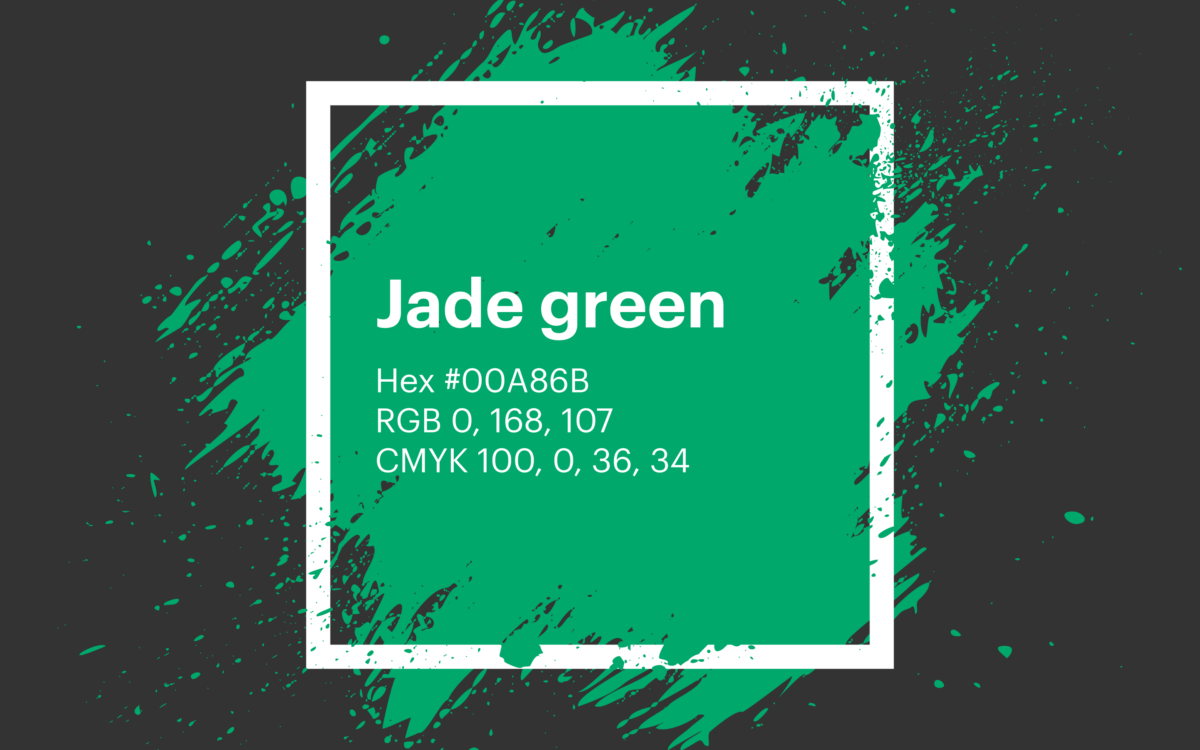 Jade Green
There are different tones and tints of Jade Green to explore when you're creating the perfect color palette. This color is an attractive option if you're looking for a soothing and elegant color with a high portion of blue.
Hex #00A86B
RGB 0, 168, 107
CMYK 100, 0, 36, 34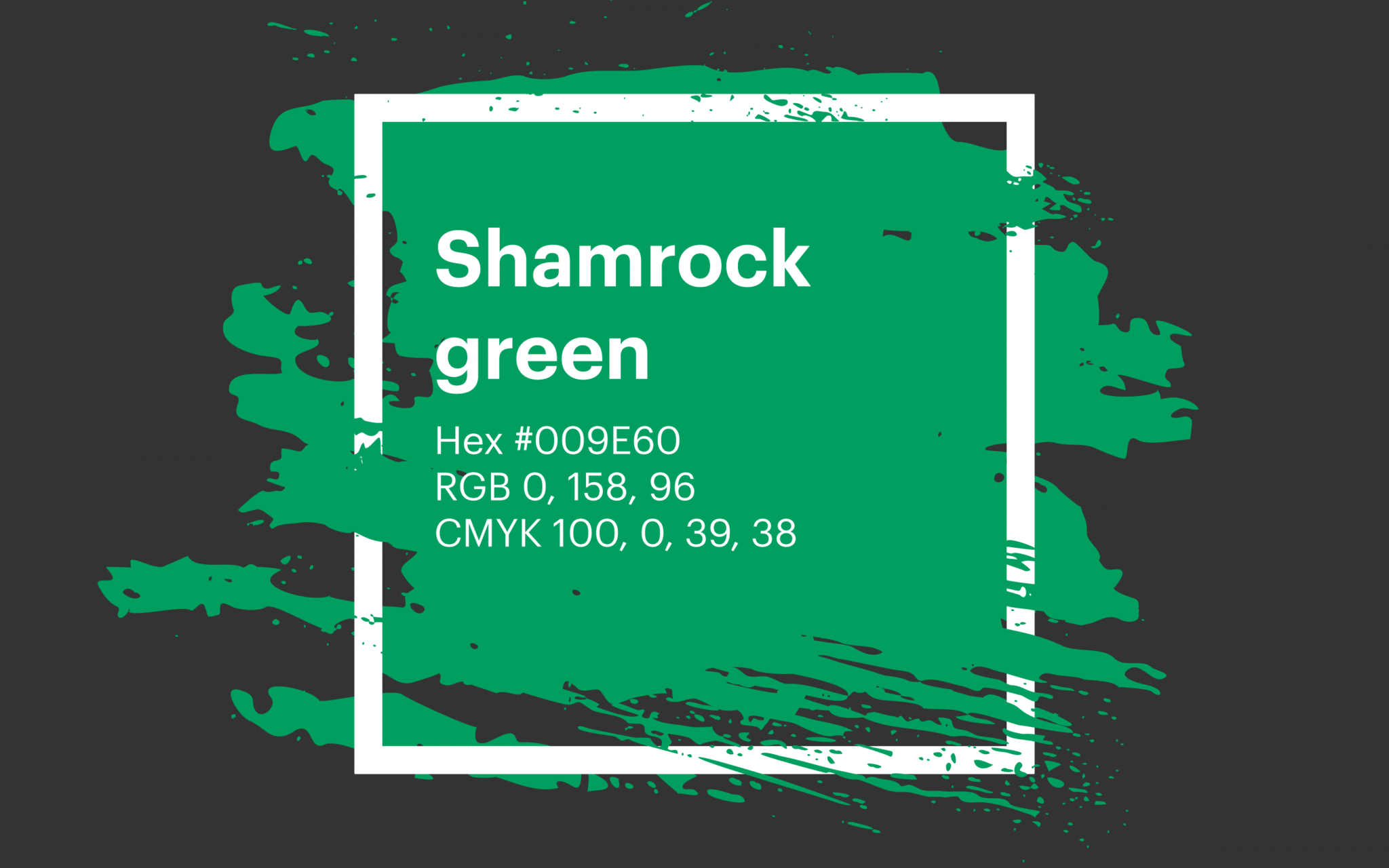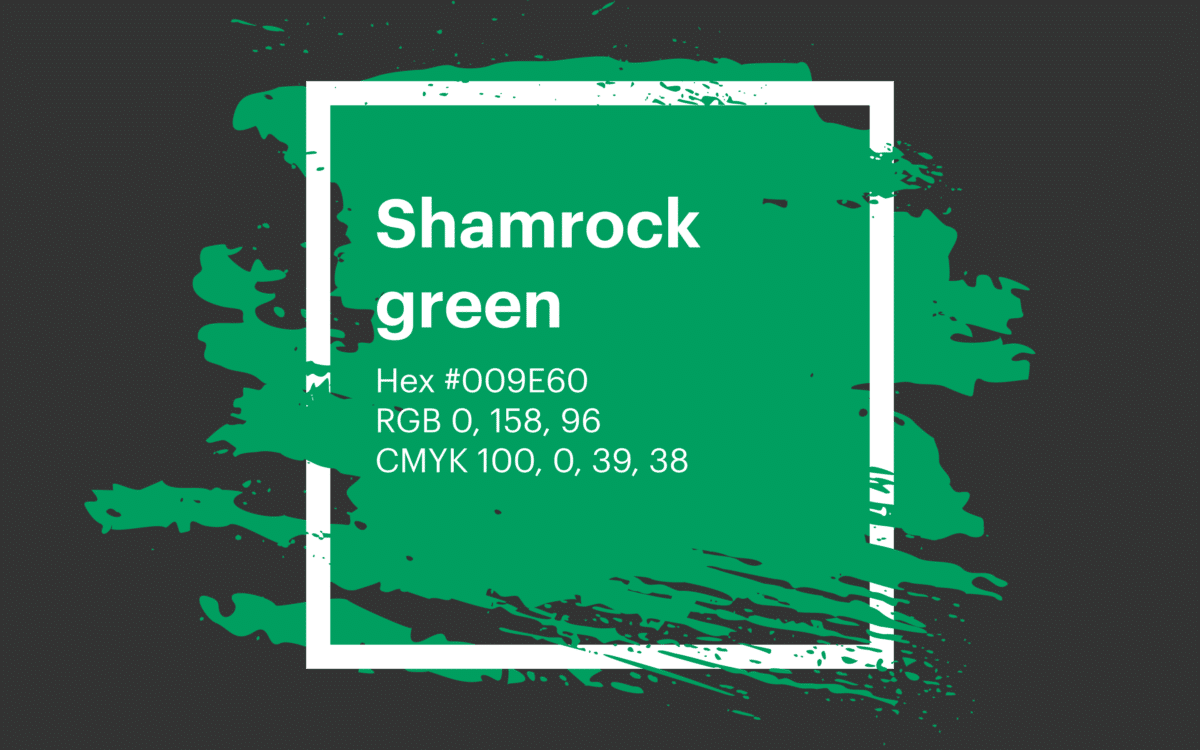 Shamrock Green
Named after the shamrock, or four-leaf clover, Shamrock Green is one of the primary symbols of Ireland. While most of these plants have more yellow in them than this green hue, it's still an excellent color for conveying a sense of luck and prosperity.
Hex #009E60
RGB 0, 158, 96
CMYK 100, 0, 39, 38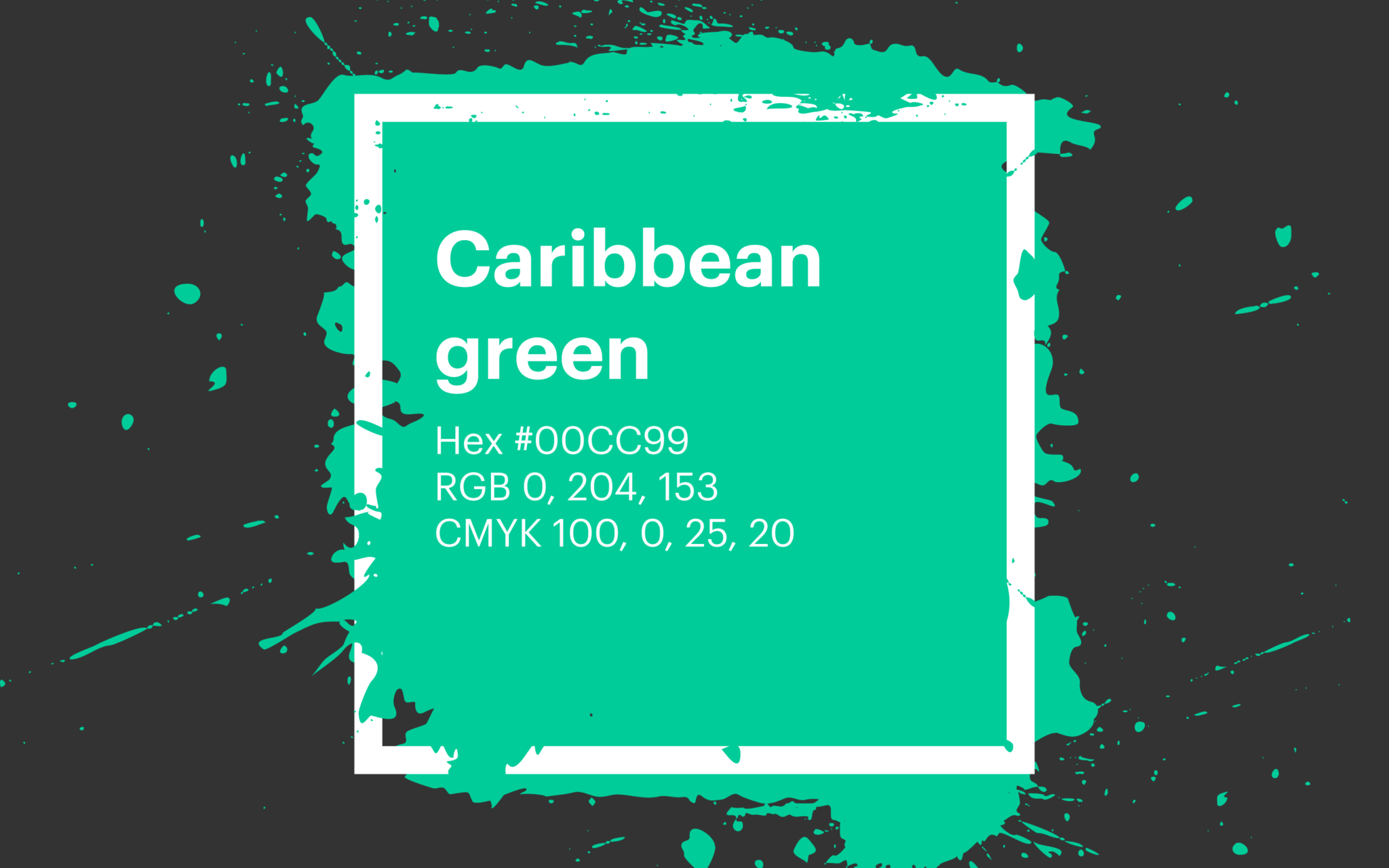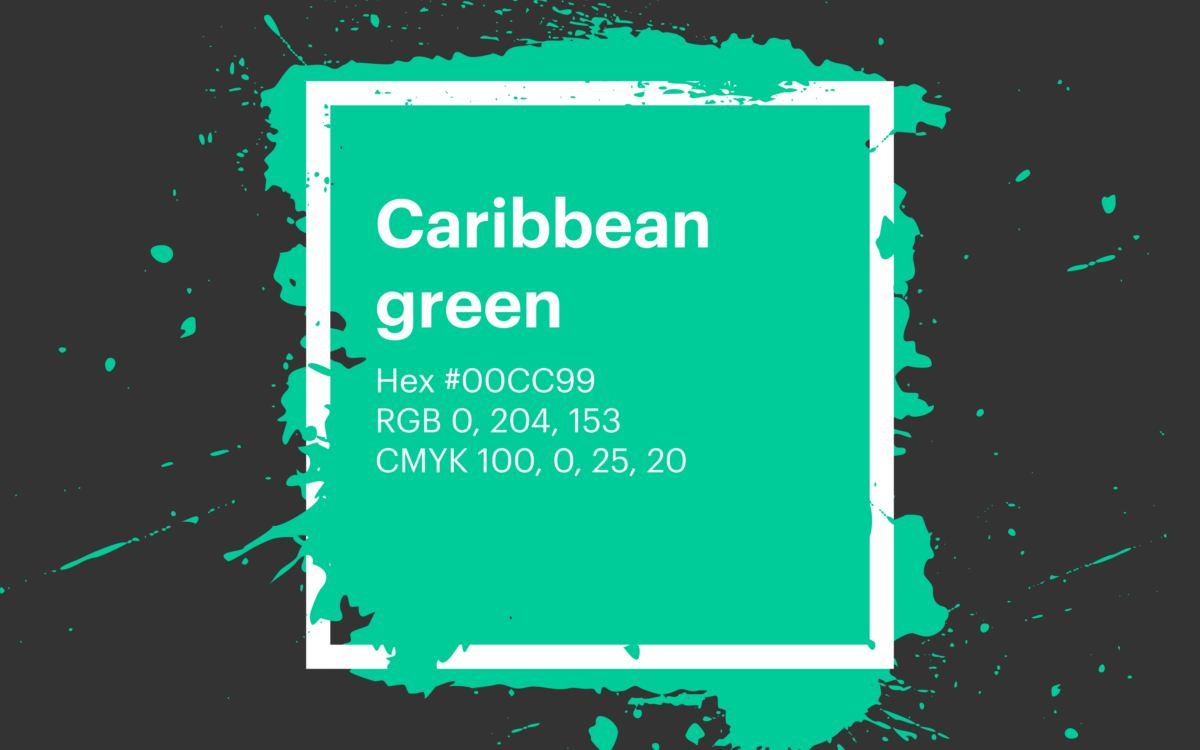 Caribbean Green
Caribbean Green is a pretty pale green compared to some other options. This color is intended to mimic the shade of the waters of the Caribbean. The heavy blue components help to convey an idea of a warm and summery atmosphere.
Hex #00CC99
RGB 0, 204, 153
CMYK 100, 0, 25, 20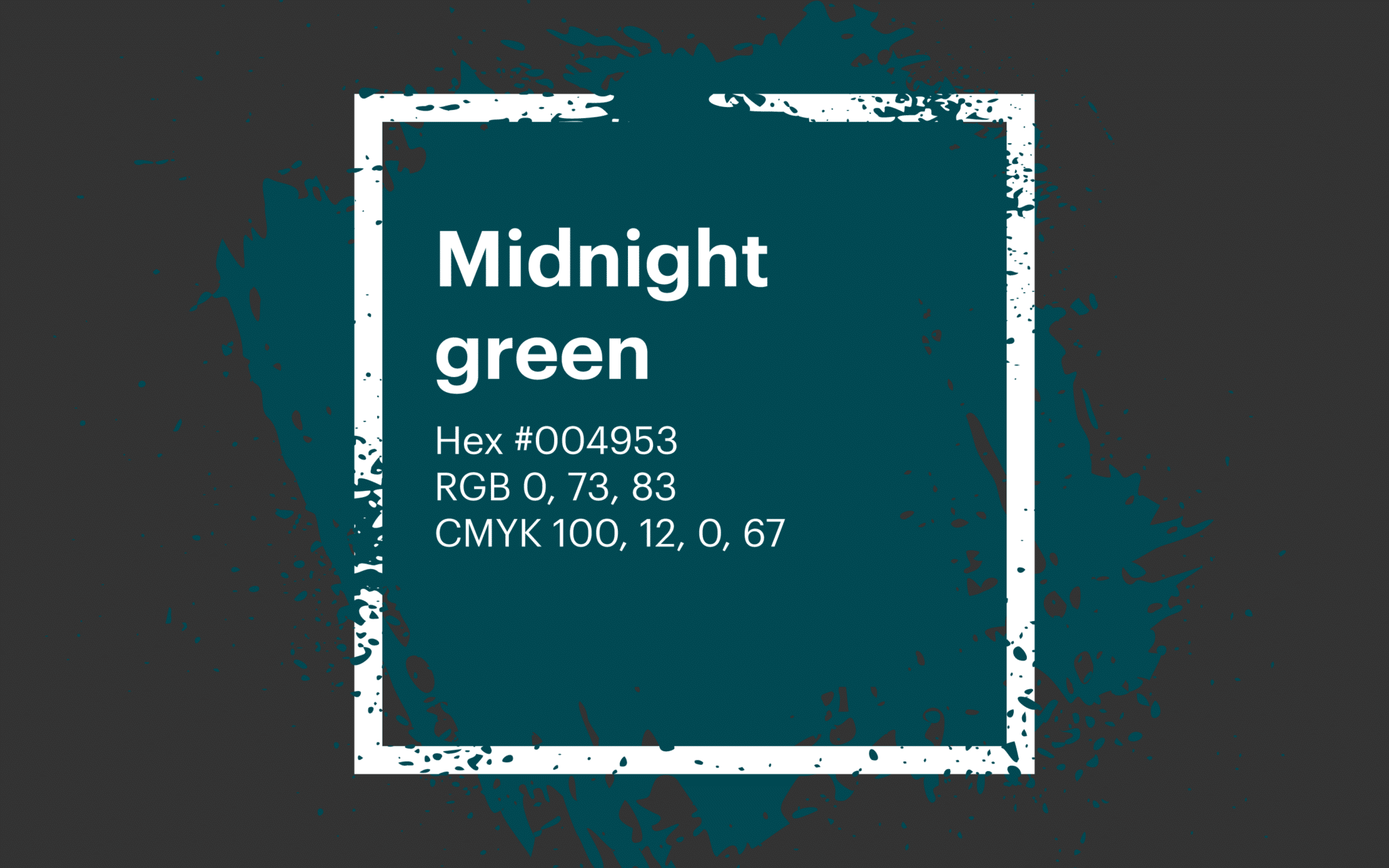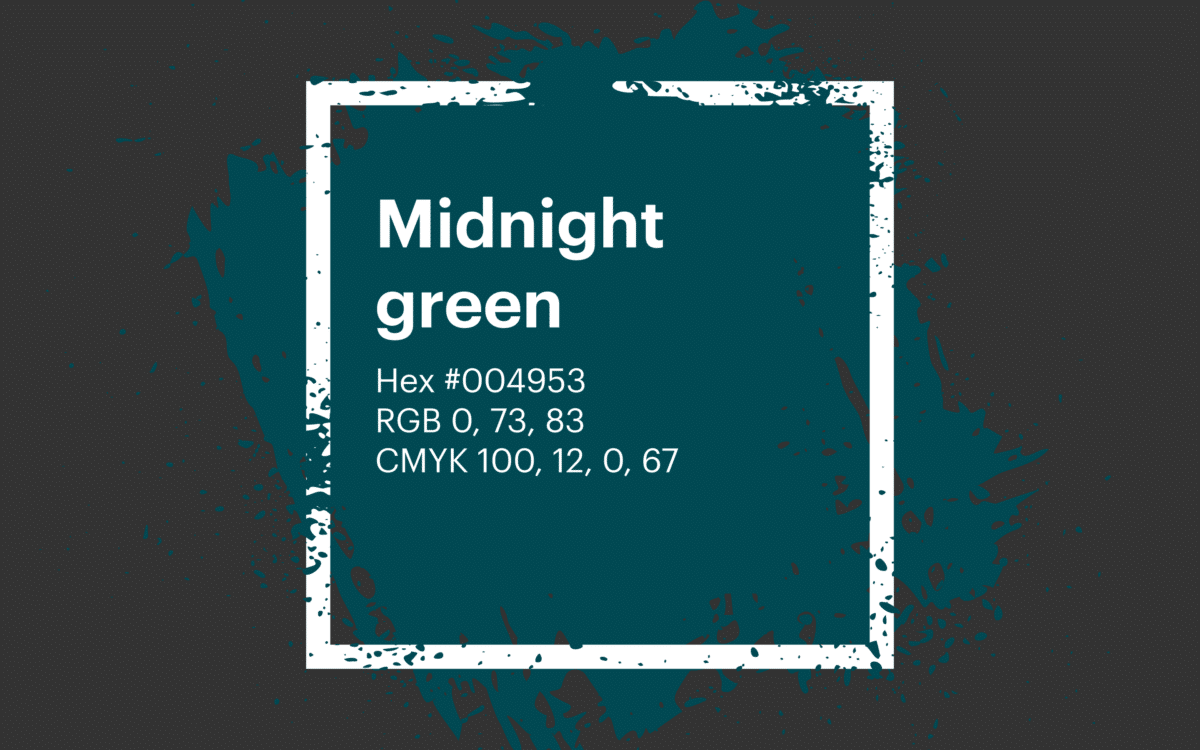 Midnight Green
One of the deeper shades of blue-green available, Midnight Green is the official color of the Philadelphia Eagles, so it's sometimes referred to as Eagle Green. This is a bold and enigmatic color with an almost vintage edge to it. It's great for making a statement.
Hex #004953
RGB 0, 73, 83
CMYK 100, 12, 0, 67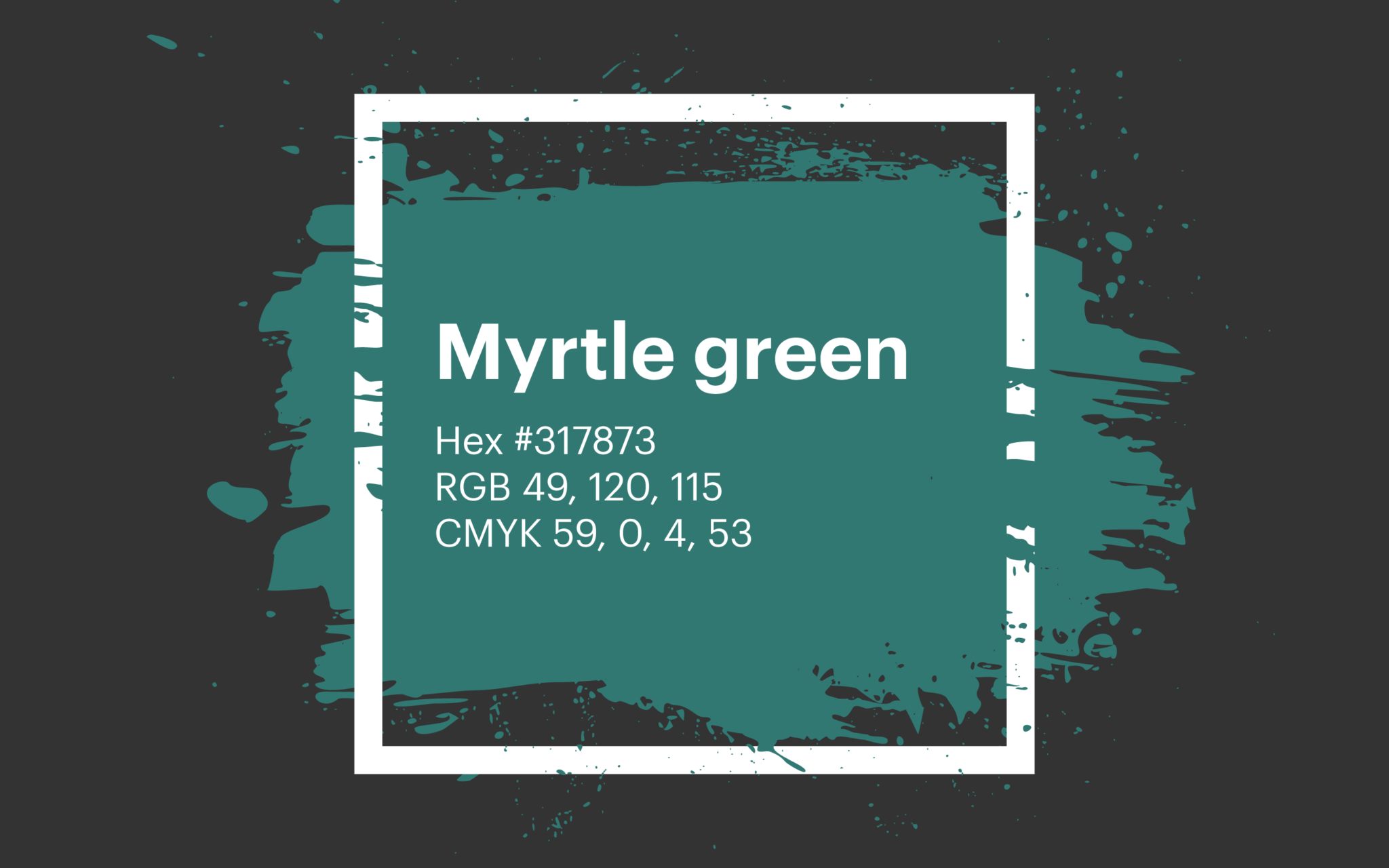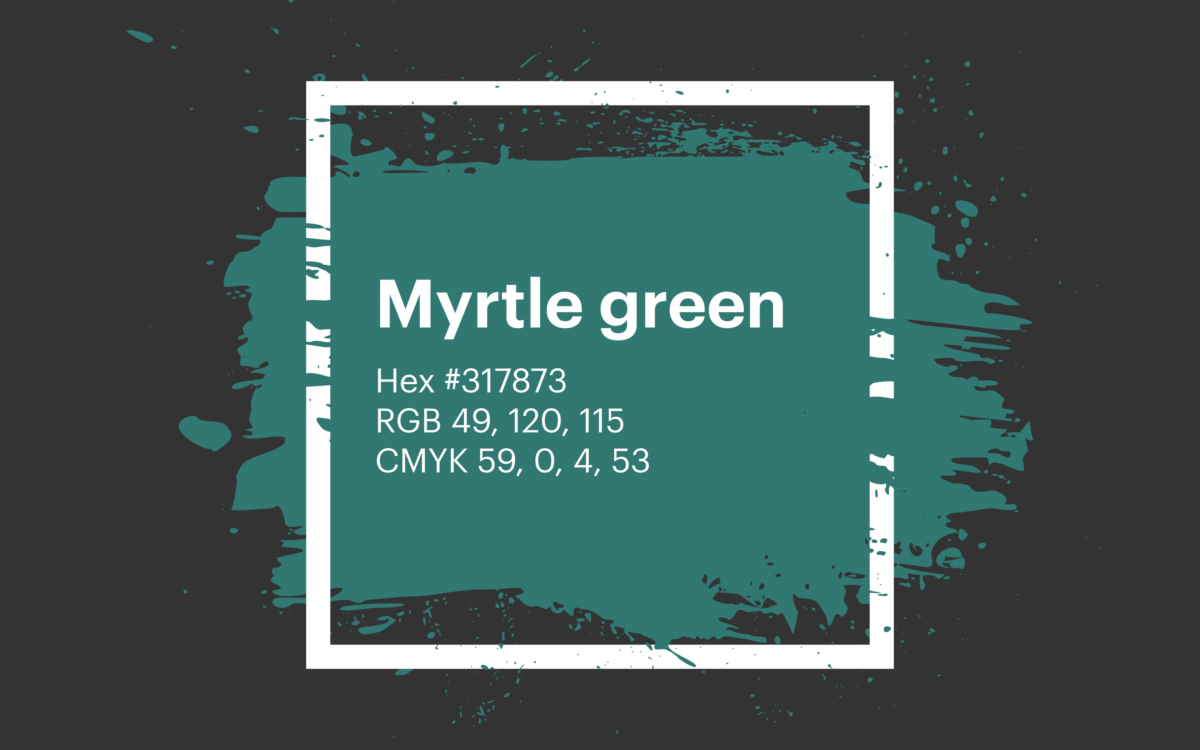 Myrtle Green
Designed to represent the familiar color of the myrtle plant, Myrtle Green embodies some of the exotic and mysterious qualities of the plants of the Mediterranean region. This is an attractive shade with a subdued nature, thanks to extra elements of white and black.
Hex #317873
RGB 49, 120, 115
CMYK 59, 0, 4, 53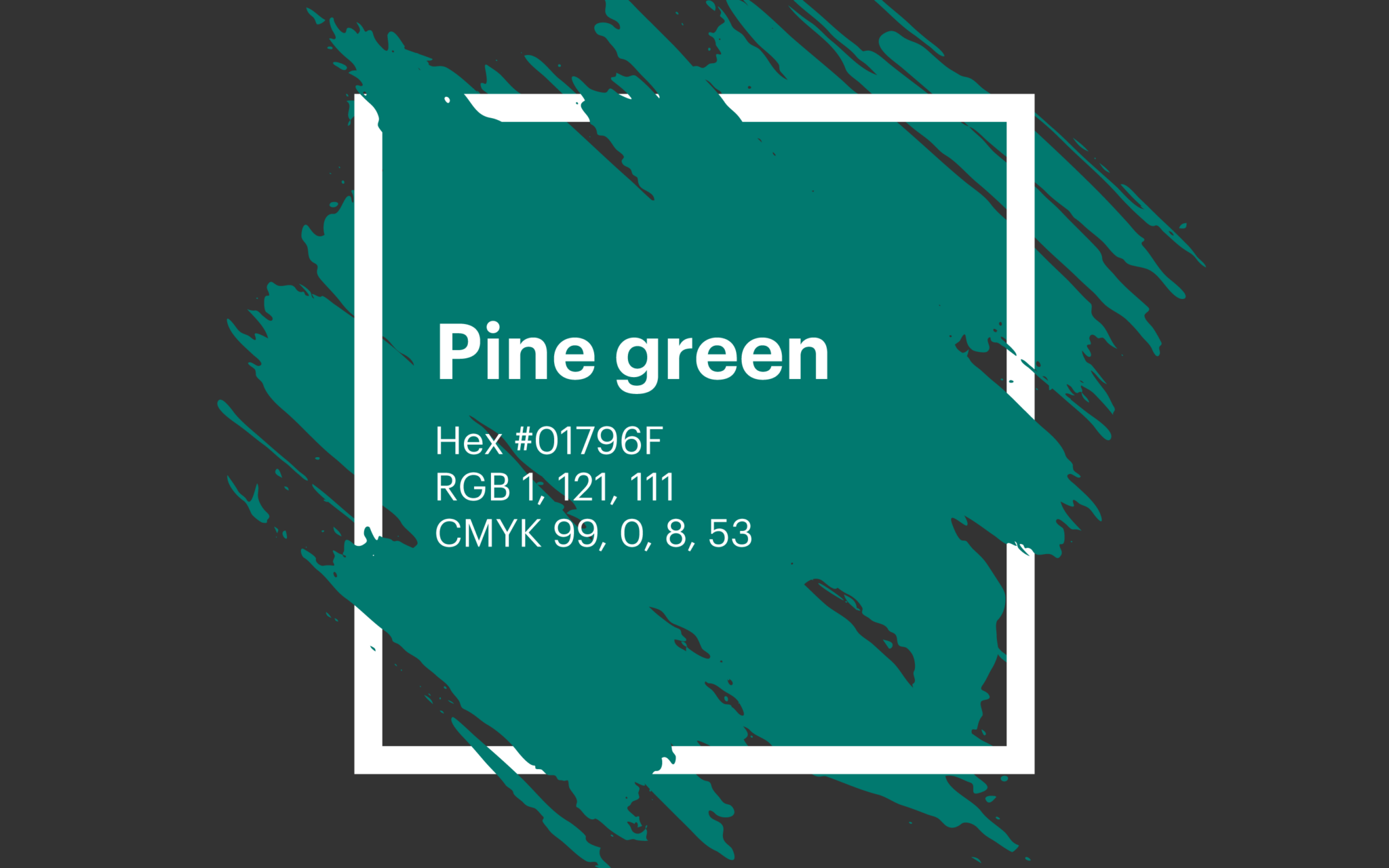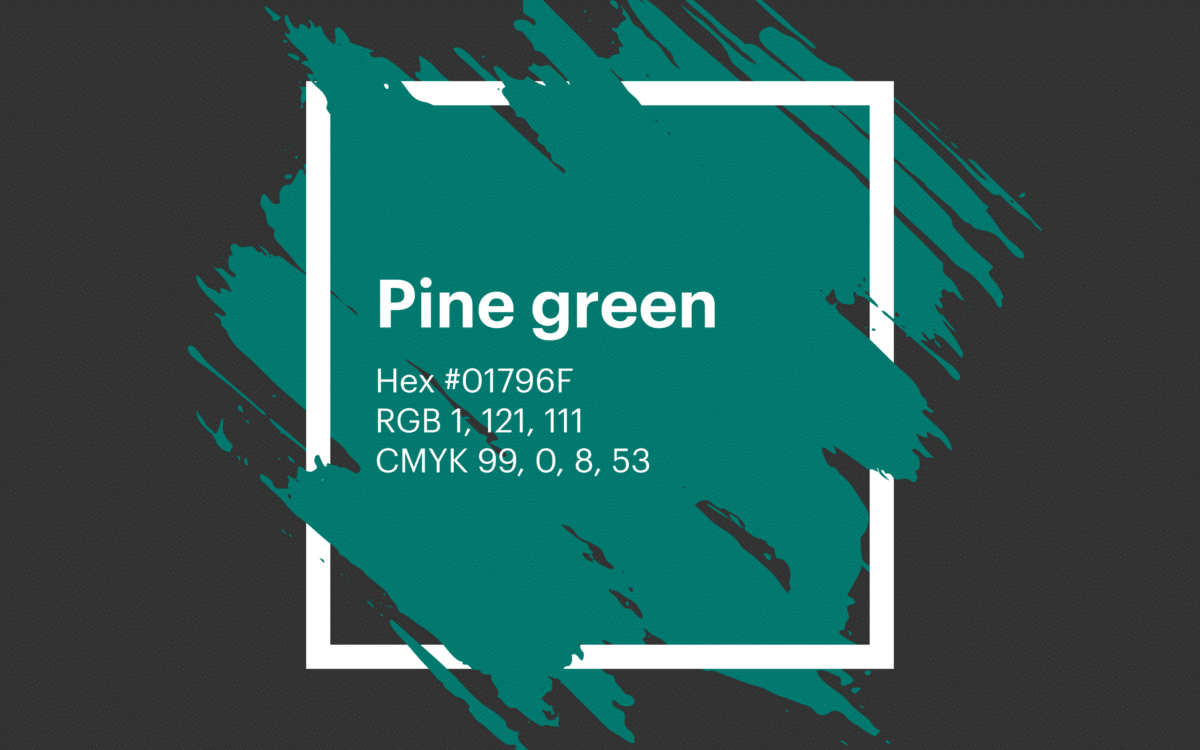 Pine Green
One of the most popular shades of green, Pine Green is a relatively bright and lively shade that veers aggressively toward the blue side of the spectrum. It's an official color for the Crayola company and a popular choice among green pantones.
Hex #01796F
RGB 1, 121, 111
CMYK 99, 0, 8, 53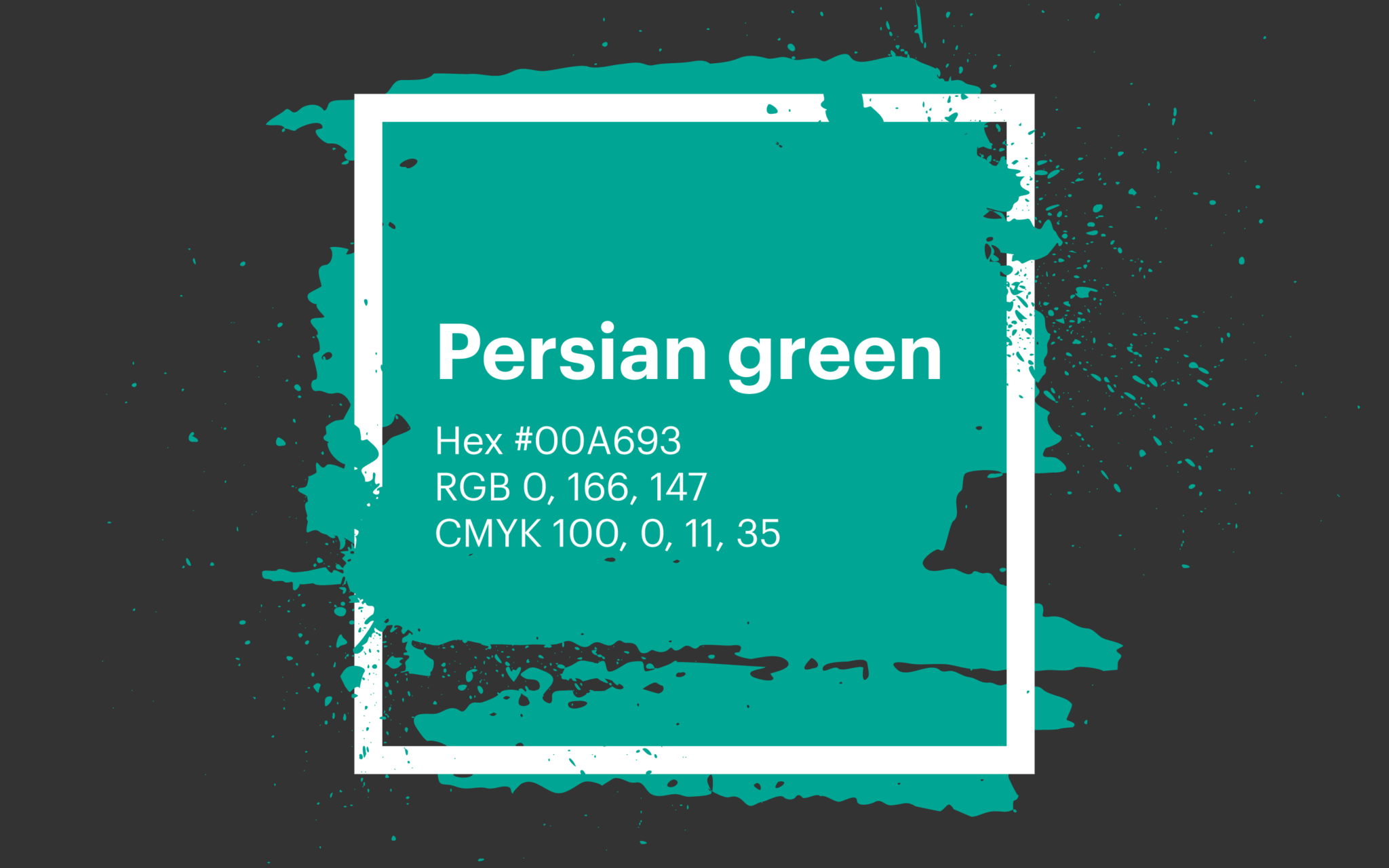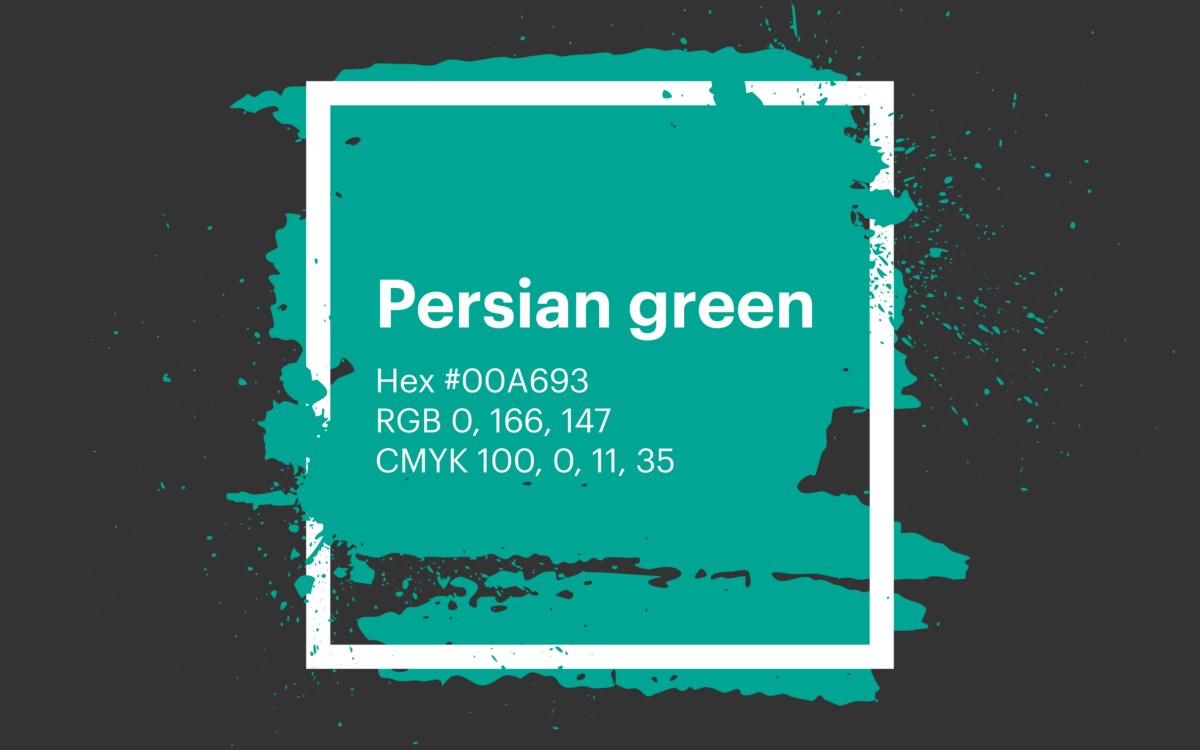 Persian Green
Persian Green is a beautiful shade that doesn't always get a lot of attention. This bright and airy color is excellent for those who want to convey a sense of creativity in their branding without choosing a shade that's too overwhelming or garish.
Hex #00A693
RGB 0, 166, 147
CMYK 100, 0, 11, 35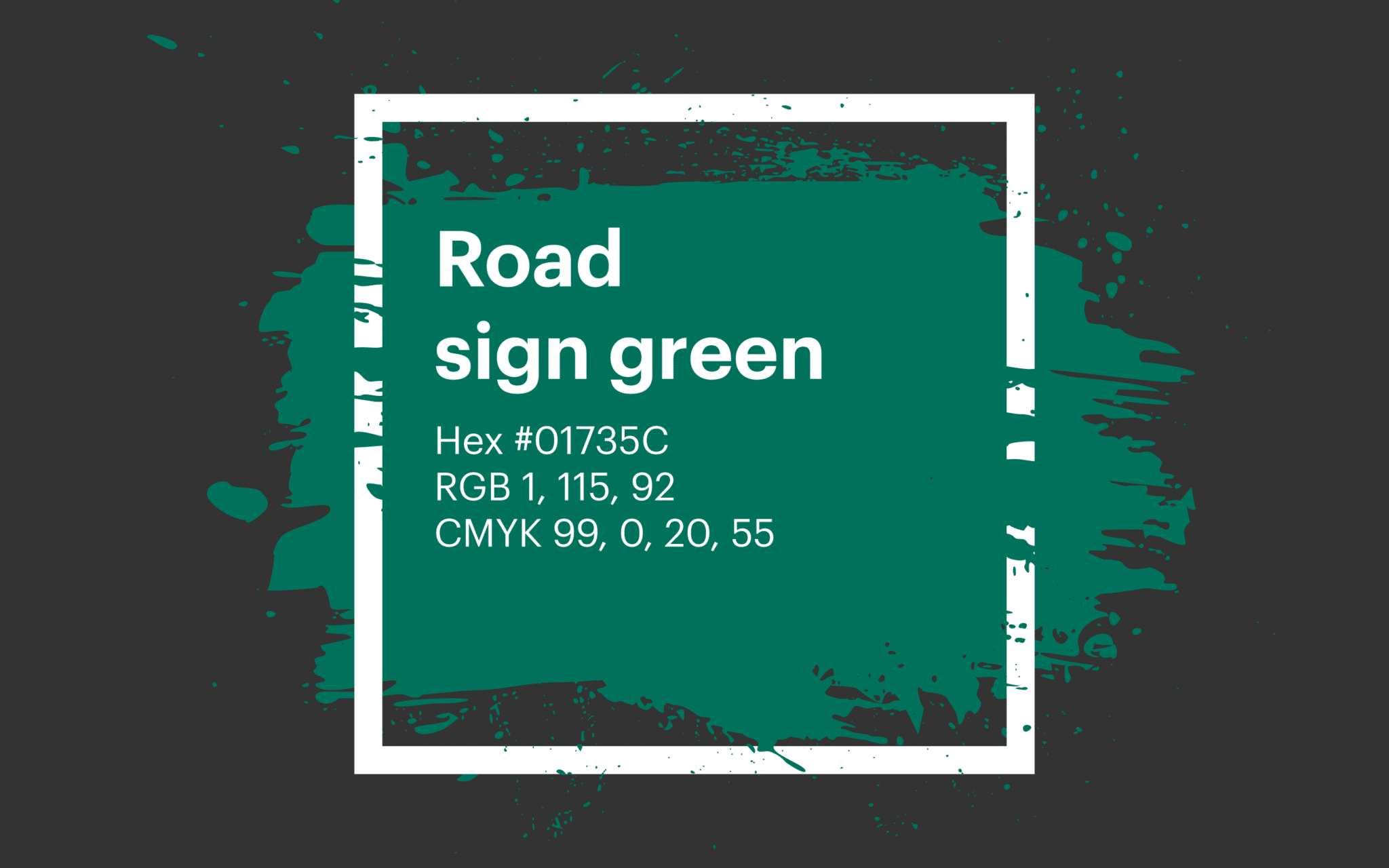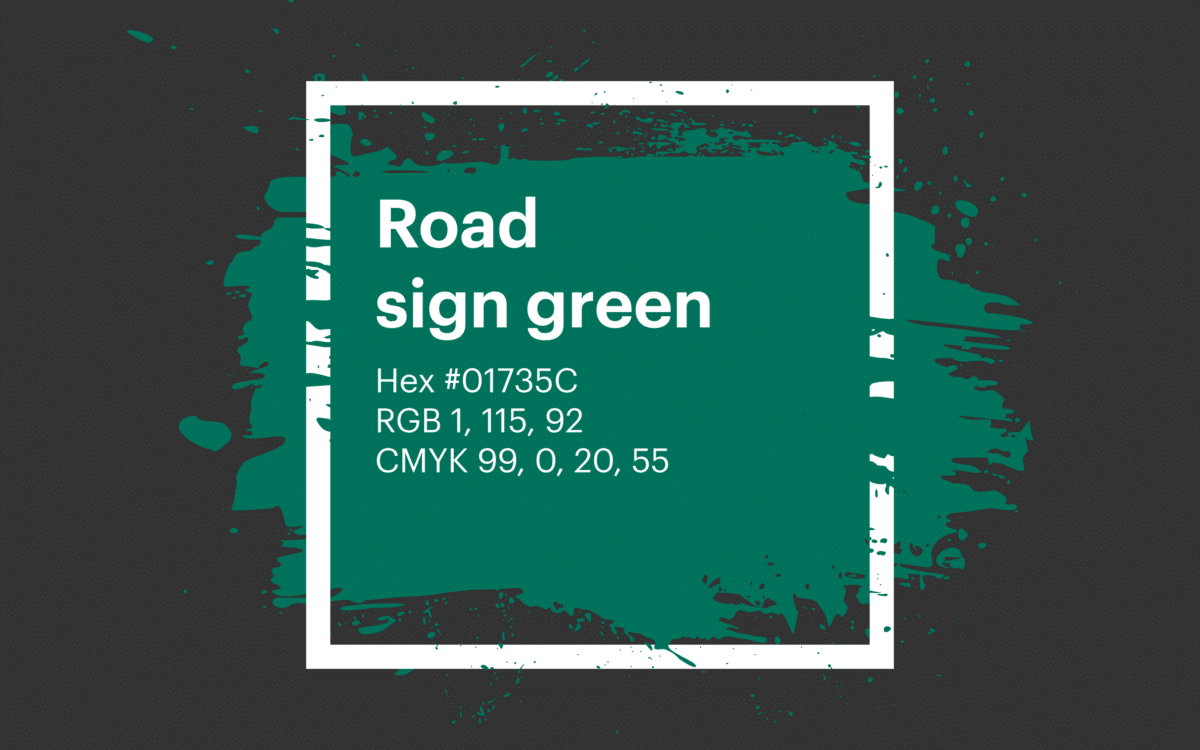 Road Sign Green
This subdued blue-green is intended to be similar to the colors of some road signs, particularly in the UK. The shade veers mostly towards blue, with only a slight amount of yellow. This could make it an excellent pick for your project if you're looking for a relatively cool color palette.
Hex #01735C
RGB 1, 115, 92
CMYK 99, 0, 20, 55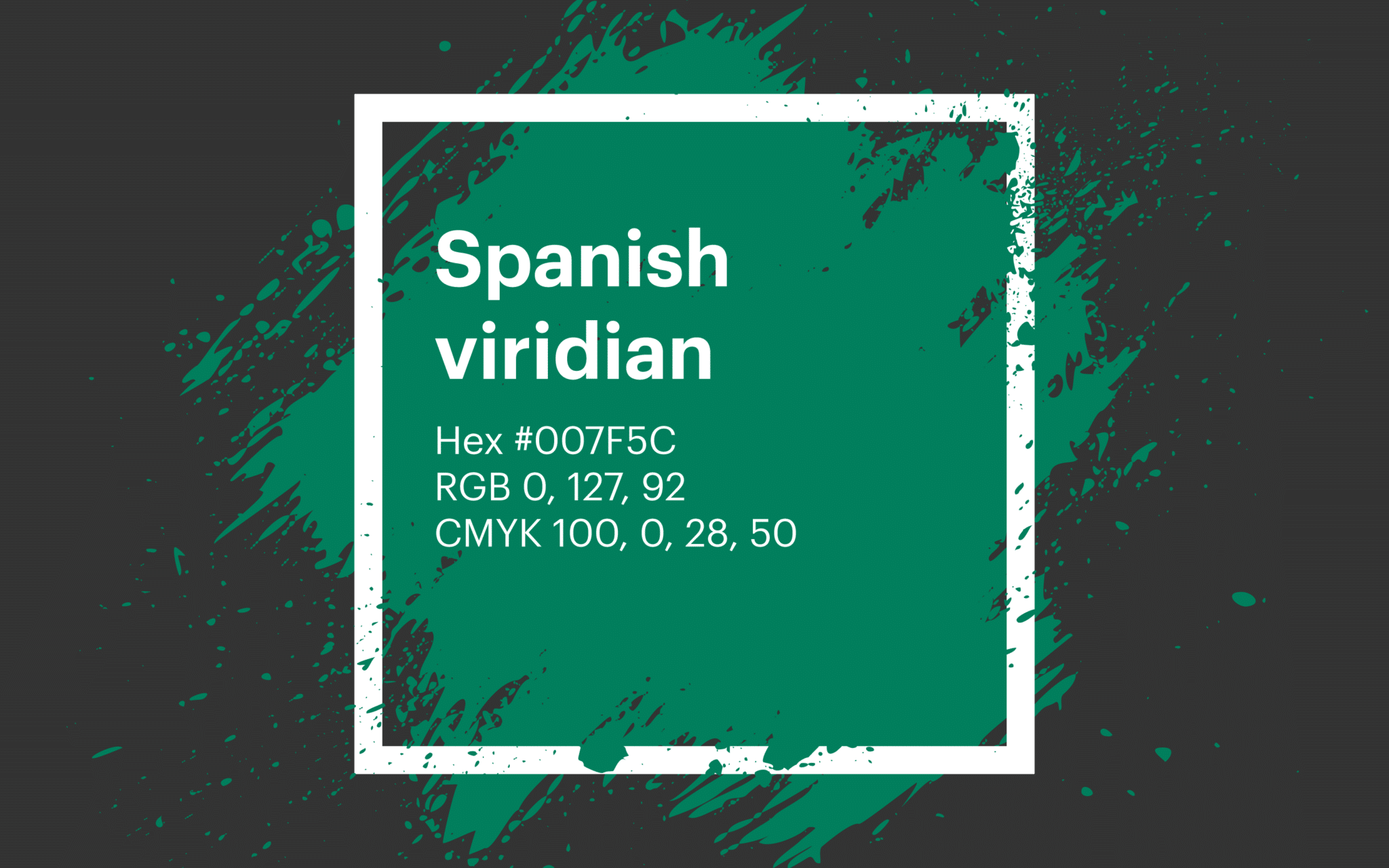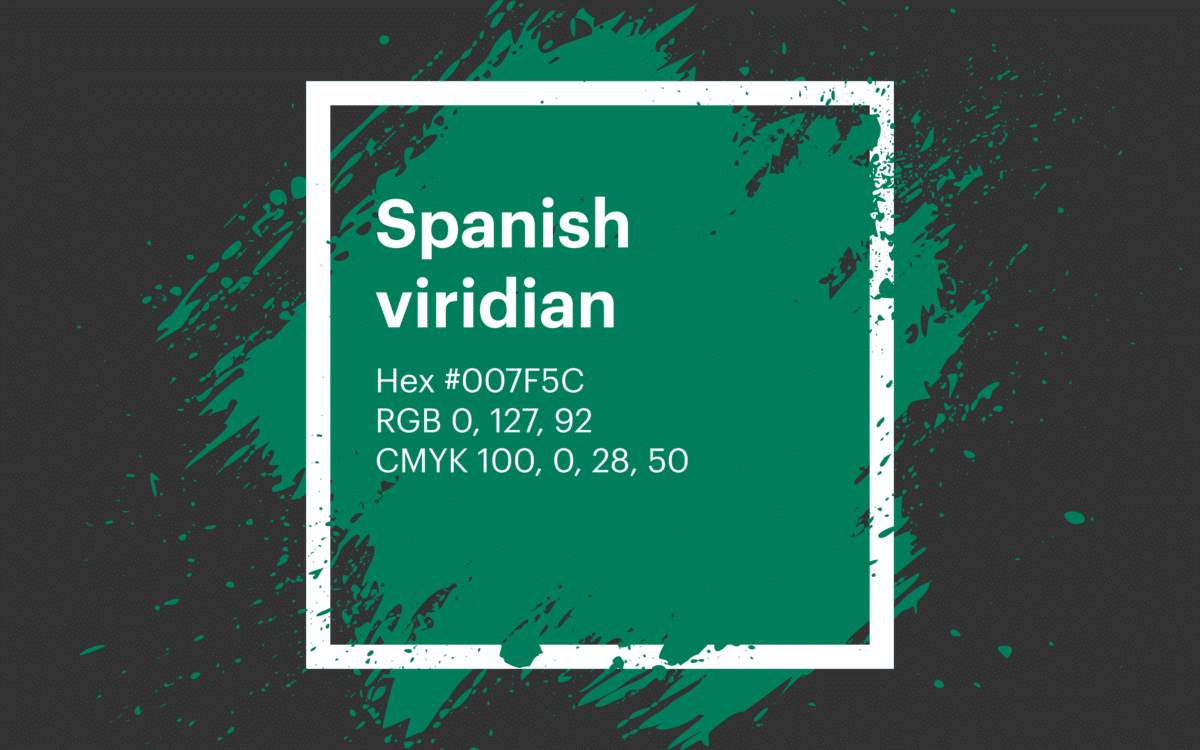 Spanish Viridian
Spanish Viridian is a cooler variant of the well-known shade, Viridian. This color is deep and beautiful, with a good mixture of yellow and blue. The color has a little more liveliness to it than the traditional Viridian, making it ideal for capturing attention.
Hex #007F5C
RGB 0, 127, 92
CMYK 100, 0, 28, 50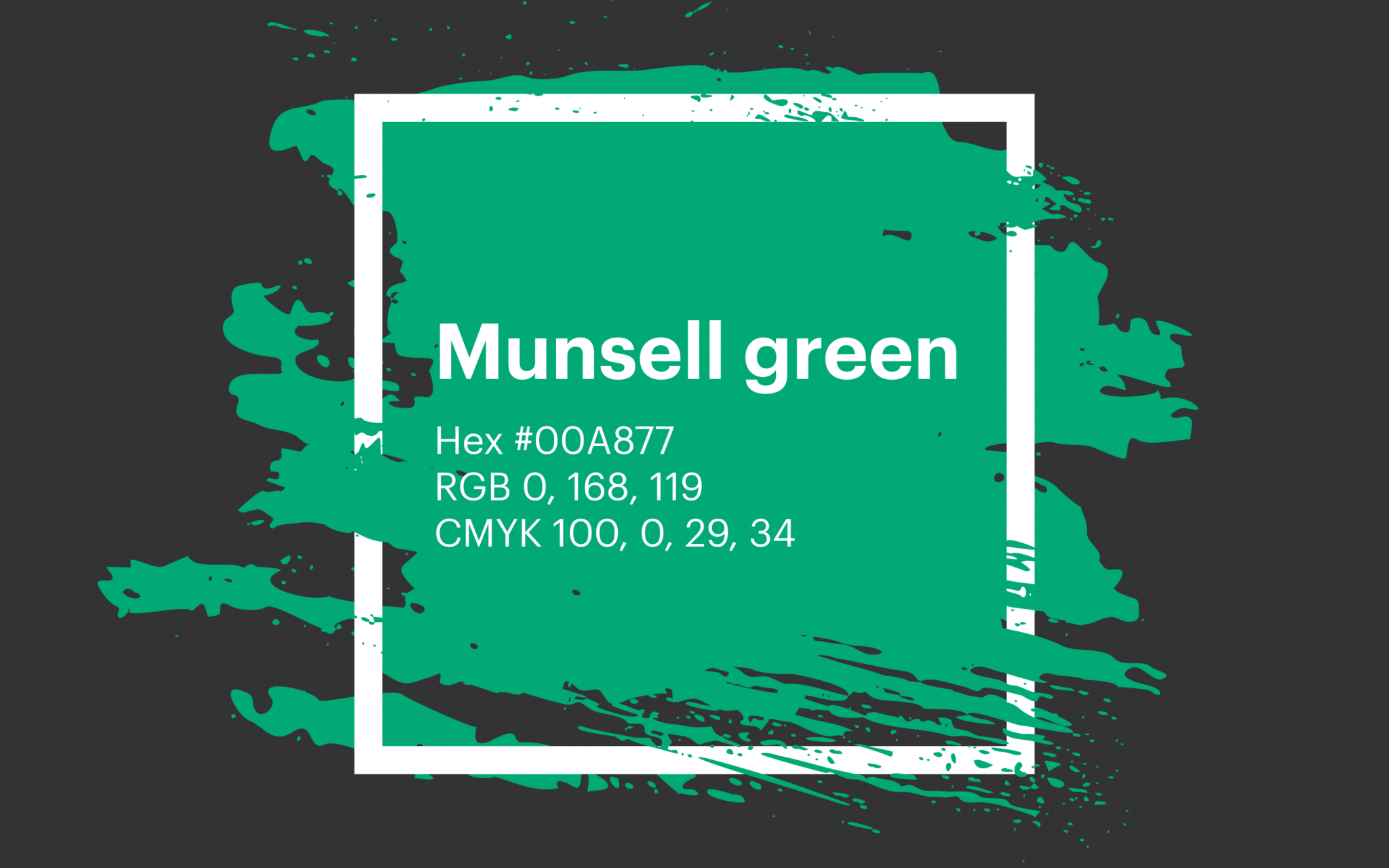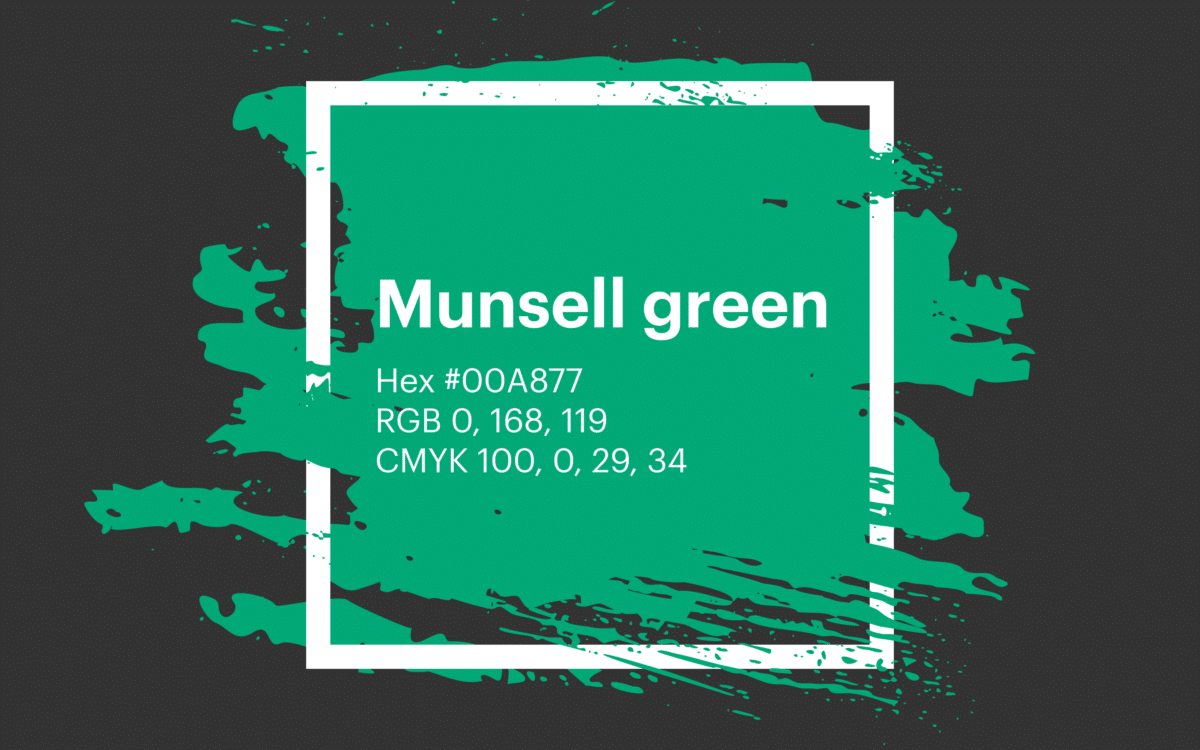 Munsell Green
Munsell Green is featured by the Munsell color company, which created a unique color system focused on the chroma value of different colors and the "hue" of the shade. Chroma is a pleasant and cool color, and it's not as subdued as some other shades.
Hex #00A877
RGB 0, 168, 119
CMYK 100, 0, 29, 34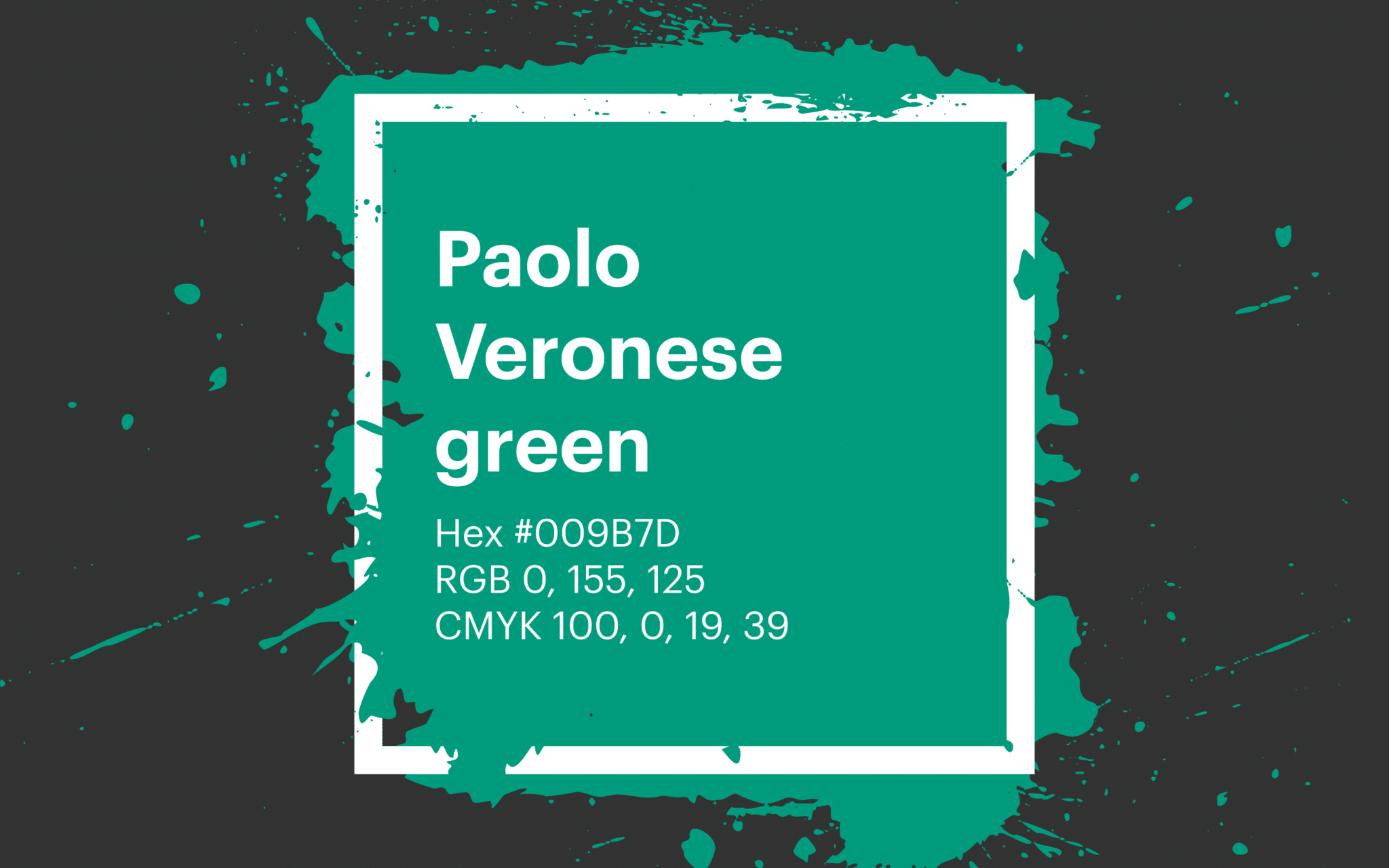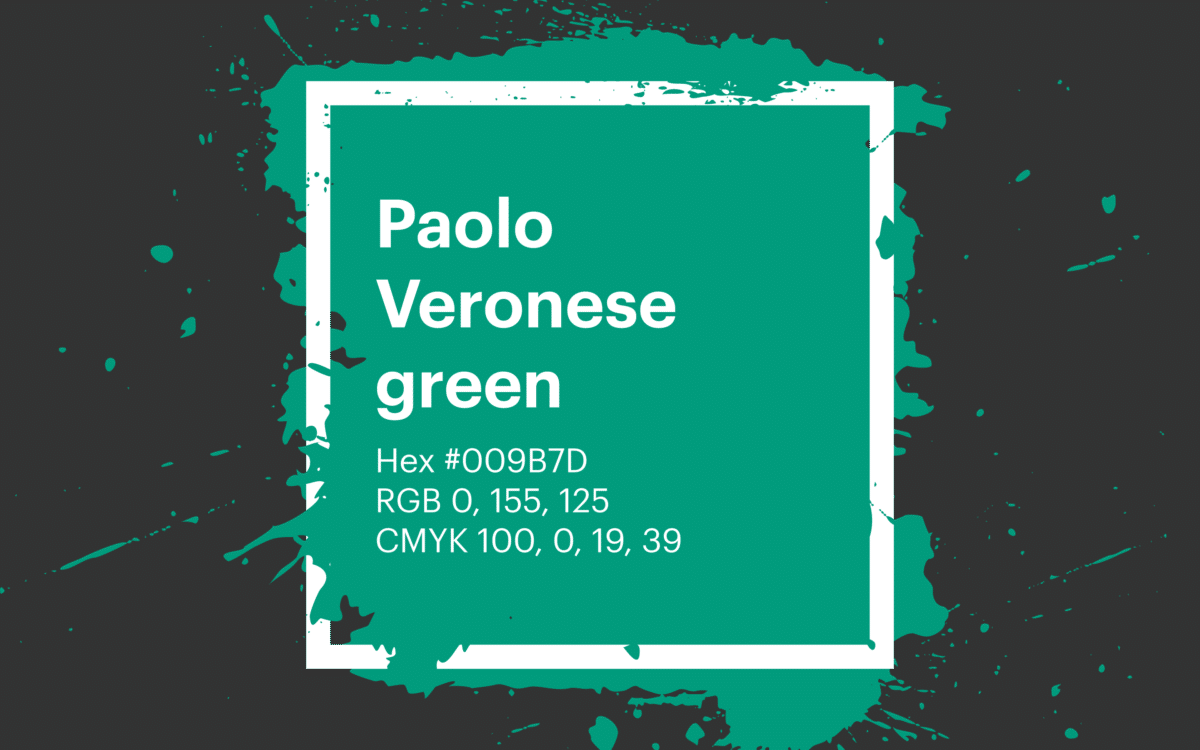 Paolo Veronese Green
Named after renowned Renaissance painter Paolo Veronese, this beautiful green is brimming with lively undertones. It's similar to Viridian in some ways, but it has an extra blue level, which helps maintain its cool and calming vibe.
Hex #009B7D
RGB 0, 155, 125
CMYK 100, 0, 19, 39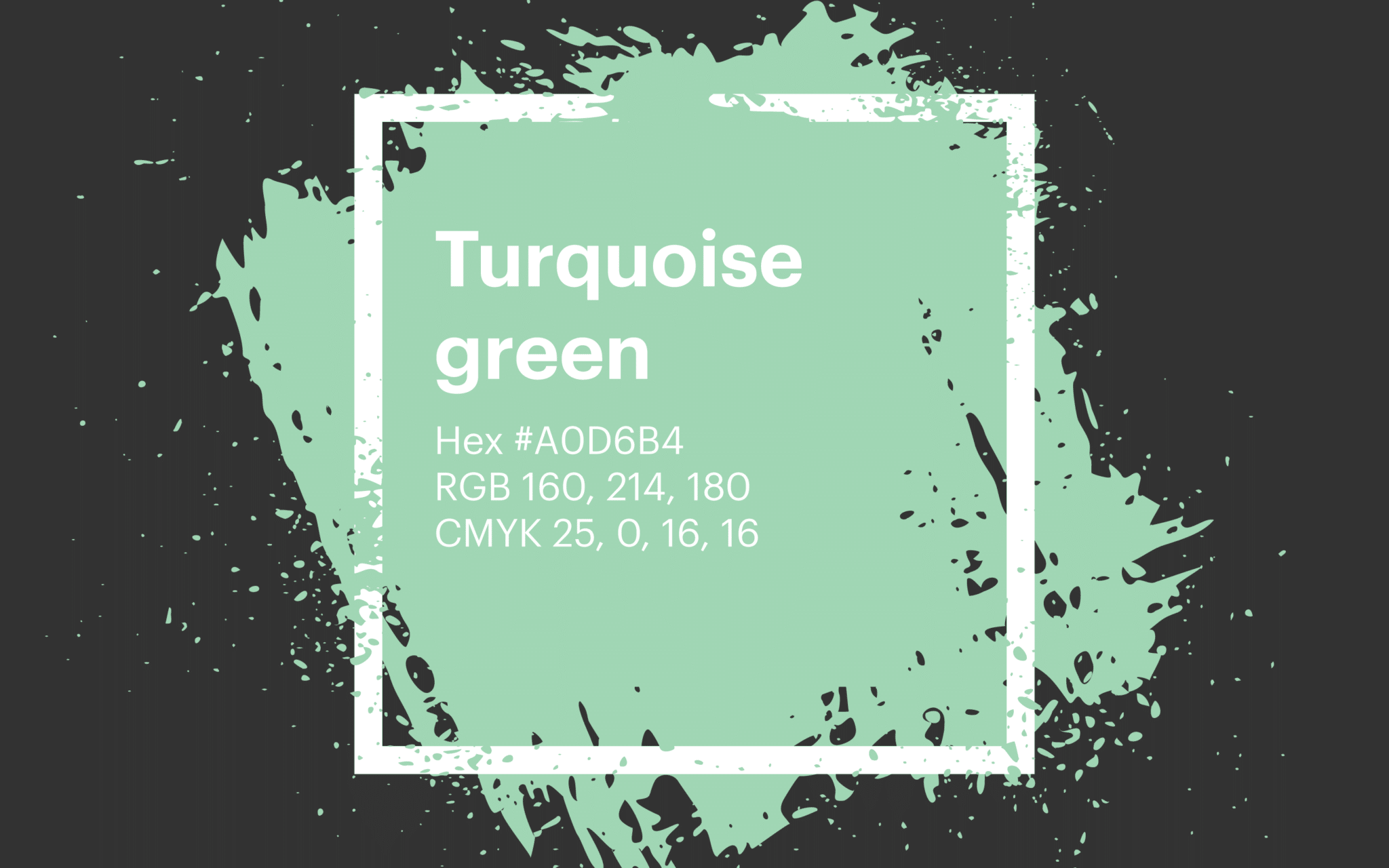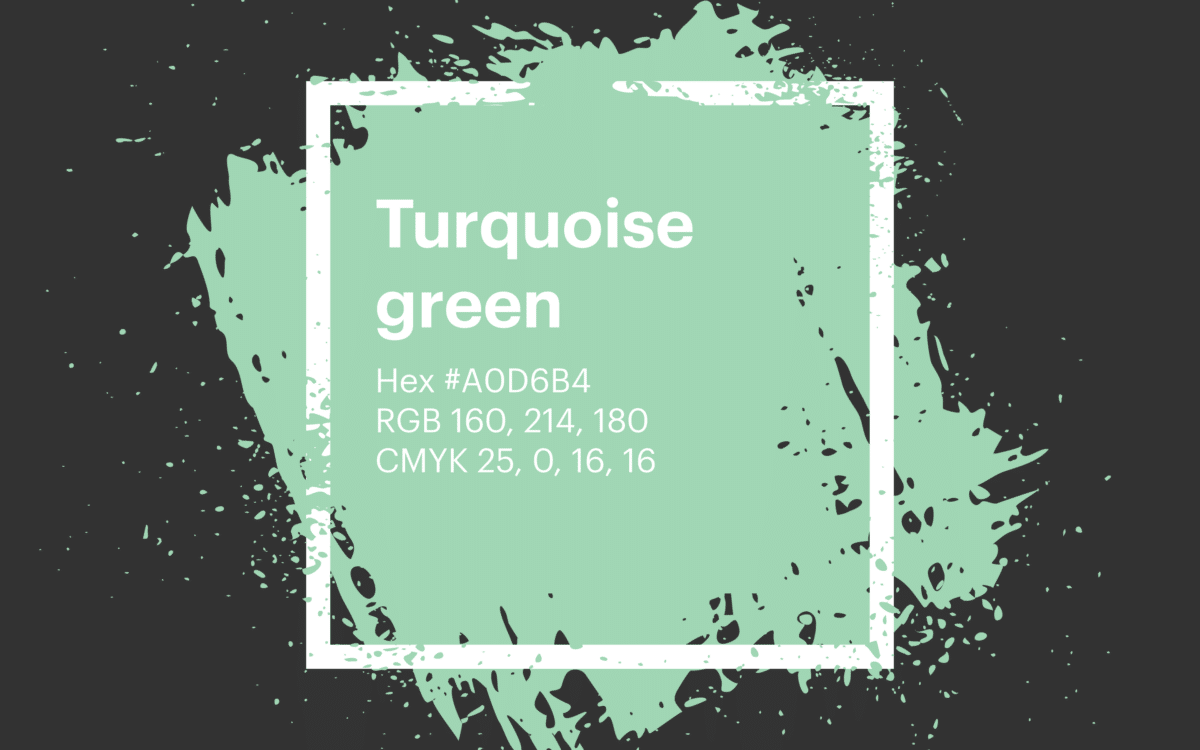 Turquoise Green
Turquoise green is usually described as a shade of blue. However, there's also a variation of Turquoise, which has a little more green to it. This is quite a pale color, with a high level of blue and a minimal amount of yellow, as shown in the CMYK values.
Hex #A0D6B4
RGB 160, 214, 180
CMYK 25, 0, 16, 16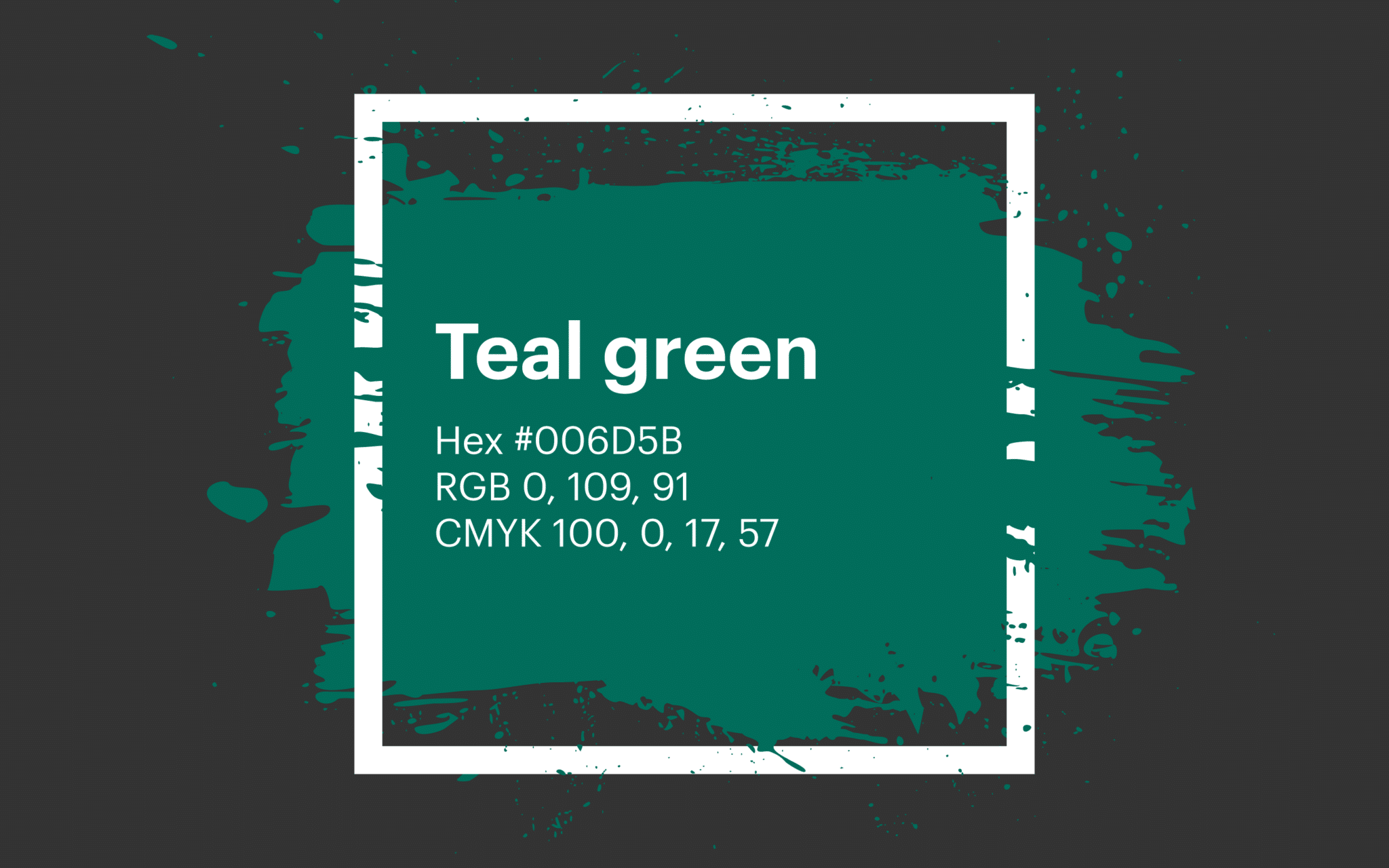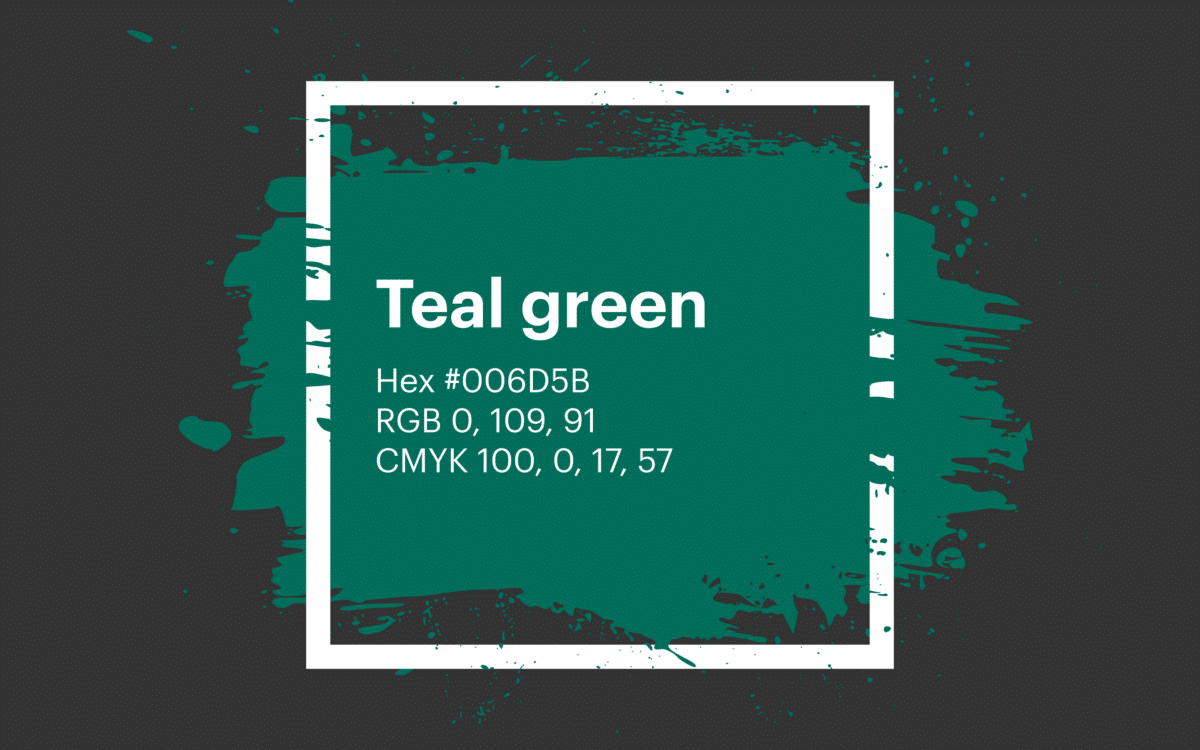 Teal Green
Teal Green is named after a duck from North America with greenish feathers around its eyes. This attractive and inspiring color has a lot of depth, thanks to heavy levels of black. It's also a cooler shade due to its blue content. It works well with other brighter, light greens.
#006D5B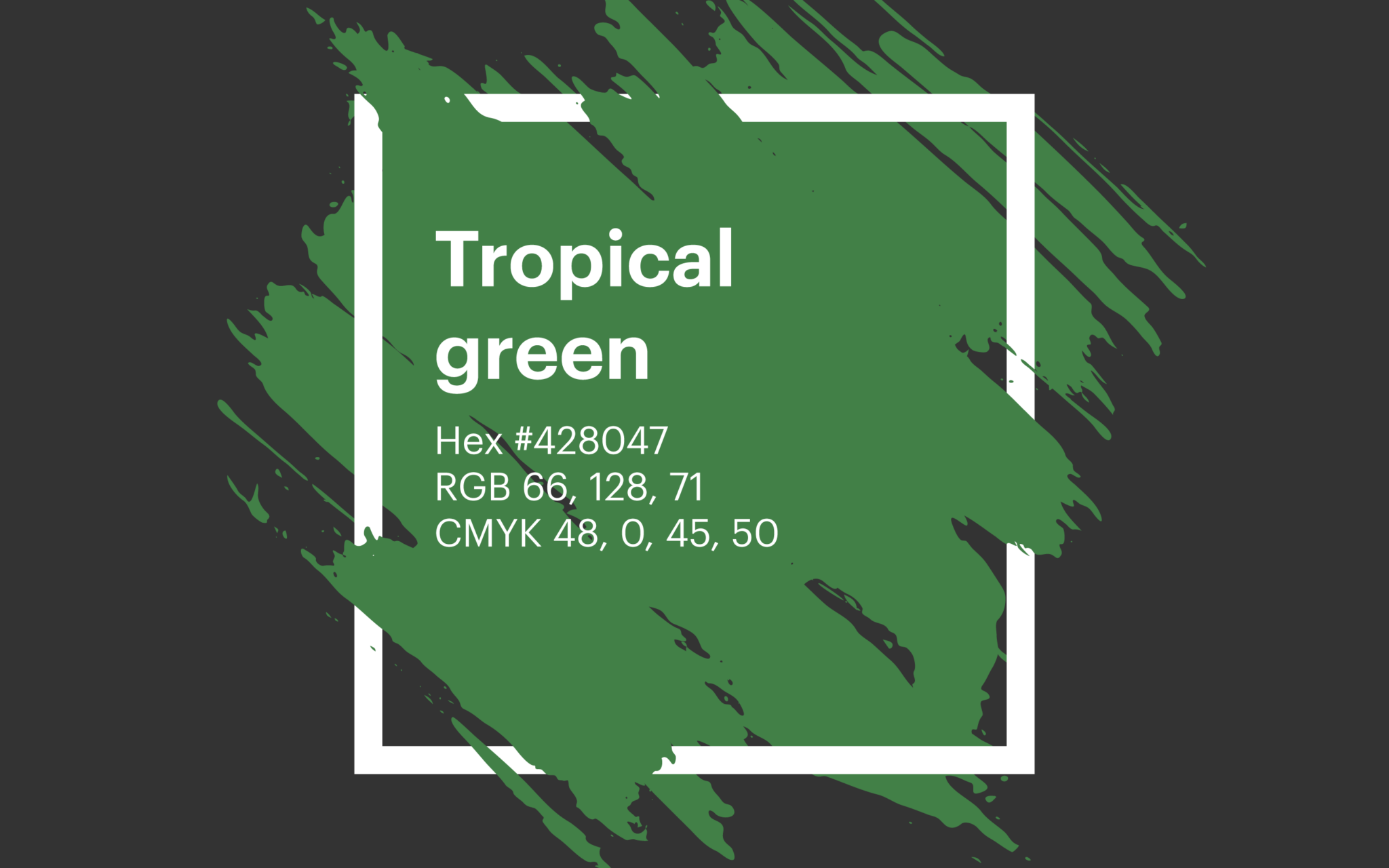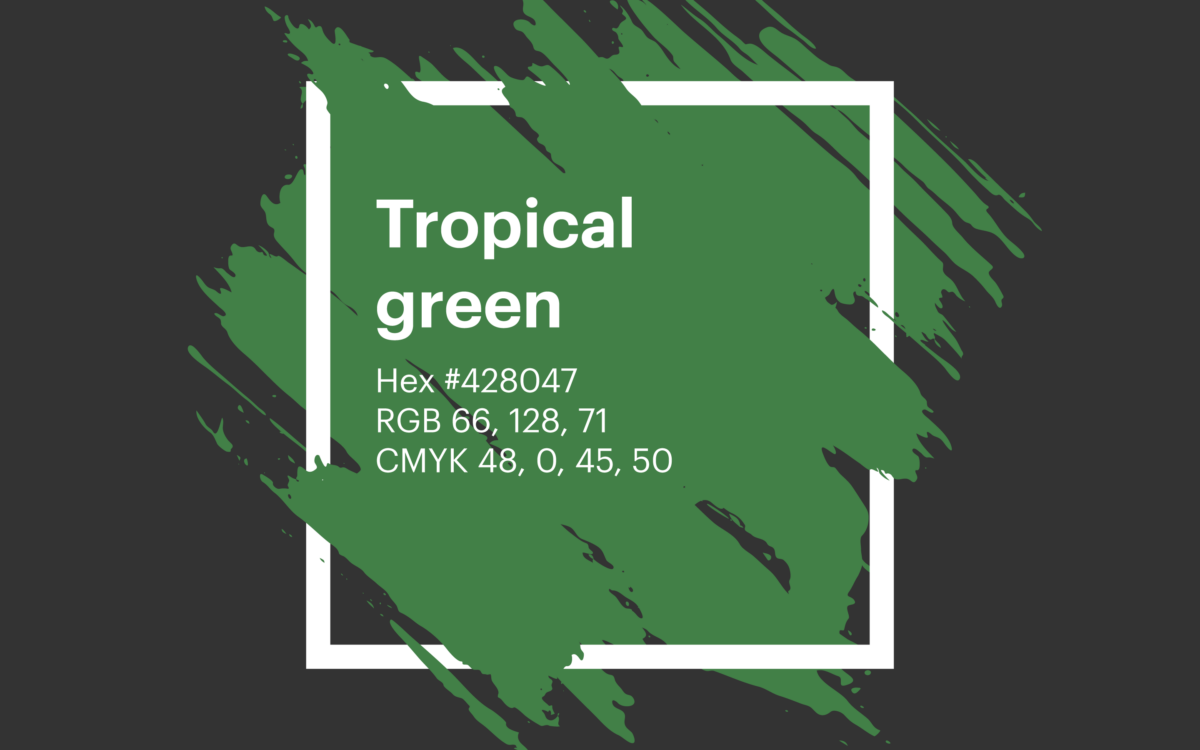 Tropical Green
Tropical Green is a pretty bright and vibrant shade, ideal for statement walls and brand color palettes. It has a good balance of blue and yellow but veers slightly further toward the blue side for a cool and relaxing effect.
#428047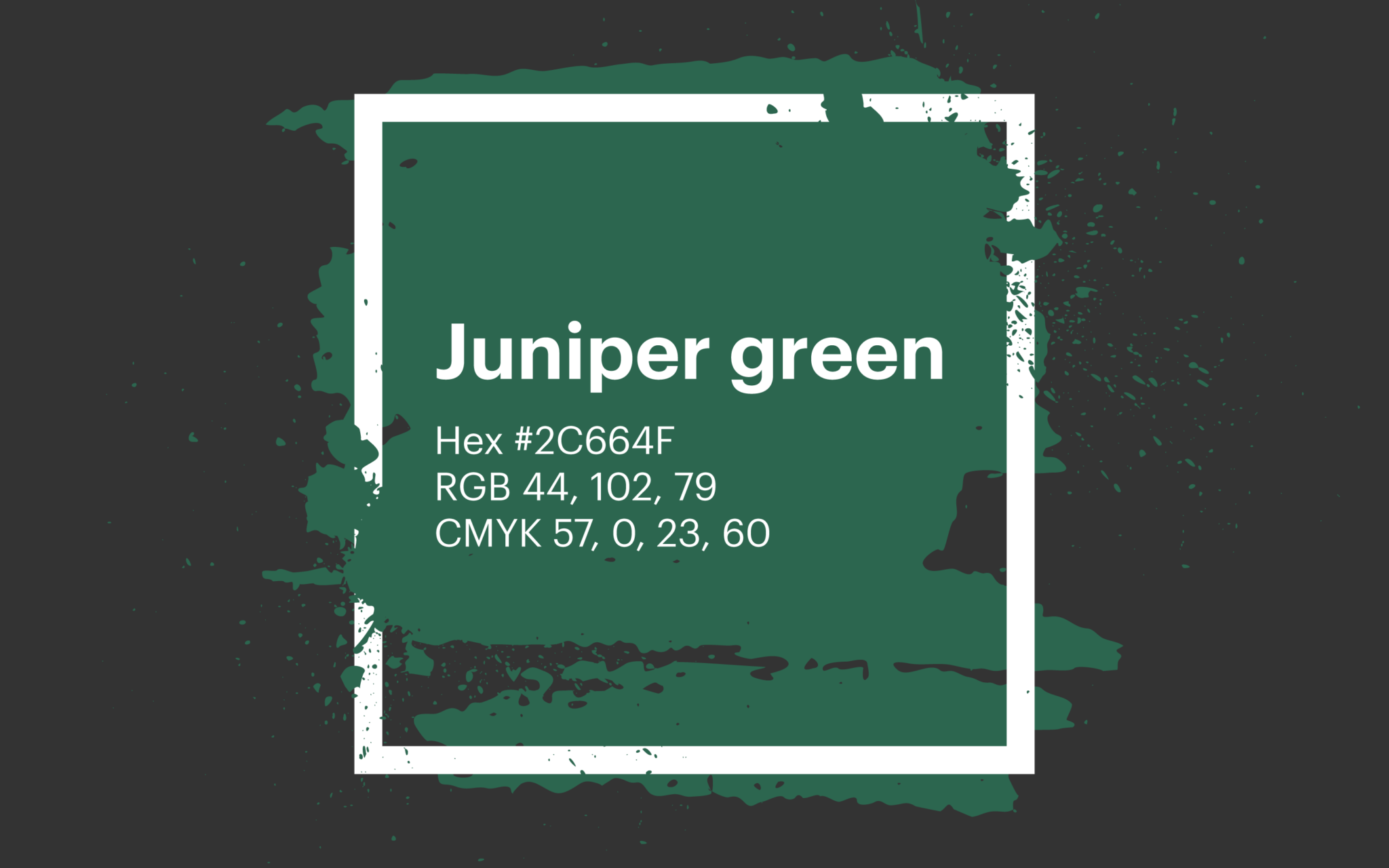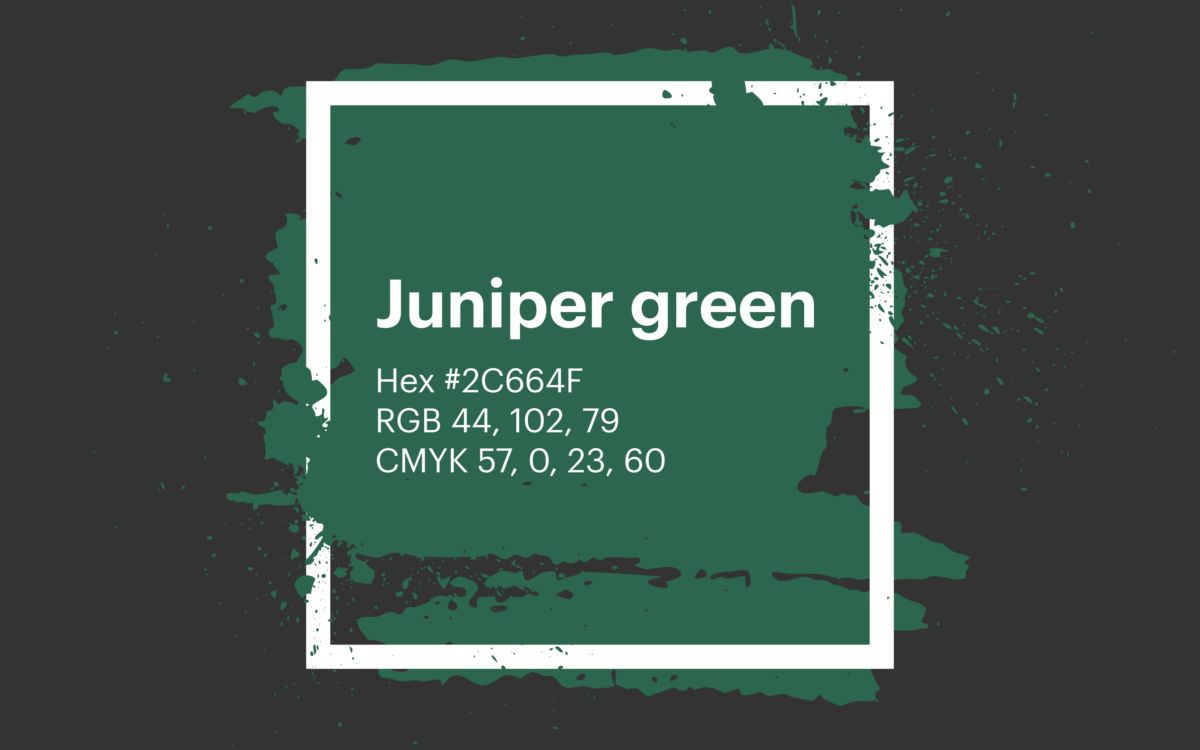 Juniper Green
Another fantastic green shade that looks brilliant in vintage-style homes, Juniper Green has a heavy proportion of blue, which subdues the vibrancy of the shade. This deep and eye-catching green color can be mixed with white and black to create a range of tints.
#2C664F
Muted green shades
Muted greens use warm colors like orange and brown to remove some of the vibrancy of the underlying hue.
They're excellent when you want an organic or vintage green to help add a neutral essence to your project. These greens have an earthy vibe, making them perfect for more botanical color palettes.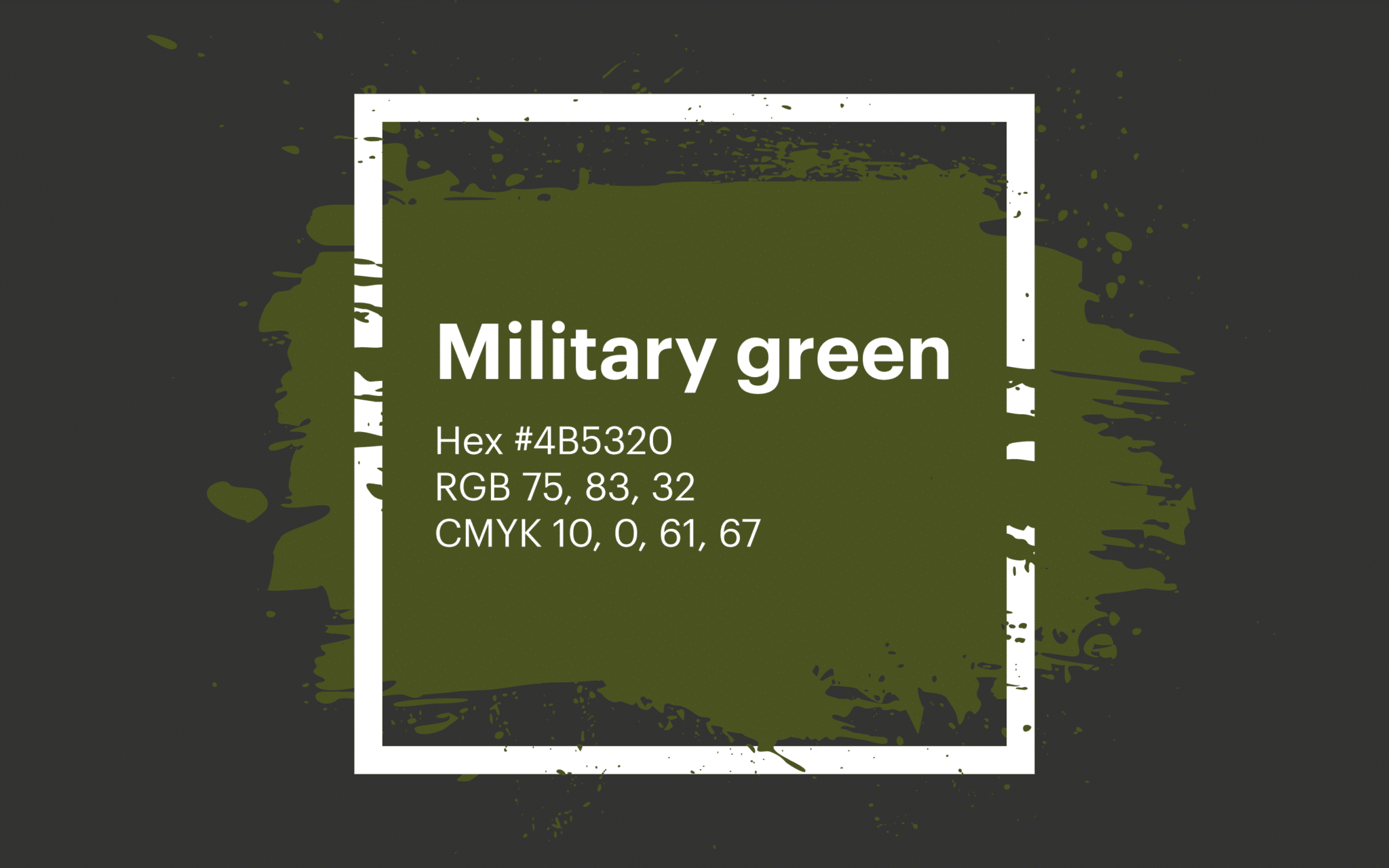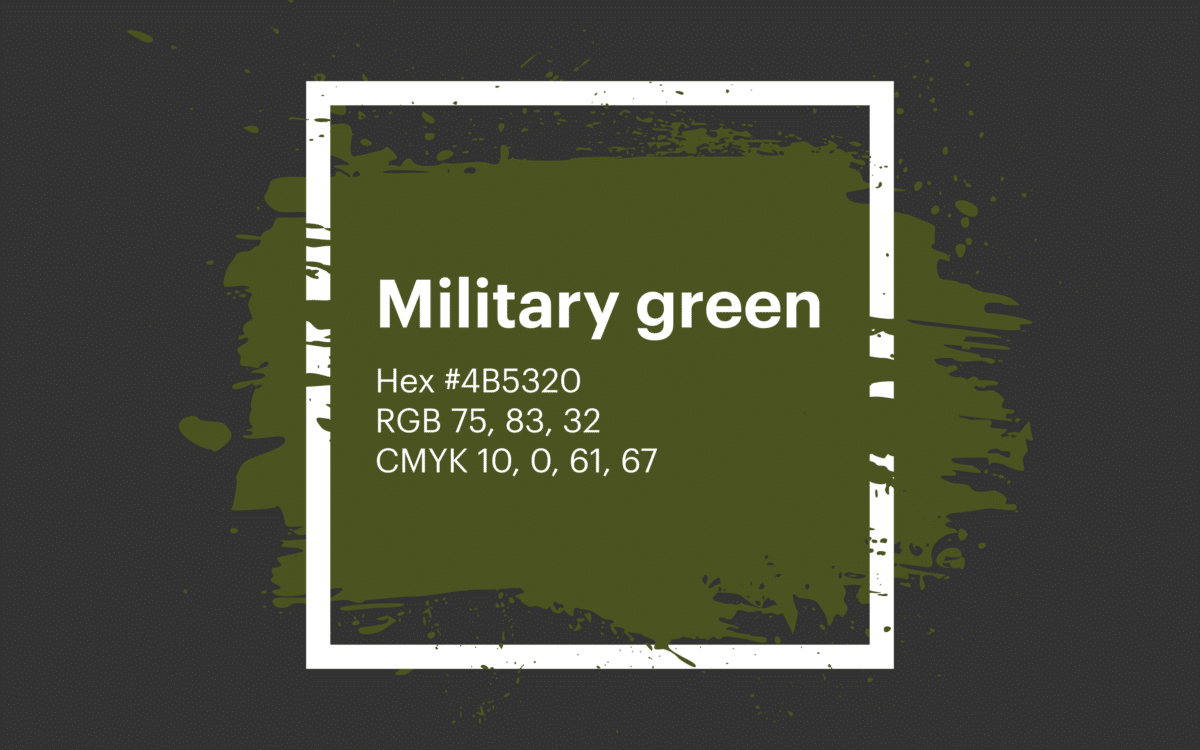 Military Green
Military Green is a deep, earthy shade with an almost brown edge. Used in the army for camouflage, this color comes in various variations, with some veering towards the softer, more yellow side of the palette.
#4B5320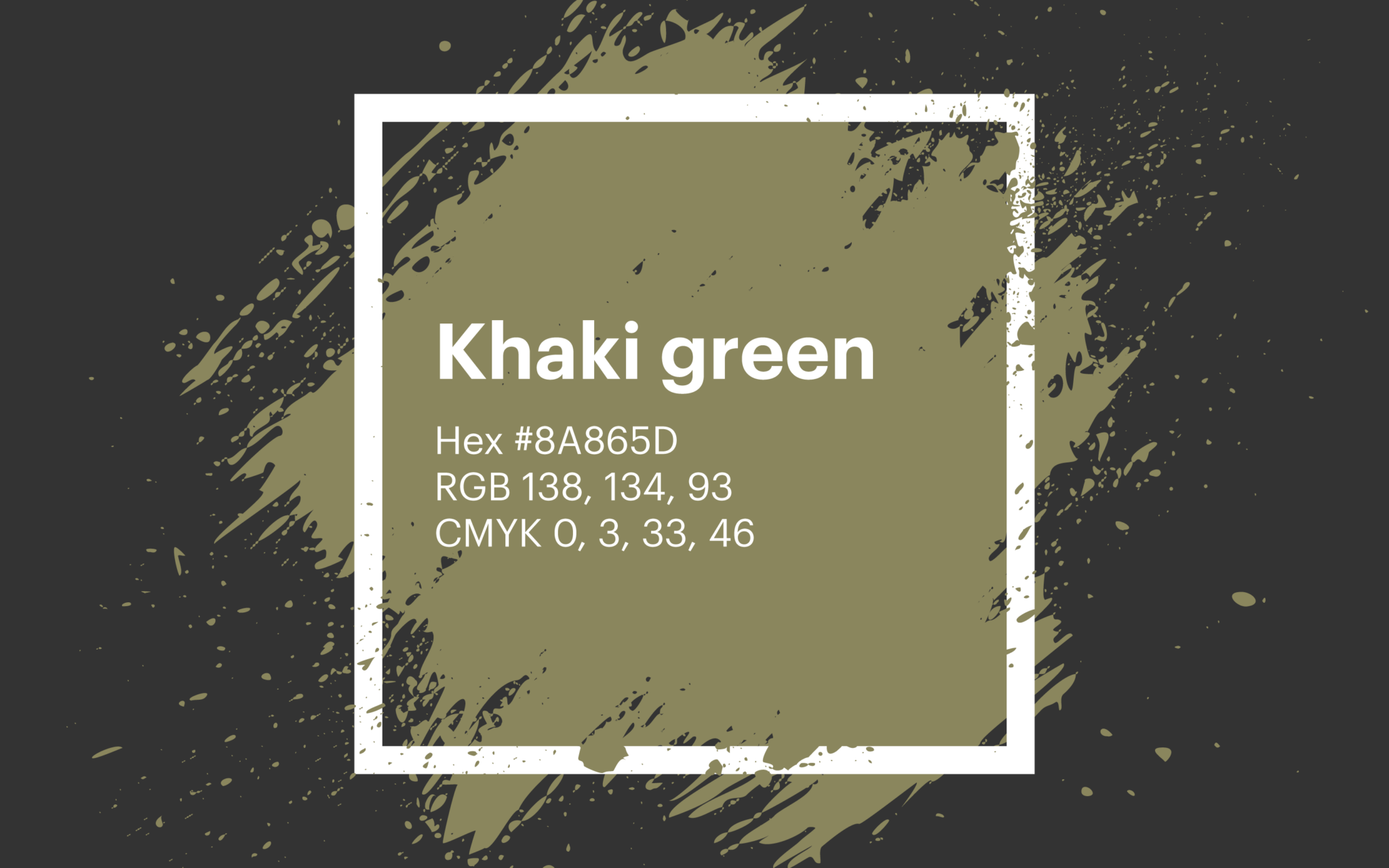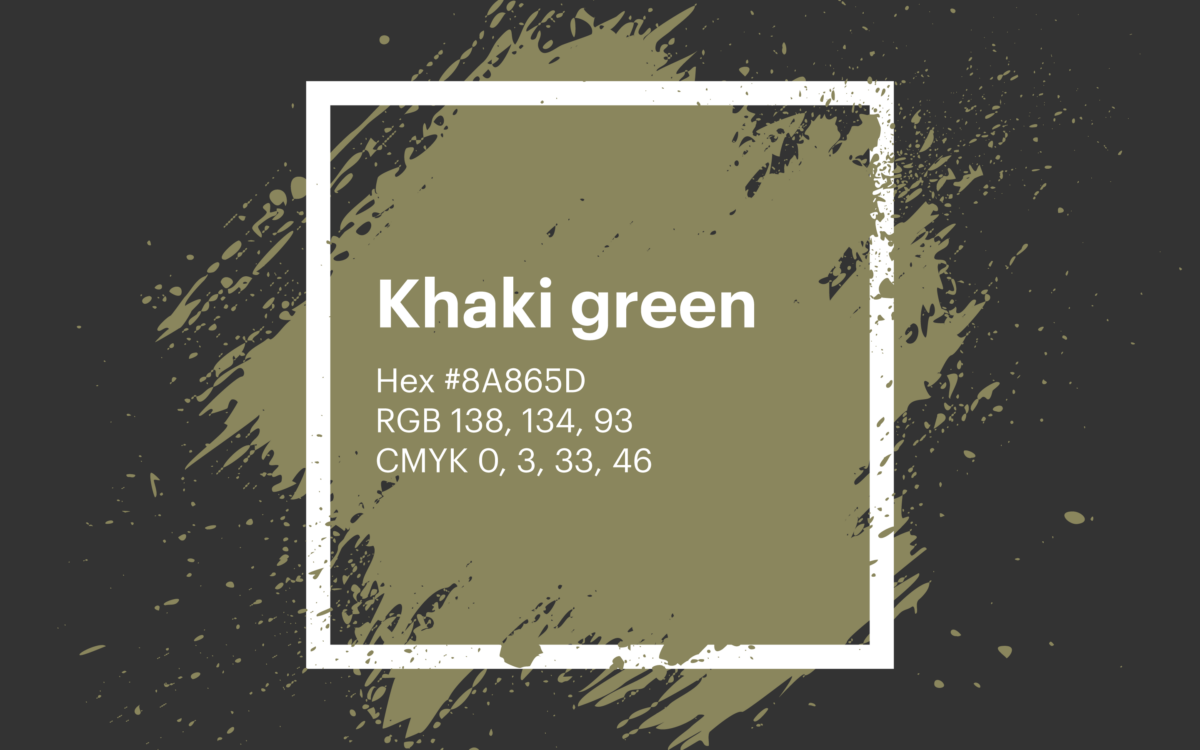 Khaki Green
Ideal for those in search of a soft and neutral shade, Khaki Green is a brownish-grey green with very little vibrancy. This relaxing color looks fantastic if you're searching for a simple color that doesn't have the same warmth as brown.
#8A865D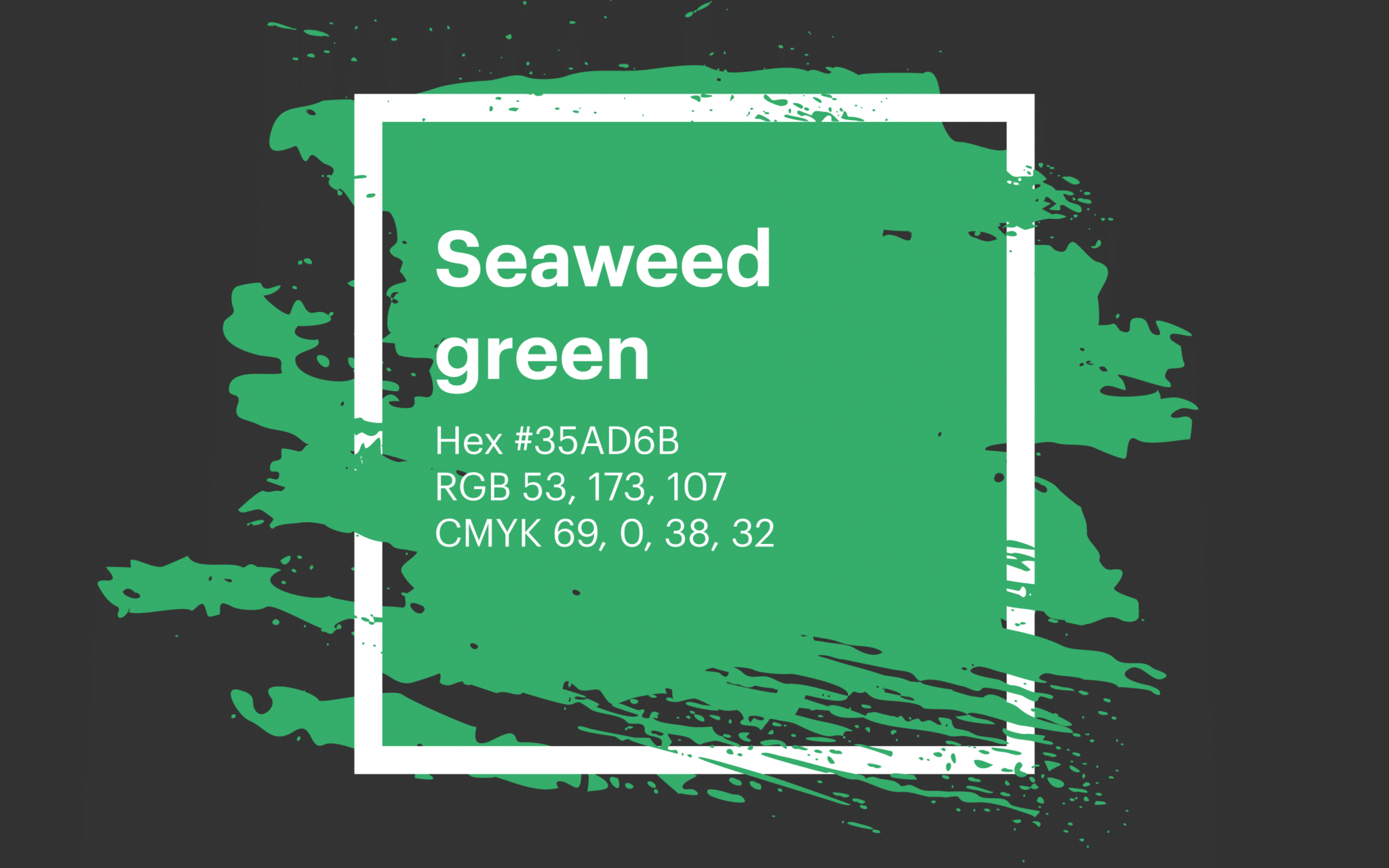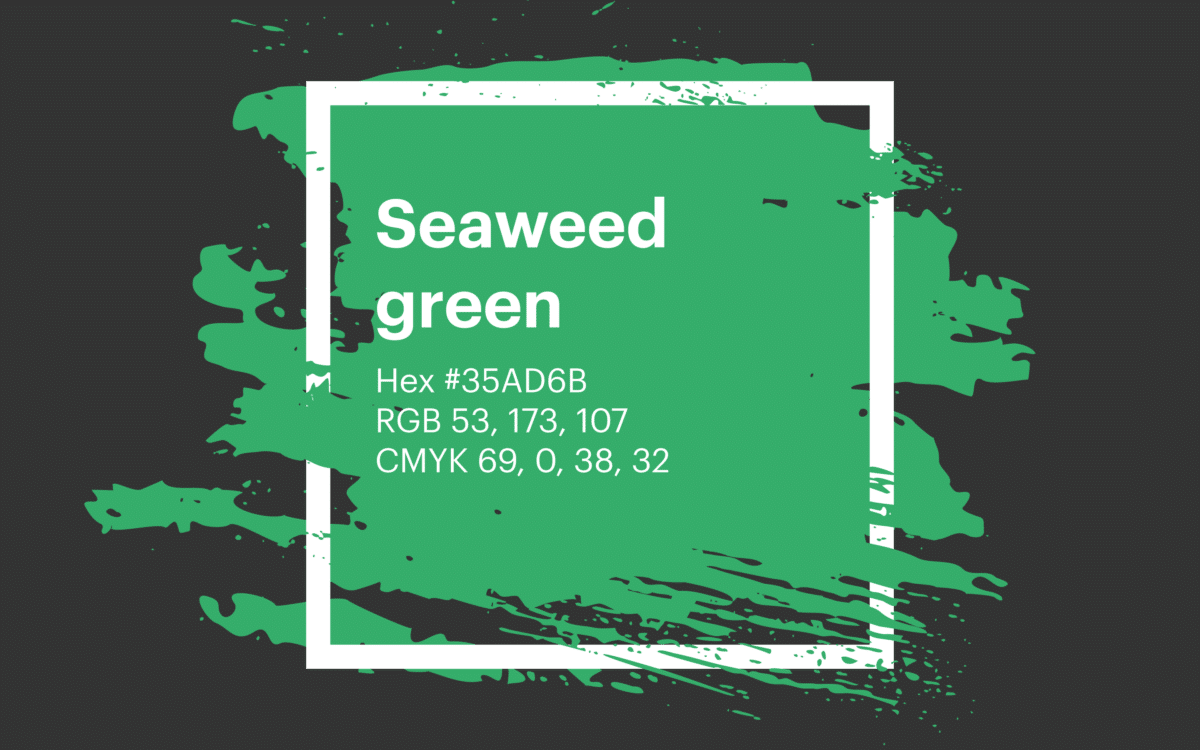 Seaweed Green
Seaweed Green is quite a warm shade with a deep yellow undertone. It's a lot darker than some of the other muted shades on this list, but it works well with a range of complementary shades. This color looks fantastic when placed alongside other yellow hues.
#35AD6B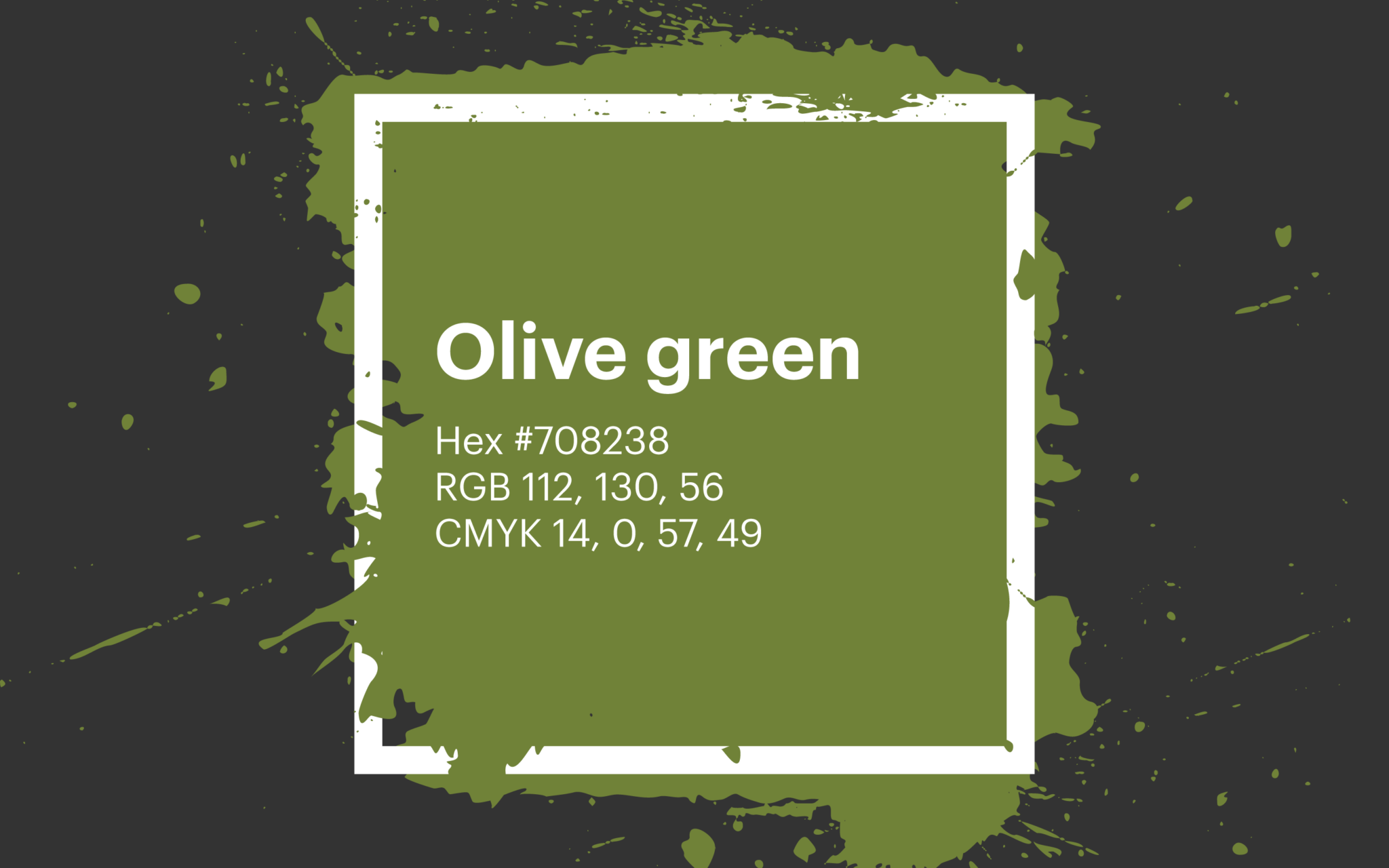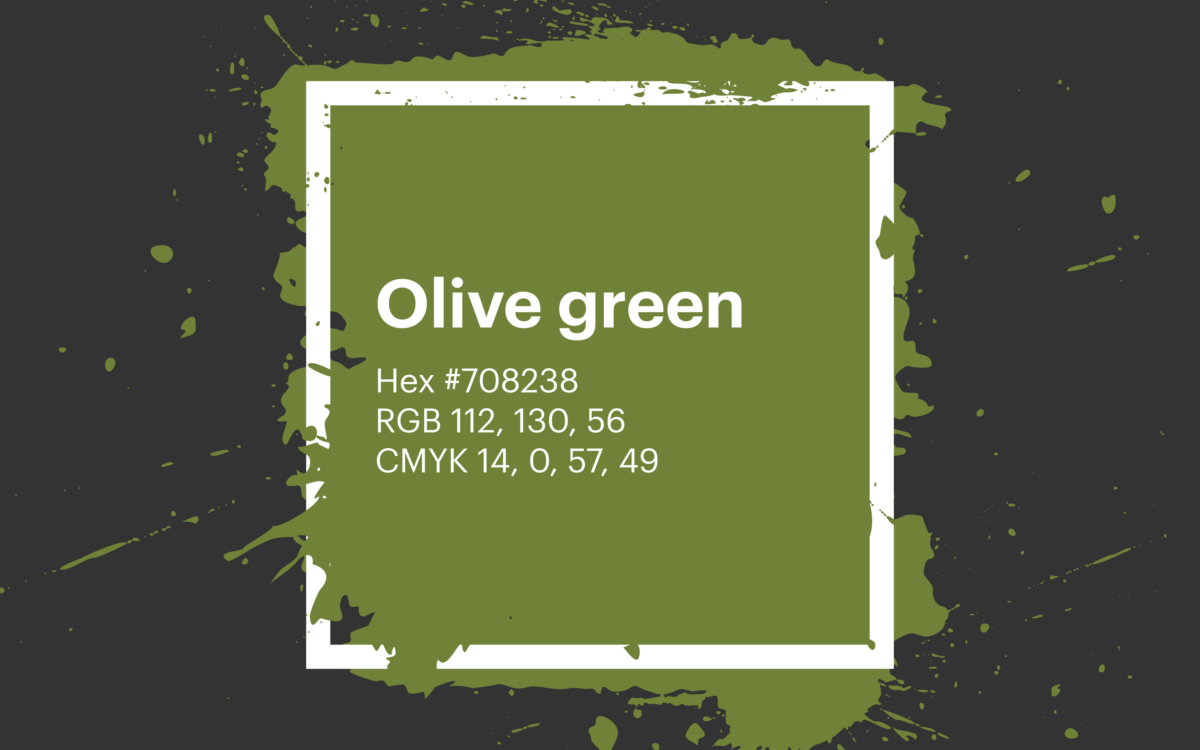 Olive Green
Olive Green is named after the infamous fruit, the olive. The color has a significant amount of yellow and brown in the mix, which helps to give it a more subdued tone. This is an excellent shade for unique and natural color palettes with a warm edge.
Hex #708238
RGB 112, 130, 56
CMYK 14, 0, 57, 49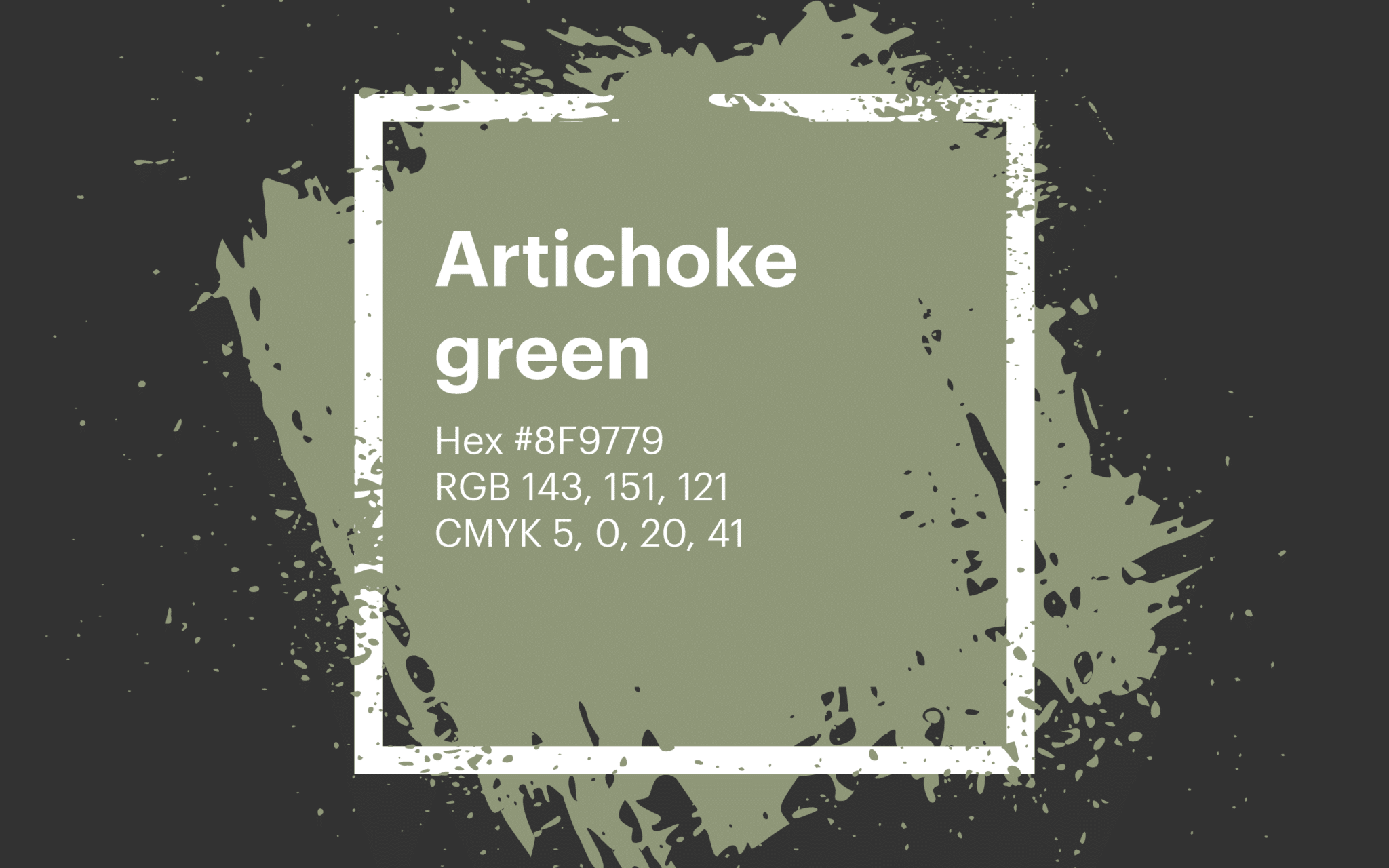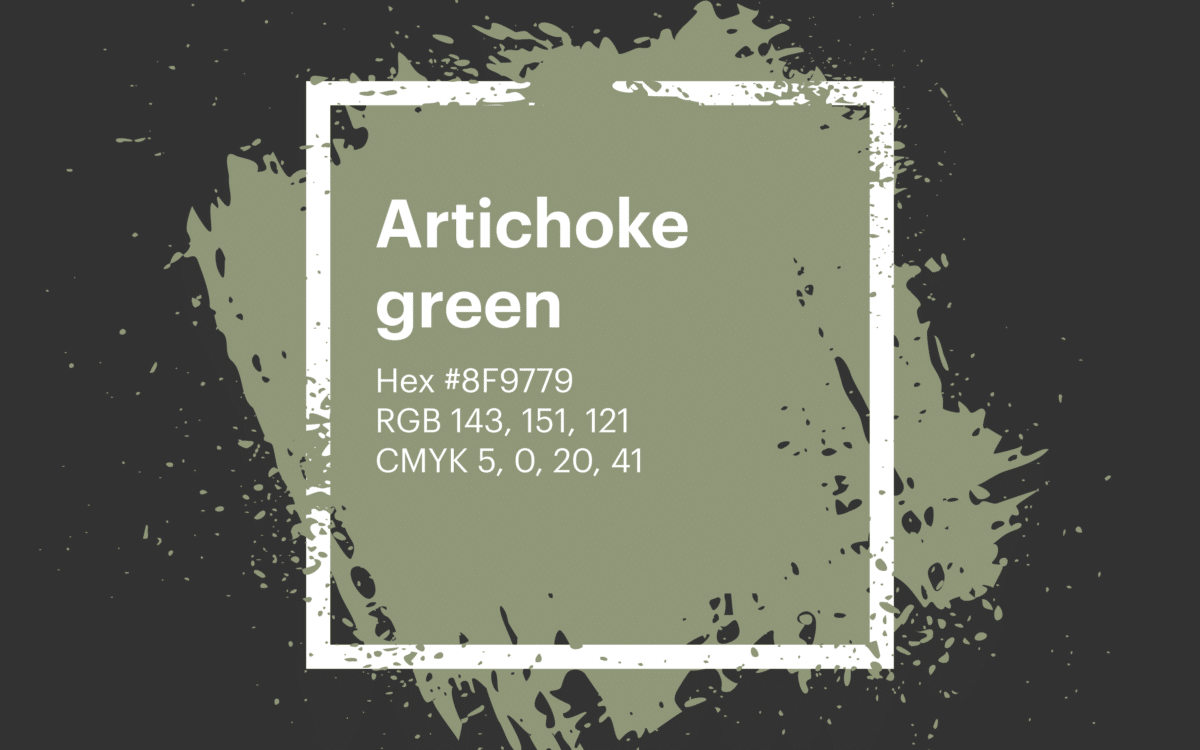 Artichoke Green
Though a little paler than the traditional artichoke vegetable, artichoke green still reminds us of the natural and organic world. It's almost a mixture between grey and green, which makes it an ideal background color.
It can also help to highlight other, brighter shades in your green color swatches.
Hex #8F9779
RGB 143, 151, 121
CMYK 5, 0, 20, 41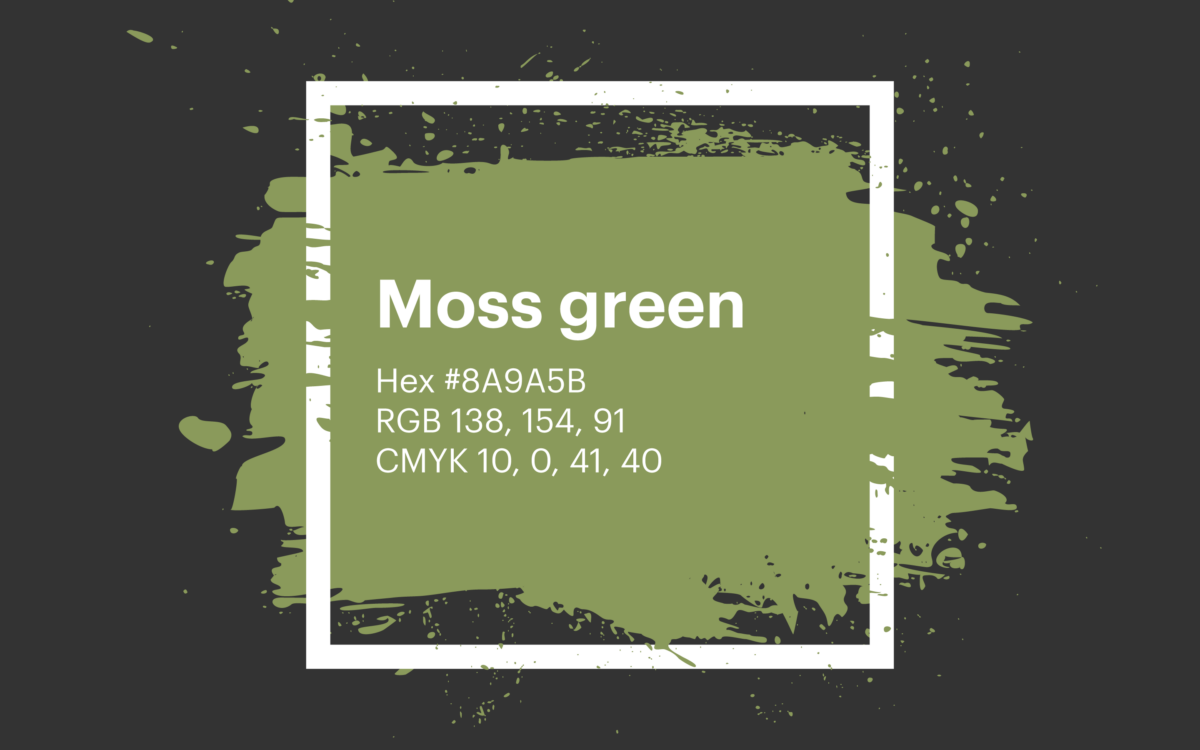 Moss Green
Moss Green is another warm green tone with almost the same amount of yellow as there is black. This is a soft and relaxing color, which works well with other neutral shades like artichoke green.
It can also be a phenomenal complementary color to bright shades of green with high levels of yellow.
Hex #8A9A5B
RGB 138, 154, 91
CMYK 10, 0, 41, 40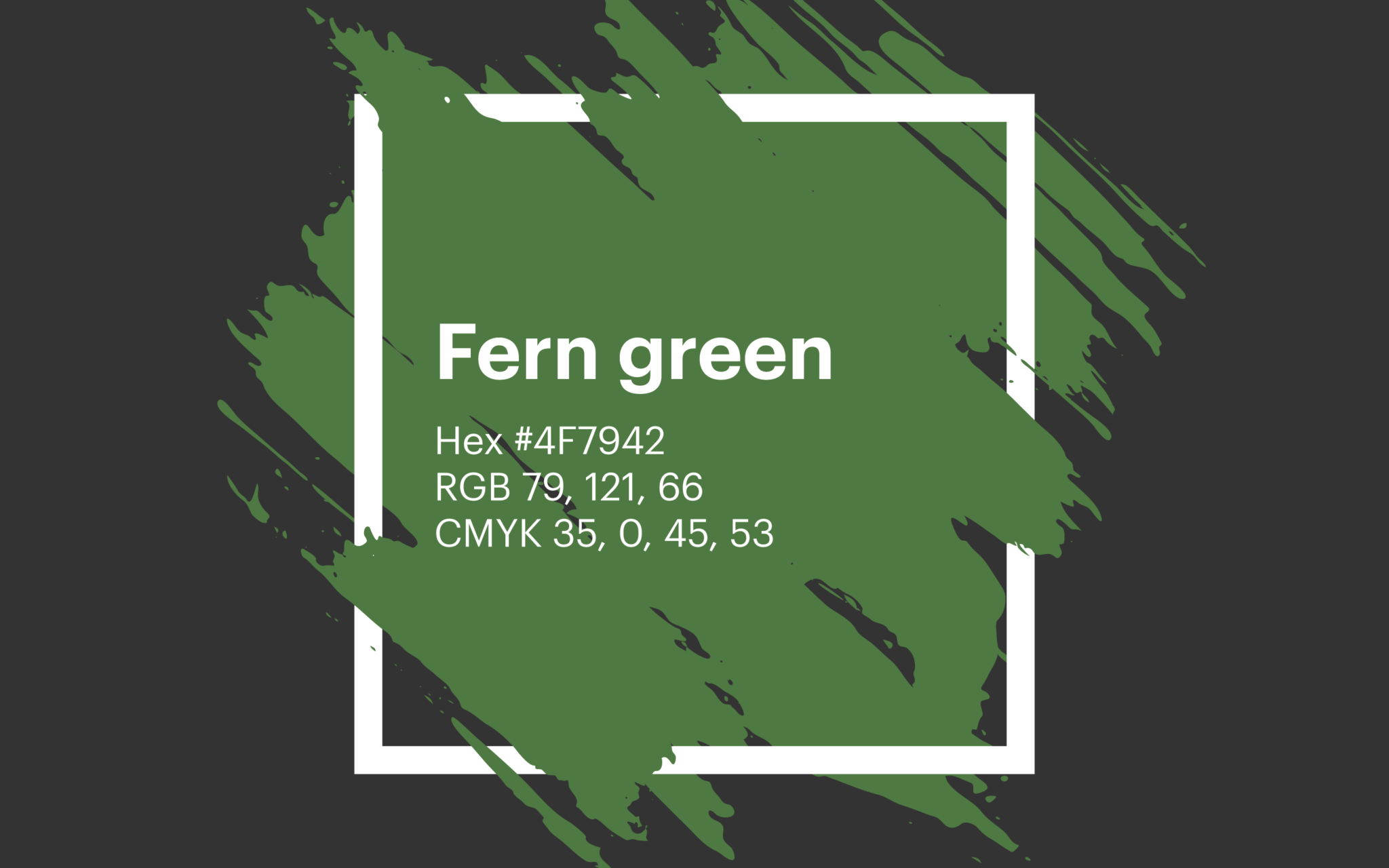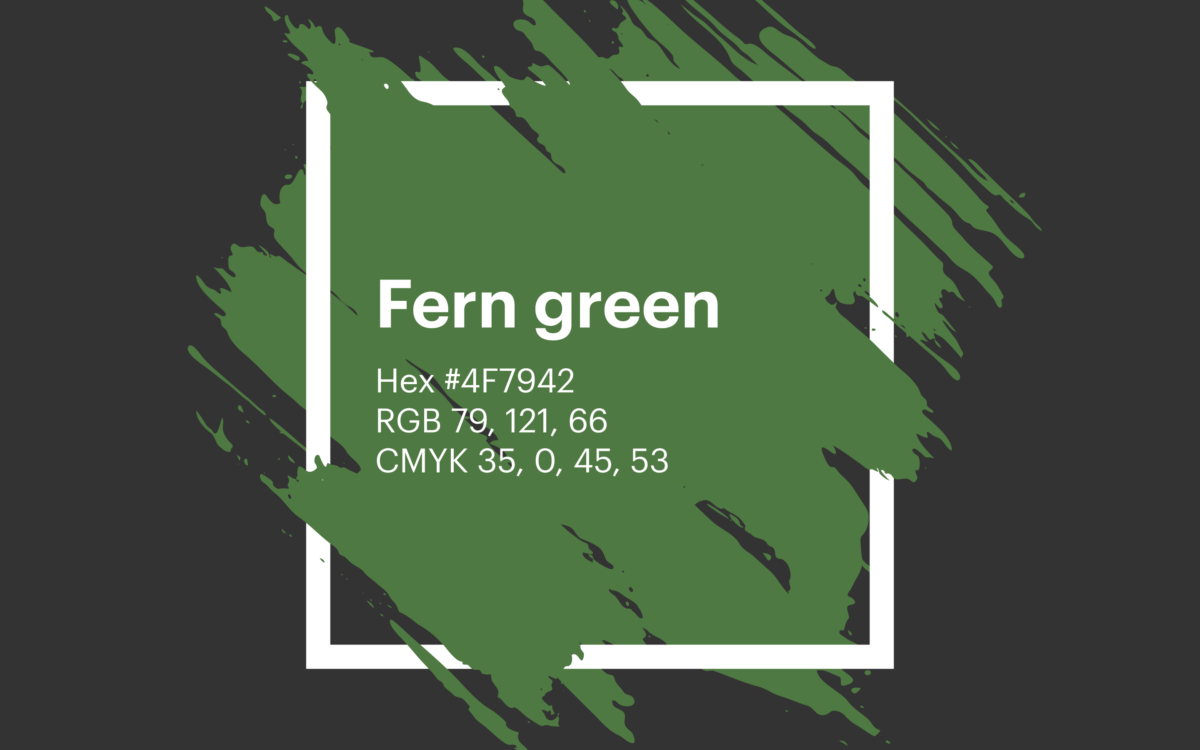 Fern Green
While Fern Green is more balanced than some of the other subdued shades in this list, it still has quite a serene and gentle nature. Large amounts of black help to reduce the vibrancy of the shade.
Fern Green is an official color in the Crayola color palette.
Hex #4F7942
RGB 79, 121, 66
CMYK 35, 0, 45, 53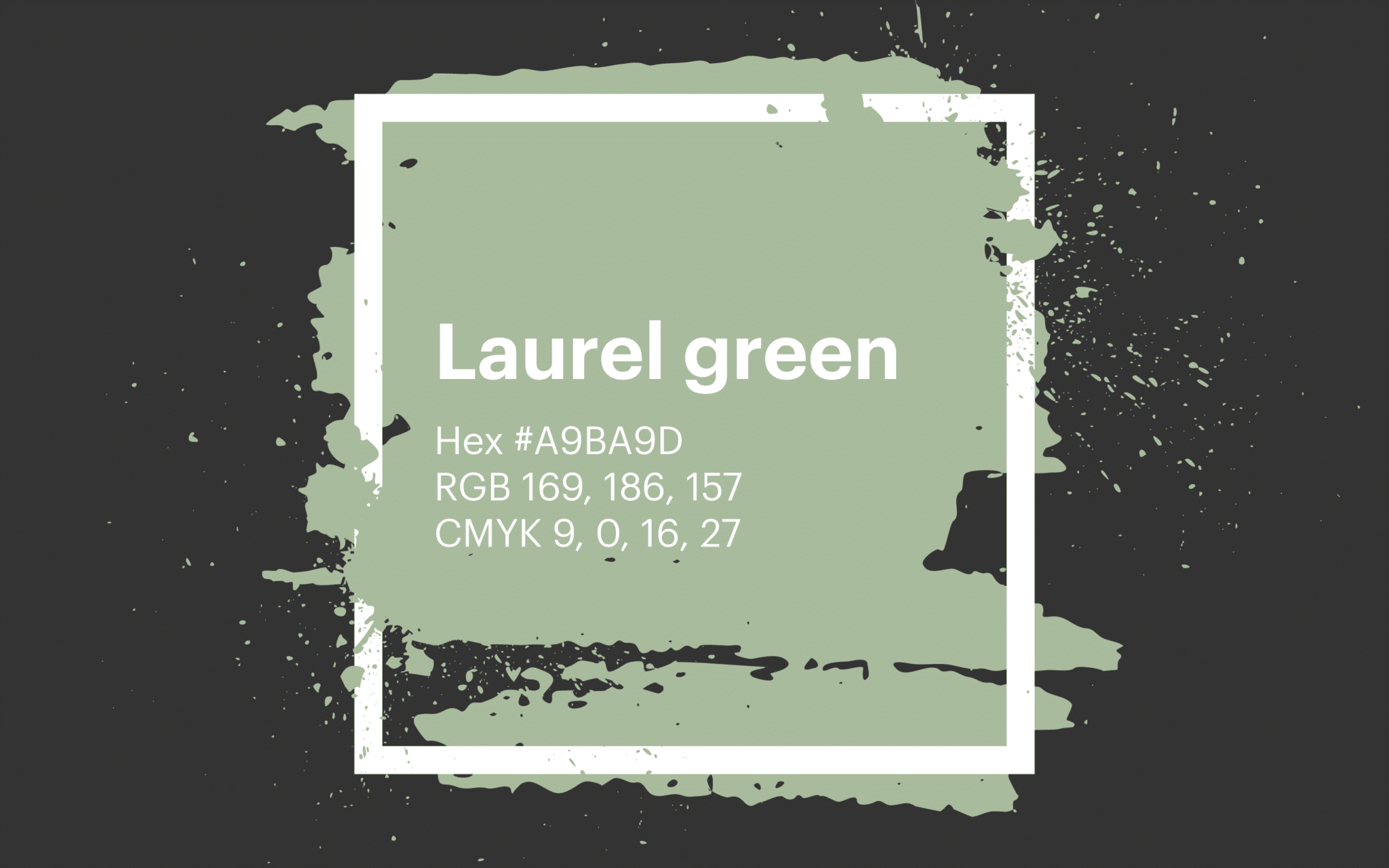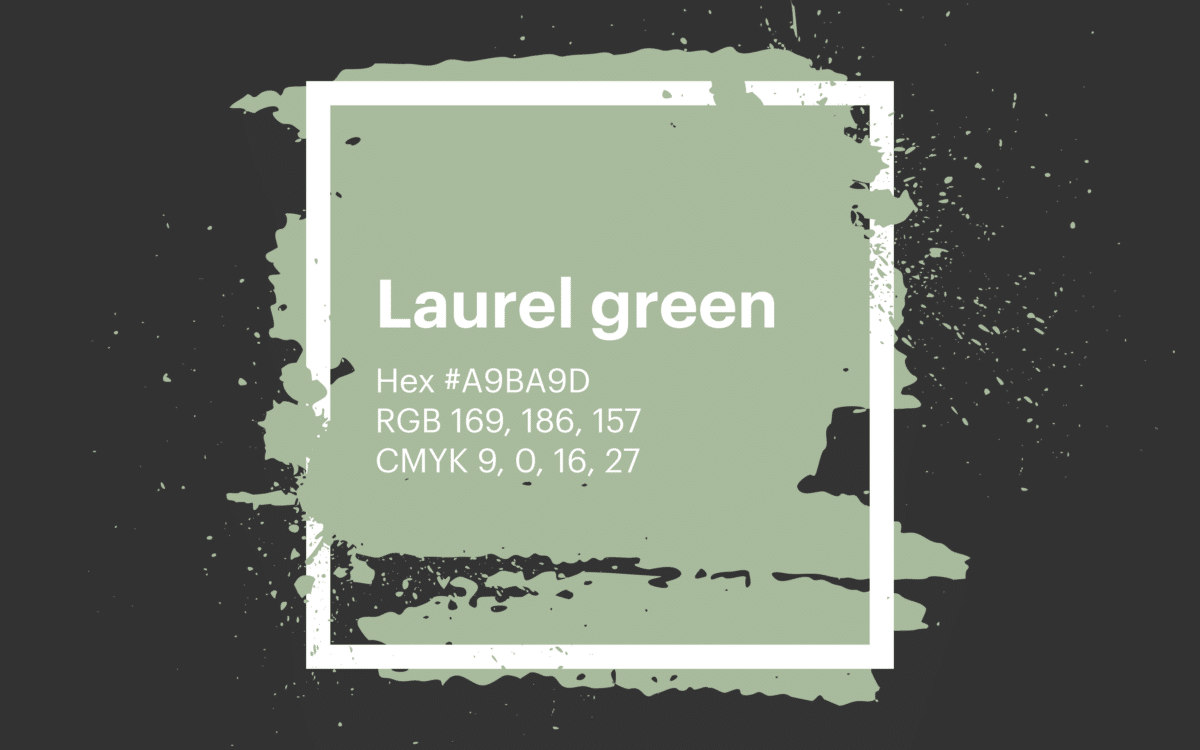 Laurel Green
This shade of green almost veers into grey territory, with very little vibrancy or brightness to speak of. It's a soft and relaxing shade, similar in some ways to the asparagus green hue mentioned above. The botanical edge makes it a good pick for kitchen décor.
Hex #A9BA9D
RGB 169, 186, 157
CMYK 9, 0, 16, 27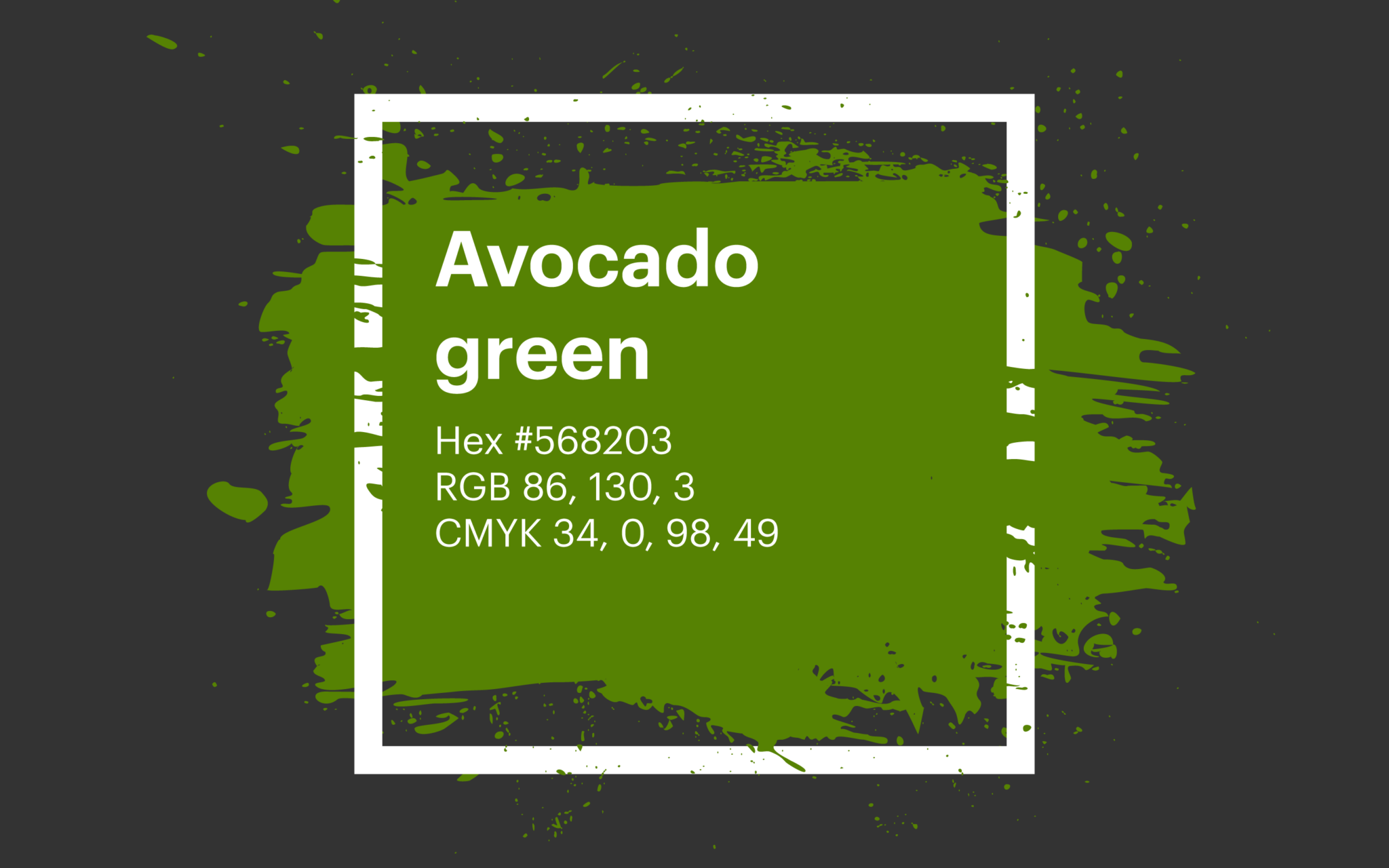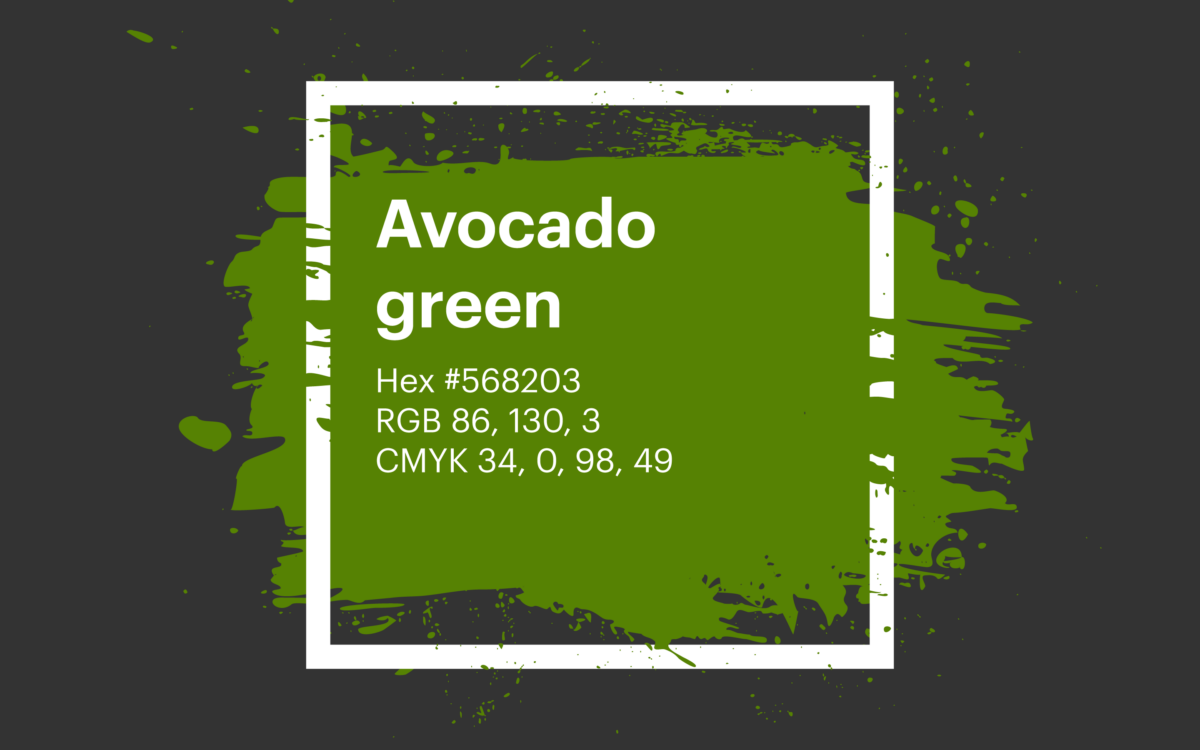 Avocado Green
This deep green is less dark than you might expect. The color resembles the flesh in the avocado, with a great mixture of warm and fresh elements. The yellow hues help to subdue the blue for an inspiring and almost fruity shade.
Hex #568203
RGB 86, 130, 3
CMYK 34, 0, 98, 49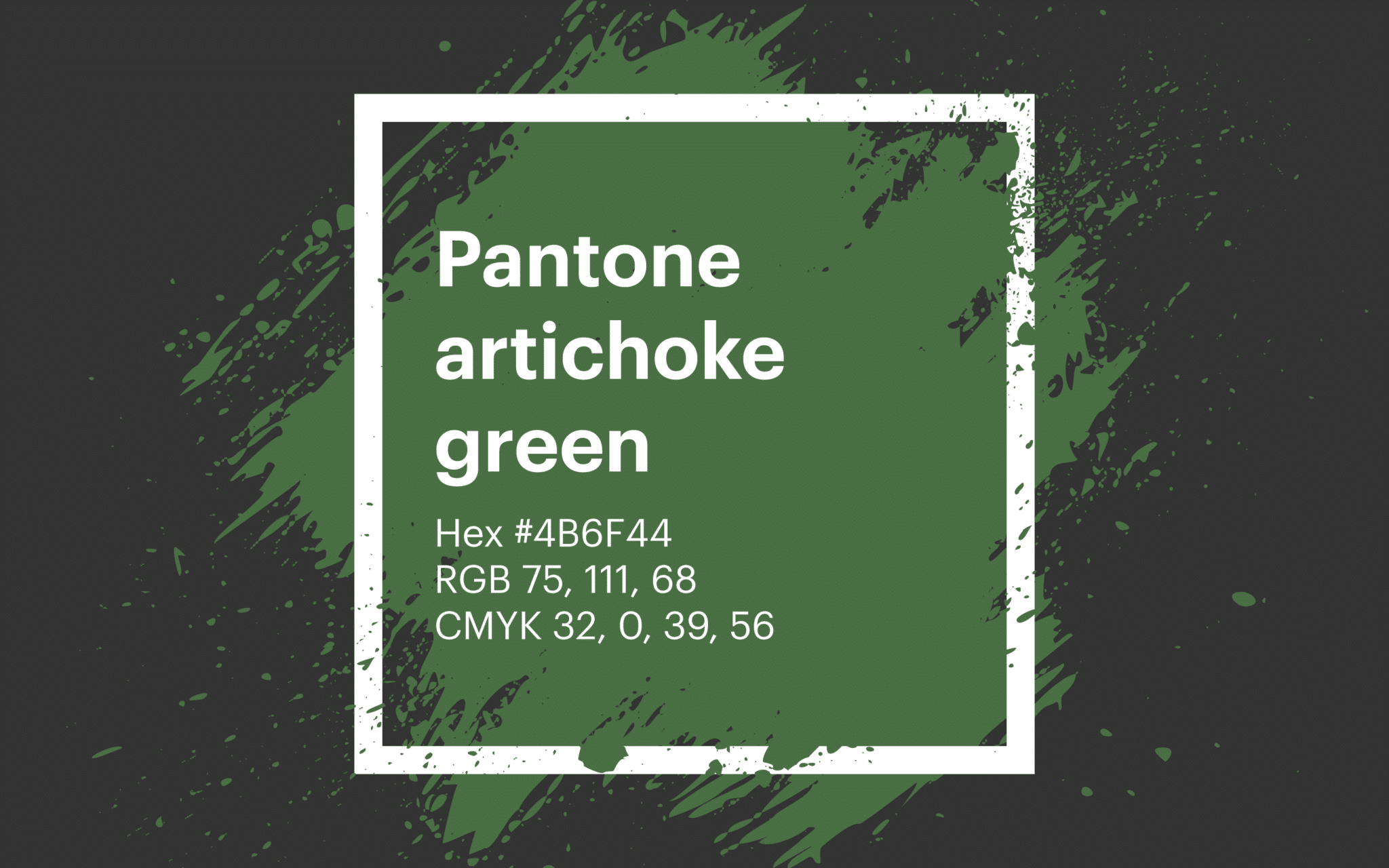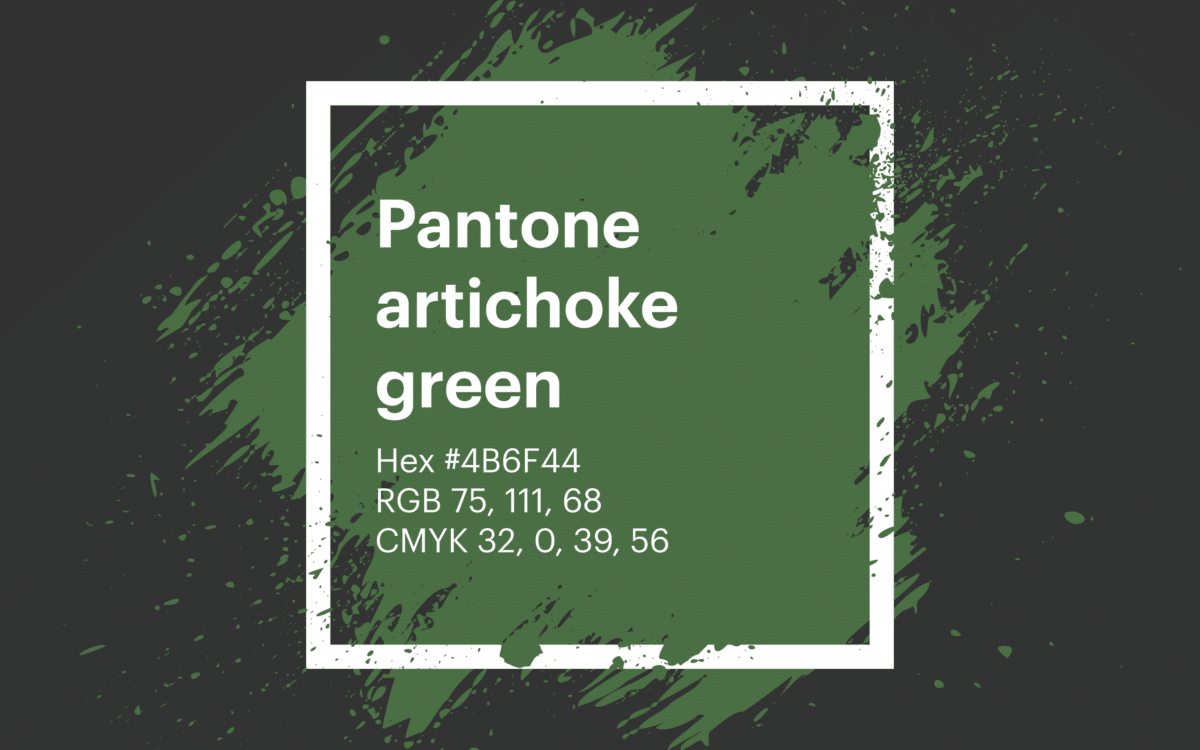 Pantone Artichoke Green
If you're looking for one of the most compelling Pantone Green shades, Artichoke is a great choice. This is slightly different from the standard artichoke shade, as it's a bit darker. The greyish-green coloring is very similar to the artichoke plant.
Hex #4B6F44
RGB 75, 111, 68
CMYK 32, 0, 39, 56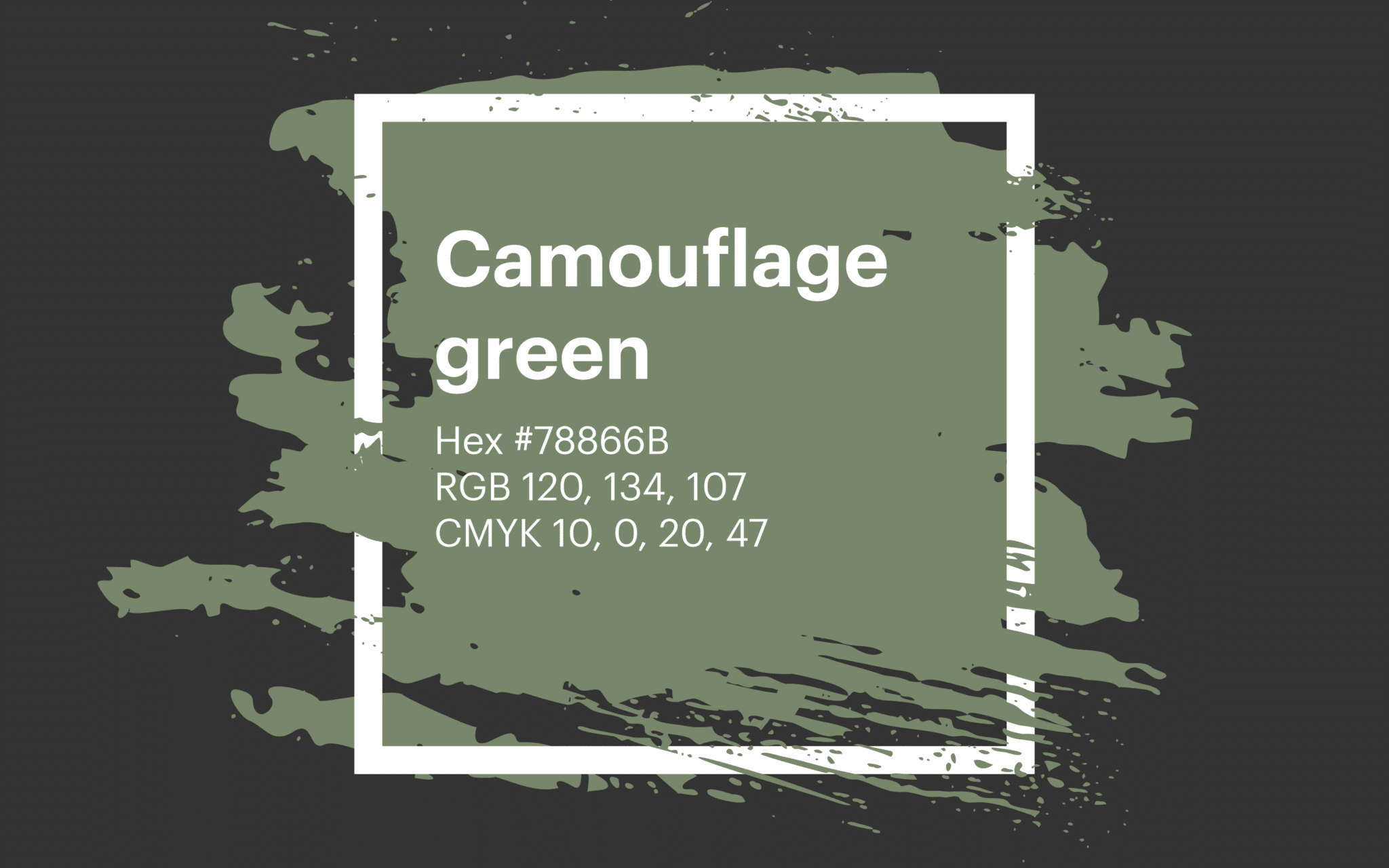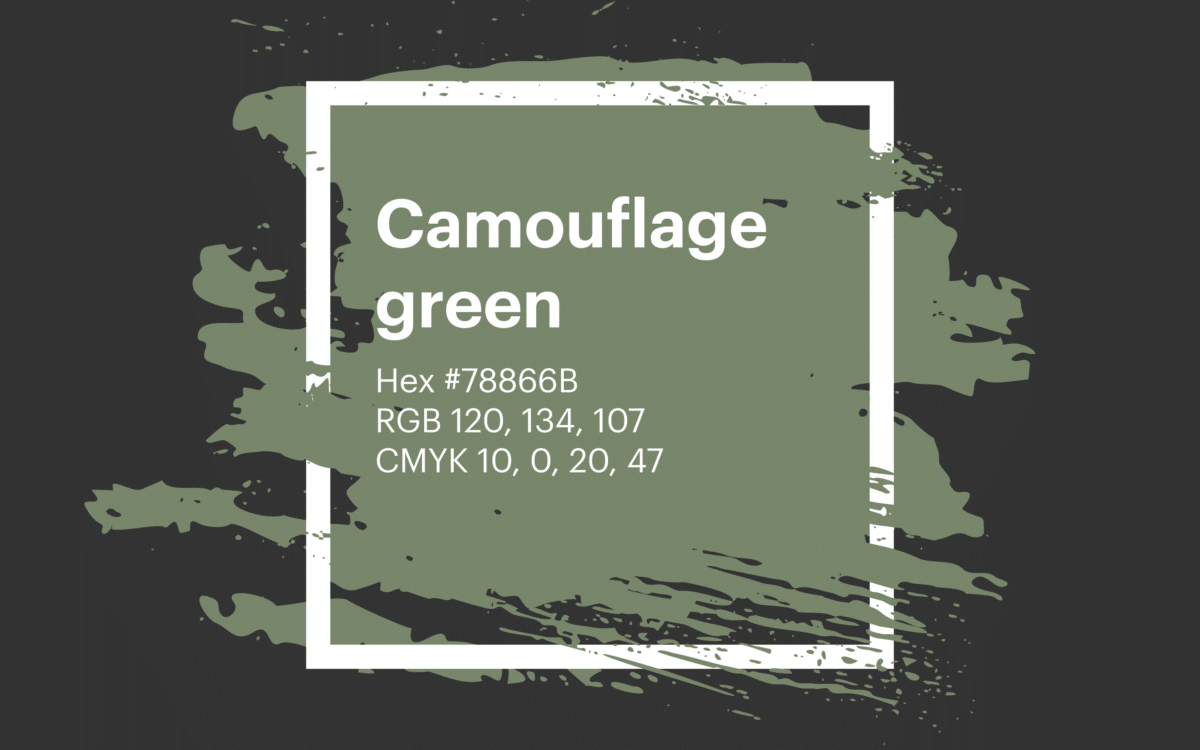 Camouflage Green
Sometimes referred to as Army Green, camouflage green uses a lot of elements of grey and brown to bring it closer to the natural world. The neutral shade is great if you're looking for a subtle wall color, particularly if you experiment with lighter tints in your green color swatches.
Hex #78866B
RGB 120, 134, 107
CMYK 10, 0, 20, 47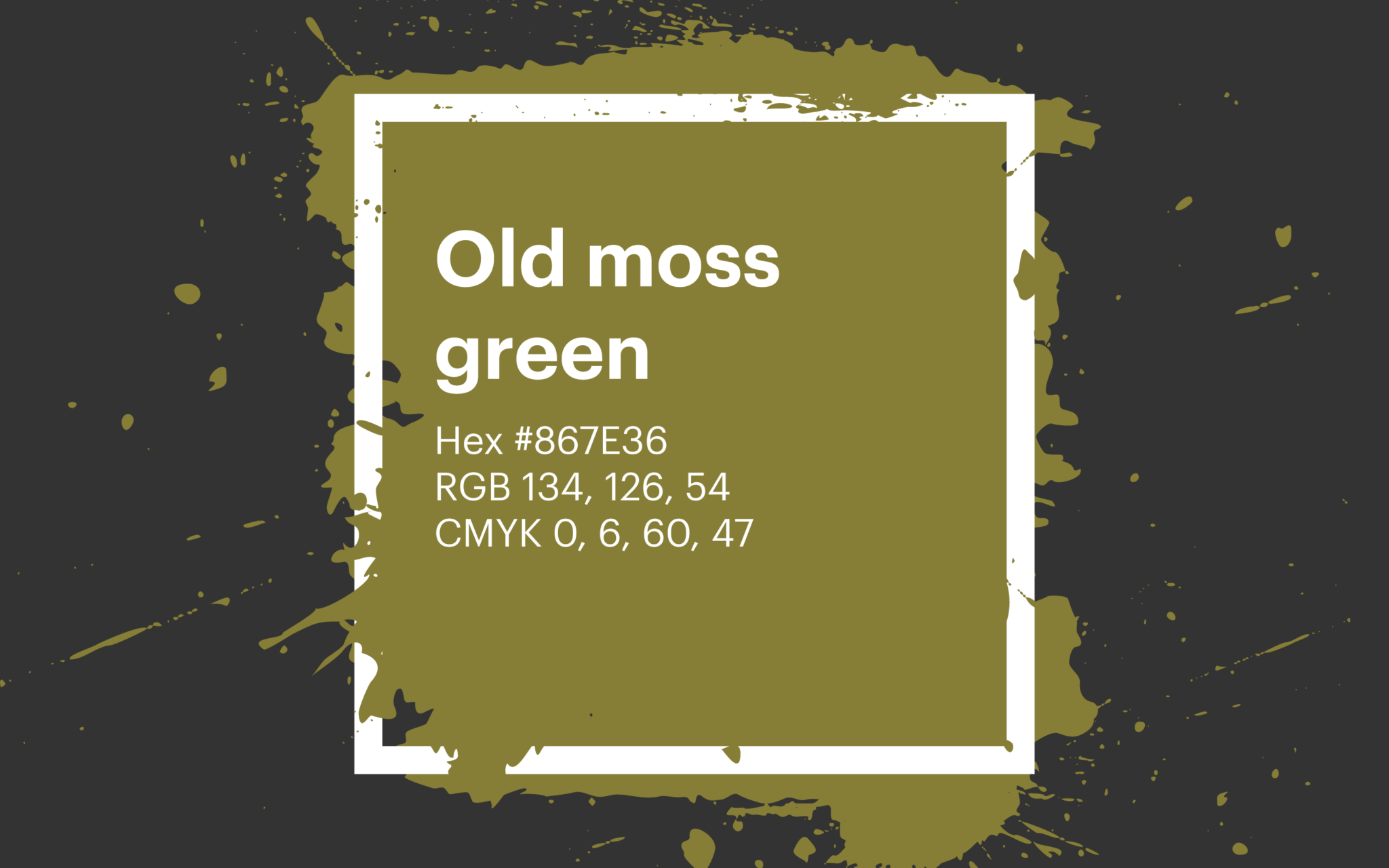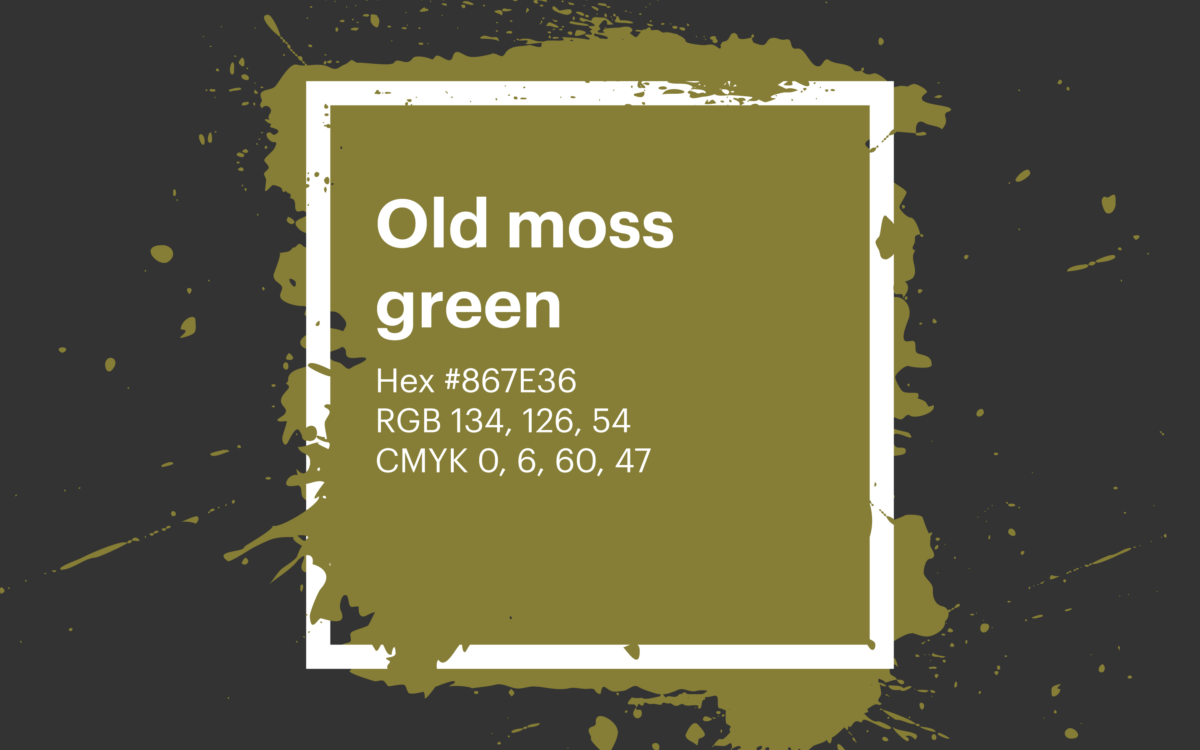 Old Moss Green
Great for those in search of something with a vintage appeal, Old Moss Green has a lot of brown and yellow hues mixed into it. This color looks good when paired with other, darker shades of green – particularly those on the warmer side of the palette.
Hex #867E36
RGB 134, 126, 54
CMYK 0, 6, 60, 47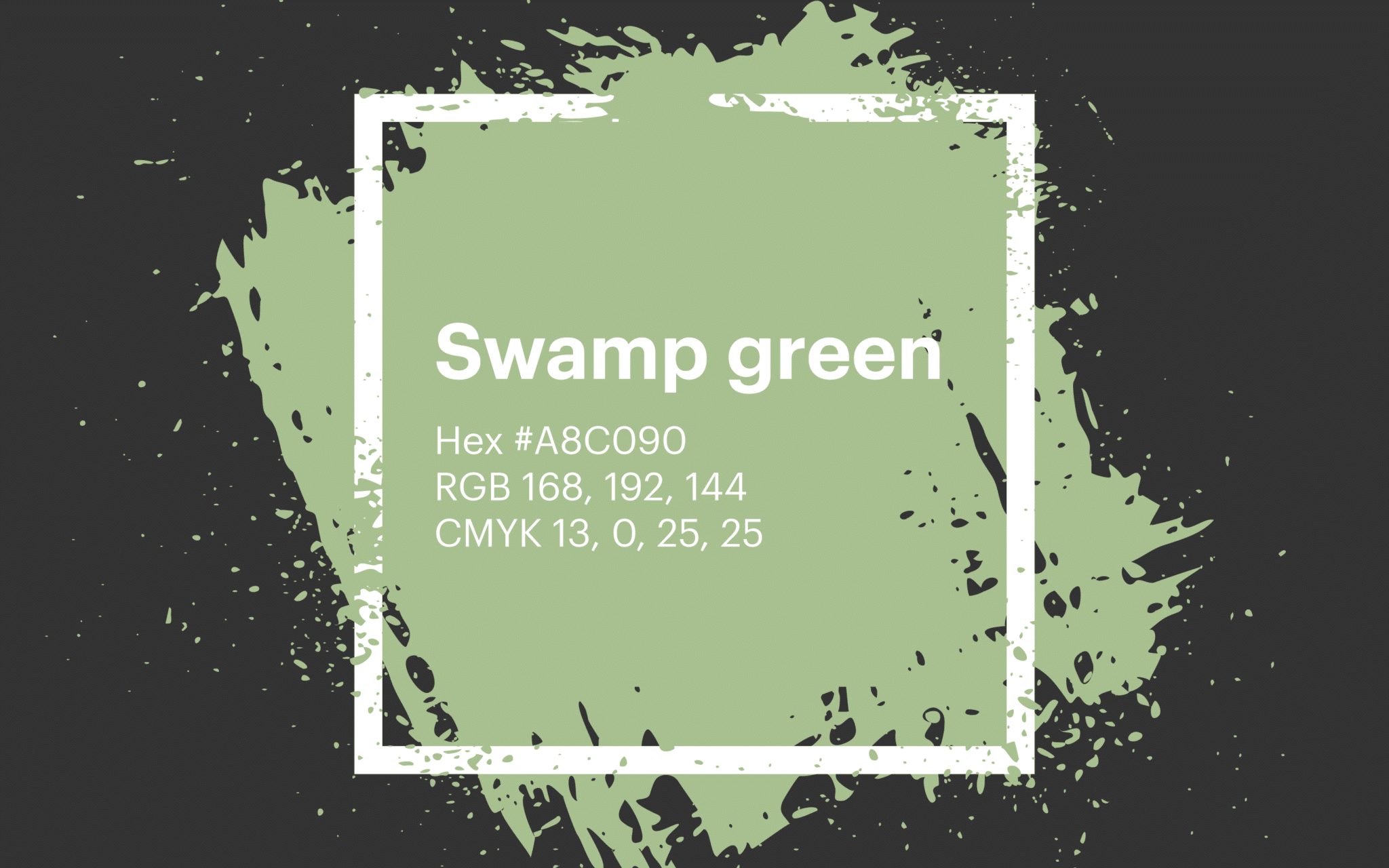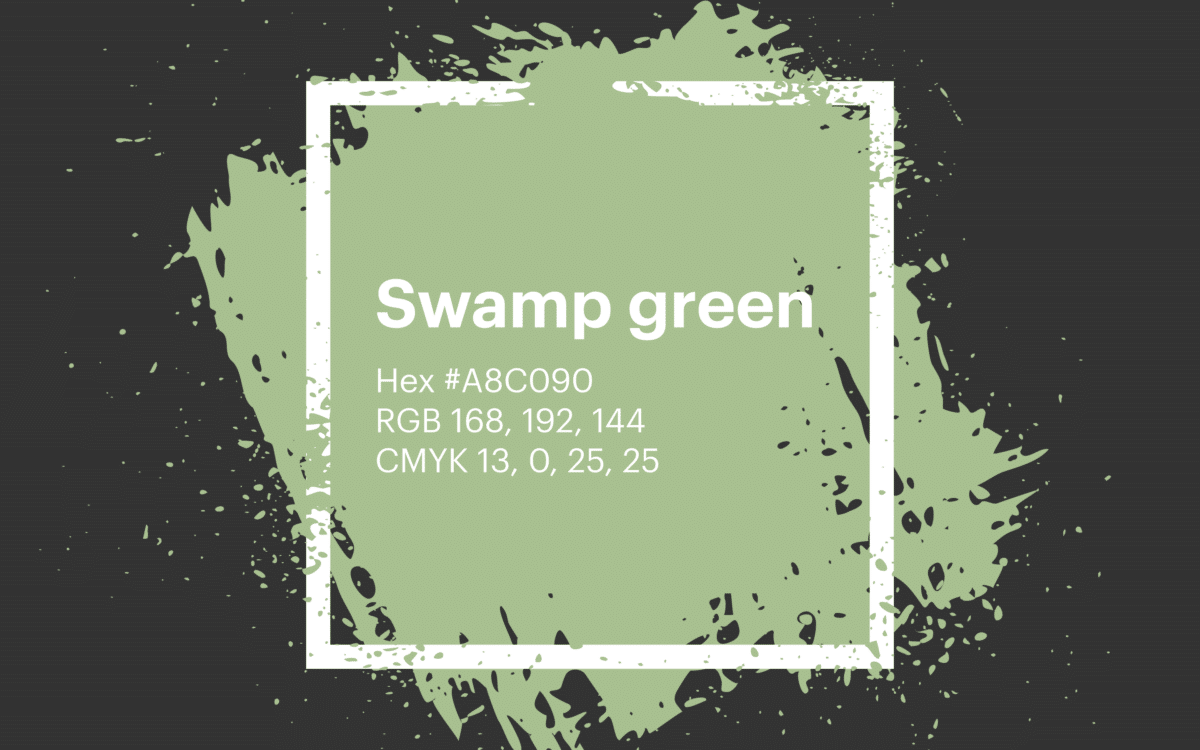 Swamp Green
While Swamp Green may not sound particularly appealing, it's a pleasing and relaxing shade. This grey-green hue is fantastic for neutral applications and works beautifully alongside other green shades, thanks to its balanced nature.
Hex #A8C090
RGB 168, 192, 144
CMYK 13, 0, 25, 25
How many shades of green are there?
Hopefully, this exploration of the many shades of green offers insight into just how versatile this color can be. There are virtually endless green shades to experiment with, ranging from the deepest, darkest hues to the most muted or pastel greens.
As one of the most popular and natural shades available, green can be a fantastic addition to any color palette, with the ability to either stand out or blend into the background.
The exact shade of green you choose for your project will depend heavily on the kind of atmosphere you want to convey.
Good luck creating the ultimate green color palette.
Fabrik: A branding agency for our times.
Now read these:
—Exploring the colors of the rainbow