Once you find the best powered USB hub, you'll wonder how you lived without it. A great powered USB hub is a fantastic addition to any digital professional's toolkit.
You can use your hub to plug a selection of useful products into your laptop, Macbook, or other workstation, including animation tablets and storage systems.
Powered USB hubs are excellent for professionals who don't have access to a lot of connection points on their computer already. If you have a laptop with 2 USB hubs, and add a 7-port hub, this takes you to a total of 8 ports available whenever you need them.
Unliked non-powered USB hubs, powered devices come with access to their own power supply. This means your hub won't drain your laptop battery or tablet to function. The result is a longer battery life, and more productive time on the move.
Additionally, powered USB hubs can also offer a way to charge various devices when you're on the move too!
Most hubs allow you to plug in your smartphone, tablet, and other products while you work, for an extra dose of juice.
Our choices for the best powered USB hub are:
RSHTECH USB 3.0 hub (best with individual switches)
Belkin USB-C hub dock (best versatility)
Atolla powered 4-port hub (best budget option)
Sabrent 60W 10-port hub (best value)
Wenter powered USB 3.0 hub (best customer support)
TP-Link powered USB hub (best safety)
Atolla 7-port splitter extension (best LEDs)
LIONWEI universal powered hub (best all-in-one)
Sabrent 16-port data hub (best hot swappable)
Read on for more…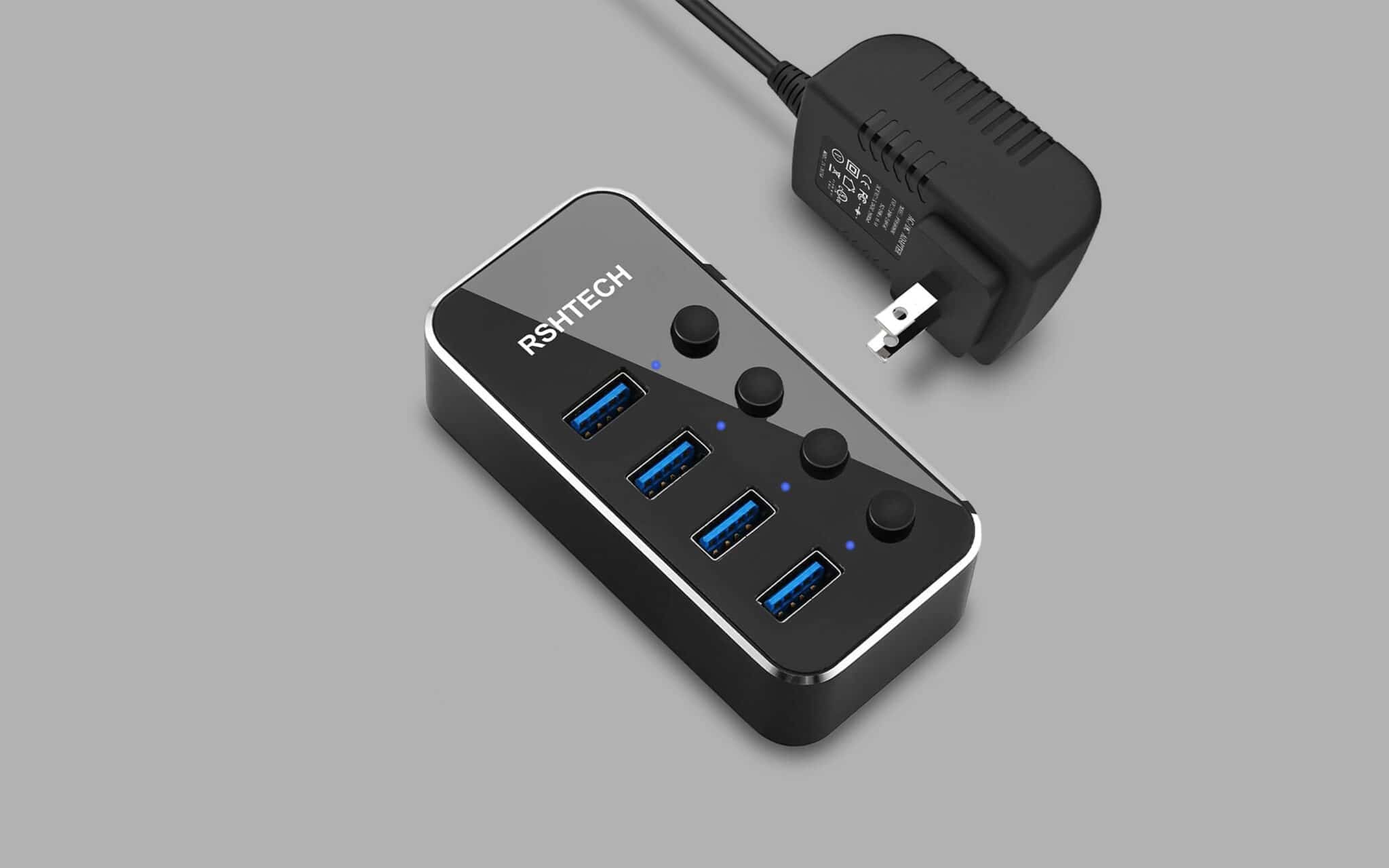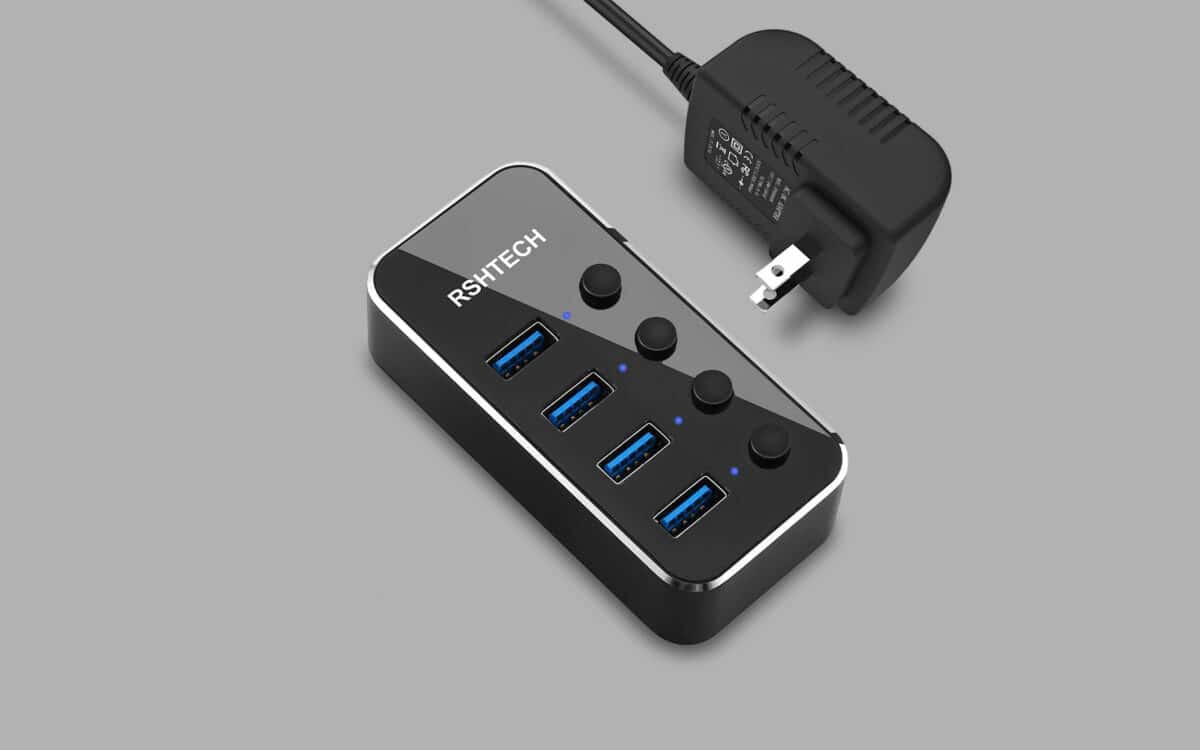 1. RSHTECH USB 3.0 Hub (best with individual switches)
This powered USB hub from RSHTECH is among the most popular in the world, thanks to its simple functionality, reliability, and versatility. The plug-and-play USB splitter immediately adds a set of 4 USB sockets to your laptop, gaming station, PC, or tablet.
The device requires no drivers for setup, and the USBs are all 3.0, so you know you're getting speedy results.
Promising a 5GBs data transfer speed, this powered USB hub best buy can transfer files and data in a flash. There's also a lightweight aluminium construction, making the device ideal for travel. You can simply throw your USB hub in a backpack and you're ready to go.
The individual on/off switch for each socket is particularly valuable because it means you can choose where you want to use your power.
Features include:
Stylish and compact design
LED lights for power indication
Wall powered USB hub charger
Individual switches for each socket
USB 3.0 and backwards compatible
4 port USB hub with 5-volt power
3.3-foot cable
To ensure you're ready for anything, all you need to do is charge your USB hub before you take it with you on the move. The LED light indicators will show you when you're running out of battery life. Plus, you can turn sockets off when not using them.
Pros:
Compact and light weight
Easy to use design
Individual switches
3.0 USB hub
LED power indicators
Cons:
Not the longest cable
Quite dim lights
RSHTECH 4 Port USB 3.0 Hub
This compact USB Hub from RSHTECH offer great performance thanks to its USB 3.0 technology. Available in both USB-A and USB-C variants.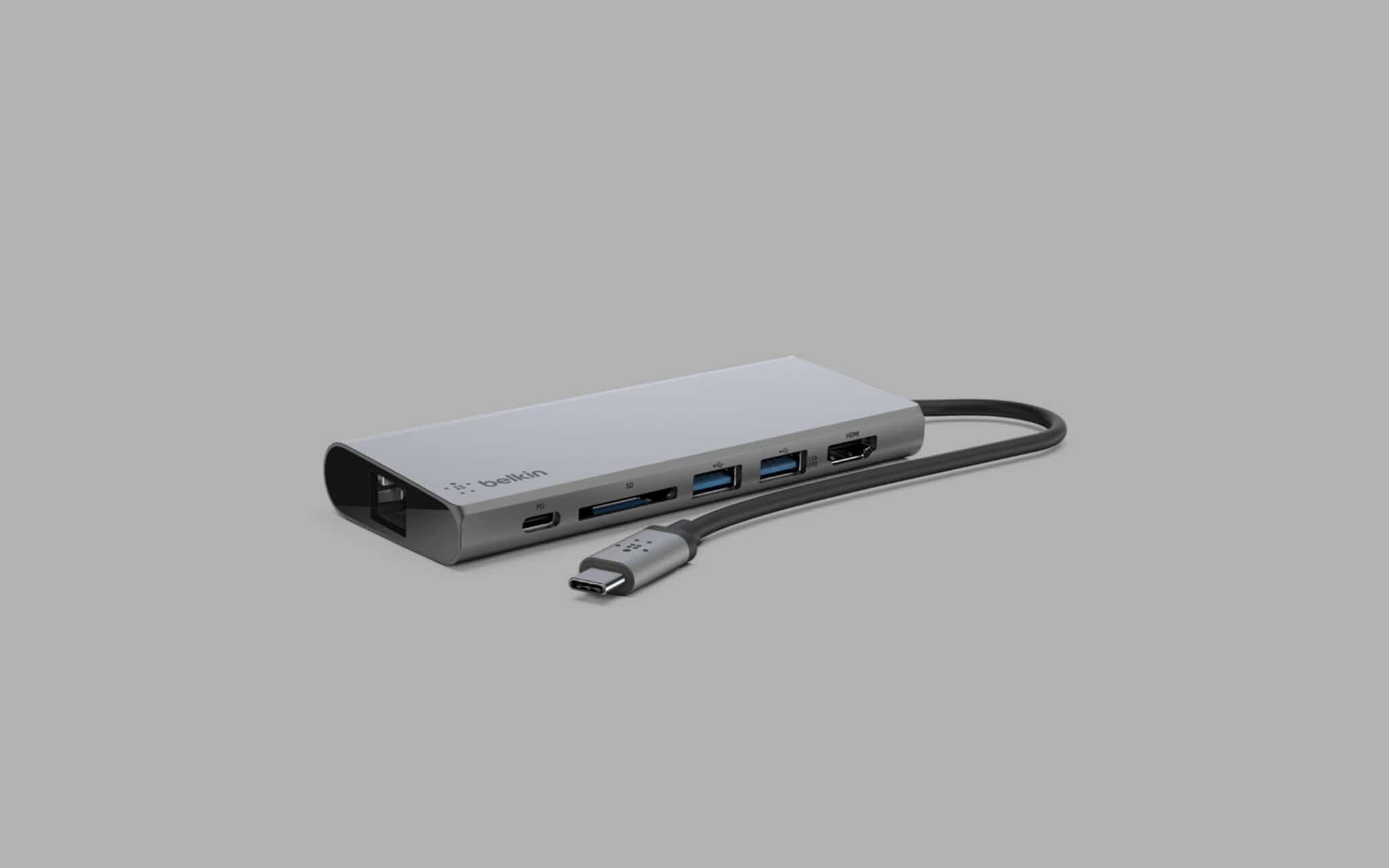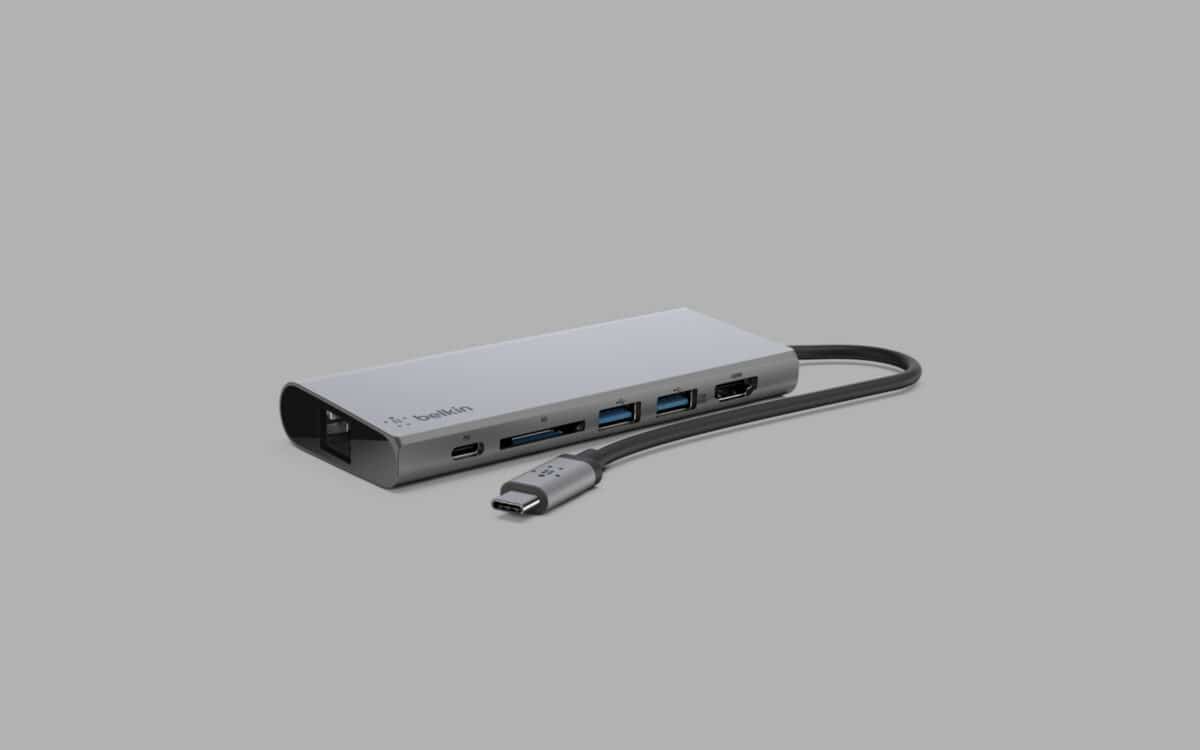 2. Belkin USB-C hub dock (best versatility)
Created for both MacOS and Windows laptops, this Belkin powered USB hub is a fantastic investment for any creator or on-the-go professional.
Delivered by one of the world's leading pioneers in technology, this powered US hub supports connections for your USB-C products, as well as SD carts, and more.
Along with a USB 3.0 connection, USB C, and USB 2.0 socket, you'll also get 1 gigabit ethernet port, and SD card slot, and a HDMI connector. The wide selection of docking options ensures you can link all of your external devices to your PC or Mac in no time.
There's also a pass-through charge functionality, so you can charge your smartphone and other devices while you work.
Connect multiple devices to your laptop with a single cable, then slip the streamlined hub into your backpack or laptop bag for easy transportation. You'll also get up to 5Gbps transfer speeds for flawless data delivery.
Features:
3 USB ports (2 USB-A 3.0, 1 USB-C), a HDMI, ethernet, and SD card reader
Pass-through charging up to 60 watts
Excellent portable design
Reliable 5Gbps data transfer
Quick and easy to use with no complex software
Reliable and durable design
Suitable for Mac and Windows
Diverse and easy to use, this plug-and-play Belkin powered USB hub could be the perfect addition to your laptop. It's about the same size as a standard mouse, but it gives you a huge range of functions to tap into, including SD card reading.
Pros:
Multiple connections as well as USB
Pass-through charging functionality
Fast and effective data transfer
Easy plug-and-play functionality
Slim and durable
Cons:
Short cable
Only 3 USB connections
Sale
Belkin USB-C Hub
The Belkin USB Hub is perfect for all devices from Mac and Windows to tablets and phones. With a wide range of compatibility also comes a wide range of ports including USB-A, USB-C, ethernet, HDMI, and SD cards.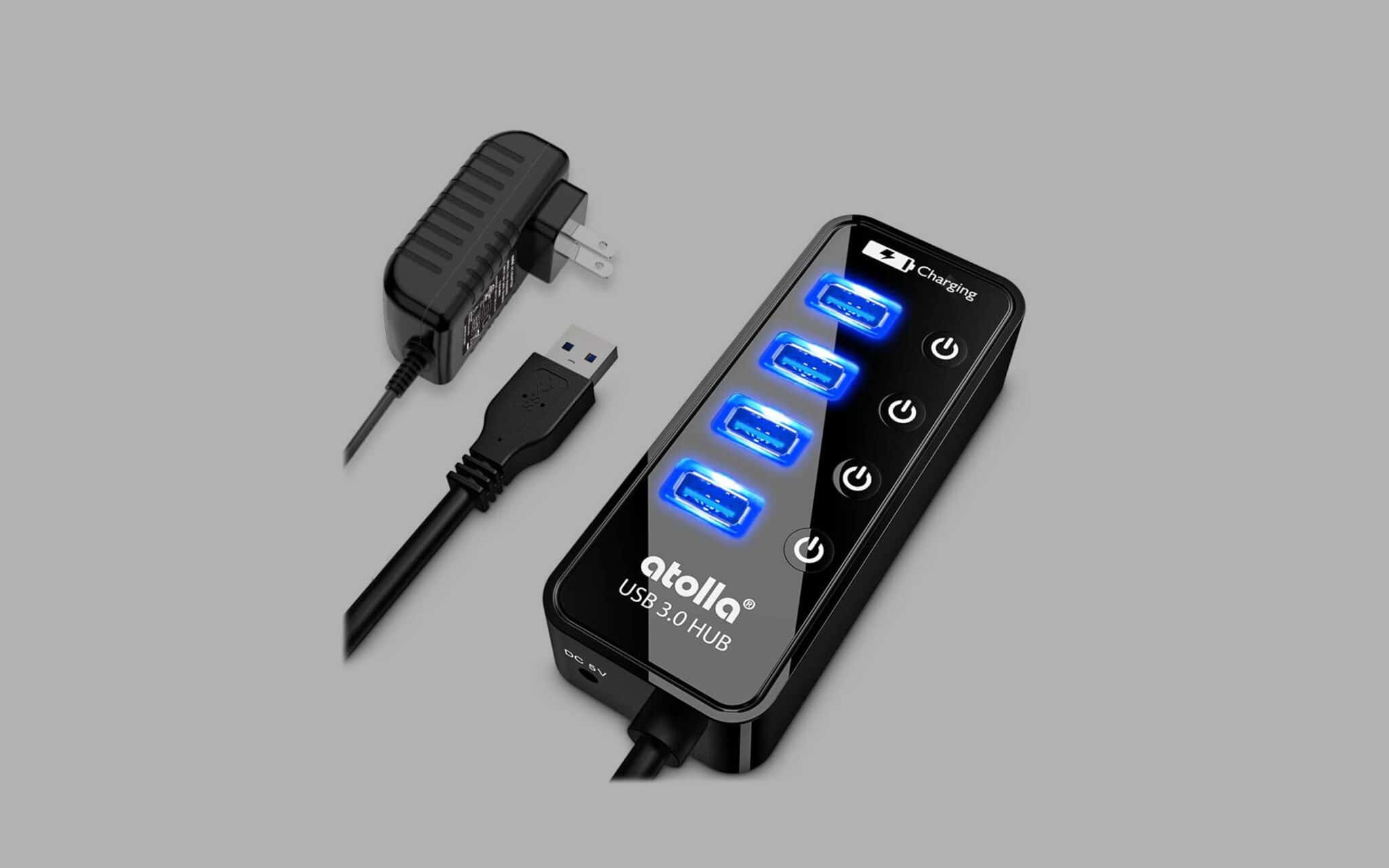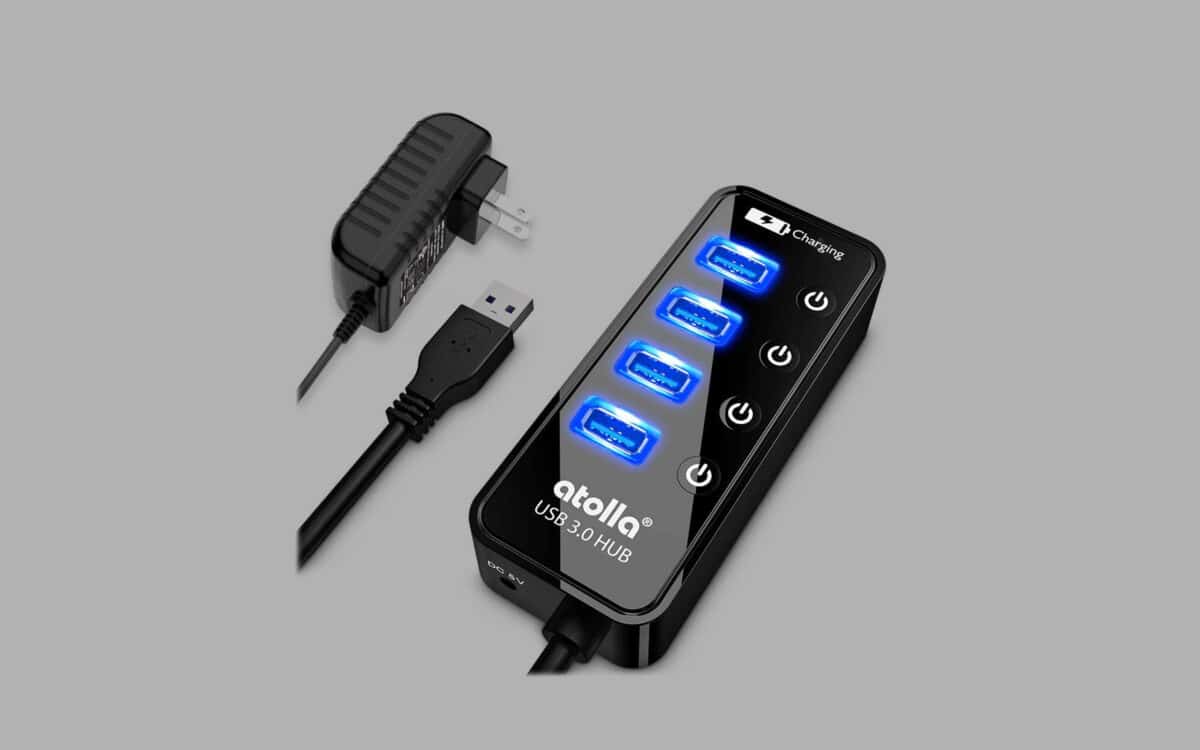 3. Atolla powered 4-port hub (best budget option)
As powered USB hubs become increasingly popular, the number of available solutions on the market is growing. You can get a hub as complex or as simple as you like!
The Atolla powered 4-port hub, for instance, comes with 4 ports which you can turn off and on individually, depending on your needs. Each port includes an LED light so you can check the charge level.
The super-speed syncing and smart charging functionality ensures you can quickly and easily expand one USB 3.0 port into four 3.0 ports for all your USB devices. Blazing fast syncing speeds of up to 5Gbps are guaranteed, along with a passthrough charge to power up your smartphone.
The USB splitter hub from Atolla comes with compatibility for all major OS systems, and a thick 60cm cord for charging.
Features:
4 USB 3.0 sockets
Individual switches for each connection
Syncing speeds up to 5Gbps
2.4 amp charging for smartphones
Elegant design with case included
60 cm of cable
Works with most operating systems
Simple and effective, the Atolla USB 3.0 hub will immediately upgrade the functionality of your laptop, so you can attack more of your favorite tools. There's even an 18-month warranty for peace of mind if something doesn't work properly.
Pros:
Slimline and portable design
5Gbps syncing speeds
Pass-through charging available
LED lighting for power tracking
Individual switches for each connection
Cons:
Cord is too short for some
Atolla 4-port USB hub
This hub from Atolla extends your connectivity with 4 external USB 3.0 ports, and an extra smart charging port that recognizes and optimizes for fast and efficient device charging.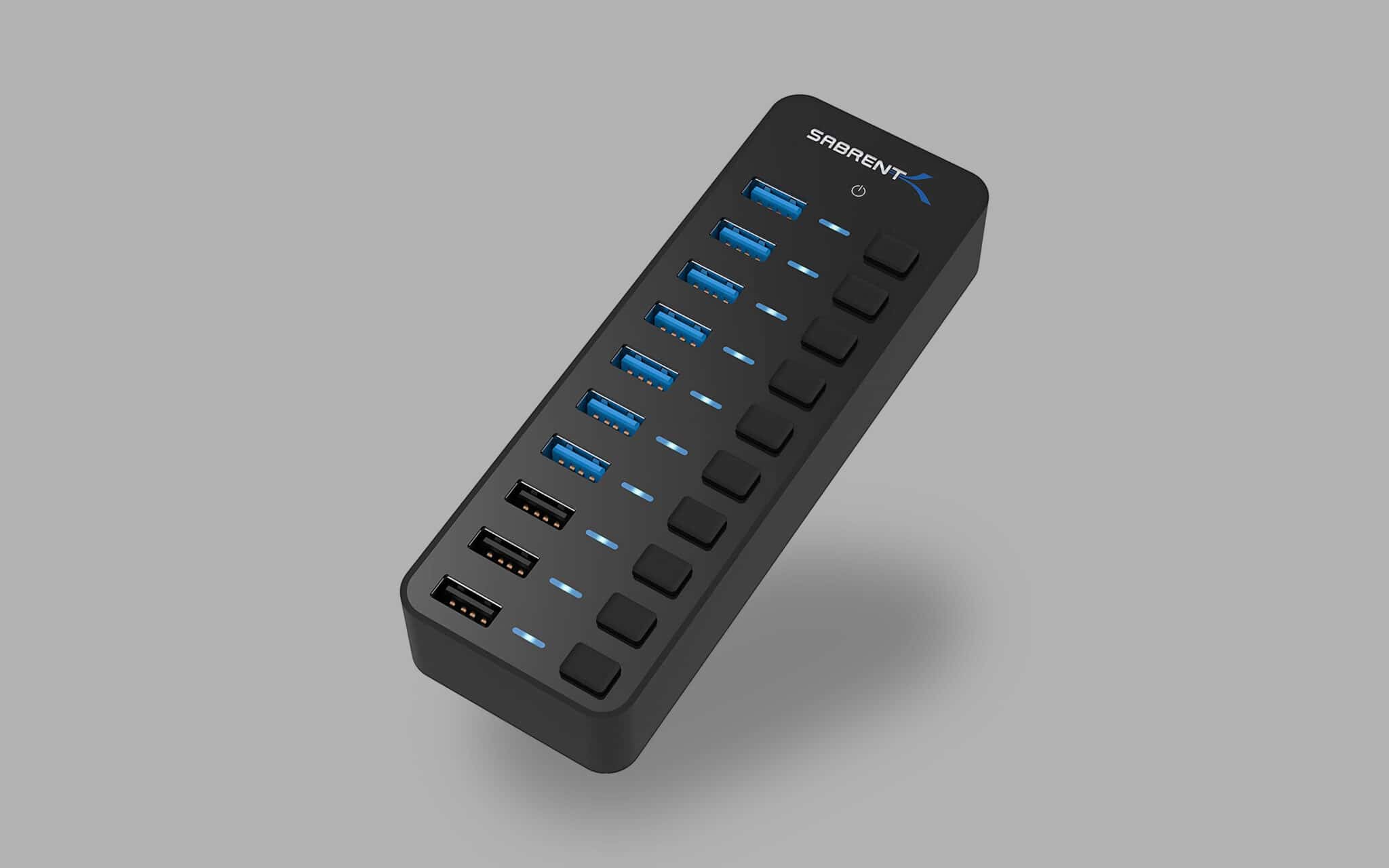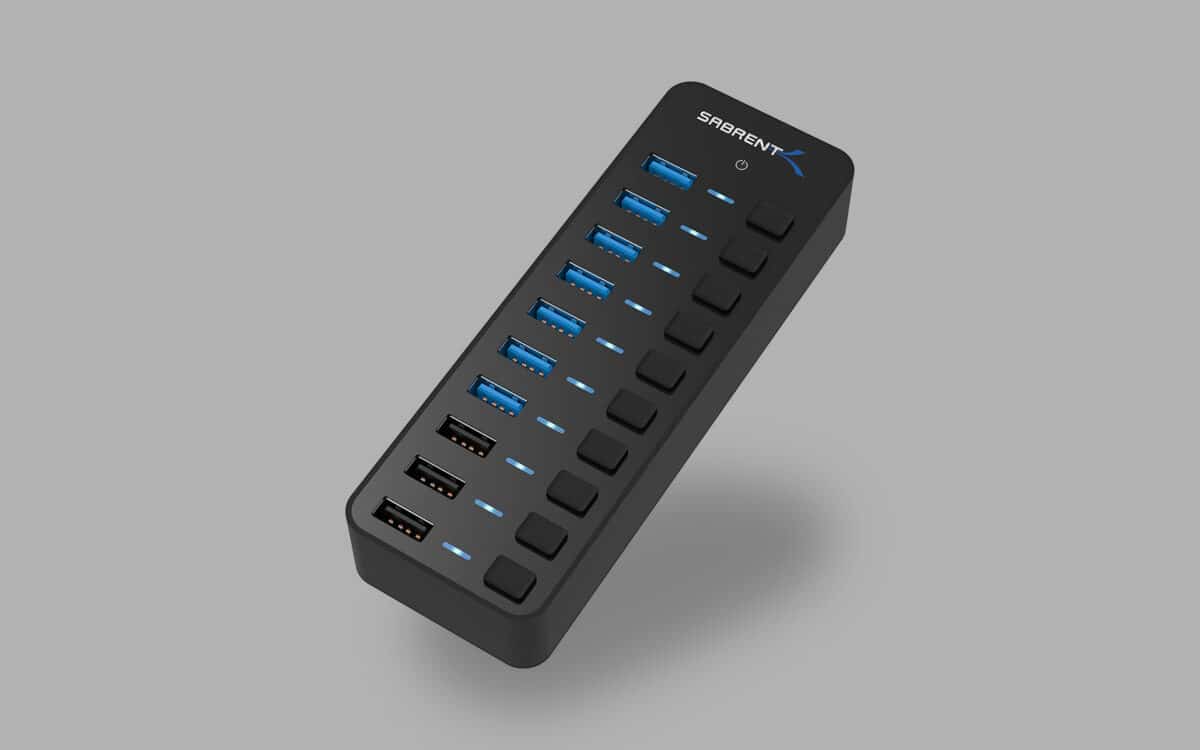 4. Sabrent 60W 10-port hub (best value)
When you're looking for the best buy powered USB hub, it's important to look for not just a low price, but a wide selection of features. The Sabrent 60W AC powered USB hub comes with access to no less than 10 USB connections.
This powered USB hub for Mac and Windows devices comes with 3 smart charging ports, which are color-coded for easy access.
Individual power switches next to each port ensures you can choose where your power is going when you're on the move. There's a full set of 7 USB 3.0 ports with transfer speeds of up to 5Gbps, and you can charge your phones and tablets simultaneously.
Blue LED lights indicate power status too.
Sleek, and durable, the Sabrent powered US hub is an excellent investment for any digital professional.
Features:
Compact and portable design
7 USB 3.0 ports
Transfer speeds up to 5Gbps
60 watts of power output
Blue LED power status indicators
Compatible with Mac, Windows, and Linux
6.5-foot power adapter
With a convenient 6.5-foot power adapter for when you need to charge your powered hub, and a 2ft cable to connect to your desktop or laptop, the Sabrent is a wonderful plug-and-play product. This device also comes with a 1-year warranty.
Pros:
Extra-long power adapter cord
Up to 10 USB connections
3 dedicated charging ports
Excellent transfer speeds
Warranty included for peace of mind
Cons:
A little chunkier than some adapters
Charging may not be consistent at times
Sale
Sabrent 60W 10-Port USB 3.0 Hub
Sabrent's 10-port USB Hub certainly offers a lot of bang for your buck, consisting of 7 high transfer speed ports and 3 dedicated smart charging ports for your devices.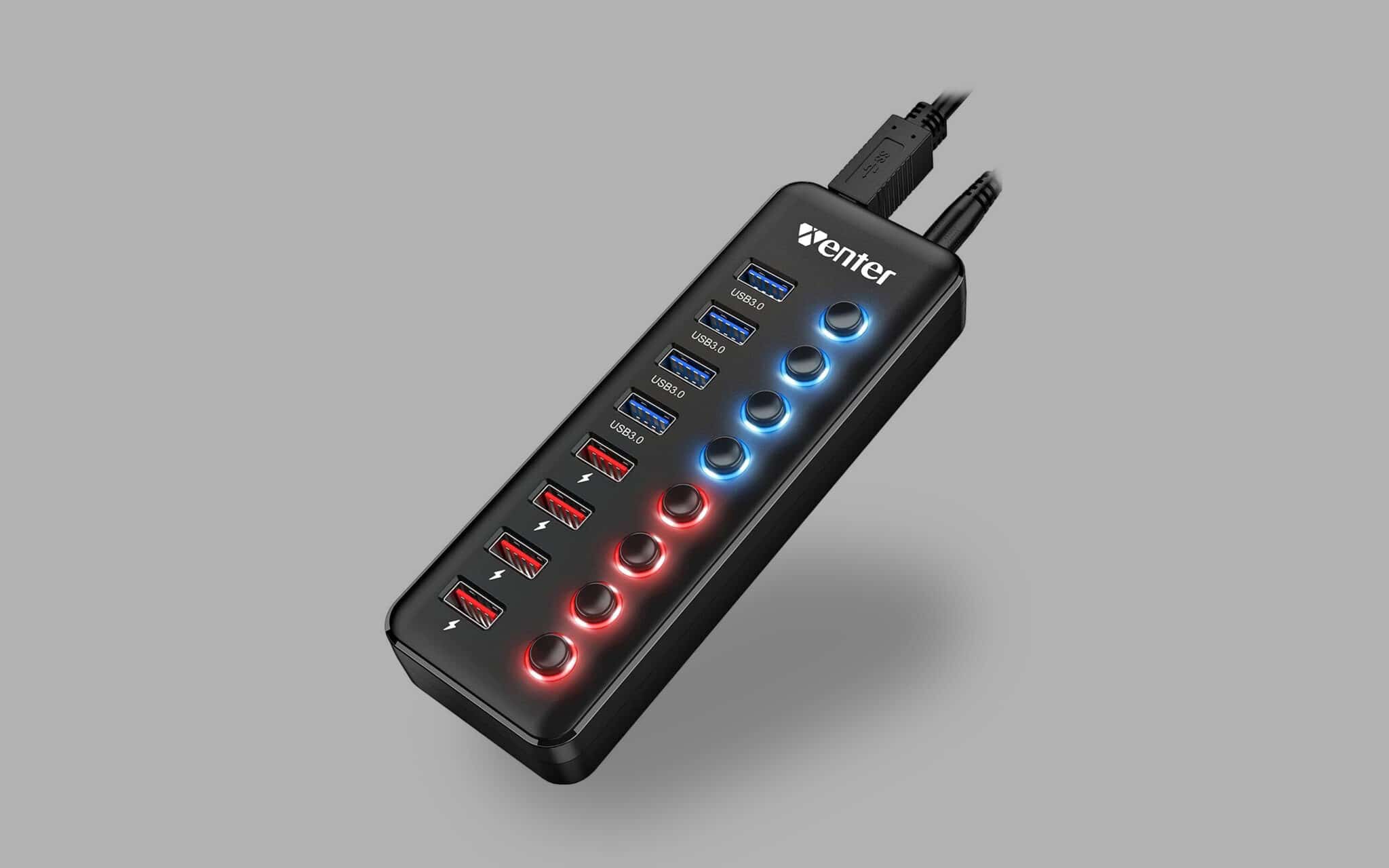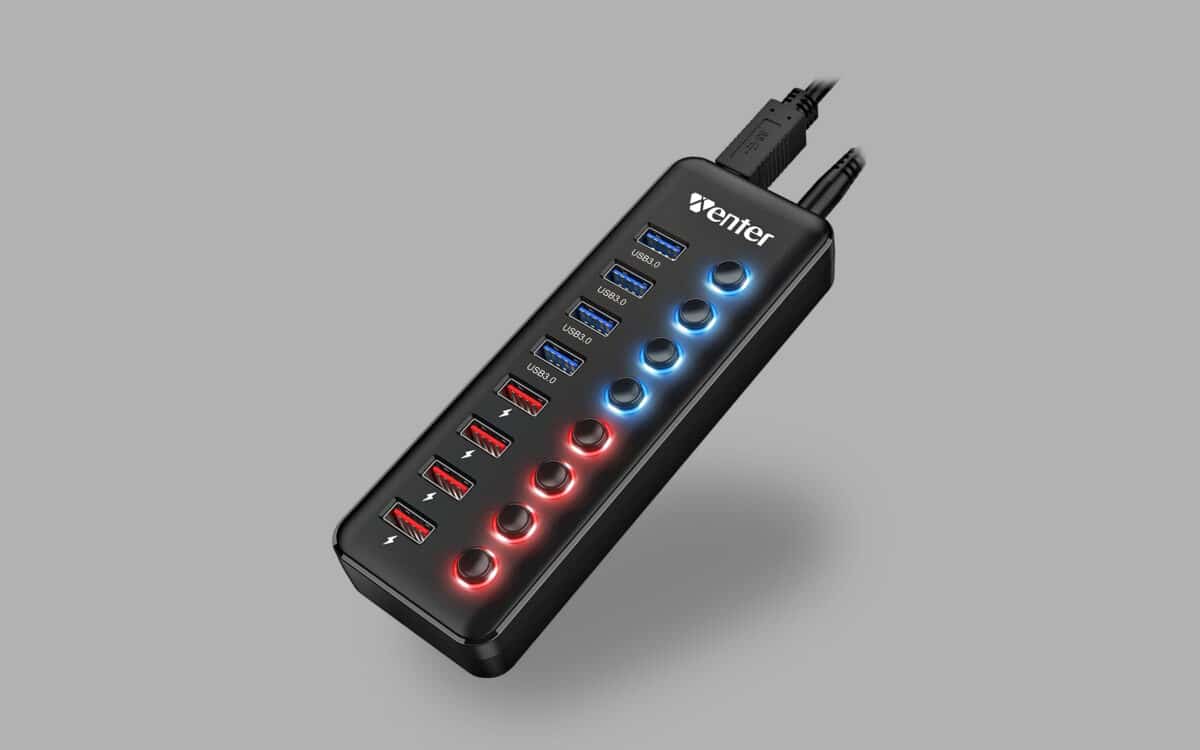 5. Wenter powered USB 3.0 hub (best customer support)
Some designers only need one or two extra USB ports to accommodate their additional tablets and products. Others need a full selection of powered ports.
The Wenter powered USB hub is one of the best products on the market for professionals with a lot of demands. This device comes with 11 ports in total, including four charging ports.
The Wenter powered hub will automatically split a single USB port into 8 external USB 3.0 ports for your hard drives, printers, keyboards, mouse, and more.
The set of four smart charging ports mean you can also charge your tablets, cameras, and phones without having to find extra wall outlet space. While individual on-off switches for each port gives you full control over your power.
Compatible with all operating systems, the Wenter USB powered hub comes with a 24-month warranty, and lifetime support if you have any technical issues.
Features:
Individual on/off switches for each porty
8 USB 3.0 data ports
4 smart charging powered ports
Great compatibility with all operating systems
Charging power up to 2.4 amps
24-month warranty
Lifetime technical support
100cm USB cable for connecting to your device
150cm power cable
Backwards compatible with older USBs, and extra-speedy at transferring data, this USB hub is a reliable product brimming with functionality. The length of the power cord might be a little small for some, but it's a small price to pay for so many ports.
Pros:
4 smart charging ports
Excellent set of 8 USB 3.0 ports
Compatibility with all operating systems
Great warranty and lifetime support
Individual port on/off switches
Wenter powered USB 3.0 hub
This multiport hub from Wenter provides 8 USB 3.0 ports, 4 of which provide current up to 2.4A for device smart charging.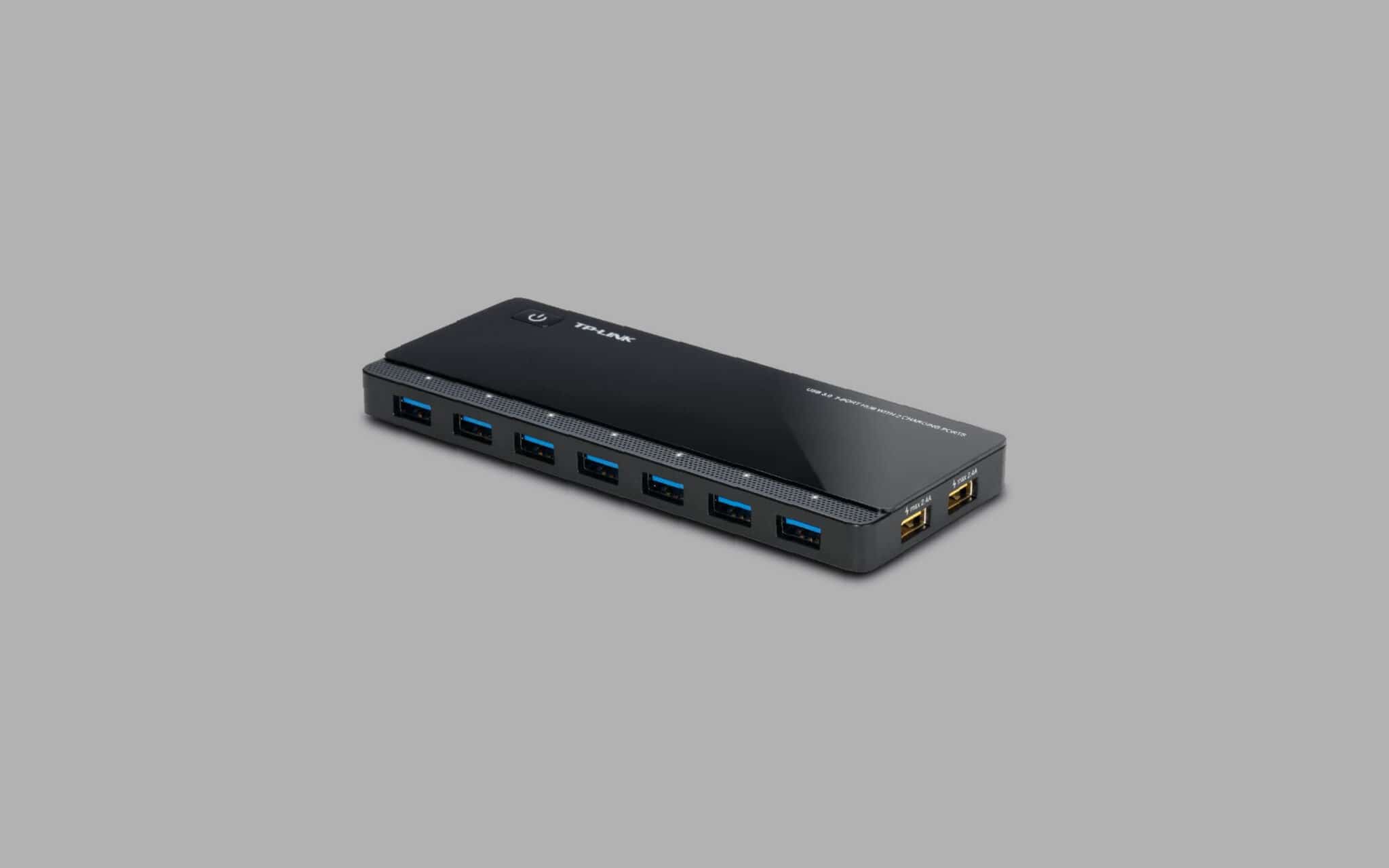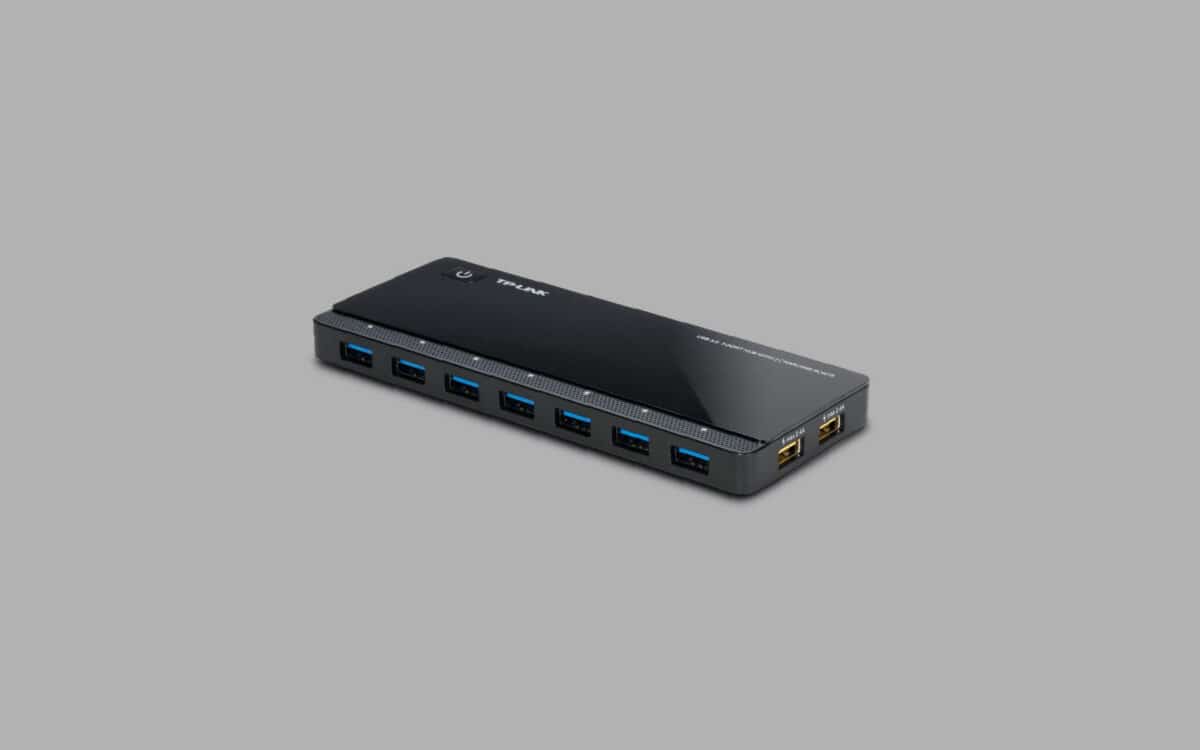 6. TP-Link powered USB hub (best safety)
Have you ever worried plugging too many devices into one laptop might not be the best way to protect your equipment? TP-Link has you covered.
One of the best powered USB hub options on the market, the TP-Link UH720 comes with a set of 7 USB 3.0 ports for ultra-fast transfer speeds of up to 5Gbps. There's also a set of 2 smart charging ports with up to 5 volts of power.
Suitable for accessing and charging a wide range of USB devices, regardless of large batteries, the TP-Link is a highly versatile device. The intelligent charging technology identifies which device you connect, so you can minimize charging time.
There's also a sophisticated circuit design with overheat overload and short circuit protections for peace of mind.
For people working in a rush, this plug and play powered USB hub requires no drivers and comes with hot-swap support to safely connect and disconnect ports when your computer is still running.
Features include:
Plug and play functionality
2-year warranty and technical support
7 USB 3.0 ports with backward compatibility
Data and equipment protection
Safety features like overheat protection
2 USB charging ports with 5 volts of power
Intelligent charging technology
TP-Link is one of the better-known companies in the digital landscape. This versatile hub will allow you to connect your devices, transfer data, and even charge your smartphone at excellent speeds, all with peace of mind.
Pros:
Excellent customer support
Easy plug-and-play functionality
Lots of safety and protection features
2 USB charging ports included
Up to 7 USB 3.0 ports
Cons:
Using multiple USB ports at once can cause errors
TP-Link UH720
This sleek-looking USB Hub is packed full of safety features, including protection for overheating, overloading, overvoltage and short circuit, to keep both your equipment and data safe.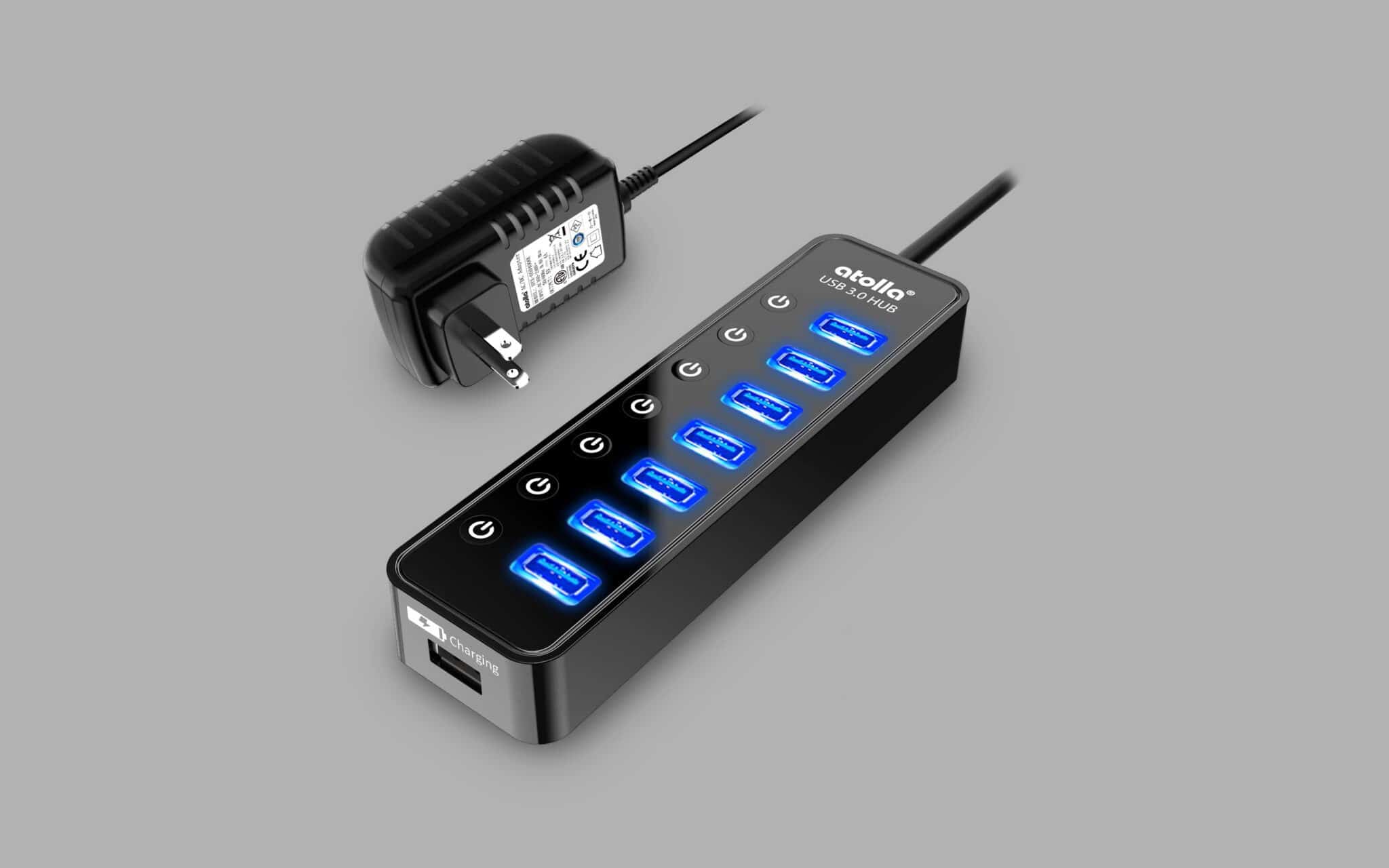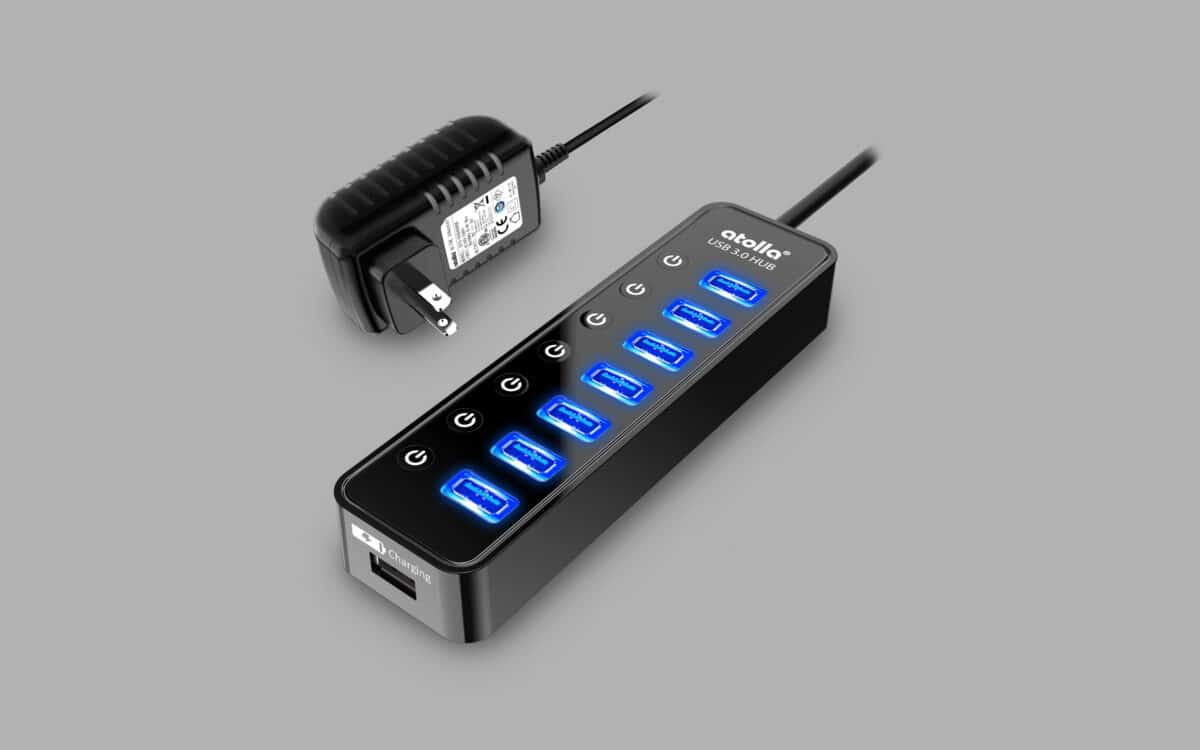 7. Atolla 7-port splitter extension (best LEDs)
Another fantastic product from the team at Atolla, this 7 port USB hub and splitter extension can instantly transform a single USB 3.0 port into a selection of 7 USB ports. 
You can connect all the hard drives, printers, and tablets you like, and there's a single charging port, dedicated to charging your phone with up to 5 volts of power.
As with many of the best powered USB hub options, the Atolla comes with simple switches alongside each USB port, so you can turn the power on and off whenever you choose. There's also excellent compatibility, with access to everything from Linux to Mac and Windows users.
All this, plus you also get an 18-month warranty.
Because the USB ports are all 3.0 enabled, they're also capable of up to 5Gbps transfer speeds, so you can move videos, images, and animations fast.
Features include:
7 USB ports with LED lighting
1 USB 3.0 charging port
Up to 5gbps transfer speed
Excellent electrical stability
On/off switches for each port
Blue LEDs to show your power status
Extra-long 100cm cable for laptop
120cm power cable
With 18 months of after-sale service and support, you can rest assured help is at hand if you have any issues with your powered USB hub. The compact product is even ideal for transporting when you're travelling around the world.
Pros:
High-quality, bright LEDs
USB charging port with 5-volt power
Up to 5Gbps charging speed
7 USB ports with on/off switches
Great connectivity cable
Cons:
Slightly short power cable
Lights may be too bright for some
Atolla 7-Port USB Hub
This USB hub from Atolla provides 7 external USB 3.0 data ports for peripherals and syncing data at speeds up to 5Gbps.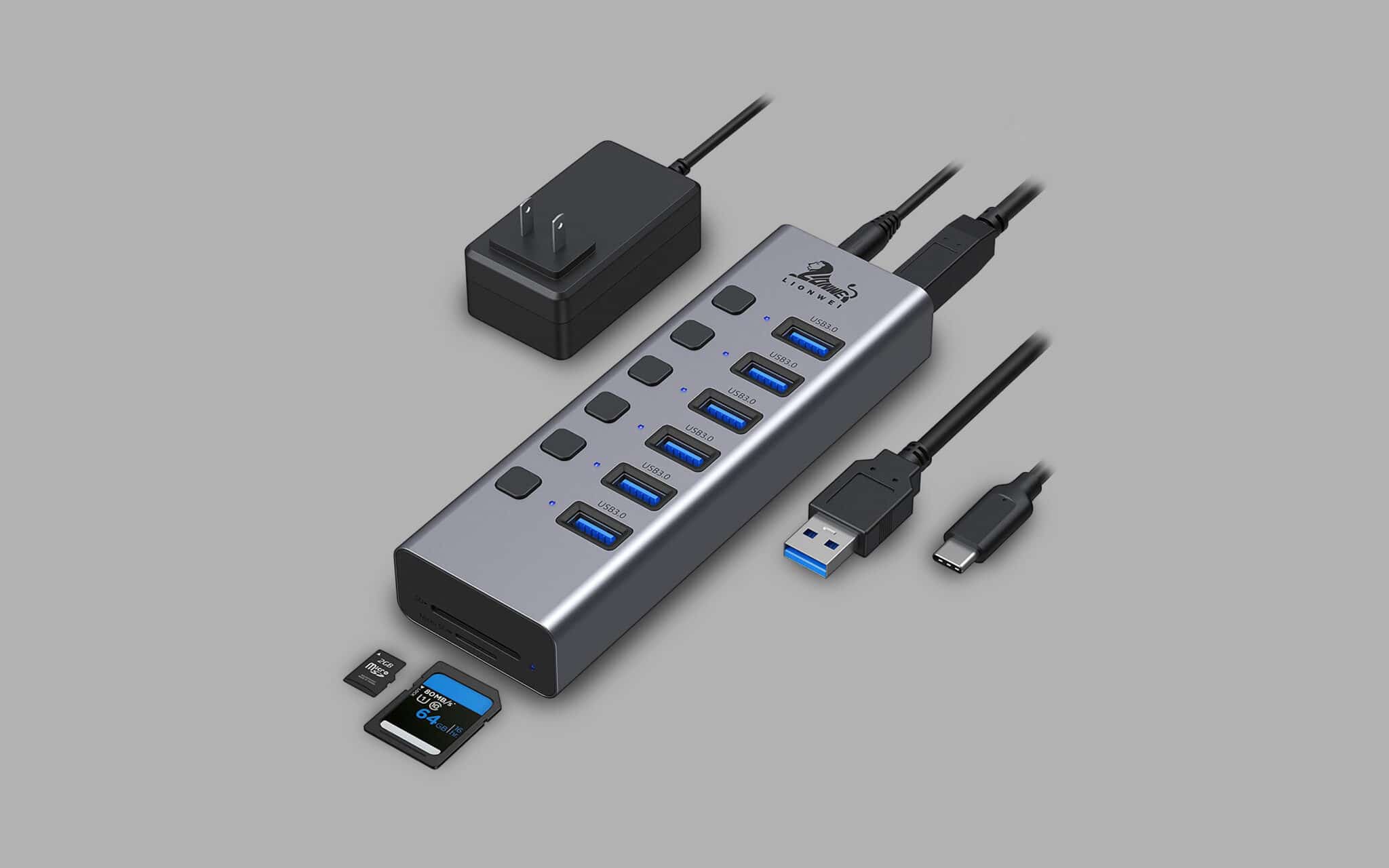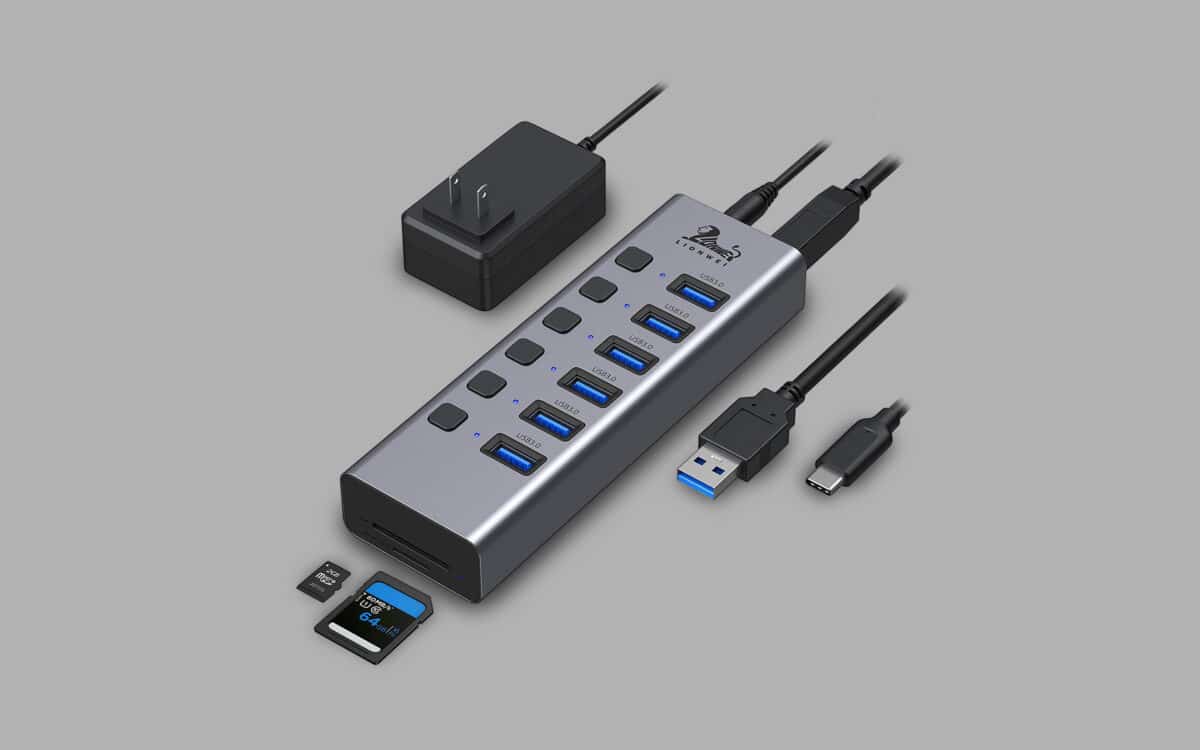 8. LIONWEI universal powered hub (best all-in-one)
Another top choice for the best powered USB hub, the LIONWEI universal adapter and USB splitter is a versatile product with 6 USB 3.0 ports. Each data port comes with its own on/off switch, so you can control the flow of power.
There's also a handy port for your SD/TF cards too, making this product a top choice for photographers on the move.
USB 3.0 port connections allow for ultra-fast data transfer, or lag-free connections to hard-drives, mice, and keyboards. There's a 40-inch power cable included, and a 15.5-inch USB C cable length, to help you plug your device into desktop computers.
An aluminum case gives you a durable and lightweight travel companion here, and LED lights help with tracking power levels.
Universal and ready to work with a wide range of operating systems, the LIONWEI universal hub requires no driver installations, so it's quick and easy to use.
Features include:
Universal compatibility with operating systems
SD/ TF card reader slots
Support for up to 6 USB 3.0 ports
5Gbps transfer speed
Durable and lightweight aluminium case
Long cable length for easy use with desktops
On/off switches for each USB port
Backwards compatibility
Giving you the ultimate hub for connectivity if you're a photographer, or work frequently with SD cards, this powerful device is a great investment. You can read 2 cards at the same time, and you get support for extra safety from short-circuit and overcurrent protection.
Pros:
6 USB 3.0 connections with charging capabilities
TF/SD card reader slots
Protection from overcharging and heating
Super speedy data transfer
Aluminium construction
Cons:
Somewhat chunky compared to some devices
USB charging is quite slow
Sale
LIONWEI 8-Port Powered USB-A+C Hub
Instantly add 6 USB 3.0 ports and SD Card readers to your laptop, desktop, smart TV, or gaming station. Comes with both a USB-A and USB-C connection cable to fit new and older devices.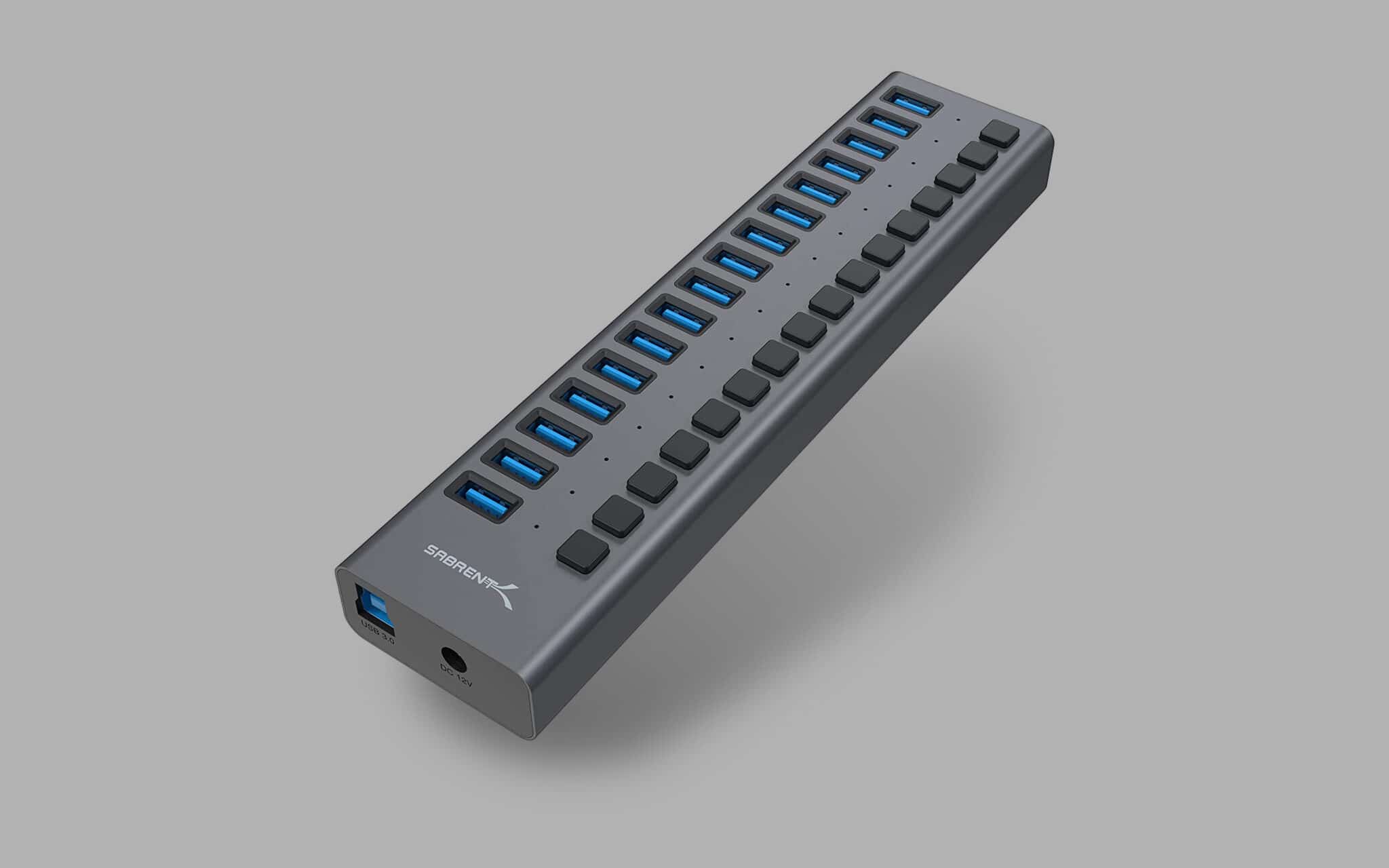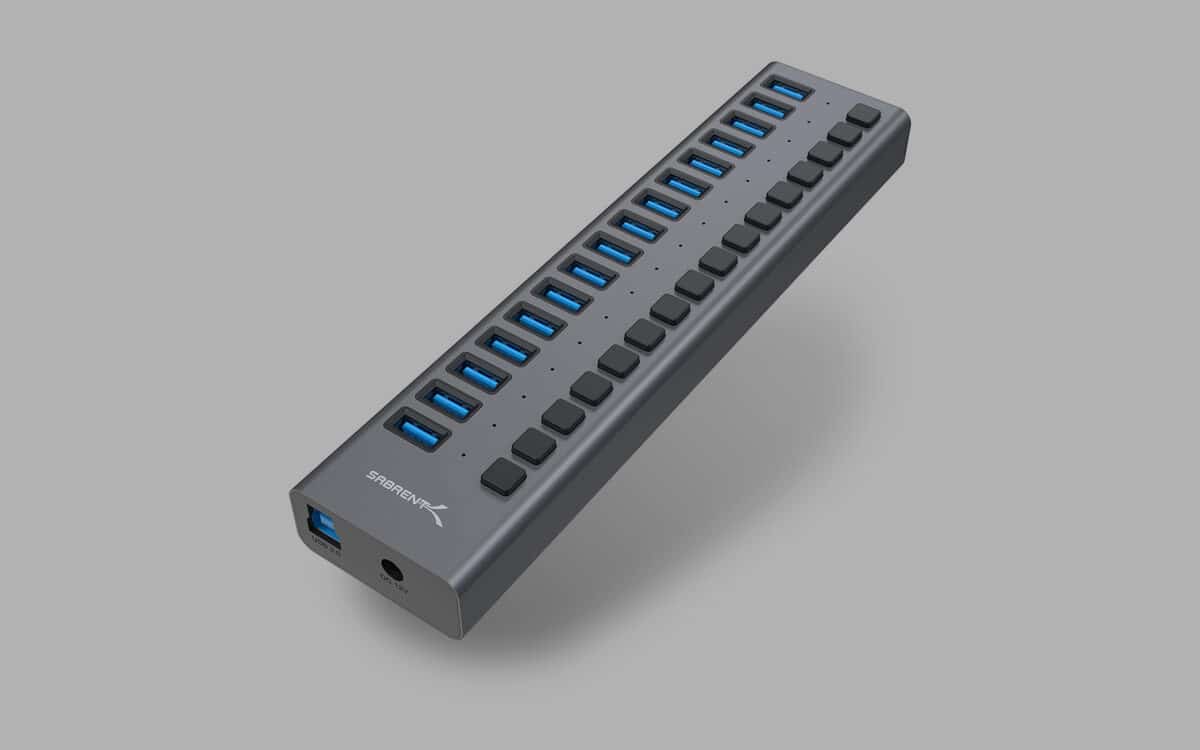 9. Sabrent 16-port data hub (best hot swappable)
If you need a powered USB hub brimming with versatility, the Sabrent 16-port data hub is sure to tick plenty of boxes. This product comes with 16 speedy 3.0 ports, which are all backwards compatible with older devices.
The ports support 5Gbps speed transfer, as well as low-speed and full-speed transmissions, depending on your needs.
Whether you're plugging in flash drives, card readers, or other USB peripherals, the Sabrent allows you to access technology or charge your devices on the move.
This product is compatible with Linux, Windows, and Mac devices, and it comes with LED lights to show you the power status of each port. You can also switch each port's power on and off with its accompanying button.
The hot-swappable design of the port means you don't have to turn the whole system off when changing USB devices. Simply remove and switch USB components as you like while the laptop is still running.
Features include:
16 USB 3.0 ports
Backward compatibility with older devices
Plug and play with no drivers
LED power tracking
Super speedy 5Gbps transfers
Charging functionality available
Full-speed and low-speed transmission
Hot swapping functionality
Although a lot larger than some of the other USB hubs we've mentioned here, this device will expand your computer functionality like never before. The super speedy data transfer and secure over-charge protection work together to boost productivity.
Pros:
Up to 16 USB 3.0 ports
Plug and play functionality
Full and low-speed transmissions
Hot swapping supported
LED power lights
Sabrent 16-Port USB 3.0 HUB
Ideal for the device/perihperal power-user, this USB Hub from Sabrent allows up to 16 USB devices to be plugged-in at once with up to 5Gbps speeds.
Choosing the best powered USB hub
The best powered USB hub is a valuable investment if you need to run several devices at once. With a carefully-chosen powered USB hub, you'll be able to accomplish more, even when on the move.
The selection of the best powered USB hub choices covered above aims to give you a wide selection of reliable products to choose from.
However, it's always worth doing your own research too.
Remember, when shopping for a best buy powered USB hub, consider:
Number of ports
How many extra USB ports do you need? It's best to get slightly more than you think you need right now, so you can continue to add new peripherals when necessary.
USB functionality
Most USB ports today are 3.0 enabled, which means you get faster transfer speeds. Ensure your USB hub is also backwards compatible with any other devices you need to use.
Charging
Not all USB hubs will offer this, but many allow you to charge your devices through the hub itself. If you're looking for a powered USB hub with this functionality, it's best to stick with a hub which has clearly labelled data and charging ports.
Design
A good, powered USB hub should be lightweight and portable enough for travel, but durable enough to withstand regular use. Look for high quality materials and a good warranty and service guarantee where possible.
Extra features
Some hubs come with access to extra features, like SD/TF card readers, ethernet connectors, and HDMI ports. Don't be afraid to consider a wide range of hub options, depending on your needs.
Remember to check out our other list articles for more guides to some of the top products you can purchase for your design career.
Fabrik: A branding agency for our times.