The best podcast microphone is a must-have investment for today's audio content creators. With a sound podcast microphone, you ensure your voice comes across clear-as-day for your listeners.
According to Edison Research, 197 million Americans have heard of podcasts, and the demand for this audio entertainment is growing rapidly in the UK and US today.
Podcasts have a unique advantage over any other kind of digital content. They give you a way to engage with your audience wherever they are.
Through podcasts, you can deliver your thought leadership and marketing messages to customers as they jog through town, drive to work, or even sit in the break room.
There's no visual attention required with a podcast, which means that customers can absorb your content whenever they like, wherever they are.
Of course, to deliver a successful podcast, you're going to need the right tools. A good podcasting plan and a strategy for the kind of content you're going to create will be an excellent way to get started.
However, you're also going to need to get the hardware right too. That means investing in the best podcast microphone you can find.
So, how do you choose between all the different microphones for podcasting available today?
Easy, you can start right here.
We've put together an all-access list to the best podcast mics available today.
What microphone should I use for podcasting?
Before we throw you head-first into our review of some of the best microphones for podcasting that money can buy, it might be worth introducing you to some of the features you'll need to consider when making your purchase.
A podcast microphone is one of the most important tools for any content marketer. It ensures that the quality of your audio is up to standard, so you can deliver a show that your audience wants to listen to.
If you have a crackling microphone that delivers terrible audio, your customers won't squint and strain trying to hear what you have to say, they'll just switch to another podcast.
So, what should you be looking for in the best podcast mic?
Directional capability: Directional capability in a podcast microphone dictates how well your microphone can pick up sound from all directions. If you're hosting a podcast where you're the sole speaker, then a one-directional or cardioid microphone will be the best choice. This device will pick up the audio from you, while hopefully blocking out excess background noise from squeaky chairs and fans. If you're planning on hosting a podcast with regular interviews and Q&A sessions then a bi-directional or omni-directional microphone might be more appealing, as it will allow you to pick up sound from multiple people at once.
Design: Microphones come in many shapes and sizes. Some come with a built-in pop filter which help to get rid of crackling and other sounds so that your listeners have a more enjoyable experience. Other microphones might come on a rotating arm so that you can move your microphone back and forth between members of your team.
Durability: Durability is an important aspect of design. Many of the best podcast mics available today come with a relatively high price tag of at least a couple of hundred pounds (or dollars). If you make a hefty investment in your content creation tools, you'll need to know that these devices will stand the test of time. Look for high-quality materials and shock or drop damage wherever possible.
Microphone impedance: This term refers to the receptiveness of your chosen microphone, particularly when it comes to capturing AC currents and sound signals. A high-quality podcast microphone should have a rating of around 600 Ohms or lower. Higher ratings could mean that you're picking up too many external sound signals, or that you're missing out on other essential features.
Budget: Though it's hard to decide on the best podcast microphone based on price alone, we all have budgets to consider. Microphones for podcasting come in everything from budget-friendly portable designs, to solutions created for high-level professionals. Remember that you often get what you pay for with this technology, so choosing the cheapest tool might be a bad idea in the long-term.
What is the best USB microphone for podcasting?
Aside from the components above, you may also need to consider the type of podcast microphone that's suitable for your needs. We've already discussed things like directional capability and design, but what about USB or XLR connections?
A USB microphone is likely to be one of the most appealing options for people who want to be able to plug and play with their technology. You can use tools like the Blue Yeti USB condenser microphone or the Samson Co1U pro to start recording instantly.
You just take your device out of the box, plug it into your laptop or desktop, and install a recording software – then you're ready to go.
While XLR podcasting microphones are relatively easy to use in their own right, they're not as intuitive as USB options for beginners.
These microphones use XLR cables to plug into audio interfaces. You can then adjust these audio hubs to address things like noise cancellation and frequency with your recordings.
Over time, you can achieve much better sound quality with an XLR solution like the Shure Beta 58A or the Heil PR-40, although it does take a lot more time to get used to this kind of tech.
The 10 best microphones for podcasting
Got all that? Great!
Now we're ready to start looking at some of your best podcast microphone options.
The following microphones have been chosen for a number of reasons. Not only are they easy to use, but they're packed full of features that will help you to launch a successful audio content strategy in no time too.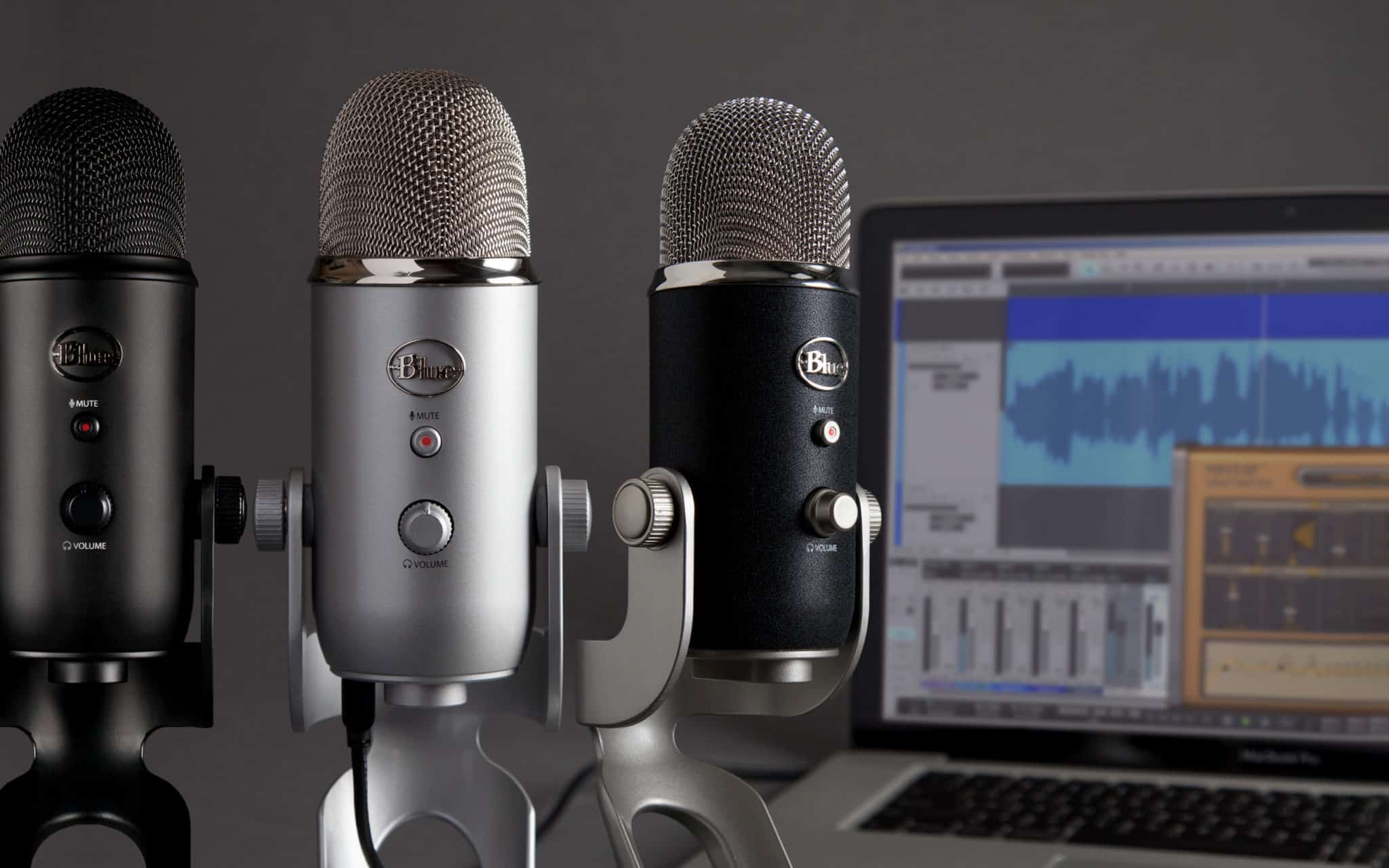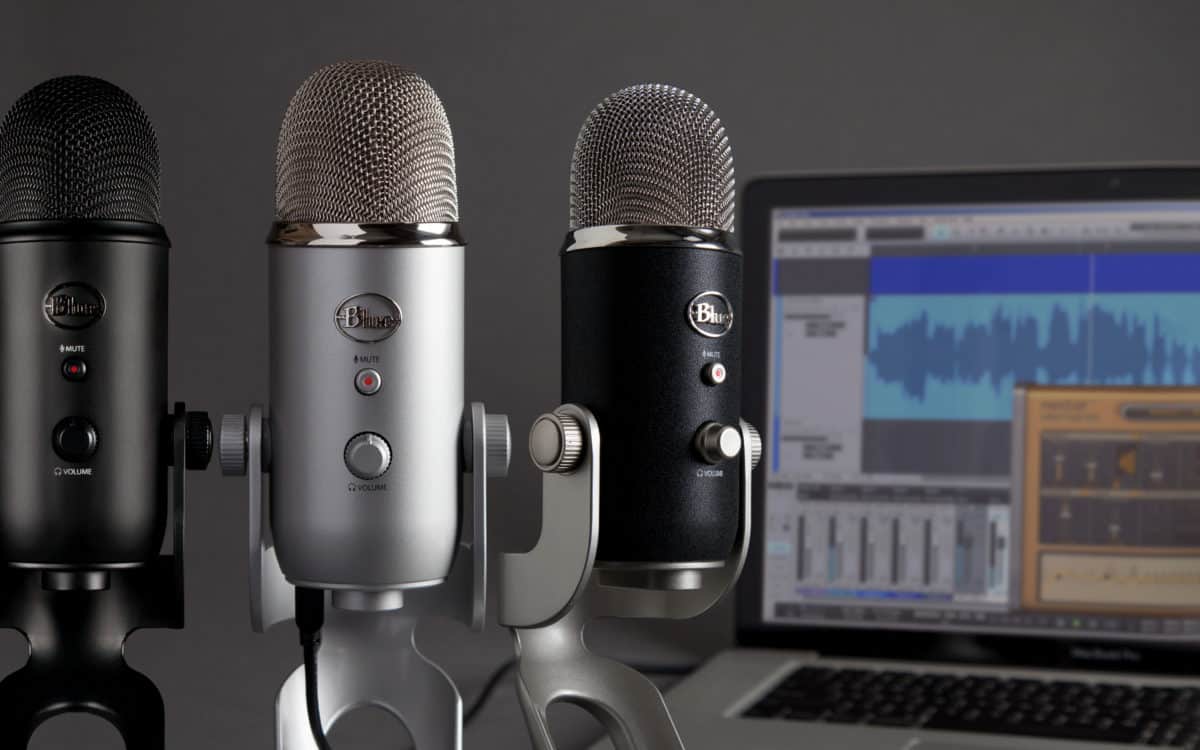 1. Blue Yeti USB condenser podcast microphone
The Blue Microphones brand is one of the best known in the audio industry for beginners in the podcast realm. Although these microphones deliver a lot of high-quality features, including multiple pick-up patterns and on-board audio controls, they're also very easy to use.
With the Yeti, you can adjust and pivot your microphone according to your needs, and there are four pickup patterns to choose from.
This means that instead of using different microphones for monologue recordings and Q&A sessions, you can just flip a switch on your Yeti setting to access everything from cardioid to stereo and omni-directional recording.
The combination of three different condenser capsules in one on the Blue Yeti also means that you can record excellent audio in a range of situations, making this mic terrific for podcasting. There's also an integrated headphone jack and amp for real-time audio monitoring.
Features:
Four pickup patterns, including omni, bi-directional, stereo, and cardioid
Legendary broadcast-quality sound
3 condenser capsules in one
Accessories like a boom arm and shock mount available
Headphone and amp output
Mute access
Plug and play usability
Multiple colour choices
Position however you choose with pivoting design
On-board audio controls
USB or XLR: This particular product comes with a plug and play design that works with both USB and XLR set-ups.
Pricing: Around £120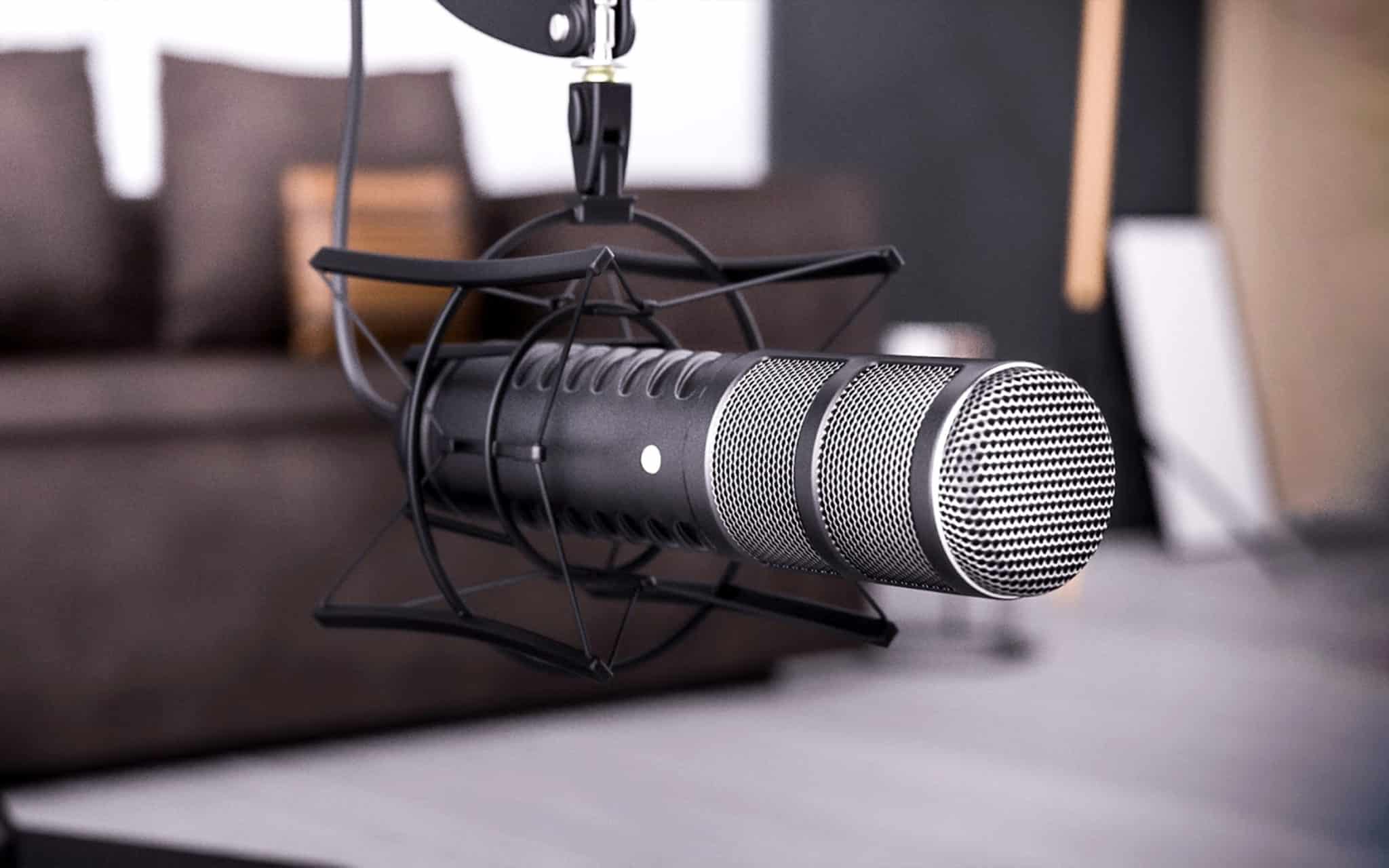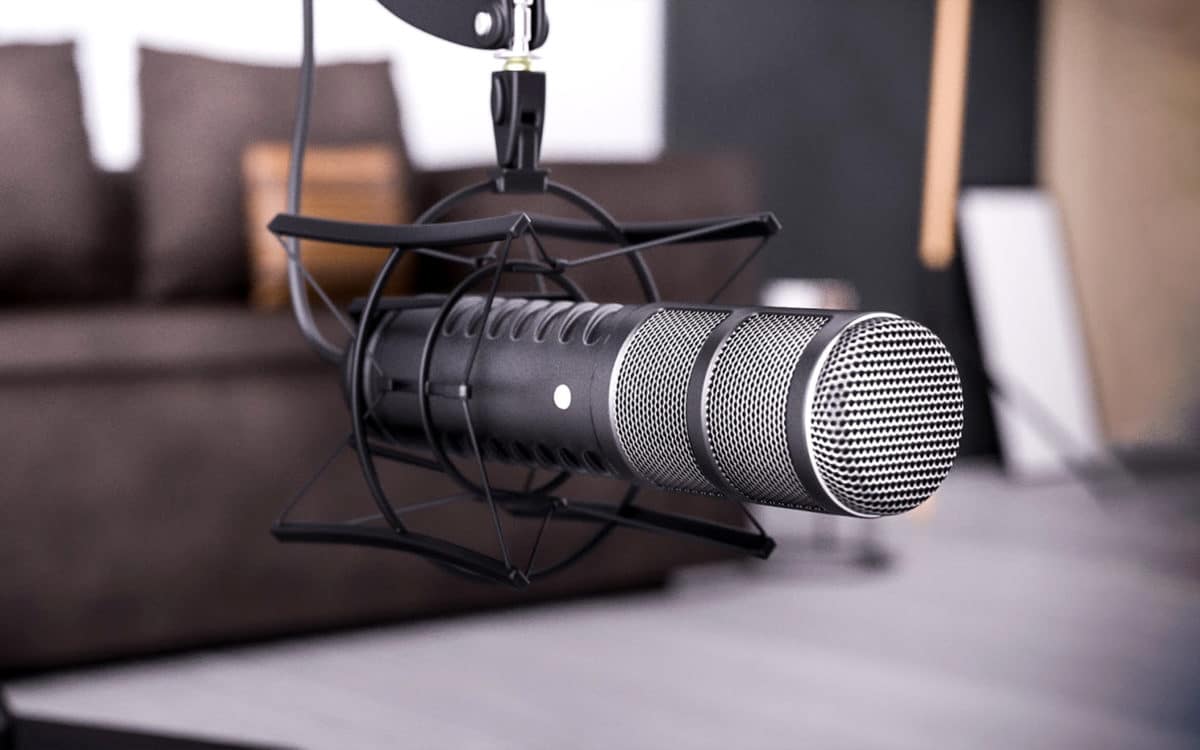 2. Rode Procaster dynamic podcast microphone
The Rode Procaster dynamic microphone is very similar to a traditional microphone in style. It's the kind of thing that you would expect to use if you were interviewing celebrities on the red carpet.
Every aspect of this product was made specifically to deliver excellent voice recording, with a high output dynamic capsule, and an internal pop-filter, so you can avoid buying one separately.
If you're looking for a way to step up your podcasting game, then Rode offers superb quality for a reasonably affordable price. Although this option isn't as plug-and-play ready as the standard USB microphone, the Rode is pretty simple to get used to.
We'd recommend getting a stand for your Rode Procaster, however. The ring-mount microphone stand that comes with it might not be enough for a multi-person podcast.
Features include:
10-year warranty
High-level broadcast sound quality
Built-in pop filter to reduce ambient noise
Balance low-impedance output
Internal shock mounting
All-metal durable construction
USB or XLR: Designed for XLR
Pricing: Around £140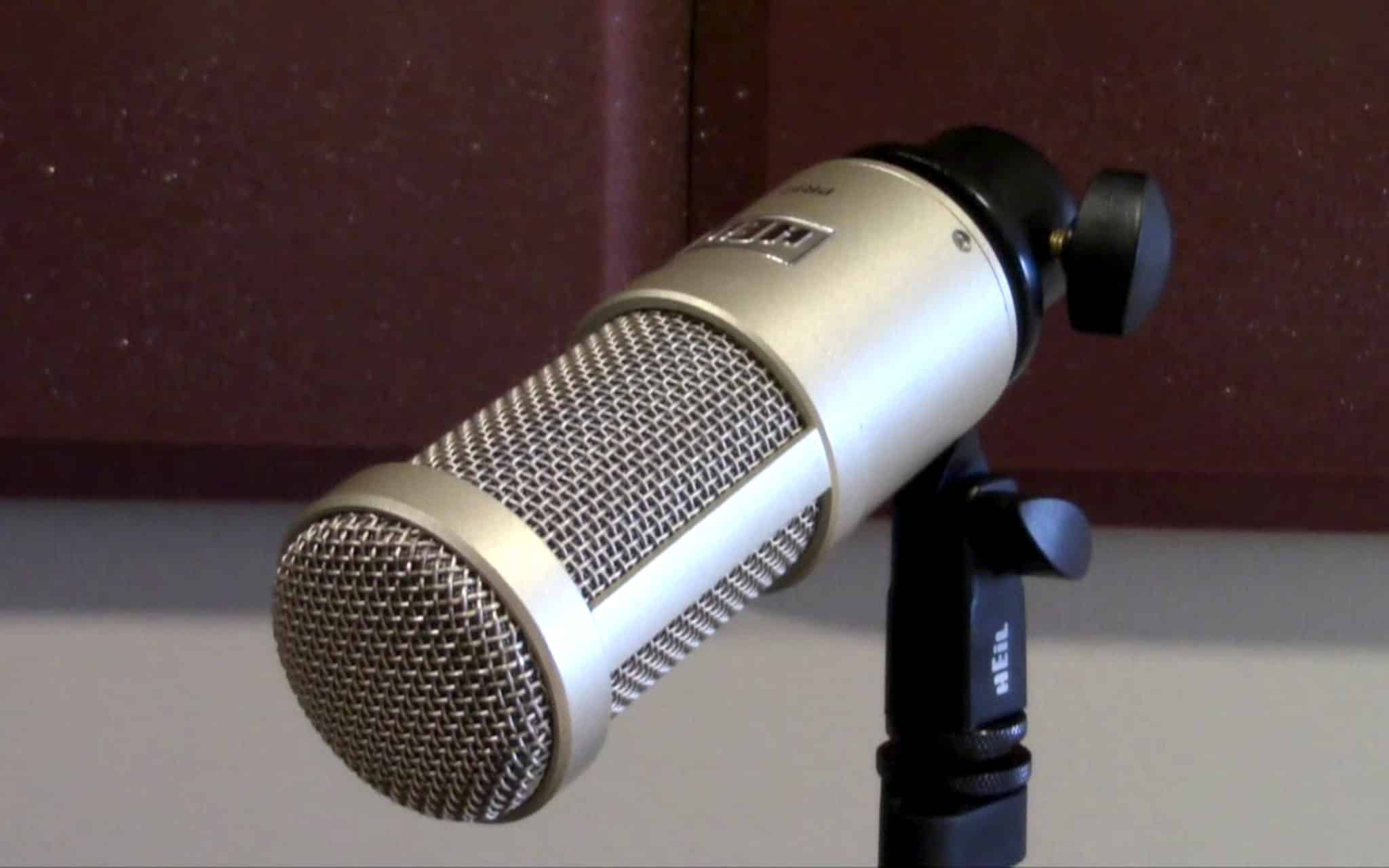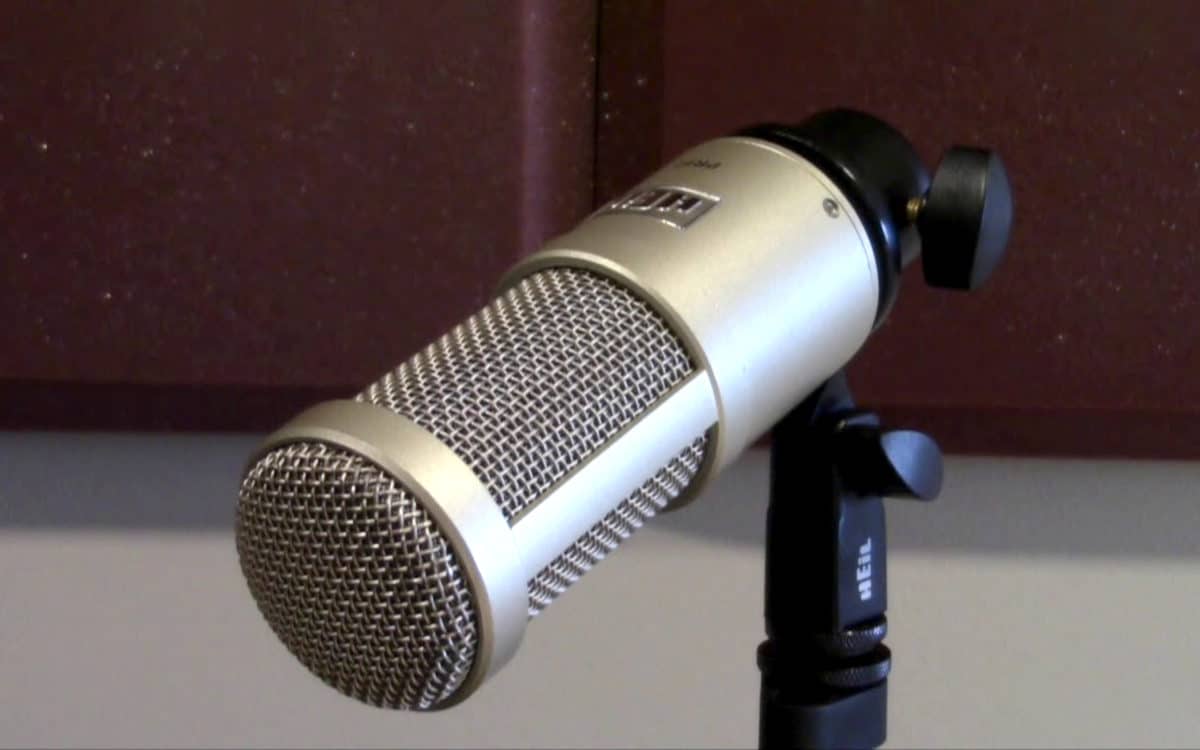 3. HEiL Sound PR-40 podcast microphone
HEiL is one of the most popular companies around for excellent sound quality and amazing audio.
The HEiL Sound PR-40 DYN Studio mic is a leading podcast microphone with one of the largest frequency ranges available, from 28 Hz to 18 kHz.
This is a durable, top-performance microphone created for versatility and reliability. Custom magnet metals housed in a beautiful matte steel body gives you the impression that you're working with something truly professional.
Although the HEiL is definitely a little more expensive than a few of the other products that we'll list in our search for the best podcast microphone, it's worth every penny. With a 600 ohms impedance, and an incredible output level, the HEiL has it all.
Even the internal technology of the microphone is shock-protected, so you don't have to worry about any extra noises or disturbances.
Features include:
Dynamic design
28 Hz to 18 Khz response rate
Cardioid recording pattern
180 degree rear rejection
600 Ohms balanced
13.5 oz weight
Shock mounted diaphragm
High-quality custom metals throughout
Internal pop filter to reduce hiss
USB or XLR: 3 pin XLR
Pricing: Around £330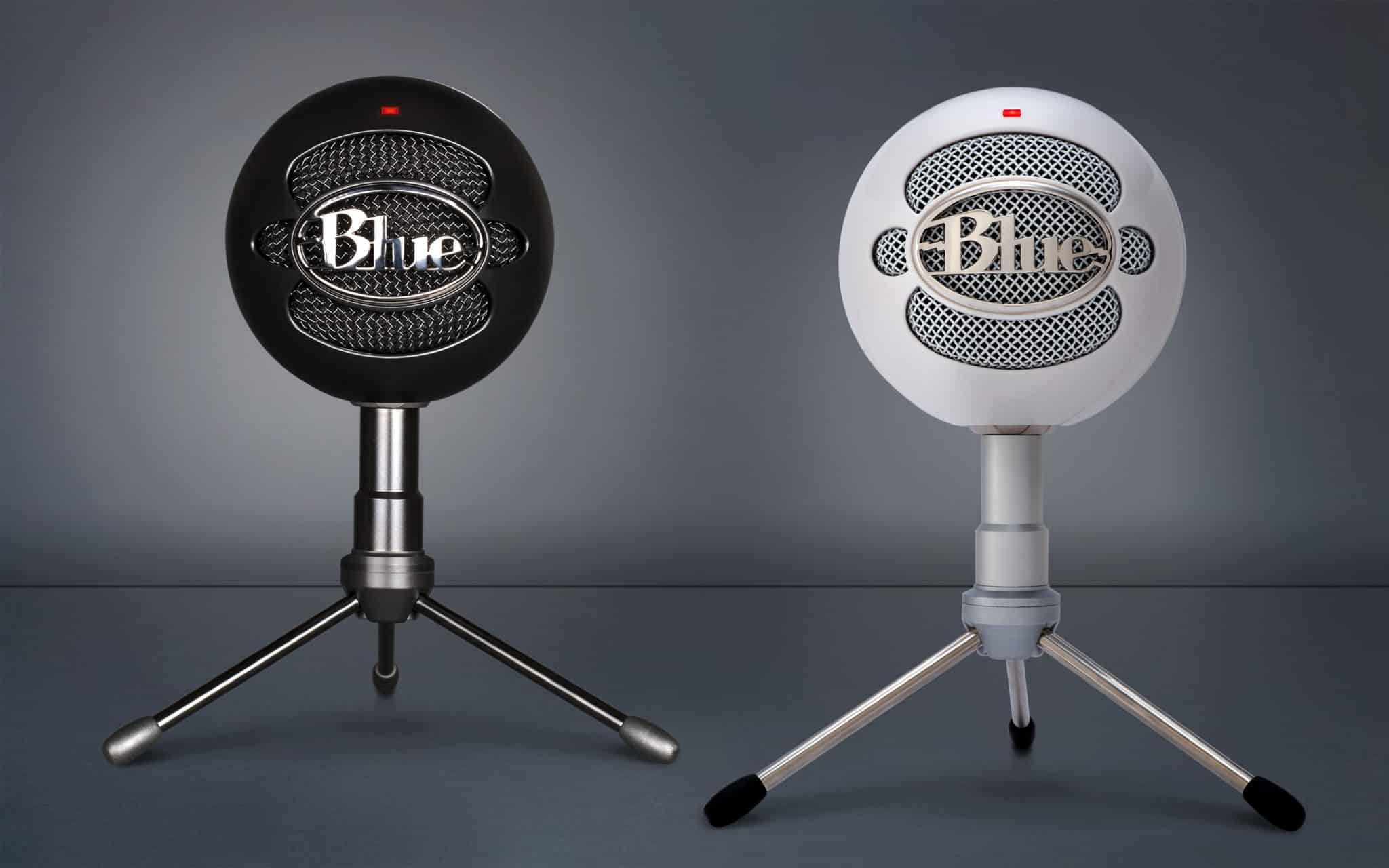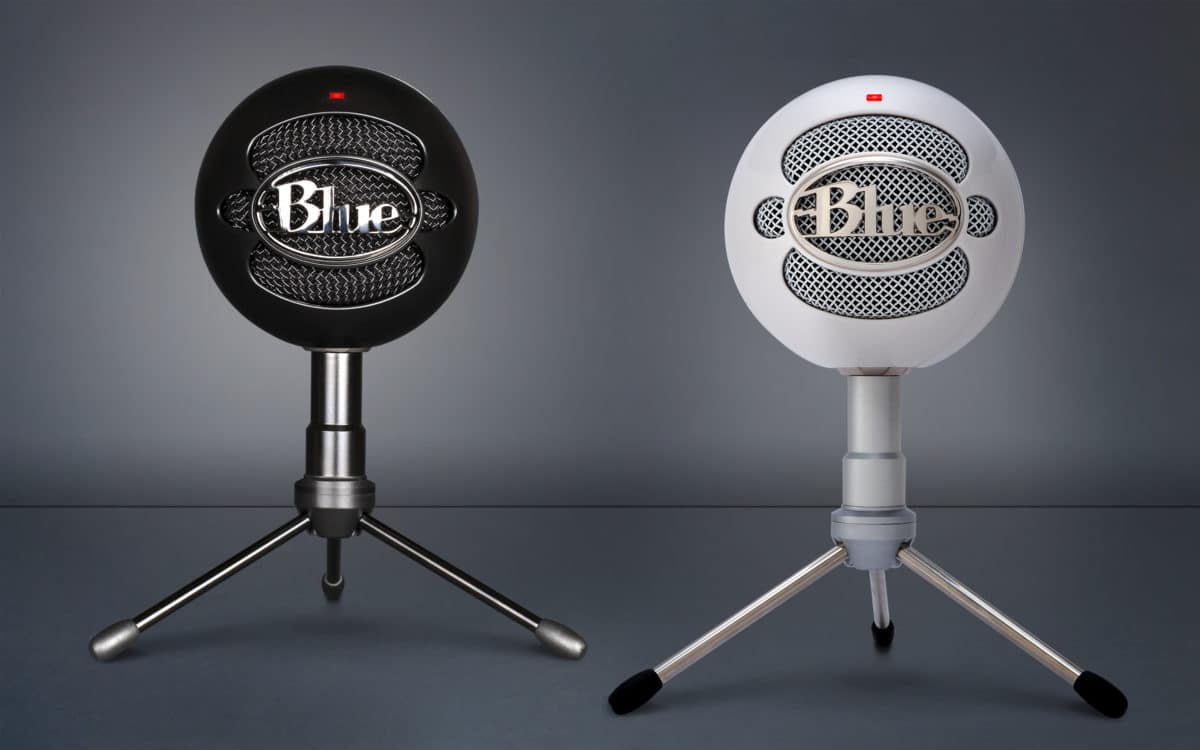 4. Blue Snowball Ice condenser podcast microphone
Another fantastic product from Blue, the Snowball Ice Microphone is one of the best podcast mics for beginners. USB-ready with an adjustable stand, this device is truly plug and play.
You can set your entire podcast strategy up in a matter of minutes, with crystal clear audio that's far beyond anything you would expect for such a low price.
With a cardioid pickup pattern that's great for solo podcasters, the Blue Snowball is stylish and easy-to-use. There's even Skype certification built-in, so you can use it for video conferencing at work too.
Ideal for anyone who wants to get started in the podcasting environment fast, the Blue Snowball comes with a tripod, and a USB cable in the package.
Features include:
Integrations with all your favourite software
Crystal clear audio for a low price
Adjustable tripod included
USB plug and play simplicity
Fantastic for recording instruments and vocals
Unique retro design
Custom condenser capsule included
Affordable pricing
USB or XLR: The Blue Snowball is designed for beginners with easy USB connectivity
Pricing: Around £50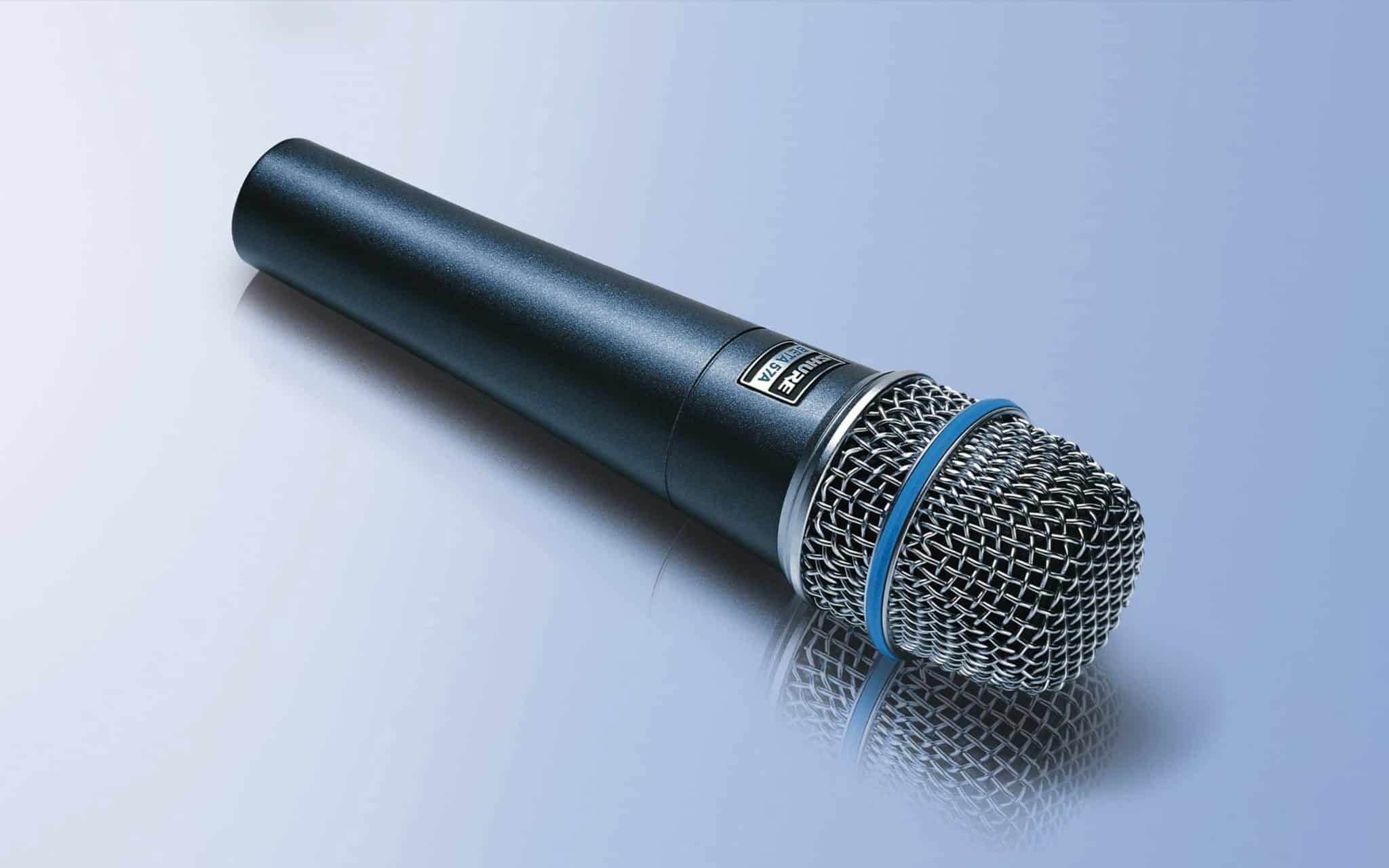 5. Shure Beta 57A supercardioid podcast microphone
Here's another fantastic contender for the best podcast microphone on the market. The tailored frequency settings on the Shure BETA 57A are fantastic for capturing audio information from drums, guitars, and vocals.
You could record your own music on this product without a problem.
The uniform super cardioid pickup pattern provides high-quality and focused audio that's ideal for one-person podcast recording. In addition, the lightweight design of this product means that you can easily pass it back and forth in an interview too.
The hardened steel mesh grille fights back against wear and tear, which also limits exposure to things like pop and excess noise. Wireless connectivity means you don't need to trip over wires either.
Features include:
Tailored frequency response for excellent pickup
Uniform super cardioid pattern
Hardened steel mesh grille
Wireless connectivity
Incredible 50 hz to 16,000 hz frequency
Excellent for warm vocals
Amp output included
USB or XLR: XLR connections or wireless connectivity with the right software
Pricing: Around £150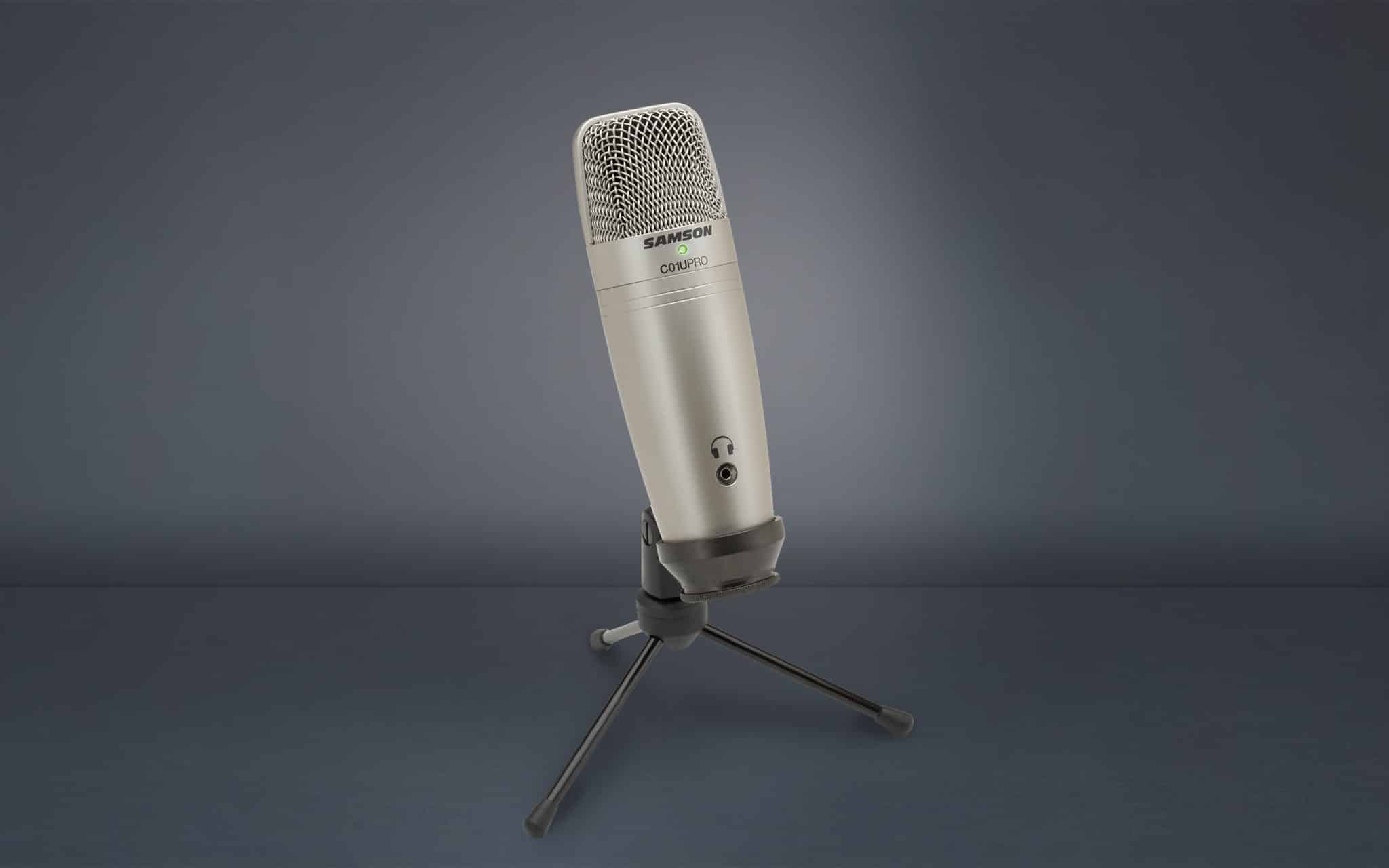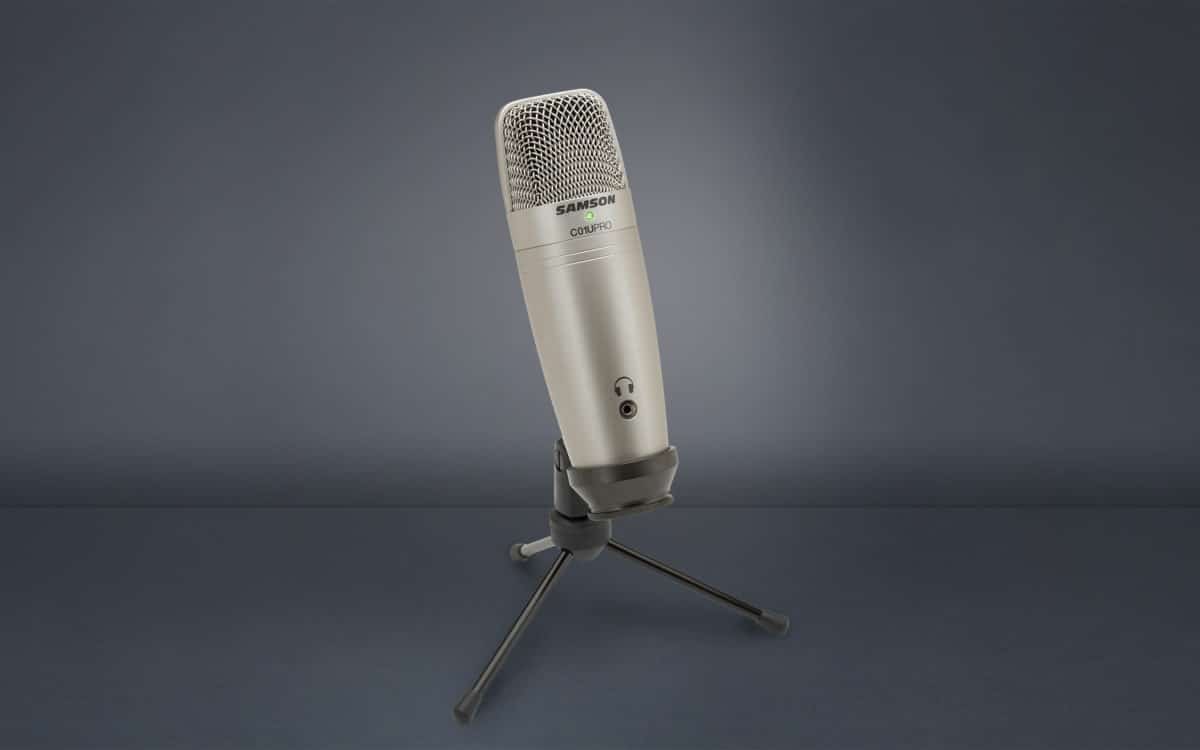 6. Samson C01U Pro USB podcast microphone
Going back to simple USB microphones, the Samson Sac01UPro USB podcast microphone is one of the most affordable on the market.
This high-quality condenser microphone comes with a 19mm diaphragm to deliver reliable studio-quality audio. It's ideal for recording music, videos, and podcasts alike, with a tripod stand and swivel mount included for multi-person recordings.
Despite its surprisingly low price tag, the Samson is an excellent option for beginners, with virtually no latency to worry about, and an excellent warm audio quality that's perfect for vocals.
The microphone element is shock-mounted, with a solid die-cast metal design that minimises unwanted noise and vibration from handling.
You can even use your microphone with iPads and iPhones.
If you're looking for affordability and ease of use in a reliable microphone, this is the tool for you.
Features include:
USB plug and play design
Desktop mic stand and swivel mount included
Shock protected elements to reduce disruption and noise
Warm audio quality
Zero-latency high-frequency output
Large 19mm diaphragm
Output for amps, headphones, and smartphones
USB or XLR: Simple USB plug-and-play design
Pricing: Around £40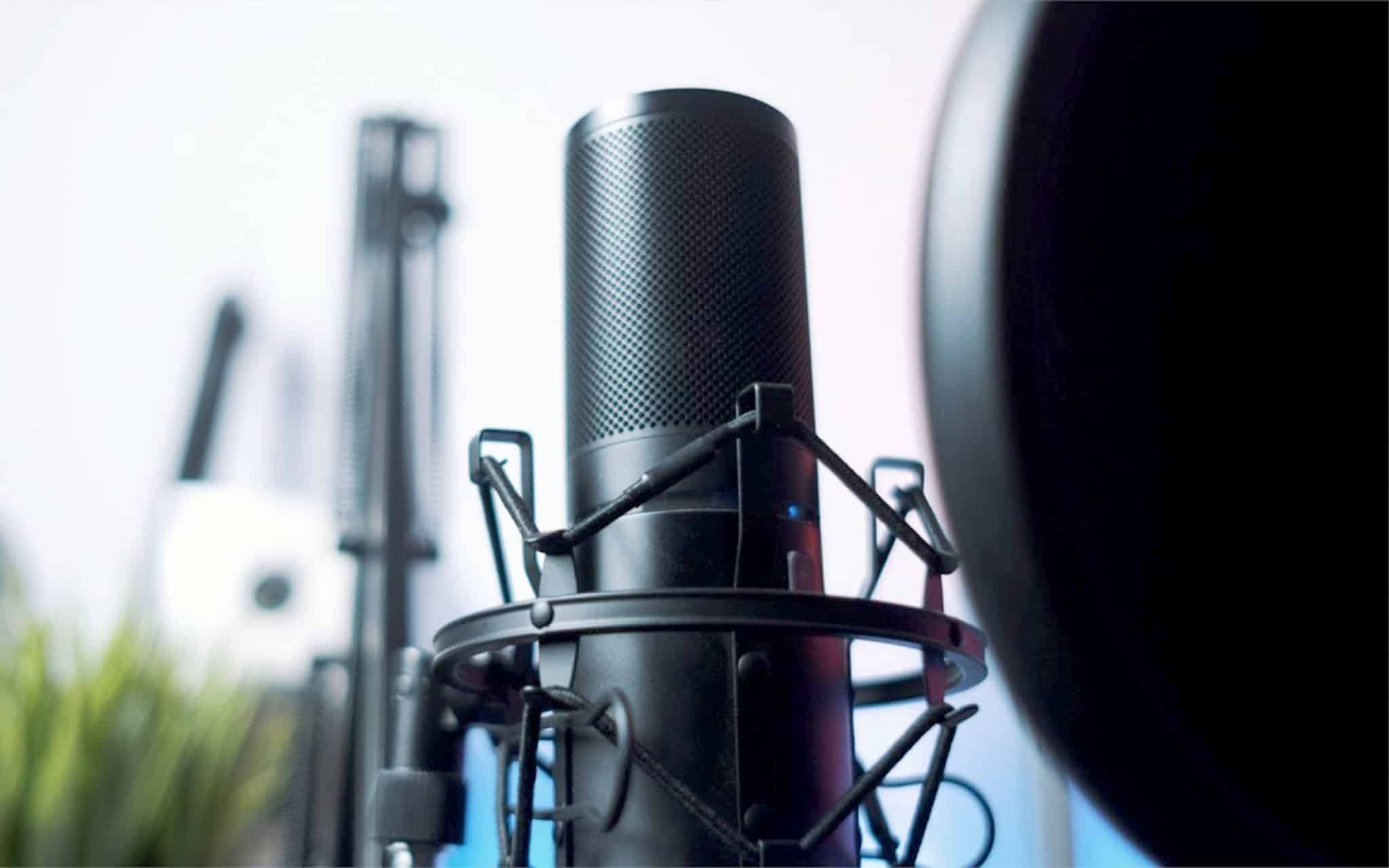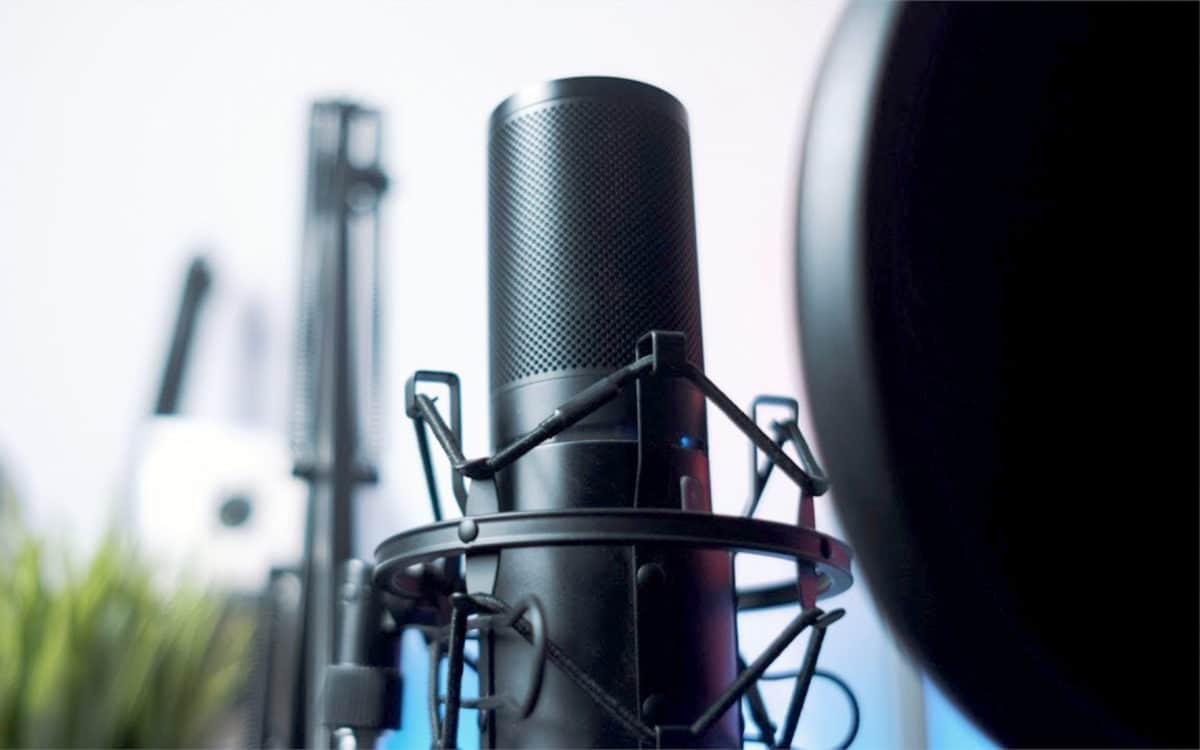 7. Tonor Q9 Professional USB podcast microphone
If you're searching for the most affordable options among best podcast mics for your business, then TONOR is a good brand to consider.
The company offers a range of microphones to suit all budgets, including the Q9 Condenser. This microphone is plug-and-play ready with a USB connection, and it works perfectly with PS4, Windows, and Mac computers.
The 16mm diaphragm offers an excellent frequency response of 20Hz to 20Khz, and there's an extended dynamic range for better clarity too.
Perhaps the most appealing thing about this TONOR microphone is how easy it is to use. You can press a single button to mute your microphone or start recording, and the Q9 is excellent and cancelling noise from your surroundings too.
Not only that, but this product comes with an all-metal suspension scissor stand – great for creating a professional recording studio. There's even a shock mount, pop filter, and foam mic cover included.
Features include:
Plug and play USB performance
Excellent sound fidelity
Fantastic frequency range 20 hz to 20Khz
Durable boom stand and scissor arm stand included
Pop filter, desk mount, and shock mount included
Great for eliminating background noise
Affordable pricing
USB or XLR: Brilliant USB connectivity
Pricing: Around £55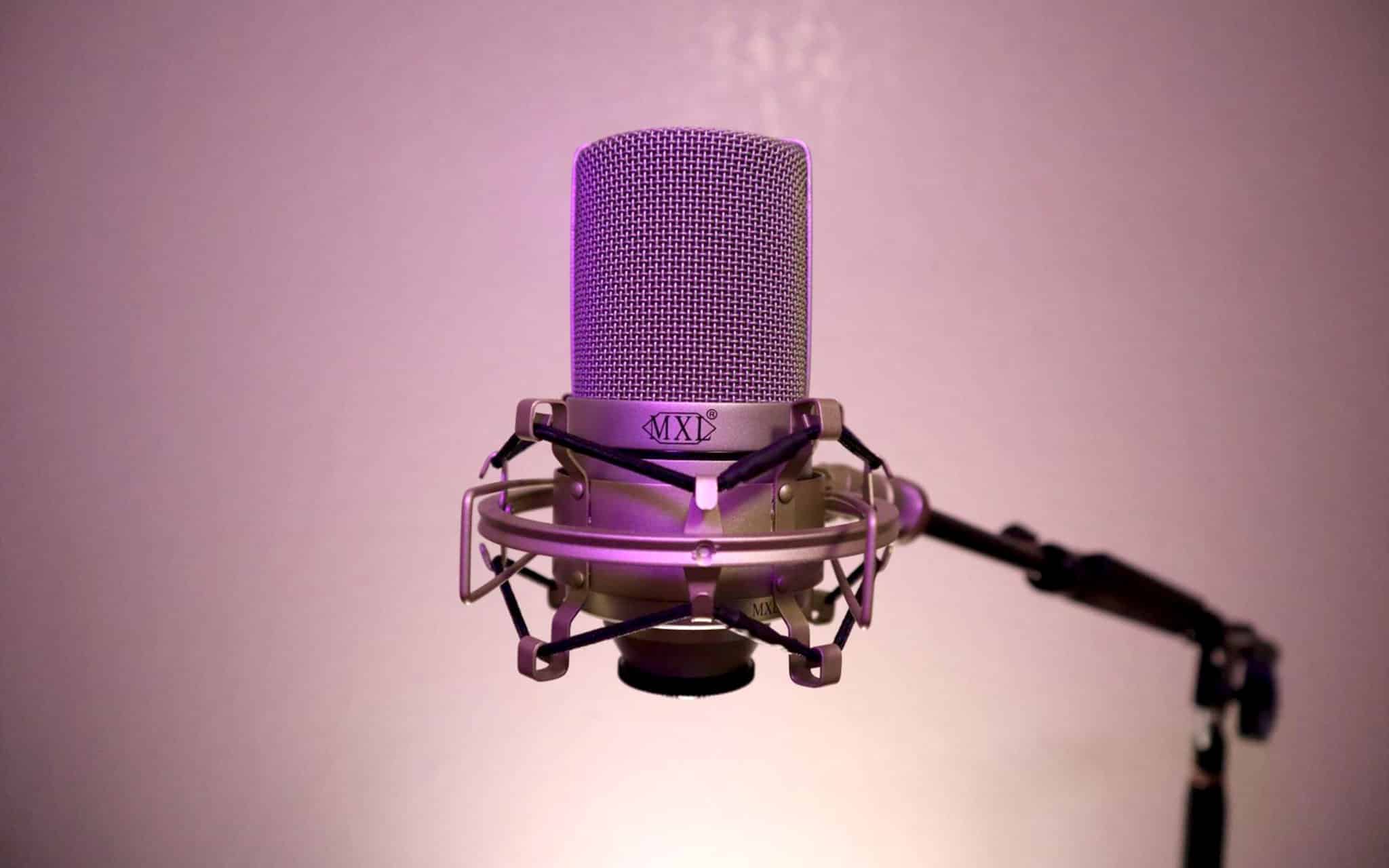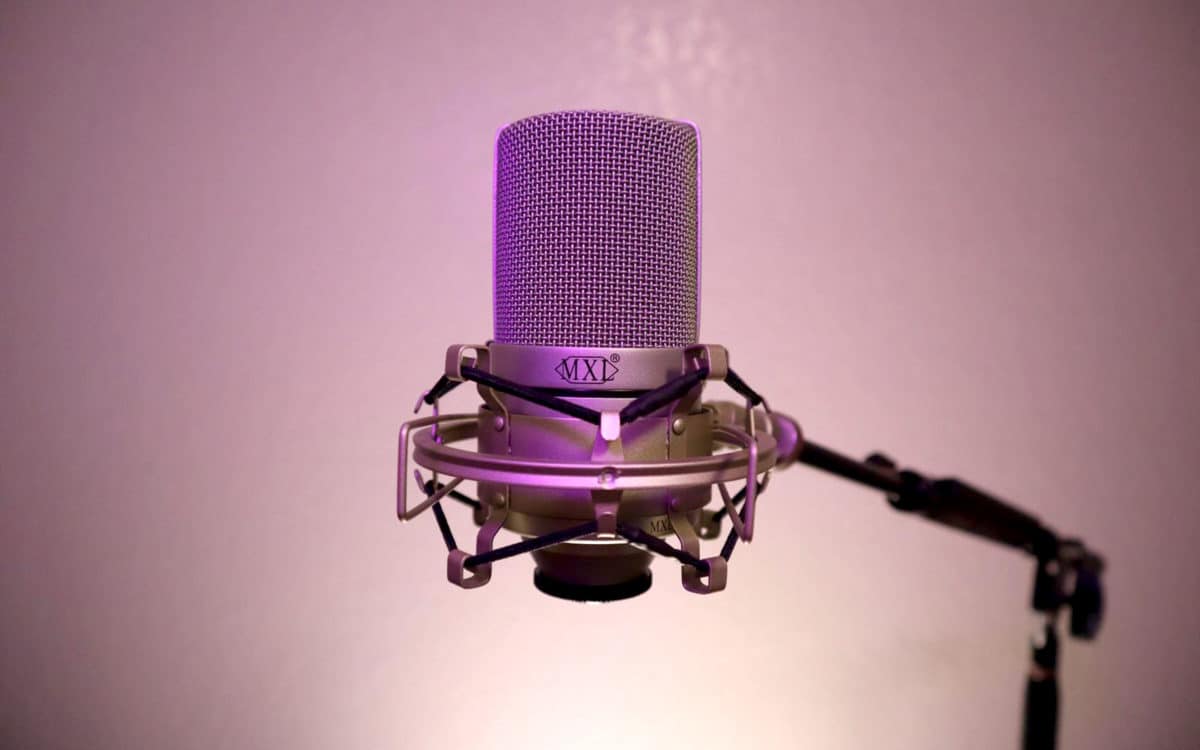 8. MXL 990 condenser podcast microphone
MXL is another brand that shows up frequently in the microphones for podcasting industry. There are plenty of excellent products to choose from in the MXL range, but our choice for this best podcast mics list is the MXL 990.
For less than £100, the MXL 990 delivers a professional-level microphone that's popular among some of the most successful podcasters in the industry.
This microphone is designed specifically for high-quality and warm vocals, although it might not be as great at picking up instrumental sounds.
The MXL 990 comes with a custom shock mount, which will help you to avoid any excess noise. You also get a mic stand adapter and a carry case for recording on the go too.
The silky-smooth sound quality of the MXL is ideal for beginners and pros alike, with a 30hz to 20khz frequency range.
Features include:
Attractive vintage design
FET preamp with a balanced output
Fantastic frequency range
Custom shock mount and mic stand included
Carry case for durability
6 micron diaphragm
Pressure gradient condenser microphone
SPL sensitivity of 130db
USB or XLR: XLR
Pricing: Around £90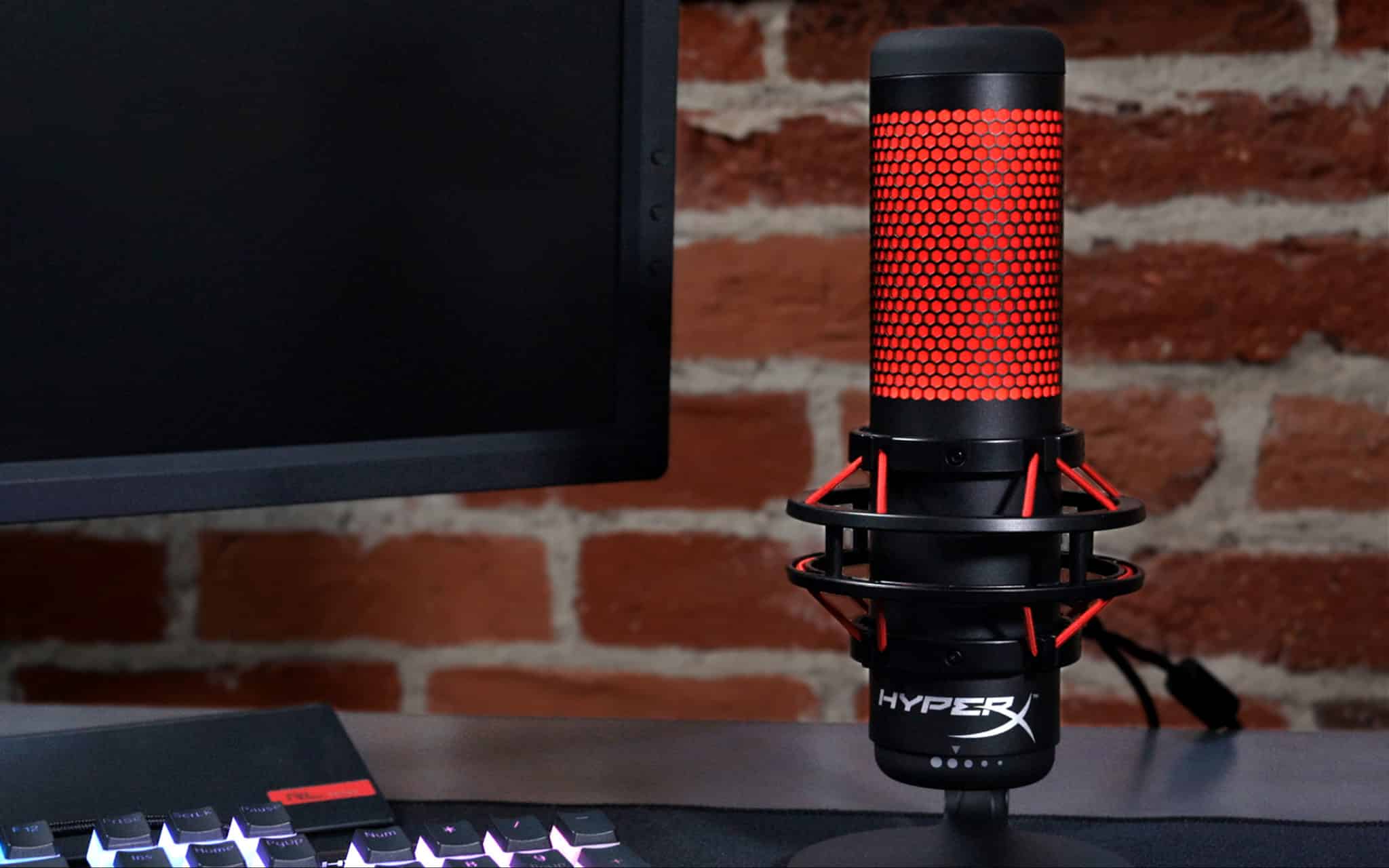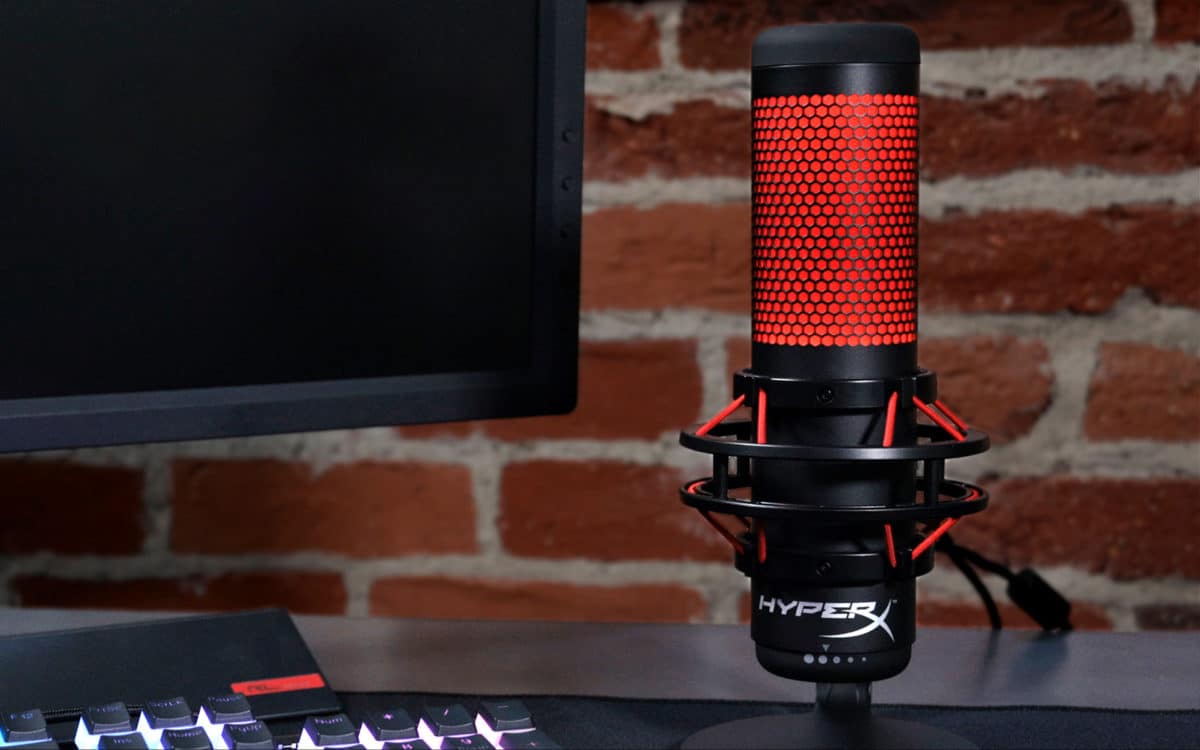 9. HyperX QuadCast podcast microphone
At first glance, the HyperX Quadcast microphone looks like something you would see in a gamer's professional setup, rather than a podcasting studio.
This standalone microphone was designed for content creators and streamers alike, with an anti-vibration shock mount included, and an internal pop filter for better audio quality control.
The LED indicator light allows you to check your microphone's status instantly, and you can tap to mute at any time. There's also a convenient gain control on the microphone where you can control your input levels.
What's more, for extra quality control, you get a headphone jack with low-latency feedback.
This is an affordable device that offers high-quality sound with a few extra bonus features. We're particularly fond of how the indicator light causes the whole microphone to light up.
Features include:
Internal pop filter
Anti-vibration shock mount
Tap to mute sensor
LED mute on/off indicator
Mount adapter included
Gain control adjustments available
Built-in headphone jack
Four selectable polar patterns
USB access
USB or XLR: USB plug and play, excellent for gamers
Pricing: Around £110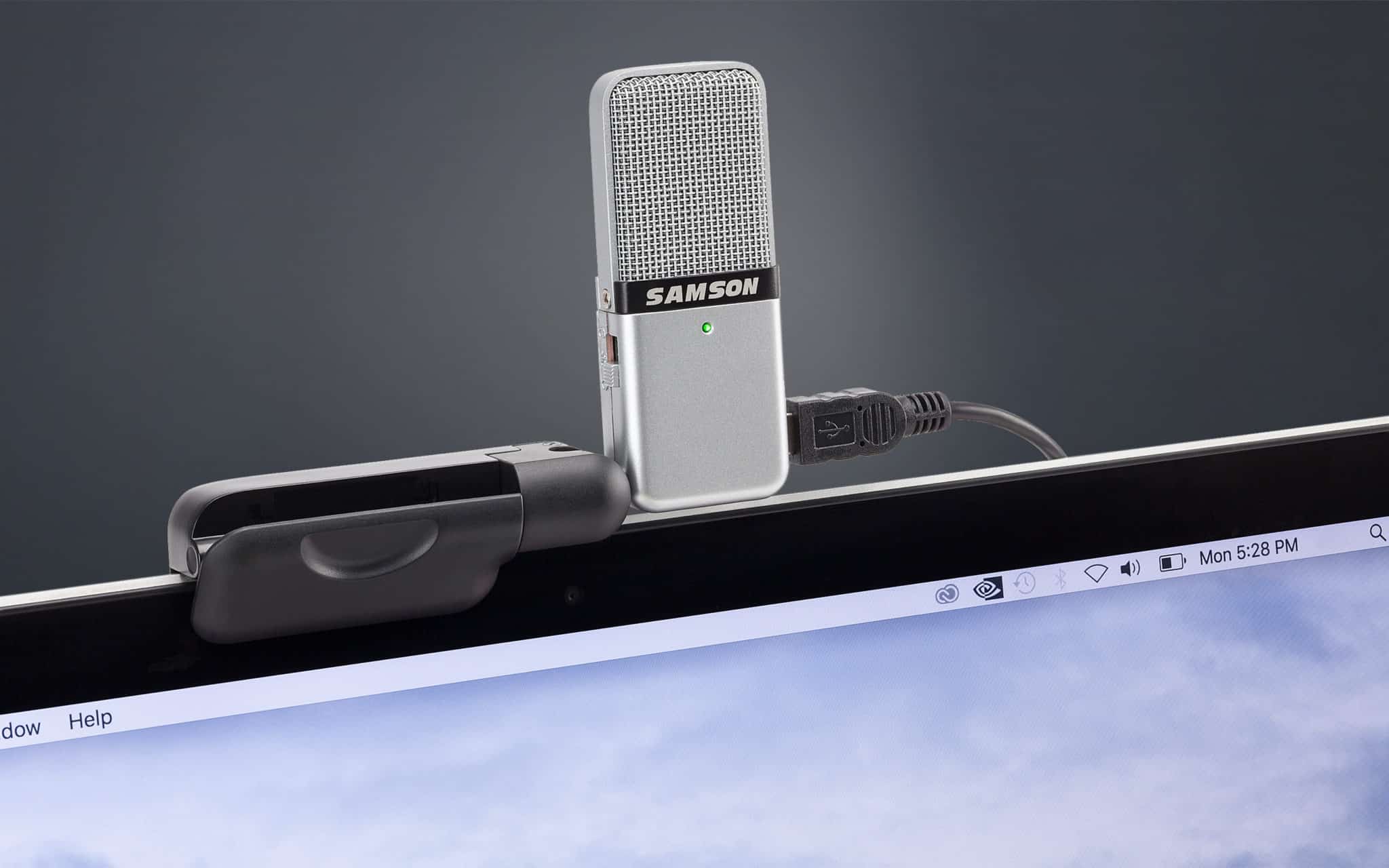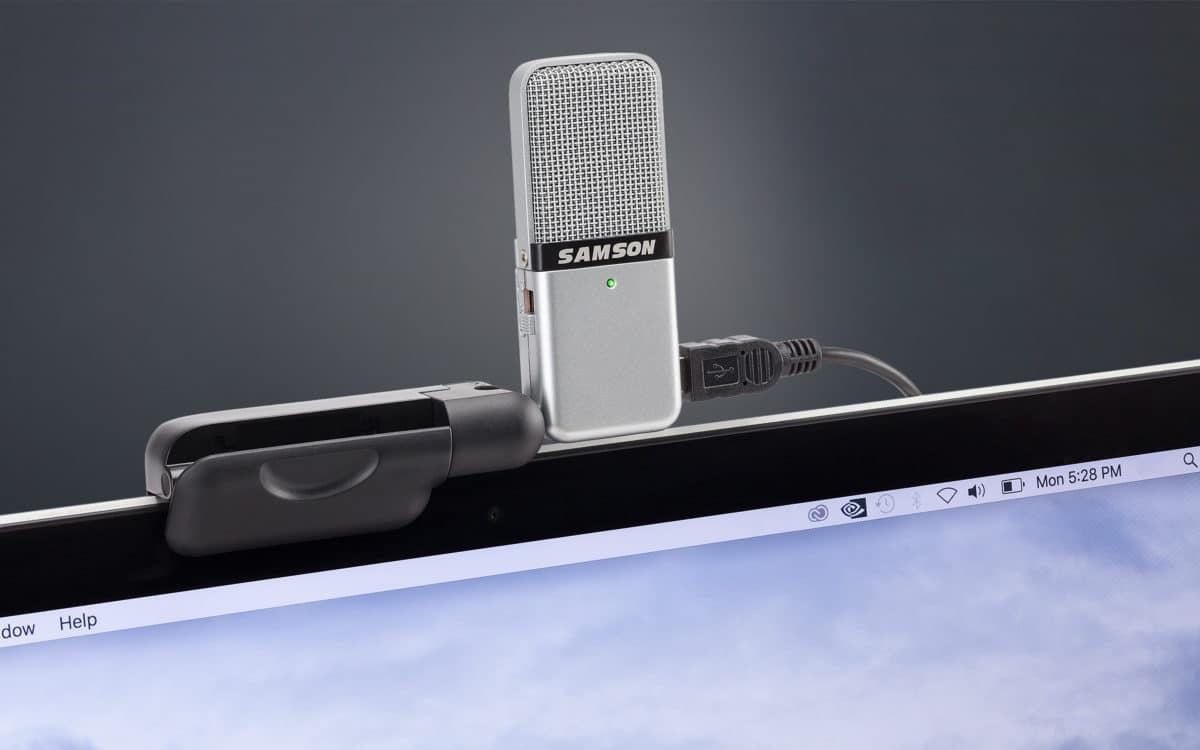 10. Samson Go Portable USB podcast microphone
Finally, for the podcaster on the go, we have the best podcast microphone around for transportability.
The Samson Go is a clip-on microphone that you can keep with you at all times. Offering all the power of a high-level condenser microphone in a portable design, this device is unlike anything that we've ever seen in the industry.
If your podcast frequently takes you on the road or has you traveling to meet people in coffee shops and other offices, the Samson allows you to record without having to set up a complex audio system.
The condenser transducer comes with a pressure gradient, perfect for field recording. Additionally, this podcast microphone takes plug and play to the next level with absolutely no drivers required for you to start recording.
Features include:
Carry pouch and clip included
USB plug and play design
Custom compact portability
Condenser style microphone
20hz to 18khz range
Works with any operating service
Zero-latency headphone output
Switchable cardioid and omnidirectional pickup
USB or XLR: USB plug and play with absolutely no drivers required
Pricing: Around £50
Do I need a microphone to record a podcast?
Choosing the best podcast microphone isn't always easy. There are plenty of great microphones for podcasting on the market, each with their own unique benefits.
Remember, choosing the best podcast mics is essential if you want your audio files to sound incredible. The best podcast mic will help to reduce the clarity and quality issues capable of driving listeners away.
Investing in the best mic for podcasting is the only way to make sure that you're going to be able to create high-quality professional recordings.
Just like blurry pictures can ruin your product listings, and low-quality videos can harm your social media presence, a bad podcast mic could convince your audience that you're not worth listening to.
Although finding and buying the right podcast microphone could mean spending a little more time and money on your search now, it also ensures that you're delivering the image (and sound) that's best for your brand.
Need more help making sound-waves with your brand? Contact Fabrik today for help with everything to audio marketing and podcasting to logo design.
Fabrik Brands is a participant in the Amazon Services LLC Associates Program, an affiliate advertising program designed to provide a means for us to earn advertising fees by linking to Amazon.com and affiliated websites.
Fabrik Brands: Creative Industry