25 top Italian designer brands (and their logos)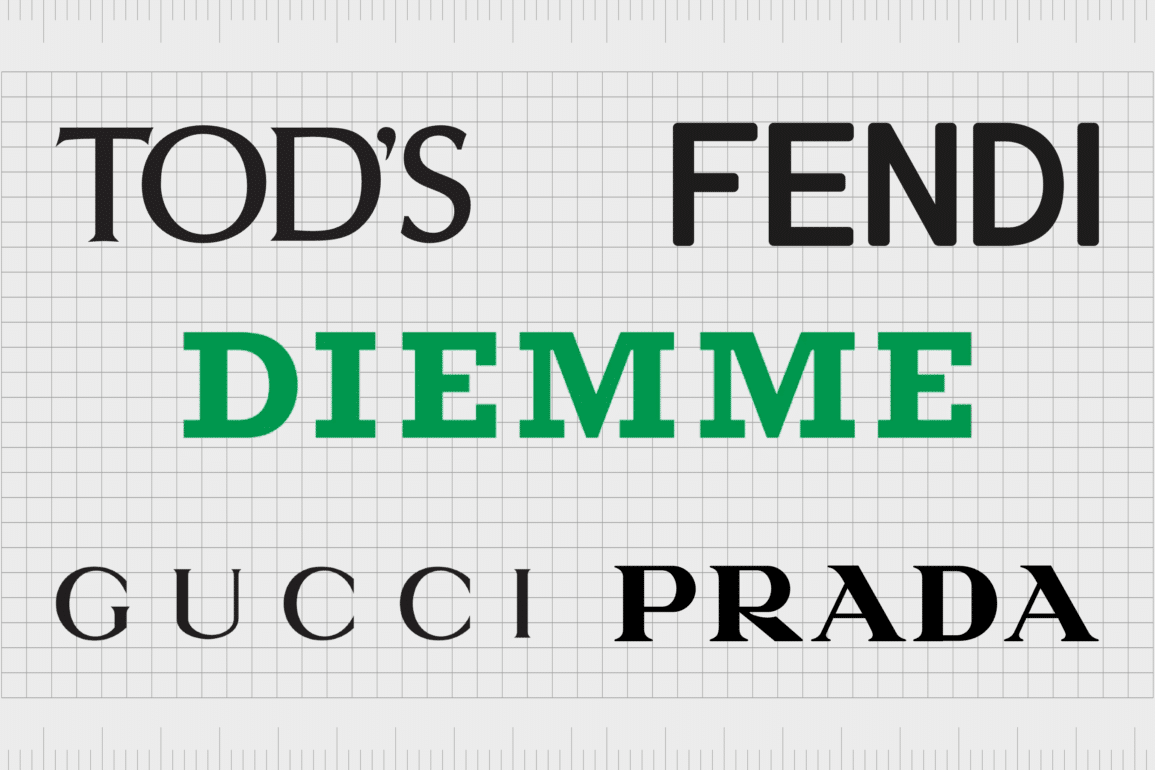 Italian designer brands have taken the world by storm in recent decades. As an epicenter of luxury, innovation, and fine craftmanship, Italy has emerged as one of the best places for creators and innovators to find their audience. In fact, designers brands from Italy contribute significantly to the country's economy, and overall influence on the planet.
Since the days of the Renaissance, Italian designers have been influencing our views of fashion, luxury, and artistry. With numerous major cities contributing to the rise of Italian fashion, such as Milan, Rome, and Florence, Italy seems to be where designers go to thrive.
Famous designer brands in Italy include everything from companies with eponymous branding like Prada and Gucci, to up-and-coming modern fashion houses such as Stone Island.
Today, we're going to be taking a closer look at these phenomenal companies, and how they've created logos to capture the attention of both a local and global audience.
Why do so many designer brands come from Italy?
Just like businesses, countries can have their own "brand identity". Through years of development and innovation, certain locations become synonymous with specific things. Germany is known for its amazing vehicles, while France is associated with elegance and romance.
While Italy is associated with many things, from fine food to incredible architecture, its presence within the fashion landscape is perhaps the most significant of all. Since the late 1900s, Italy has transformed the fashion industry, changing how we think about clothing and apparel.
Many of the earliest Italian fashion designers rose to fame by challenging the design strategies common in other countries, from France to the UK. Today, Italy is best-known for producing innovative designs, garments with bold colors, and luxury handmade goods.
Italy has heavily invested in its position as one of the design leaders of the world too, producing events like Milan fashion week to showcase up and coming designers, and even producing the "Made in Italy" label for merchandising purposes.
Today, Italy's revenue in the apparel market alone accounts for around $59.02 in economic equity each year.
In each region of the country, designers take their own approach to influencing the garment space. Milan is home to names like Versace and Prada, while Florence was the birth place of Gucci and Emilio Pucci.
With their focus on phenomenal craftmanship and quality, Italian designers have positioned themselves as true leaders in the fashion world.
Italian designer brands: The logos of designer brands from Italy
As one of the most significant countries for fashion and design on the planet, Italy has produced countless famous designers through the years.
It would be almost impossible to list all of the most impressive designer brands from Italy here. So, we're going to focus on the most well-known, influential, and best Italian fashion brands from throughout the decades.
1. Aspesi
Founded by Alberto Aspesi in 1969 as a shirt's brand, Aspesi broke into the fashion landscape producing leopard-print shirts for men.
At a time when French haute couture was transforming the industry, Aspesi focused on the development of elegant clothing using unique materials and processes.
Today, the brand has grown to be a major vendor of Italian fashion.
The Aspesi logo, while simple, conveys the power and authority of the company, with bold sans-serif letters, produced in black on a white background. The design is sleek and sophisticated, intended to showcase the company's contemporary approach to fashion.
2. Boglioli
One of the better-known Milan-based fashion houses among Italian designer brands, Boglioli is a tailoring company, committed to creating custom garments for consumers.
The organization's signature product is its garment-dyed jackets, produced specifically for the needs of each customer.
Founded by Mario Boglioli and Stefano Boglioli, the luxury fashion company has become an icon of high fashion in the modern landscape.
The innovative designs of the brand are enhanced by its bold, powerful logo, featuring a serif-style inscription, with significant spacing between each letter.
3. Canali
A luxury menswear brand founded in 1934, Canali was created by the "Canali brothers", Giovanni and Giacomo. The family business has been passed down to future generations over the years, and the company itself has grown across the global market.
Today, the brand specializes in the production of stunning, high-end suits and tailored garments.
Canali takes inspiration from some of the biggest Italian fashion labels and high-end brands for its logo. The emblem features a simple wordmark, in a serif style font, with sharp edges on the lines to convey a cutting-edge approach to fashion.
4. Emilio Pucci
This eponymous designer brand was first created in 1992, by Don Emilio Pucci, an Italian aristocrat, politician, and fashion designer. One of the most sought-after designer brands from Italy, Emilio Pucci produces stunning clothing, often featuring geometric prints and bright colors.
Though the Emilio Pucci brand often takes a unique approach to fashion with bold prints and patterns, the logo of the company is relatively straightforward, featuring serif letters with extremely thin lines to demonstrate elegance and sophistication in the world of fashion.
5. Tod's
Otherwise known as "Tod's Group", Tod's is a leading Italian company known for producing luxury shoes and leather goods. The company is owned mostly by the founding Della Valle family, and is listed on the Italian stock exchange.
Tod's was first launched in 1920, and has been growing in influence throughout the designer landscape since.
Similar to many Italian designer brands, the Tod's logo is a simple black and white wordmark. The name of the company is depicted in all uppercase letters, in a serif-style font on a white background. It demonstrates stability, strength, and reliability.
6. Diemme
Founded in 1992 by Messrs Dennis and Miaco Signore, Diemme is a well-known footwear brand in the Italian designer landscape. The company specializes in the production of performance footwear, that combines practicality with style.
Each pair of shoes is hand-made in an Italian workshop.
Quite different to many of the logos of designer brands from Italy covered here, the Diemme logo is depicted in a deep shade of forest green, perhaps to draw attention to the natural world. However, the image still features the common serif-style font used by many famous designer brands in Italy.
7. Ferragamo
Previously known as "Salvatore Ferragamo", the Ferragamo brand is a luxury fashion brand from Italy, focusing on haute couture, footwear, and leather goods. In recent years, the company has also produced a variety of silk products and accessories.
Since launching in 1927, Ferragamo has experimented with its logo, finally settling on an attractive wordmark, with tiny serifs on the letters. The sharp edges of the characters demonstrate the commitment of this high-end brand to cutting-edge fashion.
8. Zegna
Produced in 1910 by Ermenegildo Zegna, this popular Italian designer brand is one of the most famous high-end brands in the world. The company was launched with the mission of developing clothing with quality fabrics and unique production processes.
Zegna even sourced numerous materials and machines from around the world for his company.
Known for menswear items like attractive suits and jackets, Zegna has captured the hearts of countless consumers with its ready-to-wear clothing. The Zegna logo demonstrates the strength and authority of the brand, with bold serif letters depicted in uppercase.
9. Fendi
Best-known for ready-to-wear fashion, fur, and leather goods, the Fendi brand is one of the most famous designer brands from Italy today. The company was launched by Adoardo and Adele Fendi in 1925, and now belongs to the fashion conglomerate LVMH.
An innovator in the fashion landscape with a unique take on many clothing garments, Fendi is often associated with modernity in the fashion world. The company's logo conveys this focus, with bold, sans-serif letters that demonstrate confidence and power.
10. Bottega Veneta
Another of the top luxury Italian brands in the world today, Bottega Venetta specializes in stunning ready-to-wear fashion items, accessories, handbags, shoes, and jewelry. The brand first launched in Italy in 1966, and stands as one of the biggest luxury goods manufacturers in the world today.
Committed to developing products of the highest quality, Bottega Veneta is a symbol of affluence and style in the fashion market. The company's logo features a sleek serif-style wordmark, with sharp edges and a combination of thin and thicker lines.
11. Brunello Cucinelli
Though it was launched in 1978, the visual identity of the Brunello Cucinelli brand seems to convey a great deal of additional history and heritage. This company sells men's and women's clothing to regions across the world, with a strong focus on Mongolian cashmere products.
The logo of the brand is extremely traditional, using a slim serif wordmark, combined with an image derived from the Cucinelli family crest. The design highlights the impact of the family on the growth of the company over the years.
12. Miu Miu
When it comes to famous Italian designer brands with a massive impact on the modern fashion industry, few companies are more recognizable than Miu Miu.
A subsidiary of the Prada fashion house, this company was developed by Miuccia Prada in 1992. The name of the business actually comes from the nickname of the founder.
Specializing in fun and youthful clothing items, the Miu Miu brand has built a strong identity with fashion lovers from around the globe. The logo of the company is very different from the emblems of many luxury Italian fashion houses, with bold, almost geometric letters.
13. Missoni
If you're looking for high quality but affordable Italian clothing brands, Missoni is an excellent choice. The company, founded by Rosita Missoni and Ottavio in 1953, specializes in colorful garments and high-quality knitwear.
In recent years, the company has joined the ranks of global brands as a popular choice for elegant fashion.
The powerful wordmark used by the Missoni brand has a lot in common with many other logos of designer brands from Italy. It uses bold letters with thick, blocky serifs to convey ideas of confidence, stability, and strength.
14. Versace
Virtually everyone in the fashion landscape is familiar with Versace. One of the most popular designer brands from Italy, Versace was founded by Gianni Versace in 1978, before he passed the reigns to Donatella Versace.
The company is well-known for its iconic luxury garments, often worn by celebrities on the red carpet.
Versace's logo is brimming with meaning and depth. Alongside a standard wordmark, the company uses a detailed image of Medusa's head from Greek mythology. This incredible image highlights the company's commitment to history, and its focus on beauty.
15. Giorgio Armani
Yet another contender among big Italian designer brands, Giorgio Armani, otherwise known just as "Armani" is a producer of fine fashion and luxury goods for consumers across the globe.
The eponymous company was first founded in 1975, and now produces a host of products, from Armani jeans and cosmetics to fragrances.
The Giorgio Armani logo is brimming with elegance. The carefully chosen serif-style font highlights the sophistication of the brand with slim lines and unique curves. The design is powerful and balanced, ideal for the luxury fashion industry.
16. Prada
We can't have an article on designer brands from Italy without paying homage to Prada. Developed by Mario Prada and his brother in 1913, this incredible luxury brand started by selling leather goods, before experimenting with a range of different kinds of fashion.
Prada today is best-known for its unique accessories and high-fashion garments, worn on the red carpet.
Prada's logo is one of the most modern on this list, taking a unique approach to the standard use of serif fonts in the Italian landscape. The serifs and lines on the letters in the wordmark have been refined and stylized to demonstrate strength and innovation.
17. Moschino
Another amazing company from the Italian designer brands landscape, Moschino was established by the designer, Franco Moschino in 1983. Today, the company produces everything from clothing made with high-quality materials, to accessories, and handbags.
Moschino keeps things simple and modern with its powerful logo. The large, sans-serif letters convey a contemporary approach to fashion. This company's wordmark works well in a variety of formats, thanks to its simplistic black and white color palette.
18. Loro Piana
Steeped in tradition, the Loro Piana Italian designer brand was first launched in 1924, by designer Pietra Loro Piana. Specializing in textile, and clothing products, as well as tailor-made designs, Loro Piana is currently one of the biggest cashmere companies in the world.
Like some of the other historic fashion brands on this list, Loro Piana draws attention to its heritage in its logo, with a black and white family crest. The wordmark for the emblem is beautiful too, with a stunning script-style font which appears almost handwritten in nature.
19. Dolce & Gabbana
Easily one of the most affluent and popular Italian designer brands available today, Dolce & Gabbana or "D&G" was first launched in 1985 by Stefano Gabbana and Domenico Dolce.
The company released an initial collection at Milan fashion week, and instantly captured the attention of the press, as well as celebrities worldwide.
Dolce & Gabbana uses a number of components in its visual identity, including a memorable monogram which appears on many of its products, and a simple but elegant sans-serif wordmark.
The most interesting part of the wordmark is the minimized ampersand between the two names.
20. Gucci
Gucci is one of the most affluent fashion and designer brands in the Italian market today, earning billions from customers each year. The company was founded in 1921 by Guccio Gucci and is best-known for its eye-catching collections, which use bold patterns and colors.
The organization now has a global presence, but still runs a store in Florence, where it was founded.
Gucci's visual identity is also made up of two components – a well-known monogram, included on its garments and accessories, and a powerful wordmark. The brand's name in the logo features elegant, serif-style letters, with sleek curves and plenty of white space.
Find out more about the Gucci logo here.
21. Roberto Cavalli
Another eponymous company in our list of designer brands from Italy, Roberto Cavalli is a luxury fashion company, first launched during 1975. The company is well-known for its powerful prints, which appear on numerous leather goods and textiles.
Roberto Cavalli, the designer behind the company, focuses on modernity and exploration in his designs, and this is shown through the brand's logo. The sans-serif wordmark with its beautifully balanced letters showcase a commitment to innovation.
22. Valentino
Leader among luxury Italian fashion brands, Valentino was produced by Valentino Garavani in 1960. As well as ready-to-wear clothing, this company also produces jewelry and accessories for celebrities and iconic individuals around the world.
Valentino products are largely hand-made, drawing attention to the exquisite craftmanship of the Italian market.
The Valentino logo features a fantastic serif-style wordmark, with sleek, balanced lines and bold edges. Above the wordmark, we see a monogram, focusing on the letter "V" in the center, with an oval border depicted in a simplistic line.
23. Stone Island
Ranked as one of the top names in Italian fashion today, Stone Island has become a well-known Italian designer over the last few years. The company was initially established by Massimo Ostin in 1982, and it's now owned by the Moncler company.
Known for its innovative approach to Italian craftmanship, Stone Island produces garments with unique dying techniques and treatments. The Stone Island logo is bold and authoritative, with think serif letters and a four-pointed star in the center, meant to convey excellence.
24. Buccellati
Formed by two existing companies, Buccellati only emerged in its current form in 2011, but the origins of the companies date back much further, when Mario Buccellati opened a variety of stores in major cities throughout Italy.
The company specializes in jewelry, watches, and accessories.
Focused on conveying elegance, the Buccellati logo combines a sleek sans-serif wordmark, with a unique design, which looks a little like a traditional flower used on family crests and shields. The elegant logo draws attention to the company's commitment to creating beautiful products.
25. Brioni
Specializing in the menswear section of the fashion landscape, Brioni is one of the most popular famous Italian designer brands in the world today. It was initially founded in 1945, and produces a variety of leather goods, ready-to-wear fashion items, and bespoke tailor-made products.
Though it appeals primarily to a male audience, Brioni chose a relatively elegant, and almost feminine wordmark for its logo. The script-style inscription looks a little like a handwritten signature, with unique flourishes and curves throughout the letters.
What are the most popular designer brands from Italy?
Throughout the decades, Italian designer brands have transformed Italy into the epicenter of luxury and innovation for many consumers.
There are countless amazing designer brands from Italy worth exploring if you're looking for high-quality products, exquisite craftmanship, or just inspiration for your own branding strategy.
However, it's difficult to determine which designer brands among the options above are the most popular. Gucci stands as one of the most affluent designer brands in the Italian landscape, valued at around $17.2 billion in 2023.
However, well-known names like Armani and Prada follow close behind. Many Italian designers have achieved incredible success over the years.
If you're inspired by the logos of designer brands from Italy, and want to create your own stunning brand identity, reach out to the team at Fabrik today to learn more about how we can help.
Fabrik: A branding agency for our times.
Now read these:
—Famous Italian brands and their logos
—Ultimate list of Italian fashion brands
—The logos of luxury brands from Italy
—The definitive list of Italian car logos