The most famous Italian fashion brands (and their logos)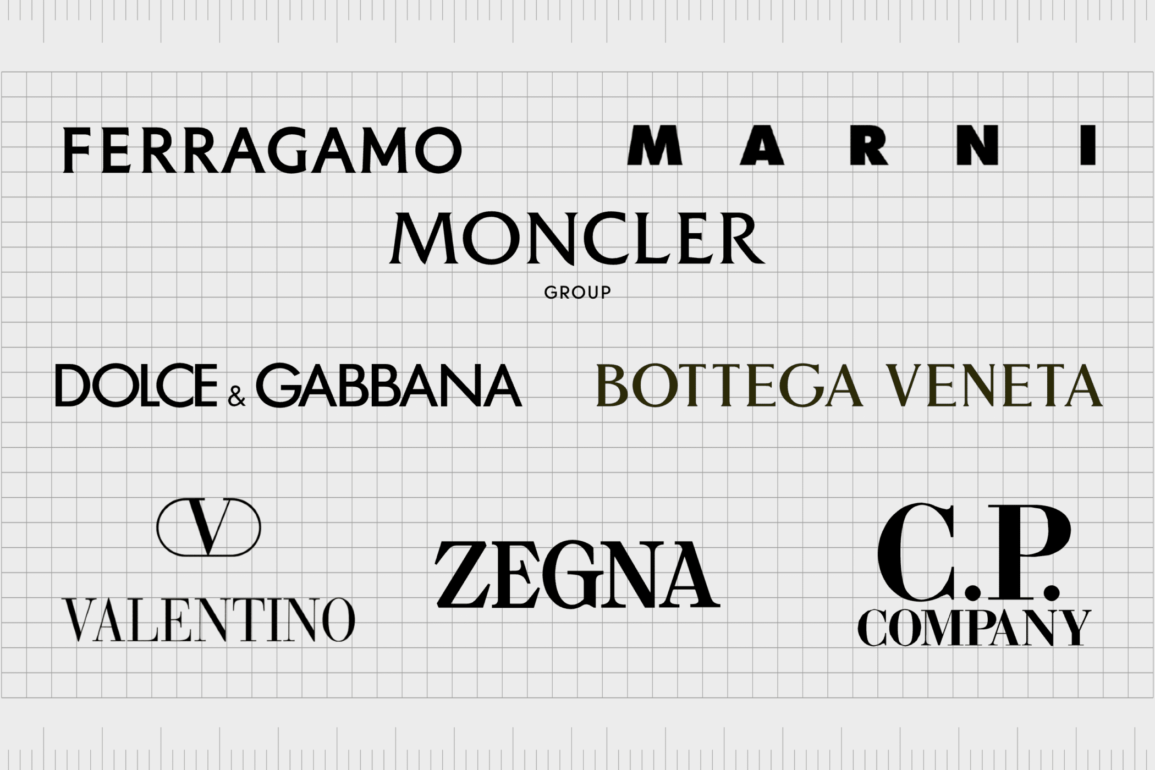 Italian fashion brands produce some of the most incredible, innovative, and sought-after labels in the world. For clothing connoisseurs, many Italian fashion brand logos, from the Gucci emblem to the mark of Armani, have become synonymous with luxury, elegance, and beauty.
Ever since the early days of the Renaissance, Italian clothing brands have been making their mark on the apparel industry, offering a unique alternative to the haute couture fashion of France.
Cities such as Florence, Milan, Rome, Naples, and Venice have all played a role in making Italy the undisputed fashion capital of the world, decade after decade.
Today, Italian clothing logos appear frequently on the red carpets of Hollywood, as well as in some of the most affluent sectors of the world. Of course, not just the phenomenal garments these companies produce that have given them such significant brand equity.
Italian designers have also become incredibly effective at capturing the attention and loyalty of their audience.
Today, we're going to be looking at some of the most memorable, well-known, and influential Italian fashion brands in the world, and their compelling logos.
Why do so many fashion brands come from Italy?
So, what makes Italian fashion brands so sought-after?
Although concepts like the "Made in Italy" label have only begun gaining significant attention in recent years, Italy has been a staple of the high fashion landscape for centuries.
Known for some of the most powerful high-end brands in the world, Italy has paved the way for countless fashion revolutions, influencing clothing trends decade after decade.
From an economic perspective, Italy's revenue in the apparel market accounts for around $59.02 billion each year, and demand continues to grow.
The Italian textile sector has produced not only some of the highest quality luxury fashion houses worldwide, but a range of other, more affordable clothing options too. Besides its economic value, Italy has also emerged as a hotbed for expertise, traditional craftmanship, and innovation.
Interestingly, Italy wasn't always the fashion capital of the world. Italian fashion designer names were relatively unknown until the second half of the 20th century. Up until this point, Paris was the number one place for transformative fashion.
However, this quickly changed when Milan launched its own "Milan Fashion Week", introducing alternatives to French fashion, defined by bold prints and patterns, bright colors, and innovative designs.
Today, designers and buyers alike flock to Italian cities every year, to discover new designs from well-known Italian designers, and emerging companies in the field.
What are the most famous fashion brands from Italy?
Defining the top Italian clothing brands can be complex, as concepts of the "best" company will vary depending on what you're looking at. From a financial perspective, Gucci is perhaps the most affluent brand in the Italian landscape, valued at around $37.89 billion.
However, throughout the major cities of Italy, there are countless well-known Italian designers to explore.
Milan, now considered the fashion capital of the world is home to names like Versace, Prada, Armani, and Dolce & Gabanna. Florence has produced incredible fashion labels too, such as Stefano Ricci, Emilio Pucci, and Gucci.
Even Rome is recognized as a world fashion capital, beating cities like London in terms of global appeal, with well-known luxury Italian brands like Valentino and Fendi.
Today, Italian craftmanship in the apparel industry has become incredibly popular, among not just celebrities, but everyday men and women looking for quality and elegance.
Famous Italian fashion brand logos and names
There are countless names worth exploring if you're searching for the best Italian fashion brands in the world today, ranging from luxury creators to more modern, affordable institutions.
Let's take a look at some of the most incredible Italian fashion brand logos, and the companies that have helped bring these emblems to life.
1. Gucci
Considered one of the most affluent luxury Italian fashion brands in the world, Gucci is, to many, the epitome of high-end fashion.
Known for its iconic designs, and unique take on the use of innovative patterns and colors, Gucci was founded by Guccio Gucci in 1921. The company's first store opened in Florence, before branching out to connect with fashion lovers worldwide.
The visual identity of Gucci includes two components. The first is a simple, serif wordmark, showcasing the brand's name in authoritative, elegant letters. The second is the Gucci monogram, which highlights a focus on balance, precision, and beauty.
Find out more about the Gucci logo here.
2. Roberto Cavalli
Created by the luxury fashion designer and inventory of the same name, Roberto Cavalli is a luxury fashion house, founded in 1975.
The company is well-known for using animal prints on luxury leather goods and textiles. Roberto Cavalli creates a range of ready-to-wear clothing, haute couture items, and accessories for all genders.
Unlike some other well-known Italian fashion brands, Roberto Cavalli chose a somewhat modern emblem for its branding. The wordmark features all lowercase letters in a sans-serif font, intended to show a contemporary approach to the use of bold patterns and clothing designs.
3. Valentino
Another major contender in the Italian fashion industry, Valentino was produced by Valentino Garavani in 1960, and is best-known for producing a host of luxury goods, from stunning accessories and jewelry to cutting-edge garments.
Valentino produces high fashion for both men and women, produced by hand in a Roman atelier.
The logo of the Valentino brand highlights the sophistication and elegance of the company, with a unique "V" component placed above a serif wordmark, showcasing connectivity, balance, and innovation.
The design is sleek, simple, and powerful.
4. Stone Island
Primarily focused on men's luxury fashion and accessories, Stone Island was established in 1982, by Massimo Osti. Today, it's owned by another well-known Italian fashion house named Moncler.
The company takes an innovative approach to fashion, utilizing unique dying techniques and treatments for clothing. The brand also includes its unique star-shape emblem on most garments.
Stone Island's logo is bold and masculine, featuring a powerful inscription in thick, serif letters, to highlight authority and heritage. In the middle of the two words, we see a four-pointed star, used to demonstrate elegance and excellence in the fashion industry.
5. Dolce & Gabbana
Known to many simply as "D&G," Dolce & Gabbana began building its luxury fashion empire in 1985, when Domenico Dolce and Stefano Gabbana joined forces.
Releasing its first collection at Milan Fashion week, Dolce & Gabbana caught the attention of countless celebrities and fashion leaders, with incredible pieces and bold patterns.
The historic brand has a powerful visual identity, combining a modern wordmark logo in sans-serif, uppercase font, with a monogram emblem. The monogram appears on the various products produced by Dolce & Gabbana, and is seen around the world as a symbol of luxury.
6. Loro Piana
One of the most traditional Italian fashion brand logos on this list, comes from Loro Piana, a business first launched in 1924, by Pietra Loro Piana. The company specializes in textile and clothing products, and is one of the world's largest cashmere manufacturers.
The family business started with a focus on wool products, before expanding into new textiles.
Drawing attention to its history and origins, Loro Piana uses a combination mark as a logo. On the left we see the family crest of the Loro Piano name, while on the right, we see an elegant, script-style wordmark, depicted with sophisticated lines and swirls.
7. Moschino
A popular choice for the red carpet, Moschino is another example of one of the leading Italian luxury brands in the world today. The company was established by Franco Moschino in 1983, and is best-known for the creation of a range of accessories, handbags, and ready-to-wear clothing options.
Focusing on bold patterns and designs common in Italian luxury fashion houses, Moschino has captured the attention of countless celebrities.
The Moschino logo is relatively simplistic, unlike the clothing produced by the company itself. The design is bold and authoritative, using large, sans-serif letters in a strict, powerful wordmark.
Like many of the most iconic Italian fashion brands, Moschino uses a color palette of black and white.
8. Diesel
One of the most affordable Italian clothing brands on this list, Diesel first launched in 1978, within Molvena, in Italy. The founder, Renzo Rosso began creating jeans at the age of 15, using his mother's clothing machine, before he created a brand of his own.
The clothing line is well-known for its surreal advertising campaigns, and broad range of clothing options.
Diesel has one of the more eye-catching logos in the Italian fashion landscape, utilizing a bright color palette of white and red, rather than black and white.
The company also frequently adds a tagline to its logo, "For successful living", which highlights its approach to fashion.
9. Prada
Virtually every fashion lover worldwide will be familiar with the Prada company. Known across the globe for a focus on elegance and luxury, Prada was founded by Mario Prada and his brother during 1913.
The company started life as a leather goods store, demonstration the high quality Italian craftmanship synonymous with the region.
The designer duo created some of the most recognizable clothing items of all time, with endless pieces produced specifically for the female form.
The Prada logo demonstrates the company's cutting-edge approach to the apparel industry, with sharp serifs, and a bold font choice.
10. Bottega Veneta
Another innovator in the ready-to-wear fashion landscape, Bottega Veneta was first established in 1966, by Renzo Zengiaro and Michele Taddei.
The company started life creating artisanal leather goods, with a distinctive weaving design that influenced the fashion landscape going forward.
Though relatively simplistic, the Bottega Veneta logo is iconic, showcasing the historic nature of the brand. The sleek wordmark features very short serifs, giving the company a contemporary, and timeless appearance.
11. Armani
Ranked among some of the most sought after Italian clothing logos in the world, the Armani emblem is synonymous with luxury and style. Armani was founded by Segio Galeotti and Giorgio Armani in 1975, and has been developing its presence as a luxury good manufacturer ever since.
Armani produces everything from Armani jeans, to cosmetic products, and high-end fashion.
Similar to many Italian clothing brands in the high-end landscape, Armani utilizes a serif-style wordmark for its emblem. The letters feature soft, elegant curves which demonstrate the sophistication of the company, and its authority in the fashion space.
12. Marni
Launched in Milan, like some of the most popular Italian fashion brands in the world, the Marni company was first created in 1994. Developed by Consuelo Castiglioni, Marni now belongs to the OTB group, another well-known fashion house.
Though best-known for luxury fashion, Marni also produces high quality pieces for high street stores.
The Marni logo is bold and modern. The wordmark utilizes significant white space between each letter, to demonstrate balance and strength. Each sans-serif letter is depicted in uppercase, with thick, eye-catching lines, highlighting stability.
13. Versace
When it comes to famous Italian fashion logos, few are more memorable than the Versace emblem. Another innovator of fashion and haute couture, Versace was established by Gianni Versace in 1978, before it was eventually taken over by Donatella Versace.
Best-known for revolutionizing the designs of the 1990s, this Italian fashion label has been worn by celebrities worldwide.
Like many of the best Italian designer brands, Versace demonstrates its sophistication and heritage with its logo. The emblem features the head of Medusa, a well known figure from Greek mythology, known for turning men into stone at a glance.
14. Missoni
One of the more modern and affordable Italian clothing companies on this list, Missoni was created by Ottavaio and Rosita Missoni in 1953.
Breaking apart from the timeless elegance of many French designs, Missoni has become a popular choice among many consumers for its use of high-quality materials, and colorful knitwear.
This powerful brand demonstrates its position in the fashion landscape with its wordmark, depicted in bold, serif-style letters, all in uppercase. Each letter seems to highlight the enduring stability and power of the organization.
15. Miu Miu
Easily one of the most popular modern fashion brands in Italy today, Miu Miu is a subsidiary of the Prada fashion house. Created by Miuccia Prada in 1992, the company based its name on the nickname of its founder, giving it a fun, and youthful vibe.
The designs of the brand frequently appear in Paris and Milan fashion week, alongside other global brands.
Miu Miu is one of the most influential brands in the fashion industry, specializing in fun, unique clothing items, intended for real women. The Miu Miu logo demonstrates the youthful and friendly personality of the company, with bold, stylized letters.
16. Moncler
Specializing in outerwear, Moncler is a luxury fashion house which started life as a down jacket boutique. Today, the company offers a range of vests, windbreakers, knitwear, and leather goods, among other fantastic products.
The company's core branding includes a range of components, from a powerful "M" monogram, to a felt applique badge on most clothing items.
Moncler has experimented with a range of design elements in the past, including a duck mascot, a rooster image, and of course, the simplistic Moncler wordmark. The wordmark features sharp edges and strong serifs, highlighting sophistication.
17. Brioni
Another popular Italian clothing company specializing in menswear, Brioni products ready-to-wear goods, leather products, and even fragrance products. Brioni also provides a bespoke tailor-made service to Italian shoppers.
First founded in 1945, the store has become one of the most popular Italian companies in the world.
Despite focusing on men's fashion, Brioni takes a somewhat feminine approach to its logo, using an elegant, script-style wordmark. The letters in the cursive logo all feature unique flourishes, making the image look almost hand drawn.
This gives the brand a sense of transparency and honesty.
18. C.P Company
Founded in 1971 by Massimo Osti, the C.P Company originally used the name "Chester Perry", but changed its moniker following a lawsuit. Unlike many Italian clothing brands, the C.P Company is best-known for its functional, military-inspired clothing, and the use of innovative fabrics.
Taking inspiration from some of the biggest Italian fashion brands in the landscape, C.P Company utilizes a modern wordmark for its logo, crafted with the use of sharp serif letters, and bold lines.
The image is spread over two lines, drawing attention to the "C.P" element first.
19. Brunello Cucinelli
An iconic Italian fashion brand, known for selling both men and women's wear and accessories throughout North America, Europe, Asia, Brunello Cucinelli was first launched in 1978.
The company initially focused on Mongolian cashmere garments, and remains largely owned by the Cucinelli family to this day.
The logo for this brand is somewhat more traditional than many of the emblems we've seen so far. Similar to many other companies, the brand utilizes an iconic serif-style wordmark, combined with an innovative family shield, demonstrating elements of the family's heritage.
20. Fendi
Specializing in fur, leather goods, and ready-to-wear fashion, Fendi was first launched by Adoardo and Adele Fendi in 1925. The company currently belongs to the larger fashion conglomerate, LVMH, and sells products in regions all around the world, though its headquarters is still in Rome.
Simple but iconic, the Fendi logo is a symbol of power and strength. The black and white wordmark features powerful, sans-serif letters, produced in a bold weight to capture customer attention.
Like many Italian labels, Fendi showcases its personality in its logo, demonstrating confidence, and a commitment to modern fashion.
21. Max Mara
First introduced to the Italian fashion landscape in 1951, Max Mara was produced by Achille Maramotti, a dedicated designer who began designing couture clothing in 1947.
He took the name for his company from his surname, as well as making a reference to "Count Max", a local character at the time, known for his stylish appearance.
The Max Mara logo shares many similarities with many luxury brand emblems, featuring a serif-style wordmark, with elegant, robust letters. The typeface is similar in style to the "Times New Roman" typeface, common throughout the modern world.
22. Calzedonia
One of the biggest Italian fashion brands in the world today, Calzedonia was founded in 1986, in Verona, by Sandro Veronesi. The company has over 5,000 stores worldwide, and also owns a variety of other Italian labels, such as Intimissimi, and SignorVino.
This company primarily specializes in the creation of tights and leggings, as well as bathing suits.
The Calzedonia logo is instantly eye-catching, using timeless sans-serif letters, depicted in a bold, weighty font. The letters are all beautifully balanced, highlighting the strength of Italian craftmanship, while the overall design conveys ideas of modernity and innovation.
23. Zegna
Founded in 1910 by Ermenegildo Zegna, Zegna is yet another popular luxury Italian fashion brand, with years of history in its landscape.
Zegna launched his company with a mission of creating more high-quality fabrics for the fashion landscape. He sourced some of the best materials from around the world, alongside innovative new machinery for his fashion house.
Today, the company is best known for producing menswear such as suits, jackets, and accessories for both formal and casual occasions. The bold wordmark of the Zegna brand uses sharp, elongated serifs to demonstrate innovation and creativity.
24. Ferragamo
Rebranded from "Salvatore Ferragamo" to simply "Ferragamo" in 2022, Ferragamo is a luxury Fashion company headquartered in Florence. It primarily focuses on footwear and leather goods, but also produces a range of accessories, silk products, and ready-to-wear garments.
This company initially launched in 1927, and quickly became a worldwide brand.
Like many of the luxurious Italian fashion logos covered so far, Ferragamo relies on a wordmark for its branding, utilizing an interesting serif font. The serifs on the characters are so small, they almost blend in with the rest of the letters.
Learning from the top Italian fashion brands
As you can see from the amazing list of famous Italian fashion brands covered above, there are plenty of amazing examples of innovative companies in the Italian landscape.
The best Italian brands in the clothing industry have developed an incredible presence in their landscape, with the use of not just stunning designs and materials, but amazing branding too.
Each of the Italian fashion brand logos mentioned above has its own unique appeal. Each company aims to provide insights into its values and characteristics, with the use of color, careful font choices, and occasionally decorative designs and images.
If you've been inspired by Italian style to create your own fashion logo, reach out to Fabrik brands today to learn how we can help you produce the perfect image for your company.
Fabrik: A branding agency for our times.
Now read these:
—Famous Italian brands and their logos
—Your guide to Italian designer logos
—The logos of luxury brands from Italy
—The definitive list of Italian car logos