How to record a presentation: Tips for presentation recording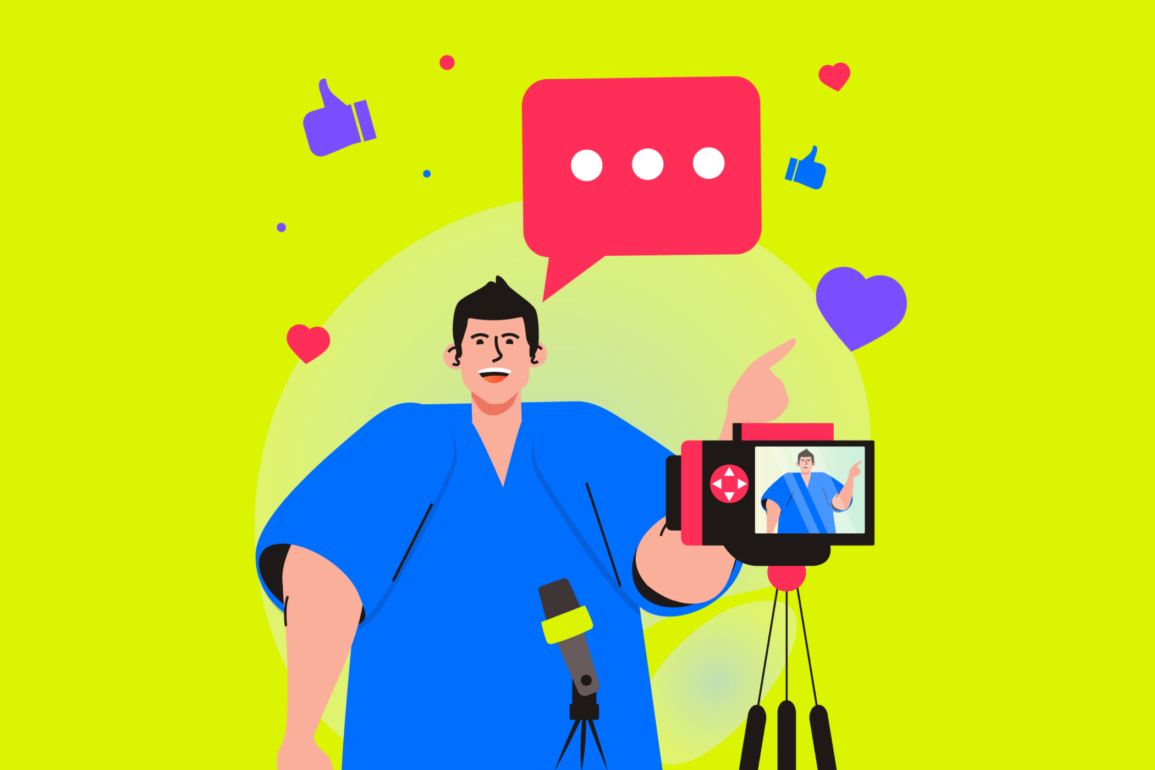 Do you know how to record a presentation capable of impressing any audience? With countless employees now working remotely, and distance learning on the rise, digital presentations are more common than ever.
Even if you're not using these resources now, with 52% of global employees working remotely once per week, you're likely to need digital presentation skills in future.
The good news is online presentations can be just as effective (if not more-so) than their in-person counterparts.
You can reach a wider audience with an online presentation because you're not limited by who can turn up in-person. You'll also have access to a wider range of tools to help you enhance the quality of your presentation, like slideshow apps and screen recorders.
All you need to do is learn how to use the tools available for online presentations to your advantage.
Here's your all-access guide to how you can record a fantastic presentation for the digital world.
How to record a presentation
The tools you'll need
The first step in excellent presentation recording, is making sure you have access to the right tools. Fortunately, there are several different solutions to help you in today's marketplace.
Here are just some of the most common products you'll need…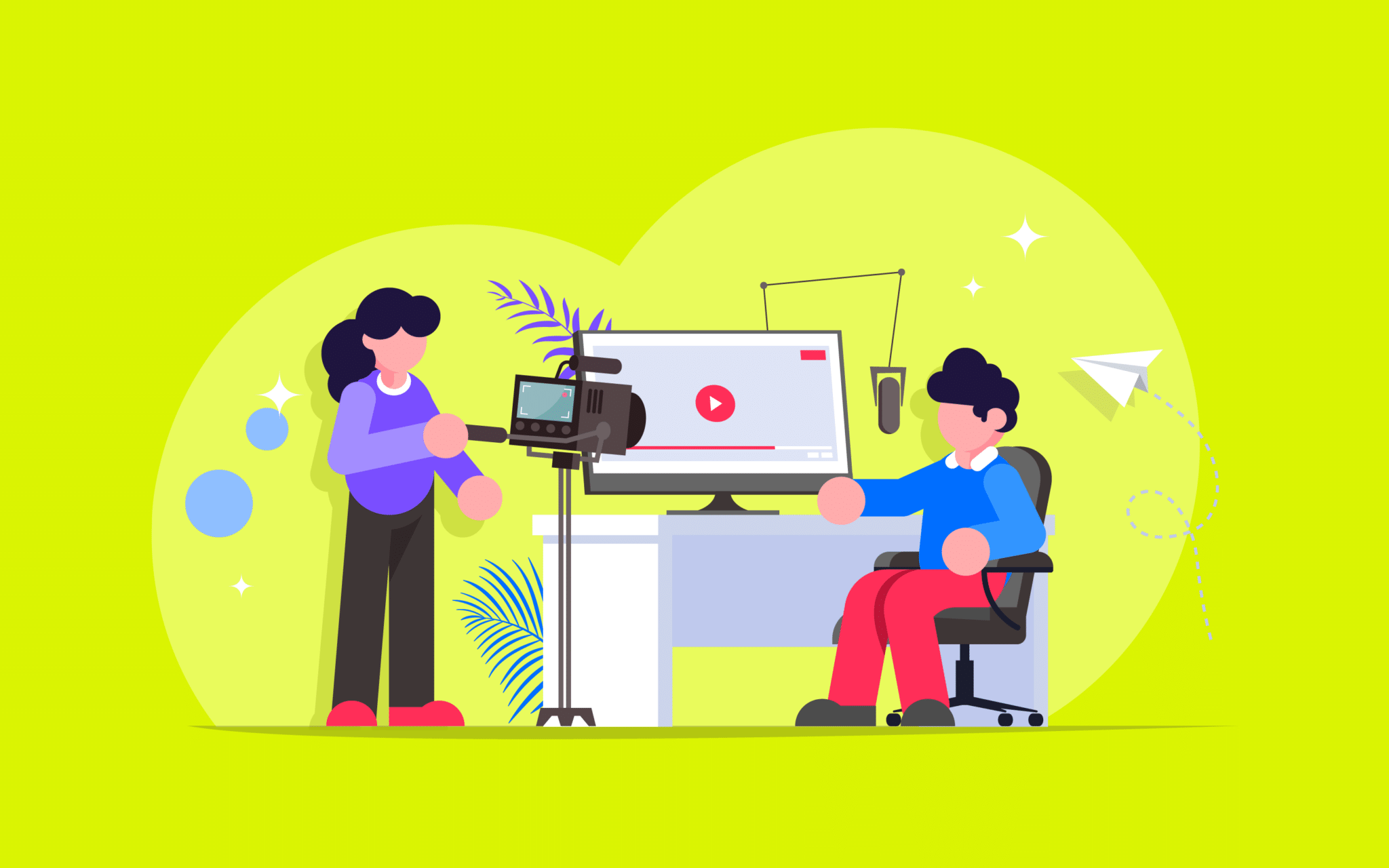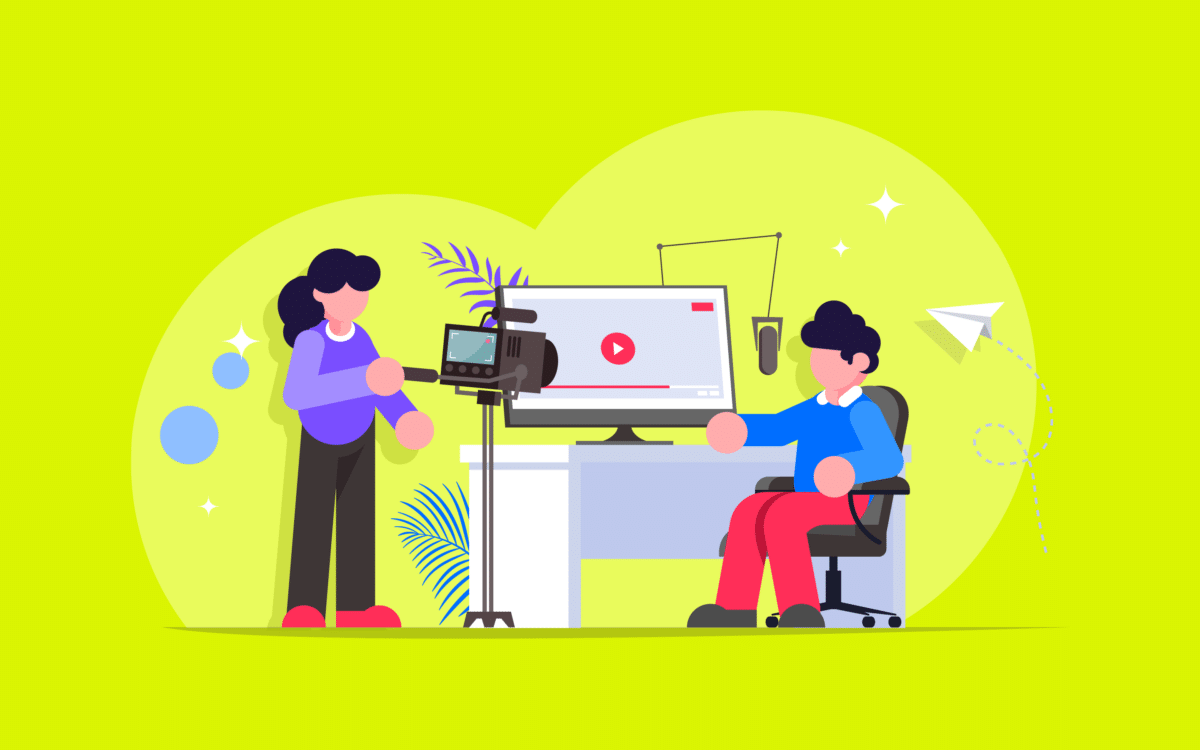 Presentation recording hardware
Computers and cameras
Let's start with the hardware. You're going to need at least a computer, tablet, or smartphone you can use to record your content on and store the following digital file.
A computer will give you more scope in terms of bandwidth and performance, but you can comfortably record on your smartphone too, provided it has a good enough camera and microphone.
If you're using a computer or laptop as your presentation recording hardware, you'll also need the following tools:
A high-quality microphone
The best presentations feature clear, concise audio. Make sure you have a decent quality microphone to capture your voice. A pop filter will help to eliminate distortion, while active noise cancellation should get rid of external distractions.
A webcam or camera
If you want to be present within your recording, you're going to need a camera. A high-quality device capable of capturing 1080p video or above should be enough for most presentations. You may need more advanced cameras depending on the kind of presentation you're producing.
Accessories
Additional accessories, like lighting tools to help improve the quality of your image can be very helpful for presentations. A ring light can brighten your video stream, while stands can ensure your microphone stays in the right position.
Remember to set all of your hardware up long before you plan on recording, so you can test the functionality and learn how everything works in advance.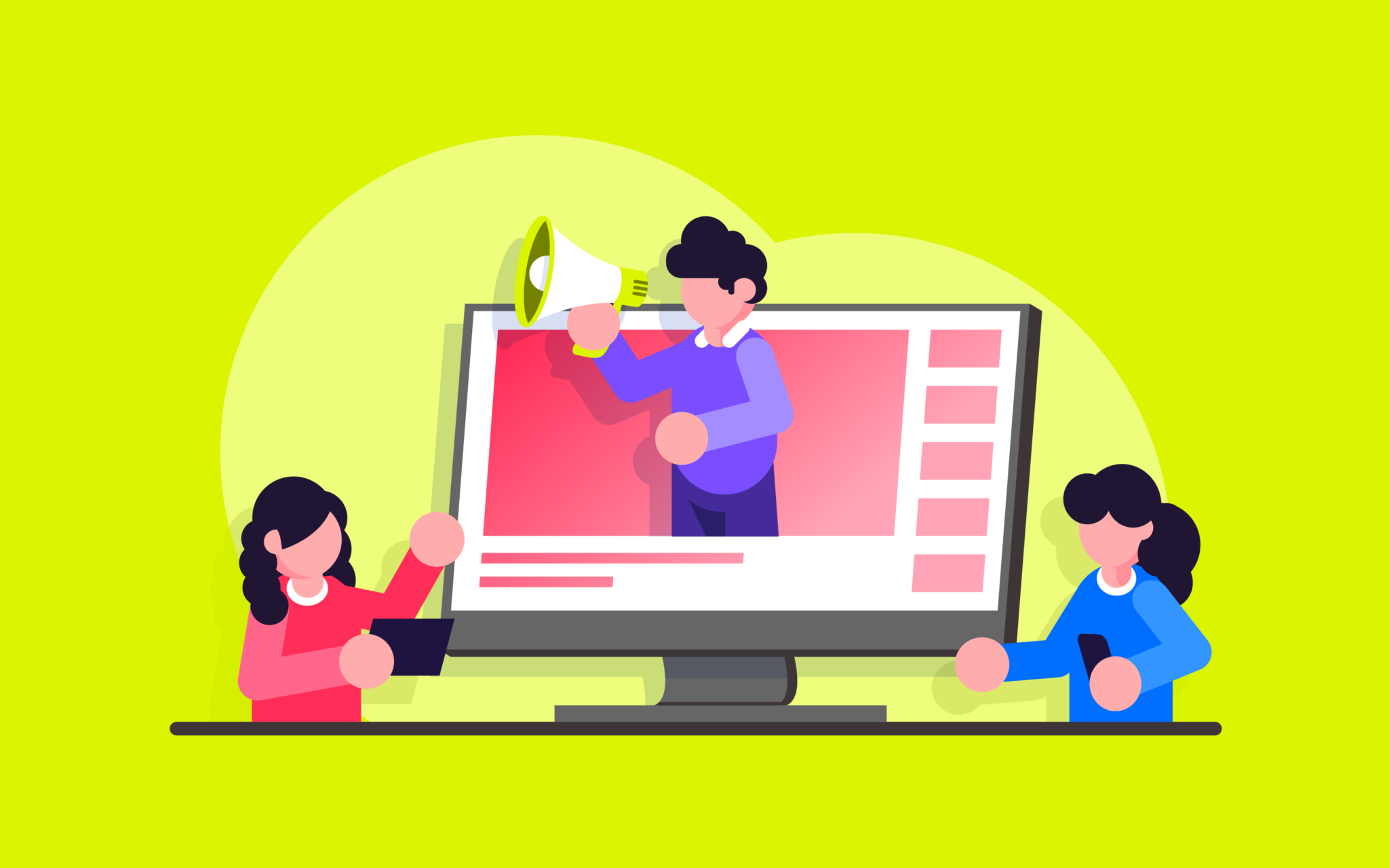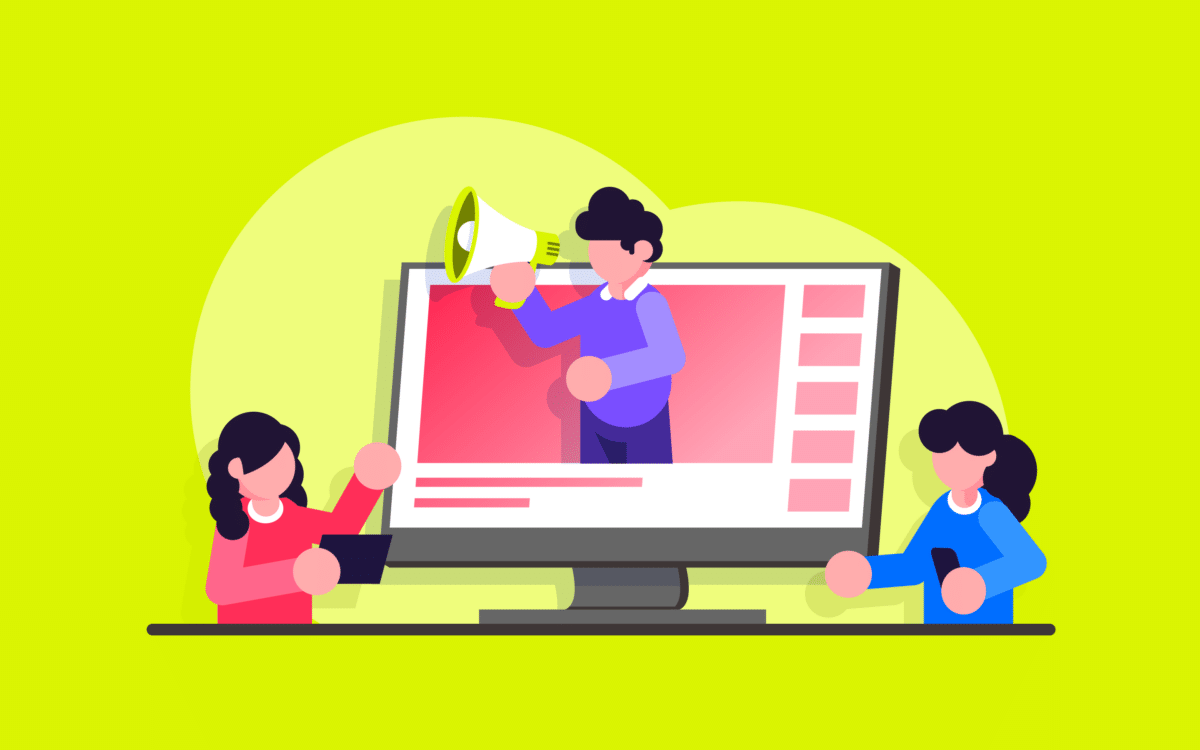 Presentation recording software
The best presentation recording software for your needs will depend heavily on the kind of content you want to produce. Presentation recording software is usually split into a range of different categories.
For instance, you'll have one piece of software for actually capturing your presentation, such as PowerPoint, or Zoom.
You'll also need separate software for screen capturing and editing your subsequent presentation.
Here are just some of the software tools you'll need to invest in before you start recording:
The best presentation recording software
There are various tools available to help you record your presentations. If you're using a smartphone to record your content, the chances are the software you choose will be a little more simplistic or basic than the software available for a desktop.
If you're comfortable with your existing video conferencing tool, you can learn how to record a presentation on Zoom here. Alternatively, you might prefer to learn how to record a presentation on PowerPoint if you're confident with the Microsoft 365 productivity stack.
When choosing presentation software, make sure you look for features like:
Multiple camera configurations (such as screen by screen).
Resolution control.
File saving options (for easier sharing).
Ease of use (so you can comfortably use the app).
Additional features like filters and in-built editing.
Screen recording software
Screen recording software is often an essential investment for presentation recording. With a screen recorder, you can capture what's going on within your screen while you're talking about it.
For instance, you might walk someone through a slideshow on your computer, highlighting various parts of the content as you go.
A screen recording tool is ideal for webinars, tutorials, and educational presentations, because it allows you to capture as much context as possible within your presentation.
When you're choosing your screen recording service, make sure you look for:
Support for capturing both audio and video.
Access to control your recording parameters (the capture area).
Abilities to edit the record and save the file in the right format.
Extra capabilities like being able to draw on videos or create screenshots.
It's also helpful to be able to capture your webcam output and your screen at the same time, so you can bring a human element to your presentation.
Editing software
Part of learning how to record an online presentation perfectly, is making sure you can edit your recording to make it look fantastic. There are a number of great tools out there which allow you to edit both video and audio, getting rid of things like background noise, or fuzz in an image.
The right editing tools will allow you to remove any unnecessary content from your presentation, while polishing the overall appearance of your video.
Make sure your editing software:
Edits both audio and video.
Can crop and remove sections of video easily.
Has various filters and "touch-up" tools to improve video quality.
Can save your files in the appropriate format for sharing.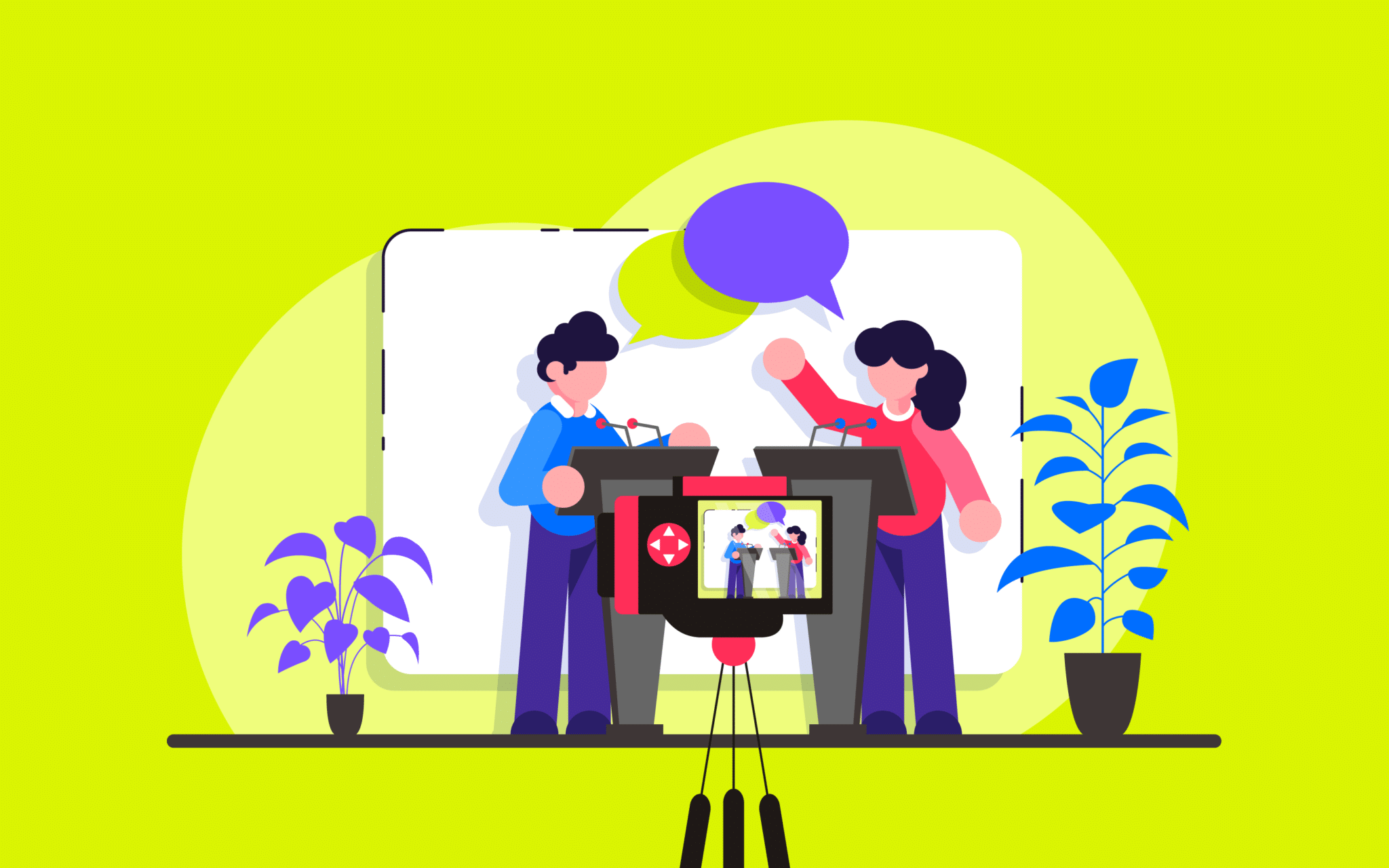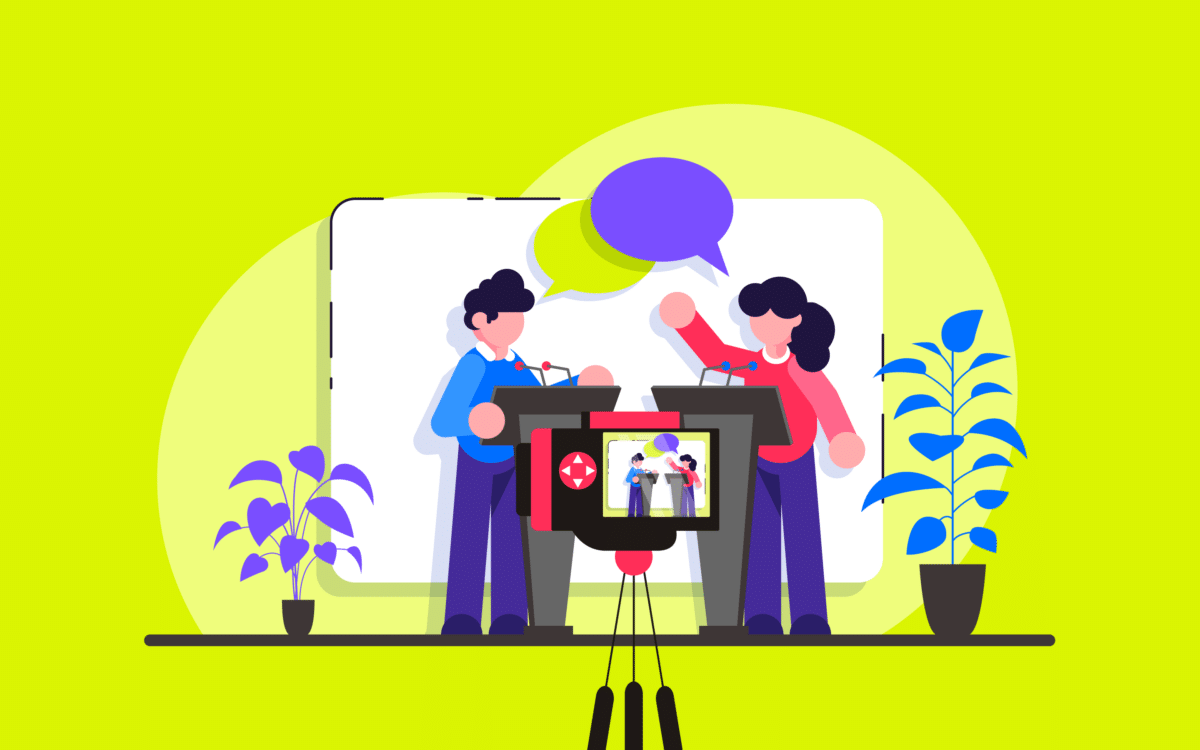 How to record an online presentation
Step by step
Once you have the right selection of tools for your presentation recording session, the next step is getting to work on your content. The exact steps you follow to record your presentation will depend heavily on the tools you're using.
For example, you might need to use direct guidance from Microsoft to learn how to record PowerPoint with audio.
To get you started on the right track, here are some steps which can apply regardless of which software or hardware you're using.
1. Create your "set"
First, find the right location for recording your presentation. If you're capturing video and audio, you'll need a quiet room, with plenty of light. It's also important to have a strong internet connection, so you can upload your content easily when necessary.
Make your background as neutral as possible to avoid people focusing on anything but you and try to record at a time when there aren't going to be a lot of extra distractions.
Use a stand for both your camera and microphone where possible, so you can keep the image steady, and avoid unnecessary distortions in your audio.
2. Plan your presentation
Next, plan your presentation from start to finish.
Ask yourself how you're going to introduce the presentation, and what kind of content you're going to be using. Are you going to be guiding viewers through an eye-catching slide deck using your screen recording software?
Do you need to have other resources available, like videos and graphs you can grab to illustrate your point?
It helps to have a basic script you can follow for your presentation, when possible, as this will stop you from going off on a tangent with your information.
3. Practice your presentation
Practice makes perfect. If you want to make the right impression with your online presentation, it's worth walking through it a few times before you record the "official" product.
Recording an early version of your presentation and going through it with friends and family will help you to pinpoint areas where you can make your content more engaging or cut any details which might not be relevant to your accident.
Though it can be a little uncomfortable to go through your presentation at first, it's much better for you to see any issues you might be having early on, so you can fix them before the final cut.
Remember to:
Speak in a normal, clear, and consistent tone.
Check the volume and image quality on your content regularly.
Watch your body language (sit up straight and look directly at the camera).
Time each section of the presentation correctly.
Spend enough time on each slide or piece of content.
4. Record your presentation
Now it's time to record your presentation.
During your practice sessions, you'll have had opportunities to experiment with the technology you're going to be using and learn how everything works. This should mean you can feel more confident when you start recording again.
Make sure you have your screen recording system and video recording tools set up correctly, and test the audio and video initially, so you don't waste time on a poor recording.
During the recording:
Control quality: Keep an eye on your content If your camera image suddenly loses quality, pause the presentation, and fix it. You can always edit the break out later.
Stay calm: Focus on maintaining a calm, consistent tone of voice. Avoid rushing through the presentation and maintain "eye contact" with the camera.
Have fun: Smile and try to put a friendly personality across to your viewers. This will make your presentation more engaging.
5. Polish your presentation
Finally, move your presentation file into your editing software and polish it off for a fantastic, finished look. Cut out any areas that don't make sense and remove the parts of the video when you're getting things set up or shutting your camera down.
Where possible, adjust the image quality to ensure both your content and your video stream looks clean and professional. You can also remove any background noise, like clicking or keyboard tapping to enhance your presentation too.
Some editing tools will allow you to add graphics, filters, and other unique "extras" to make the content even more exciting. Consider experimenting to see what works best.
How to record a presentation
Learning how to record a presentation the right way can seem like a daunting task. Fortunately, with the right presentation recording tools on hand, and plenty of practice, you can produce an amazing piece of content in no time.
Follow the tips above carefully and remember to take your time with your presentation. Content often suffers when nerves convince you to rush through each slide or point in your discussion. Don't forget, you can always clean up any issues you might have with your content in the editing stage.
Good luck making the most of your presentation.
Fabrik: A branding agency for our times.