The top French designer brands (and their logos)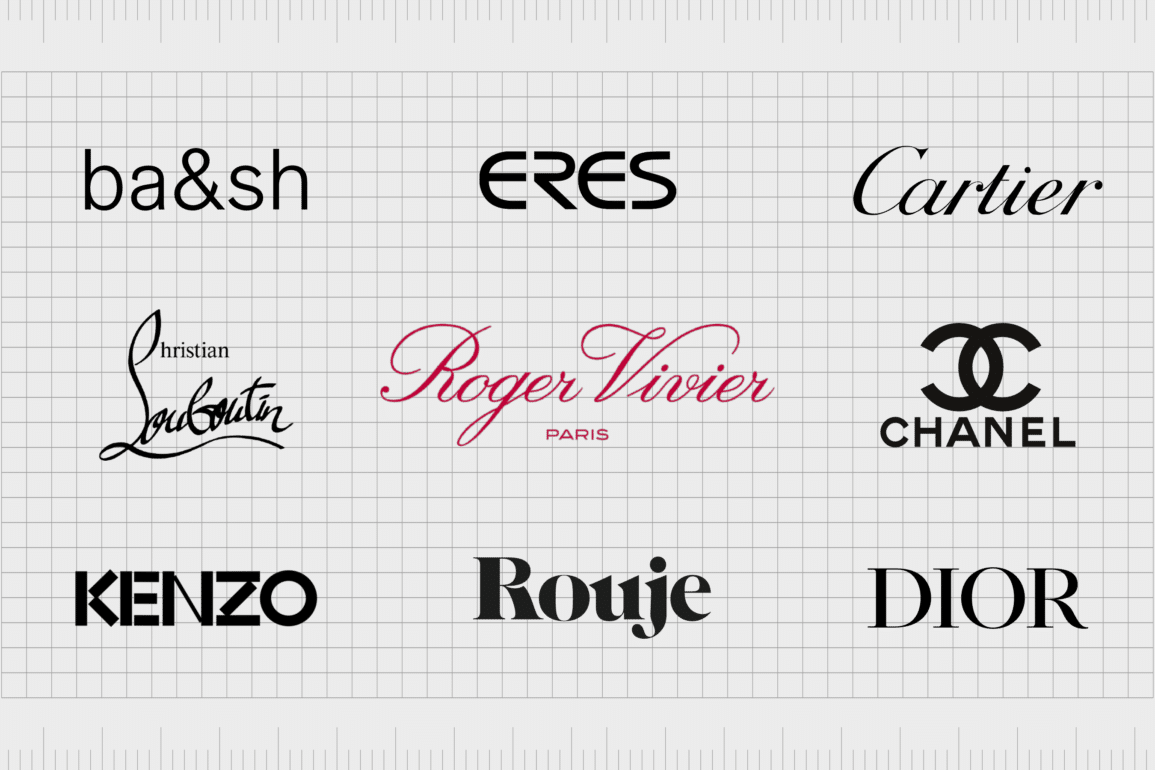 Famous French designer brands have transformed the way we view fashion and accessories for decades. Since the days of Marie Antionette, France has dominated the luxury landscape, remodeled the modern world, and influenced some of the biggest movements in history. Today, we're paying homage to some of the most famous designer brands from France.
Designers from France are best-known for creating a host of gorgeous products, from accessories such as handbags and opulent jewelry, to leather goods, and wardrobe staples like the little black dress.
Not only do these incredible companies stand out for the high-quality items they produce, but they also benefit from some exceptional branding.
From eponymous ultra-luxury brands like Dior and Saint Laurent, to up-and-coming modern institutions such as Maje and Sandro, French designer brands know how to make a statement.
In this article, we're looking at the brand elements that made these companies such a significant part of the designer landscape, across the decades.
Introducing designer brands from France
The most famous French designer brands come from a broad range of backgrounds, targeting various unique niches with their specialist products.
Though we often associate designer brands with the fashion world, and haute couture, designer brands can focus on a variety of products, from custom jewelry brands to companies focused entirely on footwear, like Christian Louboutin.
No matter their chosen product, designer brands from France stand out for their ability to combine French style with creative concepts and modern ideas. Many of these companies don't just benefit from a strong reputation in France, they've also developed a robust global following.
Unlike luxury brands, or the best French fashion brands in general, designer brands differentiate themselves from other companies by focusing heavily on the creator behind the products.
Most designer brands invest heavily in personal branding for their founders and designers, each of which have their own personal style to bring to the market.
Why do so many designer brands come from France?
Below, we'll be looking at some of the best-known French designer brands from the luxury fashion industry, the jewelry landscape, and a range of other sectors. However, it's worth noting there are dozens of amazing French designers out there.
In fact, France is widely regarded as one of the most fashionable countries in the world, known for style, elegance, and innovation.
Names like Dior, Chanel, and Sandor have phenomenal brand equity in the modern world, thanks in large part to France's impact on modern culture.
For decades, France has been a shining beacon in the Fashion space, and the country continues to develop its reputation year after year, cultivating new designers, and showcasing collections at events like Paris Fashion Week.
France is known for producing the world's first official fashion designer, responsible for clothing Marie Antoinette. It's also a country with a phenomenal heritage. Some of the world's biggest design movements, from haute couture to avant-garde collections come directly from France.
Just as Switzerland is known for its chocolate and watch brands, and Italy for its amazing cuisine, France stands out as the leader in the designer space, with endless boutiques and famous names to choose from.
The logos of French designer brands
As mentioned above, it would be impossible to reference all of the amazing designer brands from France here, particularly as new designers emerge all the time.
For today's list, we're looking at some of the best-known names and most famous figures from the modern world, and throughout history.
1. Rouje
One of the more affordable French designer brands on this list, Rouje was created by a French style icon named Jeanne Damas. Damas brings a lot of her own personal "French girl style" into her clothing, producing high-waisted denim, dresses, and soft blouses.
The Rouje logo builds on some of the best-known emblems from luxury French brands, using a simple color palette of black and white, and a bold wordmark.
The letters in the inscription have an almost retro appeal, helping Rouje to appeal to nostalgic customers, and showcase its fun and flirty identity.
Rouje also regularly uses a large letter "R" in branding.
2. Dior
Perhaps one of the best-known French fashion designer brands of all time, Dior was born and built in the Fashion capital of the world, Paris. Created by Christian Dior in 1946, the company has become a staple of the luxury industry, known for its unique approach to French style.
Dior has helped to shape the fashion industry as we know it for decades.
The simplistic Dior logo combines minimalism with power, showcasing authority and heritage in the use of bold, serif-style letters. The combination of confident lines and soft curves distinguishes the brand as one committed to creativity and sophistication.
3. Ernest Leoty
Named after a famous corset maker from the 1800s, Ernest Leoty is a French designer brand focused on the athletic landscape. Another more affordable but well-known company in the fashion industry, E. Leoty concentrates on bringing comfort into the gym-wear space.
The Ernest Leoty logo draws attention to the authentic nature of the brand, using a combination of typefaces. The "E" is almost handwritten in style, with a script effect, while the "Leoty" component is written in simple sans-serif font.
The eye-catching logo juxtaposes elegance and authority, with modernity and innovation.
4. Chanel
We can't have an article about the best French fashion brands without drawing attention to Coco Chanel's eponymous company. This fantastic institution has been a part of the French landscape for more than 100 years, and continues to transform the industry as we know it today.
Known for amazing products like the little black dress, and stunning accessories, Chanel is a favorite among French women and worldwide consumers alike. The Chanel logo, with its interlocking C's stands as a symbol of luxury and opulence for many consumers.
At the same time, the "Chanel" wordmark demonstrates the authority and stability of the brand.
Find out more about the Chanel logo here.
5. Mugler
Mugler, or Thierry Mugler, is a French luxury fashion house first founded in 1970. The founder, Thierry Mugler himself, has passed away since, but his unique style continues to make the brand an icon among consumers worldwide.
Known worldwide for Avant Garde collections, Mugler has created signature looks for celebrities like Demi Moore, for her role in Indecent Proposal.
After years using a relatively simple inscription for a logo, Mugler has updated its brand identity recently, to include a signature style design. The handwritten-style logo demonstrates the passion and creativity of the company.
6. Cartier
Not all of the most famous designer brands from France focus entirely on the garment landscape. Cartier, created by Louis-François Cartier in 1847, is one of the best-known jewelry and accessories companies of all time.
Loved by royalty and celebrities around the world, Cartier products are steeped in opulence and history.
The Cartier logo highlights the company's sophisticated and elegant nature, using a cursive serif font with sharp edges and soft curves. The company favors the black and white color palette used by some of the most popular French fashion designer brands worldwide, for its versatility.
7. Eres
Considered by many to be an innovator in the lingerie and swimwear market, Eres is best-known for its iconic pieces, produced to be comfortable, chic and stylish at the same time. The Eres brand was created by Irène Leroux, who took over a store previously owned by her parents.
Eres' logo conveys the company's focus on modern designs and contemporary apparel. The unique wordmark features bold letters, and a distinctive "R" which eliminates the straight line from the beginning of the character.
8. Lanvin
Standing as one of the oldest French designer brands, Lanvin was first established by Jeanne Lanvin in 1889.
The designer created the company after the clothing she was making for her daughter captured the attention of wealthy people throughout France. In more recent years, Lanvin has become extremely popular for its modern, feminine designs.
The Lanvin emblem shares a lot of similarities with the modern designs used by many companies in the French industry. The serif wordmark is bold and strong, with sharp edges, conveying confidence and authority.
9. Amelie Pichard
Moving over to the footwear landscape, Amelie Pichard is one of the more adventurous shoe designers in the world today. She tends to experiment with more outlandish designs than other Parisian fashion houses, collaborating with celebrities like Pamela Anderson.
Though Pichard's designs stand out for their unique heel shapes and interesting finishes, the company's logo is a lot more simplistic. Amelie uses a simple sans-serif wordmark for her emblem, written in all lowercase letters to symbolize modernity.
10. Givenchy
Another long-standing name among high-end fashion houses, Givenchy was established by Hubert de Givenchy in 1952. Otherwise known as the "House of Givenchy", Givenchy has made a huge impact on the fashion industry as we know it.
Considered one of the top luxurious French brands among celebrities, Givenchy has produced clothes for celebrities like Audrey Hepburn.
Like many popular fashion houses, Givenchy utilizes a simple wordmark for their logo, featuring excellent balance and symmetry, with plenty of white space.
However, the brand is also well-known for its monogram, featuring four interlocking "G's".
11. Annelise Michelson
Jewelry designer, Annelise Michelson, has a strong reputation among the celebrities of the world. Producing bold but refined pieces, the company has captured the attention of everyone from Alexa Chung to Rhianna.
All of the items produced are handmade from scratch.
Taking inspiration from iconic fashion companies throughout Paris, Annelise Michelson uses a serif-style wordmark for her logo, with no spacing between the two words of her name. The word "Paris" also regularly appears underneath the emblem, showcasing the company's origins.
12. Kenzo
One of the more unique French designer brands on this list, Kenzo was created by Kenzo Takada, an innovator born in Japan who founded his eponymous brand in Paris. The company's bold designs and unique products quickly became popular among younger Parisian women and men alike.
Kenzo's emblem is one of the first logos on this list to use a more impactful, quirky font. The letters are all distinct, and look as though they've been produced using a combination of straight lines.
The design is innovative and creative, ideal for a modern brand.
13. Christian Louboutin
Virtually every fashion lover familiar with French shoe brands will know the name "Christian Louboutin". Often revered among some of the most luxurious goods in the world, Louboutin shoes are sought after by celebrities and everyday people alike.
Known for his feminine designs and the unique red soles on his shoes, Christian embedded a lot of his own personality into his brand. The logo is based on the signature of the creative director and designer, helping it to stand out among other well-known fashion companies.
14. Louis Vuitton
Another of the most iconic designer brands from France, Louis Vuitton was first established in 1854. Initially, the founder focused on accessories and luggage, before exploring new iconic pieces and ready-to-wear fashion garments.
The official logo for Louis Vuitton matches the trends of the industry, featuring a wordmark in balanced, sans-serif font.
The "LV" monogram which often appears alongside Louis Vuitton garments and accessories is also extremely recognizable, demonstrating a commitment to combining history and heritage with modernity and the future.
15. Claudie Pierlot
Best known for producing soft, feminine designs, in a variety of colors and styles, the Claudie Pierlot brand has grown increasingly popular in recent years.
The company was produced by a well-known icon in the fashion industry, who spent her years as a pattern maker, assistant designer, and entrepreneur.
Pierlot created her own brand to appeal to the women of Paris, and her simple logo conveys her friendly, modern nature. The significant spacing between the letters helps to add to the company's image of elegance and authority.
16. Van Cleef & Arpels
One of the ultimate French fashion brands for luxury jewelry, Van Cleef & Arpels was first introduced to the designer scene by Alfred Van Cleef and Salomon Arpels in 1896.
The company is well known for its fresh designs, featuring elements of nature like animals and flowers. Some of the company's products have even been worn by royalty.
Taking inspiration from other high-end fashion houses, the Van Cleef & Arpels logo features an elegant wordmark, with slim, sans-serif letters. The slender characters with their long lines represent grace and sophistication.
17. Balmain
Producing both fashion pieces and jewelry alike, Balmain Paris was launched by Pierre Balmain in 1945. The company operates through a number of exclusive stores, found in locations around the world.
Balmain is an expert in conveying authority and elegance with its designs.
The company's logo also reflects these core characteristics. Produced in a simple black and white color palette, the wordmark uses a bold sans-serif typeface with uppercase letters to convey confidence and stability.
18. BA&SH
Popular both in the United States and France, BA&SH has become a staple among modern fashion companies in recent years.
The name of the company is based on the two founders, Barbara Boccara, and Sharon Krief. Clothing produced by the company is intended to convey modern style, with a sense of freedom and joyful elegance.
Like many popular fashion companies, BA&SH chose a wordmark for its logo, combining simple sans-serif letters in lowercase, with a large ampersand. The logo is fun and fresh, with a playful, friendly edge that makes it more appealing to younger consumers.
19. Courrèges
Certainly, one of the better-known designers in the French landscape, particularly in the 1960s, Courrèges is one of the most famous French designer brands in history. Created by Andre Courrèges, the brand heavily focuses on innovation and experimentation with its clothing.
Unsurprisingly, the company created a modern logo to match its modern vibe. The simple sans-serif wordmark features all lowercase letters, while the emblem above the inscription looks similar to a lowercase "A" and "C" placed back-to-back.
20. The Kooples
Founded by three brothers in 2008, the Kooples is best-known for its amazing menswear collections, and androgynous tailoring.
The company produces clothing with sleek, sophisticated lines and breezy, lightweight materials. Many women's items include bright colors, to combine femininity with a modern, experimental edge.
The Kooples logo is basic but effective, featuring the name of the company in all uppercase sans-serif letters. The bold characters highlight the confident nature of the brand, while the "Paris" component draws attention to the company's origins.
21. Roger Vivier
Unlike many of the other famous French designer brands mentioned in this list, Roger Vivier brings a splash of color to his logo. The label, founded in 1937, is popular for its amazing and iconic shoes, worn by people like Brigette Bardot and even Queen Elizabeth II.
The Roger Vivier logo screams sophistication, with cursive, script-style font, depicted with large swirls and curves.
The red coloring highlights the passionate and feminine nature of the brand, while the "Paris" element connects the company to the Fashion capital of the world.
22. Paco Rabanne
Most modern fashion lovers are familiar with Paco Rabanne. The French designer defined space-age chic in the 60s, with sequin mini dresses and amazing chainmail pieces. Today, Paco Rabanne produces a variety of accessories, fragrances, and ready-to-wear clothing items.
With elements of retro confidence and modern flair, the Paco Rabanne logo perfectly represents the company's identity and history. Though simple, the design is extremely bold, confident, and contemporary, ideal for a future-focused fashion company.
23. Jean Paul Gaultier
There's no denying Jean Paul Gaultier is one of the most famous French designer brands in the world today. Gaultier released his first clothing collection in 1976, to mixed reviews. Some French women and other designers considered his designs to be too decadent for the time.
However, Gaultier's popularity has grown drastically over the years.
The modern Jean Paul Gaultier logo highlights the somewhat edgy nature of the designer, with an innovative wordmark featuring two overlapping sections. The unique font choices, and the positioning of the words draw attention to the company's creative flair.
24. MaisonCléo
MaisonCléo was founded by Marie Dewet and her mother. Marie's mother was the designer's head seamstress, and the inspiration for the name of the company. Each garment produced by the fashion house today is handmade in France, using luxurious materials like silk.
The MaisonCléo logo is a symbol of elegance and sophistication, utilizing serif typefaces to convey authority and heritage. Like many fashion companies, MaisonCléo chose a black and white color palette, for sophistication, elegance, and purity.
Learning from famous French designer brands
The famous French designer brands mentioned above have all achieved notoriety around the world for a variety of different reasons. Some companies focus on the development of beautiful jewelry, while others concentrate on accessories or ready-to-wear fashion.
However, one thing all of these organizations have in common is their phenomenal approach to branding. Each logo covered above exudes a unique component of its accompanying brand's identity.
As you can see from these examples, the French aren't just innovators in the fashion world, they also have a thing or two to teach new brands about brand image too.
If you're inspired by these phenomenal logos of French designer brands, reach out to Fabrik brands today to learn more about creating your own incredible emblem.
Fabrik: A branding agency for our times.
Now read these:
—Famous French brands and their logos
—A guide to luxury brands from France
—Famous French fashion brand logos
—Your guide to French car brand logos