Cheap stock images: 10 sites for stocking up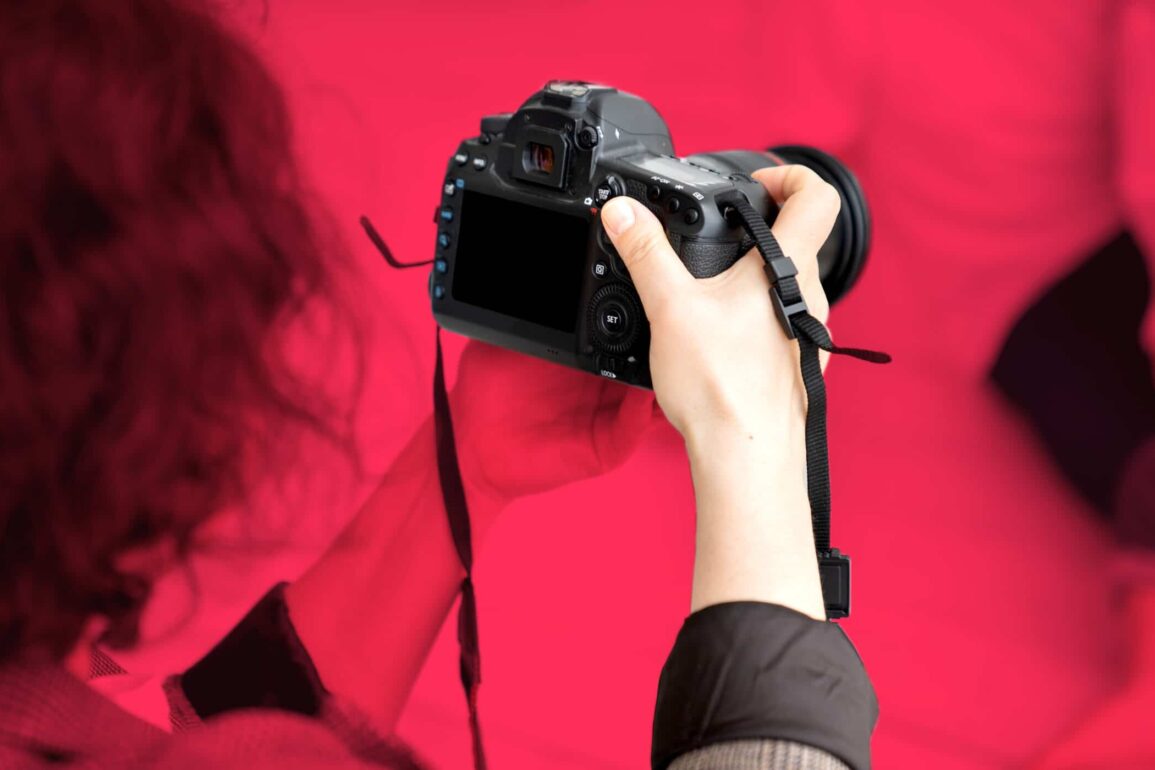 It's time to stock up on some cheap stock images to help make your brand more visually appealing. But where can you go to buy cheap stock images, without compromising on quality?
The content on your website, your custom brand assets, even your tone of voice all improve your chances of making an impact. However, it's hard to ignore the value of visuals.
Pictures have more of an impact on your audience than you can imagine. Human beings are wired to process images faster than text, remember them for longer, and respond to them more emotionally.
Unfortunately, as a growing business, you might have a lot of budget to pay for bespoke brand photography and illustrations whenever you post a blog or share on social media. This is where cheap stock images come in handy.
With cheap stock image sites, you can collect a host of relevant pictures designed to bring context and meaning to your content.
Our best sites for cheap stock images are: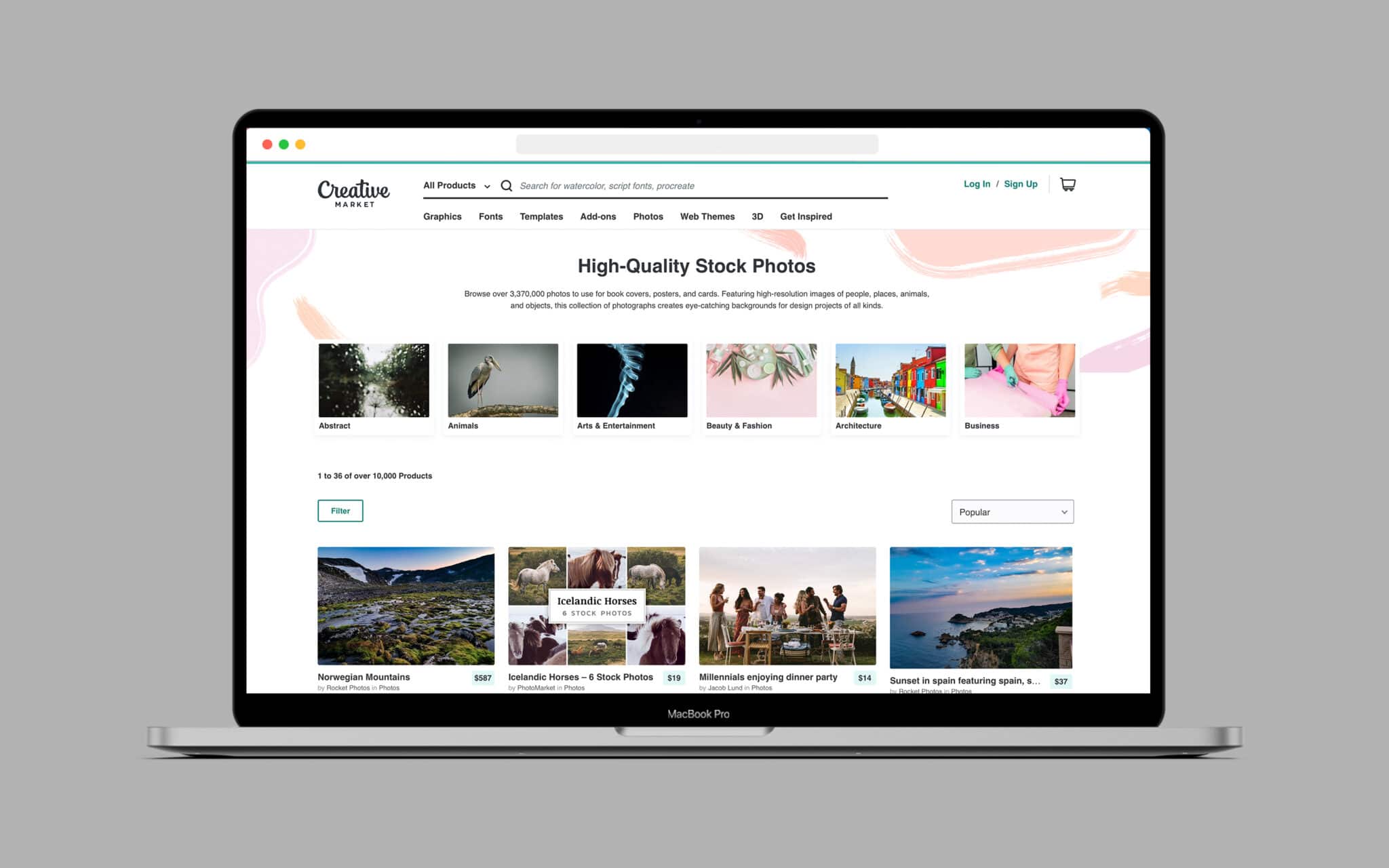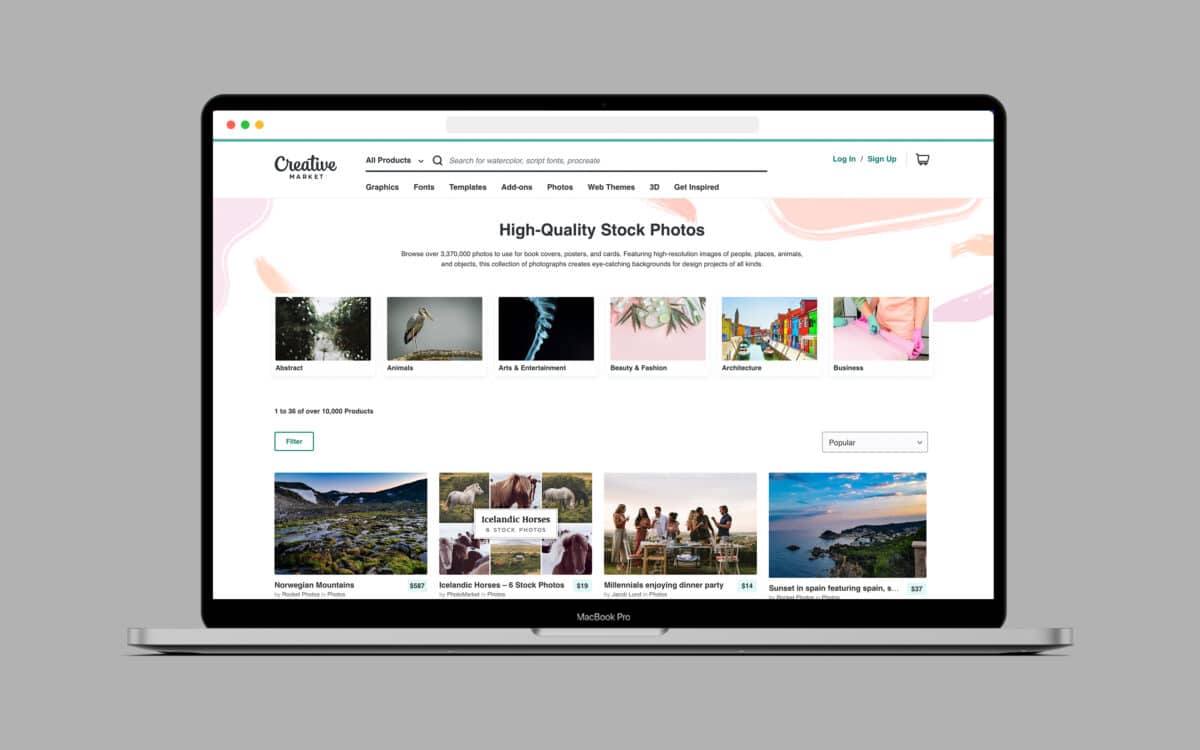 1. Creative Market
The Creative Market is exactly what it sounds like, a marketplace for creatives. Unlike many of the sites for cheap stock images on the web today, this solution offers so much more than just photos or illustrations.
You can collect fonts for your editing tools, as well as brushes and templates. Creative Market is even home to various tools intended for social media marketing.
This is a website every designer should have in their swipe file when it comes to preparing anything from website designs to blogs. There's a simple search and filtering function, and you don't even need to create a new account, because login is available through Google or Facebook.
Creative Market is a simple choice for any business owner.
Features:
Hundreds of photos and illustrations
Design vectors, brushes, and fonts
Various categories to explore
Partner and affiliate program
Support and resources for beginners
Pricing: You can get the occasional free asset from Creative Market, but for the most part, you'll be purchasing your content on a per-credit basis.
Prices start at $25 and range up to $500 depending on what you need. If you buy in bulk, you can save some cash.
Best for: Creative Market is a fantastic cheap stock images resource if you're looking for cheap photos, and a host of other design elements to boot. We'd recommend this resource for designers and graphic artists looking to buy in bulk.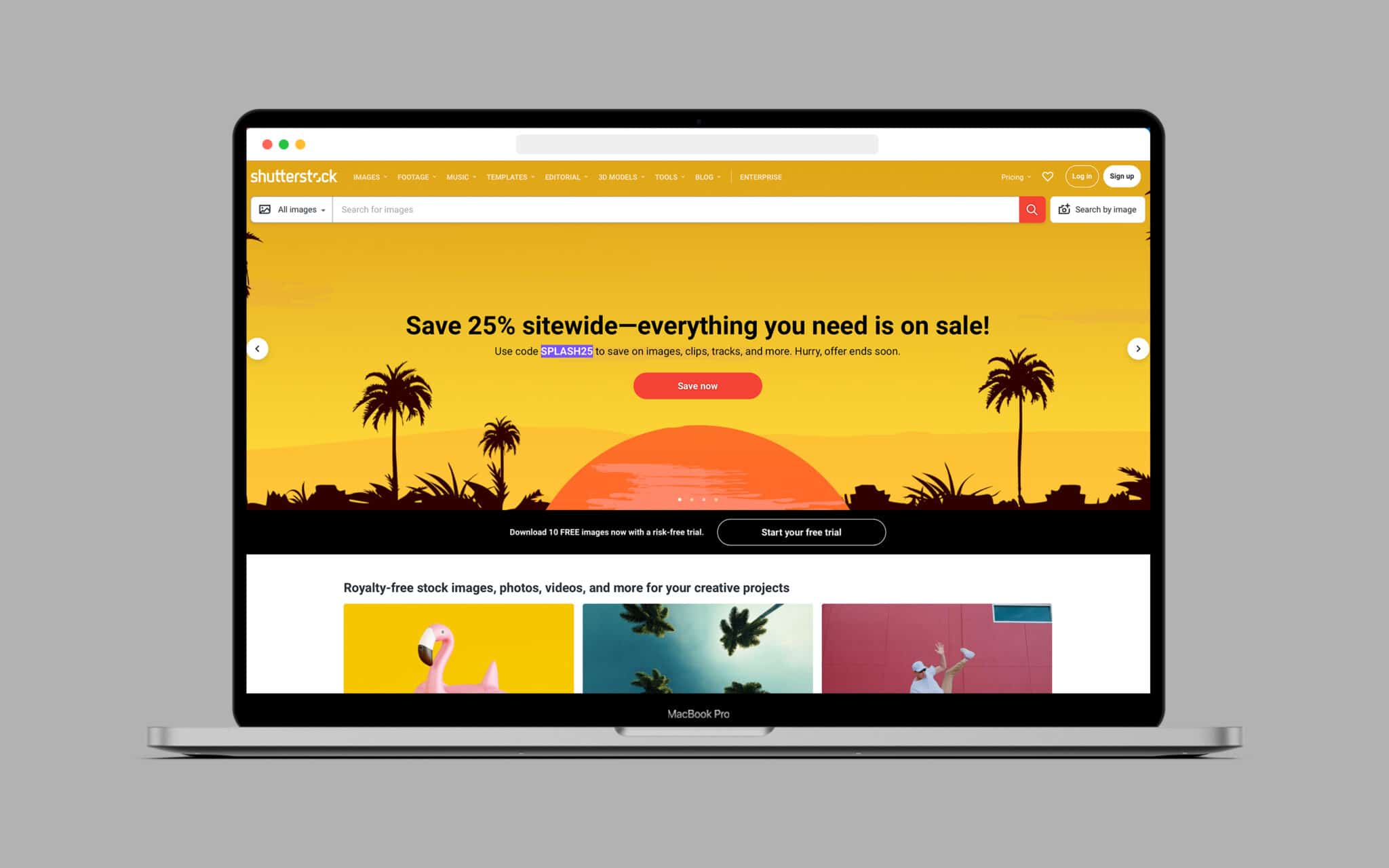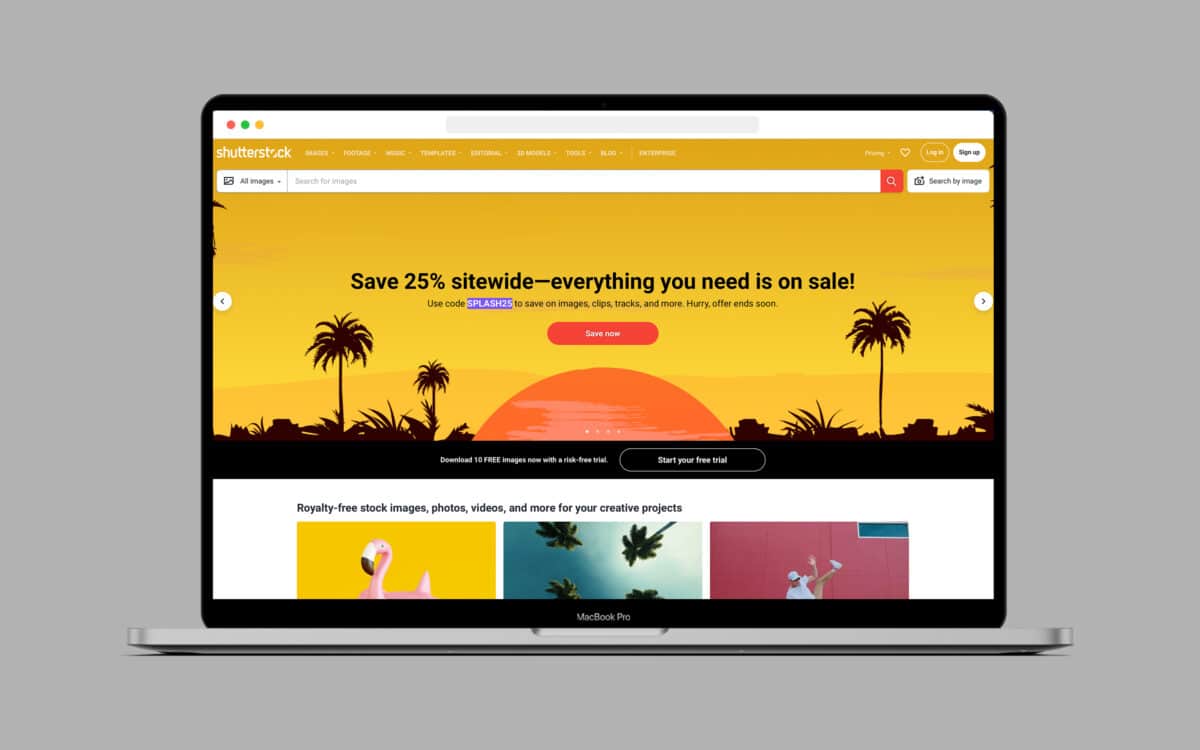 2. Shutterstock
Shutterstock is a name most designers will be plenty familiar with. This website allows you to access a cheap stock images subscription, or purchase content on a pay-as-you-go basis.
Shutterstock is brimming with great graphical content to explore, including video footage, music, and standard photos or illustrations.
The images on Shutterstock are extremely high in quality, and you can filter through categories easily to find what you need. You'll also be able to download your chosen content in a range of formats and sizes to suit your design needs.
When you sign up for your account, you can get 10 free images per month for free too! Shutterstock is one of the most generous cheap stock image sites around, and among the most well-known.
Features:
Great selection of cheap stock images
Footage in 4K and HD for video
Music without royalties
Easy search and categorization
Free image and vector of the week
Plenty of great deals
Pricing: Shutterstock is very generous with its plans. You can sign up as a single user for a subscription at $19 per month. The more you spend, the more you get. Around £119 per month equates to a massive 750 images.
Best for: Shutterstock offers excellent variety for website design, blog posts, and social media. If you're sprucing up your videos with unique music and HD content, or you need pictures to transform your blog posts, this is the place for you.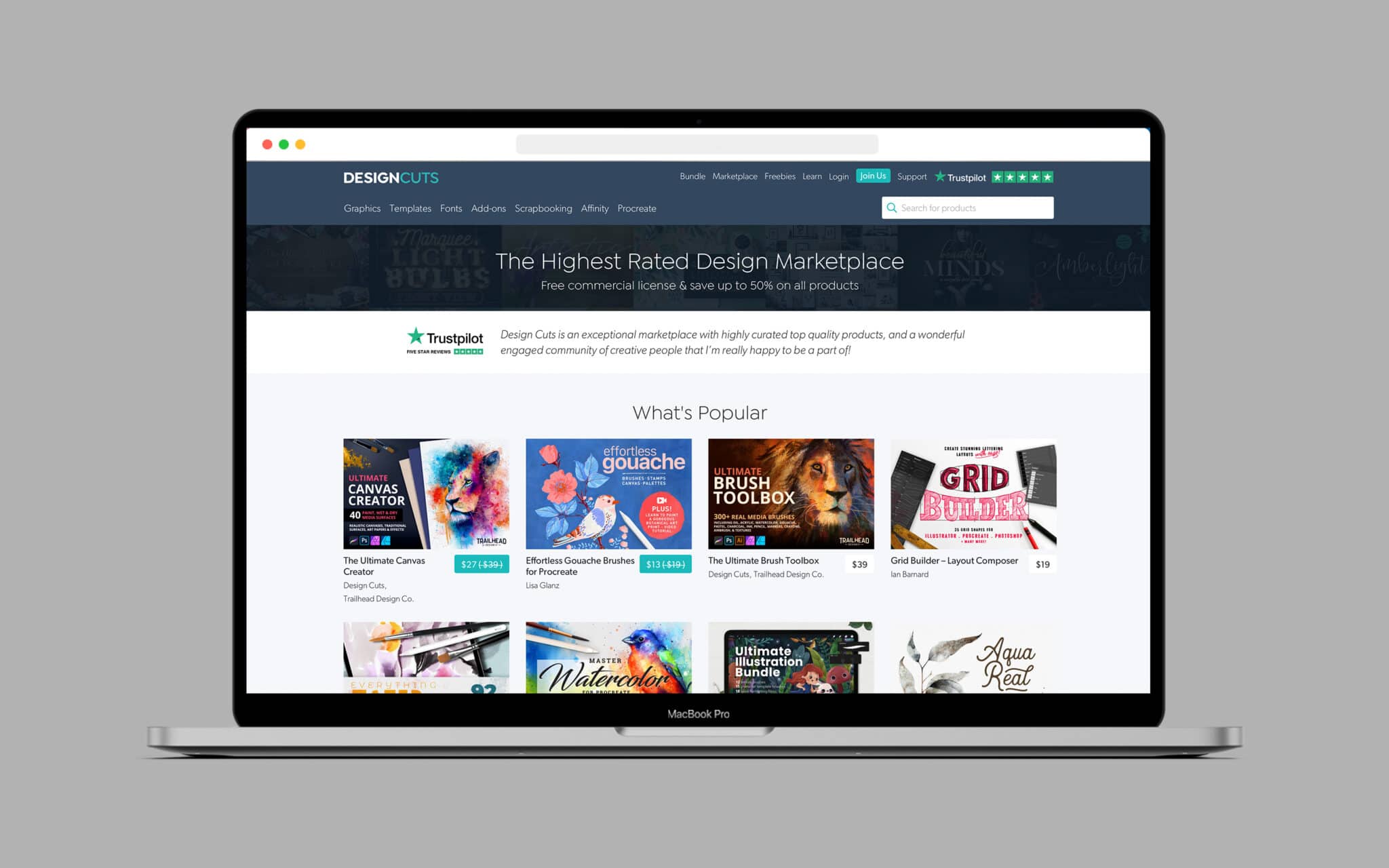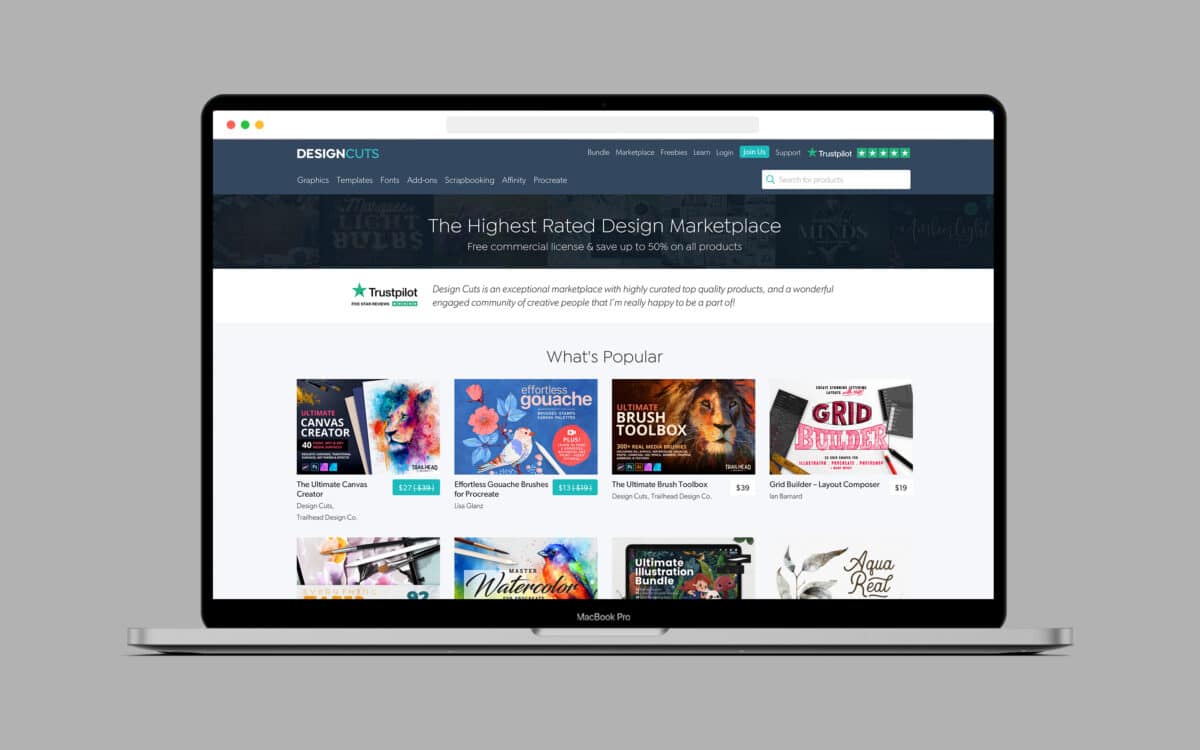 3. Design Cuts
Design Cuts is more than just a site for some of the best cheap stock images. While you can find almost every cheap stock image you need here, you'll also have access to a range of other elements intended for designers.
There are countless downloadable resources to explore, including vectors and brush packages for your design software.
Design Cuts is intended more for professional creators than website owners searching for the occasional cheap photo. You'll have access to things like scrapbooking and editing tools here, as well as all the textures you can imagine.
If you need more than just images, and want an entire online environment for making your digital content stand out, this is the site for you.
Features:
Scrapbooking assets
Cheap stock images and illustrations
Vectors, brushes, and filters
Templates and fonts
Simple search function
Pricing: Design Cuts is great for designers on a budget because there are constantly deals and sales available to save you money. You can get your first 20 assets for free, and then you'll pay for each vector, template, or image you need, one-by-one.
Best for: This design resource is ideal for animators, illustrators, and people working with design software on a day-to-day basis. Though it's great for standard images, Design Cuts also has a lot to offer in terms of brushes and overlays.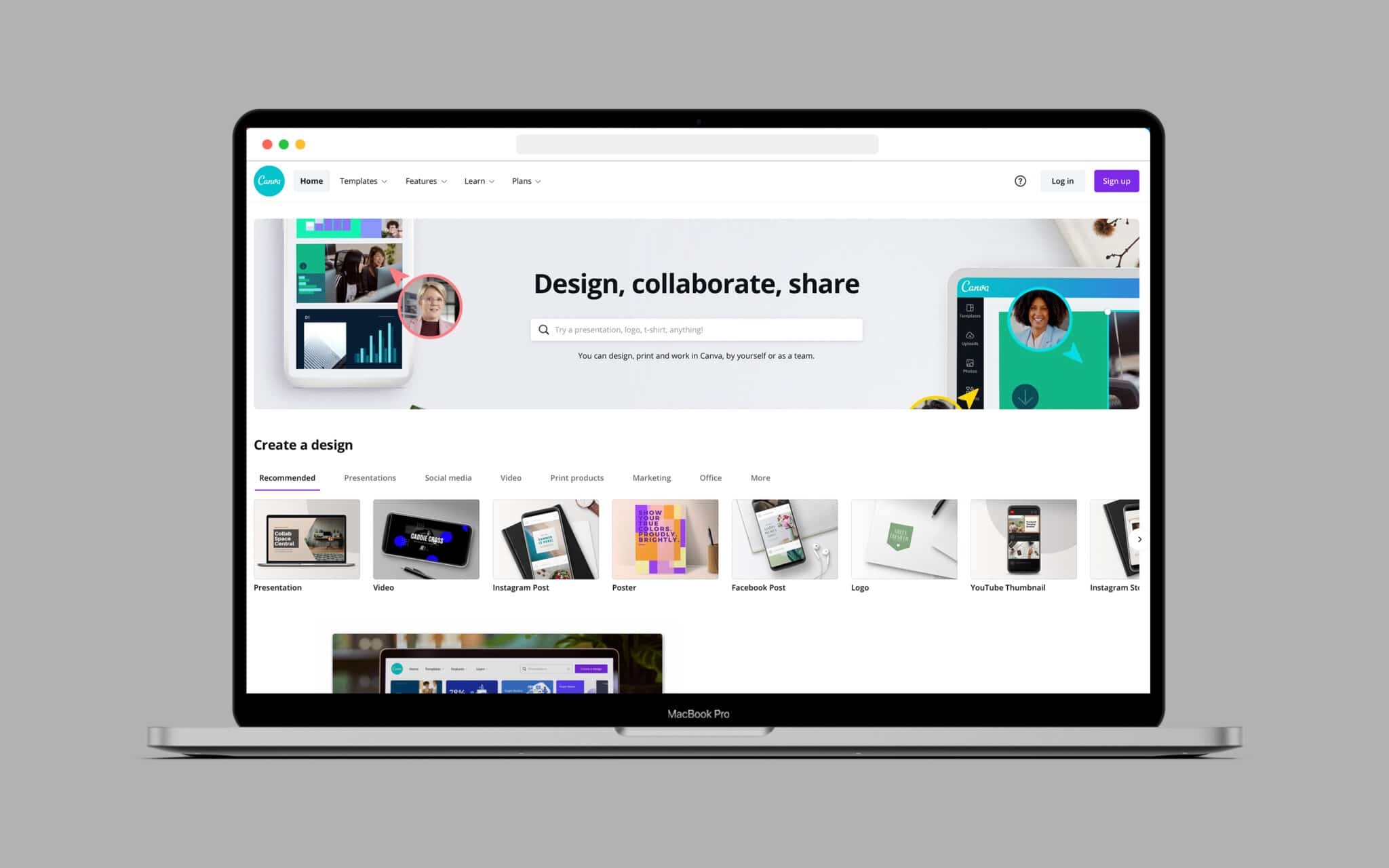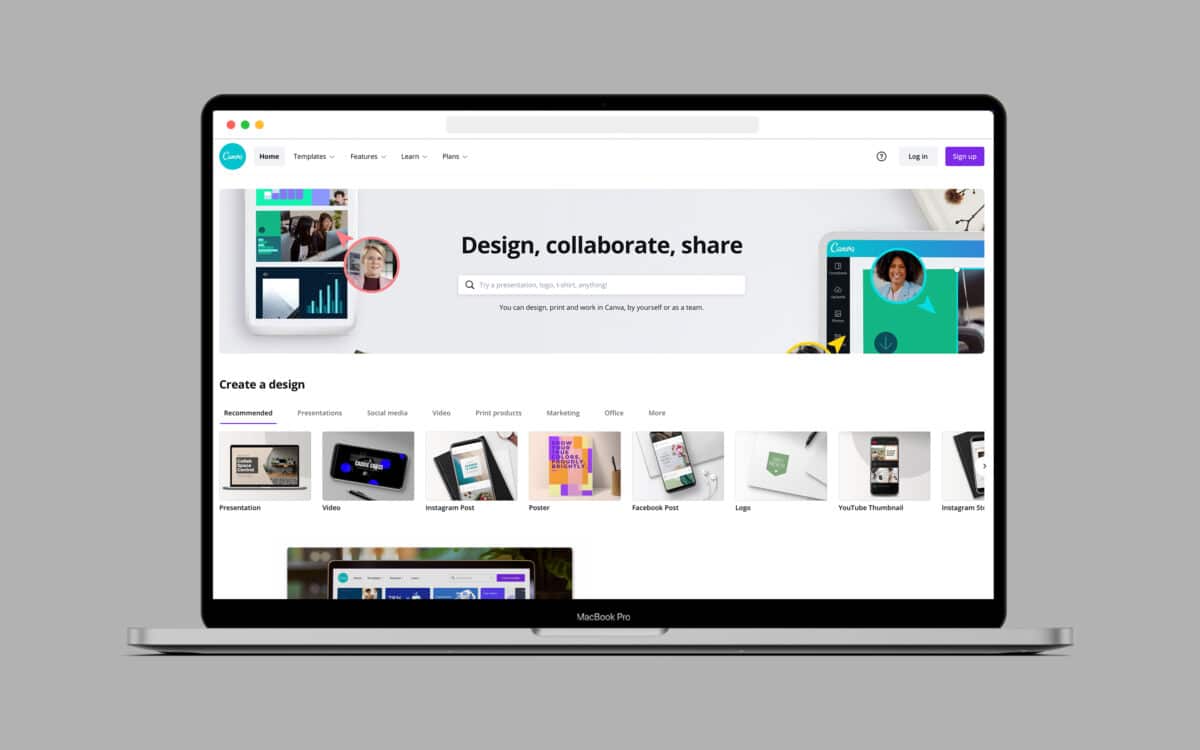 4. Canva
If you're looking for cheap stock images which will work well on anything from your website to your email marketing campaigns, Canva is a solid choice. You can access so much extra functionality here than you'd get with most stock websites, including your own browser-based editor.
The great thing about Canva is how easy it is to use. Finding a cheap stock image for social media takes a matter of minutes, and there are tons of ways to adjust the content when you find it. You can resize your images, add filters and frames, or implement text with a range of fonts.
There are also countless resources available for free.
Features:
In-browser editing solution
Full brand kits with logo uploading
Image resizing and filters
Cloud storage for created content
Team collaboration tools
Fonts, vectors, and stickers
Pricing: You can sign up to Canva and access a host of images, as well as the editing tool for free. However, you will be limited on the free plan to a certain selection of photos. If you upgrade to a paid plan, starting at £11.99 per month, you should have a wider selection of graphics to choose from.
Best for: Canva is an ideal product for freelancers and business owners who want to leap into content creation on their own. You don't need any graphic design knowledge to use the simple drag-and-drop editor, and there are plenty of resources to explore.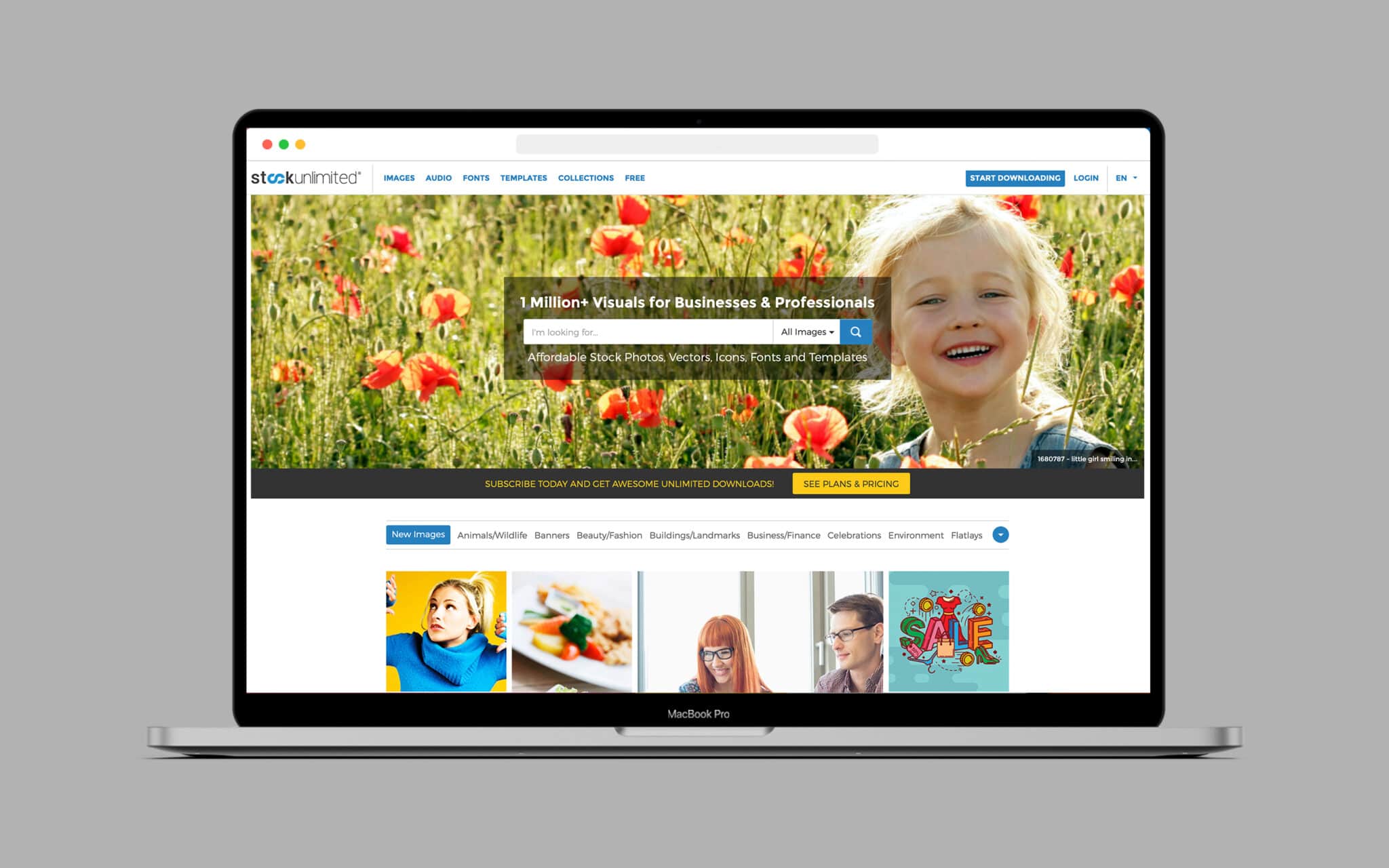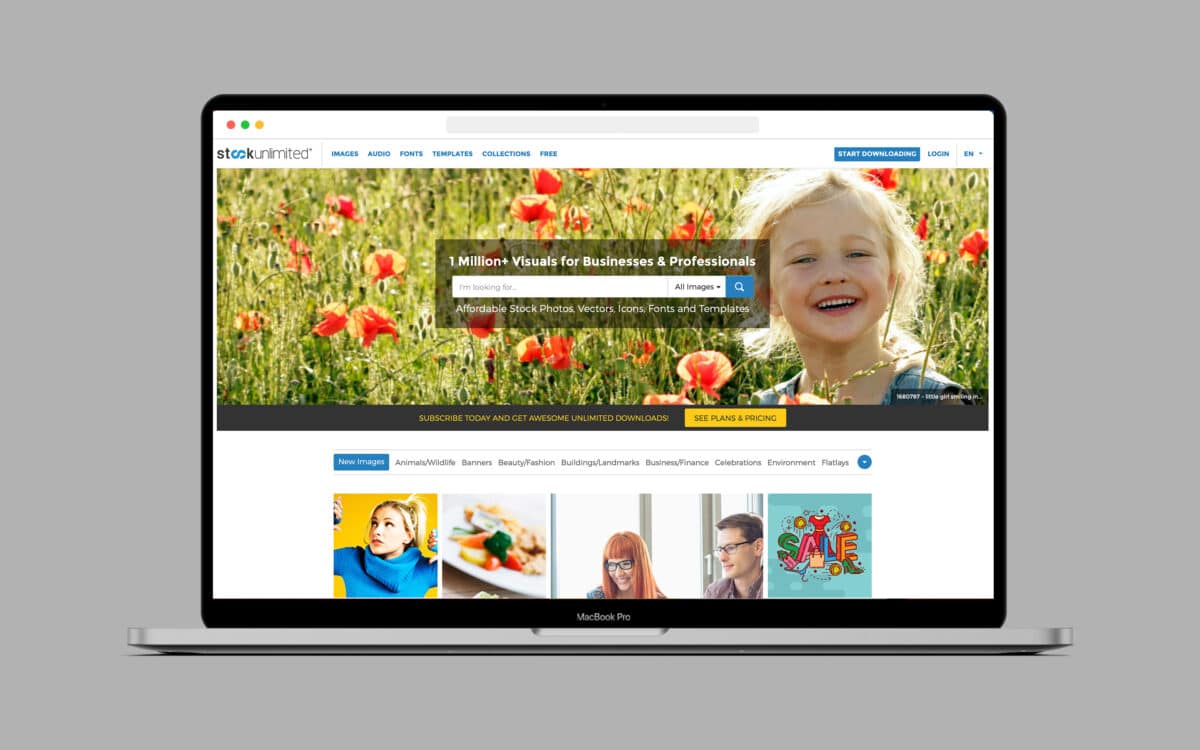 5. StockUnlimited
StockUnlimited does what it says on the tin, by offering a virtually unlimited amount of cheap stock images. There are over a million assets to choose from, including icons, templates, vectors, and photos.
Since there's so much content available, StockUnlimited also makes sure it's easy to find what you need, with a well-organized interface.
As a simple and effective solution for stock images, StockUnlimited will appeal to a wide range of business owners and designers. You can even find fonts and templates for your brand assets.
StockUnlimited also has a collaboration going with Pixlr, for companies which need access to design editing software, as well as cheap content.
Features:
Huge range of premium assets
Fonts, vectors, and templates
Unlimited downloads with some plans
Access to Pixlr for an extra cost
Simple to navigate environment
Pricing: StockUnlimited is more accessible to smaller businesses, because of all the sales and deals constantly available on the site. You can access huge discounts if you shop at the right time, like unlimited downloads for $169.
Subscriptions start at $19 per month in general, or you can access download packs for specific numbers of assets. Packs start at $9 for 10 assets.
Best for: StockUnlimited is a simple and affordable source of cheap stock images for small businesses making their way into things like blogging and social sharing. If you're planning on accessing a lot of stock images for blogs, the unlimited download package is very appealing.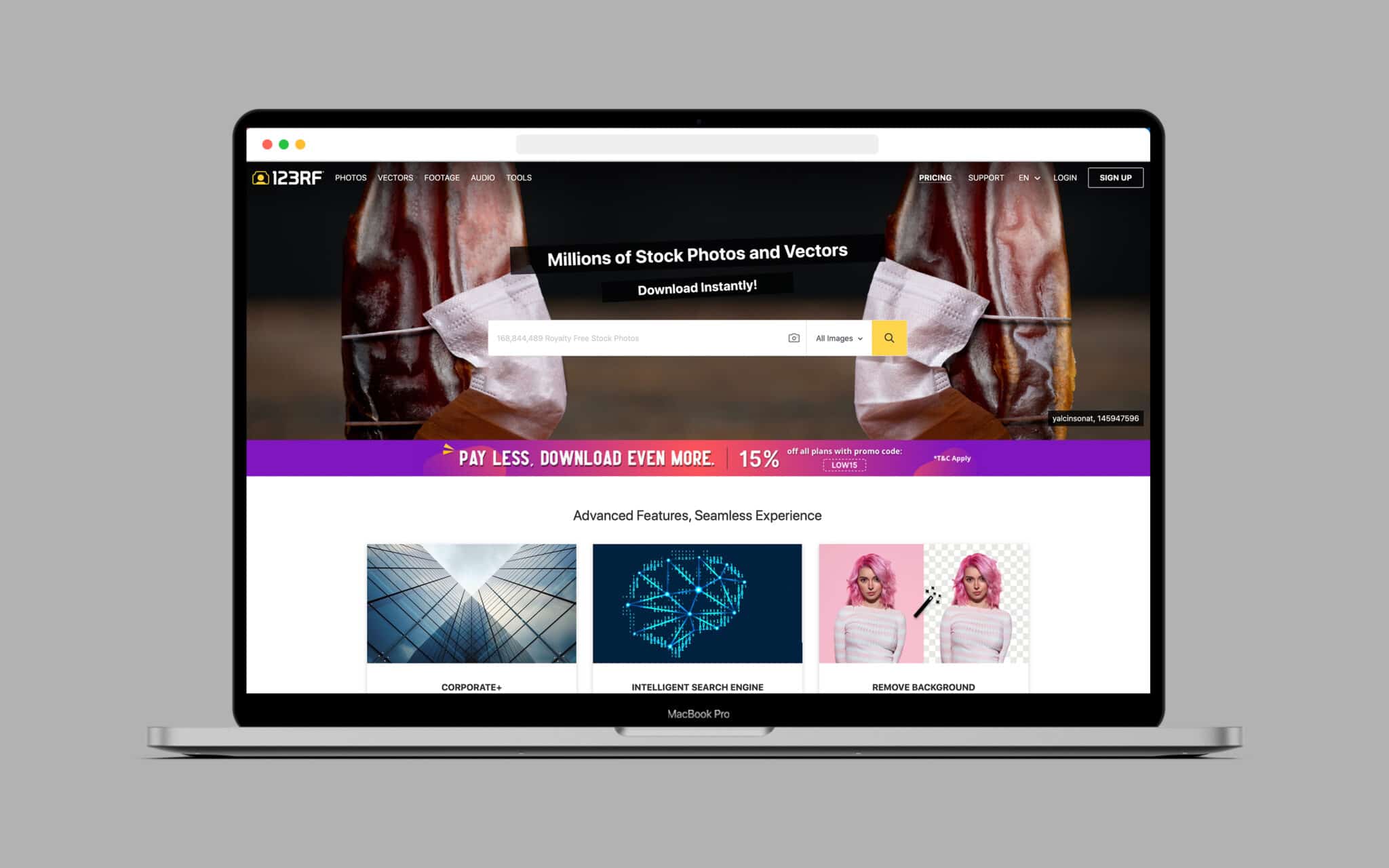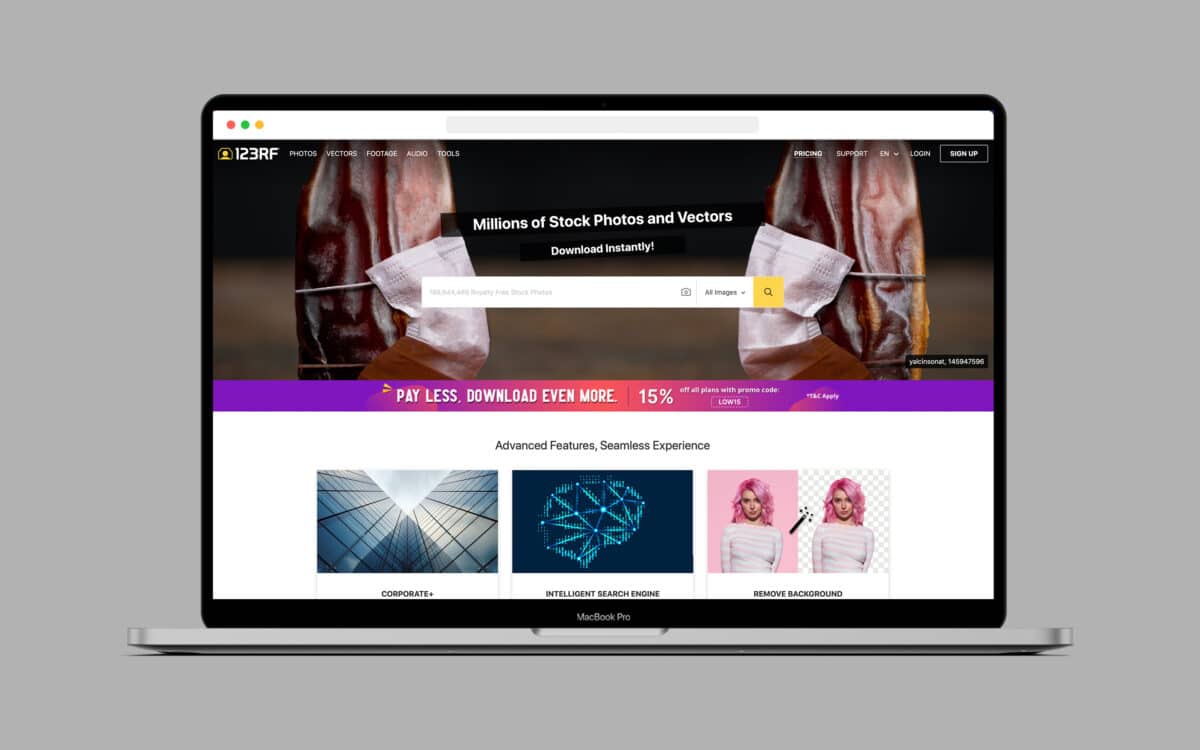 6. 123RF
Currently a bit lesser known than some of the other cheap stock image sites we've mentioned here, 123RF is quickly gaining steam in the creative market. Frequently offering discounts and deals to make assets more affordable, 123RF is a great source of content.
You can use the stock photo categories to find something specific to your blog or website.
Alternatively, 123RF also has a "trending" section, where you can browse through some of the most popular topics in the world at the moment. Featured contributor sections also ensure you can download content from the same designer.
This is great if you want to create a consistent aesthetic on your site or blog.
Features:
Affiliate and partner programs
Easy search functionality
10 free images for beginners
15% off renewal packages
Adobe and Google add-ons
Vectors, footage, and audio files
Money-back guarantee
Pricing: 123RF makes it easy to invest in your visual content, with discounts on everything from your original subscription to renewals. You can download 10 free images as a beginner, and there's a money-back guarantee if you're not happy.
Subscriptions start at just £2.70 per month for ten images, and free re-downloads.
Best for: 123RF is a fantastic site for cheap stock images on its own, but it's also ideal if you're looking for an add-on to your existing stock subscription with another site. You can get a wider range of assets from this company without spending a huge amount of cash.
Combining a small monthly subscription with a subscription to another site will give you more variety.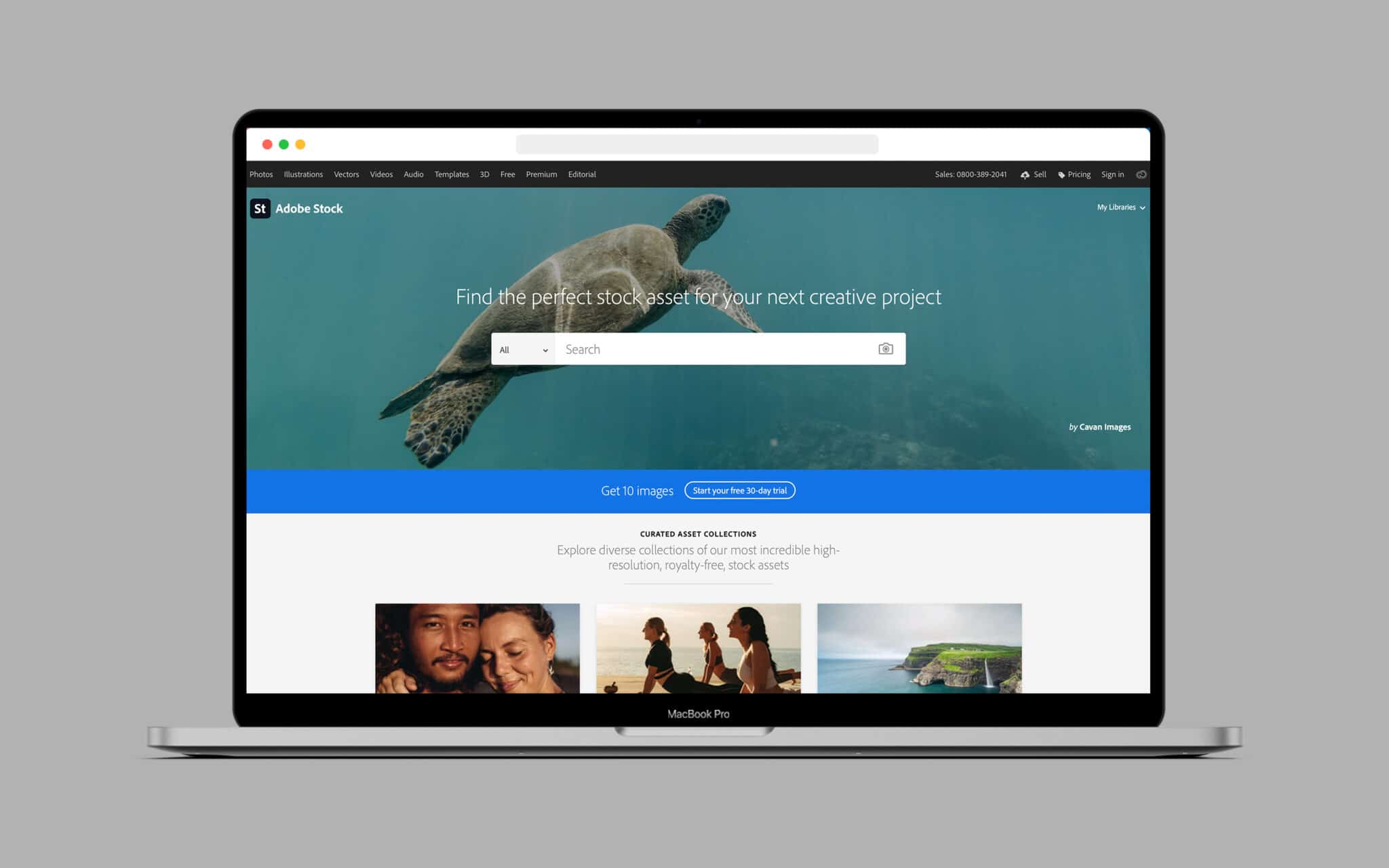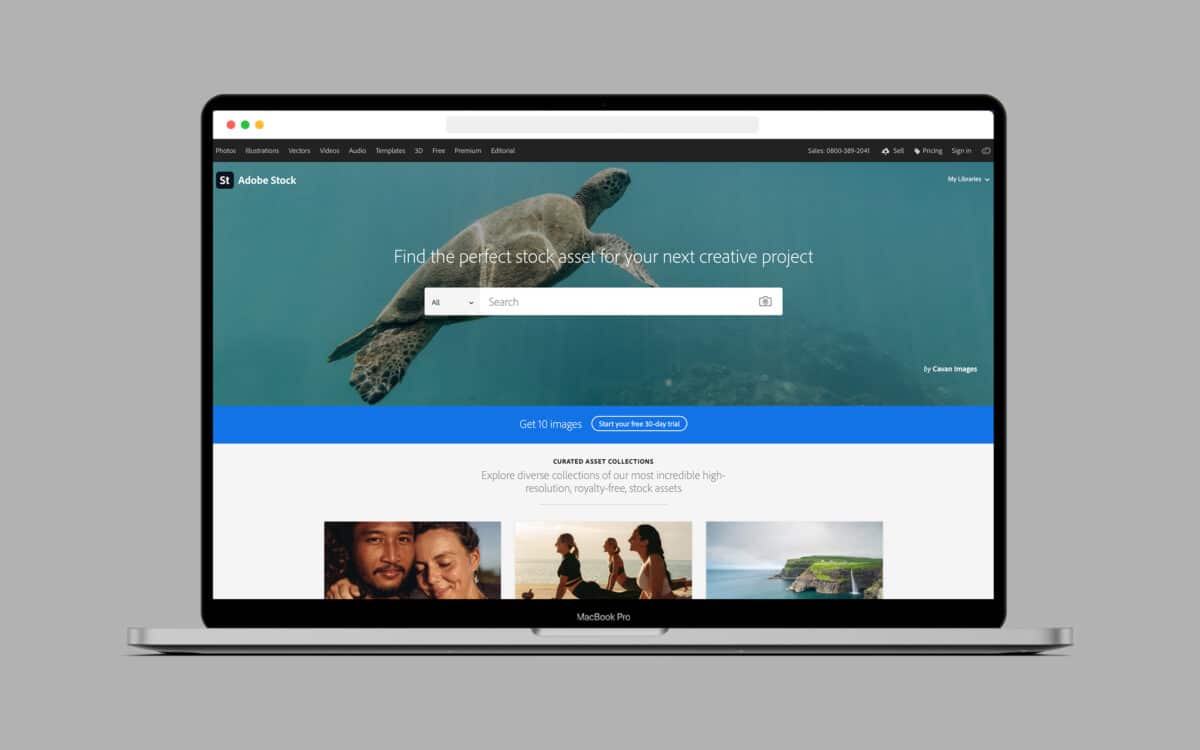 7. Adobe Stock
No designer worth their salt isn't familiar with the name Adobe. Responsible for some of the most valuable creative software in the world, like Photoshop and Illustrator, Adobe has a great rep.
The Company also has its own cheap stock images site, where you can find endless high-quality resources from creators around the world.
Adobe's stock photo collection goes beyond the average free-to-use images you'll find all over the web. There are tons of premium illustrations made by professionals, stock photos, and videos to explore. You can also access music and video for your YouTube content.
To make life even easier, you can download assets straight into your Adobe apps.
Features:
Easy integration with Adobe software
Audio and video assets
Tons of photos, illustrations, and vectors
Plenty of content categories
Easy search and filter
Support for creative contributions
Pricing: As you may expect, Adobe's offering isn't quite as cheap as some of the other sites mentioned here. However, it's still very affordable when you consider the quality of the assets you're getting.
You can access a thirty-day free trial with up to 10 free images. Then packages are available for around £19.99 per 10 credits.
Best for: If you're committed to building a highly professional image for your site, or you're running a creative business, Adobe is a must-have. You'll also benefit from this source for cheap stock images if you already have subscriptions to Adobe tools like Photoshop.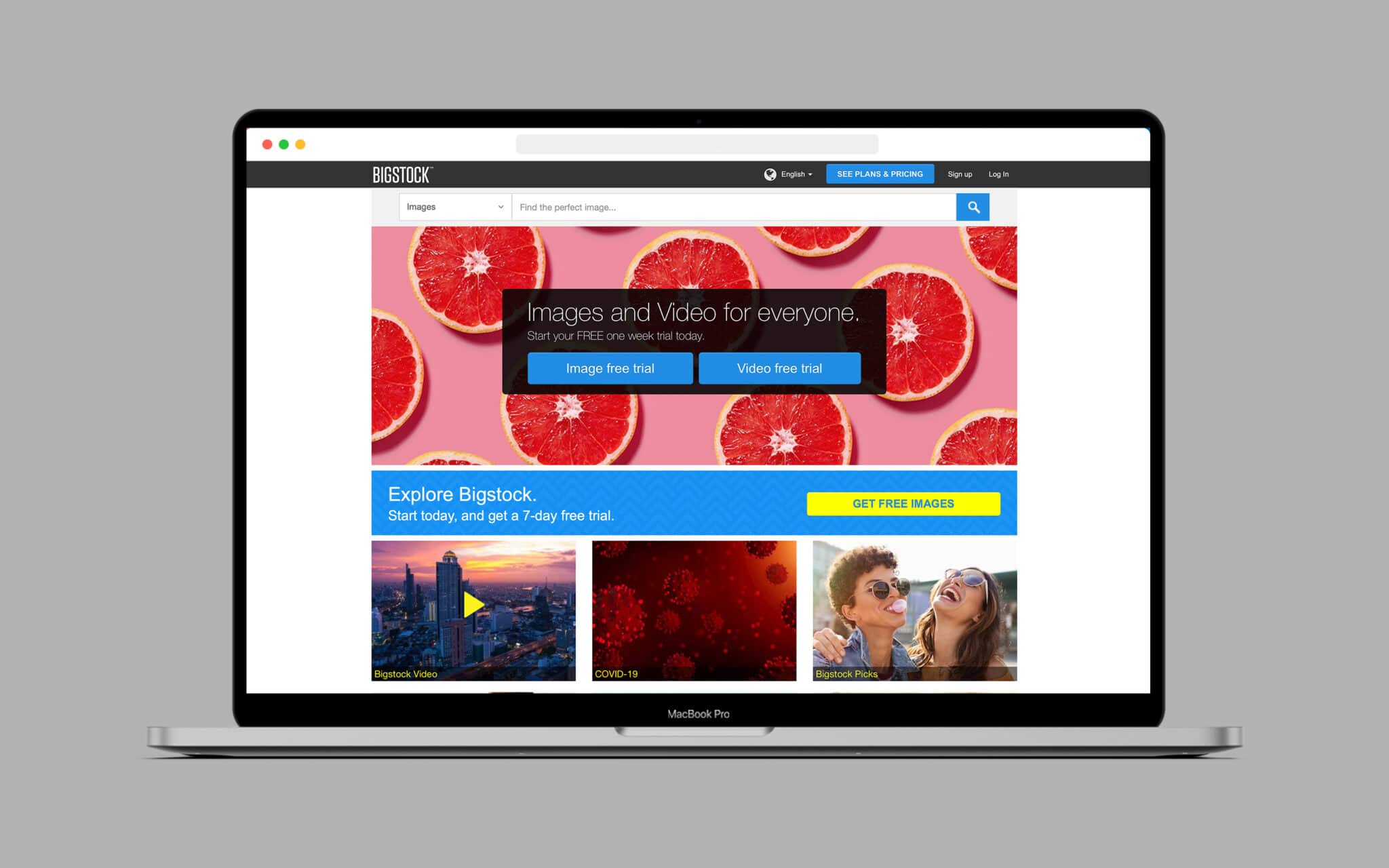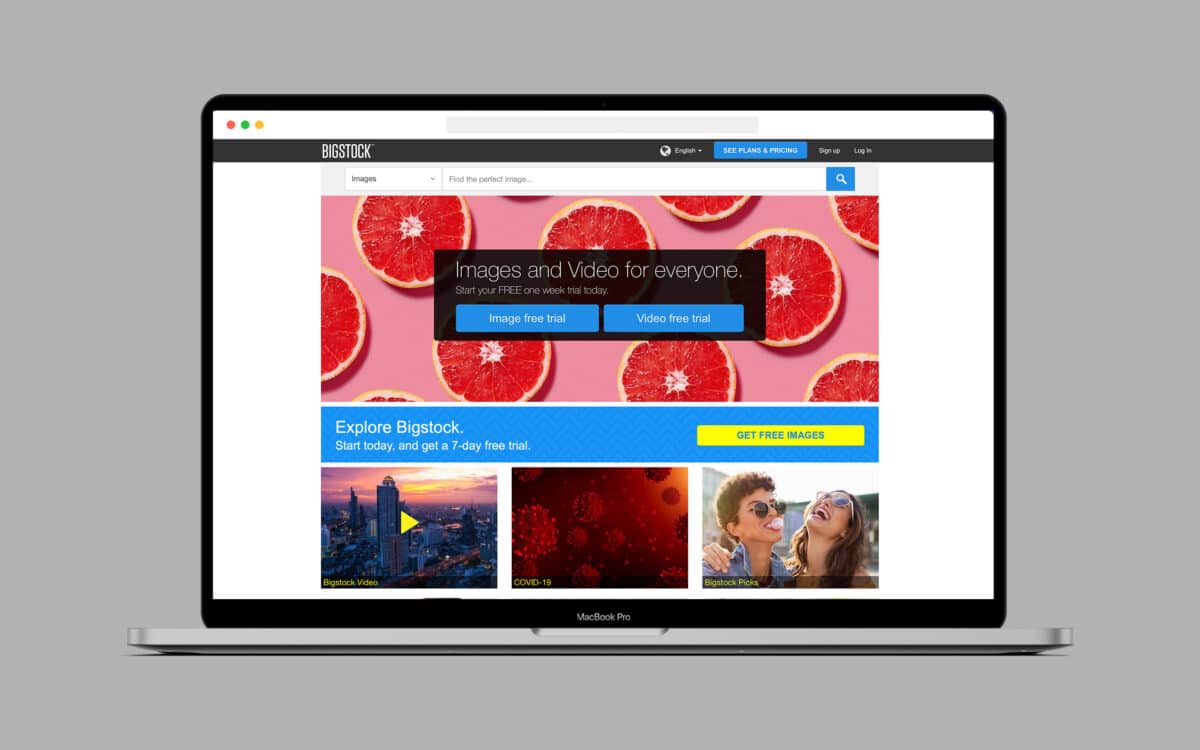 8. BigStock
A fantastic resource for cheap stock images, BigStock is one of the market leaders among creative professionals and business owners alike. Like many of the websites covered here, BigStock benefits from offering far more than just photos.
The website specializes in photographs, illustrations, vectors, and more. If you're on the hunt to creative, royalty-free content, you're in the right place.
BigStock offers access to various free images to get you started, and there's a satisfaction guarantee included with your purchase, so you don't have to worry about feeling disappointed. Keyword filters and categories make it easier to find the content you want.
Plus, the free image of the week means you can gradually create your own swipe file of extra resources.
Features:
Thousands of free and premium images
Free image of the week
Vectors and illustrations
Video content
Easy-to-use searching function
7 day free trial
Pricing: Your experience of BigStock starts with a seven-day trial either for images, or videos. You'll need to sign up separately to each trial. Once you're ready to commit to a long-term relationship, you'll pay for the credits you need.
It's around $35 for 10 credits, and up to $495 for 500 credits, with multiple packages in the middle.
Best for: BigStock is an easy-to-use website for website owners and business leaders who don't want to spend a lot of time editing or adjusting their own graphics. There are tons of videos, photos, and illustrations to choose from, and you can download multiple times for free.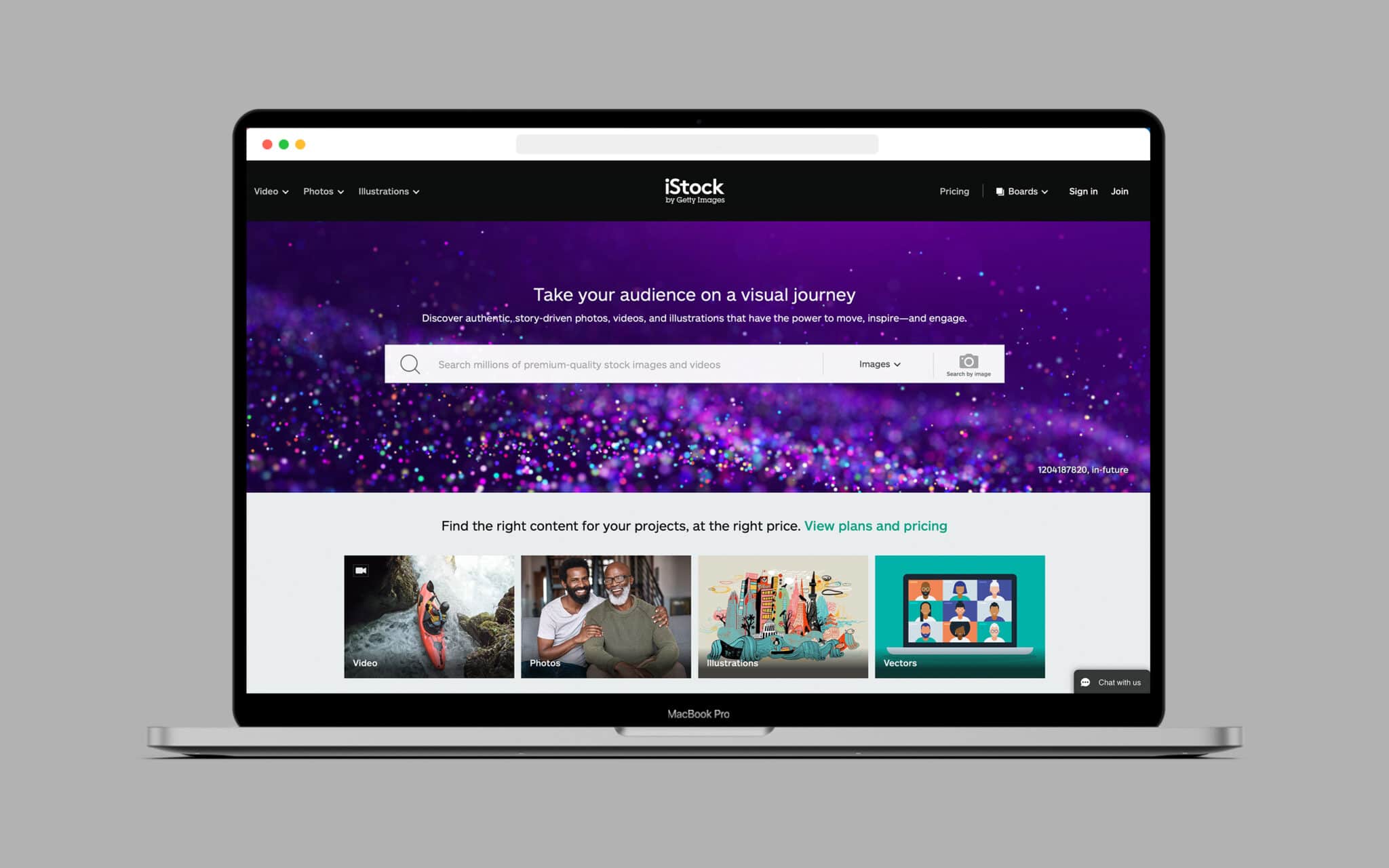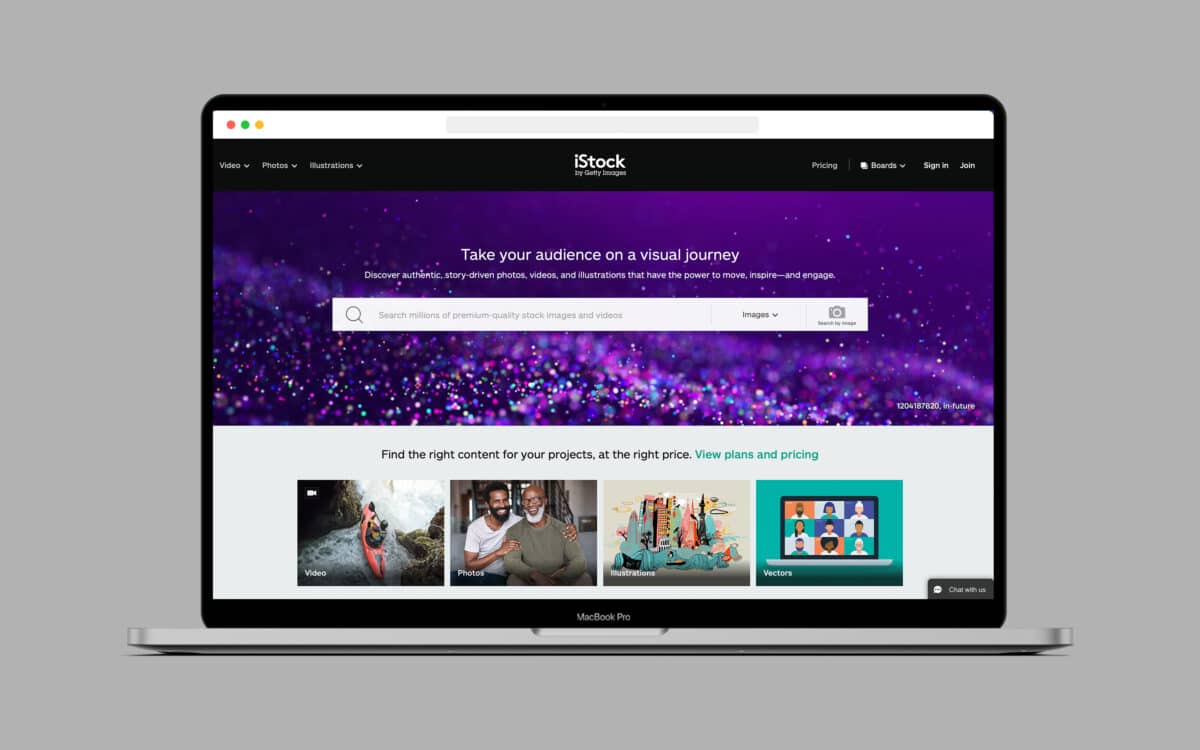 9. iStock
Among the most popular names in cheap stock images, royalty-free content, and photos, iStock is a comprehensive resource for your creative needs.
Aside from all the cheap stock image content you could need, iStock also offers a range of additional products, like 4K video clips and illustrations. There are vectors for designers, and a host of categories to browse through.
iStock allows you to sort through content based on the topic you want to cover, or a signature artist who you love working with.
There's also access to an iStock editor if you're willing to pay a little extra, or you can download your content with an Adobe Photoshop, Illustrator, or InDesign plugin.
Free stock images, videos, and illustrations are available each week.
Features:
Available iStock pro editor
Adobe plugin
4K and HD video clips
Photos and illustrations
Easy search and illustration
Access to various file sizes
Packages and collections
Pricing: Aside from the free images and assets available on iStock from time to time, the easiest way to collect content is through a subscription.
Subscriptions allow you to download up to 10 images a month for around £19, with options ranging up to £99 per month for 750 images.
Premium subscriptions offer access to "Signature" content.
Best for: iStock is a great source for collections when you want to create a unique aesthetic on your website. The Essentials collection is ideal if you want basic content, while the Signature Collection gives you access to unique imagery you won't find anywhere else.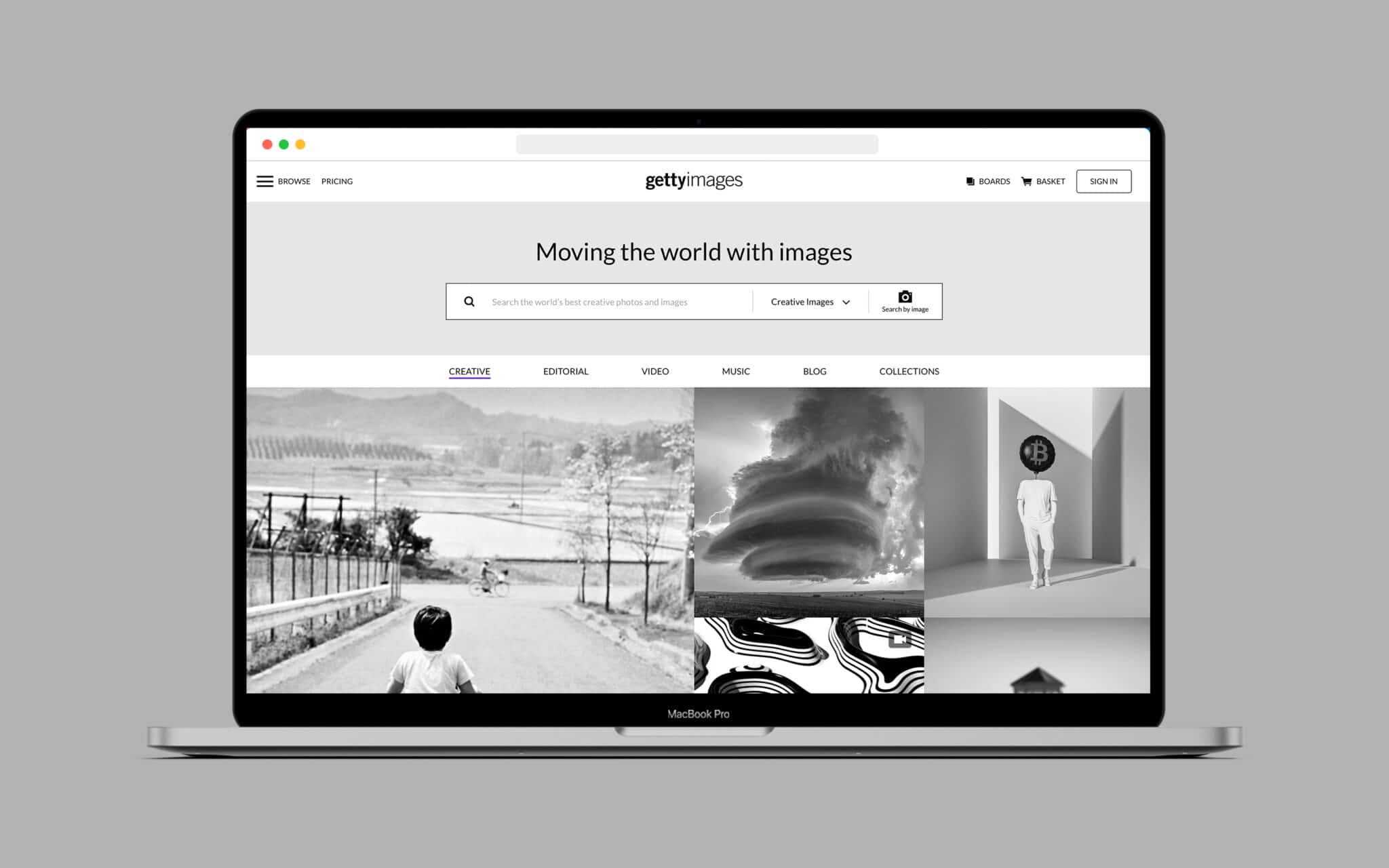 10. Getty
Probably one of the best-known sources for stock images in the world, Getty is a market leader in creative content. You can find more than 200 million pieces of creative content within the Getty website.
This includes images that you can't find anywhere else. Getty makes it easy to find the content you need with the option to browse through videos, music, photos or blog images.
There are full collections of photos when you need more than one image to finish an asset. Alternatively, you can search through creative and editorial content with keywords.
Getty has a host of unique content choices to choose from, as well as plugins and extensions to make uploading content to your site easier.
There's even API integration available too.
Features:
Millions of stock images
Music, photos and videos
Easy-to-find collections
Fantastic search function
Plugins, extensions, and API
Editorial content
Pricing: Although more expensive than many of the sources for cheap stock image mentioned here, Getty still offers plenty of value.
Downloads start at around £150 each if you go for small images and low-res videos. Large 4K and HD videos, or bigger images can cost up to £375 each. You can also get a monthly subscription.
Choosing your cheap stock images
While it's fair to say most companies will rely on a cheap stock image from time to time, that doesn't mean you shouldn't be choosing your stock photos with care. Cheap stock image sites can have some hidden gems to offer if you know where to look.
When browsing through the cheap stock image sites mentioned above, remember to keep an out for images with an authentic appeal. Avoid anything which seems overly processed and try to find visual assets which match the personality you're trying to create for your brand.
Don't let the wrong cheap stock images ruin your appearance.
Fabrik: A branding agency for our times.