Hunting down the best travel laptop can feel like an impossible challenge. The right travel laptop needs to be durable, powerful, feature-rich and capable of meeting your budget. On top of that – it needs to fit in a backpack or carry case.
In today's digitally enhanced world, it's so much easier to travel and work at the same time. You can explore the globe, see the sights, and still set up an awesome email marketing plan.
Unfortunately, whether you're globetrotting for work or fun, there is a challenge to address: your laptop. Big, bulky, and heavy laptops make it harder to "travel light" and stay within luggage restrictions.
A larger laptop can also be tougher to manage when you're trying to get work done on your flight, or on the next train you take.
A good "travel laptop" is a lightweight, compact alternative to the traditional computer. These laptops are designed to be ideal for life on the move, wherever it might take you.
Here are our picks for the best travel laptop.
Jumper Touchscreen 11.6 (best budget choice)
Lenovo ThinkPad E14 (best for conferencing)
Apple MacBook Air 13.3 (best MacBook)
Lenovo IdeaPad 3 (best controls)
Razer Book 13 (best premium travel laptop)
ASUS VivoBook (best with fingerprint reader)
Acer Chromebook Spin 311 (best convertible laptop)
Samsung Galaxy Book Flex (best battery)
Microsoft Surface Laptop 3 (best Windows laptop)
Read on for more…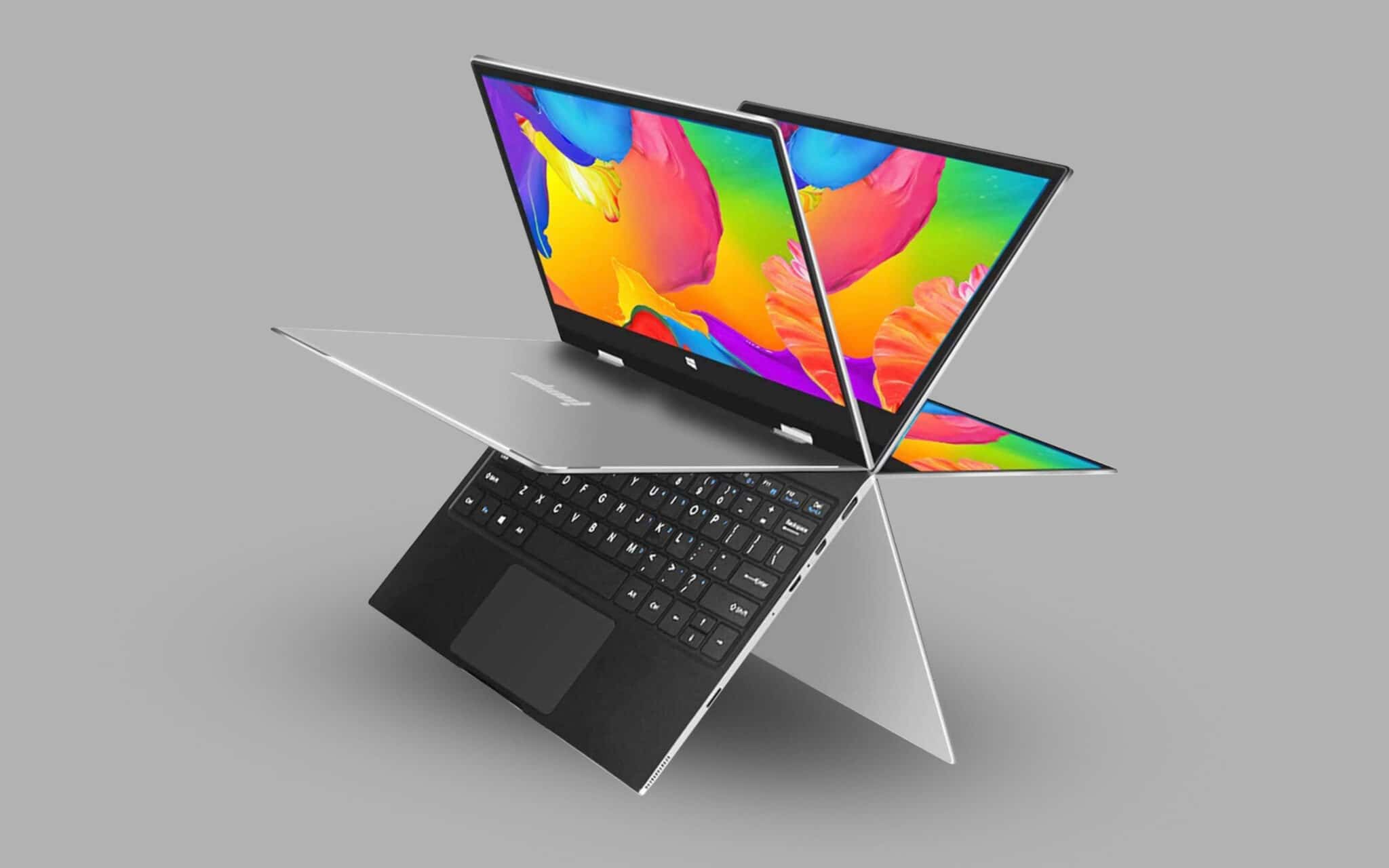 1. Jumper Touchscreen 11.6 (best budget choice)
The Jumper brand might not be as well-known as some computer companies, but it has a lot of fantastic technology to offer. The Jumper 11.6-inch touchscreen is a great example. 
One of the best travel laptop options for designers, this device comes with 9th generation HD graphics, and a beautiful IPS screen. There's even a HD camera included for conferencing.
To give you extra control, the Jumper Touchscreen comes with 360-degree rotation, so you can transform your laptop into a tablet almost instantly. There's 6GB of DDR3 RAM, and a 128GB ROM, plus the lightweight aerospace-grade aluminum body can withstand all kinds of knocks and bumps.
A 12-month warranty is included for peace of mind.
Features:
11.6-inch IPS screen
Tablet or laptop design
HD Camera included
6GB DDR3 RAM
Lightweight and thin aluminum
Strong enough to withstand knocks
12 months of warranty
Intel CPU
Windows 10 operating system
The Jumper Touchscreen travel laptop is a simple but convenient compact machine, perfect for live on the move. If you need something more than a touchscreen tablet, but you want the same kind of flexibility, this is the product for you.
Pros:
High-quality touchscreen
HD camera included
Tablet option
12 months of warranty
Windows 10 included
Cons:
Can be a little slow
No USB ports
Jumper Touchscreen 11.6
EZbook X1 with 11.6 inch IPS and HD Camera can support 10 point capacitive touch. Each picture is beautiful and moving, with 178 wide viewing angle, which is more open and comfortable in visual effect and gives you an immersive shock and enjoyment.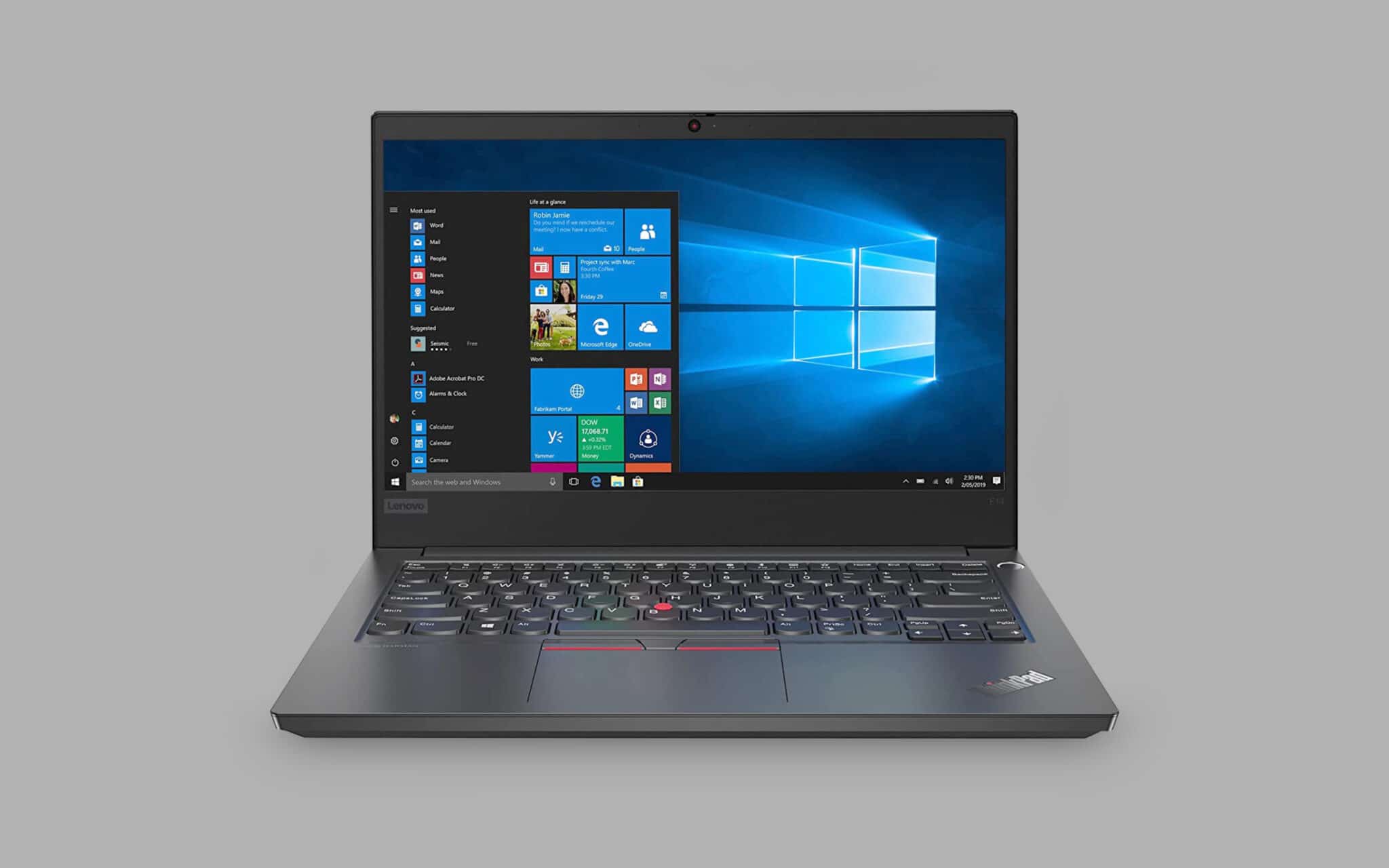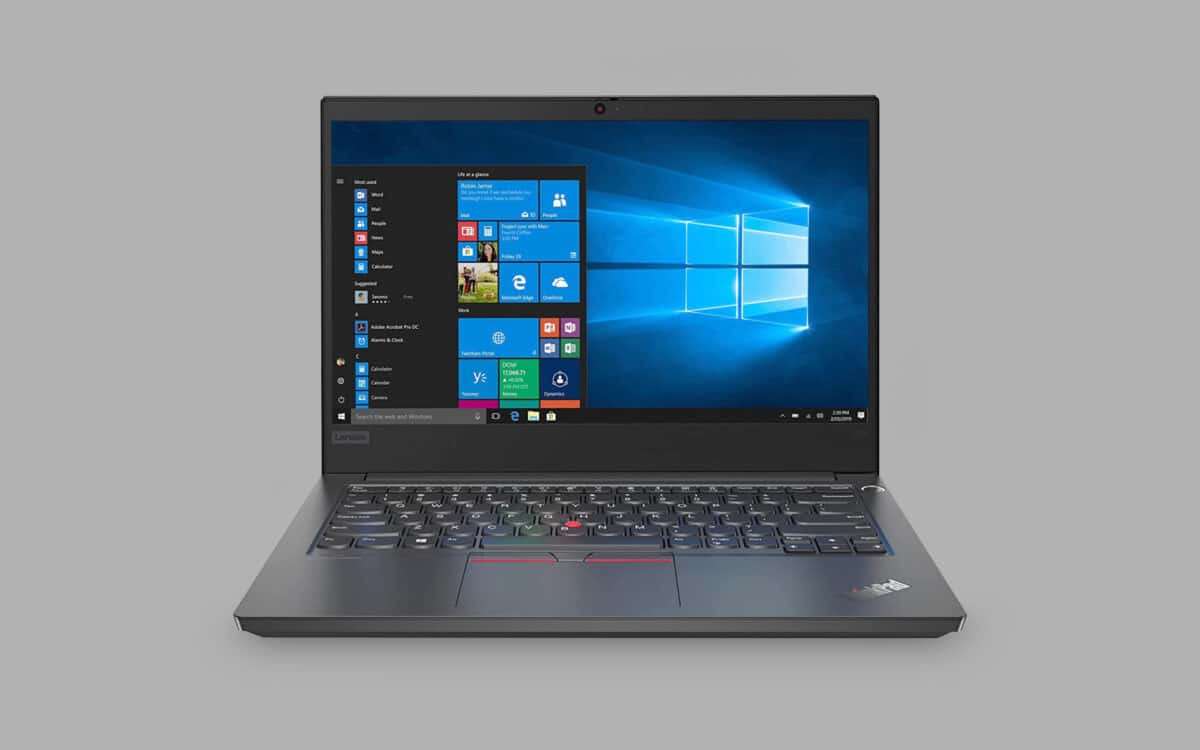 2. Lenovo ThinkPad E14 (best for conferencing)
Investing in a smaller, more portable travel laptop doesn't have to mean giving up on functionality. The Lenovo ThinkPad is one of the most popular products on the market for professionals.
The ThinkPad travel laptop comes with a 14-inch display, and a 10th generation Intel Core i5-10210U processor. Plus, the full HD display includes integrated Intel UHD graphics, a camera for your conference meetings, a microphone, and doubly advanced audio.
Great for meetings on the move, this travel laptop has it all, including a 256GB SSD, and a powerful 8GB DDR4-2666 memory. There's a set of Wi-Fi and Bluetooth connections, as well as USB-C 3.1 for fast data transfer, and a headphone/microphone jack.
All this, and users can also enjoy up to 12.8 hours of battery life.
Features:
12.8 hours of battery life
Slim 14-inch HD screen
Intel Turbo boost technology
10th generation Intel Core i5 processor
8GB DDR4-2666 memory
1TB HDD 5400RPM
2 x 2 Wi-Fi and Bluetooth 5.0
Excellent set of connection points
Camera, microphone, and Dolby speakers
With everything you need for an amazing meeting included, the Lenovo ThinkPad has it all. This amazing laptop comes with plenty of space for storing your data and programs. The ThinkPad also has amazing battery life too.
Pros:
Excellent screen and graphics quality
Lots of storage space and memory
10th generation Intel Core i5 processor
Wide range of connection points
Great for conferencing
Cons:
Slightly chunkier than some travel laptops
Sale
Lenovo ThinkPad E14
This amazing laptop comes with plenty of space for storing your data and programs. The ThinkPad also has amazing battery life too. Ideal for Home, Student, Professionals, Small Business, School Education, etc.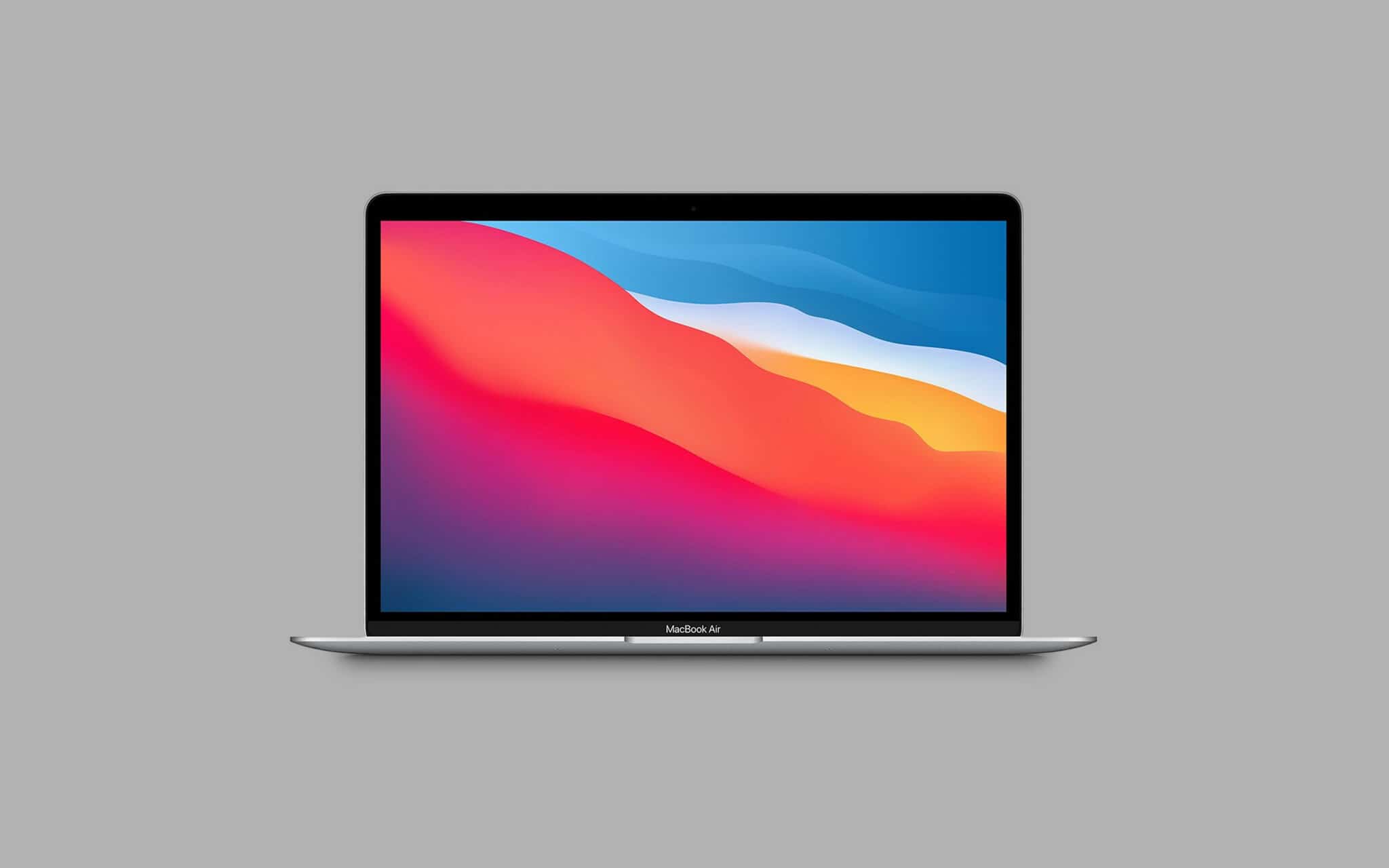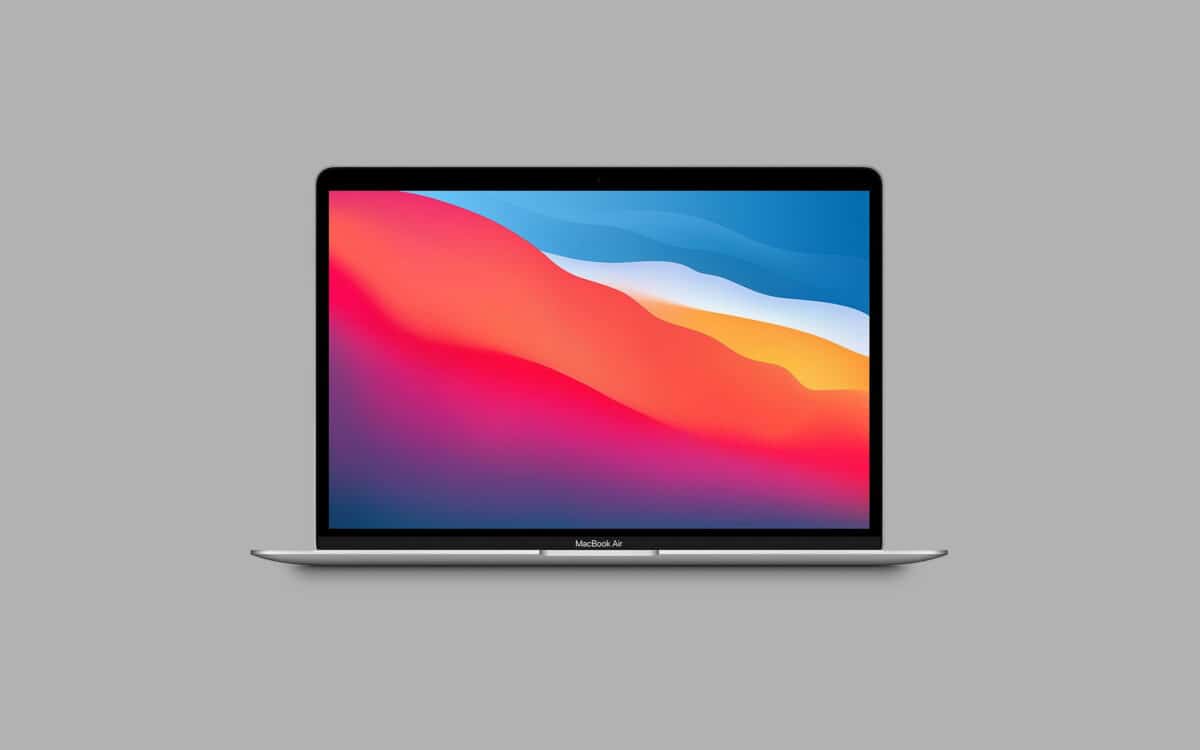 3. Apple MacBook Air 13.3 (best MacBook)
If you're searching for the best travel laptop for photographers, you may be keen to get your hands on an Apple product. Many experts regard Mac to be the diamond standard of technology for creative projects.
This Apple MacBook Air 13.3 could be the ideal travel laptop for those who don't want to compromise on performance.
The Apple MacBook Air 13.3 is a lightweight and lightning fast laptop with access to 8GB of computer memory, and an Apple M1 CPU. Users can enjoy CPU speeds of up to 3.2GHz, and there's a fantastic display resolution for crisper, more natural images.
You'll even get a 256GB SSD drive including for storing photos with.
Features:
13.3-inch LED screen
Up to 16GB of RAM
3.2GHz Apple M1 processor
3.7GHz memory speed
256GB SSD
Apple M1 7-core graphics
18-hour battery life
One of the smallest MacBooks around this travel-friendly model is perfect for people without much space in their backpack or luggage. The 18-hour battery should be enough to handle even the longest working sessions, and you get your phenomenal Mac OS built-in.
Pros:
Excellent screen quality
Plenty of RAM and storage speed
Good graphics
Long battery life
Compact and slim design
Cons:
May need to invest in an extra charger
Sale
Apple MacBook Air 13.3
Engineered specifically to meet your computing needs, the Apple MacBook Air offers advanced features that will help you accelerate and optimize your productivity. Physically this laptop is light and versatile allowing you to bring your work where ever you go.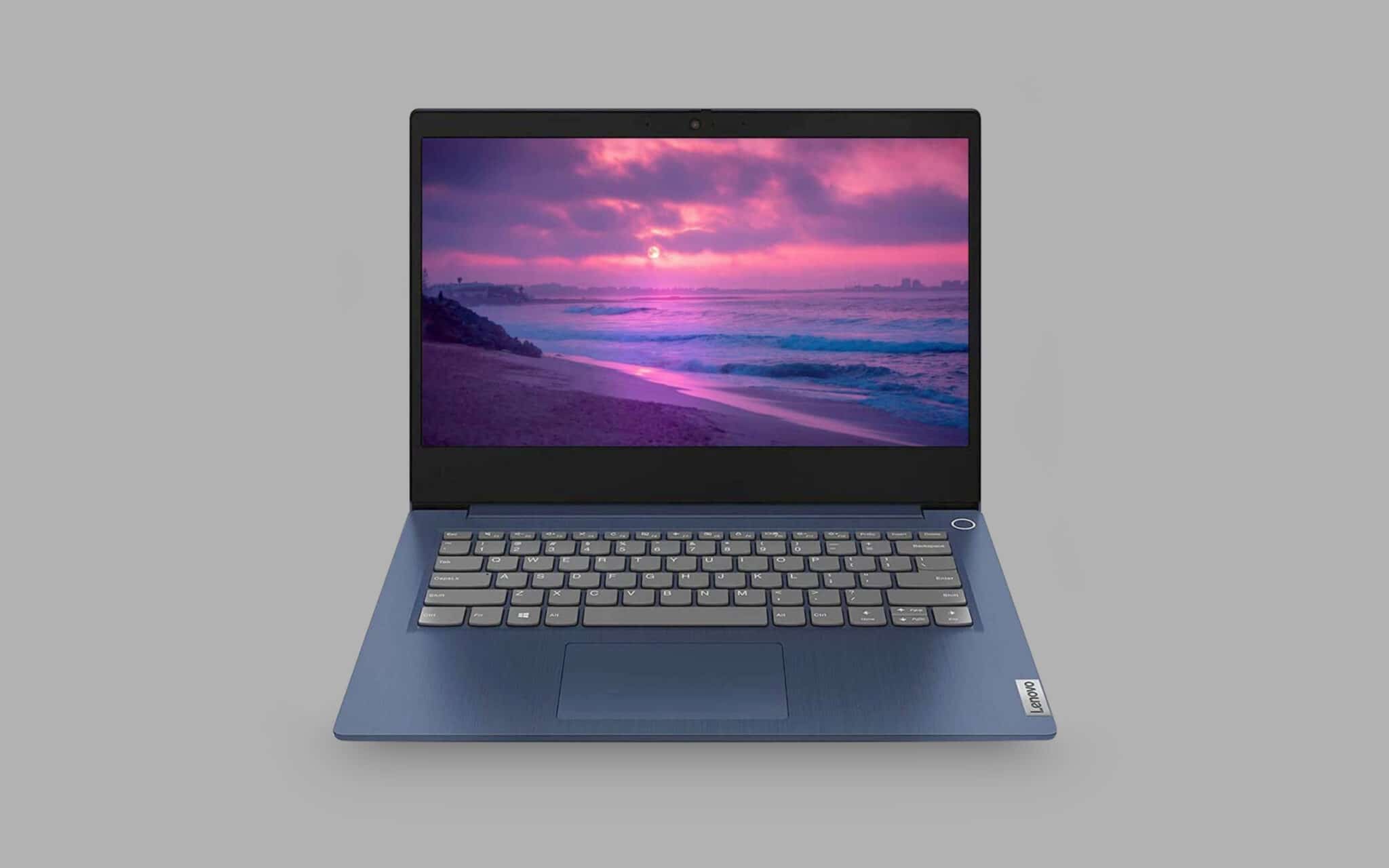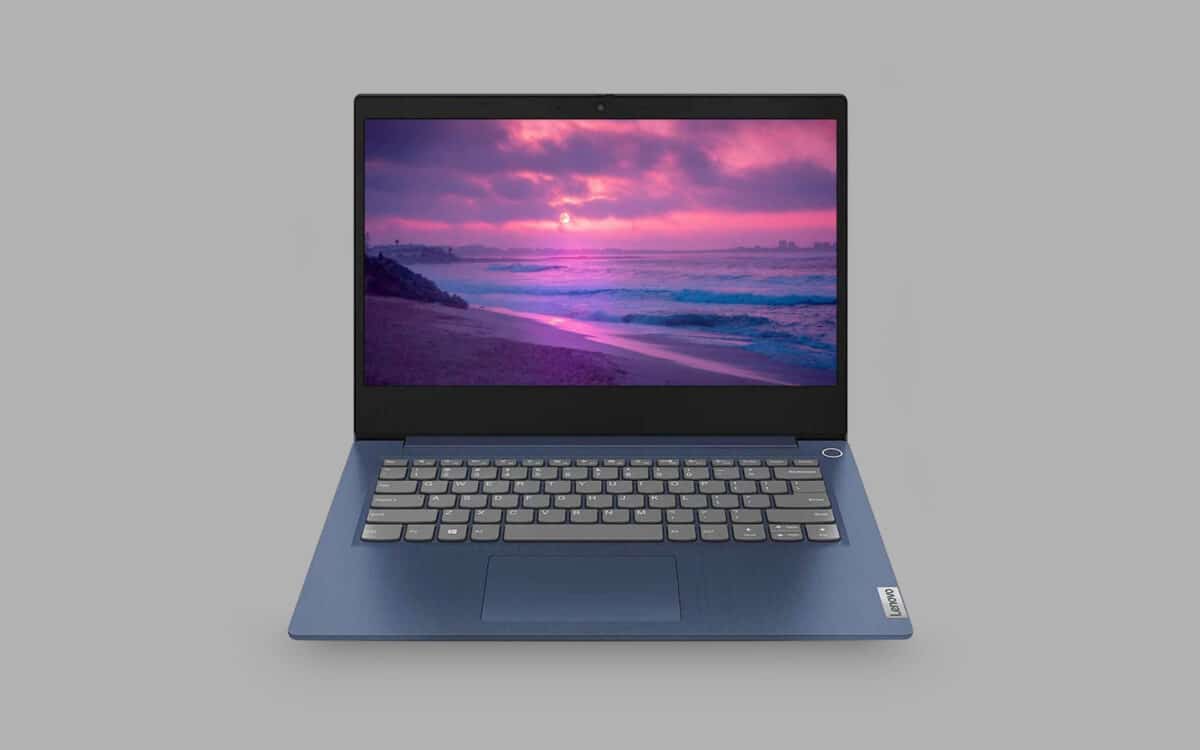 4. Lenovo IdeaPad 3 (best controls)
Another excellent travel laptop from the team at Lenovo, the IdeaPad 3 is small, affordable, and packed with wonderful features. A fantastic 14-inch FHD display ensures you can get a more accurate view of all your projects.
AMD Ryzen 5 mobile processors with Radeon Graphics ensure powerful performance for even the most complex tasks.
Aside from sensational visual performance, the IdeaPad delivers great audio results too. Dopoundsy Audio offers wonderful sound, and there's a built-in camera for your video meetings too. The camera has a privacy shutter for peace of mind.
Connect to the internet through Wi-Fi, or sync a dongle, then switch between battery-saving or fast and powerful modes.
Features:
AMD Ryzen 5 3500U mobile processors
Radeon graphics for a beautiful image
Dopoundsy Audio
14-inch screen with narrow bezels
Webcam with privacy shutter
Bluetooth connectivity or Wi-Fi
Three USBs and a HDMI port
8GB DDR4 RAM and 256GB SSD
The Lenovo IdeaPad is a versatile travel laptop with plenty of productivity features to offer. We particularly like the ability to toggle between performance modes. You also get a range of USB ports for connecting external devices.
Pros:
Stunning screen quality
Dopoundsy Audio performance
Webcam and privacy shutter
USB and HDMI ports
Bluetooth or Wi-Fi
Cons:
May require additional memory
Lenovo IdeaPad 3
The Lenovo IdeaPad 3 is the perfect laptop with features that you can depend on. Powered with the new AMD Ryzen 5 3500U Series Mobile Processors with Radeon Graphics that offers incredible bandwidth for getting more done faster, on several applications at once.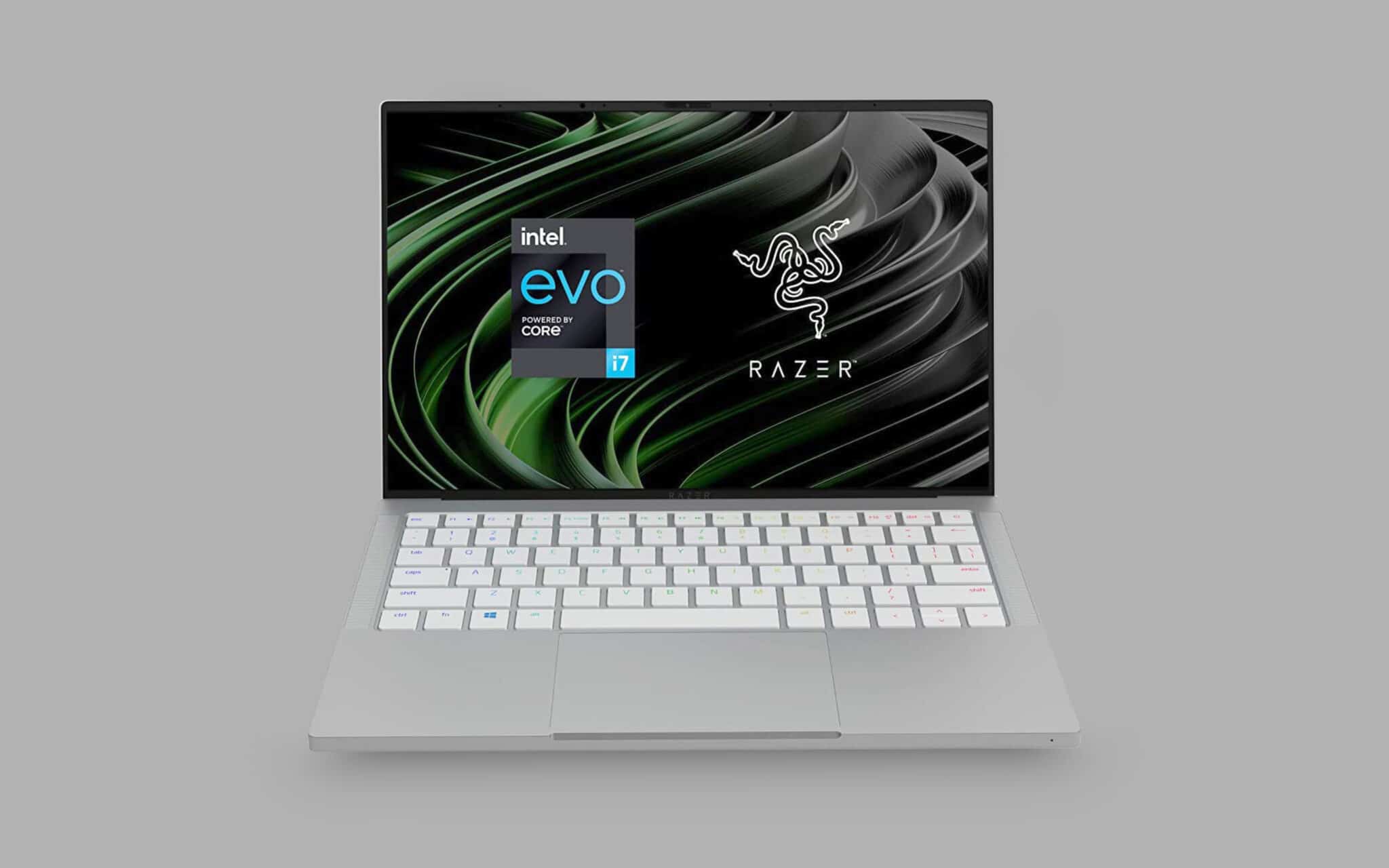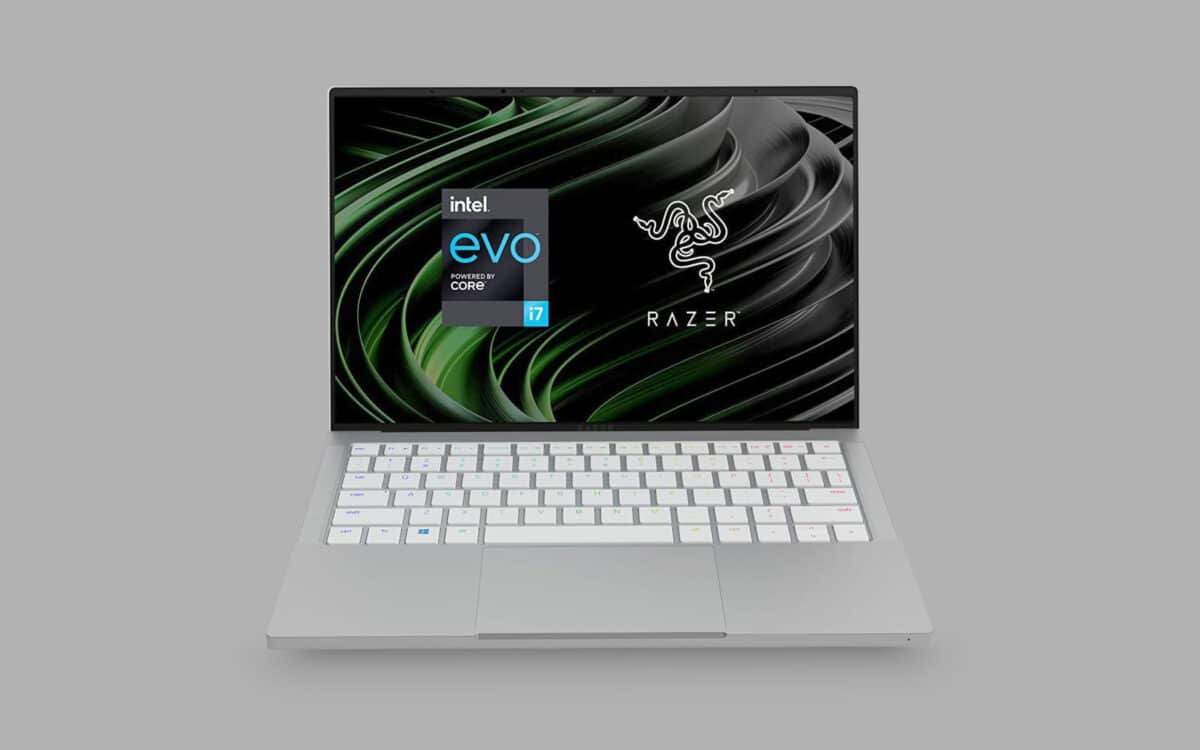 5. Razer Book 13 (best premium travel laptop)
Ready to really invest in the best travel laptop? If you can't afford to compromise on performance when you're on the move, the Razer Book 13 could be the ultimate investment for you.
This slim and lightweight laptop comes with a 4k touchscreen, and CNC aluminum body for absolute protection against knocks and bumps.
Underneath the tough exterior, the Razer has a high-level 11th Gen Intel Core mobile processor, with immersive graphics and intuitive AI to allow for better collaboration in any environment. The vapor cooling system keeps your performance at top levels for yup to 10 hours of battery life.
There's also a variety of connection points to discover, including a MicroSD slot, HDMI, Thunderbolt ports and more.
The Intel Iris XE graphics create stunning pixel-perfect visuals.
Features:
THS Spatial audio
Intel Iris Xe graphics
Lightning-fast internet connection
MicroSD and thunderbolt slots
Vapor chamber cooling system
Up to 10 hours of battery life
11th Gen Intel Core Mobile
AI collaboration
13.4-inch 4k touchscreen
Aluminum body
Among the most powerful travel laptops available, the Razer book is ready to go when you are. Gorilla glass 6 screen protection even helps to defend the more breakable parts of your device as you move between spaces and meetings.
Pros:
Incredible graphical performance
THS Spatial audio
AI collaboration
Amazing Intel Core processor
Strong aluminum and gorilla glass
Sale
Razer Book 13
Bounce between meeting rooms, coworking spaces, cafes, and classrooms without worry. The Razer Book 13's ultra-lightweight profile and exceptional craftsmanship make it the perfect portable companion built with your productivity in mind.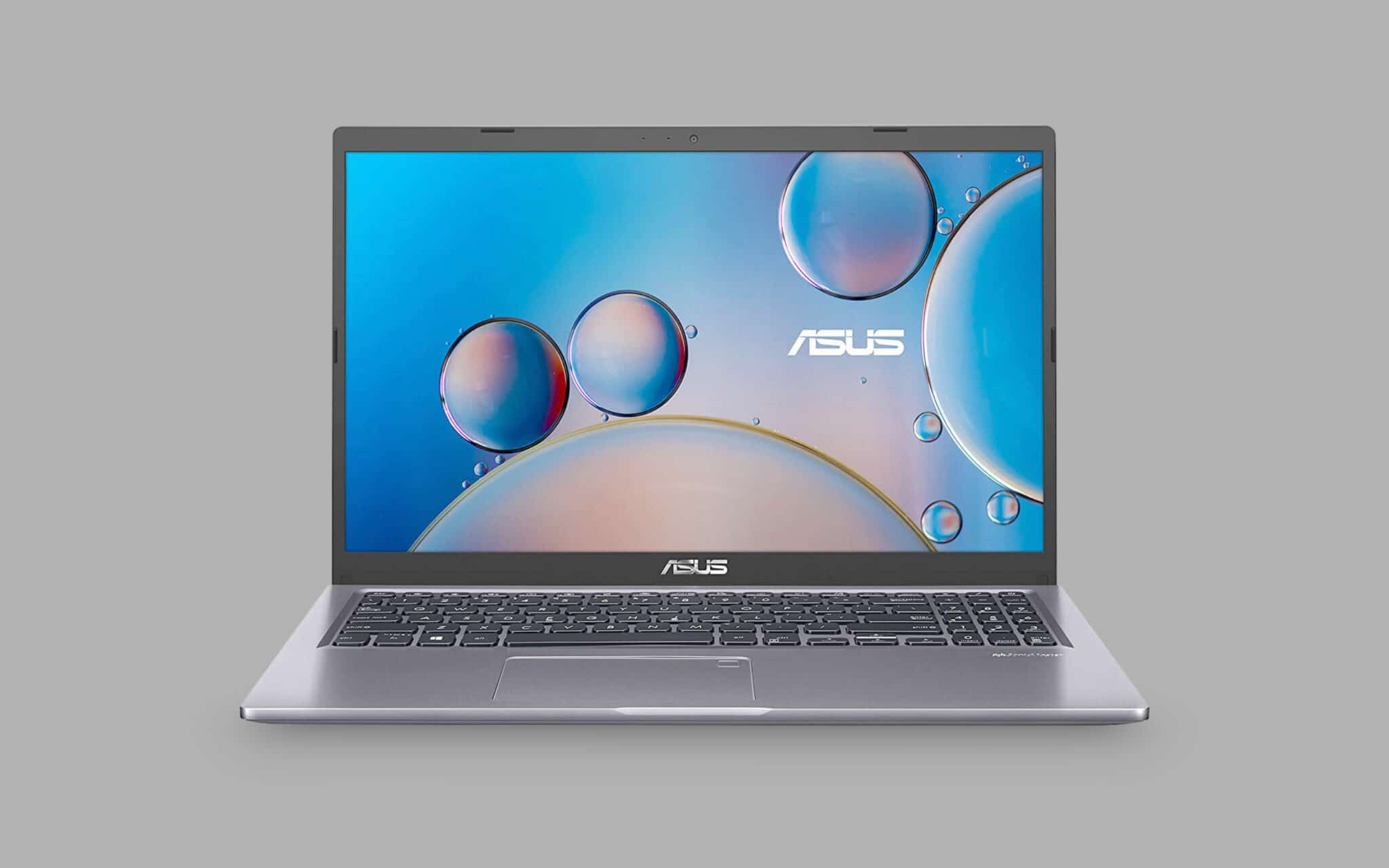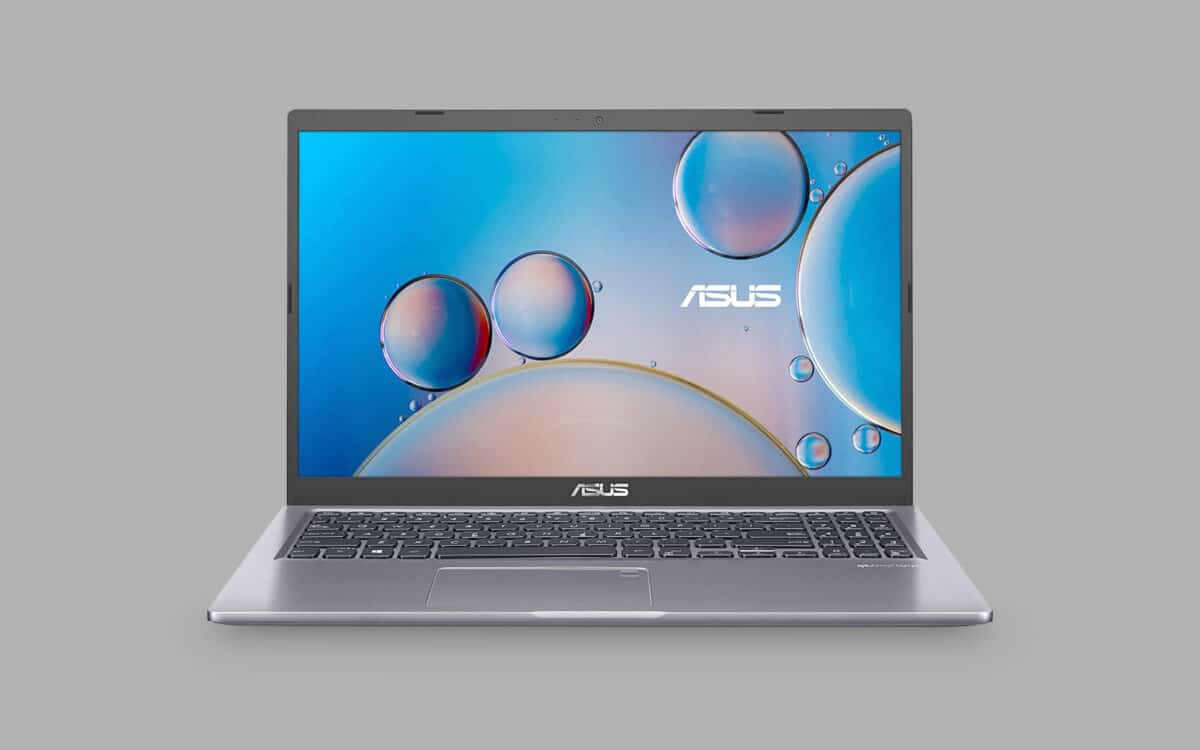 6. ASUS VivoBook (best with fingerprint reader)
Although this ASUS VivoBook is a little larger than some of the other travel laptops, we've looked at it, the lightweight finish makes it a great partner for mobility. For professionals who need a full-sized laptop, this 15.6-inch product is slim and easy to transport, with a full HD Nano edge display.
Wonderfully affordable for any professional, the ASUS VivoBook is a budget-friendly way to stay connected, with a lightning-fast Wi-Fi connection so you can stay online. An ergonomic backlit keyboard comes with a fingerprint sensor activated by Windows Hello.
There's also a Core-i3 processor with 1.2 GHz cache.
Features:
Reinforced chassis for protection
Fast and efficient performance
Touchpad and fingerprint sensor
Ergonomic backlit keyboard
Lightweight and slim design
Easy connectivity
MyASUS apps included
Range of connection points.
The reinforced metal chassis protects your device from knocks and bumps, while multiple input ports allow for the connection of external products. The VivoBook comes with 2 USB ports, a USB C port, HDMI output, SD card reader, and an audio combo jack.
Pros:
Reinforced lightweight design
Fingerprint reader for secure access
Fantastic selection of input ports
Great ultra-fast Wi-Fi connection
Full-size screen and keyboard
Cons:
A little larger than some travel laptops
Could be faster
ASUS VivoBook
Whether for work or play, ASUS VivoBook F515 is the entry-level laptop that delivers powerful performance and immersive visuals. It's NanoEdge display boasts wide 178 degree viewing angles. Inside, it's powered by an Intel Core i3 processor with 4GB RAM and 128GB of storage.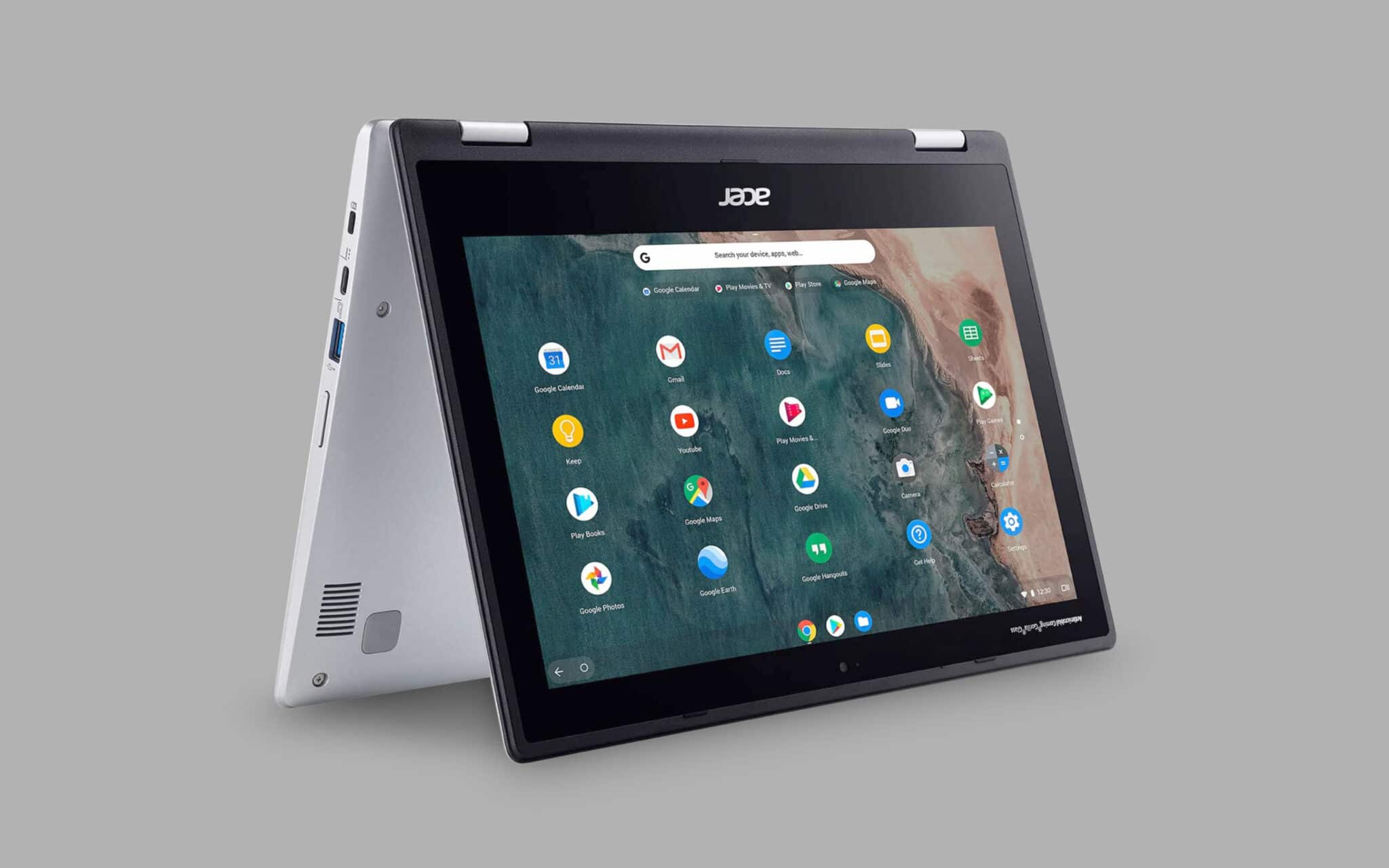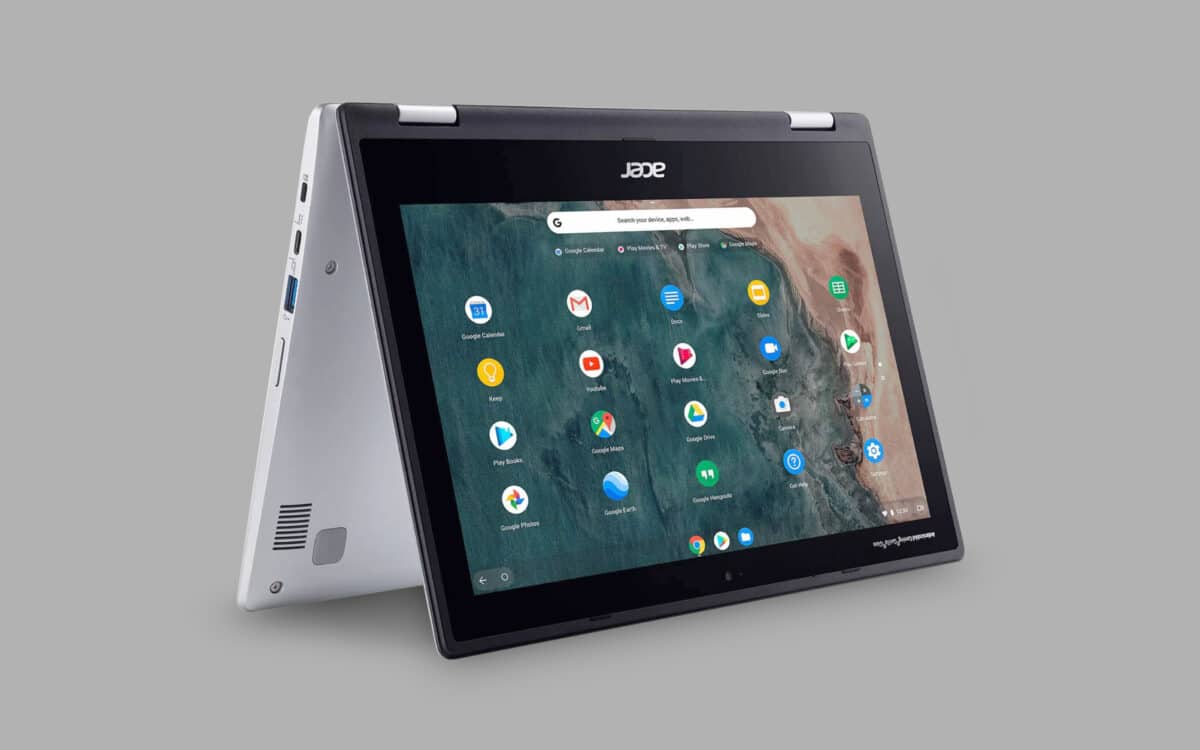 7. Acer Chromebook Spin 311 (best convertible laptop)
The Acer Chromebook runs on the Chrome operating system, which you might be familiar with if you're a fan of Google. This convenient and lightweight travel laptop comes with a host of helpful apps, as well as built-in virus protection and updates.
It only takes seconds to boot up your laptop, and you can instantly connect with various apps like Microsoft Office files and Teams.
Chromebooks come with access to millions of Android apps from Google play, great for helping you to accomplish more. There's a 360-rotating screen, so you can move your laptop between laptop mode, tablet, tent, or display mode.
10 hours of battery life keep you working for longer, while powerful Intel processing supports all kinds of great apps with minimal lag.
Features:
Wi-Fi 5 connectivity
Multiple USB ports and MicroSD slot
Gorilla glass IPS tech screen
Multiple modes to choose from
10 hours of battery life
Access to more than 2 million android apps
Convenient quick startup
The Acer Chromebook is an ultra-versatile, convertible travel laptop with a huge range of features to discover. Built-in USB ports and an included SD card slot also means you can use a range of other peripherals alongside your device.
Pros:
Flexible connectivity options
Gorilla glass IPS screen
10 hours of battery life
Convenient startup and performance
Range of display modes
Cons:
Chrome OS isn't ideal for everyone
Sale
Acer Chromebook Spin 311
The stylish Chromebook Spin 311 easily transforms into anything you need it to be—thanks to its versatile, 360° Hinge that lets you rotate it to any angle to create a Notebook, stand-up Display, Tent or Tablet.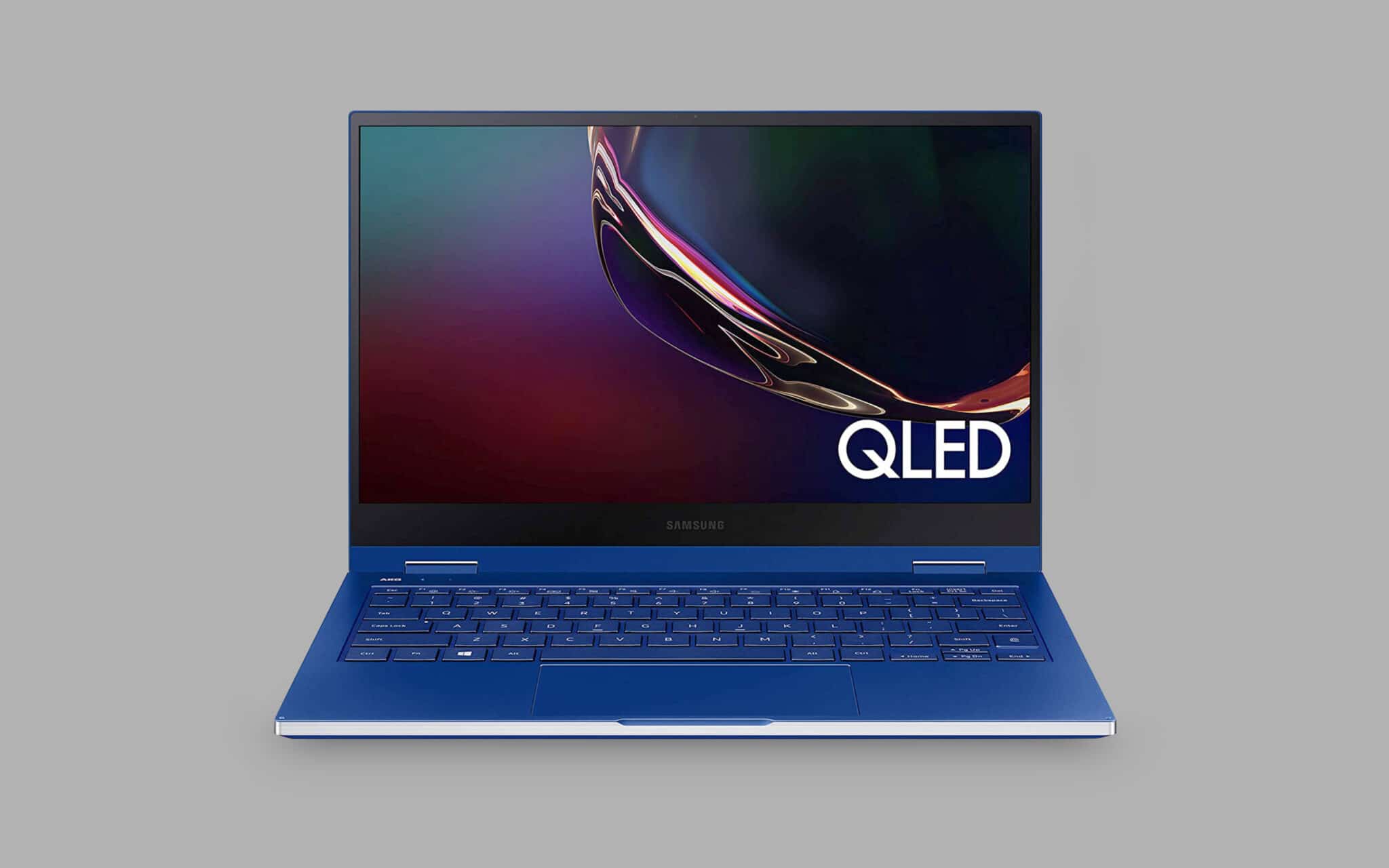 8. Samsung Galaxy Book Flex (best battery)
The Samsung Galaxy Book Flex is a powerful 15.6-inch convertible laptop with a touchscreen QLED display.
Designed to deliver exceptional color accuracy and performance, the Samsung Galaxy Book Flex is an amazing product with a slim 360-degree design and an aluminum chassis for extra protection. The 512GB of storage and 10th generation Intel Core i7 processor is great to work with.
Since you won't always have access to an outlet when you travel, a good travel laptop should generally include plenty of battery power. This isn't an issue for the Samsung, which comes with up to 20 hours of power.
You can even charge other wireless devices on the trackpad.
Features include:
QLED touchscreen display
100% color volume
Slim 360-degree design
Long-lasting 20-hour battery
Bluetooth pen
Wi-Fi 6 connectivity
Network speeds up to 3 times faster
Windows 10 Home connectivity
Remote desktop support
One particularly impressive feature of the Samsung Galaxy Book Flex is the amazing Bluetooth pen, which makes it easy to transform your workstation into a notepad or sketching tablet. Download speeds are also extremely fast thanks to the Wi-Fi 6 connection.
Pros:
Ultra-fast internet speeds
Long-lasting battery (20 hours)
Bluetooth pen and touchscreen
Slim, lightweight, and durable design
Excellent display quality
Cons:
Expensive
A little larger than some travel laptops
Sale
Samsung Galaxy Book Flex
Seamlessly convert your ultra-slim, Royal Blue aluminum device from laptop to tablet in seconds. Make your screen a canvas as you take notes, sketch, or use intuitive gestures to start slideshows or adjust volume all with the Bluetooth-enabled S Pen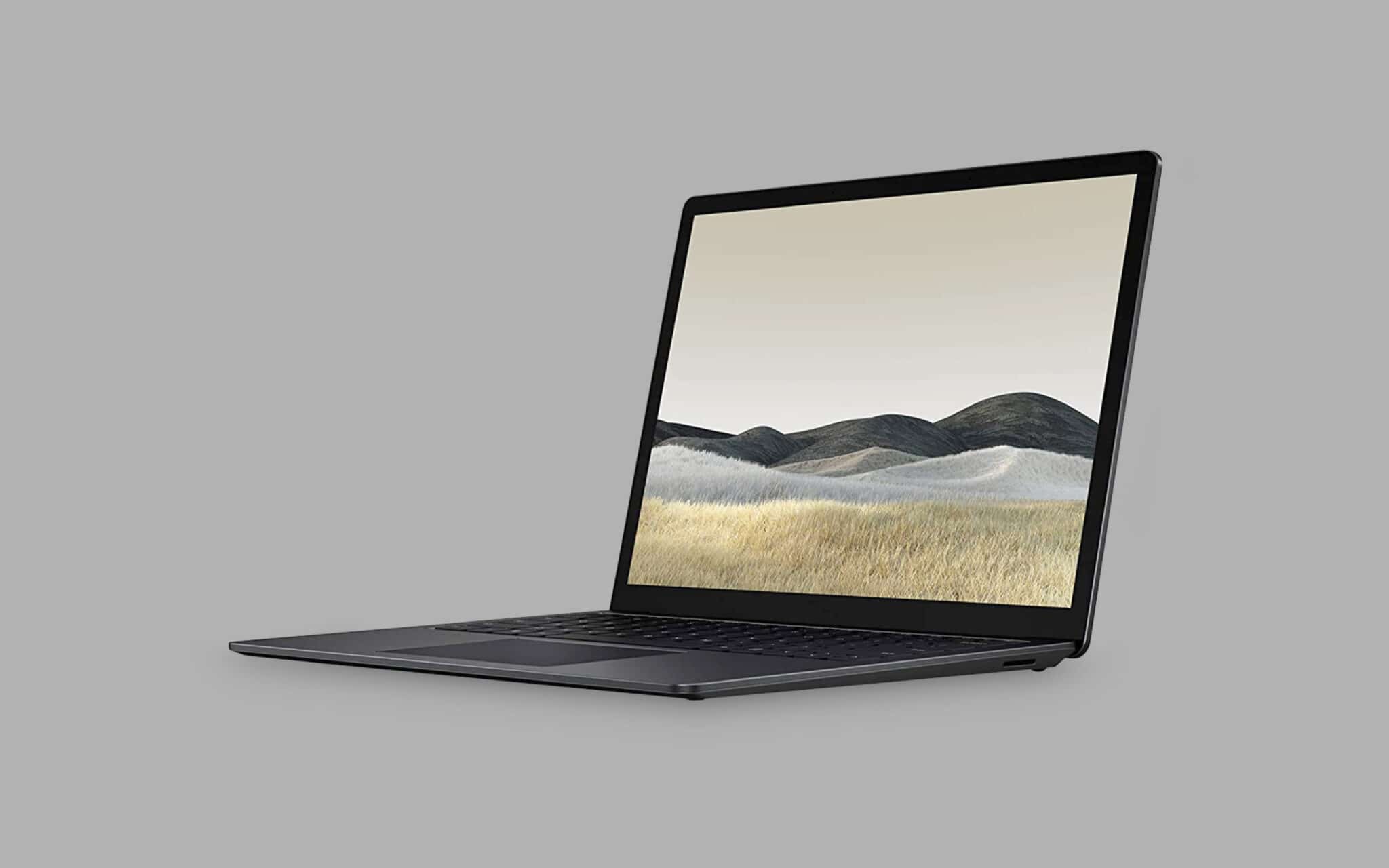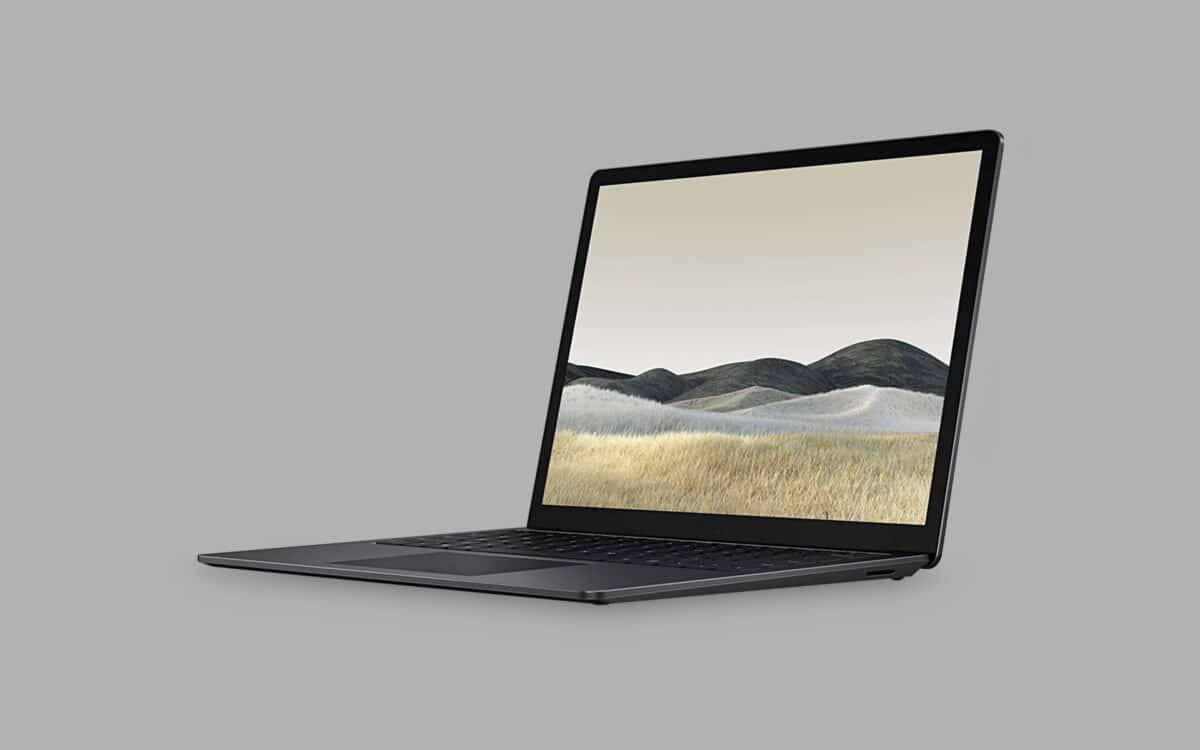 9. Microsoft Surface Laptop 3 (best Windows laptop)
Lightweight and elegant, the Microsoft Surface Laptop 3 is a fantastic partner for travelling. This thin and streamlined device is only 2.79 pounds, making it easy to carry anywhere.
You can choose from a range of beautiful color combinations, and access improved speed and performance with the latest processors. The Surface 3 is up to 2 times faster than its predecessor and comes with USB C and USB A ports to connect to other peripherals.
With up to 11.5 hours of battery life, the Microsoft Surface Laptop 3 is ready to handle all kinds of work on the move. The device comes with Windows built-in, so you can get to work straight away.
There's also an included Iris Plus system for graphics, and a touchscreen convertible screen.
Features:
Up to 11.5 hours of battery life
Windows 10 included
13.5" Intel Iris Plus graphics
Up to 1 TB of storage space
Up to 32GB of memory
Multiple color options
13.5-inch HD touchscreen
Pen input supported
USB A and C ports
If you're a huge fan of the Windows operating system, the Surface 3 Laptop from Microsoft is a great pick for you. Everything runs wonderfully smoothly. You can even upgrade your laptop with extra memory and storage if necessary.
Pros:
Up to 11.5 hours of battery life
Excellent storage and memory
HD touchscreen performance
Windows 10 included
Pen input supported
Sale
Microsoft Surface Laptop 3
Make a powerful statement and fuel your ideas with new Surface Laptop 3. Sleek and light, with improved speed, performance and typing comfort, it travels with ease and makes every day more productive.
Choosing the best travel laptop
Choosing the best travel laptop is a great way to make sure you're prepared for everything. When you first start shopping for a computer, of any kind, there are so many options, it's easy to get overwhelmed.
For travel laptops in particularly, there are a few factors which may be more important, such as:
Portability
A travel laptop is travel-friendly because it's so wonderfully portable. The weight and size of the laptop should be small enough to make transportation easy. The lighter the laptop, the easier it will be to move around.
Battery life
With limited places to plug your laptop in, it's important to ensure you have a long battery life. Some batteries can last up to 20 hours, while others are much more demanding, requiring a lot more power.
Storage space
Most travel laptops can't afford to use too much space on memory. This means you'll have to be cautious about the kind of programs you use. Additional memory can help with this problem.
Format
Some travel laptops are tablets and laptops in one. This means you can simply move the screen or fold your laptop backwards into a different position. Touch screens are helpful for creators who need to sketch ideas.
Extra features
Bonus features like a camera and microphone can make it easier to handle things like conferences on the move. Some laptops also come with excellent sound systems and speakers too.
Good luck finding the best travel laptop for you!
Fabrik: A branding agency for our times.