The best printer for Mac users is often a vital investment when setting up your computer desk. Printers for mac users come in a variety of shapes and sizes, to suit your specific needs
You don't have to be a huge Apple fan to appreciate the user-friendliness and sleek design of a Mac. Many professionals agree that Mac devices are the ultimate choice for those in the creative industry.
If you're the kind of person involved with a lot of graphic design at work, or you like to mix music, Apple is the brand for you.
The only problem? Macs aren't always as versatile as Windows PCs when it comes to attaching third-party peripherals and programs.
While virtually any printer on the market will usually work with a Windows computer, the same can't always be said for a Mac.
So, how do you make sure you're getting the best printer for Mac devices around? Easy. We're going to help.
Today, we're covering some of the best printers for Mac products around. Our options work perfectly with the Mac operating system, and some even come with bonus features.
Let's get started.
The best printer for Mac options are:
Brother MFCL2750DW (best black and white)
Canon Pixma TS5320 (best with AirPrint)
Epson Workforce WF-2830 All-in-One (best for cheap ink)
Brother HL-L8260CDW (best color laser)
HP ENVY 7155 (best for photos)
HP OfficeJet 250 (best with Alexa)
Lexmark B3340DW (best compact)
Xerox B205NI Multifunction (best security)
Pantum M6602NW (best with fax)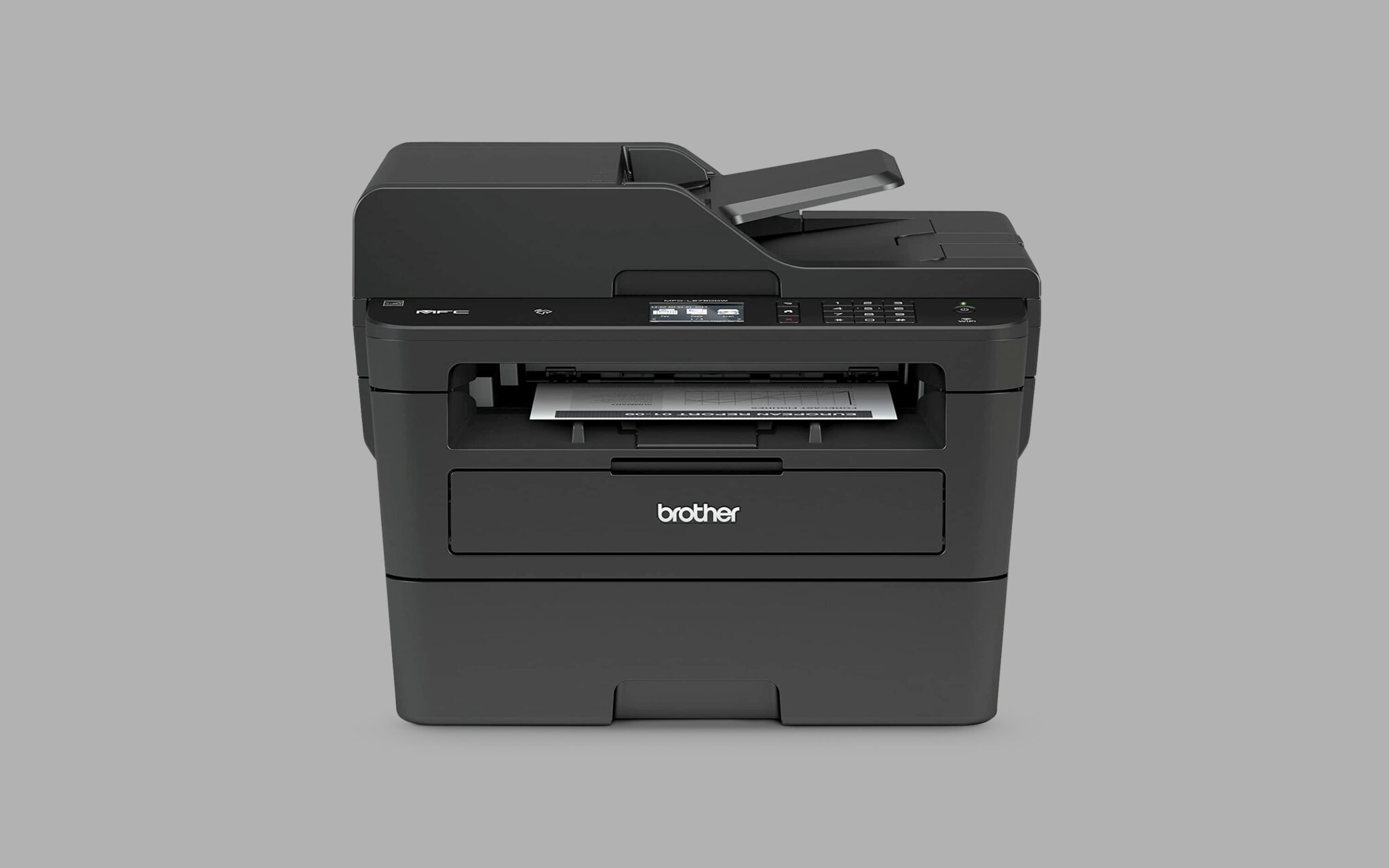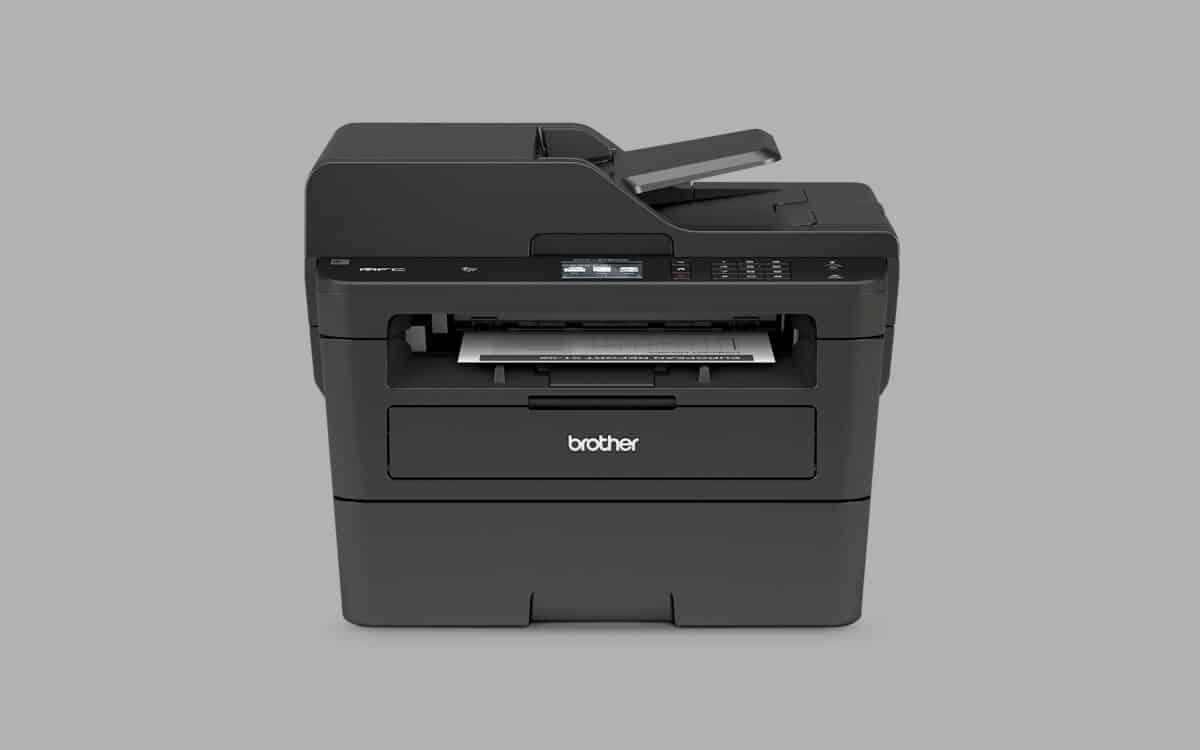 1. Brother MFCL2750DW (best black and white)
If you need an all-in-one printer for the office that can create dozens of documents in seconds, then look no further than the Brother MFCL2750DW.
This high-performance printer for Mac and PC devices will work with any device you have in the workplace.
You don't need to invest in one separate printer for your designers and another for your marketing and sales team.
The Brother MFCL2750DW is a black and white compact laser printer, which won't take up too much space in a small office environment.
You can print up to 36 pages per minute, access faxing functionality, and even scan documents onto your devices for later.
The product also comes with handy duplex printing to save you time and protect the environment.
Features include:
All-in-one black and white printing
Compact laser performance (no inkjet)
Duplex environmentally friendly printing
Send print jobs wirelessly from any device
Touch-to-connect with NFC
Cloud-based printing and scanning
High-level online support from Brother
Scanning direct to any device
Faxing functionality
Wi-Fi connectivity
A convenient way to give everyone in your office the printing functionality they need, this Brother device is affordable, efficient, and easy to use.
You can even tap your phone against the top of the printer to connect a wireless device instantly and begin printing. That means that you can print with your iPhone, as well as your Mac.
This is just a black and white printer – so there's no option for color. You also can't preview a document after scanning it.
Pros:
Works with Mac and Windows computers
Laser printer saves money on toner
Duplex printing for convenience and environmental protection
Scanning and faxing included
Touch-to-connect NFC option
Cons:
Can't preview documents after scanning
No color printing
Brother MFCL2750DW
Perfect for small or home offices, the Brother MFC-L2750DW monochrome laser all-in-one delivers class-leading print speeds up to 36ppm.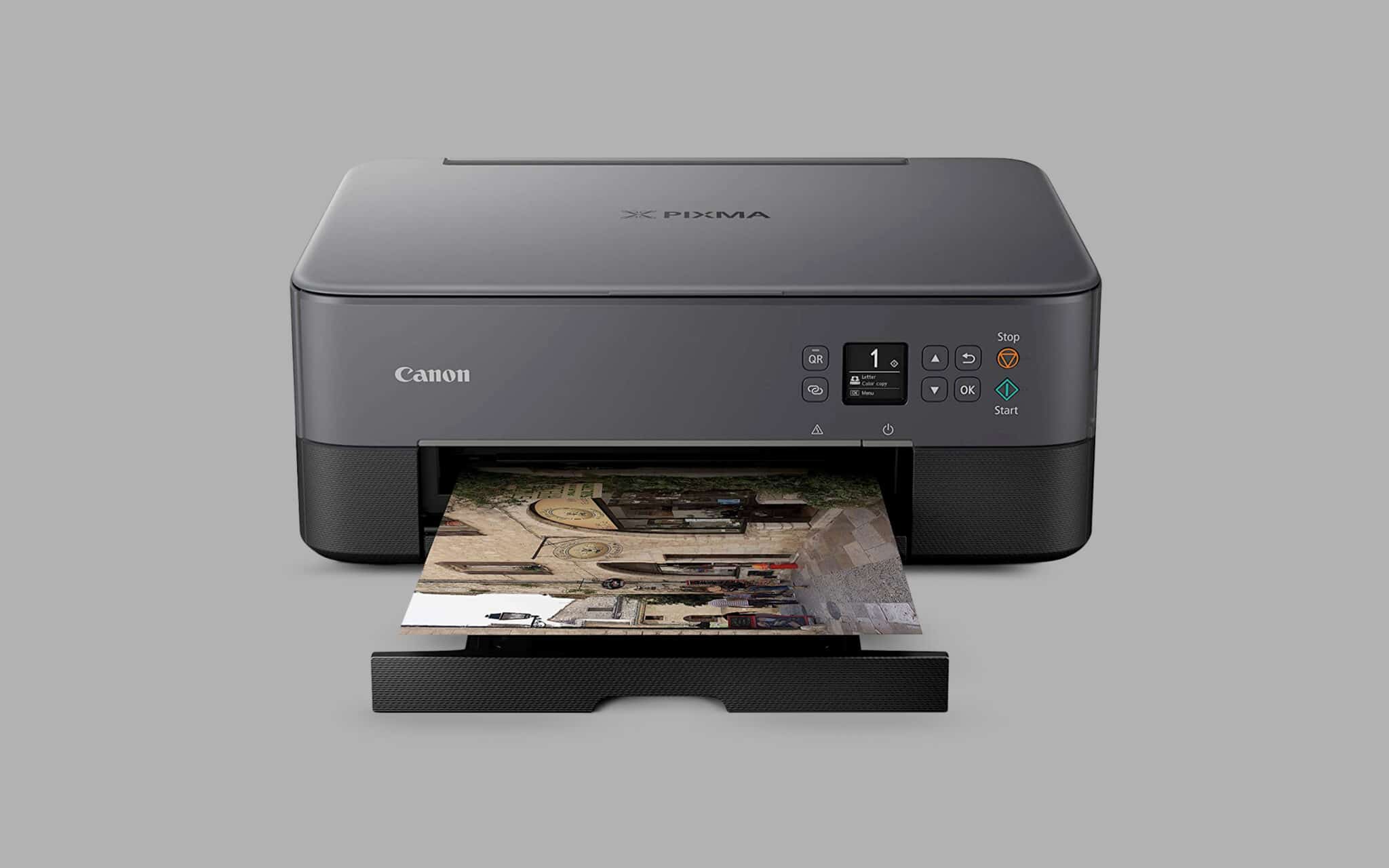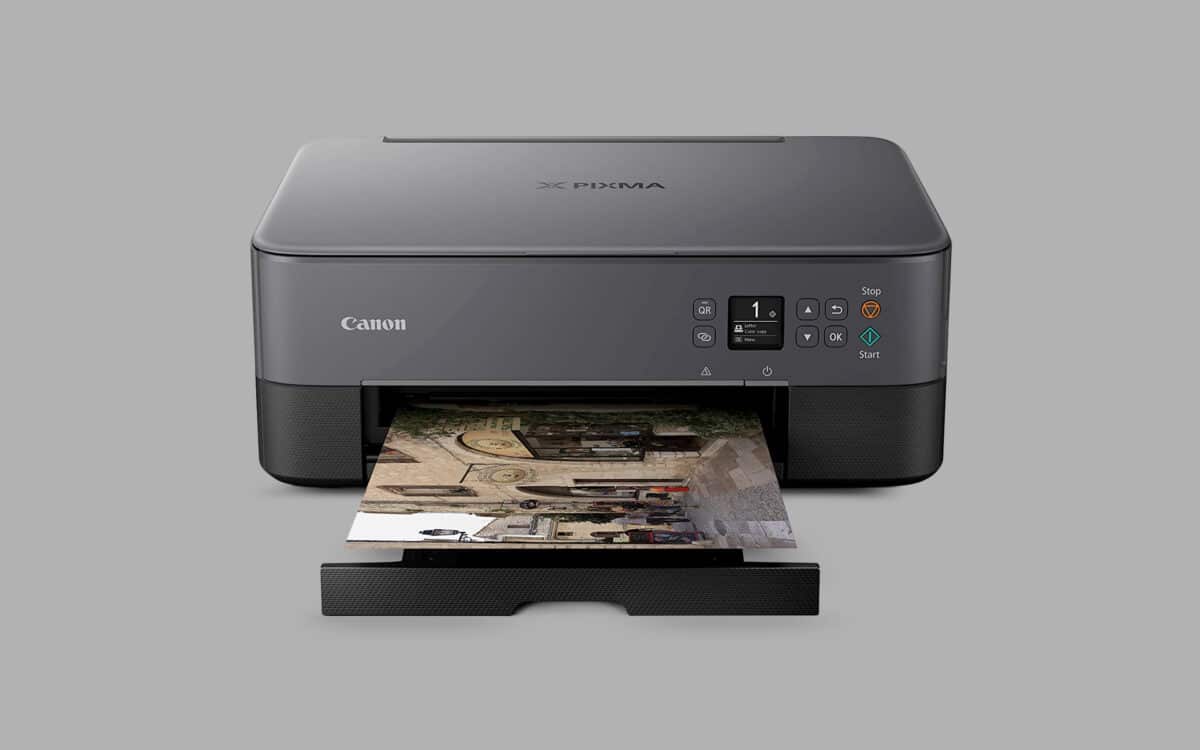 2. Canon Pixma TS5320 (best with AirPrint)
Canon is a well-known name in the world of printers for Mac and Windows devices.
The company delivers a wide range of high-performance devices for the office and the home, so it's no surprise that their Pixma TS5320 made it onto our list.
This delightful compact product is one of the best small printer for Mac options around when you don't have much space around the office.
Sleek and stylish, the Pixma comes with a handy 1.44-inch OLED display where you can see the status of your printing projects.
There's also a selection of four colors to choose from, so you can make your space more stylish too.
Designed for ease of use, this product only needs two cartridges to maintain excellent print quality.
Features include:
Convenient hybrid print system
LED display and status bar
Excellent compact design
Ready for Amazon Dash replacements
AirPrint for wireless operation
Multiple colors to choose from
Easy-to-understand buttons
Quick app connectivity
Automatic duplex printing
There's an app available for your phone, which you can use to set up printing jobs on the go, and you can even use AirPrint to print your documents from any Mac device or phone without having to plug anything in.
On top of that, the Canon Pixma also supports duplex printing, so you can save paper and protect the environment.
One issue with this device, however, is that there's no scanning option.
You may also find that the ink cartridges don't last very long.
Pros:
Hybrid ink system saves money
Compact and stylish design
Easy-to-understand interface and app
Print with AirPrint for Apple devices
Duplex printing
Cons:
Ink cartridges run out quite quickly
No scanning feature
Canon Pixma TS5320
With your smart device and the Canon PRINT app, you can conveniently edit, print or scan your favorite memories from cloud-based platforms like Facebook or Instagram.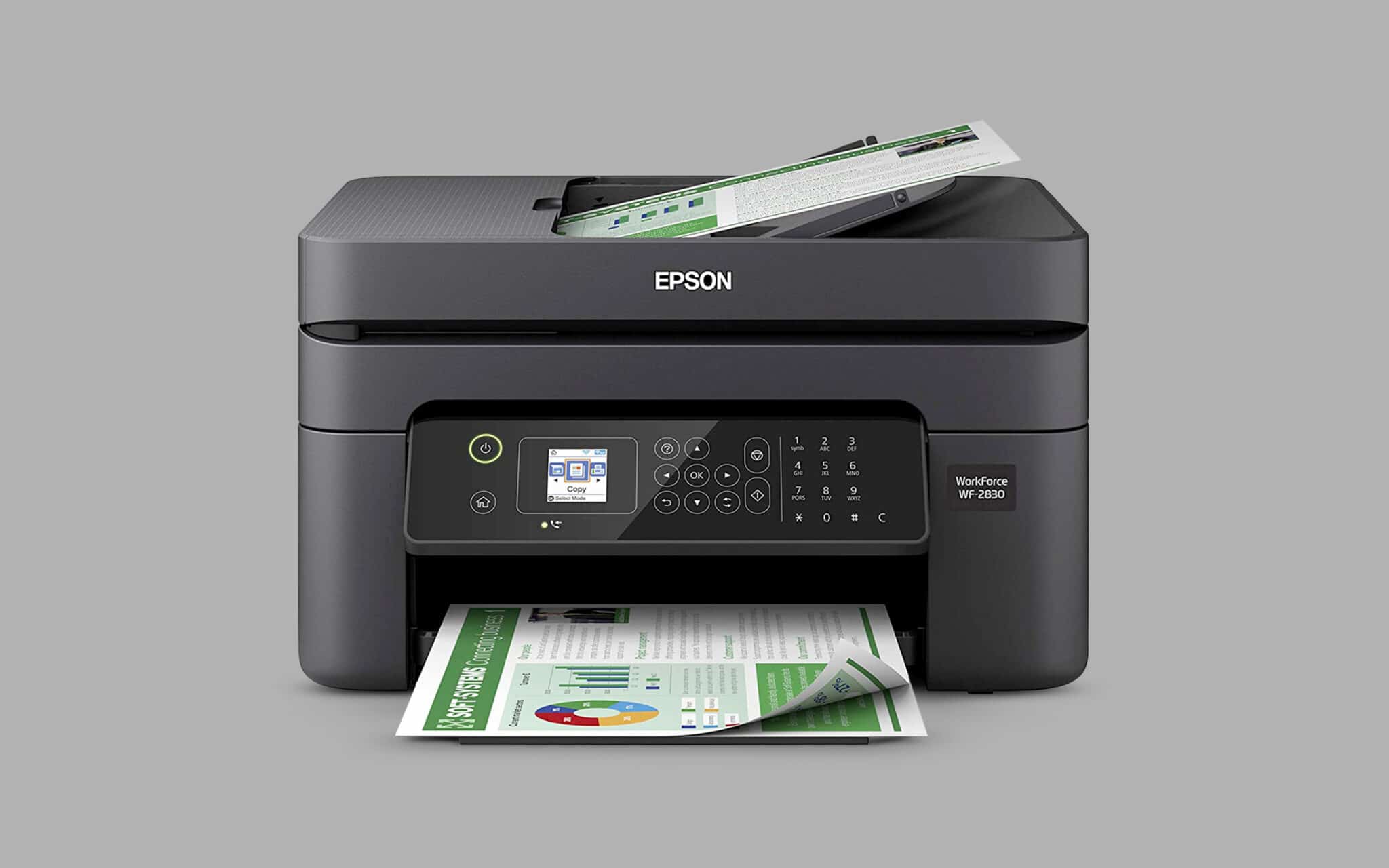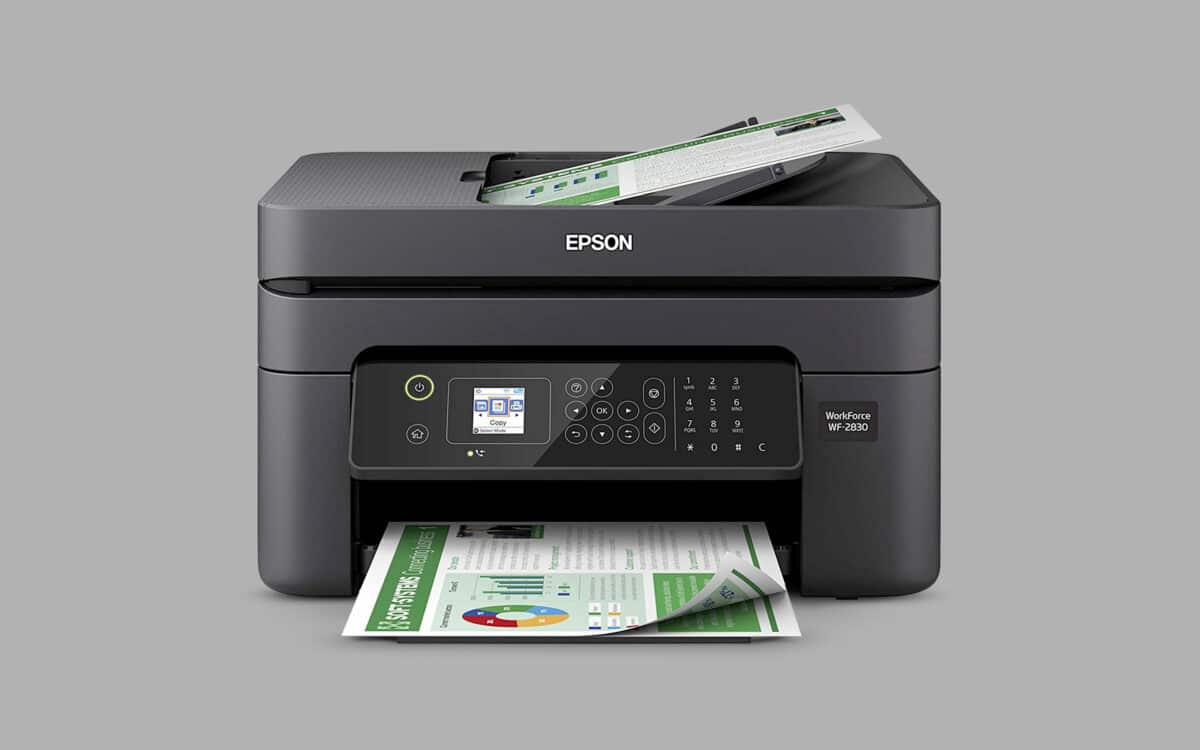 3. Epson Workforce WF-2830 All-in-One (best for cheap ink)
If you want an affordable all-in-one printer that won't cost your office a fortune over the next few years, the Epson Workforce WF-2830 could be the ideal choice for you.
Suitable for use with any operating system, this is one of the best printer for Mac computers products around, ideal for those on a budget.
Though this printer only works with Epson cartridges, a full pack of replacements is surprisingly affordable.
The Epson Workforce printer is also great at saving time, and the environment, with automatic duplex printing (on both sides) and a 30-page automatic document feeder for quick scanning and copying too. Ready for wireless printing, the Epson can queue up printing jobs from your Mac, iPhone, iPad, Android devices and more.
You get a Wi-Fi direct connection system to set up your new product as part of the package.
Features include:
Affordable ink cartridges
Excellent all-in-one design with copier/scanner
Automatic document feeder to save time
Duplex printing
LED screen to check printing information
100-sheet paper feed
Wireless printing from phones and computers
Only replace one ink cartridge at a time
Great Wi-Fi connectivity
Fax functionality
This all-in-one printer comes with everything the office worker might need, from an automatic scanner and copying system, to fax functionality and more.
You also get the benefit of only having to replace one ink cartridge at a time, so you can make every purchase last for as long as possible.
One slight downside is that it can take a little while to get the printer set up initially. You may also find that this printer is a little larger than it seems in the pictures so be sure to check the measurements.
Pros:
Copier, scanner, printer, and fax machine in one
Convenient duplex printing
100-sheet paper feed and automatic 30-page copier feed
Wireless printing from computer, Mac, or phone
Affordable ink replacements
Cons:
Takes up quite a lot of space
Takes a while to set up
Epson Workforce WF-2830 All-in-One
With auto 2-sided printing, plus a 30-page Auto Document Feeder, the WorkForce WF-2830 offers efficient, reliable home office printing.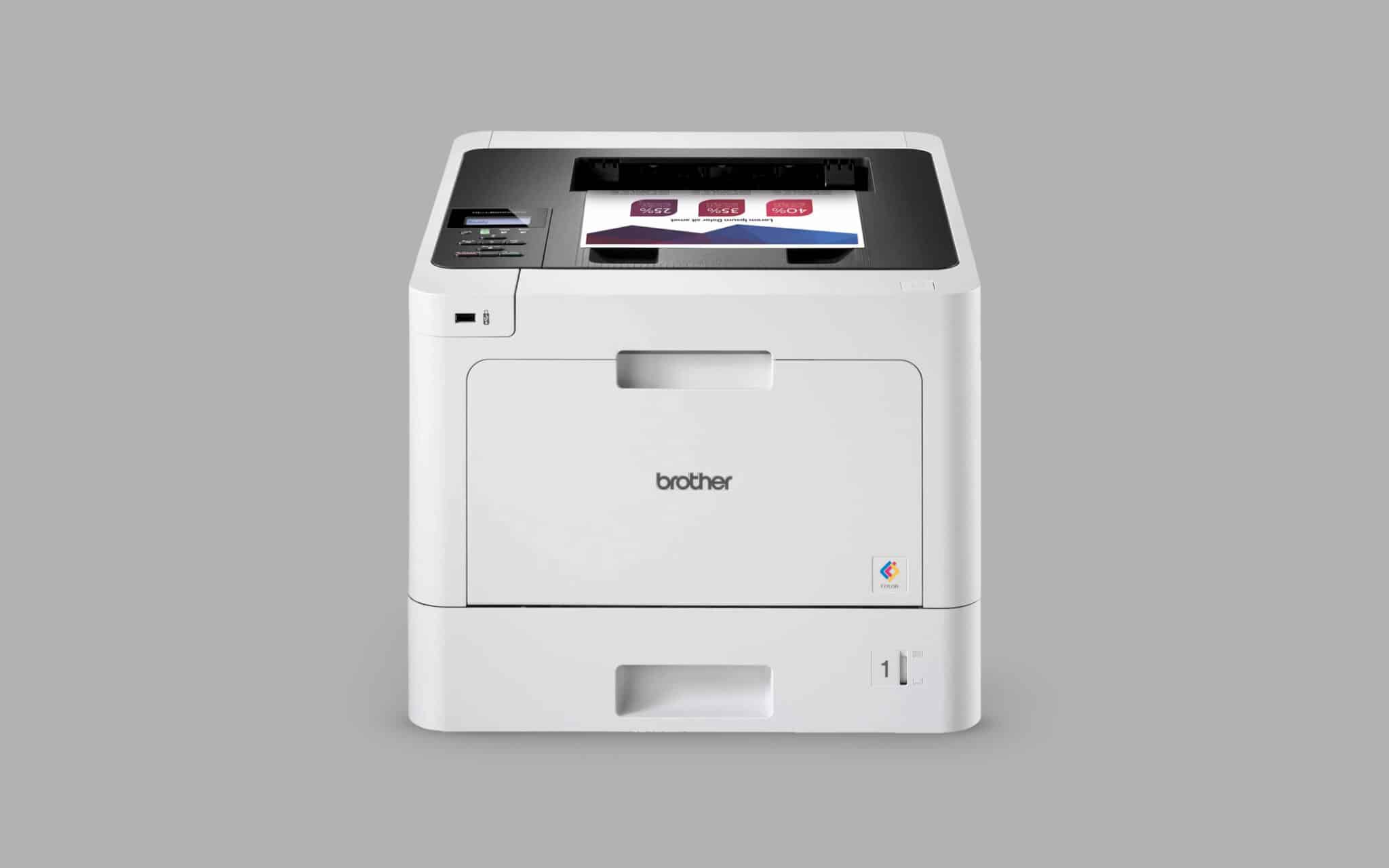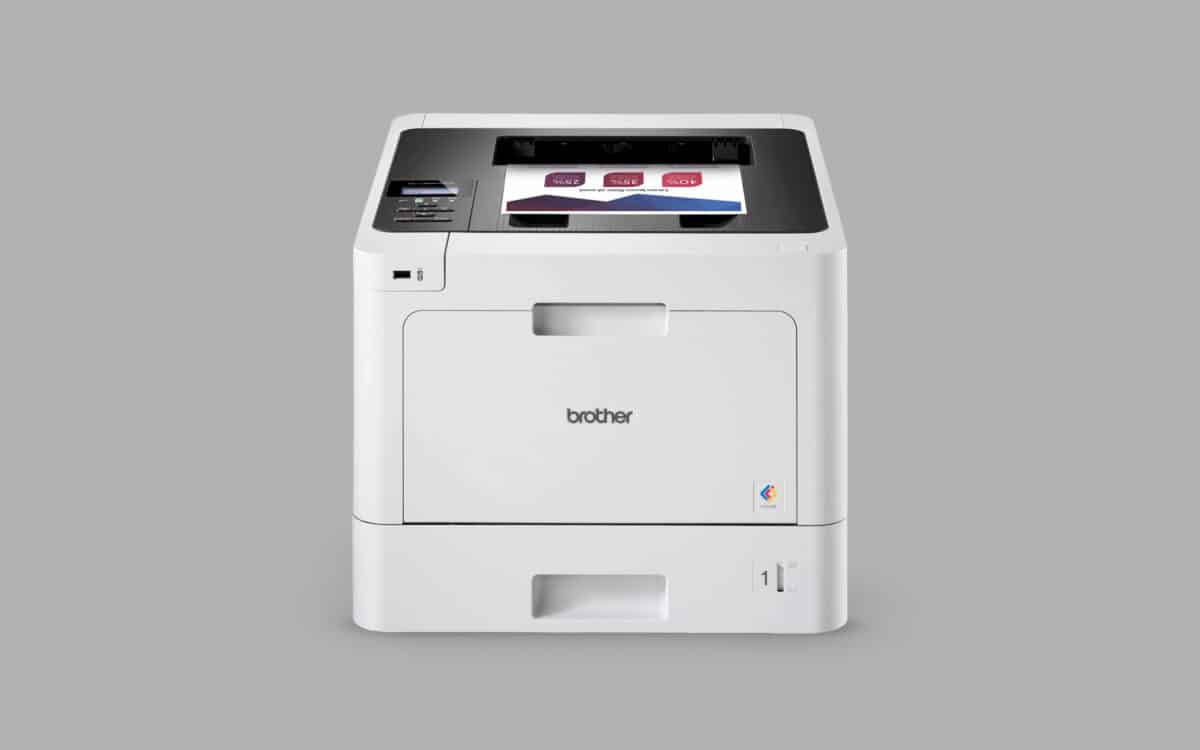 4. Brother HL-L8260CDW (best color laser printer for Mac)
Color laser printers might be expensive at first, but they're an excellent way to save on ink expenses in the long-term.
This Brother HL-L8260CDW is one of the best printer for Mac computers that we've seen on the market, offering exceptional all-in-one functionality.
If you want the best office printer for Mac devices, and you don't want to compromise on performance, this could be the one you choose.
The enterprise-level color printing ensures that you get crisp and clear copies of anything you need to print at incredible speeds.
The Brother can deliver up to 33 pages per minute without compromising on quality. And the multipurpose tray can hold up to 50 sheets at once.
With automatic duplex printing, you don't have to worry about wasting paper, plus there's a built-in ethernet port when you want a wired internet connection.
Features include:
Full color laser printing
High-yield toner cartridges
250-sheet capacity paper tray
33 page per minute printing speed
Triple-layer security for your device
Automatic duplex printing
Wireless and ethernet connection
Mobile printing available
2 line LED display
With the Brother HL-L8260CDW, printing from your Mac couldn't be easier. The flexible connectivity options include a wireless network interface so you can print anywhere.
You also get the benefit of a low-cost and economic printing service. You can get up to 4,500 black and white, or 4,000 color prints from a single toner pack.
Keep in mind that this is quite a chunky printer that takes up a lot of space. And replacing your ink with generic options might cause issues.
Pros:
Full color laser printing for cost-efficiency
Triple layer security to protect your device
33 page per minute printing speed
Wireless or ethernet connection
Duplex printing
Cons:
Quite large
Can't use generic ink
Sale
Brother HL-L8260CDW
The Brother HL-L8260CDW Laser Printer delivers exceptional copies at print speeds of up to 33ppm without compromising quality.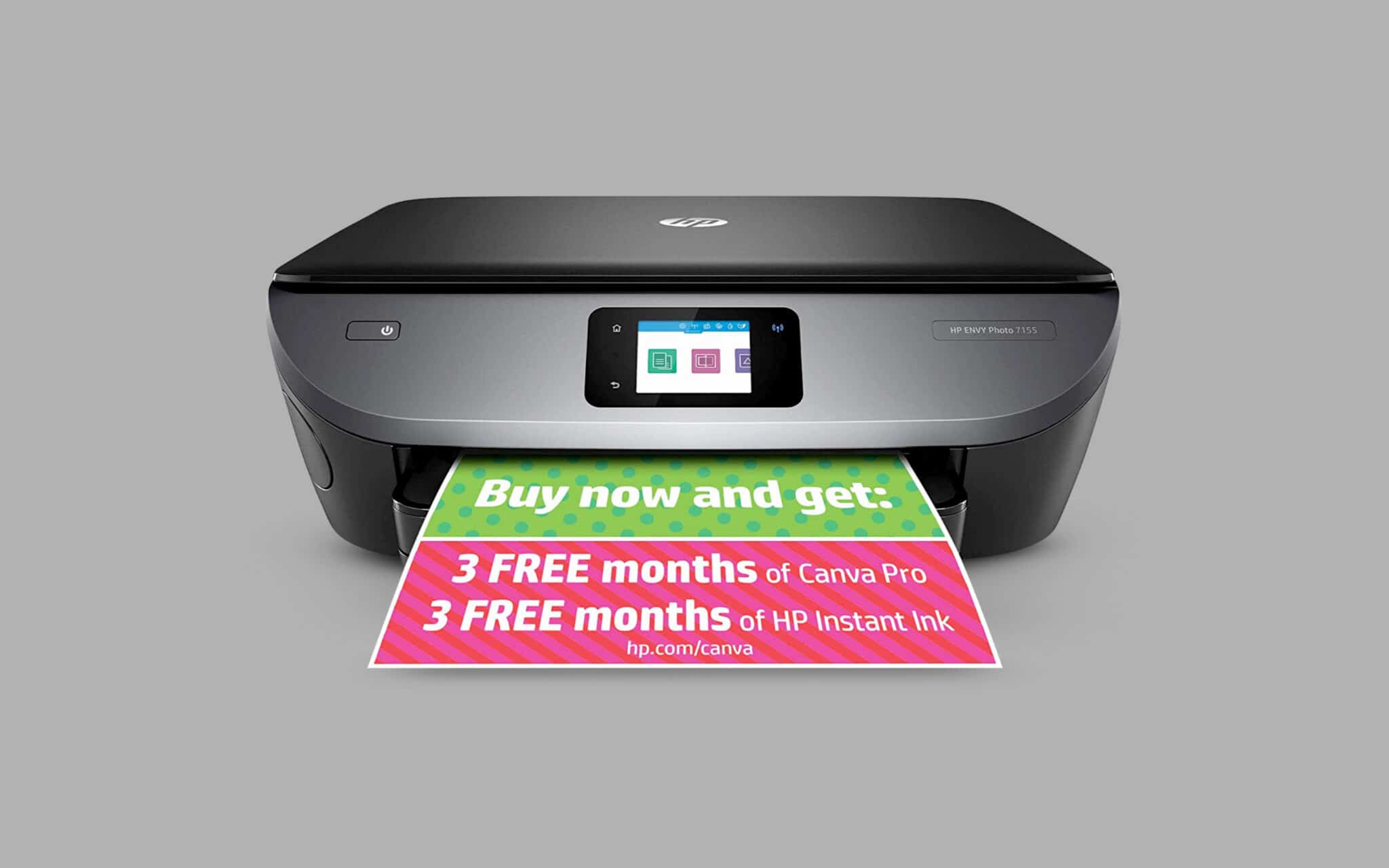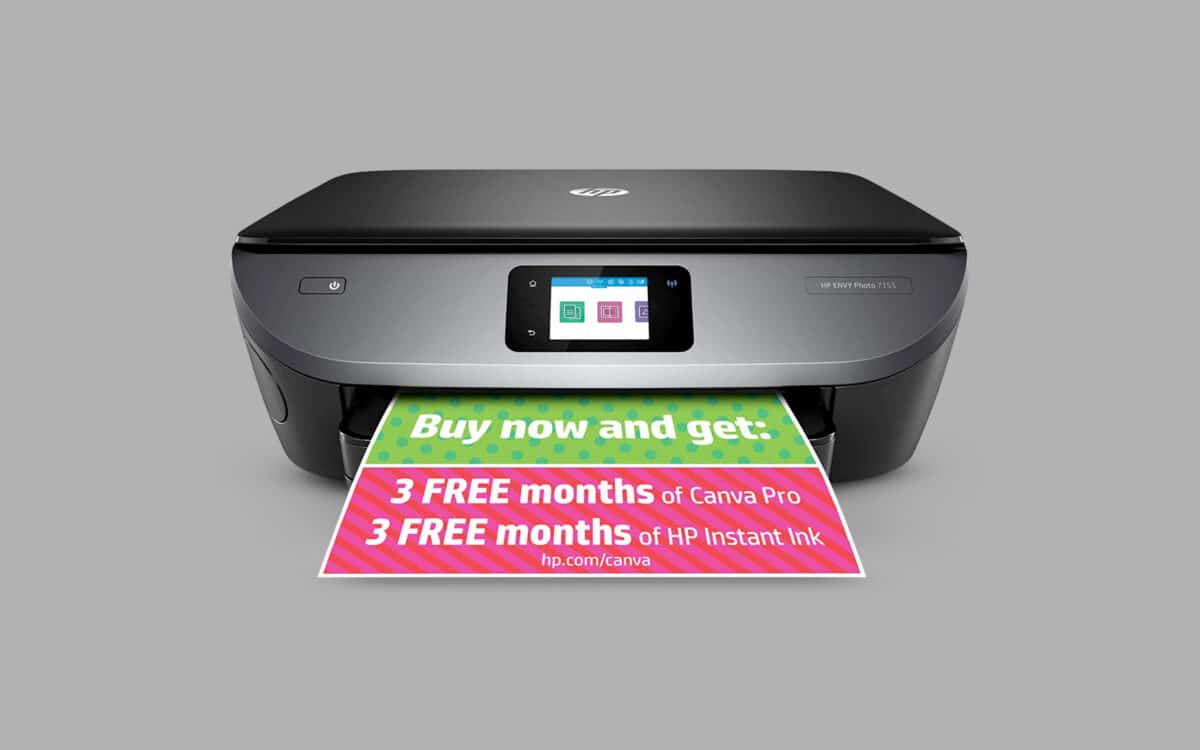 5. HP ENVY 7155 (best for photos)
Another excellent product from our list of the best printers for Mac, the HP ENVY photo 7155 printer is a brilliant product for printing high-quality photos in your business or home landscape.
If you're looking for a printer that can create stunning photo-quality images from the comfort of your own home, this is the product for you.
The color printer can scan, copy, and print, with wireless connectivity so you can create your photos from anywhere.
There's also an SD card slot so you can plug your camera's memory straight into the machine and start printing instantly.
Alternatively, use AirPrint to begin printing straight from your iPhone with no cords at all.
Features include:
Copy, print, and scan
Wireless connectivity
Print from smartphone or tablet
SD card input option
Borderless printing
Duplex printing
Perfect photo-quality images
Touchscreen display for managing printing queue
Affordable ink
With affordable ink that you can set up for immediate automatic delivery, the HP ENVY is an excellent choice for creative Mac users and photographers alike.
You can even adjust the paper tray to ensure that you get the exact sizing for each photo you want to produce. This item comes with a one-year limited hardware warranty too.
One possible issue, however, is that it's challenging to deal with error messages when they pop up.
Pros:
Duplex printing performance
Photo quality images
SD card or mobile printing
Touchscreen display
Print, copy, and scan functions
Cons:
Can suffer from complicated errors
HP ENVY 7155
Produce authentic colors, and set up, connect, and print right from your mobile device. Features of this color photo printer include print, scan, copy, borderless and wireless printing.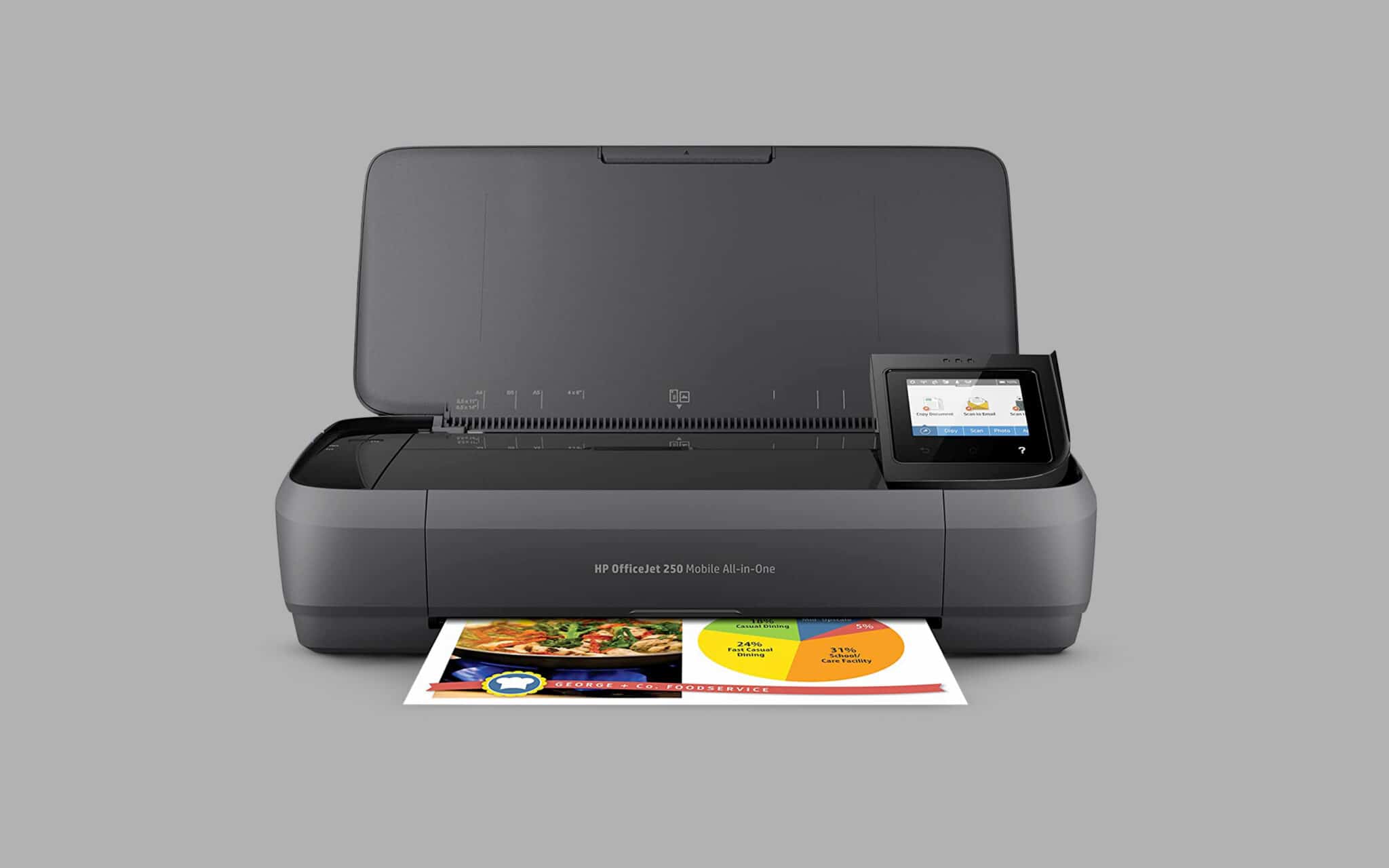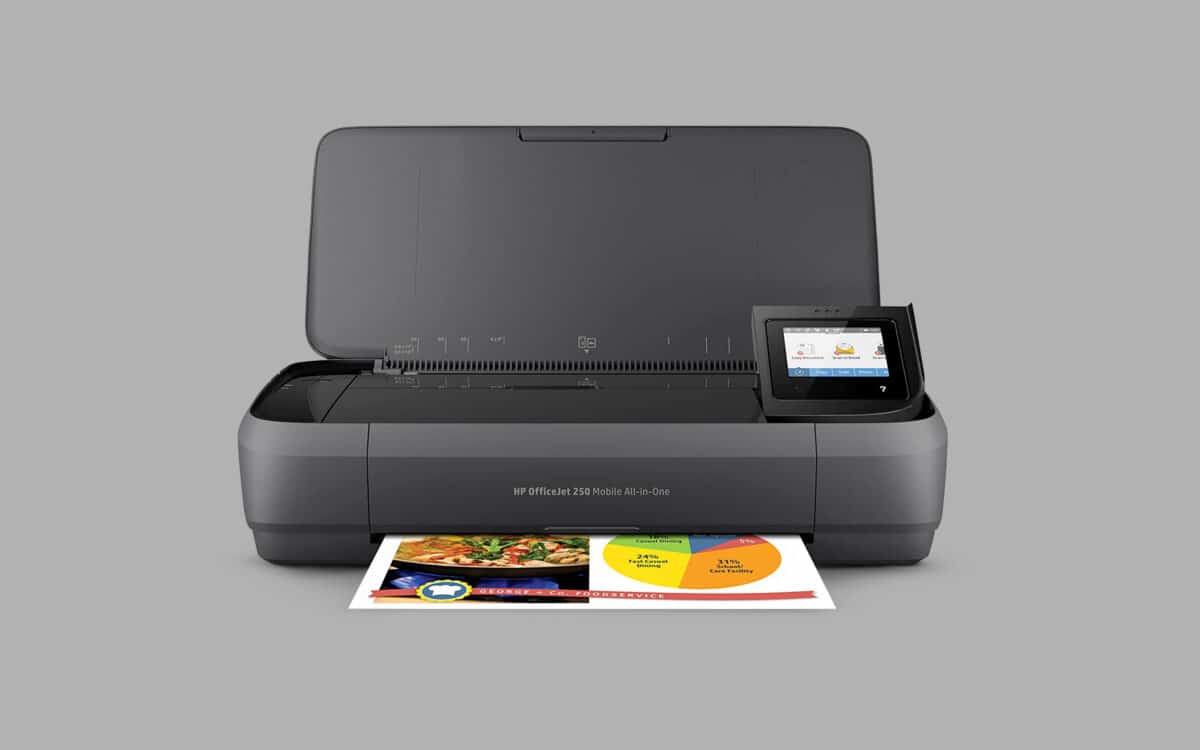 6. HP OfficeJet 250 (best office printer for Mac with Alexa)
If you're looking for the latest in printer for Mac technology, then you can't go wrong with the HP OfficeJet 250.
This convenient and compact printer is small enough that you can take it with you to the office and back home without too much hassle.
The all-in-one device doesn't skimp on functionality, however. You can scan, copy, and print whatever you need with wireless functionality.
Print from your Mac instantly, or your laptop and mobile devices.
The color touchscreen gives you an easy way to manage your printing queue, or you can use the mobile app on your smartphone to adjust your print jobs before they begin. There's even an automatic document feeder for scanning.
Portable and powerful, the HP OfficeJet even has a rechargeable battery, so you don't need to plug it in unless you're recharging.
Features include:
Scan, copy and print
Portable functionality with rechargeable battery
Wi-Fi and smartphone printing
Color touchscreen for print information
Easy-to-use ink cartridges
Supports multiple paper sizes
One year warranty included
Automatic document feeder scanning
Alexa accessible
Although this product doesn't come with some features, like duplex printing, it does give you some extra capabilities in the form of Alexa smart assistant access.
You can also print in a range of sizes thanks to a tray that you can adjust to suit your needs. All that, and customers can enjoy a 1-year warranty for peace of mind too.
Just remember that this printer is a little slower than some of the options on the market. It's also a little challenging to set up at first.
Pros:
Portable and rechargeable
Works with Amazon Alexa
Color touchscreen
Excellent automatic document feeder
Scan, copy or print
Cons:
Difficult to set up initially
Slightly slower than some competitors
HP OfficeJet 250
Main functions of this HP all-in-one portable printer include: scan, copy, easy portable printing wherever you need it, wireless Print from your laptop or mobile devices, and more!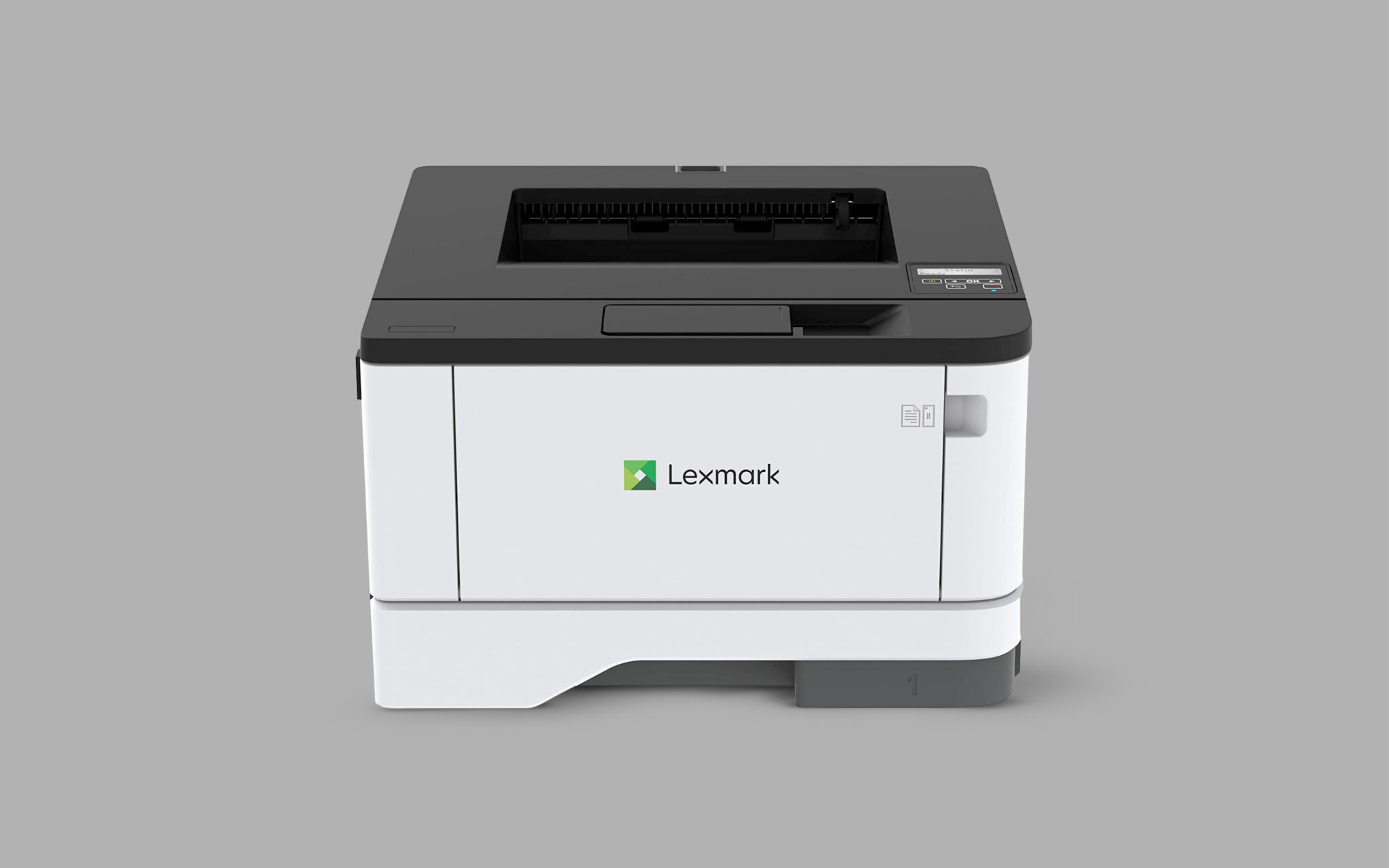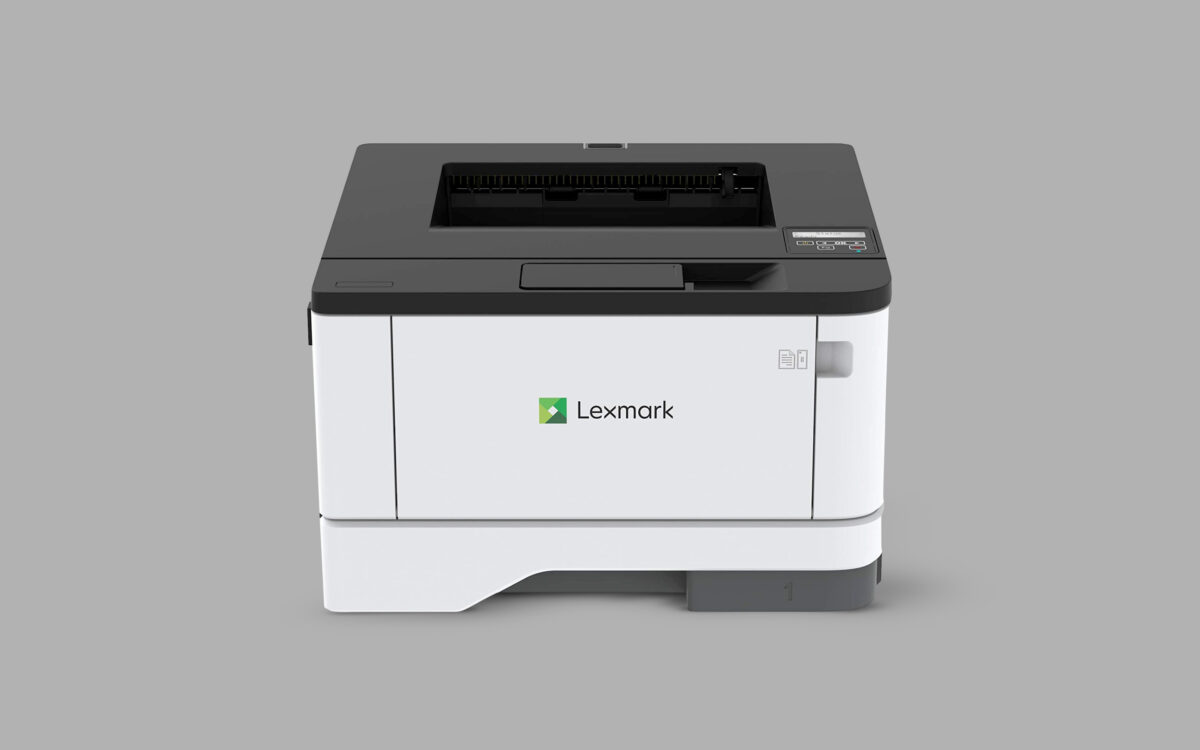 7. Lexmark B3340DW (best small printer for Mac)
Sometimes you don't have a lot of space in your office or home for extra technology – like a bulky printer for Mac devices.
Fortunately, the Lexmark B3340DW gives you the functionality you need without taking up too much space.
This printer offers convenient plug and play functionality, with no awkward set up to worry about.
The standard Wi-Fi connection means that you can print from mobile devices with ease too.
Durable and reliable, the Lexmark features a steel frame, so it can withstand a few knocks and bumps around the office.
It's also equipped with two-sided duplex printing as standard, so you don't have to worry about having a negative impact on the environment.
There's even a two-line display to help you monitor system information.
Features include:
Quick printing with a dual-core processor
Compact design fits in any space
Provides up to 3,000 pages of output in one go
Secure design to protect wireless connections
Monochrome laser performance for minimal ink costs
Duplex printing
Steel frame for durability
Print via Wi-Fi, USB or ethernet
This might only be a monochrome black and white printer, but it's an excellent product to have around the office when you're trying to keep Mac and Windows users happy.
You can print through Wi-Fi, USB, or ethernet, and the toner can last for up to 3,000 pages at a time.
Just be aware that the wireless is a little slow compared to some competing products, however.
Pros:
Fast laser printing performance
Compact design for smaller rooms
Secure connectivity
Duplex printing
Sturdy steel structure
Cons:
Slow wireless connections
Lexmark B3340DW
The easy to use Lexmark B3340DW just requires you to plug it in and setup is fast and easy. Standard Wi-Fi makes it easy to print from mobile devices.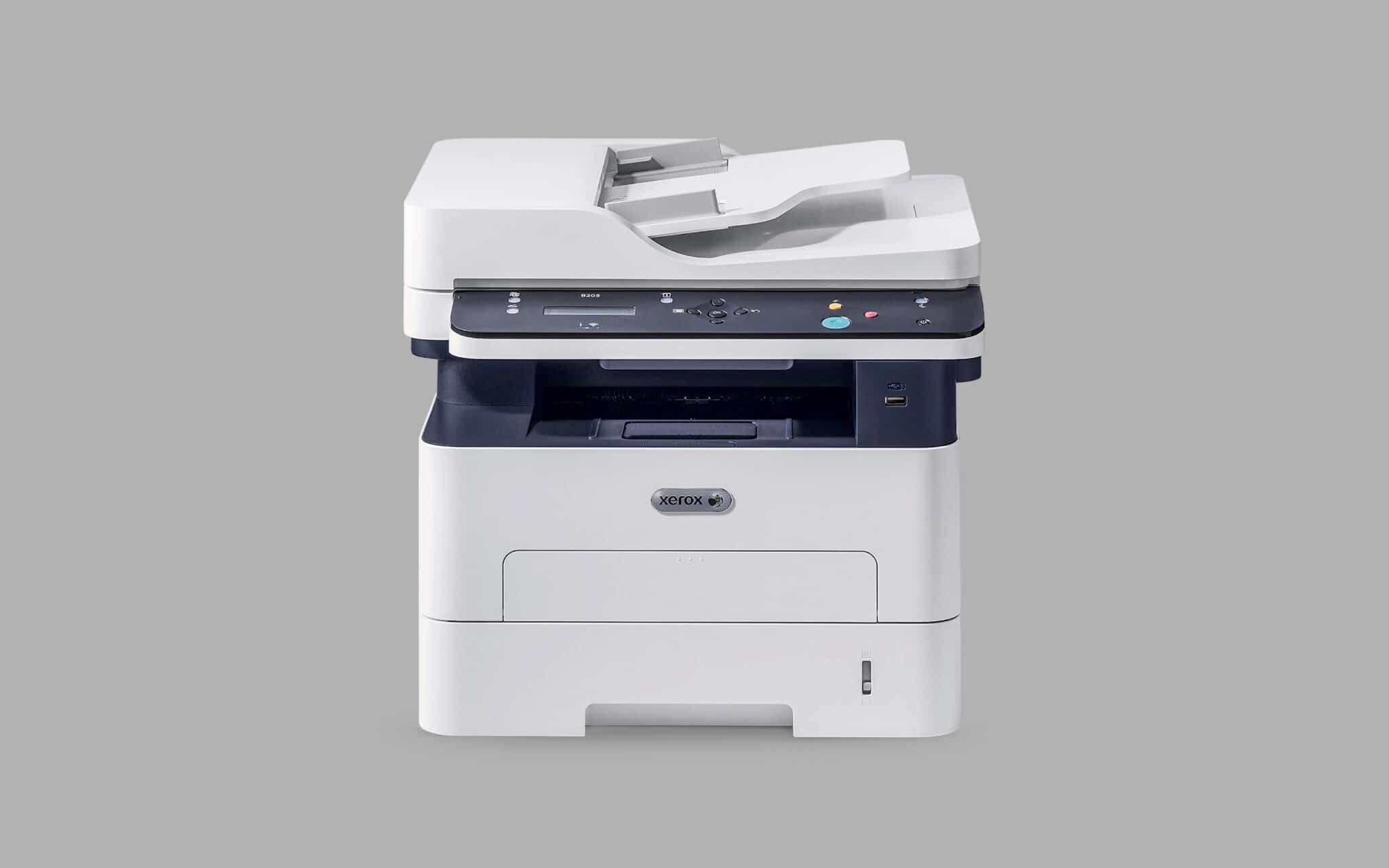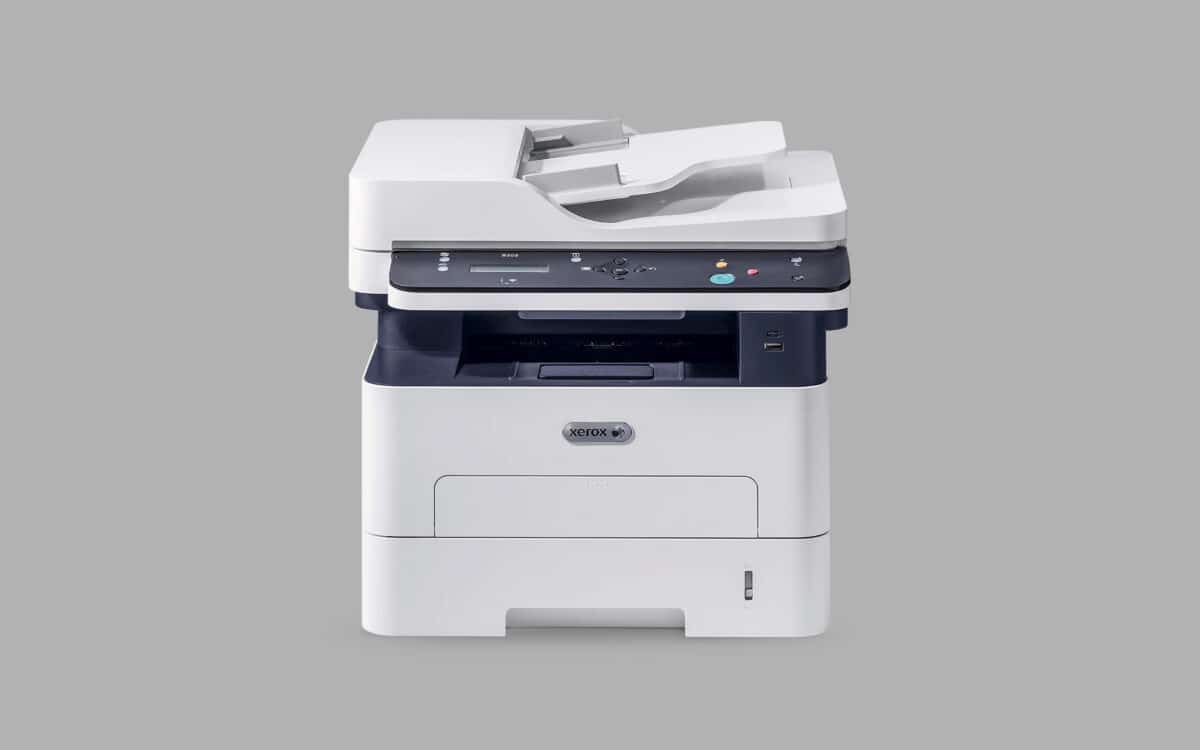 8. Xerox B205NI multifunction (best security)
Suppose you need a printer for Mac devices that's ideal for your office environment. In that case, it's important to look for some extra features.
Aside from choosing a device that works well, and provides excellent print quality, you'll need a device that's secure too.
The Xerox B205NI could be ideal for this purpose, with it's highly secure in-built features.
Xerox follows top-of-the-line protocols to protect the data you send wirelessly to your printer, including IPsec and Mac address filtering.
You can print from any device with this printer too, including your desktop, laptop, or mobile.
Features include:
State of the art security and encryption
Lightweight and compact design
Black and white printing
Quick first page out
250 sheet capacity for paper feeder
2-line LCD user interface
Automatic scanning document feed (40 pages)
Print securely from any device
Native AirPrint
Energy star qualified
Aside from delivering a fast and convenient printing experience, the Xerox also benefits from an energy star qualification, reassuring you that any printing you do won't have a negative impact on the environment.
You can scan and print with this device in no time, and even use the native AirPrint functionality for Apple.
One slight issue with this product is that it's quite difficult to change the settings if you want to adjust layout or dimensions.
Pros:
Excellent speedy printing
Scanning functionality included
Secure printing from any device
Energy Star certified
Convenient user interface
Cons:
Only black and white printing
Difficult to change some settings
Sale
Xerox B205NI multifunction
Xerox B205NI is a lightweight, compact, quiet black and white multifunction printer offering print/copy/scan and standard wireless connectivity.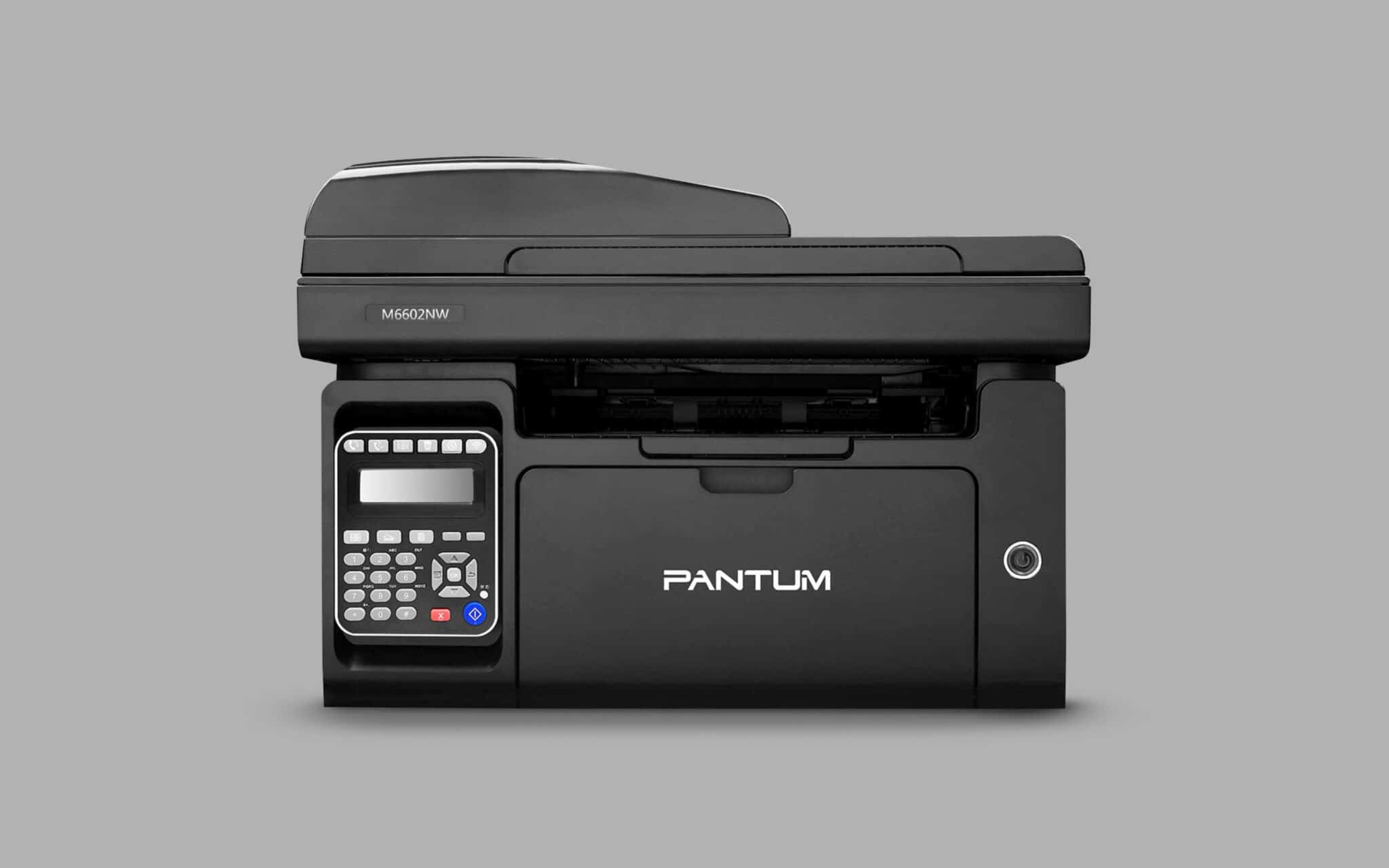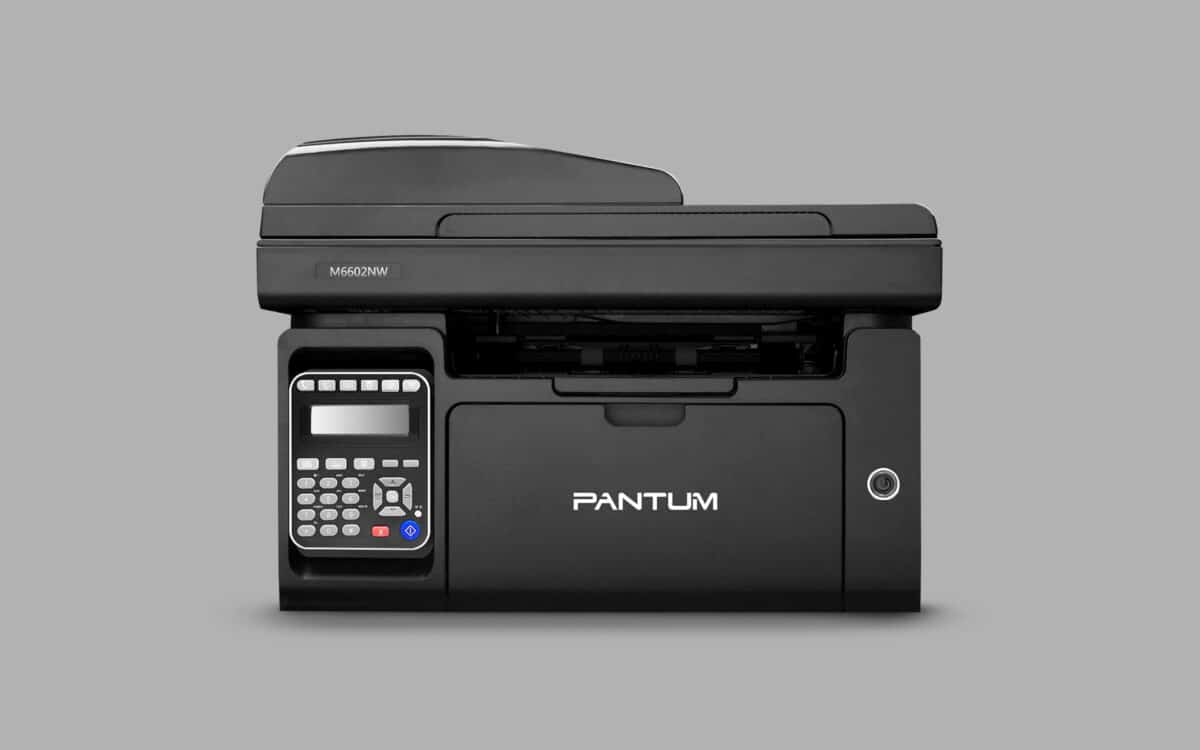 9. Pantum M6602NW (best printer for Mac with fax)
Fax might be a little outdated for some people in search of a printer for Mac these days, but it's still a feature that many people rely on.
If you're looking for the best printer for Mac computers that also acts as an all-in-one solution for scanning and fax, then this could be the product for you.
The Pantum M6602NW is an affordable and easy-to-use system with tons of great features.
One of the best office printer for Mac options, the Pantum comes with printing, copying, scanning, and fax functionality.
You also get the benefit of a full laser printer, which means that you shouldn't have to spend as much on printer ink.
There's even the option to scan documents straight to your email for quick sending and sharing.
Features include:
4-in-1 functionality with printing, scanning, copying and fax
Wireless and ethernet-based networking
All-in-one toner cartridge to reduce costs
Automatic document feeder
Compact and sleek design
LCD control panel for easy use
One-step driver installation
Print with tablet or smartphone
Automatic sleep mode to save energy
Works with Apple AirPrint
Convenient built-in app
The Pantum makes wireless printing from any device as simple as possible.
There's a one-step driver interface to get you up and running as quickly as possible. You also get a dedicated app to help you deal with printing direct from your smartphone.
Unfortunately, the instructions can be quite difficult to follow, particularly if you're using a Mac.
Pros:
4-in-1 functionality
All-in-one laser toner cartridges
Print with tablet, smartphone, and AirPrint
Built-in app with easy functionality
Automatic document feeder
Cons:
Difficult to set up on a Mac
Black and white only
Pantum M6602NW
The Multi-function 4-in-1 with ADF (printing, copying, scanning and fax) Pantum laser printer provides fast and high definition printing up to 22 ppm.
How to choose the best printer for Mac devices
Choosing the right printer for Mac use isn't always an easy process. There are a lot of different options out there to choose from, and new devices hit the market all the time.
The only way to discover the right printers for Mac for your needs is to examine some of the options available.
We do, however, have a few key tips for things you can look out for, such as:
Black and white or color performance
First, ask yourself whether you want a printer that prints in black and white (monochrome) or color. If you're printing a lot of documents, black and white might be a good way to save cash. If you need full photo quality images, then it's important to pay the extra for color.
Speed
The speed of a printer can make a huge difference to its functionality. Ensure that the best small printer for Mac in your office doesn't compromise on speed or output. You can usually check the speed by looking at the "pages per minute" rating on the printing device.
Connectivity
Most printers come with a variety of connectivity options these days. You can link to your printer via an ethernet cable, or you can use Wi-Fi to wirelessly send images and documents to your device. For Mac users, the best option is usually to stick with wireless devices that are AirPrint optimized.
Ink or toner
Choosing between an inkjet or laser printer is one of the toughest decisions you'll have to make. Ink devices are usually less expensive initially, but they can cost you more in the long run as you keep replacing ink cartridges. Alternatively, toner printers can cost hundreds of dollars at first, but the toner tends to last longer.
Paper handling
Finally, make sure that your printer for Mac devices can handle paper the way you want. This means that it should print on pages of different sizes, use an automatic feeding system, and even print on both sides of the paper (duplex).
Remember that many of the best printer for Mac options available today also act as scanners, copiers, and fax machines too. Having an all-in-one system that can handle a range of tasks is a good way to reduce the amount you spend on bulky equipment around the office.
Choosing the best printers for Mac devices
The best printer for Mac users will depend heavily on your own personal preferences and needs. Whether you're looking for the best office printer for mac devices, or the most advanced printers for Mac users, there's something for everyone
For some, a simple compact printer that delivers black and white documents without using too much toner will be the best bet. For others, it may be helpful to invest in something more comprehensive.
We think that the Brother HL-L8260CDW printer is the best color laser device, offering an excellent way to reduce your inkjet costs and improve office or home efficiency.
This item can deliver up to 33 pages per minute, without compromising on quality.
Good luck choosing the best printer for your Mac.
Fabrik: A branding agency for our times.