The best font manager for PC users provides digital professionals, graphic designers, and creative experts with an excellent way to streamline their workflow. These often-underrated tools are ideal for combining all the typefaces you might use for a project into one easy-to-manage environment.
With an effective font manager for PC users, you can keep track of your asset subscriptions, search for typefaces in seconds, and even create font collections.
The right tool should make it quicker and more convenient to find the font you need to generate emotional connections with your target audience. These solutions are also excellent for branding purposes.
While font management software is most common among graphic designers, it can also benefit many other digital professionals.
If you're an editor or publisher for a newspaper or magazine, your font manager will help you to keep track of the typefaces you use. This allows for the creation of more consistent content.
Today, we'll help you find some of the best font management options especially designed to work with PC operating systems like Windows.
What is a font manager for PC users?
Font manager software is a tool for digital professionals which allows for the organization and management of large numbers of fonts. Countless branding, marketing, and publication experts have libraries filled with thousands of font choices.
Searching through these options manually can be a time-consuming and complex process.
Fortunately, with the best font manager for PC users, you can eliminate some of the stress and hassle involved with managing your branding assets. The right tools will allow you to activate and deactivate the fonts you need and organize them into different libraries and groups.
You can even create dedicated collections for the different brand assets you work on.
Font management software can also include many other valuable features, such as comparing different typefaces or seeing how multiple fonts look together. In some cases, you can even access solutions that allow you to track and manage your library subscriptions.
A font manager for PC users is a solution specially designed to work directly with the Windows operating system (OS) or on the web.
This is an alternative to font managers built to support Apple or Mac users. While Windows does have some basic font management functionality built into recent versions, font management software takes your feature set to the next level.
How to choose a PC font manager
Before we dive into our selection of some of the best PC font managers (paid and free), let's take a look at how you might sort through your available options. There are plenty of different kinds of font management solutions out there.
Some are basic offerings intended to give you more control over your font libraries with collections and tags.
Other offerings are more advanced, allowing you to activate and deactivate fonts, view fonts you have yet to install, and even uninstall corrupt files automatically. With certain products, you can also preview fonts in different sizes and on various backgrounds.
When picking your ideal PC font manager, here are some points you might want to consider:
Pricing
Font managers for PC come in a range of different formats, including free and paid options. The right solution for you will be capable of matching your budget while still providing a high level of functionality.
Simplicity
The purpose of a font manager is to make organizing and sorting through your available typography assets as simple as possible. The easier the software is to use, the less time you'll need to learn how to leverage it.
Features
An effective font manager can come with a range of features, including intelligent search, font activation and deactivation, font comparisons, and previews. Organizing your assets into different categories based on weight, style, or form may also be an option.
Integrations
Integration with a wide range of other apps you already use for your design strategies is crucial with a font management solution. You may need your service to work alongside tools like Adobe Creative Cloud or Google fonts.
Scalability
The amount of storage available within your font manager will also be necessary when choosing which solution you want to buy. It's worth looking for something capable of handling thousands of fonts at once.
Keep in mind the way you plan on using your PC font manager will also have an impact on the kind of tools you prioritize. If you're going to be sharing fonts with a team as part of a branding agency toolkit, you may need something with a wide range of collaboration capabilities.
The best premium tools for PC font management
Premium PC font management tools have the broadest range of features and capabilities. Though you might have to pay a one-off or monthly subscription fee, you'll usually get much more control over what you can do with your fonts.
While there are various options, the following selections stand out as some of the most effective tools for PC users.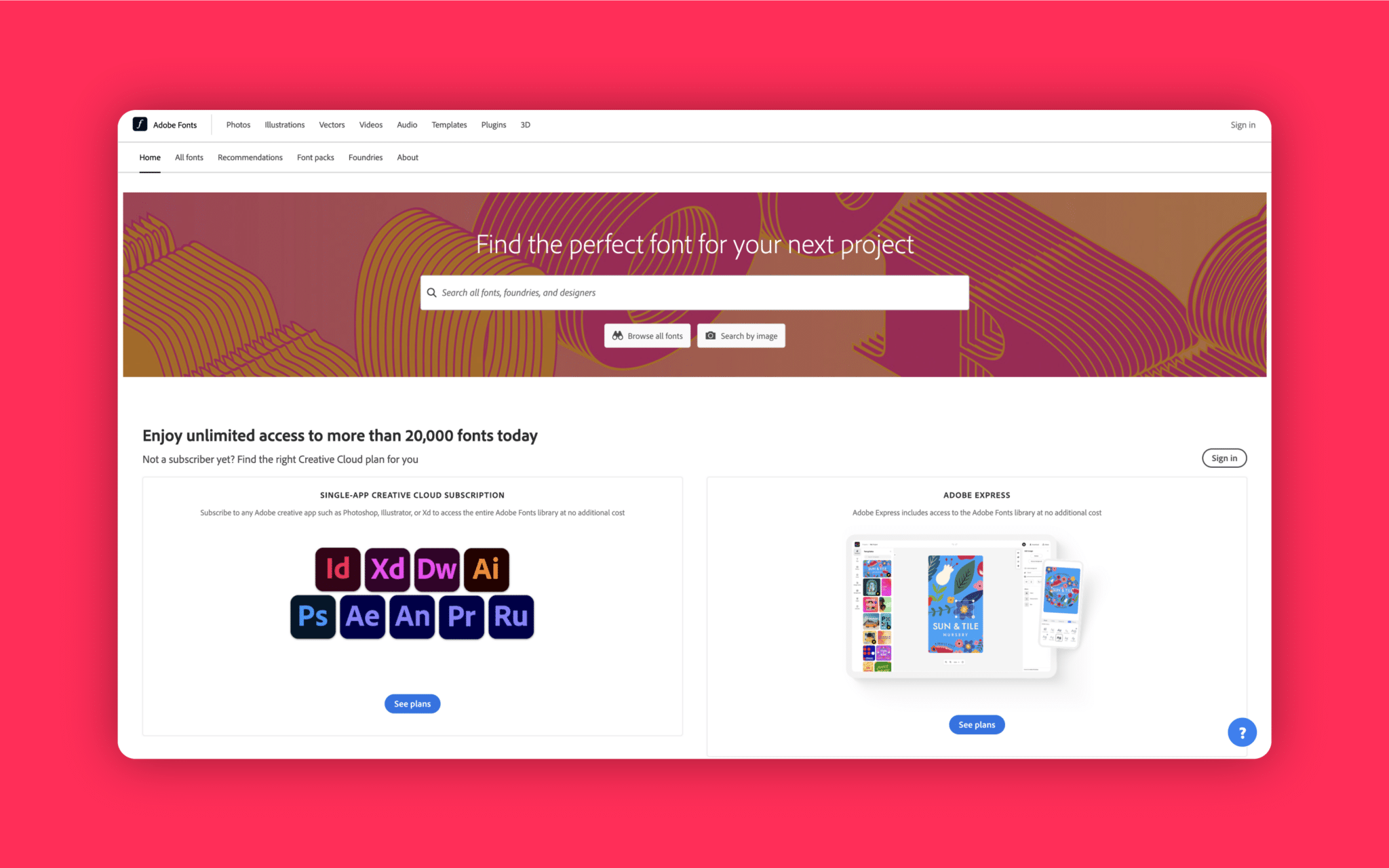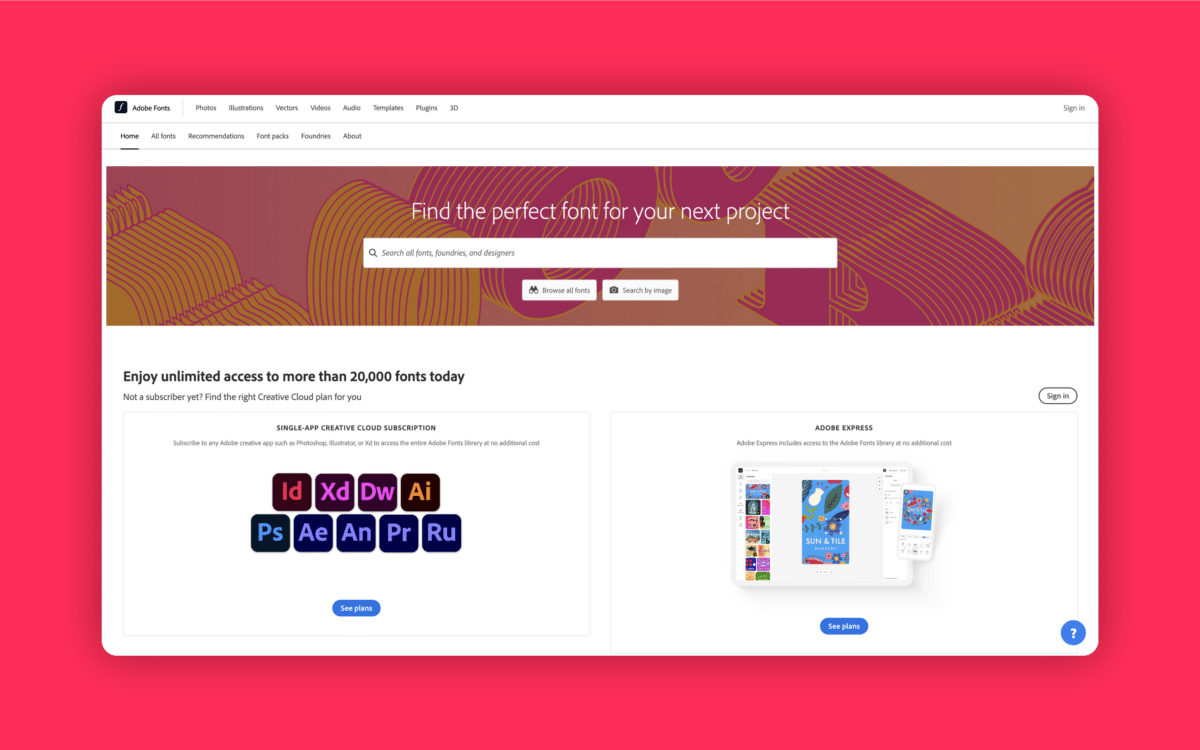 1. Adobe Fonts
Pricing: Free plan with premium plans starting at $54.99 for the Creative Cloud
Adobe is easily one of the most popular companies out there among graphic design and creative professionals. Best known for producing options like Adobe Photoshop and InDesign, there's a good chance you're already using an Adobe asset in your workflow.
Adobe Fonts is a part of the Creative Cloud ecosystem from Adobe. It has access to a vast range of high-quality fonts available to preview, compare, and download. There are more than 20,000 options to choose from, and you can easily toggle fonts on and off when you're not using them.
Adobe Fonts also has a dedicated history section where you can quickly search through the options you used recently. You'll also be able to create your own custom fonts.
Pros:
Works well with Adobe Creative Cloud
Thousands of fonts to choose from
Easy activation and deactivation
Comprehensive font history
Cons:
Can be expensive for beginners
Not many font comparison options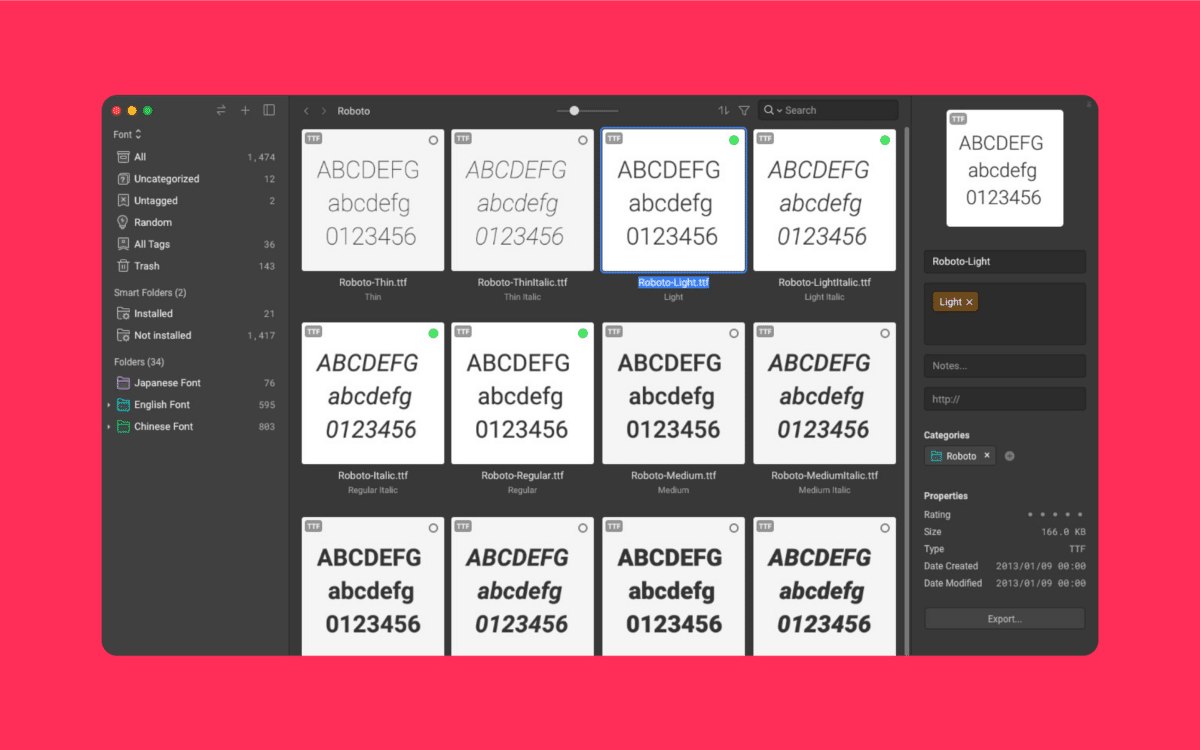 2. Eagle App
Pricing: Free trial followed by one-time $29.95 purchase
The Eagle app is an exciting option for companies searching for the best font managers for PC users. You get a comprehensive environment for monitoring and tracking all your fonts, and you can also manage the rest of your design assets in the same place.
The easy-to-use interface is excellent for sorting through graphics, audio files, images, and anything else you might need. You can activate and deactivate fonts with one click and preview fonts in various formats. Users can also sort through fonts with tags, ratings, and annotations.
There are smart folders for automatically managing fonts and a highly customizable interface you can set up to suit your workflow needs. The solution works with both Mac and Windows.
Pros:
All-in-one design asset management
Fantastic one-click activation and deactivation
Smart folders and easy organization of fonts
Lots of preview and comparison options
Compatible with most file types
Cons:
Slight learning curve for beginners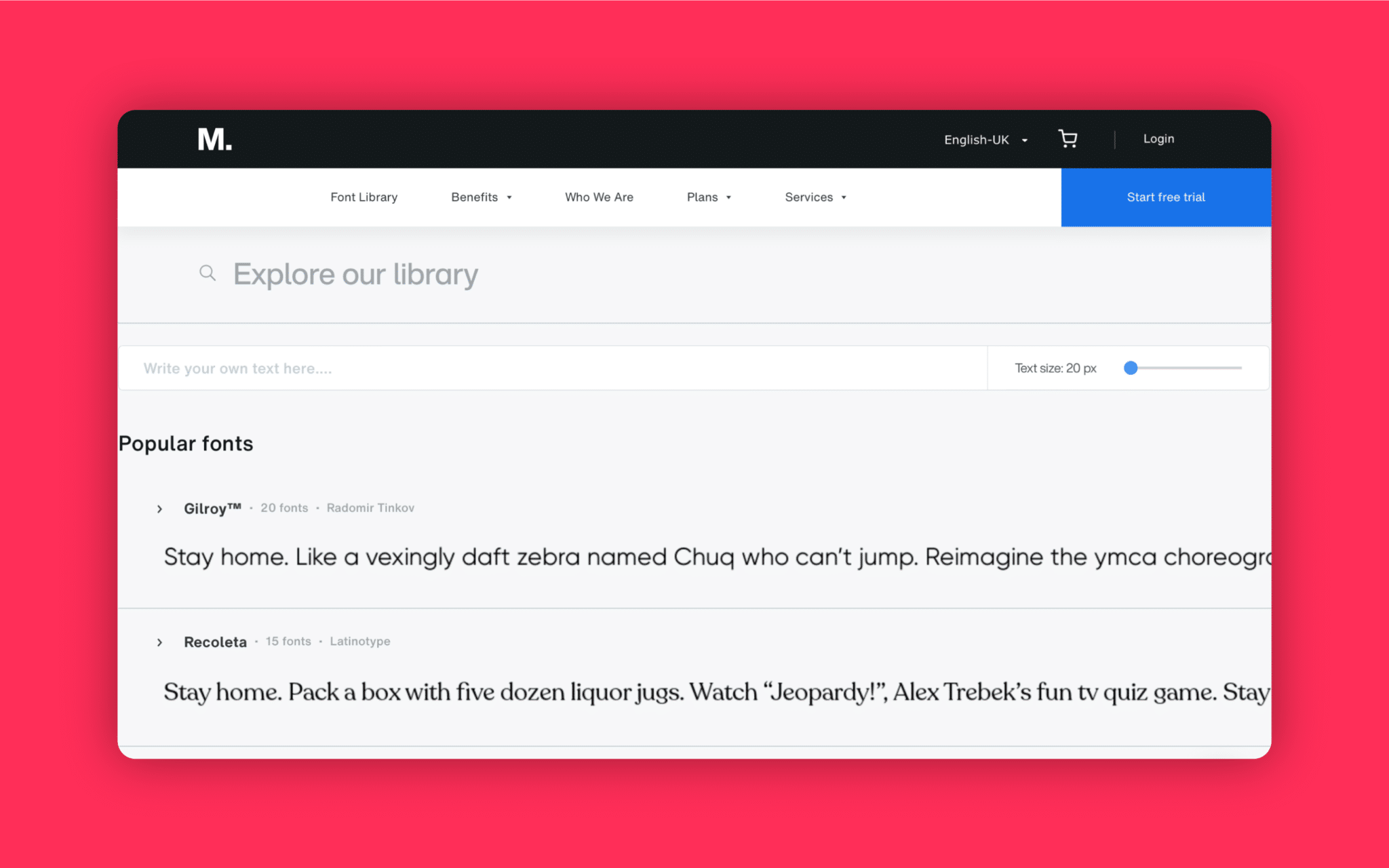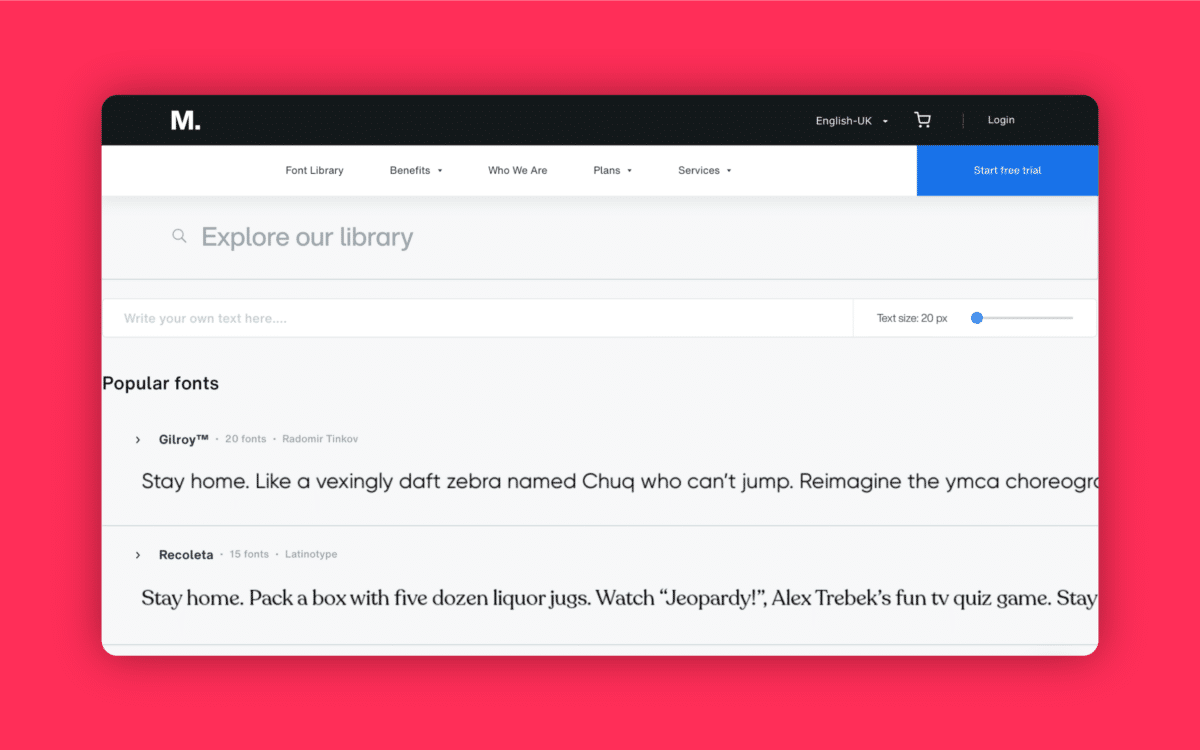 3. Monotype
Pricing: Starting at $99 per year for an individual user
Monotype isn't your average font manager, it's actually more of a "font subscription service". The solution gives designers access to thousands of different kinds of fonts, they can use in a range of use cases. In fact, Monotype has one of the world's largest font libraries available.
Monotype fonts not only allows you to choose from a wider range of fonts for your projects, it also helps you to experiment with different styles and typography sets, with an interface you can use to create countless prototypes, pitch decks and mock-ups.
The included "Monotype Studio" in your subscription makes it easy to sort your fonts into different categories, and view what they're going to look like in different formats before you start designing. You can even play with premium fonts before you buy them.
As an added bonus, Monotype makes it quick and simple to sort through your licenses. You can cancel and sync subscriptions with a single click.
Pros:
Thousands of available font options
Easy activation and deactivation of fonts
Fantastic library for organizing fonts
Excellent prototypes and mock-up options
Cons:
Can be quite expensive for some users
It's not easy to compare fonts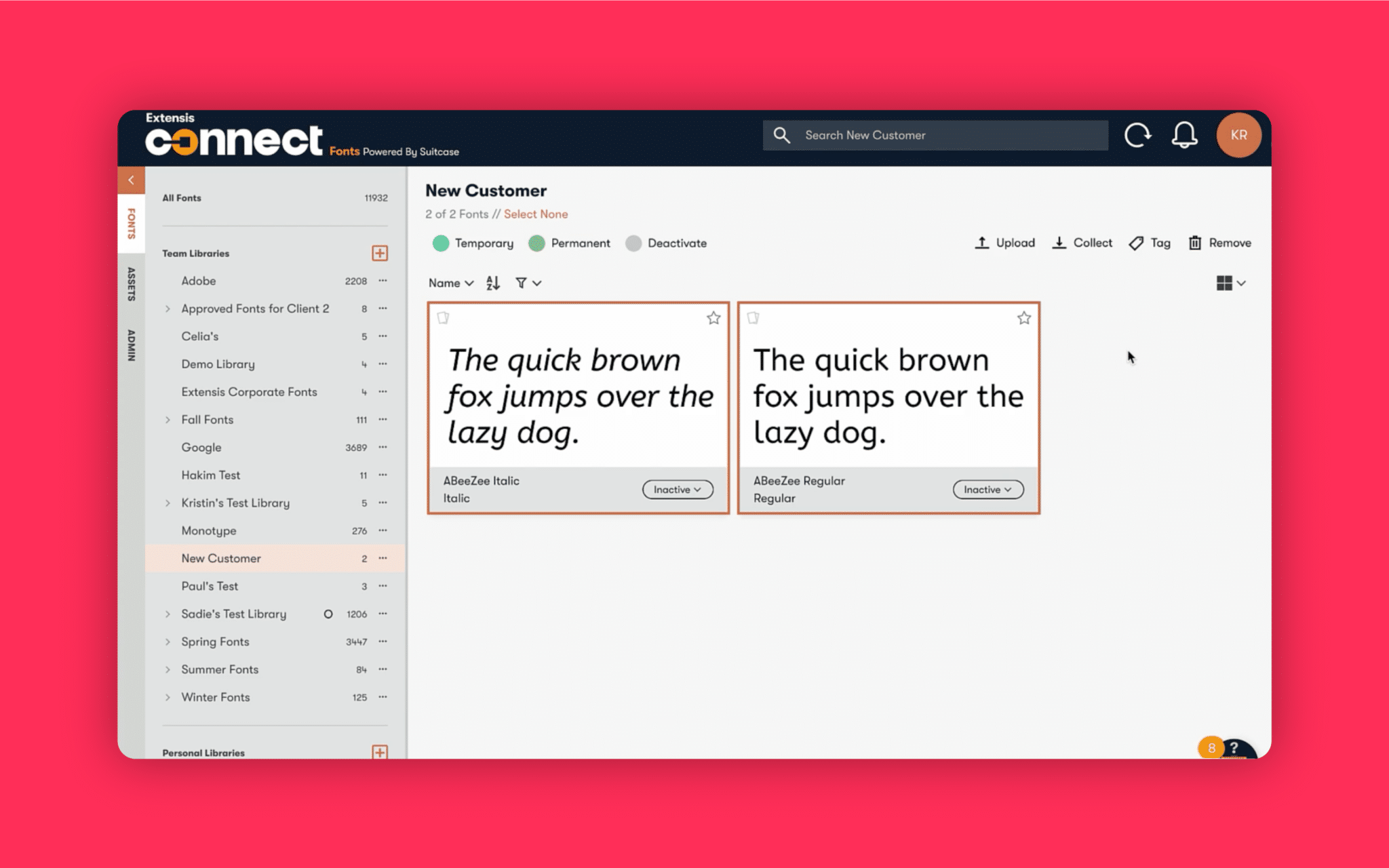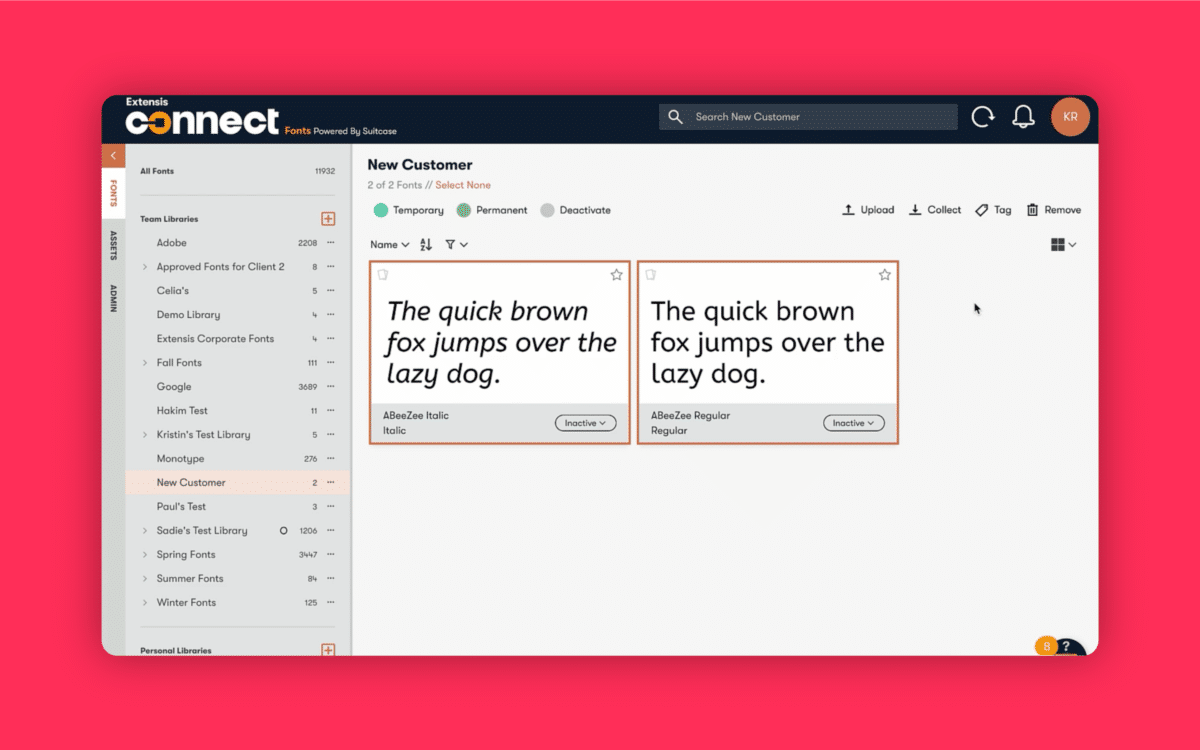 4. Connect Fonts
Pricing: Starting at $9 per month
Previously known as Suitcase Fusion, Connect Fonts is an excellent pick for computer users in search of a convenient way to manage their typeface options.
The professional-grade software works for both Mac and Windows users, allowing you to manage and compare your fonts in a solution based on the cloud. You can even log into your account on mobile.
The industry-standard software is a little clunky in places, but it still gives users a great deal of functionality. You can arrange fonts into different folders and categories and share them with other users over the cloud.
There's also a handy FontDoctor option to track down corrupted fonts and delete them on your behalf.
The features of this service are constantly updated, with new options always emerging. Plus, the updates are implemented automatically, saving time and effort.
Pros:
Great for collaborating on designs
Font repair and recommendation features
Flexible search and organization
Suitable with a range of files and devices
Cons:
Can be expensive for beginners
May be a little clunky in places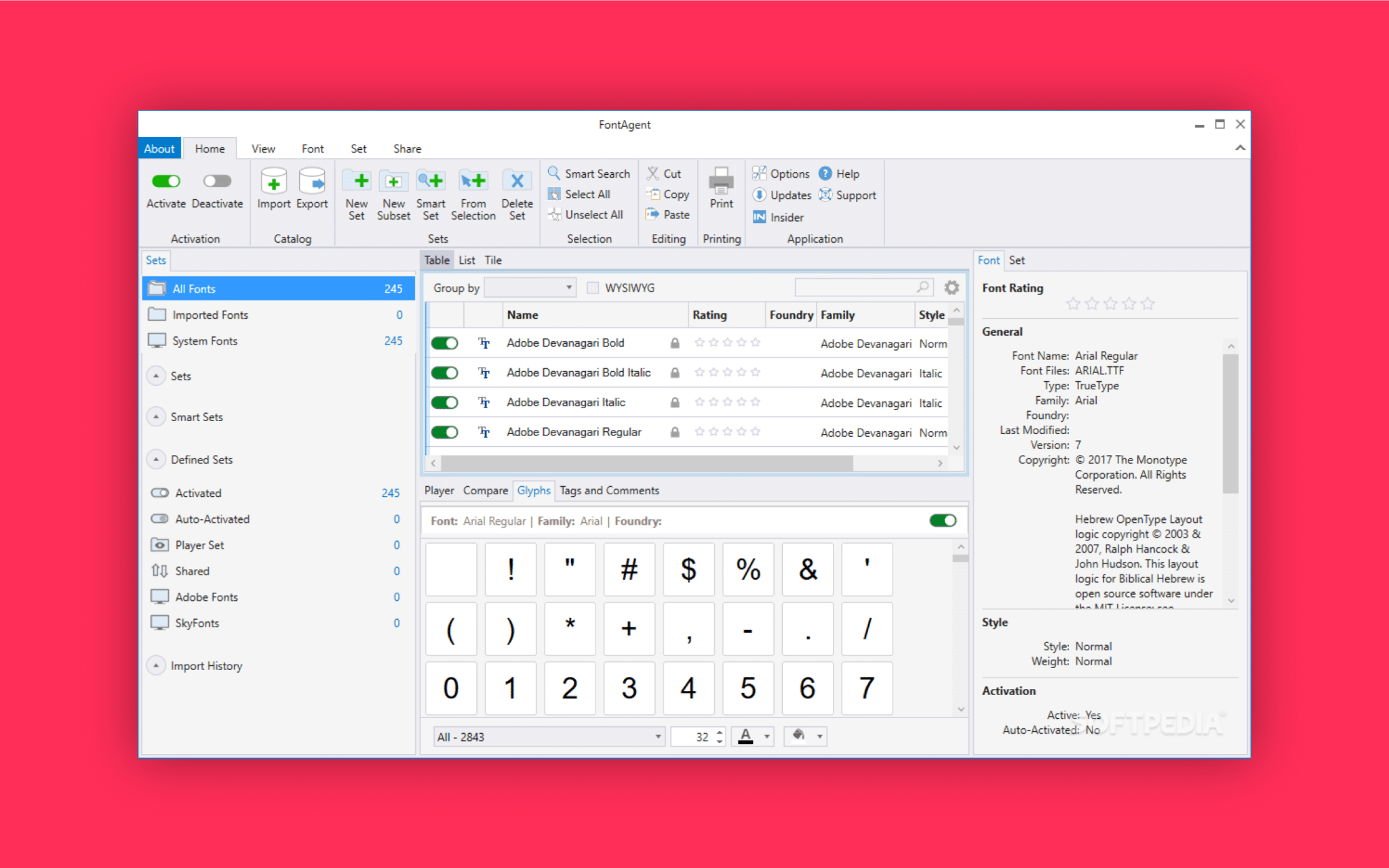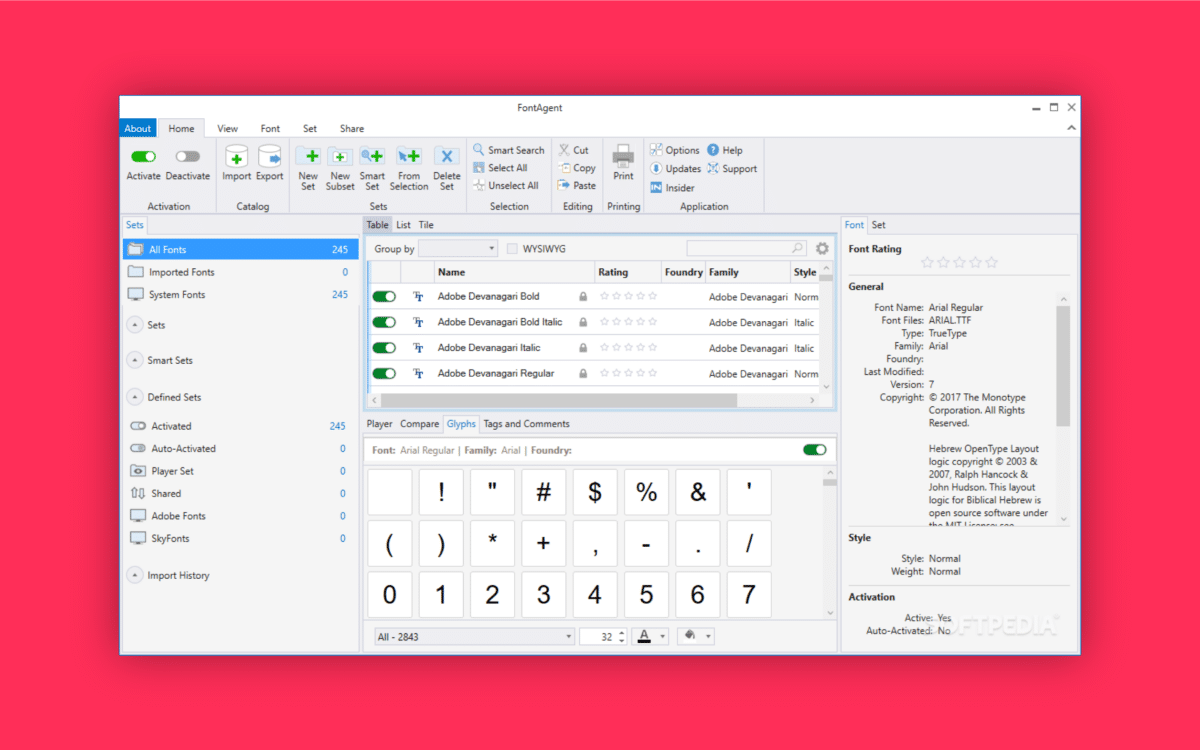 5. Font Agent
Pricing: Starts at $59 per year
Another top choice if you're looking for PC font management, Font Agent is a flexible tool available for both Mac and Windows. The simple and straightforward interface is easy to use and can synchronize with different fonts downloaded directly to your device and delivered on the cloud.
You can organize your fonts into catalogs based on their unique attributes and share your assets with various team members through the cloud. There's also a smart search feature for looking for the ideal typeface as quickly as possible.
A helpful "table" option also means you can compare how different fonts work together on a project with a couple of clicks.
Pros:
Great for sharing content with colleagues
Comparison features and tables
Smart categorization and search
Subscription font management
Cons:
Slightly clunky interface
May be complex for beginners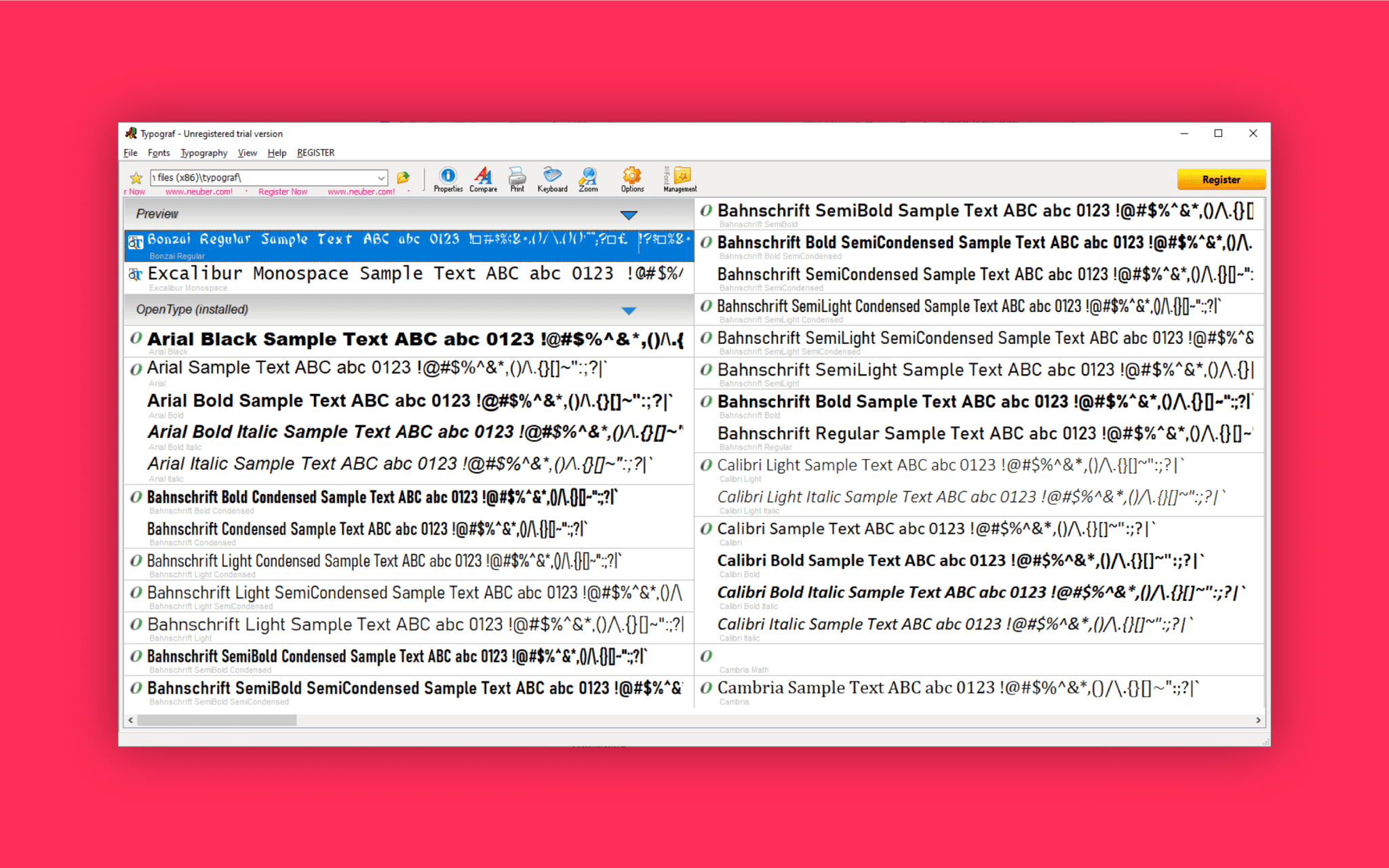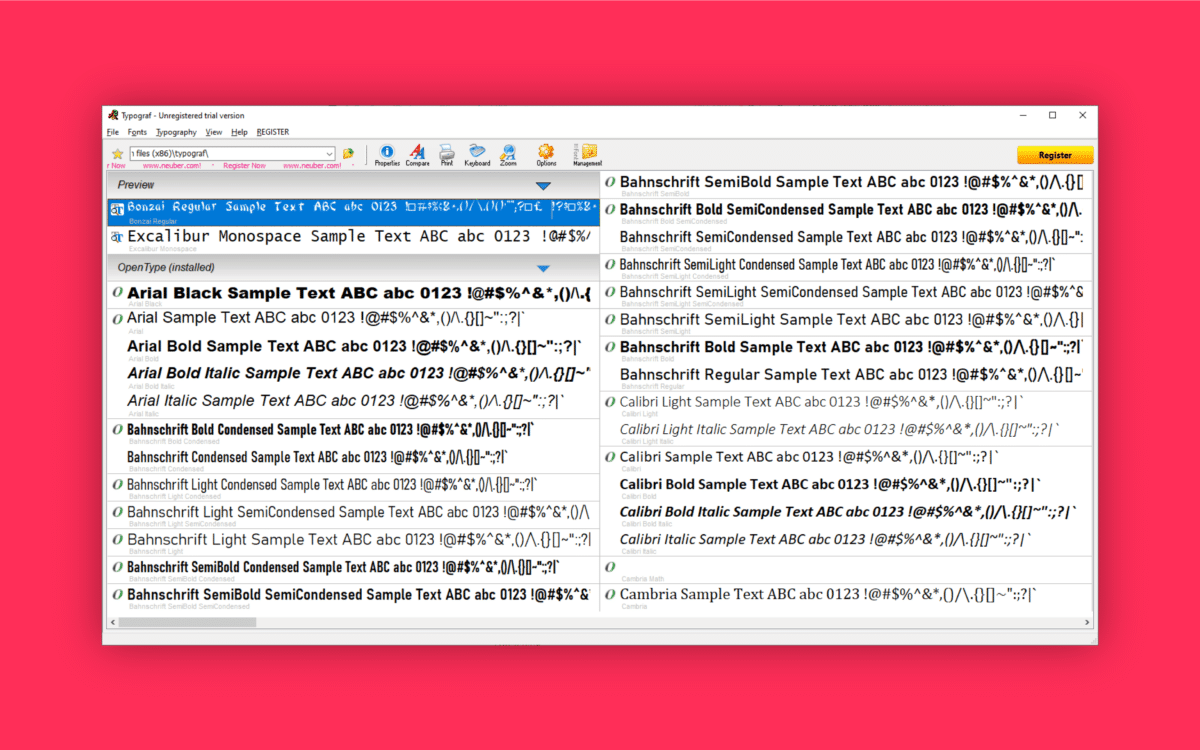 6. Typograf
Pricing: $35
Typograf is a basic and straightforward software. The tool gives you a convenient environment where you can see all of your available fonts organized into a table. The system works with a range of different file types, including TrueType, OpenType, and Type 1 fonts.
Compatible with a range of Windows devices, this simple solution can be accessed for free, but your trial will only last for around 30 days. Fortunately, the tool is still relatively affordable at a one-time purchase price.
Typograf allows you to set up a complete database archive for fonts. You can install and uninstall files, preview various fonts, and create comparison tables. There's also a font duplication search feature.
Pros:
Easily remove duplicated fonts
Straightforward user interface
Extensive free trial version
Lots of control over your database
Cons:
A little old-fashioned from a UI perspective
Free font managers for PCs
While you'll get the widest selection of font management features from a premium solution, not everyone can pay for a monthly subscription or purchase new software.
Fortunately, there are a handful of free options out there that can provide some excellent functionality too.
Here are some of the top free font managers for PCs.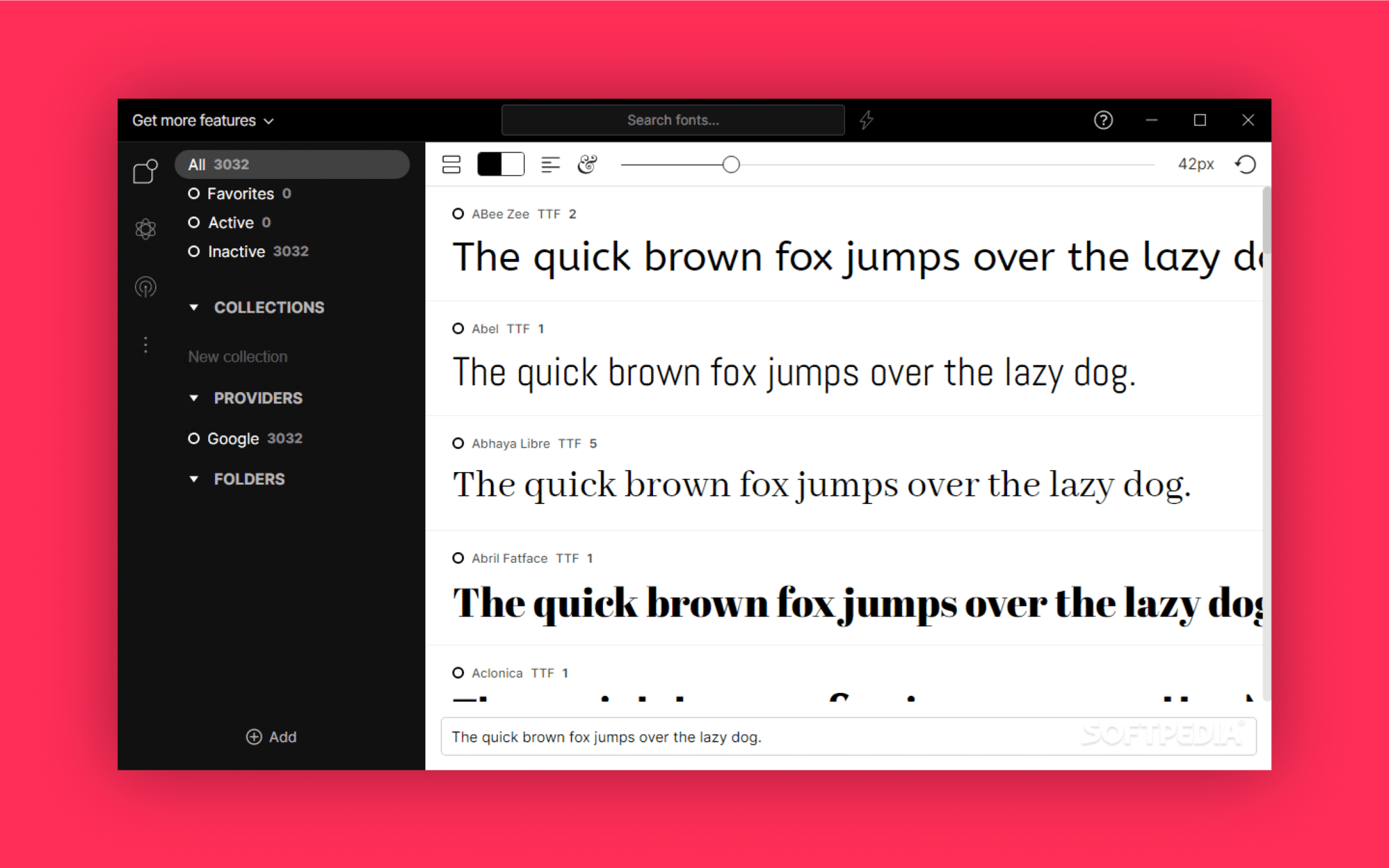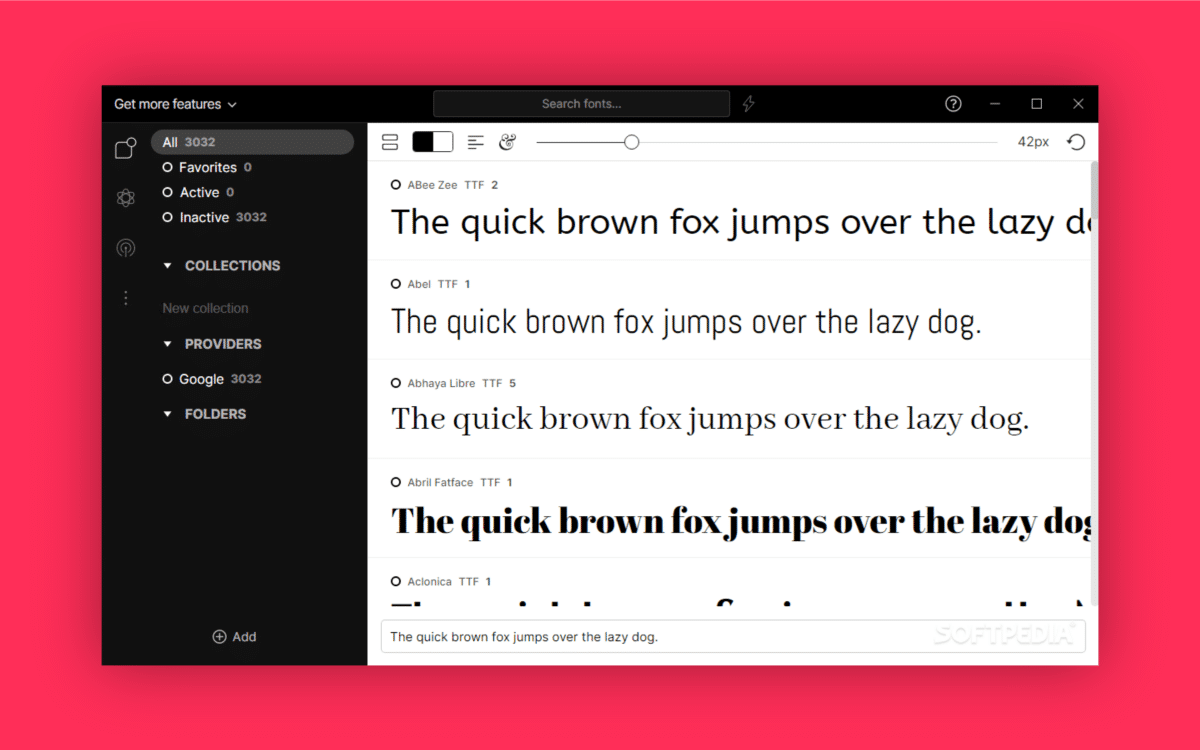 1. FontBase
Pricing: Free option or paid plans starting at $3 per month
While FontBase has a free-to-use package available, we'd recommend upgrading to the premium package if you want the best features.
This solution is an excellent choice for beginners, with a simple interface that works on various operating systems. There's even live editing built into the tool.
FontBase allows you to test and edit fonts without having to download them. You can also activate and deactivate fonts with a couple of clicks and arrange them into different categories and folders. Users can also view and copy glyphs for any language and font in their collection.
Unlike other cheap font management tools, FontBase also integrates with online font libraries like Google Fonts so that you can keep all of your assets in the same place.
Pros:
Works with most operating systems
Free plan available for beginners
Easy to manage font collections
Use fonts without having to download them
Manage and activate fonts instantly
Cons:
There aren't a lot of options for font comparison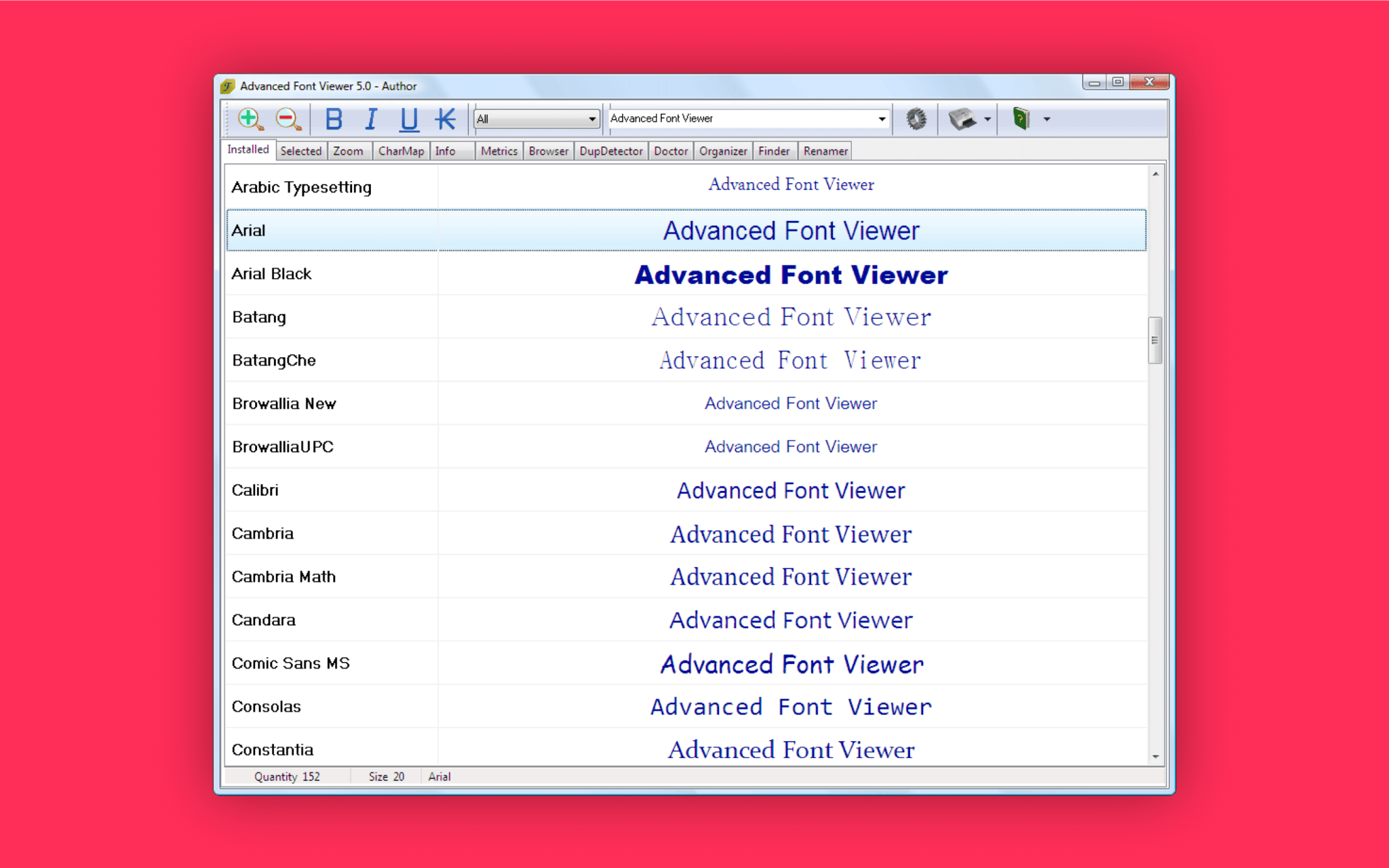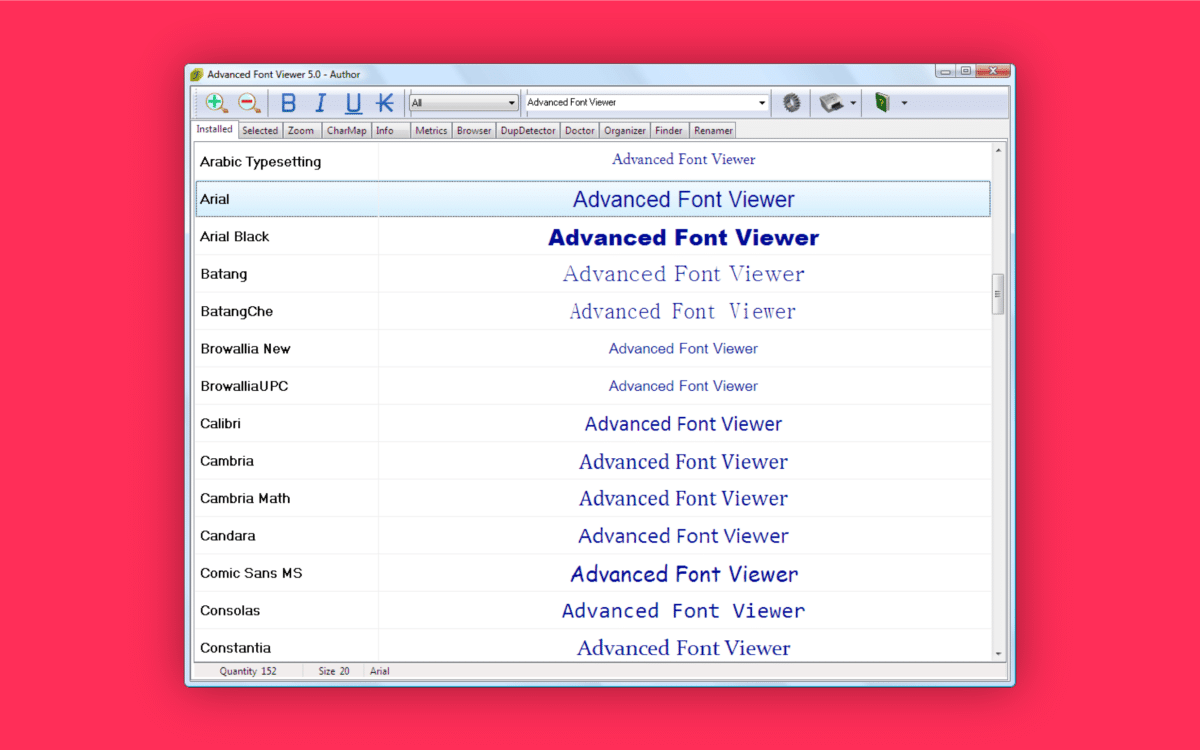 2. Advanced Font Viewer
One of the more basic options on our list, Advanced Font Viewer is intended for beginners. The developer-designed software makes it easier to preview and select various font versions from your collection in no time.
The tabbed UI design allows you to move through different fonts based on where they're located and other factors.
The software also displays all of your font options according to pre-designed user parameters. You can print installed and uninstalled font samples too. An integrated organizer tab also helps you to manage your font collections.
Plus, there are metrics tabs and info tabs to give you a behind-the-scenes look at the details of your font.
An added feature is the Duplication detection system, which ensures you can remove any duplicated fonts from your system to save space.
Pros:
Helpful duplicator detector and doctor features
Simple tab-based design
Works well with Windows software
Use non-downloaded fonts easily
Cons: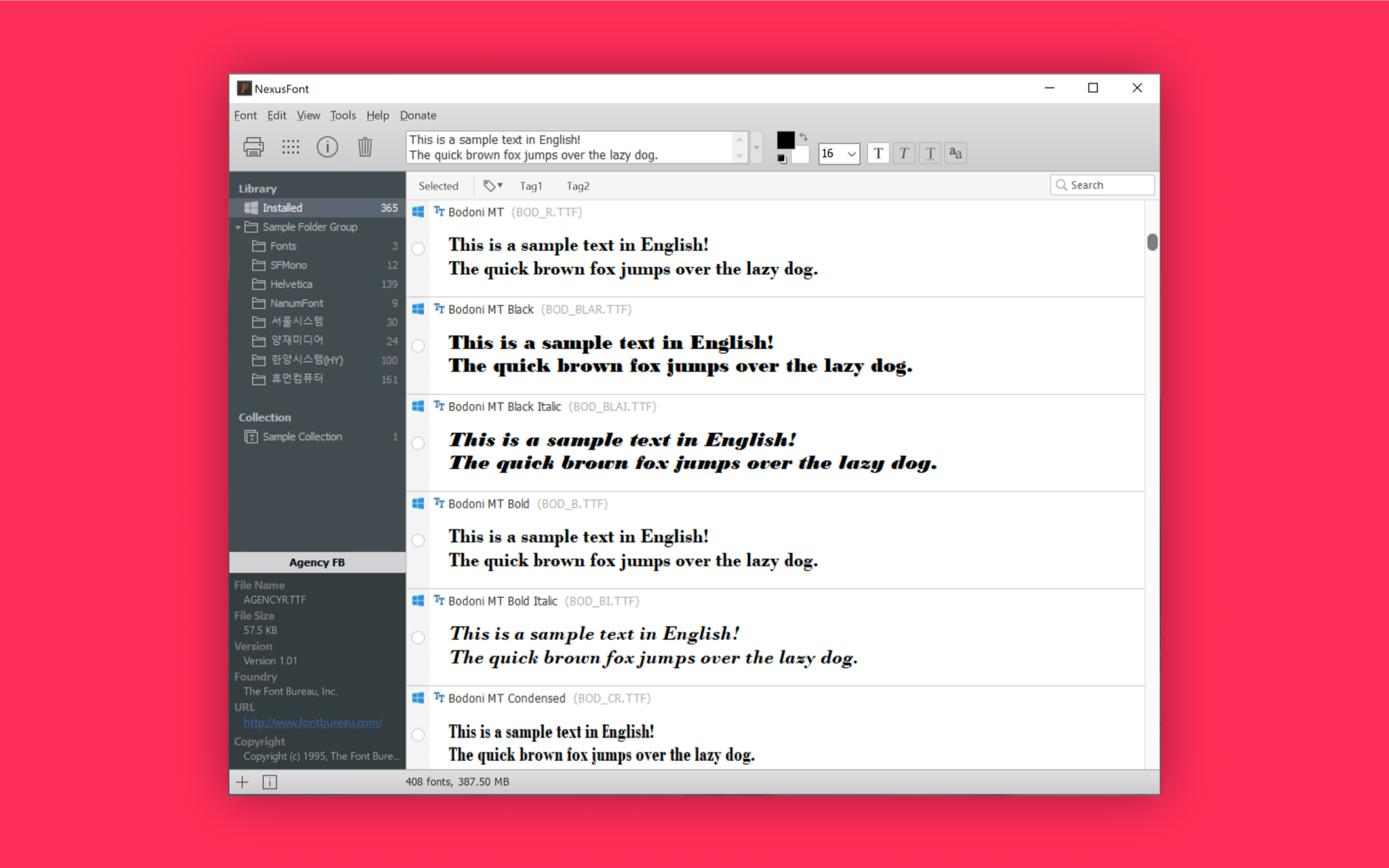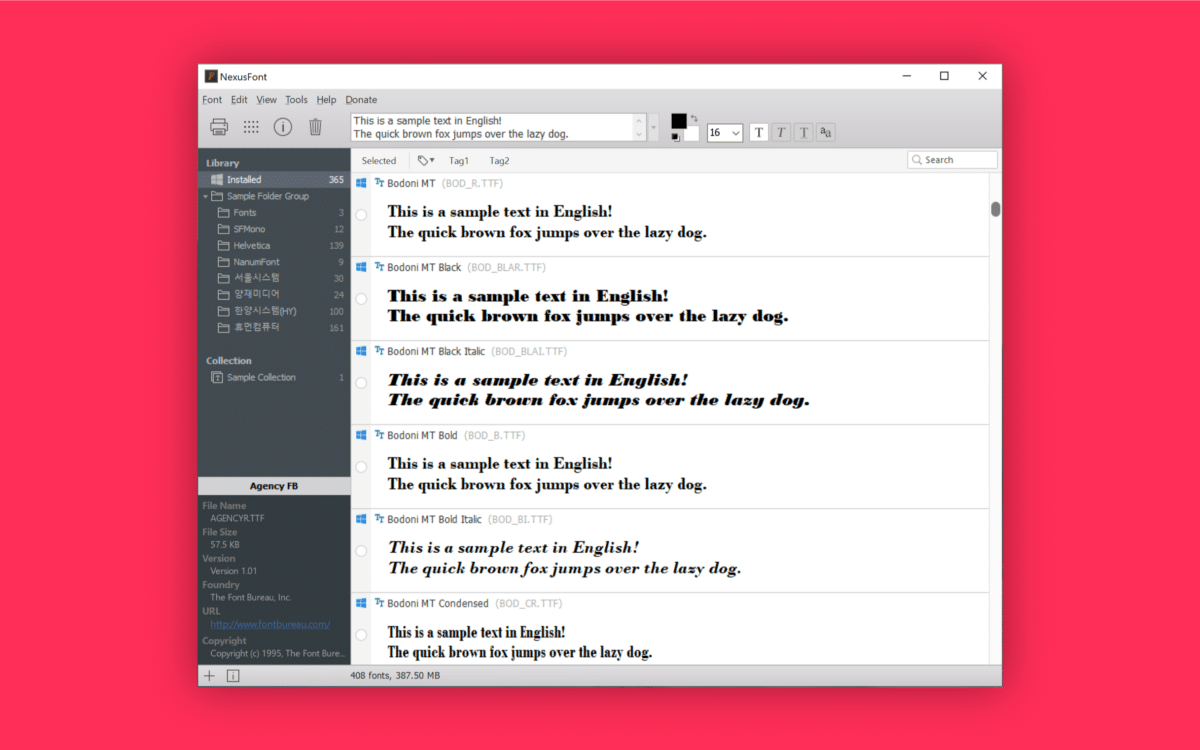 3. NexusFont
NexusFont is another popular option on our list of free font managers for PC users. This Windows software has an intuitive and clean UI design, making it a breeze to search through your font options to find the perfect solution in seconds.
The multi-panel UI displays a list of fonts alongside libraries, details, and folder groups.
You can experiment with different fonts within the app before you download them and delete fonts from your library automatically. There's also the option to search for duplicate fonts or export certain assets as images to share with your team.
NexusFont comes with category options, folders, sets, and tags, so you can arrange your downloads however you choose, and it's entirely free to use.
Pros:
Intuitive interface for beginners
Tabs and collections for organizing fonts
Simple deactivation and deletion
Search for duplicate fonts instantly
Cons:
Limited advanced features
Not compatible with all font types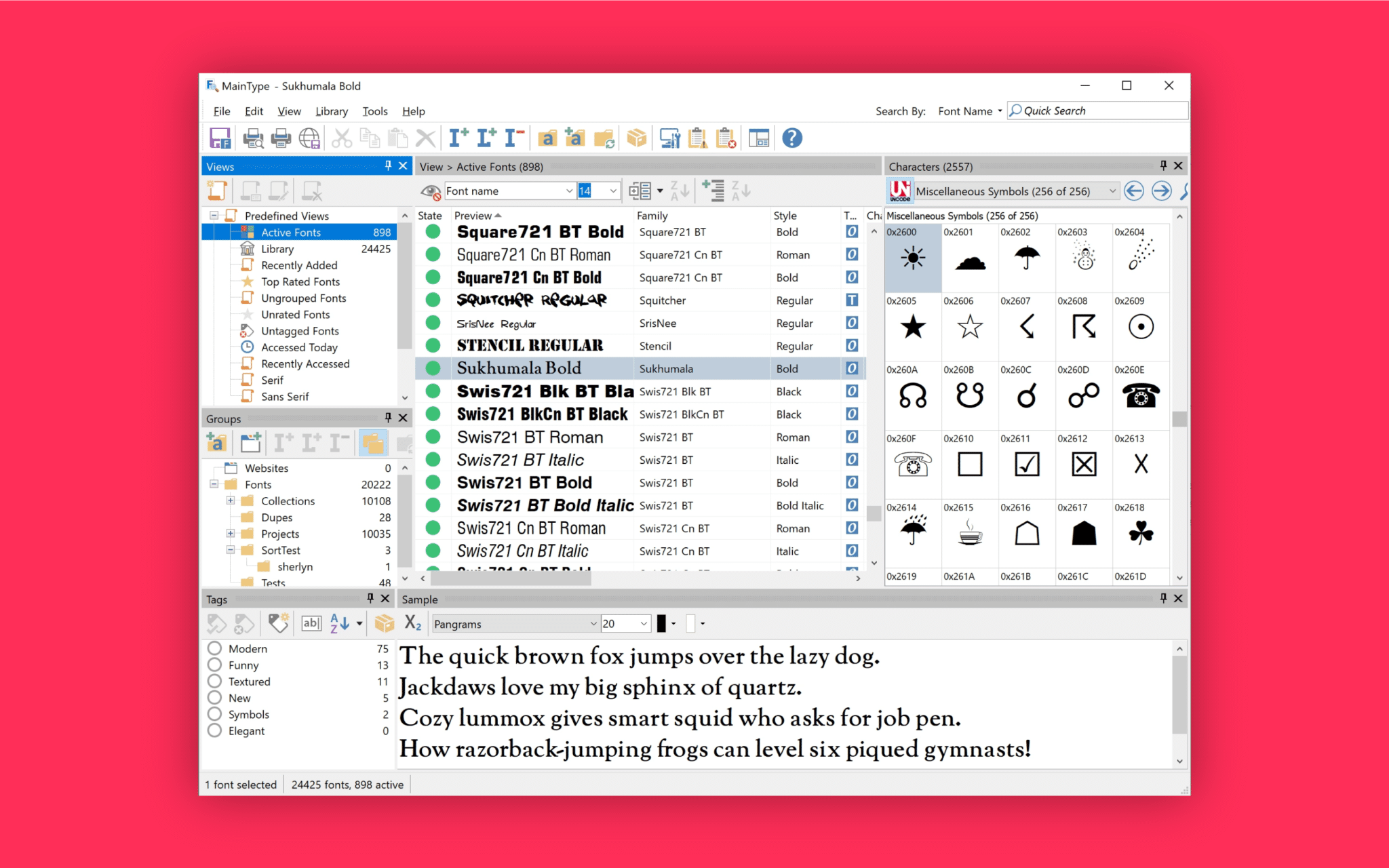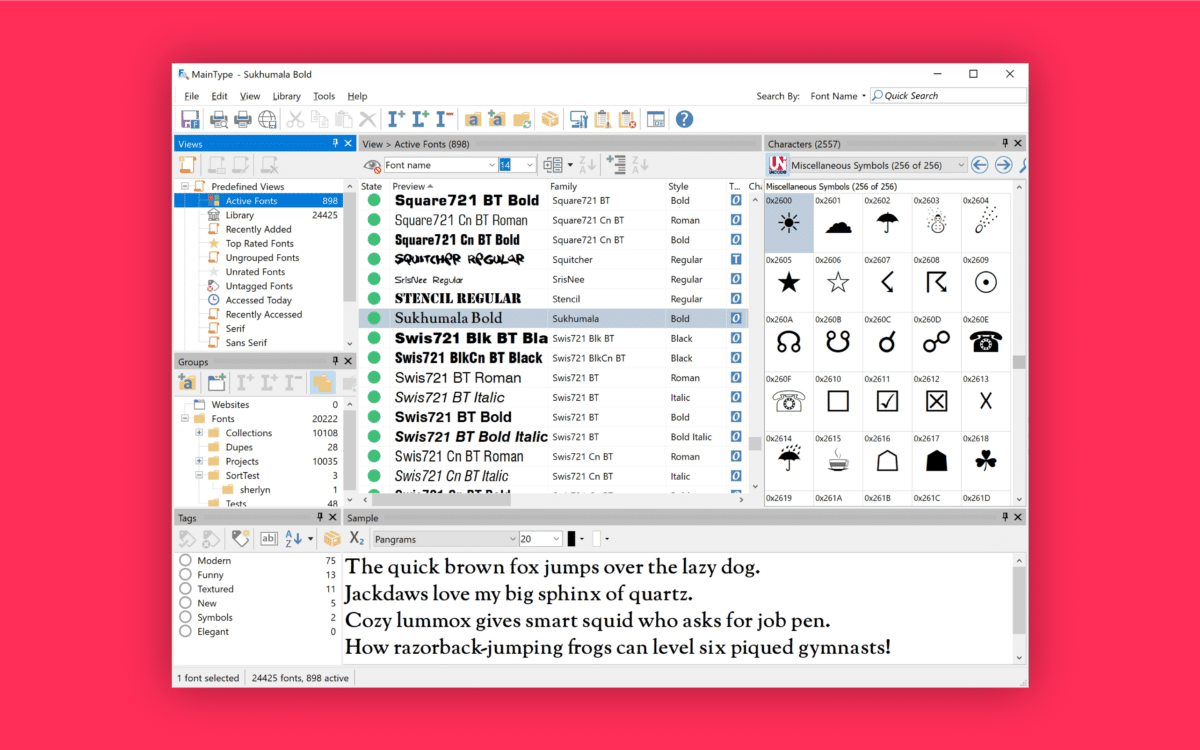 4. Main Type
Main Type is a simple and popular font manager software for Windows. The intuitive interface will show you everything you need to know about a font in a single display with various windows.
As soon as you launch the software, you'll be able to see all of your installed fonts, available previews, and character views.
Main Type provides insights into font tags, font information, groups, and tag searches. A green button appears with each font to let you know if the type is currently active or installed, and you can uninstall or deactivate your font by clicking the same button.
The "Sample Text" window allows you to see a sample text written in your chosen font to compare different options. The Errors section also helps you keep track of any fragmented or problematic files.
Pros:
Lots of information about each font
Easy to track font errors and issues
Group and categorize fonts with different tags
Helpful sample window for testing
Cons:
Can only support up to 2,500 fonts
Somewhat old-fashioned interface
For individual fonts: Fonts.com and MyFonts.com
Pricing: Individual pricing
Fonts.com and MyFonts.com are repositories for finding and using fonts in your design-based projects. There's no need to download any specific software, as you can manage all of your font libraries through your web browser, making this solution a great choice if you want to avoid accessing new technology.
Fonts.com and MyFonts.com gives you comprehensive access to a huge selection of premium-quality fonts you can download and use however you choose. You'll have to pay for each font individually, however, which can add up to quite an expensive process if you're buying a lot of them. For a subscription, you'll be passed over to the Monotype font manager.
The Font.com website comes with access to a range of tools to help you preview your font and make the most out of your purchasing decisions. However, there's no way to test your font, organize it into a library, or manage anything without a Monotype subscription.
Pros:
Great for finding new fonts
Thousands of fonts available to purchase individually
Insights into how fonts look in different formats
Font stories and background insights
Cons:
No font organization tool
Expensive individual fonts
Font managing software FAQ
How do I manage my fonts on PC?
If you're looking for a font management solution that doesn't require any external downloads, you can use the features built into the latest version of Windows. Go into the Windows Control Panel, Settings, and Personalization to click on "Fonts."
Windows will display all of the fonts you have installed on your PC, but it doesn't include any libraries you might have connected to the internet. However, you can click "Preview" or double-click a font to see the font in various sizes.
Is there a font viewer for PC?
The default font viewer for Windows PCs is the simple "Fonts" option in the personalization section of your Windows control panel. This solution allows users to preview different font families at various sizes. It's also possible to print the content if necessary.
However, the limited functionality and scope of the built-in font viewer for Windows PCs means most customers prefer to seek out third-party tools, such as the abovementioned options. There are both paid and free versions available.
Where are fonts stored on a PC?
You can find all the fonts stored on your PC (not including any cloud or internet-based libraries) by visiting the C:\Windows\Fonts folder. You can add fonts to this folder by dragging files from extracted documents into this folder, where Windows will automatically install the code.
What is the best free font manager?
There's no one-size-fits-all solution for choosing the best font manager for PC solutions. If you're looking for a free service that's relatively easy to use, FontBase is a popular choice. However, there are various free solutions you can experiment with, depending on your feature preferences.
How do I sync fonts between PCs?
You'll need to use your Windows folders to sync your fonts between PCs. Start by opening Windows file explorer and selecting the C: drive. From there, select Windows, then go to the "Fonts" section. You can copy the whole folder directly and click the "copy" option.
To store your copied file, insert an external hard drive or USB into the computer, then go to "My Computer." You can paste your entire folder into your removable storage device, then copy the folder from this device onto your new computer.
How do you install fonts in Windows?
To install fonts on a Windows computer, you'll need to download the font you want and extract the files from the folder by right-clicking. Once you've done this, go to the start menu, search for "Fonts" in your Windows files, and then click on the "Fonts" settings.
Copy and paste the fonts you've downloaded, or drag and drop the file into the location. Windows will install your font data automatically.
Finding your PC font manager
Finding the best font manager for PC users can be a complicated process at first, particularly if you're not used to accessing font management software. However, this tool can become a valuable resource for many designers and creative professionals.
With the right font manager for PC users, you'll be able to boost your chances of sorting through assets quickly and conveniently. Plus, you can save space on your hard drive, reducing the impact on your computer's performance.
Fabrik: A branding agency for our times.