The best font manager for Apple users: 8 Great Options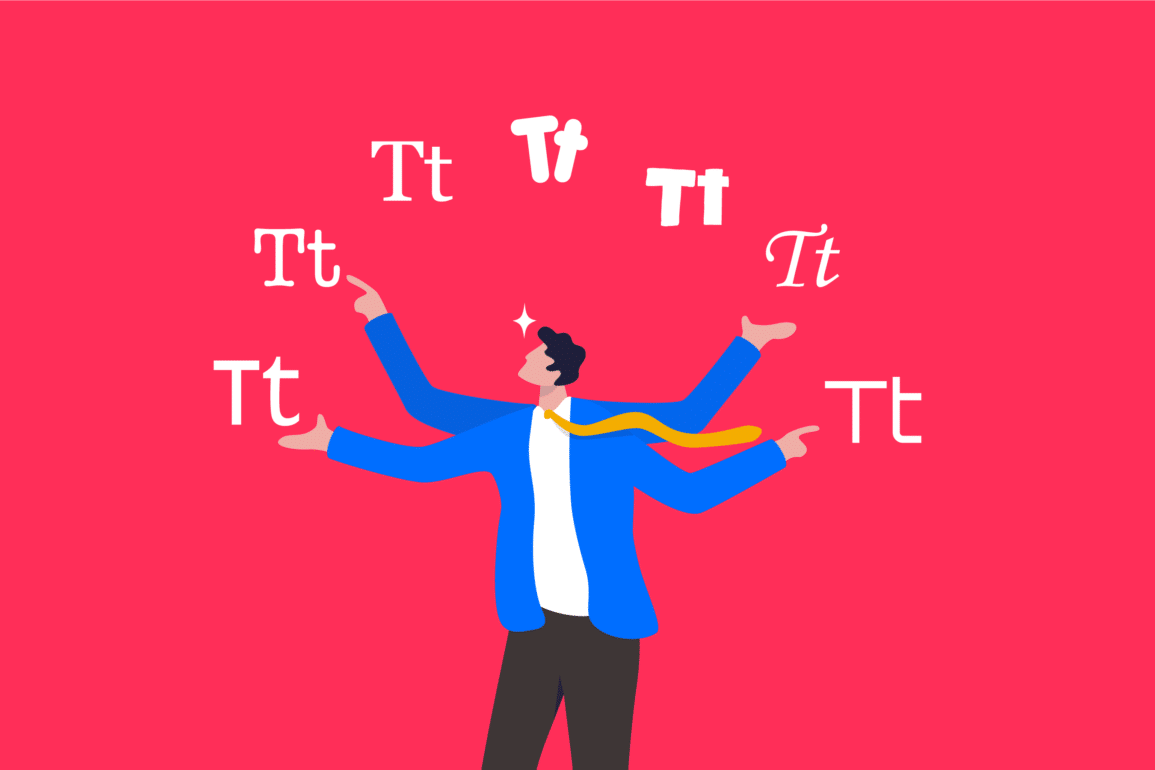 The best font manager for Apple users is a must-have tool for many digital professionals. Whether you're a graphic designer working on a website, or a newspaper editor, being able to find and use the correct fonts for your project is essential.
After all, the typefaces you choose have a direct impact on your brand image, the aesthetic appeal of your content, and your reputation.
Choosing the right font for each project can improve your chances of connecting with your audience on a deeper level. Just as colors and shapes have an emotional impact on the people who view them, fonts can also influence how we feel about a brand.
The good news for creatives is there are countless font options out there, each with their own unique appeal. The challenge is often in knowing how to organize and manage an ever-growing collection of fonts. That's where a font manager comes in.
With the best font manager for Mac users, you can maintain complete control over your creative assets, streamline your projects, and save valuable time.
What is a font manager for Mac users?
Before you can dive into choosing the best font manager for Apple users, you'll first need a basic understanding of what this software can do. Font managers are simply software applications which allow users to organize and manage every font installed on their computer.
Though many creative professionals can memorize some of their favorite fonts and search for them by name, as your library grows, finding the correct tool becomes more complex.
The right font management system makes it easier to grab the exact solution you need without having to spend too much time searching through options.
While Apple does have a font manager of its own, many creative professionals consider this option to be too limited for their needs. A more advanced solution will give you greater freedom to protect, segment, and use your fonts effectively.
Font managers:
Keep various downloaded and internal fonts organized.
Help to free up computer space by minimizing downloads.
Speed up workflows with quick and convenient search functionality.
Simplify the process of preserving crucial fonts.
Allow for the categorization of different font types.
How to choose the best font manager for Apple users
Creative professionals rely on a variety of simple and effective tools to help streamline their day-to-day workflow. You might have your own dedicated Webfont generator, a series of professional design tools, and a file sharing system for exporting content to clients.
Your font manager is simply another solution in your toolkit designed to make your projects more efficient. There's no one-size-fits-all strategy for choosing the perfect option.
Rather, your selection is likely to depend on a number of factors, such as:
Ease of use
The best font manager for Apple users should make it easier to sort through your font collection. The more intuitive the interface, the quicker you'll be able to track down the ideal typography for each project.
Integrations
Many creative professionals will need their font management system to work cohesively alongside other tools, such as Adobe Creative Cloud, or Google fonts. It's worth thinking about the solutions you already use before choosing your ideal software.
Organization features
Your font manager for Mac users should allow you to arrange your fonts however you choose, with labels, groups, categories, and tags. You may also be able to activate and deactivate fonts, and filter search results.
Scalability
Some free font managers are designed to handle a relatively limited selection of typeface choices. If you have a huge number of fonts to experiment with, you may need a more heavy-duty software solution.
Pricing
We all have budgets to think about. While there are free font managers out there, you may find you get a more extensive range of features by opting for a premium solution. Among paid packages, there's plenty of variation in how much you might pay.
It may also be worth thinking about how you plan on using your font manager going forward. If you need to share your fonts with a variety of other team members, you may want to look for a cloud-based solution which supports collaboration.
Free font managers for Macs
Free font managers can be the ideal option for beginners who aren't sure exactly what they need from a comprehensive font tool.
While many of the free tools available are basic, some do provide a generous range of features which allow you to gain more control over your design workflow. We chose these solutions based on their ease-of-use, functionality, and versatility for multiple use cases.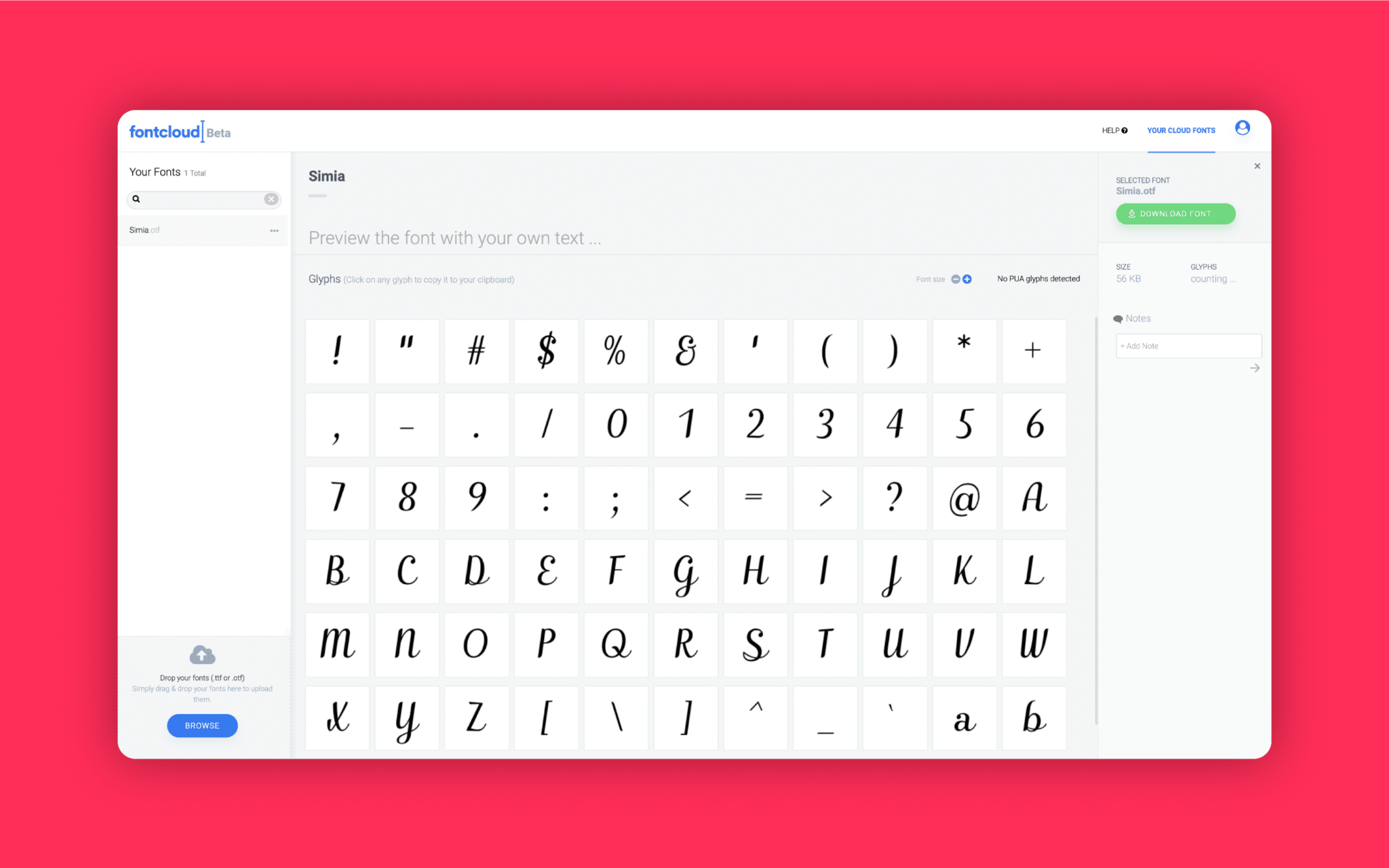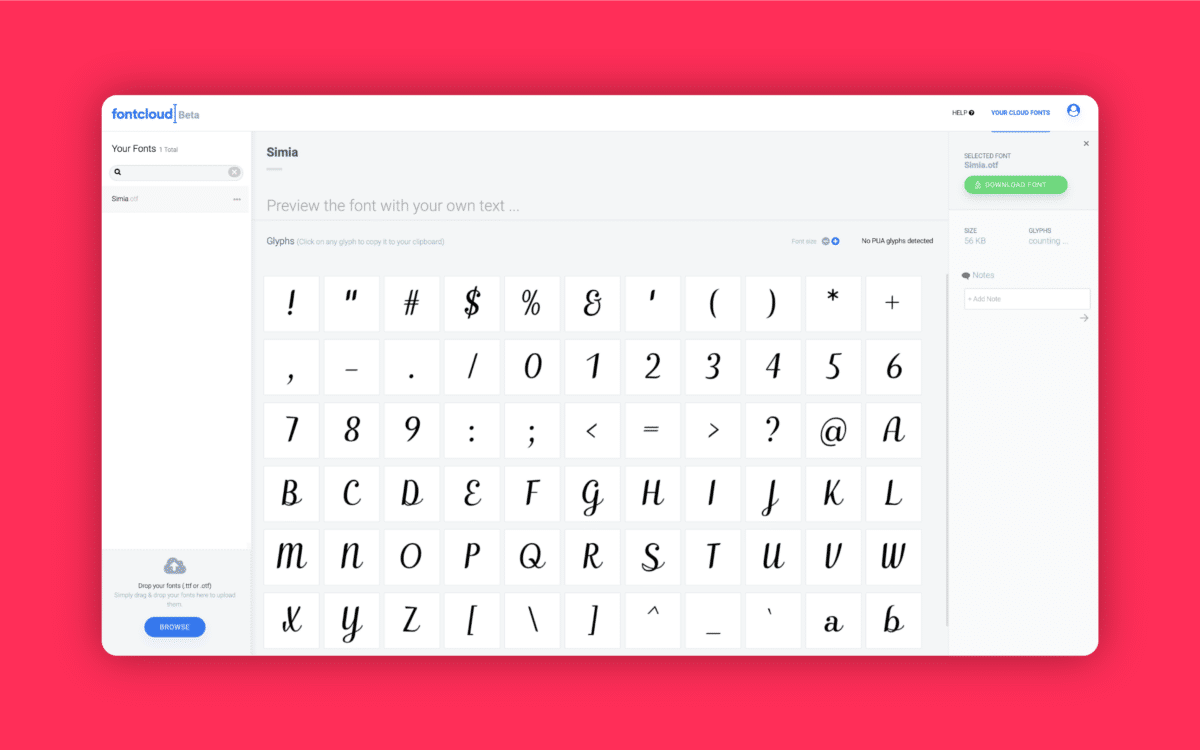 1. Fontcloud
Designed by the Creative Fabrica company, Fontcloud is part of an all-in-one ecosystem of powerful design tools for creative professionals.
Not only do you get an environment where you can store your fonts in the cloud, but there's also access to a lightning-fast user interface, with intelligent search to help you find the ideal typeface for every project.
Fontcloud simplifies font management by allowing you to sort through multiple solutions in a comprehensive environment you can access anywhere. You can also view all of the characters within a font by simply clicking on the typeface.
For extra peace of mind, Fontcloud also delivers a secure backup service – and it's free to use!
If you like the experience you get with Fontcloud, you can also purchase a subscription which gives you access to more of the company's unique features, such as a range of cut files, graphic assts, unique fonts, and embroidery designs.
Pros:
Free access to font management
Huge range of add-on features available
Phenomenal ease of use
Backup and security in the cloud
Cons:
You'll need to buy a license to access all the extra features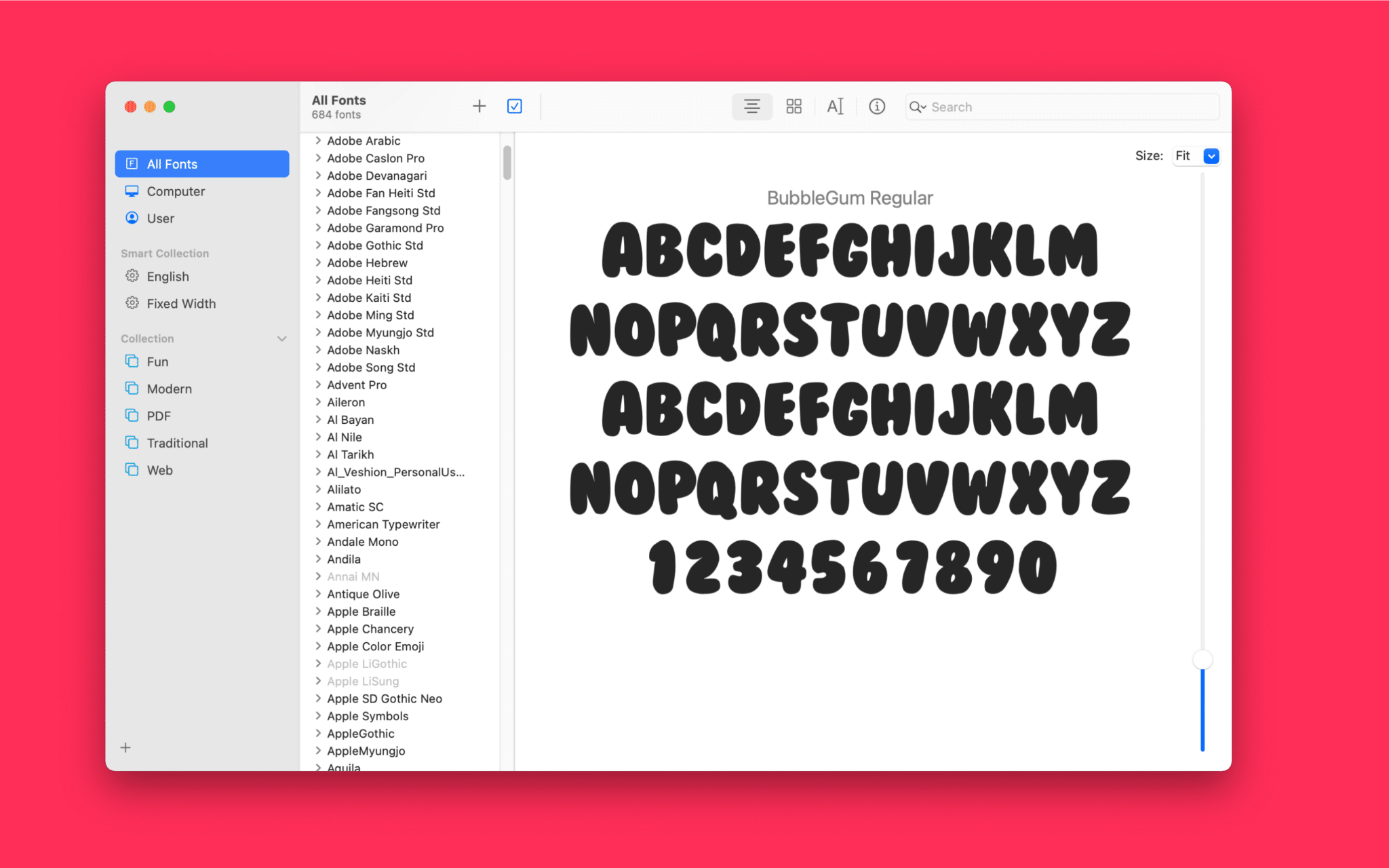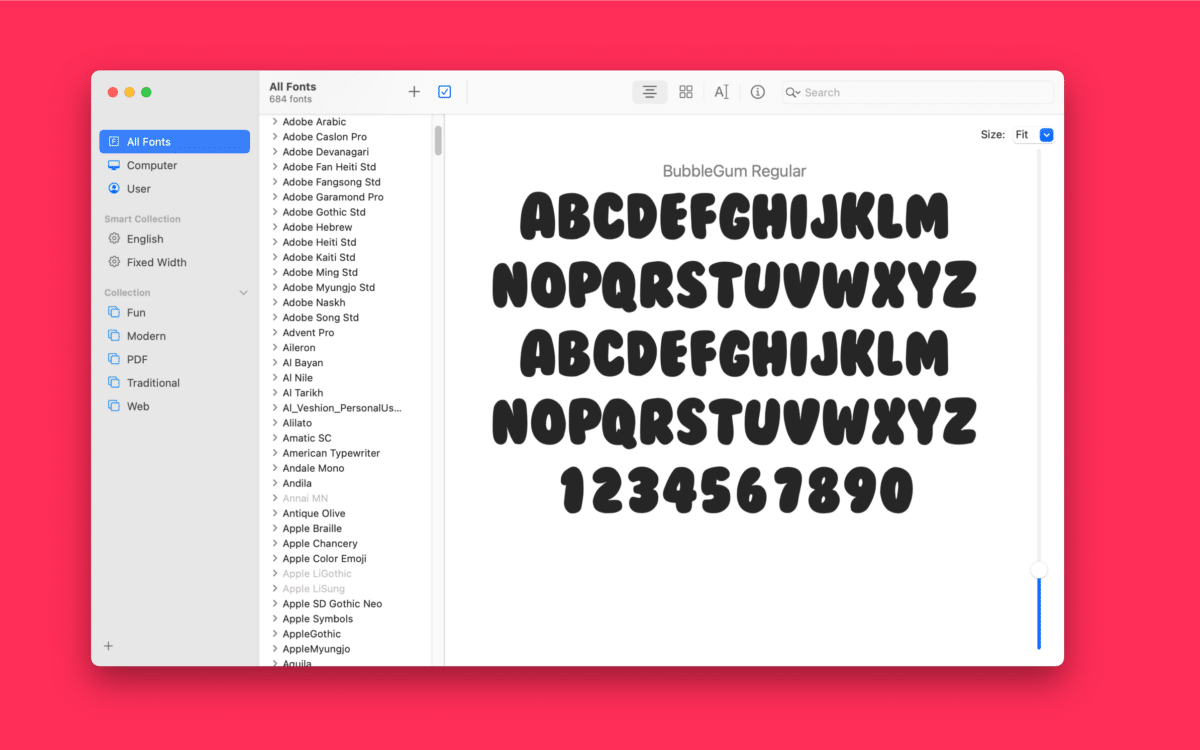 2. Apple Font Book
When you're searching for the best font manager for Apple users, it's worth remembering your MacOS solution does ship with a basic solution called "Font Book". This is the native font manager for Mac, which allows you to sort through the various typefaces you install on your device.
Apple Font Book does have some great features, such as the ability to see all of your system and user-installed fonts in one place, and categorize them into different segments. You can also select a font to see a preview of how it's going to look.
However, there are some limitations with this tool too.
There are fewer options for comparing different font variations, and you might not be able to access some of the most crucial web-based libraries in your portfolio, such as Google Fonts. This solution is usually popular among very basic users, without a huge number of extra typefaces.
Pros:
Comes pre-installed with MacOS
Easy to categorize fonts into segments
Excellent search functionality
Previews for each font option
Cons:
Limited on advanced features
No support for web-based font libraries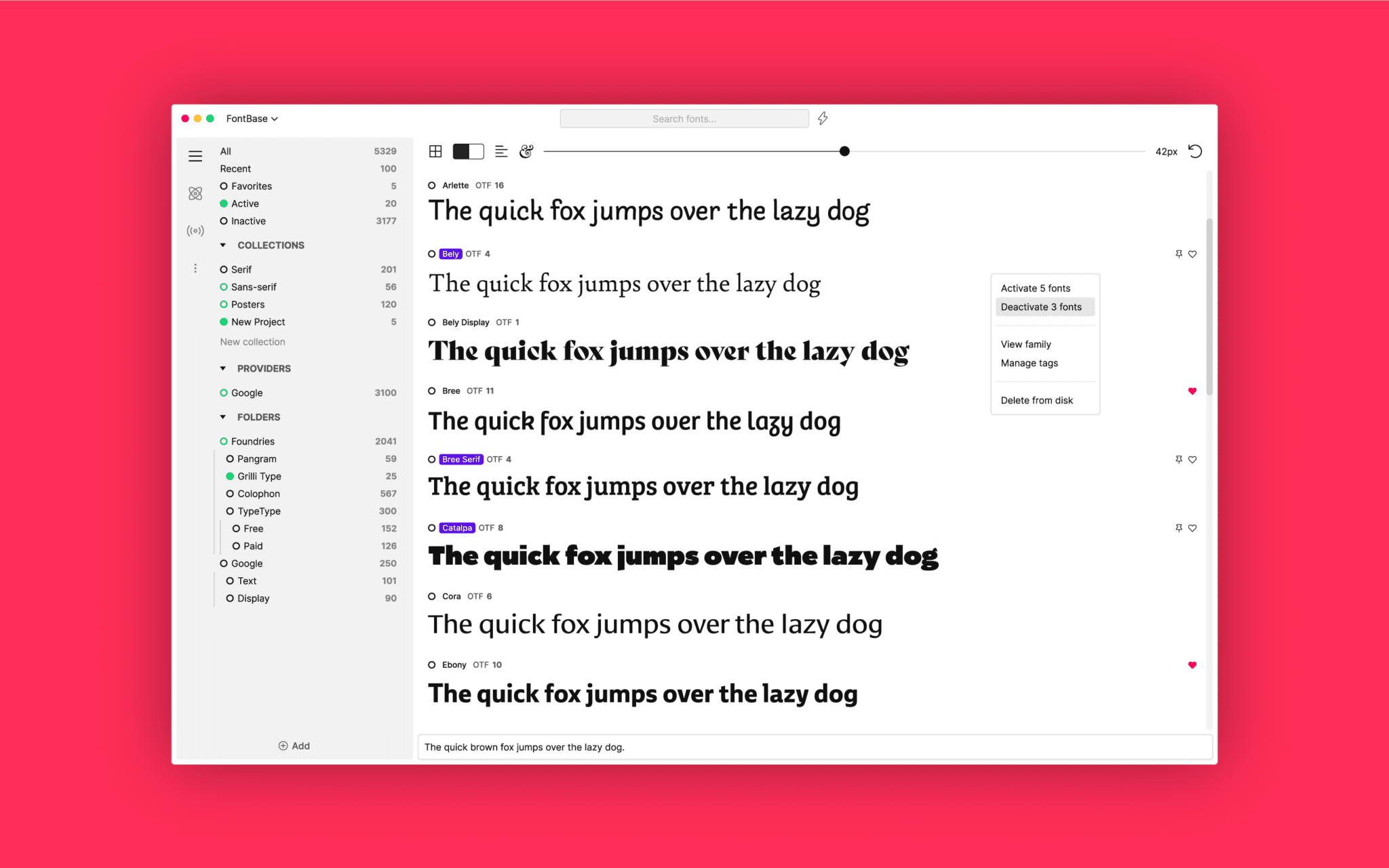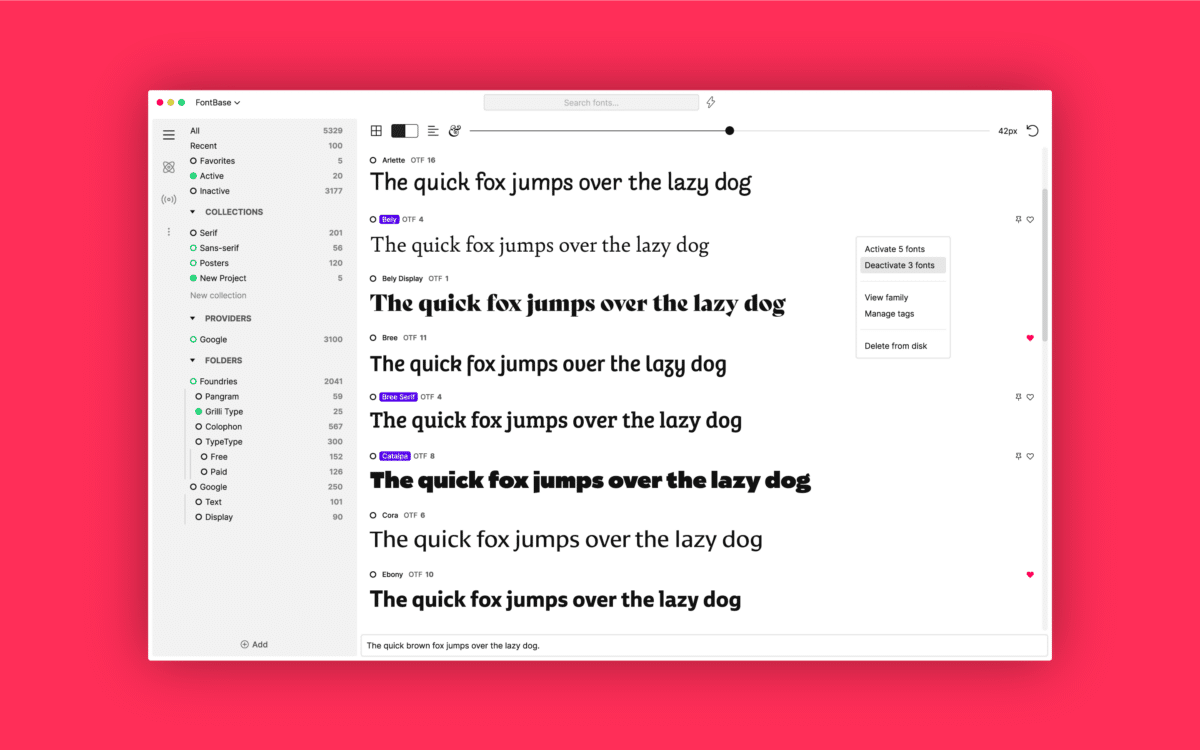 3. FontBase
One of the most popular free font management options around, FontBase is a simple tool for Mac users. The cross-platform manager has most of the features many business users will need, including an easy-to-use and clean user interface.
On the right you see a list of different fonts, while on the left of the screen, you can see your different collections and favorites.
Unlike Apple's own font manager, FontBase does offer support for web libraries and Google fonts. You can easily download new typefaces directly from the web, and arrange them into nested folders.
The core features allow users to conveniently sort through options for each project, and you can preview how fonts are going to look on any page.
While the basic application available from Fontbase is free to use, you will need to upgrade to a paid package if you want more advanced functionality.
Pros:
Free core service
Access to Google and online fonts
Easy organization of fonts with categorization
Simple interface with sidebar
Cons:
The best features require a premium subscription
There aren't many font comparison options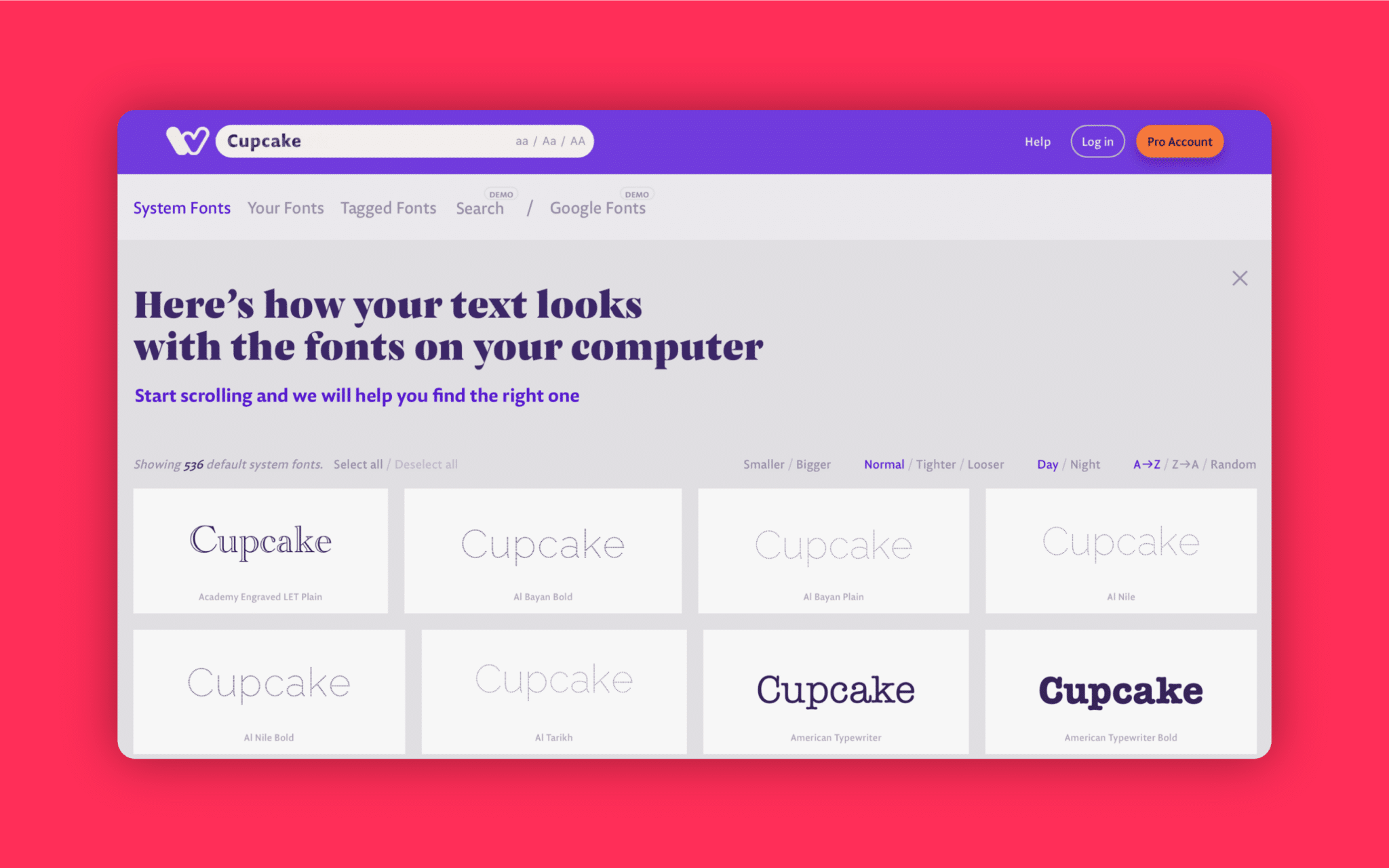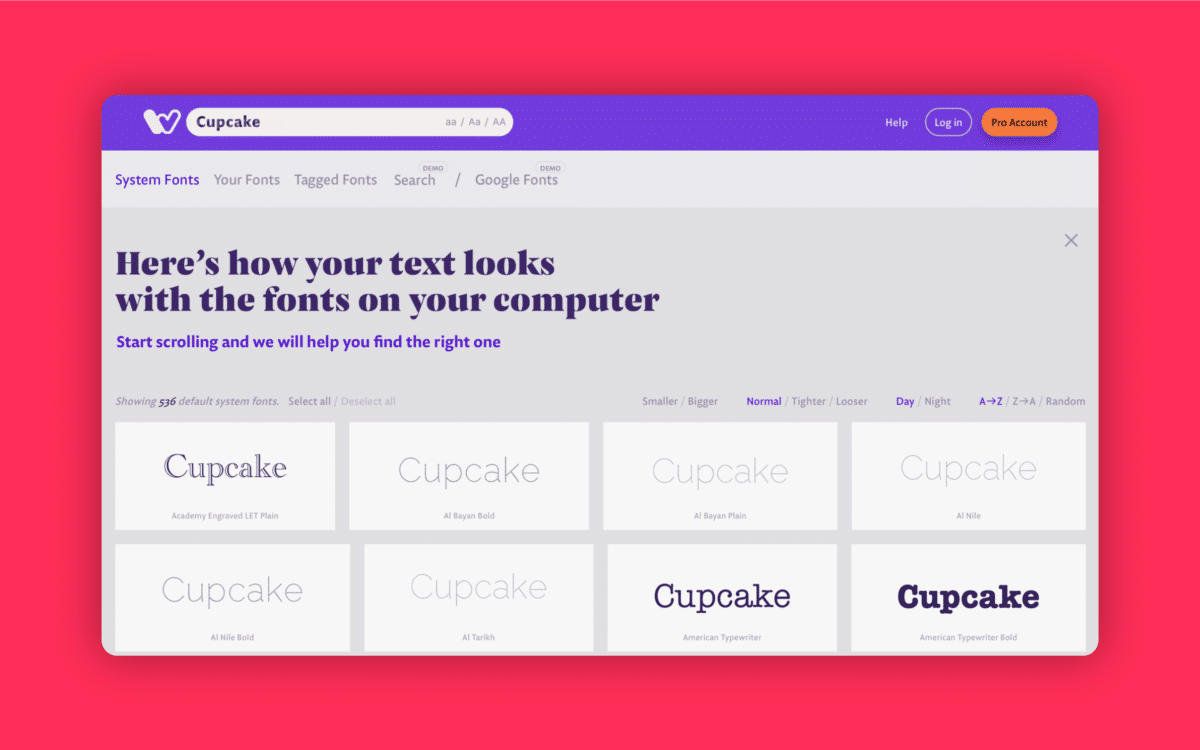 4. WordMark
Simple, straightforward, and designed specifically for beginners, WordMark is a free, web-based tool you can access on Mac and other operating systems. The tool makes it quick and easy to sort through the fonts on your computer, and preview different kinds of text without downloading anything.
Wordmark automatically searches through your hard drive to collect all of the fonts you have installed, and present them on a single page. You can then scroll through the options to find the one most suited to your specific requirements.
You'll also be able to see previews on your web page.
Unfortunately, Wordmark lacks some critical features, such as font activation and deactivation. Additionally, you'll need the paid package to access Google Fonts, tagging, and other options.
Pros:
Convenient web-based option for beginners
Easy to see all of your fonts in one place
Straightforward user interface
Previews for your text
Cons:
Limited advanced features
Requires a paid package for essential capabilities
The best Mac font manager: Premium options
While many graphic designers and creatives will benefit from a simple free option to help them manage their fonts, some require more advanced features. Upgrading to a premium service could be a good way to expand the functionality of your software, and give yourself more control.
Here are some of the top premium options when you're searching for the best font manager for Mac users…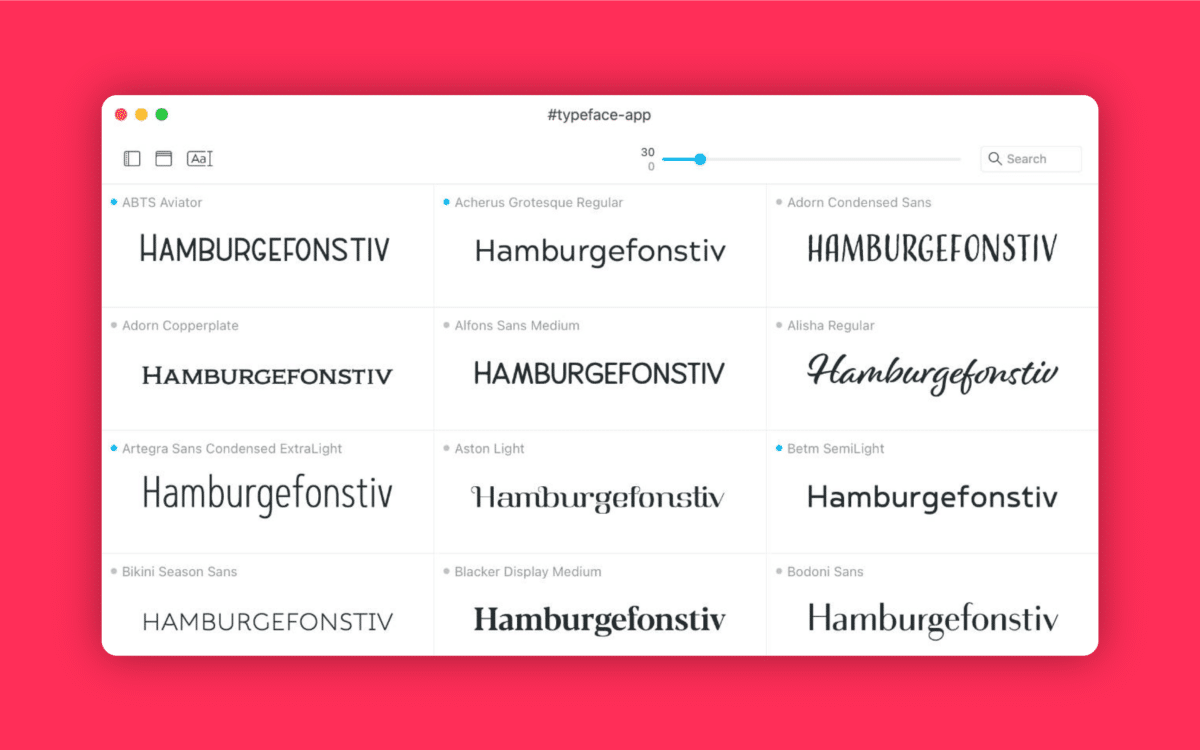 1. Typeface
Pricing: Starts at $39.99
Commonly considered one of the top Mac font management tools, Typeface is great for beginners and professionals alike. The simple UI and minimalistic design ensure you can conveniently navigate through all of the fonts on your system in no time.
You can search for fonts by style or category, or pick specific font families. There's also the option to build your own collections from scratch. One advanced feature included with this tool is the "font compare" toggle, which allows you to see what one font looks like compared to another.
Typeface works well with a range of other tools and platforms. You can import and manage fonts from Adobe and Google fonts. Plus, there's a drag-and-drop option for integrating your preferred apps.
The app is also wonderfully lightweight, so it doesn't take up too much space on your device.
Pros:
Optimized for Mac users
Advanced range of comparison features
Lightweight structure takes up minimal space
Convenient and clean interface
Cons:
Can be expensive for beginners
Requires download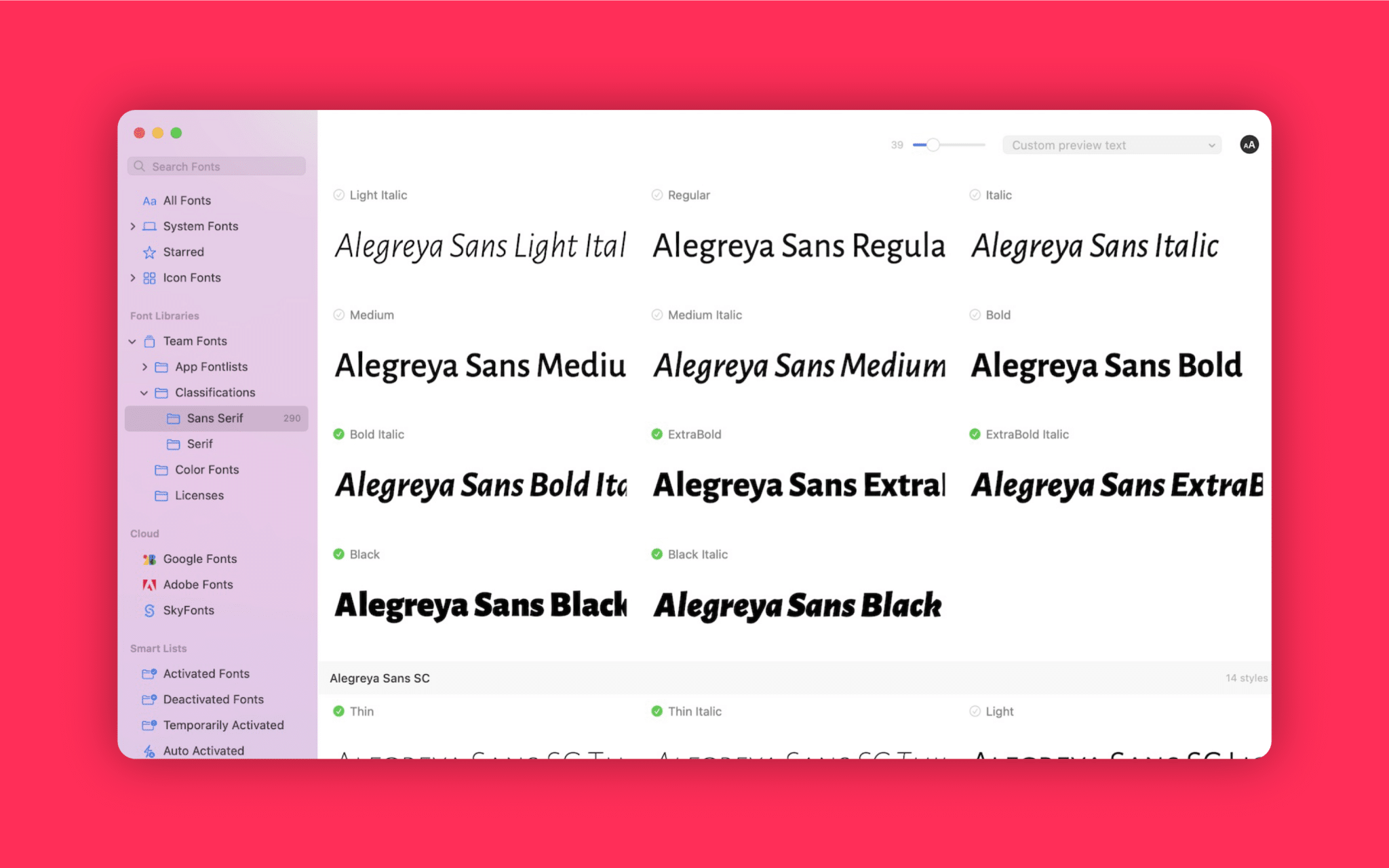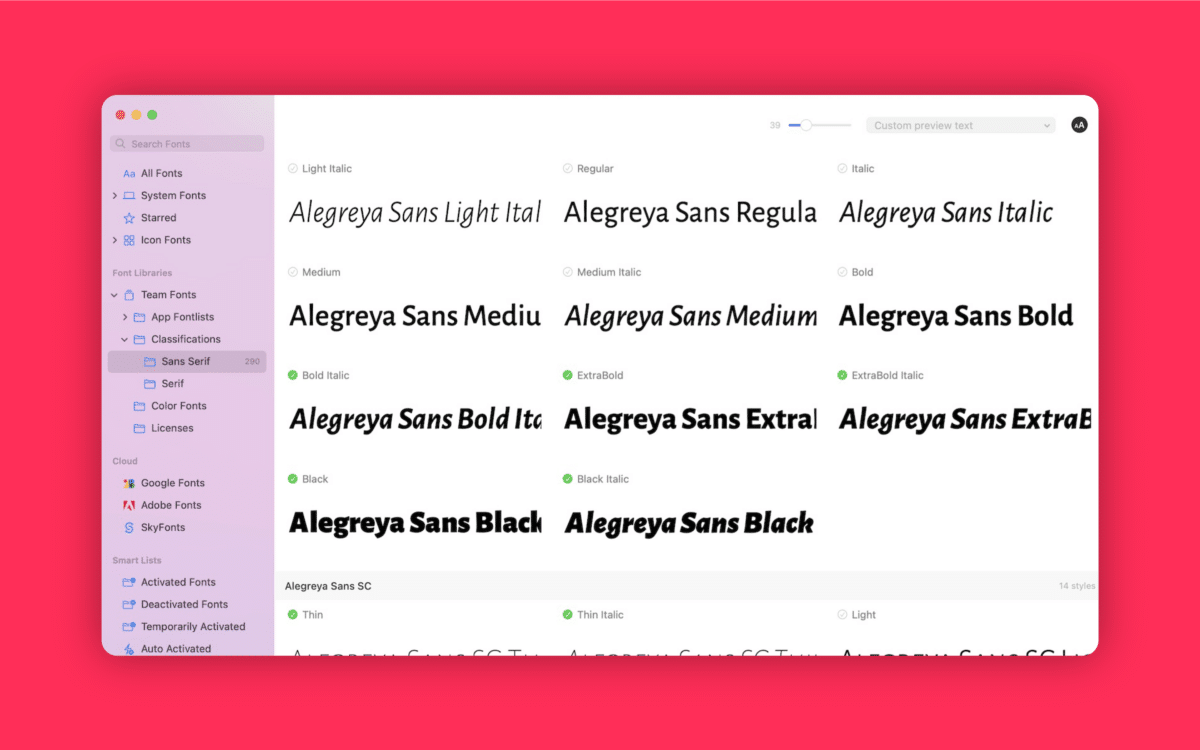 2. RightFont
Pricing: Starts at $59
Ideal for professionals with a huge number of fonts to manage, RightFont is a top choice for people in search of the right font manager for Mac users. The product is similar in a lot of ways to Typeface, although the interface can be a little more complex to understand for beginners.
With RightFont, users can easily sync, import, and organize various system fonts, as well as activating Google and Adobe fonts from the web. You'll also be able to integrate your system with a range of popular design tools, such as Sketch, Affinity Designer, and the Adobe Creative Cloud.
Hovering over a font in this application allows you to directly change the font of the text you're using in your project, to see what it's going to look like. There's also a powerful search feature to help you filter through options based on format, category, weight and more.
Pros:
Excellent integrations with professional apps
Easy and straightforward search functionality
Reliable Apple optimization
Works with a range of online fonts
Cons:
Slightly complicated user interface
Packages can be expensive, particularly for teams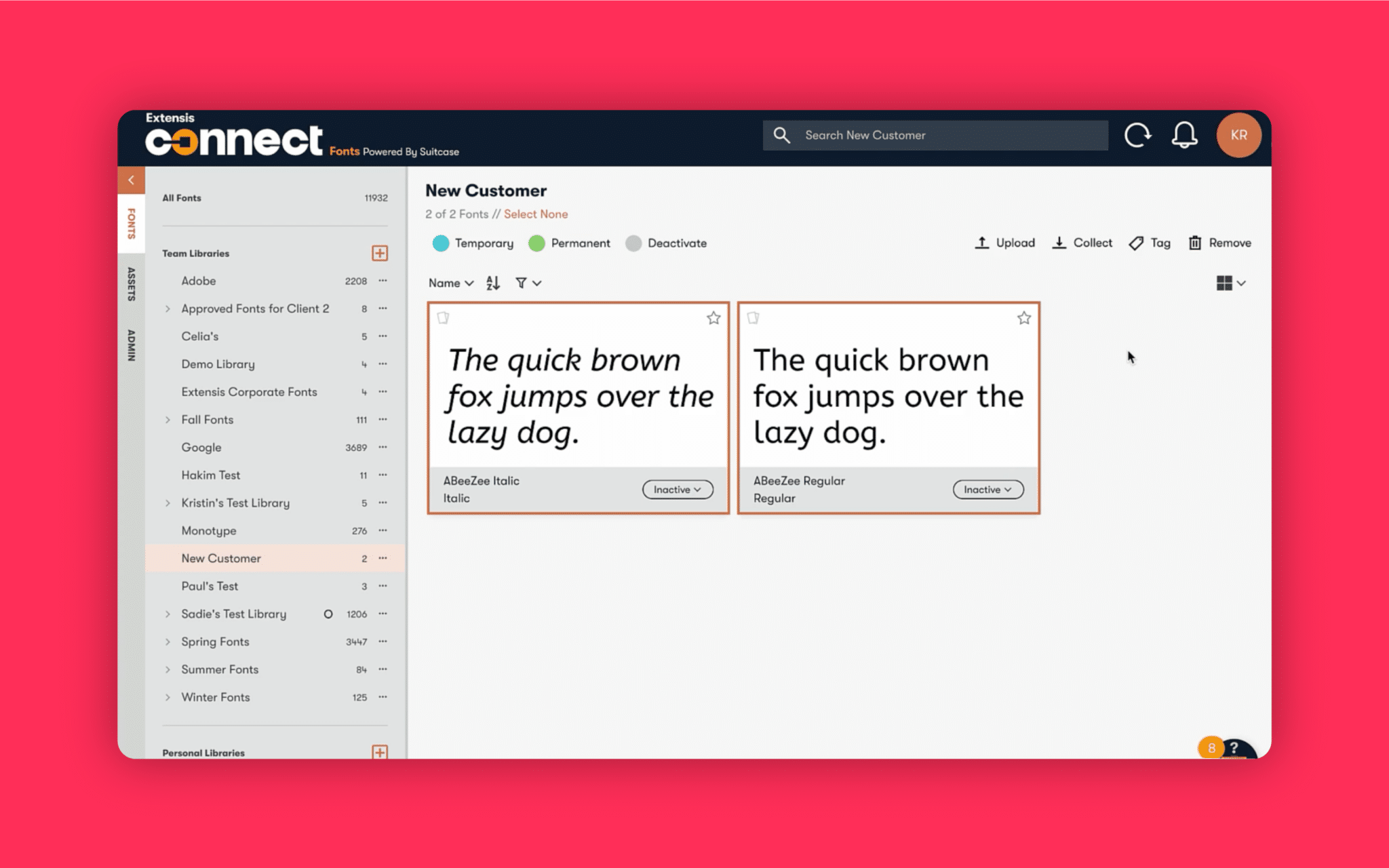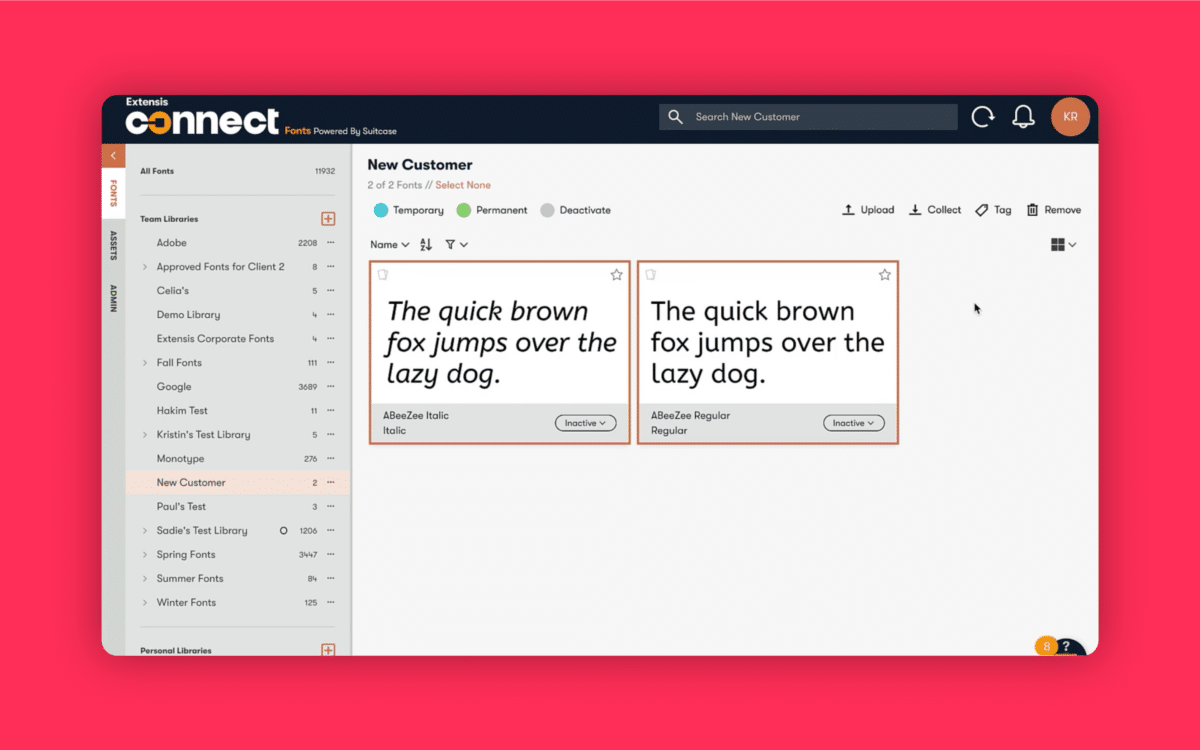 3. Connect Fonts
Pricing: Starts at $108 per year
Built specifically for designers, Connect Fonts from Extensis is a flexible and streamlined font management tool. You can access all of your fonts in one convenient place, and even share them with team members over the cloud.
The tool also allows you to view your fonts from any device, so you can even work on projects from your mobile device.
Connect Fonts comes with a range of advanced features, such as the "FontDoctor" which seeks out corrupted files and aims to repair them on your behalf. There's a powerful search function which allows you to filter through options based on style, mood, and weight.
Users can even access font pairing recommendations, to find typefaces that work well together.
An added bonus of this cloud-based software is it updates automatically, so you don't have to worry about constantly downloading new versions from the web.
Pros:
Excellent for collaborative projects
Font repair and recommendation tools
Automatic updates and optimization
Flexible organization options and search
Cons:
Expensive annual package
Complex user interface for beginners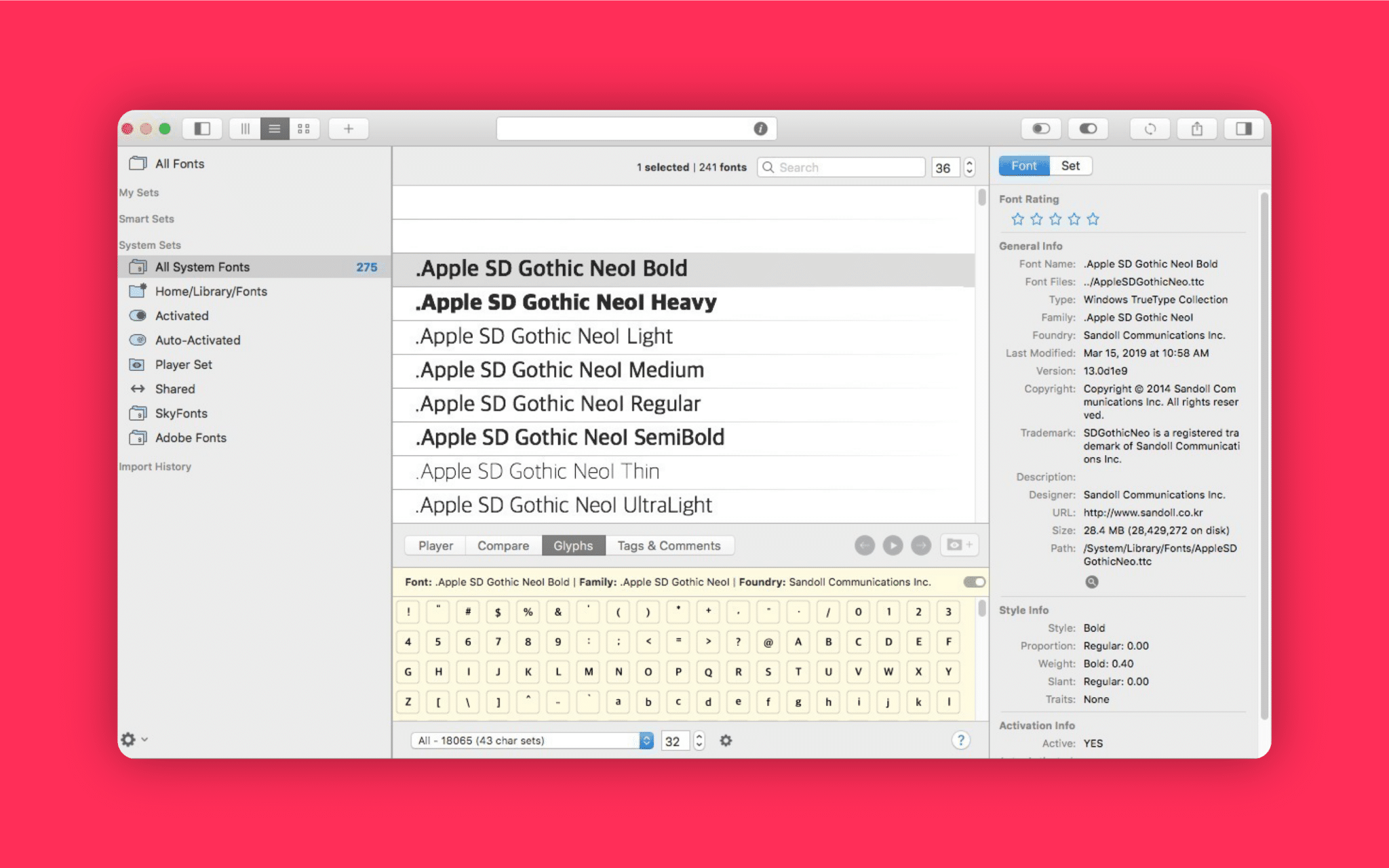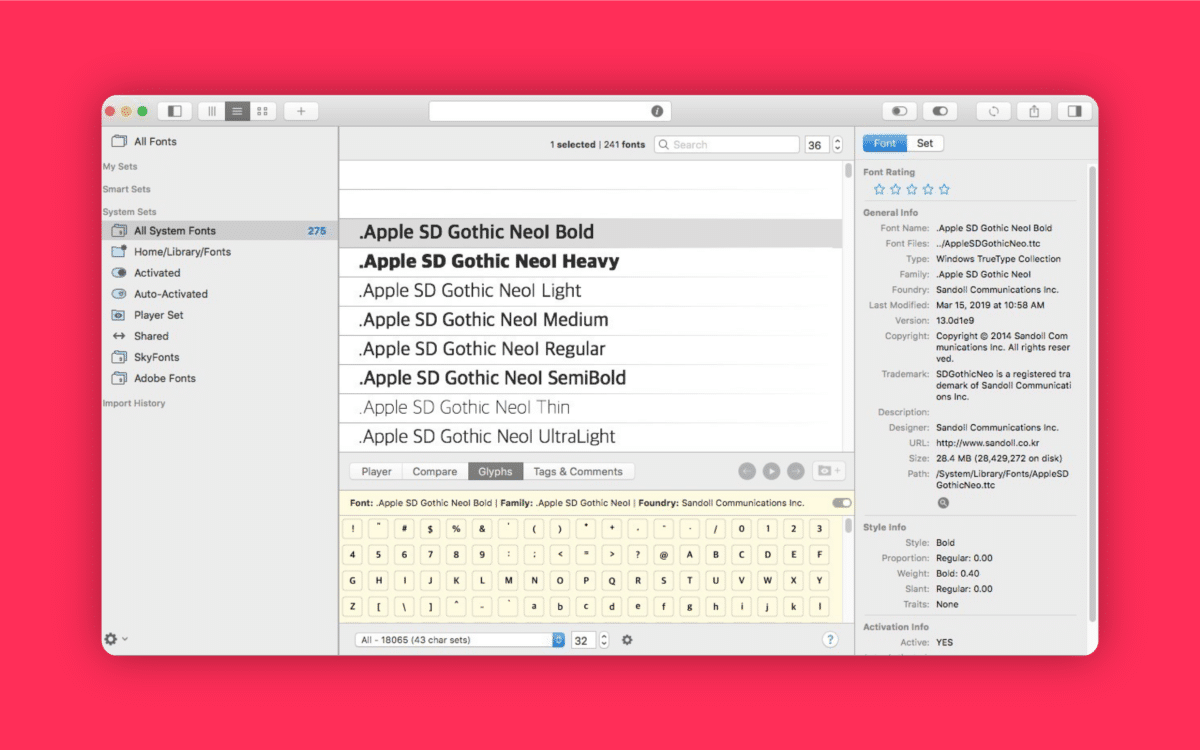 4. Font Agent
Pricing: Starts at $59 per year
Another great option if you're searching for the best Font manager for Mac users, Font Agent is an advanced tool with a wide selection of features. You can use the crisp and straightforward interface to sort through all kinds of typefaces from both your computer and the web.
There's also the option to organize your fonts with catalog management.
Font Agent allows users to share their typefaces with team members for collaborative projects, and comes with a convenient search functionality too. The smart search system allows you to filter through options in seconds, prioritizing different styles and formats.
There's also a helpful "table" view in Font Agent which allows you to explore and compare different types of fonts at the same time. As an added bonus, the software is optimized for the latest version of MacOS, to ensure exceptional speed.
Pros:
Fantastic importing and exporting features
Powerful comparison tools
Smart search and categorization
Management for subscription fonts
Cons:
Slightly clunky interface
Not the best for beginners
Mac font manager FAQs
How do I mange my fonts on Mac?
There are various ways to manage your fonts with a Mac operating system. You can either use the built-in font book on your device, or you can use one of the best font manager for Mac users mentioned above.
A third-party application will generally give you a lot more control when it comes to organizing and searching for typefaces.
Is there a font viewer for Mac?
As mentioned above, Mac users do have access to the Font Book service included with their devices. This is a relatively straight forward Mac font manager, but it could be a good option if you're only dealing with downloaded fonts.
You won't be able to use the system with online font libraries from Google and Adobe, however.
Where are fonts stored on a Mac?
In most cases, the fonts you download for your Mac system will be stored in your library folder, which you can access by holding the "Option" key, and clicking into your Library. Look for the Library/Fonts option to see all of your available fonts.
What is the best free font manager?
The best free font manager is definitely Fontcloud, one of the top tools for organizing and collecting fonts on the web today. This simple and convenient digital tool makes it easier to sort through, compare, and manage your fonts wherever you are.
How do I sync fonts between Macs?
You can sync fonts between different Mac devices by opening the Terminal in the Applications > Utilities section of your Mac computer. Go into your library, and move your fonts from your documents into the iCloud drive.
Once you've uploaded your fonts to the iCloud, you'll be able to download them into other devices by accessing your library.
What is the best font manager for Apple users?
The over all best font manager for Mac users really depends on what you need from your software. If you're looking for something simple, straightforward, and budget friendly, we recommend Fontcloud.
If you want something more premium, tools like Typeface are extremely popular.
Why is Mac font management important?
If you deal with a lot of fonts on a regular basis for creative or graphic design projects, it can be difficult to sort through and categorize all of your options with the built-in OS software.
Downloading an advanced font manager or using a tool on the cloud can improve your efficiency, and make you more productive in your day-to-day tasks.
Finding the right font managing software
Choosing the right font manager for Mac users can be a complex process at first, but it's well worth the effort. Upgrading from the standard Mac Font Book to an advanced third-party solution will help to streamline your workflow, and give you more control over your graphic assets.
If you're looking for the best free font managers for Macs, we'd recommend taking a look at the Fontcloud service. Alternatively, if you want a paid service, Typeface is a good choice, as it allows for easy categorization and collaboration.
Keep in mind, many of the best font manager options come with free trials and demos you can use to test out the functionality before you commit to anything.
Fabrik: A branding agency for our times.